9 Things to Know BEFORE Moving to Santa Clara, CA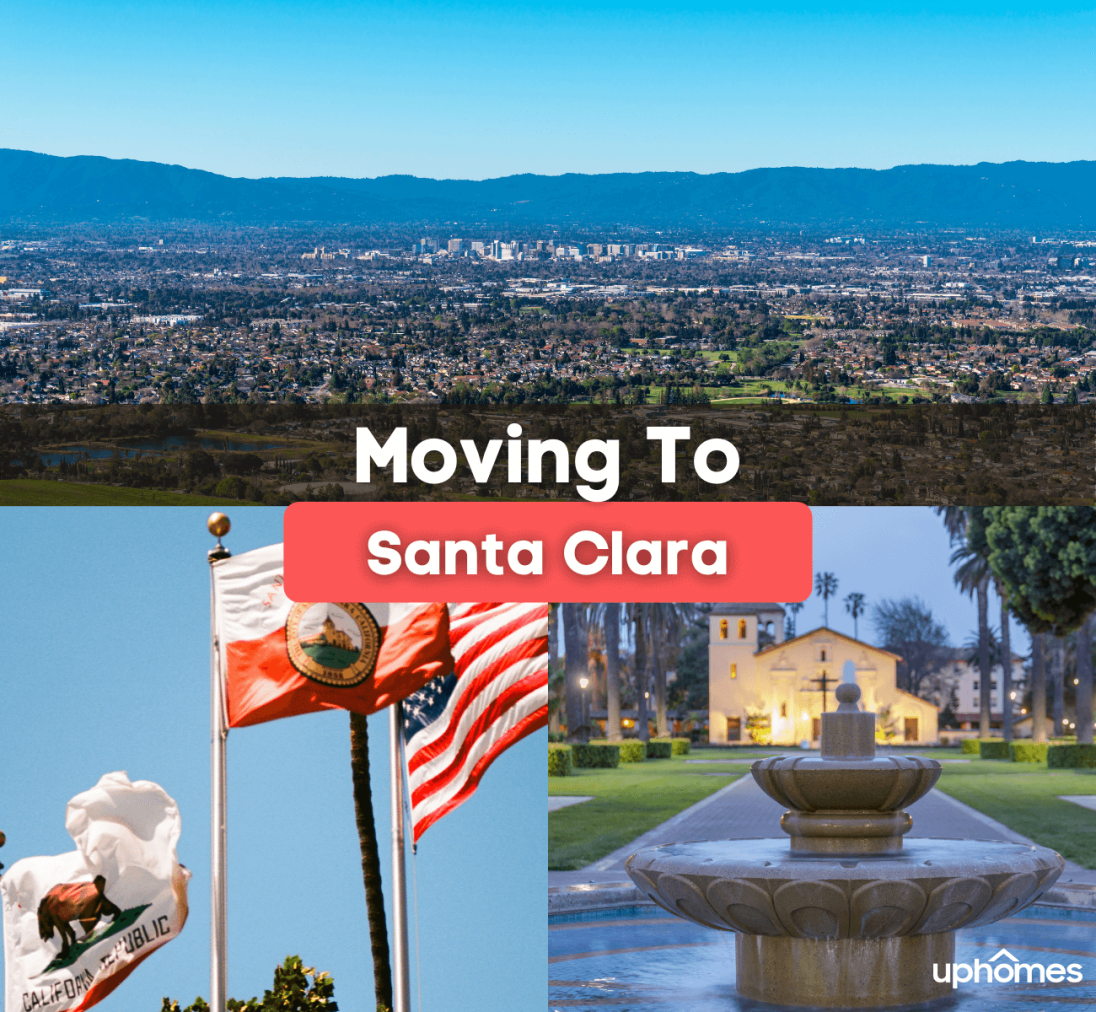 Living in Santa Clara 
Are you thinking of moving to Santa Clara, CA - Here is what it's like living in Santa Clara!
Only 45 miles south of San Francisco lies the bustling city of Santa Clara, California. With a population of close to 128,000 people, the city is continually growing and expanding as more and more companies decide to make Santa Clara their headquarters. Home to both young professionals and families, college graduates are making the move to Santa Clara in order to land high-profile jobs. Providing residents with an urban and suburban lifestyle, there are plenty of open-air shopping centers, restaurants, green spaces, parks, and walking trails to enjoy while also being surrounded by Fortune 500 companies.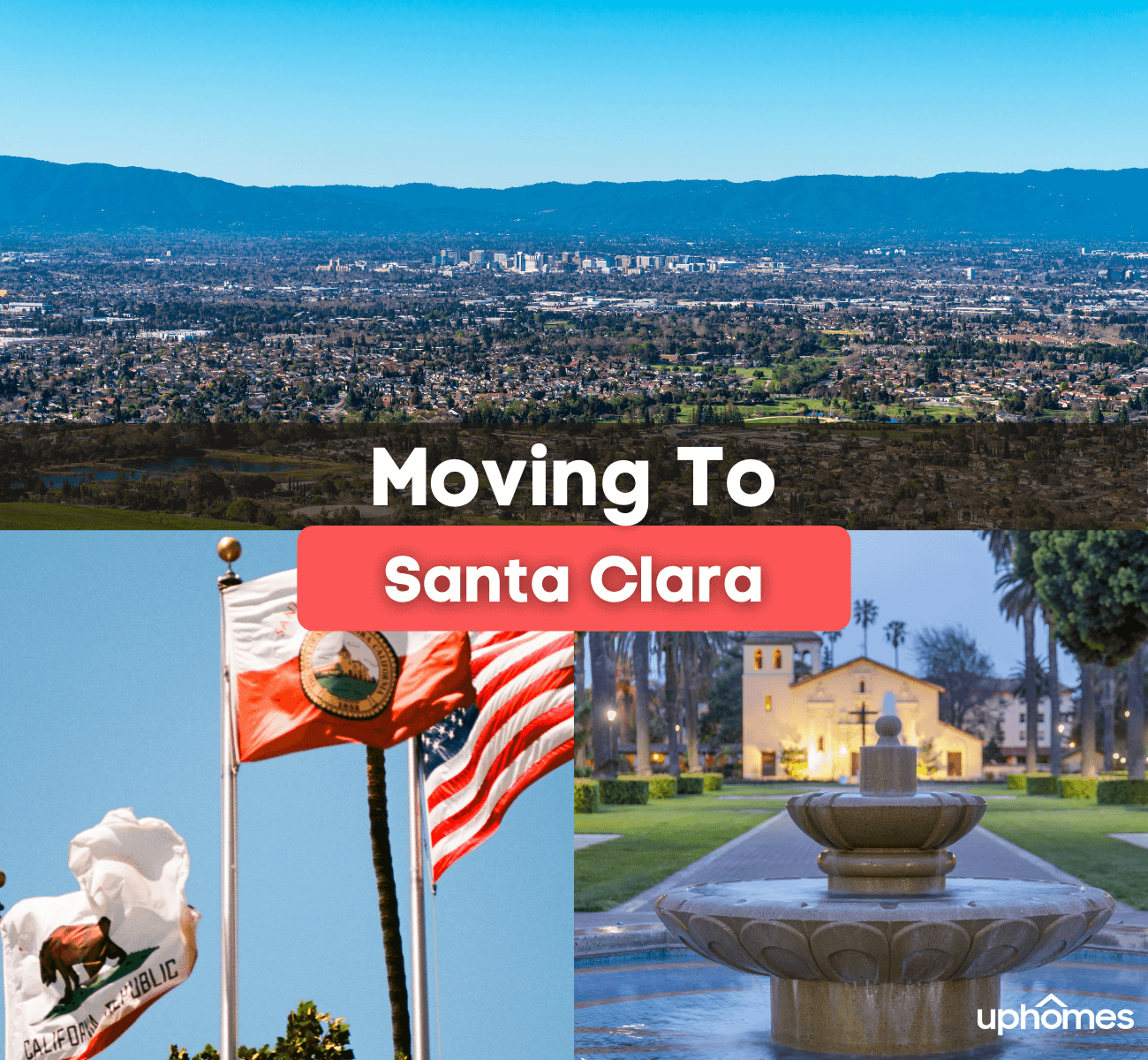 Considered one of the best places to live in California, Santa Clara County was also named as the best county to live in out of the whole state as of 2021. Though surrounded by some poorer neighborhoods, Santa Clara is also one of the safest cities and counties in the country. For those searching for an abundance of business opportunities and the chance to make big career moves, you may want to consider moving to Santa Clara. Before making the big move to California, read on to learn more about the 9 Things to Know BEFORE Moving to Santa Clara, California!
Santa Clara was once a Spanish mission.
What is now a diverse and lively city was once originally founded as a Spanish mission. Founded in the year 1777, missionaries from Spain come to the area with the intention of spreading the practice of Roman Catholicism. Established for the sole purpose of religious conversion, the Mission Santa Clara de Asis was the 8th religious community constructed out of 21. Attempting to convert the Muwekma Ohlone American Indian tribe of the San Francisco Bay region, the mission was met with some success before failing due to outbreaks of smallpox, measles, and a lack of supplies.
Today, the Mission Santa Clara de Asis continues to stand as a student chapel on the campus of Santa Clara University which is the oldest university in California. Sadly, up to 8,000 remains of Native Americans are buried in the mission cemetery. The chapel is now open every day of the week and offers self-guided tours. Visiting the mission is a great way to learn about the history of Santa Clara while also viewing preserved artifacts from the time period. 
The weather is amazing.
One of the best reasons to move to Santa Clara is for the fantastic weather. Known for having a warm and temperate Mediterranean climate, living in Santa Clara provides residents with hot and dry summers with mild and cool winters. If you are wanting to live somewhere warm and mild pretty much all year round then Santa Clara is perfect for you. The warmer season typically starts in June and lasts through the beginning of October. In the summer, morning low temperatures will start around 50 and 60 degrees and warm up to reach high temperatures around 80 degrees by mid-day. In the winter, the coldest months are from November to February where the low temperatures are around 40 degrees and the highs reach up to 60 degrees. January is the coldest month and rainfall is seen more in the winter than in the summer.
For those moving from colder climates, it rarely ever gets below freezing and Santa Clara never experiences snow. Plus, with an average of 261 days of sun a year, precipitation during the winter months in Santa Clara is hard to come by. Out of the whole year, the city may only receive up to 15 inches of rain. While this may mean more days sunbathing poolside, the California drought is very much real. Residents are encouraged to conserve as much water as possible which is seen reflected in the rising utility bills.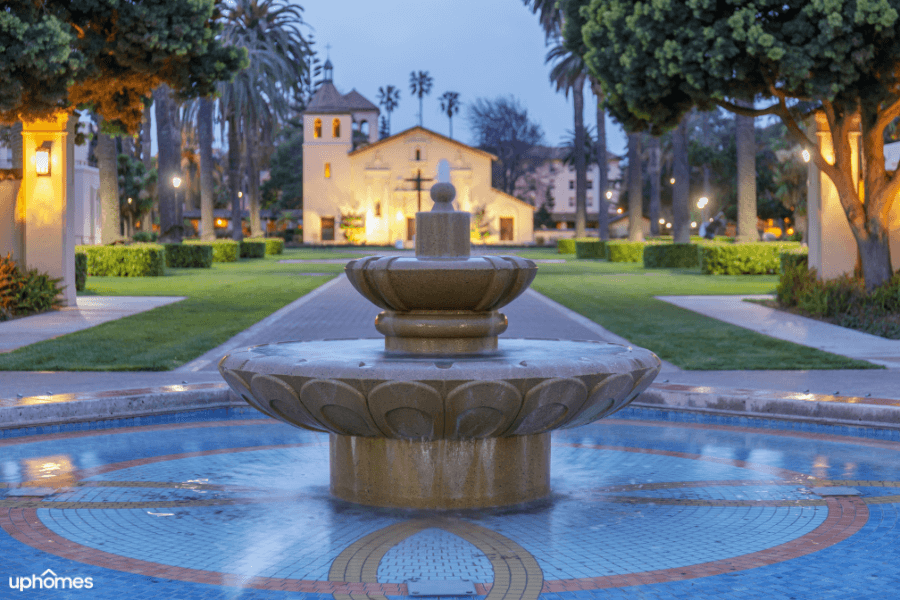 Santa Clara is in the perfect location.
Located in northern California, Santa Clara is only an hour south of San Francisco and is found on the southern coast of the San Francisco Bay Area. Just west of San Jose, the city is in the perfect location for residents working in or around the Bay Area. Considered one of the most populous cities in the Santa Clara Valley, be only within a 20-minute drive to Cupertino, Mountain View, Palo Alto, Milpitas, Sunnyvale, and Los Altos. Plus, only about an hour north of Santa Cruz, drive to the beach in just 27 miles. Los Angeles is also only about a six-hour drive away. Not to mention, Santa Clara is right next to the San Jose International Airport and the San Tomas Expressway, which means easy travel both near and far.  
Santa Clara is in the heart of Silicon Valley.
If you are moving to the area in search of a job then do not expect to be looking for long. As one of the most popular cities in Silicon Valley, Santa Clara is a top choice for hardworking individuals. The southern part of the San Francisco Bay Area has coined the term Silicon Valley due to a large number of start-ups and world-class technology companies that occupy the region. Some of the most well-known technology companies in Santa Clara to work for include Nvidia, Intel, Omnivision, Hitachi Data Systems, Advanced Micro Devices, Infoblox, Gigamon, Oracle, Texas Instruments, and Citrix Systems. Though not directly located in Santa Clara, other globally recognized companies such as Apple, Facebook, Netflix, Google, and Robinhood are close by in Silicon Valley which makes living in Santa Clara so desirable. The NASA Ames Research Center in Mountain View is another top employer.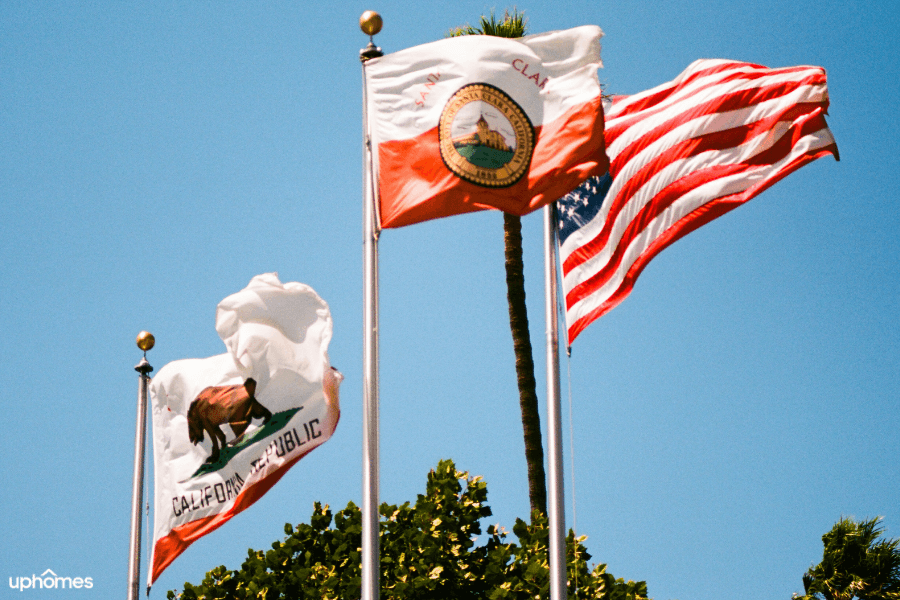 The cost of living is high.
Since Silicon Valley has the highest average salary in the country due to the mass amounts of high-tech companies in the area, Santa Clara is one of the richest cities in the United States. In fact, the Santa Clara metropolitan area is home to the most millionaires and billionaires in the nation. Even though the average salary is $114,000 and most residents make at least six figures, the cost of living is also among the highest in the country and is 114% higher than the national average. Housing prices in particular are shockingly 324% higher than the national average which means that finding affordable real estate is hard to come by. Utilities are 8% higher than the national average, grocery prices are 48% higher than the national average, and healthcare is 36% higher than the national average. If you are bringing your car, keep in mind that transportation and gas prices are 21% higher than the national average. Current gas prices in Santa Clara are averaged at around $4.25 which is why so many residents are driving Teslas and electric vehicles. Another important thing to note is that even though healthcare is expensive if you do not have health insurance then you will be fined by the state of California. The taxes in the state are also known to be high. As of 2021, the sales tax rate in Santa Clara, California is 9%.
Spend the day at an amusement park.
Instead of having to travel all of the way to Anaheim, California to head to Disneyland, Santa Clara has its own popular amusement park right in its backyard. California's Great America is a popular destination and fun theme park with many rides, attractions, great dining, and even a waterpark for those hot sunny days. Great for both families and thrill-seekers alike, this 112-acre park features holiday celebrations and experiences of a lifetime. Hop aboard the 22 story drop tower or an array of exciting roller coasters including the Demon, the Flight Deck, and the Gold Striker. There are even rides just for kids including an adventure playground and kid-friendly bumper cars.
For a place to cool down, the theme park's brand new waterpark called South Bay Shores just recently opened. Featuring a California beach town vibe and following COVID-19 guidelines, plunge down a waterslide or float around in the lazy river. Daily tickets are selling for up to $38 a day per person and season passes are available for up to $32 a month depending on which plan you choose. Military discounts are offered.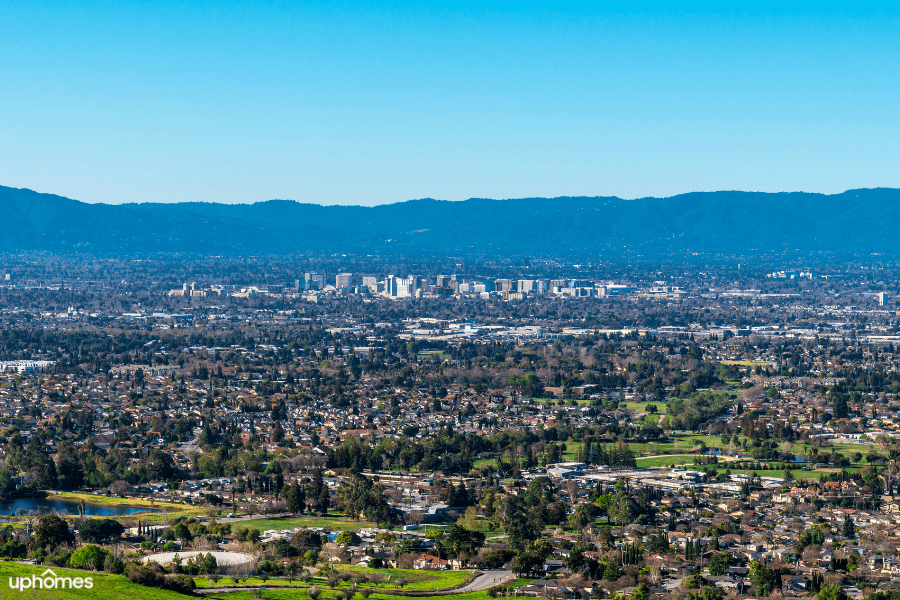 Sports are a way of life.
Calling all football fans! Levi's Stadium which is the home of the San Francisco 49ers National Football League Team is found in Santa Clara right outside of San Jose. Serving as the destination for all things 49ers football since 2014, the stadium holds up to 68,500 seats. There is even a 49er interactive museum in the stadium that features jerseys, helmets, super bowl rings, and all other kinds of team memorabilia that have been collected throughout the years. The San Tomas Aquino Creek trail which runs for five miles throughout the city of Santa Clara provides direct access to the stadium. Watching a 49ers game and cheering on the team is definitely a must-do for all residents. There are teams to support other sports too. For hockey fans, the San Jose Sharks National Hockey League team plays at the SAP Center at San Jose which is only a four-minute drive away.
There are many things to do.
You will never run out of things to do in Santa Clara, California. When moving, the best way to get to know the area is to venture out and explore. Full of museums, recreational parks, lifestyle centers, and breweries, life in Santa Clara is anything but boring.
Check out some of these local favorite attractions: 
The city is surrounded by wine country. 
Did you know that California is the top wine producer in the country? In fact, there are a total of 3,674 wineries in the state. Producing more than 17 million gallons of wine a year, there are 800 wineries specifically found in northern California alone. While Napa Valley and Sonoma County in the North San Francisco Bay Area are most famous for their wine creation, Santa Clara has its own fair share of local wineries that deserve attention.
Just outside of the city in the Santa Clara Valley lies the perfect conditions for winemaking. Called the "Valley of the Heart's Delight" by California Native Americans, the warm Mediterranean climate and nutrient-rich soils mix together to form a haven for grape growing. If you love all things red, white, and rose, make sure to visit the wineries just outside of Santa Clara. 
 Check out these local favorite wineries:  
Coterie Winery: Producing wines in the valley since 2007. Attend a tasting and learn how wine is made. 
Picchetti Winery: Found on the Picchetti Ranch near Cupertino, try the Zinfandel and Cabernet Sauvignon.
Moving to Santa Clara, CA - The Bottom Line 
While moving to Santa Clara in the middle of Silicon Valley may be expensive, it is totally worth it. Home to some of the best and highest-paying jobs in the country, there is a reason why Santa Clara is constantly receiving high ratings. With a current minimum wage of $15.75 an hour, people are moving here with the intent to grow and succeed. Once you have made the decision to move, make sure to reach out to one of our reliable and knowledgeable Realty Specialists to help aid and assist you through the home buying process. Contact us today!
#blog-moving-california-cta#

Find your new home
Search real estate and homes for sale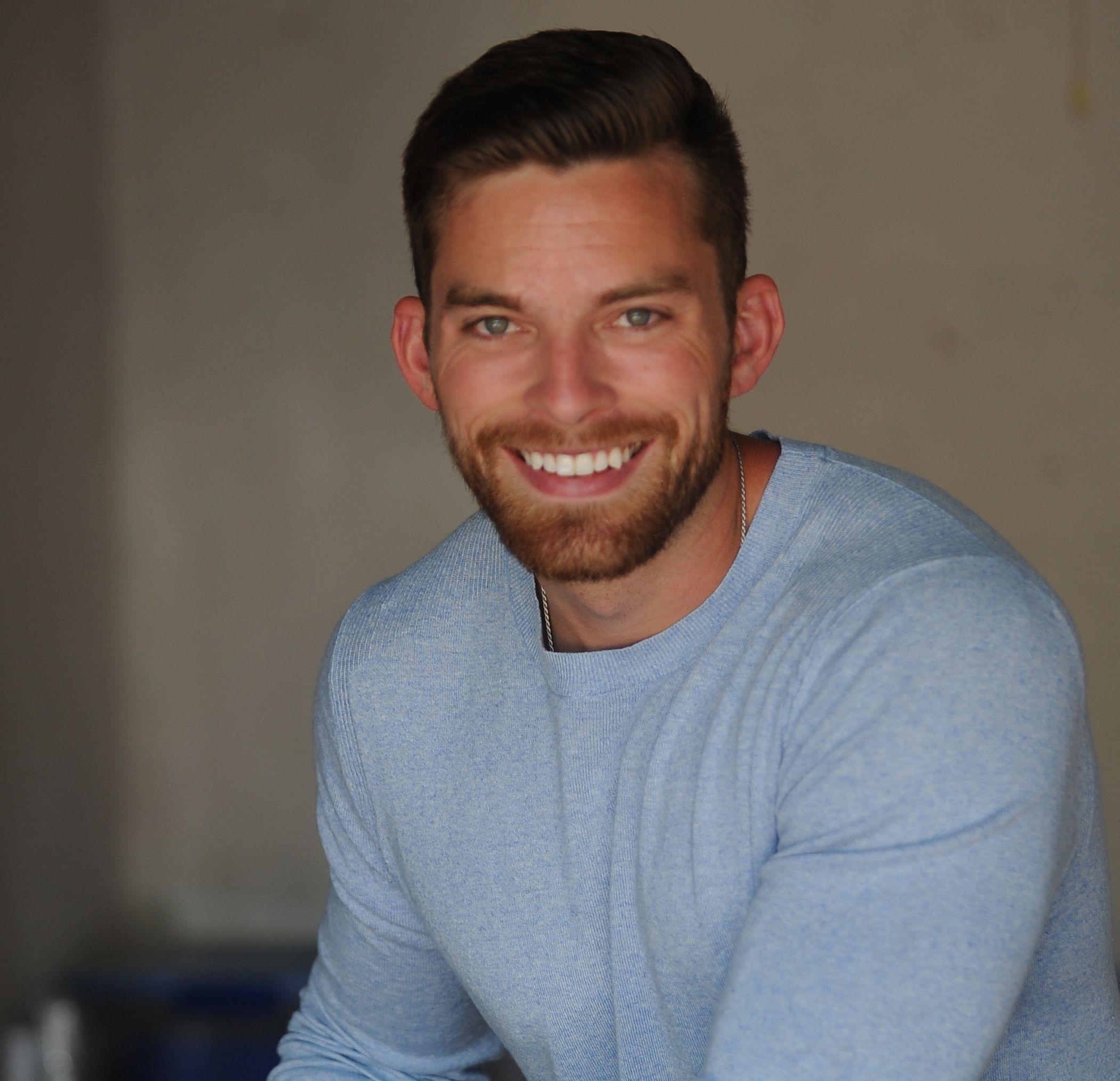 Ryan Fitzgerald
Hi there! My name is Ryan Fitzgerald, and I am a REALTOR®. My goal is to help you learn more about real estate through our Real Estate Blog! Hopefully, you enjoyed the above blog post and it found a way to provide help or value to you. When you're ready to buy or sell a home of your own let us know here. Please feel free to join the conversation by dropping us a comment below.