Life in Fort Worth, TX: 10 Things to Know BEFORE Moving to Fort Worth
Living in Fort Worth, TX
Are you moving to Fort Worth, TX? Here is what it's like living in Fort Worth!
The beautiful city of Fort Worth is found in North Central Texas and is one of the fastest-growing cities in the United States. With a total population of 874,401 people, Fort Worth is the fifth-largest city in the state of Texas. A good place to live, Fort Worth has a vibrant Downtown area and an exciting city center. Known as one of the best places to live in Texas for its job market, culture, and southern hospitality, many young professionals and families are relocating to the area.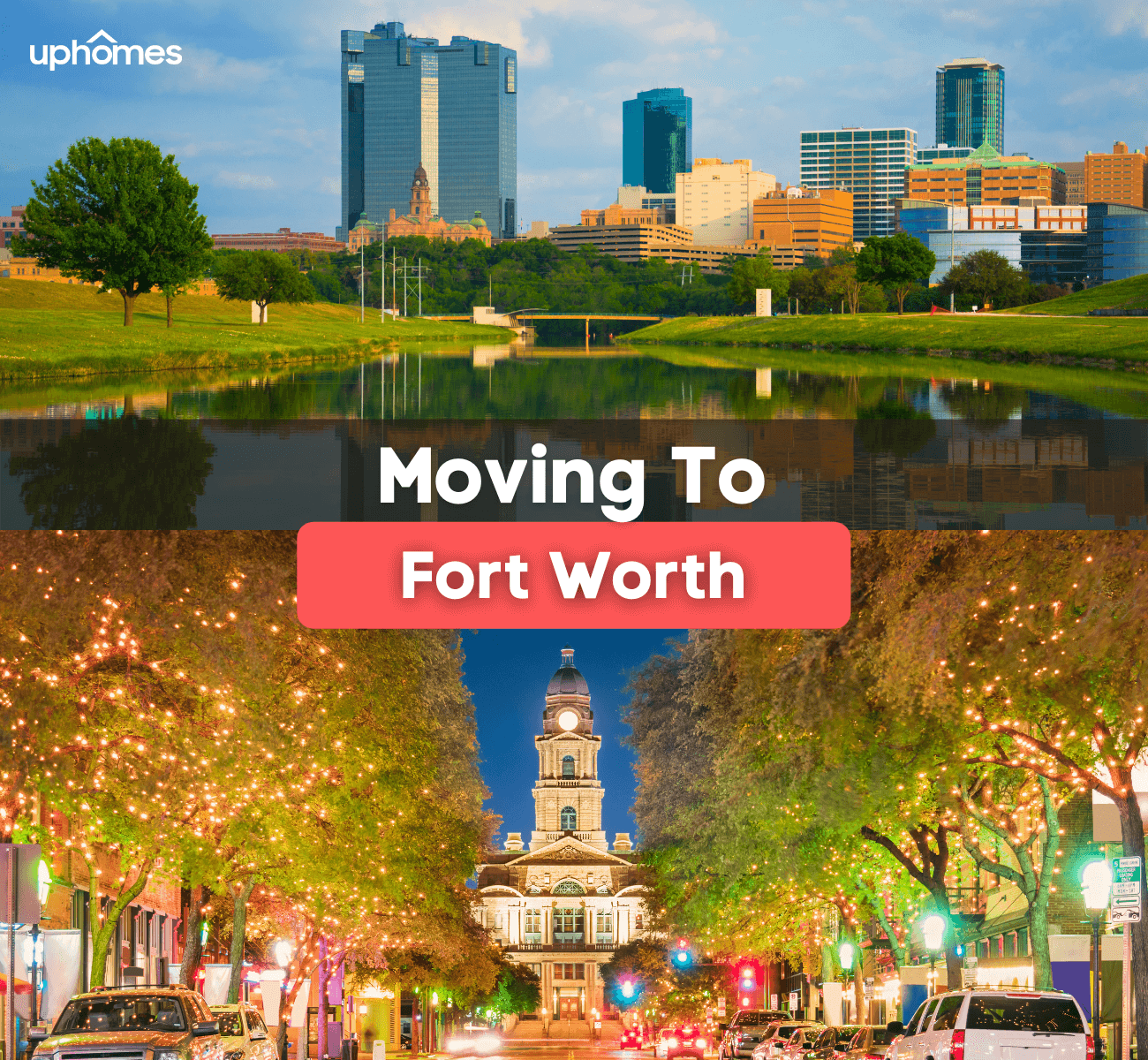 Home to vast amounts of buildable land at an affordable price, the city has numerous safe and modern neighborhoods and suburban areas to choose from. If you are thinking about making the big move to Texas then you might want to consider making Fort Worth your new home. While moving can be stressful, this guide was created to help you figure out if Fort Worth is the place for you. Without further ado, read on to learn more about 10 Things to Know BEFORE Moving to Fort Worth, Texas!
Fort Worth is different from Dallas
Fort Worth and Dallas are often combined together to create the "DFW" metropolitan area. While the two may constantly be linked together as one, the fact of the matter is that Fort Worth and Dallas are two completely different cities. Located next to each other, it is easy to group these two cities as one but it often causes confusion to non-locals. If you are wondering if you should move to Dallas or move to Fort Worth then it is important to first have a firm understanding of what separates them from each other. First and foremost, Fort worth is cheaper than living in Dallas. In fact, rent prices are a whole 18.8% lower in Fort Worth than rent in Dallas. Fort Worth is also thought to be more "Texan" than Dallas due to its cowboy stereotype and abundance of cattle ranching in the area. Dallas on the other hand tends to be more urban, has more traffic, and is not as laid-back and relaxed as Fort Worth is.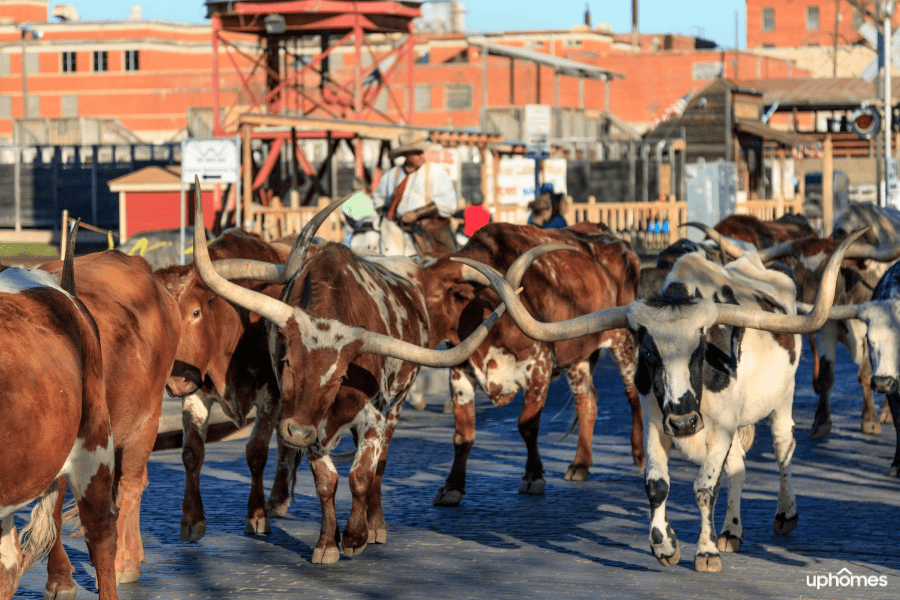 Affordable cost of living. 
The cost of living in Fort Worth is both reasonable and affordable. Cheaper than other similar-sized cities, Fort Worth is less expensive than living in Miami, Florida, or living in Los Angeles, California. With a cost of living that is closest to that of Dallas, Fort Worth is a great place to live if you want to get more for your money. Plus, housing prices are 5% lower than the national average and grocery prices are 7% lower than the national average. In order to live comfortably in Fort Worth, an average annual salary of close to $53,000 is recommended. Along with the lack of state income tax, residents are able to save more money when living in Fort Worth.  
The job market is booming.
If you are moving to Fort Worth and are searching for a job then you are in luck. Fort Worth is considered a top career destination due to its location, affordability, and abundance of business opportunities. Home to one of the largest concentrations of Fortune 500 companies, many successful businesses and corporations are deciding to make Fort Worth and its surrounding area their headquarters.
As a large trade center and economic hub, some of the major leading industries in Fort Worth are manufacturing, distribution, oil and gas, defense, and technology. Gaining an increase of almost 200,000 jobs since May of 2020, the Fort Worth and Dallas metropolitan area has experienced a 7.7% jump in job growth over the past year. Some of the best companies and top employers in Fort Worth include GE, American Airlines, BNSF Railway, Pier 1 Imports, Exxon Mobil, and AT&T.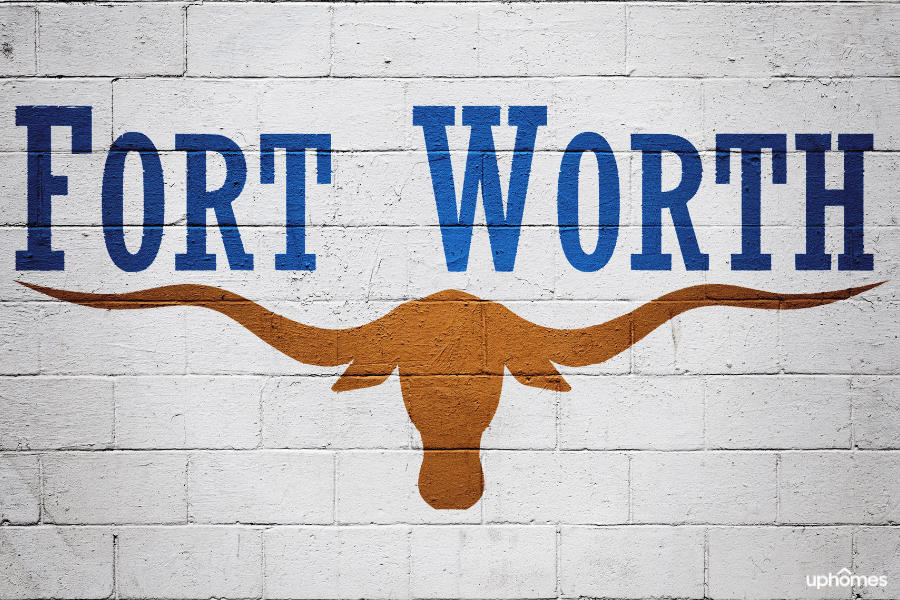 Fort Worth is highly educated.
If you are moving to the area with school-aged children then you will be happy to know that the Fort Worth education system is top-notch. Home to a highly rated school system with some of the best public schools in Texas, Fort Worth prioritizes education. The Fort Worth Independent School District teaches more than 84,000 students in Tarrant County. Providing multiple educational resources for its residents, some of the top public schools in the area include Tanglewood Elementary School, Harmony School of Innovation, and Marine Creek Collegiate High School. There are also more than 60 private school options available for students. Before moving to the area, it might be a good idea to move to a neighborhood that feeds into the schools that you would want your children to attend.
For those looking for higher education opportunities, there is no shortage of those in Fort Worth either. Some of the top institutions in Fort Worth include Texas Christian University, Texas Wesleyan University, and Tarrant County College. There are also more than 60 other colleges and universities located in the region to choose from. With the benefit of in-state tuition status, attend favorites such as The University of Texas or Texas A&M.
Beware of unpredictable weather. 
Experiencing a humid subtropical climate, residents can expect hot and muggy summers alongside cold and windy winters. Experiencing all four seasons, the weather in Fort Worth is mostly mild but also unpredictable. The hottest month during the year is the month of July with an average high temperature of 96 degrees Fahrenheit. Meanwhile, the coldest month during the year is January with an average low temperature of 34 degrees Fahrenheit. The months of April, May, and October are considered to be the most pleasant during the year. Receiving an average of 37 inches of rain per year, Fort Worth is just behind the United States average of 38 inches of rain per year.
While 229 days during the year are usually considered to be sunny, residents need to be prepared for any unexpected weather. Receiving the most snowfall in Texas due to its higher elevation, the city receives an average of one inch of snowfall per year if any. During the spring months, as warmer temperatures start to move in, large storms and hail are known to often pop up at random times. Fort Worth is also located on the southern end of Tornado Alley so residents need to watch out for tornadoes. Overall residents need to have a plan in place in case bad weather hits.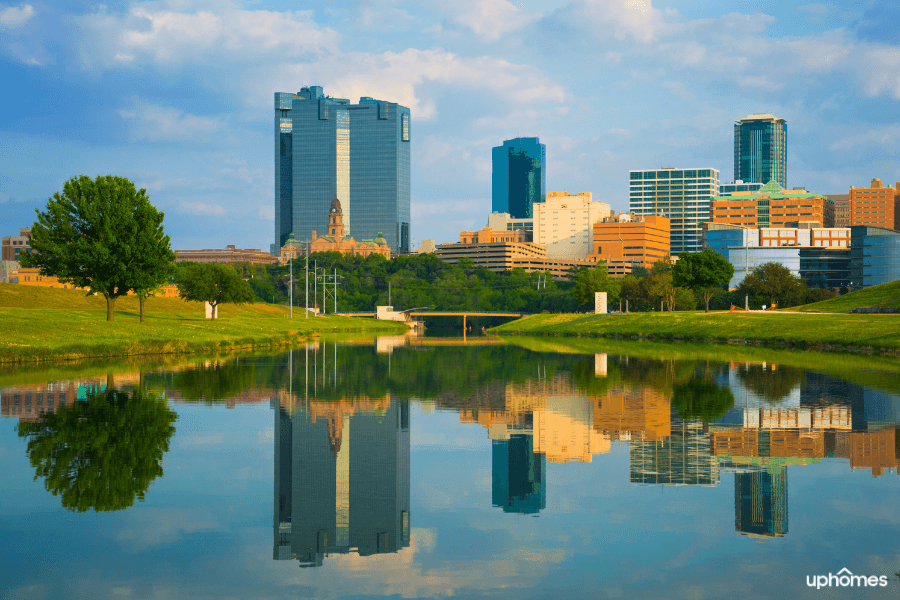 Art is everywhere.
While Fort Worth may be all about football and the rodeo, the art scene is just as impressive. Priding itself for its "Cowboy Culture" and wild west attractions, the city has a rich cultural history that is prominent in its museums, festivals, and entertainment. From majestic galleries to street fairs and film festivals, Fort Worth embraces and celebrates artistic expression in everyday life.
Check out some of these local favorite museums and shows in Fort Worth, Texas!
Football is a way of life.
Known as a sports city, there is no shortage of teams to support when living in Fort Worth. Football, in particular, seems to receive the most attention from residents. Although Fort Worth does not have its own specific professional football team to cheer on, the Dallas Cowboys play nearby in the AT&T Stadium which brings in a large crowd. Even if you have never been a fan of the Cowboys before, once you move to Fort Worth you will be buying all things blue and white. During football season, the locals can be seen attending high school football games, routing for the college home team on the weekends, and watching NFL games at one of the local sports bars. It might be a good idea to start learning the rules of football now.
Explore the great outdoors. 
If you love to spend time outside breathing in the fresh air then Fort Worth may be the perfect city for you. Whether you like to go hiking, kayaking on the river, admiring the wildlife, or simply having a picnic in the park, there are plenty of places to adventure outside of the hustle and bustle of city life.
Check out some of these local parks and outdoor attractions in Fort Worth, Texas!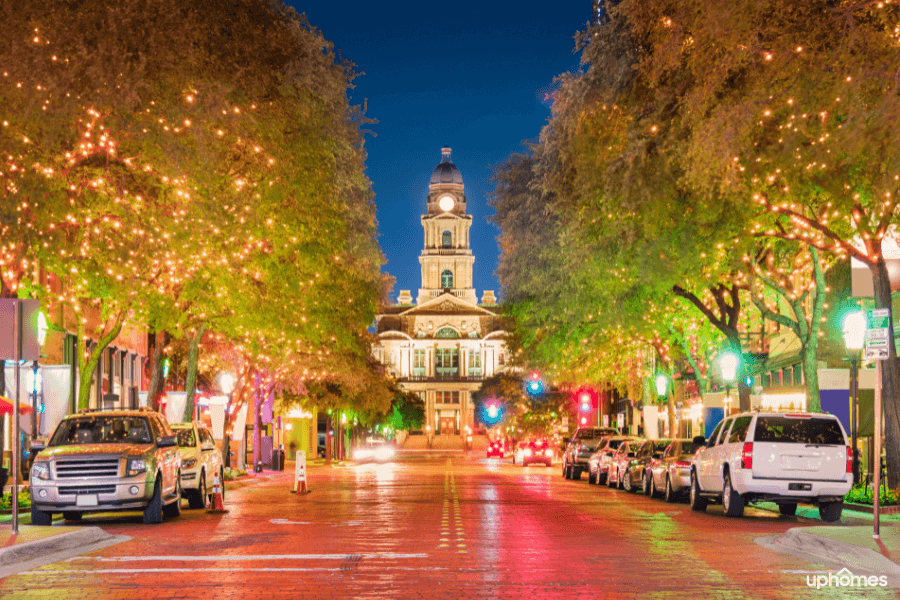 Coffee is the beverage of choice.
How do you like your coffee? You better get used to this question now. Fort Worth is home to an abundance of cozy coffee shops and cafes that will easily become your new favorite place for a latte.
Check out some of these local favorite coffee shops in Fort Worth, Texas! 
There is always something to do.
No matter what you like to do for fun in your spare time, you will never run out of things to do in Fort Worth. Whether you like to take tours of wineries, hang out at a waterpark, or visit a historical site, there is something for everyone in this city. It goes without saying that living in Fort Worth, Texas is never boring.
Check out some of these local favorite attractions in Fort Worth, Texas! 
Moving to Fort Worth, TX - The Bottom Line
As one of the safest communities in the country, Fort Worth is a clean and happy place to live. With the pros outweighing the cons, moving to Fort Worth will definitely be worth it. Thanks to its affordable housing market, the abundance of jobs, and cultural diversity, it is no surprise that an average of 328 people are moving to the Fort Worth area every day. If you have decided that you want to call Fort Worth home and want to buy a house, make sure to reach out to our knowledgeable and experienced Realty Specialists to aid and guide you through the home buying process. Our team will help you through every step of the way. Contact us today to find your dream home in Fort Worth, Texas!
#blog-moving-texas-cta#

Find your new home
Search real estate and homes for sale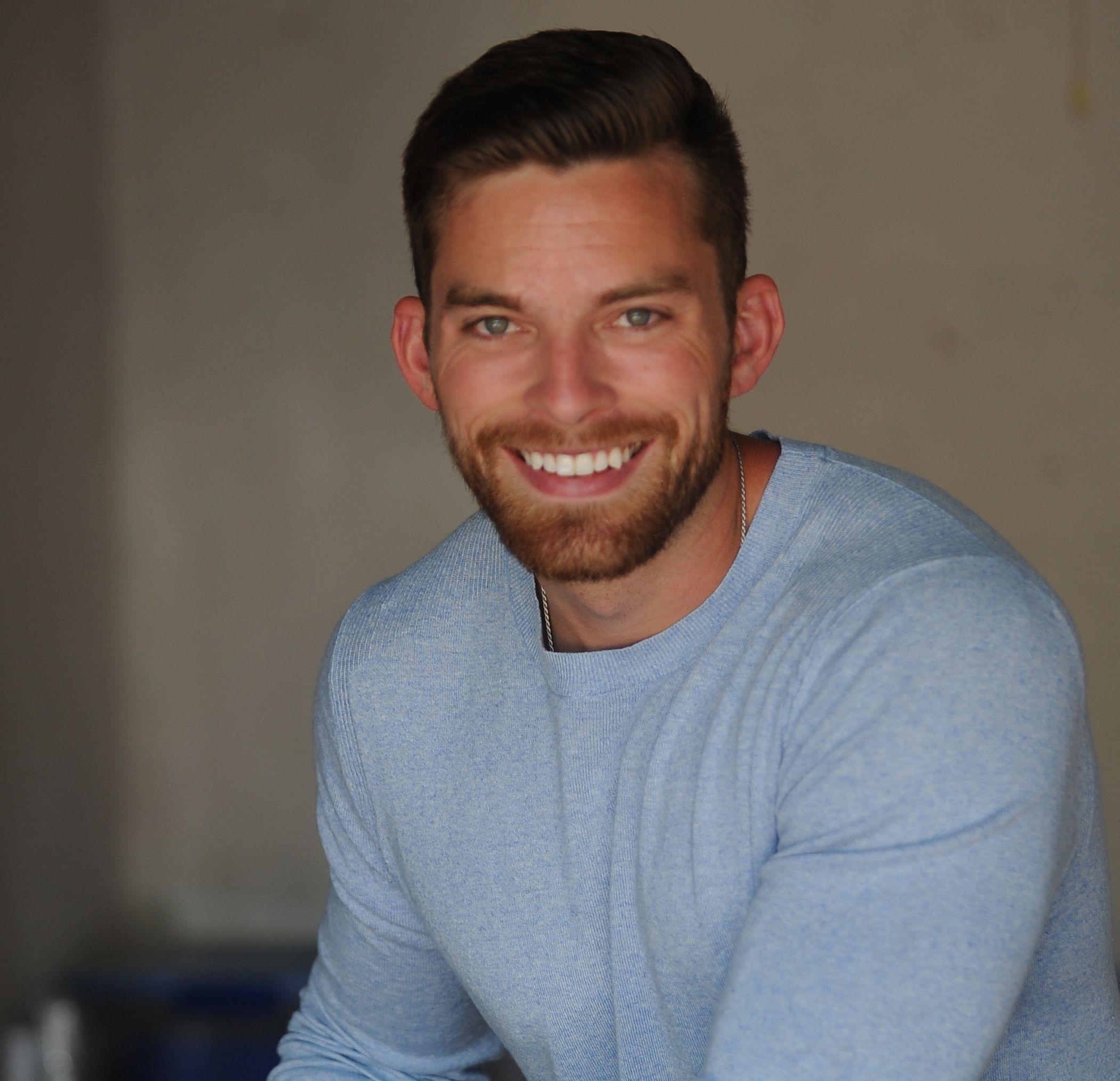 Ryan Fitzgerald
Hi there! My name is Ryan Fitzgerald, and I am a REALTOR®. My goal is to help you learn more about real estate through our Real Estate Blog! Hopefully, you enjoyed the above blog post and it found a way to provide help or value to you. When you're ready to buy or sell a home of your own let us know here. Please feel free to join the conversation by dropping us a comment below.