10 Things to Know BEFORE Moving to Auburn, AL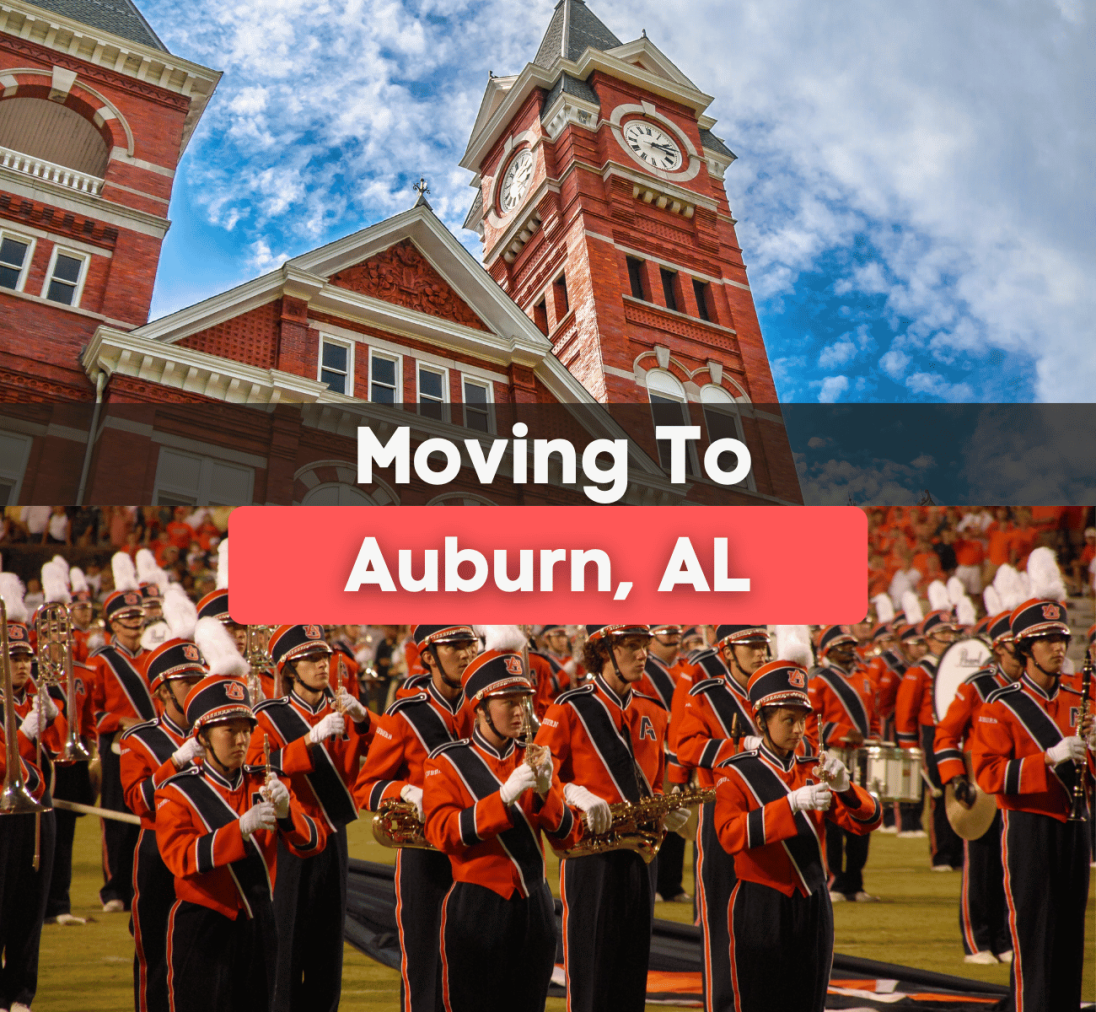 Living in Auburn
Are you considering a move to Auburn, Alabama? Make sure you know these ten things about living in Auburn!
Auburn, AL, is home to the historic college, Auburn University, and about 78,564 residents. This city is located in Lee County and is considered the largest city in eastern Alabama. Auburn is Alabama's fastest-growing metropolitan area and the nineteenth fastest-growing metro area in the United States. 
Auburn is ranked among its top ten list of best places to live in the United States and is known as "The Loveliest Village On The Plains." This city is a popular area for ages ranging from 18 to 65. The median age here is 24 because it is home to the famous Auburn University. Considered to be one of the best places to live in Alabama, Auburn is a beautiful place to live and visit. 
If you are looking for a place to live with one of the best school systems, a booming economy, or tons of things to do, this is the perfect place for you! Undoubtedly, you or your family will enjoy living here while the housing market is rising. You can not miss out on this fantastic city and the charm it offers.
It is no secret that Auburn is a great place to move to. It offers its residents a dense suburban feel with many coffee shops and parks to enjoy. This city is full of southern hospitality and charm. Everyone knows each other in this tight-knit community. Auburn is a small town just a few hours away from the beach and other large cities like Atlanta, Montgomery, and Birmingham.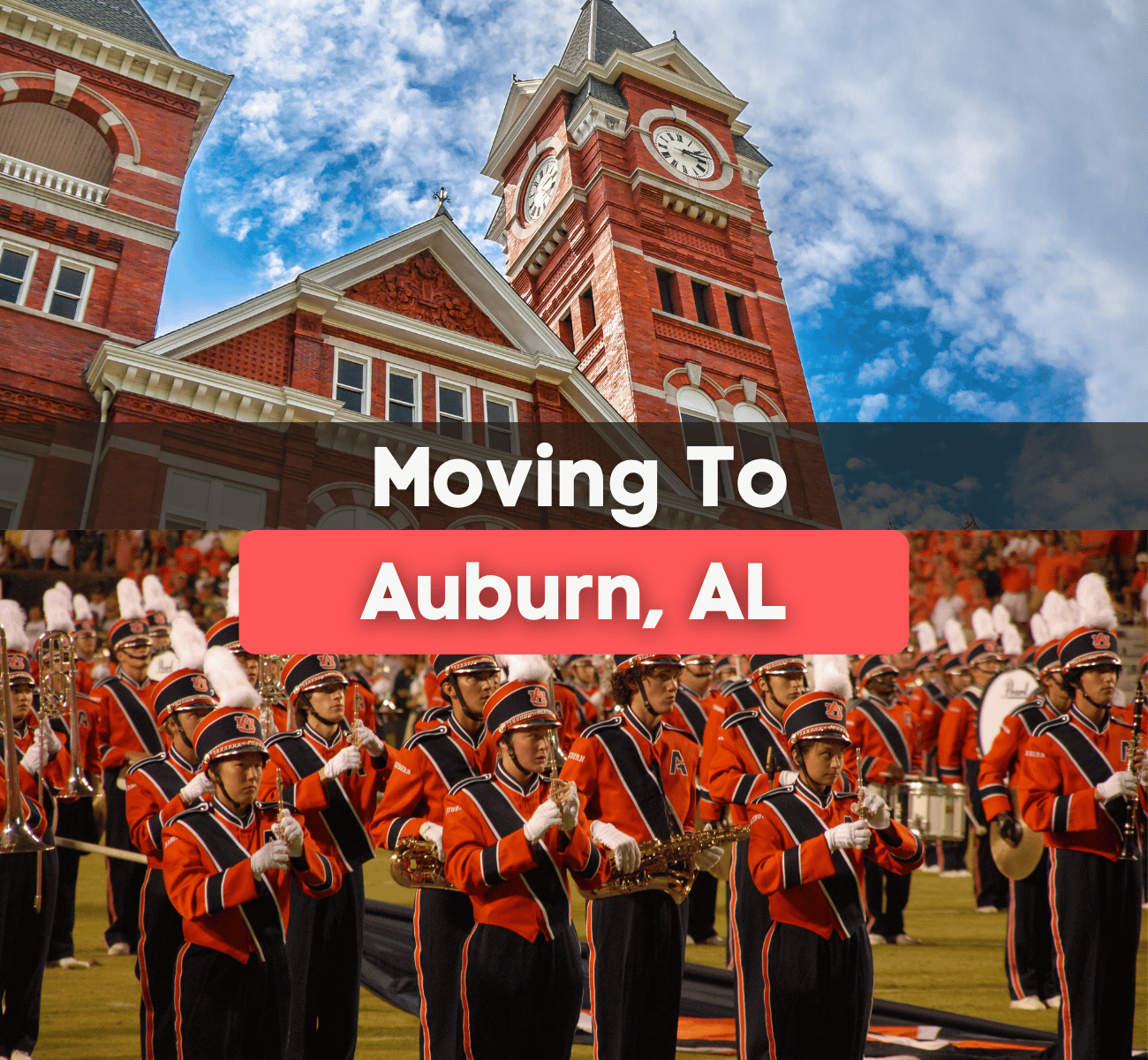 Here are the ten things you need to know about life in Auburn!
Cost of Living
Auburn's overall expenses are 8 percent lower than the national average. However, utilities are 3 percent higher than the national average, but transportation like bus fares and gas prices are 3 percent lower than the national average.
The average cost of living in Auburn is about $1372, in the top 32 percent of most expensive cities worldwide. The total cost of housing, food, child care, transportation, health care, taxes, and other necessities for a single adult in Auburn is about $35,426 a year, which is less than the national figure.
Check out some expenses below in Auburn:
| | |
| --- | --- |
| Cost of Living Item | Price |
| Median Home Price | $311,942 |
| Median Rent Price | $952.91/month |
| Gas | $4.22/gallon |
| Gallon of Milk | $2.19 |
| Doctors Visit | $106.06 |
Source: Payscale
Weather
Typical for being located in the Deep South, Auburn has a humid subtropical climate. It ranges from mild winters and early springs to long, hot, muggy summers and warm autumns. Due to its location near the Gulf of Mexico, this city does encounter a significant amount of rainfall through the years. 
On the other hand, Auburn does experience severe storm activity, tornados, and hurricanes due to its location in the tropical system.
Winters are typically mild with a low temperature of 50 degrees Fahrenheit, while the summers are long and hot with high record high temperatures of 100 degrees Fahrenheit.
Education
Auburn is a city that is primarily driven by the influence of education. Home to Auburn University, a land-grant university and a sea and space grant university with vital business, engineering, agriculture, and veterinary medicine programs.
Auburn's public school system includes eight elementary schools, two middle schools, one junior high school, and one high school. This city's school system has been ranked among the top public schools in the state and nation.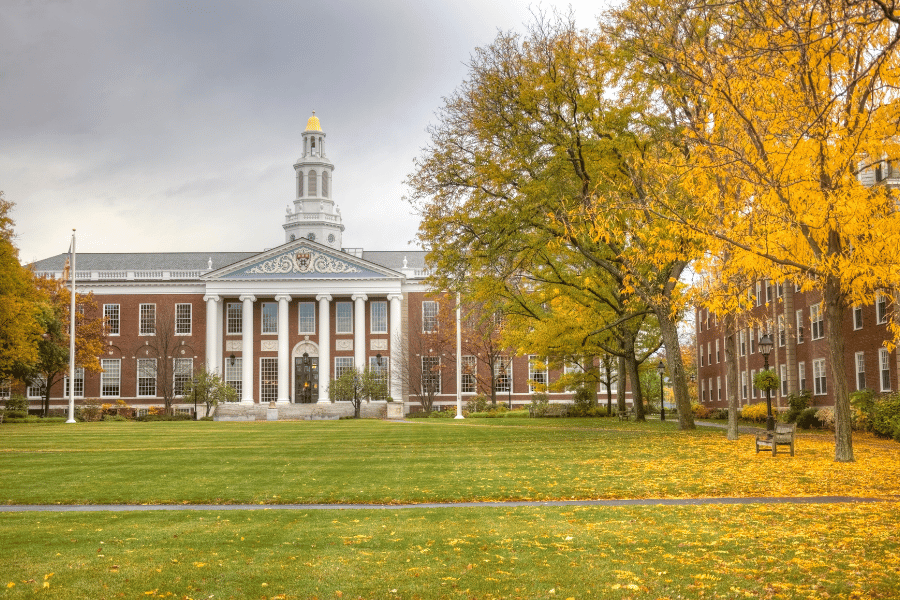 Job Market
Auburn has an unemployment rate of 2.3 percent, which is lower than the 6 percent for national average. Auburn also has seen the job market increase by 1.7 percent over the last year. Future job growth over the next two years is predicted to be 39.1 percent, higher than the national average of 33.5 percent.
However, the sales tax for this city is about 2 percent higher than the national average, while the income tax is about 1 percent higher than the national average.
The overall average income for a resident in Auburn is about $24,896, and the median household income for a resident is approximately $37,406 yearly.
Transportation
Since Auburn is located in the southeastern part of Alabama, it is accessible by Interstate 85, US 29, and US 28. On the other hand, this city has a general airport, Auburn University Regional Airport (AUO). 
This city is a heavily car-dependent community and a bike-friendly town. Due to few sidewalks and no city bus system in Auburn, it is essential to have your source of transportation when traveling around town.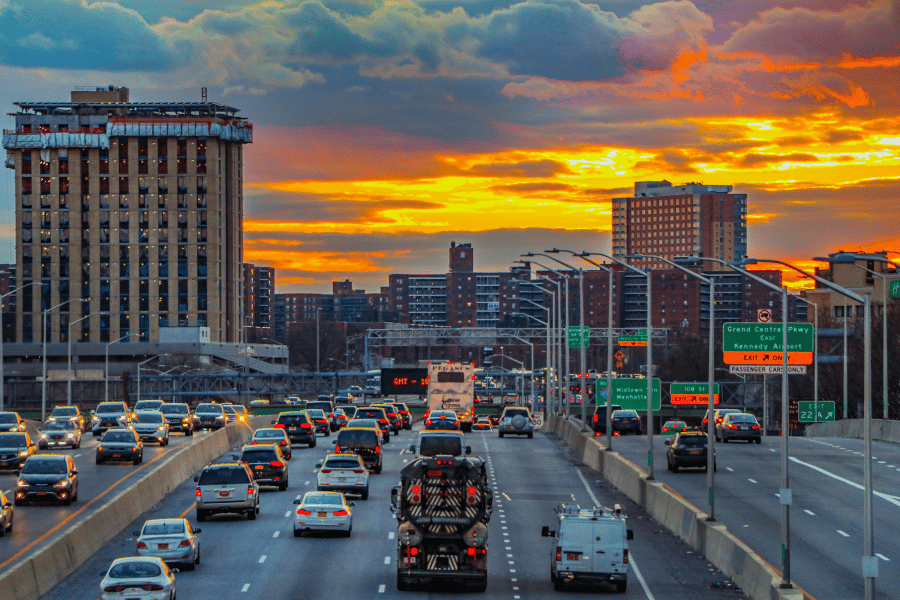 Housing Market
Homes in Auburn were selling for a median price of $409,900 in November 2022. On average, homes here sell after about 15 days on the market. The home appreciation in the past ten years has been 42.9 percent, but in Auburn, it is up 8.7 percent. Auburn home buyers' average age is around 24, and since the housing expenses are 22 percent lower than the national average, this is a popular place to move to!
Local Favorite Restaurants
This restaurant is a long-running sports-themed eatery serving Alabama for over 40 years! Enduring sports-themed chain with many pub grubs, steaks, and other entrees, plus enjoying the large TVs around the place while you want this American-style food!
This American-style restaurant is a seafood and southern-style fare served in a cozy cafe featuring Van Gouge's art and live music. This Cafe was founded in 1991 and quickly became a favorite among Auburn locals and visitors. 
This family-owned place is an American restaurant, a rustic-chich bar with a simple New American menu, an extensive bourbon selection, and many craft beers. Their menu features inventive yet approachable takes on American cuisine. Their atmosphere is designed to be a warm and welcoming think hunting lodge, antler-pronged barn setting with the hustle and bustle of old-time Alabama.
This smokehouse utilizes slow-smoked meats in various dishes that manage the influence of growing up in Texas. Bow & Arrow serves up an assortment of smoked meats that can be enjoyed on their own with an array of traditional southern and tex mex sides like mashed potatoes, collard greens, and others!

Nightlife
The city of Auburn has various places that turn the nightlife into something everyone wants to be a part of. Whether you are a local or just visiting for the weekend, there are so many places you should take advantage of! Here are some of the best bars, nightclubs, and restaurants in the area that have that fun vibe, whether for a night of dancing or for a social setting to hang with friends!
A fantastic place to have a drink and hang with friends while enjoying entertainment on their big screens! While this is a great place to enjoy hanging out, it also has one of the best night sky views!
This upscale bar and tap room are suitable for hanging with some friends in a darker setting or even a romantic spot!
This is an excellent place to enjoy a cigar in a cozy environment with an upscale setup. You can enjoy a drink or order a freshly rolled cigar while hanging out with friends!
One of the hidden gems in Auburn, this place showcases some of the best artistic talents. From performances to technology, each is produced by the student body at Auburn University.
A great place to have some nighttime fun in Auburn with friends or family. This is a great place to bowl while enjoying the arcade games and concession stands!
Parks
About 33 parks throughout Auburn, with over 26 miles of trails and 387 acres of open space. Auburn is a perfect place to enjoy beautiful and peaceful sceneries if you want to take a day and enjoy the outdoors while spending time with family or friends. There are many parks to choose from, and each has something special.
Auburn's newest park is named after the Dinius family, who donated their land. This park is 13 acres that offer two dog parks, a large one and a small one, a natural playground with a family pavilion, and restrooms. The park is shaded by many trees, leaving room for beautiful pong and paved trails.
This park offers its residents a playground, concession stands, batting cages, a picnic area with grills and tables, restrooms, and a few softball and baseball fields!
This park has a large pavilion for gathering, a playground, a basketball goal, and a fenced-in field.
This new skate park is open every day from sunrise to sunset for the public to enjoy with friends! The skate park is reserved for remote control cars on Saturday mornings until noon!
A "unique playground experience for children," according to the Auburn Community Profile. The city and community all volunteered to construct this playground for kids to enjoy!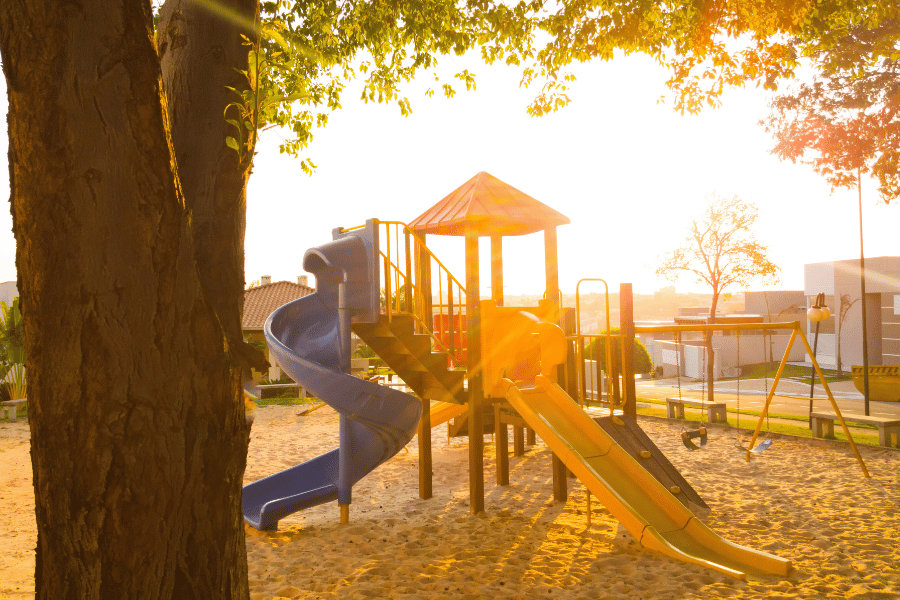 History
Auburn, the largest city in Lee County, lies on the border of Georgia and has a long-standing reputation as the center of education. The land here was originally the camping ground for the Creeks. However, after the Civil War, Auburn's economy entered a prolonged depression that shut down public schools and businesses. It was only when the East Alabama Male College expanded into different programs that the city started developing, with many people moving to it. 
Due to the influx of students, Auburn began a period of growth that added many residential and business constructions. The college, later renamed Auburn University, was able to be a tourist spot due to its football games. 
Over the years, the public was satisfied with the city administration. Hence, Auburn began a rapid residential growth where public schools started hitting top ranks in the state and nation, the population grew by 65%, and the economy expanded by 220%. The people and city have only accelerated since then and have continued throughout the years.
Pros and Cons of moving to Auburn, Alabama
Pros:
Livability
Low cost of living
Low crime
High Education
Diverse population
Great weather!
Cons:
High sales tax
Severe storms
High poverty rates
Dry weather
Traffic congestion
Moving to Auburn - The Bottom Line
Auburn, AL, is a fantastic place to live, especially if you are looking for a place where it has a lot of various things to offer! Finding the perfect place to settle down can be challenging since you have many options. Auburn, however, may be perfect for you if you are looking for somewhere that is always on the rise of expansion.
This city is considered one of the fastest-growing metro areas in the United States and is an exact population location for younger adults. At the same time, also it has a large population of retirees. If you are looking for a place with a low cost of living, an excellent education system, fantastic restaurants, exciting nightlife, and many more things, then Auburn may be the place for you!
You must take advantage of the various food options, breathtaking views, and friendly football fanatic residents. This is one of the best places to call home! Housing costs are low while the economy is booming. Auburn has so much to offer.
If you or anyone you know is interested in searching homes for sale in Auburn, please get in touch with us here so we can connect you with one of our Realty Specialists to help make this transition for you go smoothly. No matter the location, price, or preferences, we are here to help you through every step of the home-buying process to make sure we find you the perfect home that meets all of your needs and lifestyle amazingly. Contact us today! 
Make sure to check out our other local area guides, including best neighborhoods in Auburn, moving to Alabama, the cost of living in Alabama, the cost of living in Auburn, moving to Montgomery, and the best neighborhoods in Montgomery. 

Find your new home
Search real estate and homes for sale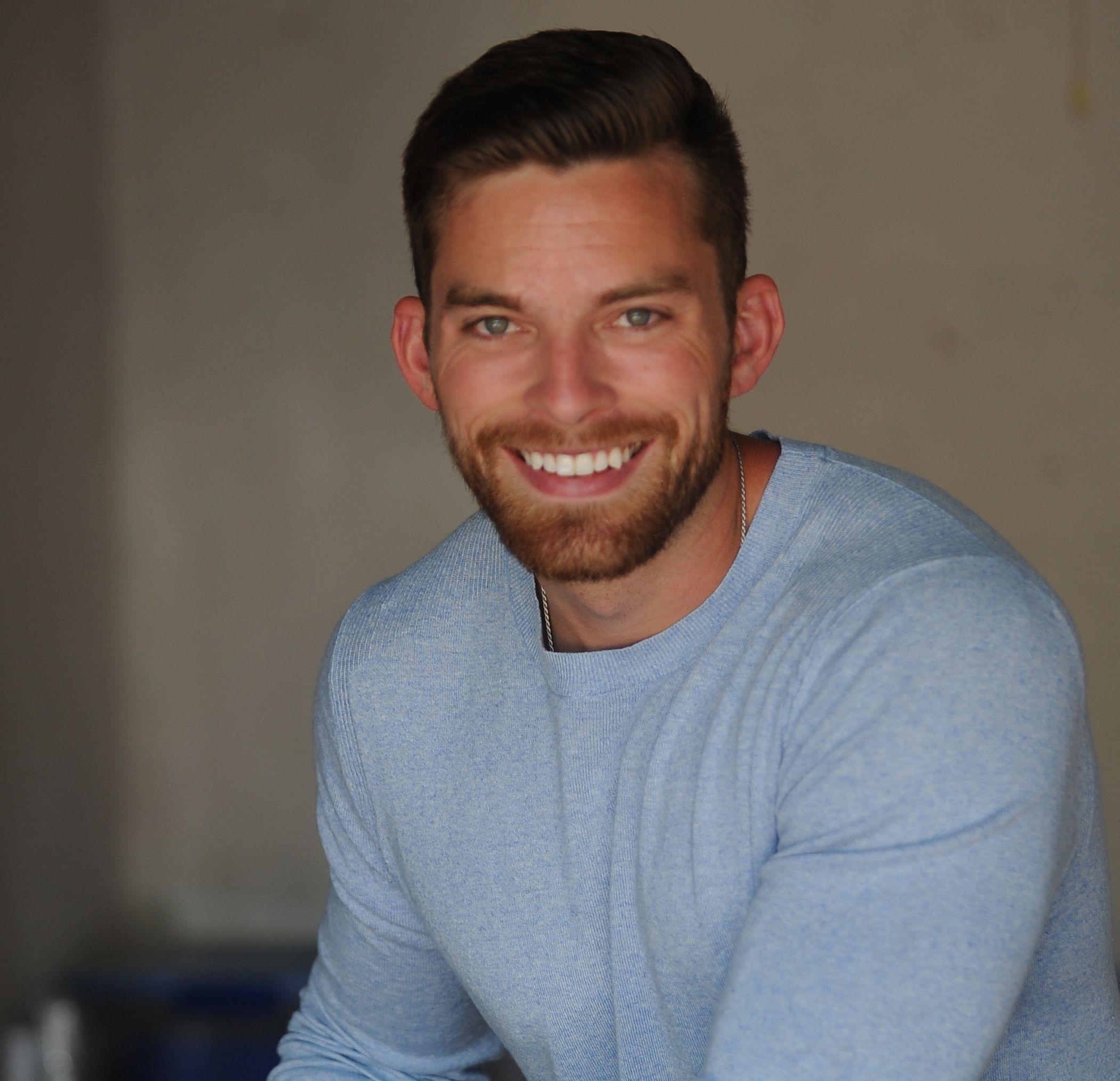 Ryan Fitzgerald
Hi there! My name is Ryan Fitzgerald, and I am a REALTOR®. My goal is to help you learn more about real estate through our Real Estate Blog! Hopefully, you enjoyed the above blog post and it found a way to provide help or value to you. When you're ready to buy or sell a home of your own let us know here. Please feel free to join the conversation by dropping us a comment below.