7 Things to Know BEFORE Moving to Alabama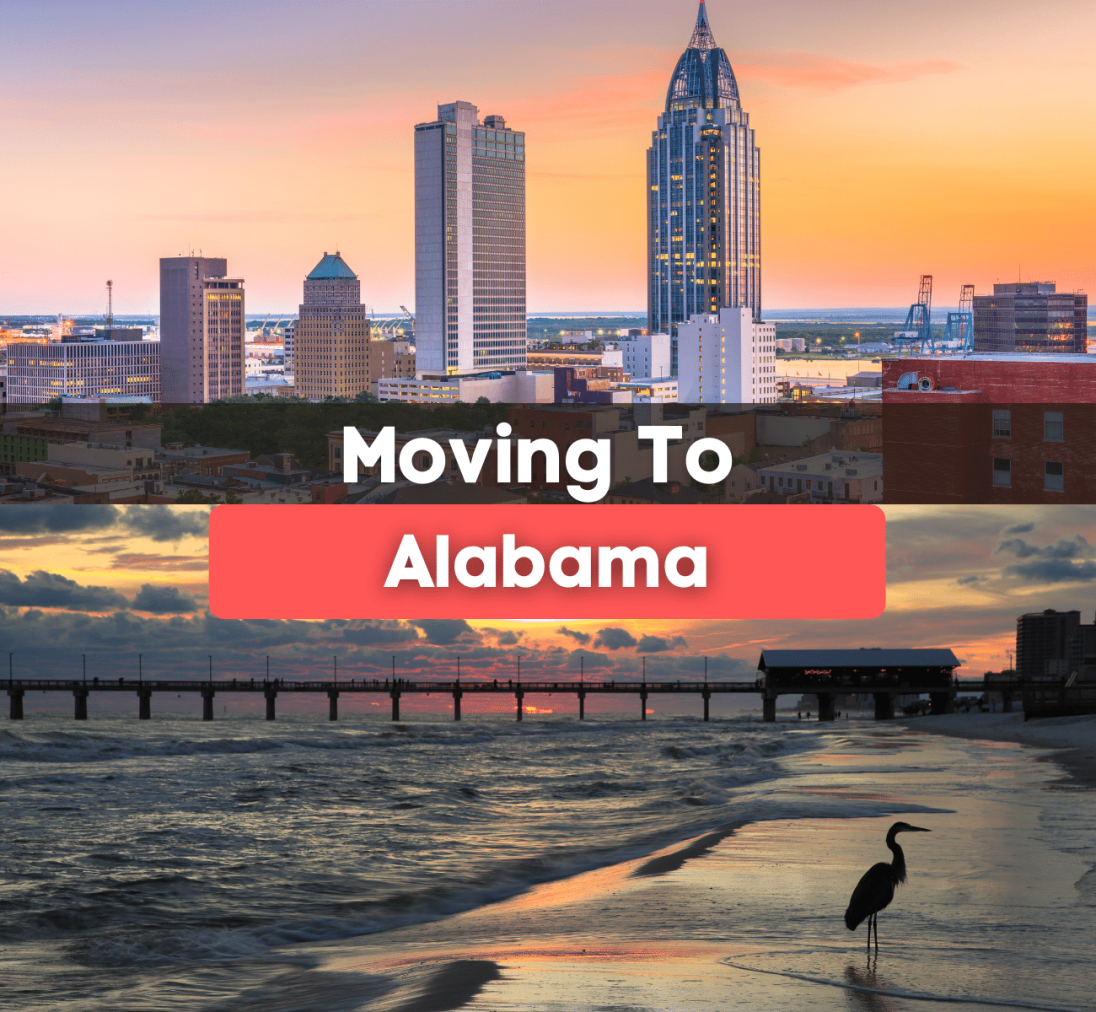 Living in Alabama
Are you considering a move to Alabama? Make sure you know these seven things about living in Alabama!
Alabama is a southeastern U.S. state between Mississippi and Georgia, with a population of 5.04 million. Alabama is known for its Southern hospitality, its history of civil rights, and its low cost of living. Along with its low cost of living, the weather is one of the main reasons people love moving to Alabama.
If you like to live where unemployment rates are lower than the national average and have more sunny days throughout the year, then Alabama is right for you! Between its history and weather, you will love the authentic Alabama experience while taking in its breathtaking views.
Alabama's median age is around 38, making it a state of Millenials and one of the best states for young families. In addition to this being a great place to raise a family, you will also experience vibrant communities, natural beauty, sports, and activities! Alabama has a lot to offer, whether for families or work!
So, if you are wondering if moving to Alabama suits you, you are certainly in the right place. Since deciding to move somewhere can be overwhelming, our team has created this moving guide that includes some of the top things you need to know about life in Alabama. Keep reading to learn more!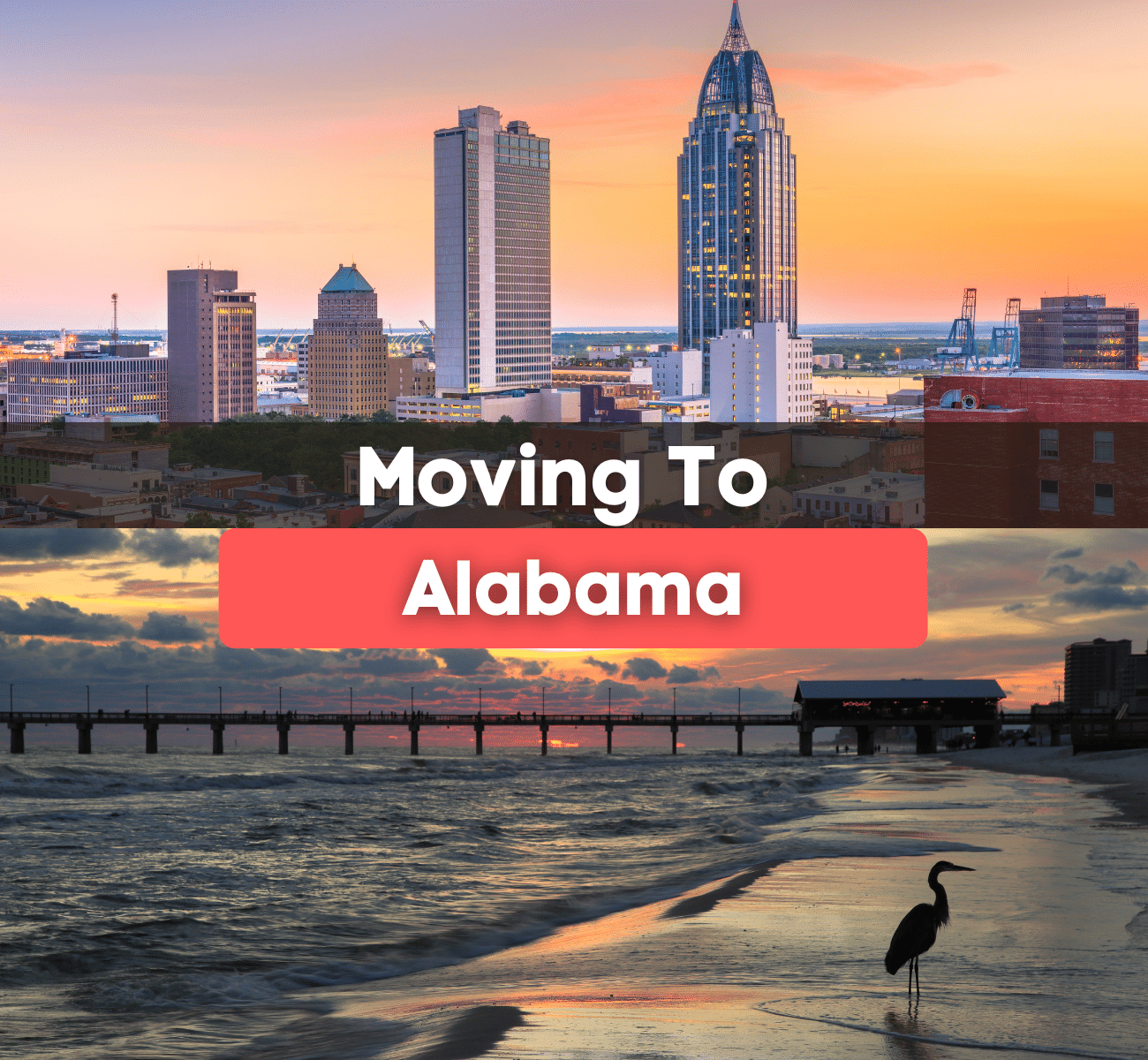 Here are the top 7 things to know about life in Alabama!
Cost of Living
Finding an affordable place to live is essential when choosing somewhere to move. Alabama is known as one of the cheapest states to live in the country. The cost of living in Alabama is 1.1 times less expensive than the average in the United States. The average price is $35,859 per year for a typical single individual.
Due to its moderate climate and location in the country, housing, food, and most living expenses are some of the lowest in the United States. This southern state is one of the most affordable states in the country!
Although Alabama is one of the five states that have not adopted a state minimum wage, its average salary ranges between $36,058 (25th percentile) and $64,071 (75thpercentile). Finding jobs is a priority before moving somewhere new, and here in Alabama, the unemployment rates are at 2.6 percent, one of the lowest states.
Some areas of Alabama cost more than others, depending on the location. Some places that are the most affordable in Alabama would be Attalla, Meridianville, and Tuscumbia!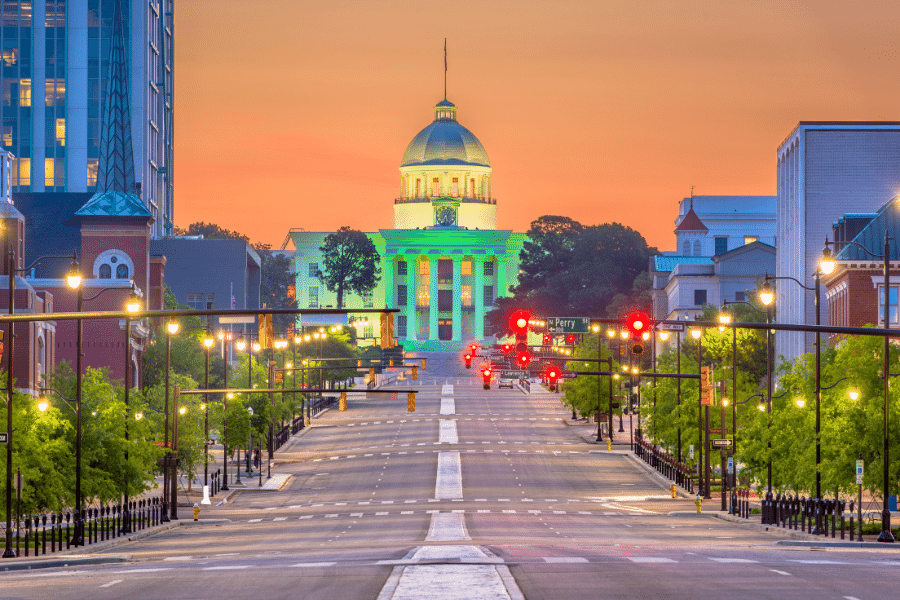 Weather
Do you love sunny weather? Alabama may be for you! Alabama's climate has an average temperature of about 64 degrees. This southern state generally has hot summers and mild winters, but also you will experience large amounts of precipitation throughout the year.
Although most of the year, Alabama has sunny skies, it is also prone to tropical storms and hurricanes in areas near the Gulf. Finding the correct city in Alabama is essential since the weather can vary throughout this large state. If you choose to live somewhere North, like Auburn, AL, you will experience less rainy weather!
If you like sunny weather, you may want to check out certain cities with the best weather! Living somewhere where you enjoy the environment around you is very important. Mobile, Alabama, is a famous city with fantastic weather year-round!
Dining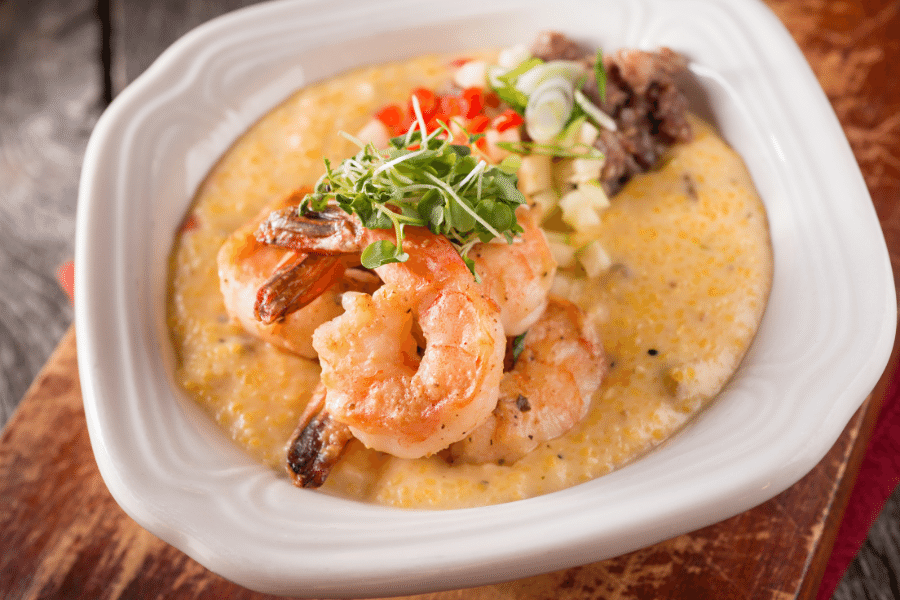 Do you love southern food and BBQ? Well, you will not go hungry when you are in Alabama!
This southern state will fry anything it can into fan favorites. Alabama is known for its delicious barbecue and even its unique BBQ sauce.
Alabama's national food is shrimp and grits, and it has practically been made throughout the state in many different preparations, spicy, cheesy, creamy, and even tangy. This comfort meal is considered Alabama's official dish and is something you can not miss out on!
Check out these few famous restaurants that people in Alabama like to dine at!
Education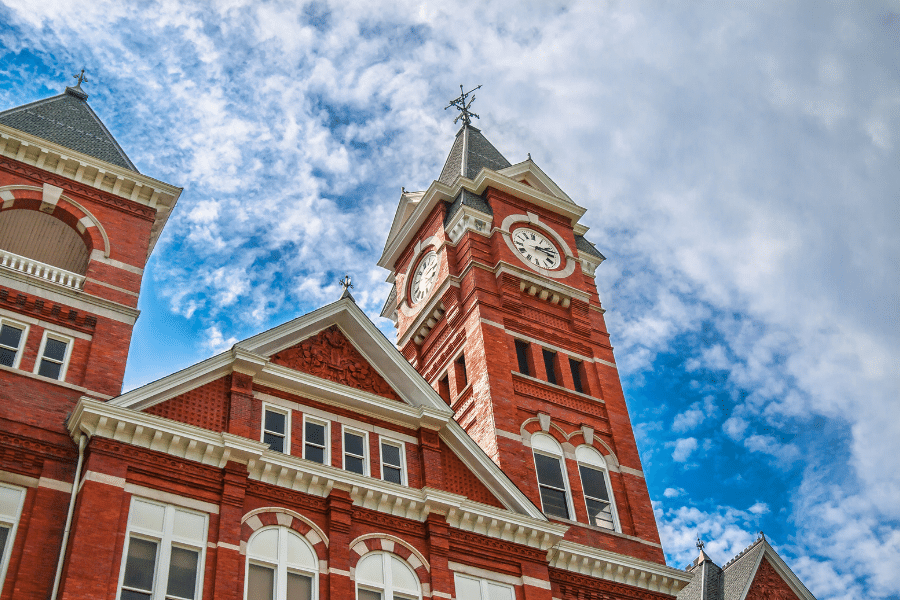 Alabama has two main types of school districts: county and city. At the same time, a few schools remain in their district: the Alabama School of Math and Science, the Alabama School of Fine Arts, and the Alabama Institute for the Deaf and Blind.
Education in Alabama consists of several public and private schools, including the famous University of Alabama and many other primary and secondary schools. This state provides education from pre-Kindergarten through twelfth grade and is home to multiple highly-rated colleges and universities for those seeking higher education opportunities.
Check out some of the best colleges here in Alabama!
| | | |
| --- | --- | --- |
| School | Location | Tuition |
| Auburn University | Auburn, Alabama | $11,826 |
| Samford University | Birmingham, Alabama | $36,725 |
| University of Alabama | Tuscaloosa, Alabama | $31,685 |
| Birmingham-Southern College | Birmingham, Alabama | $21,250 |
| Tuskegee University | Tuskegee, Alabama | $22,679 |
Alabama, however, is considered to be lower on the education scale due to poverty challenges. Alabama's Education Attainment rank is 45, and its Quality of education rank is 41. The nationwide average of adults above 25 years old having a bachelor's degree or higher is about 35%, but in Alabama is about 27.4%. Poverty significantly impacts education, so the school's location varies the literacy levels. Finding somewhere that has good education is essential when moving to raise a family or seeking a degree; sadly, Alabama may not be the best option for that, depending on the school's location.
Crime Rates
Alabama's violent and property crime rates are higher than the national average but have decreased by 17% over the past couple of years. This large state is ranked 44thin violent crime out of all 50 states. The crime rate in Alabama is 21.4, and the national average is 19, while 16 percent of Alabama's population is under the poverty line.
Searching for a safe place to live is essential, and sadly, Alabama does have a high violent crime rate of 5.20 per 1,000. Due to poverty in this state, crime rates are higher than usual. Finding a location above the poverty line may be something for you if you want to live in a safer area! However, Alabama may not be the choice for you along the lines of finding the safest state.
Finding a safe place to live is crucial to moving somewhere near, so check out a few cities that are the safest places to live in Alabama.
Sports
Do you love college football? If your answer is yes, then Alabama may be for you. College football is by far the most popular spectator sport in this state. While baseball and basketball are popular here, football will always be Alabama's most popular.
Alabama has several minor league professional and semi-professional teams, including three minor league baseball teams. It does not have major professional sports teams, but Alabama is considered the most sports-loving state.
Alabama has dominated football across eras, with 16 national championships from the 1920s. The University of Alabama is a football fan favorite with approximately 800,000 fans!
Check out some of Alabama's favorite teams:
Parks and Beaches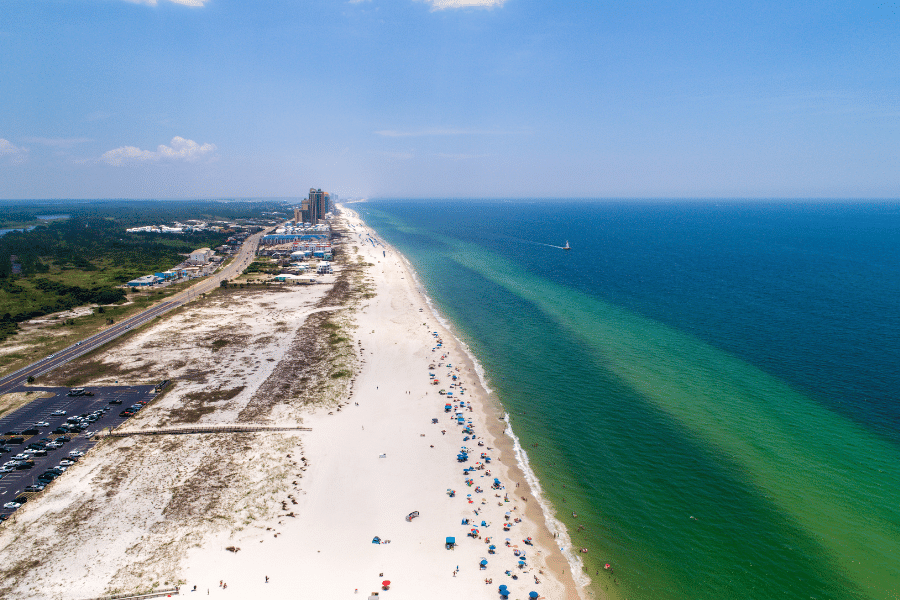 This southern state can offer you so many different places to sightsee. From national parks to calm beaches, Alabama has tons of breathtaking views. Many overlook this state, but you do not want to miss out on a crowd-pleasing destination! You can't oversee this large southern state's raw and authentic sceneries.
Although Alabama is a very scenic state, it also holds a lot of historic attractions and various cultures. This beautiful state can give you the best of both worlds depending on what you like: relaxation or city life. Depending on the location of the state that you want to move to, you have various options of what you look for the most. Make sure you do not miss out on the exciting things Alabama offers.
The beaches in Alabama have pristine white sand, a family-friendly atmosphere, and perfect weather for most of the year. Most of these bodies of water also are clear and hold warm temperatures, ideal for swimming. You cannot miss out on these gorgeous beaches here.
To see the prettiest park in Alabama, you must check out Chewacla State Park! This part is in a forest that has a river-filled paradise around it. Not only does Alabama have an abundance of breathtaking sights and learning experiences, but they also have various locations to do so.
Check out a few of Alabama's most popular beaches and parks:
Beaches:
Gulf Shores Park: This beautiful place on Alabama's Gulf Coast offers beaches, trails, piers, golf courses, and ziplining!
Orange Beach: a great destination for a family beach that attracts many people due to the vast, white sandy beaches with warm waters and activities!
Dauphin Island: a gorgeous Island to visit, far from the busy city life, which also offers historic attractions and family fishing charters.
Parks:
Cheaha Mountain State Park: beautiful state park is the highest point in Alabama, reaching 2,407 feet above sea level. This park offers hiking trails, bike trails, lakes for swimming and fishing, cabins/campgrounds, and many museums.
Oak Mountain State Park: This park is south of Birmingham and offers many watersports, rentals, nature programs, swimming areas, and more.
Pros and Cons of Moving to Alabama:
Pros:
Low cost of living
Great college football
Warm weather
Lots of outdoor parks
High employment rates
Authentic food
Historic attractions
Cons:
Risk of severe weather
High infestations
Alcohol restrictions
Struggling with public education
High poverty rates
Is living in Alabama right for you?
Although Alabama has its fair share of pros and cons, it has its famous breathtaking views and low cost of living. Everyone looks for certain things when choosing somewhere to live, and weighing out all your possibilities is essential. Whether you are searching for somewhere with a low cost of living or decent weather, this place may be for you!
Alabama is an original state that can give you different cultures, environments, and weather depending on where you live. Since Alabama is considered a trendy state to settle down in, many families and young professionals are moving here for its outdoor recreation and job opportunities. Deciding to move somewhere new can be stressful, but after knowing these seven things about Alabama, hopefully, it can help your moving decision be easier.
This sizeable southern state has a lot to show, and if you are interested in buying a home in Alabama, make sure to contact us today to get in touch with someone who can help you find your dream home! We are always here to help and are available to answer any questions about the home-buying process.

Find your new home
Search real estate and homes for sale