7 Best Places To Live in Alabama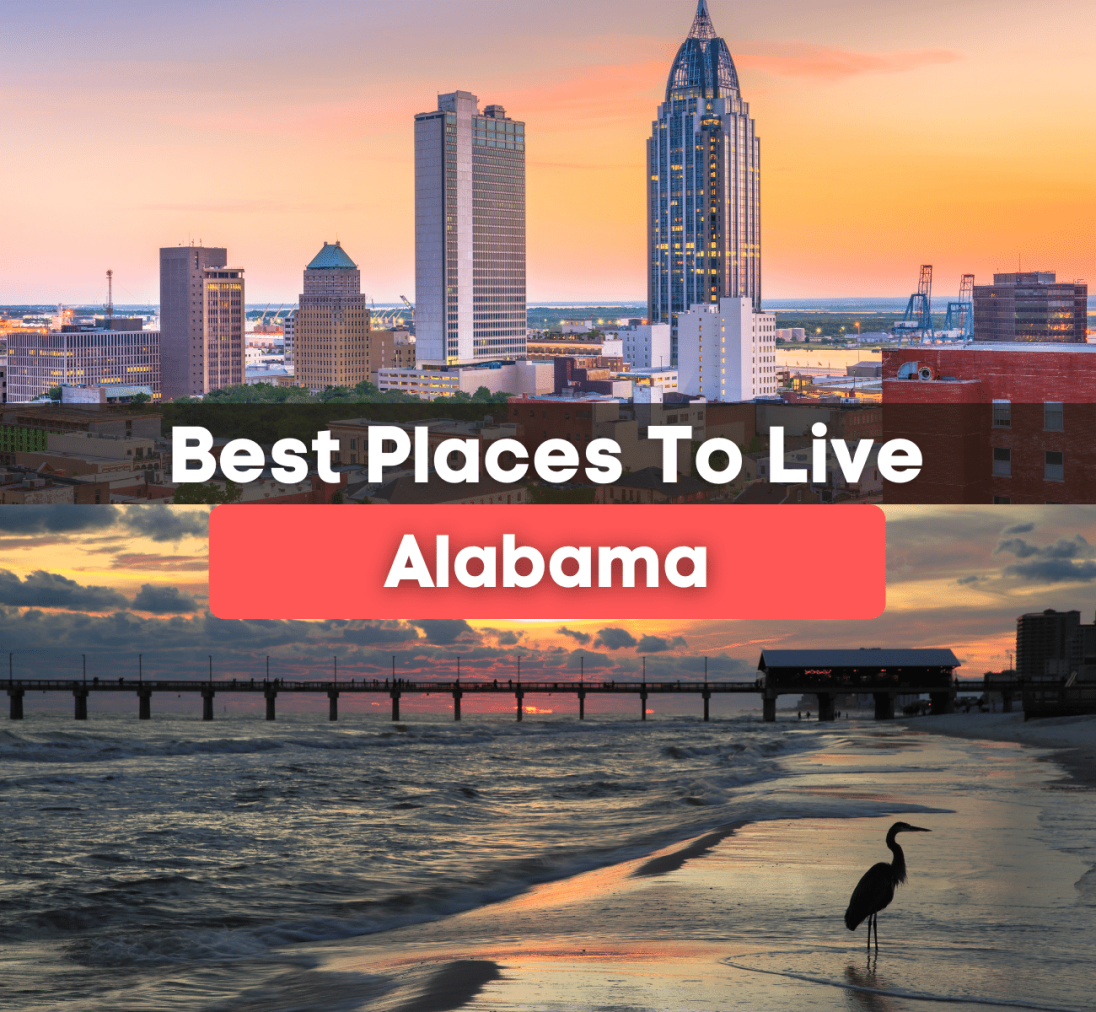 Best Places to Live in Alabama
Are you searching for the best places to live in Alabama? Check out these seven great cities in Alabama!
Known to be a state with rich history, culture, natural beauty, and southern hospitality, Alabama is a great place to live for many various reasons. If you want somewhere with low income and property taxes, low cost of living, and beautiful weather, then Alabama may be a good place for you to live and raise a family.
If you are moving to Alabama and wondering where you should live, this guide has you covered! When searching for a place to live, you need to weigh all your options, and Alabama is a vast southern state that offers a lot. This large state in the Southeastern part of the United States provides about 590 different cities. Finding the perfect neighborhood to move to that meets your budget and lifestyle can be difficult. Luckily, Alabama is home to many top-rated cities with a lot to offer, whether you want to live in a busy city or a small town with beautiful views.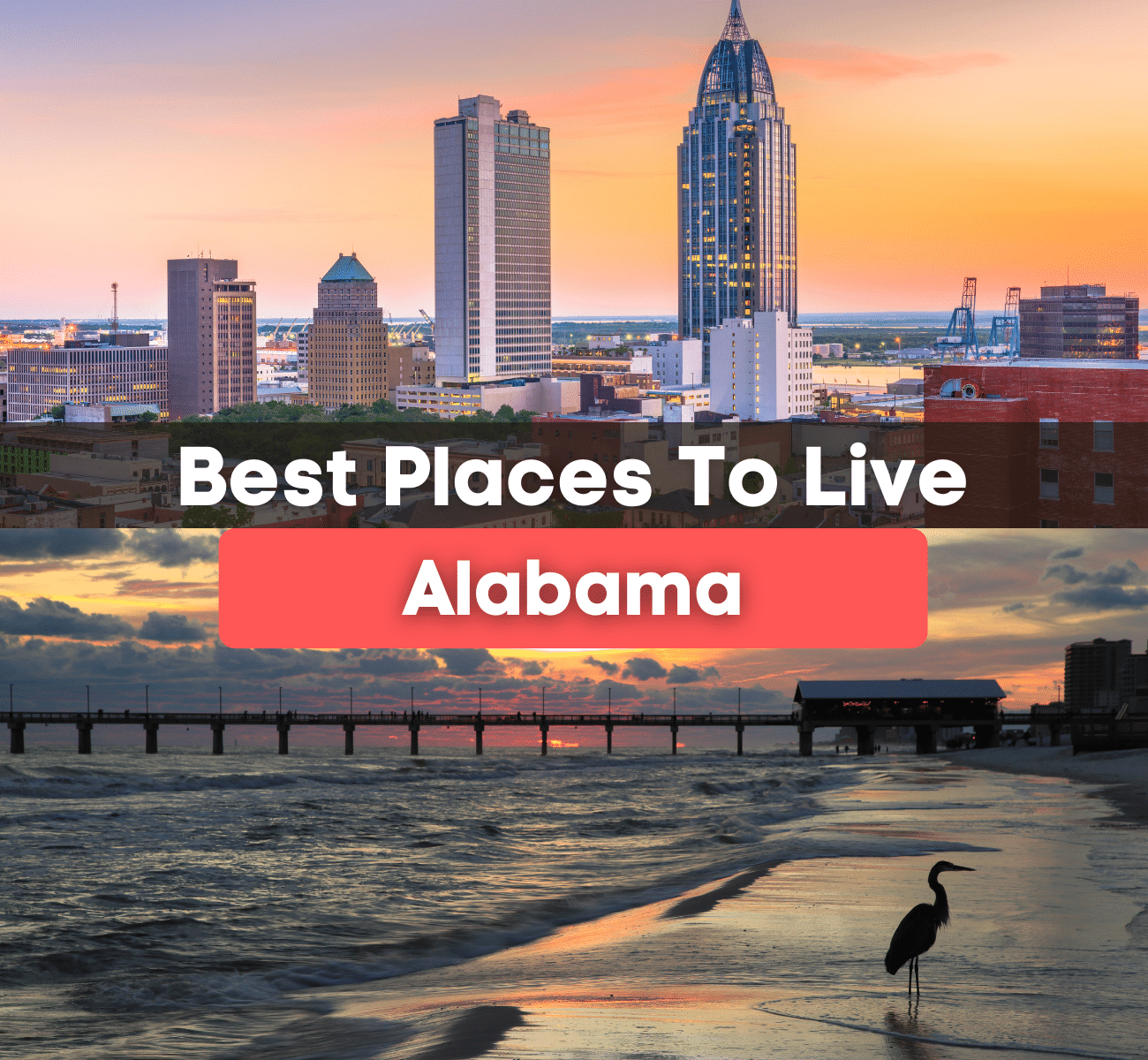 Here are the top 7 cities to live in Alabama!
Birmingham, Alabama
Birmingham is a city in the North region of the state and is known as Alabama's most populous county, with a total of 197,575 residents. This famous state is ranked as one of the top 100 places to live in the United States. Fan favorites love the various dining options, entertainment, sports, music, and job opportunities that this city offers.
This city has plenty of opportunities along the lines of arts, nature, and culture. Birmingham is known historically as the epicenter of the Civil Rights Movement and is consumed with many historical landmarks, museums, and attractions. You cannot miss out on this beautiful southern state!
The city of Birmingham has a wide variety of family-orientated establishments that include local parks, restaurants, events, and more. Not only does it have a lot to offer, but the cost of living here is also affordable! The median home cost is about $67,00, which is less than a quarter of the national average.
Not only is it easy to raise a family, but you will also be able to enjoy the beautiful weather! Birmingham rarely ever gets cold, but it does have long, hot summers. If you are looking for somewhere with warm weather and rarely ever get snow, this may be the place for you!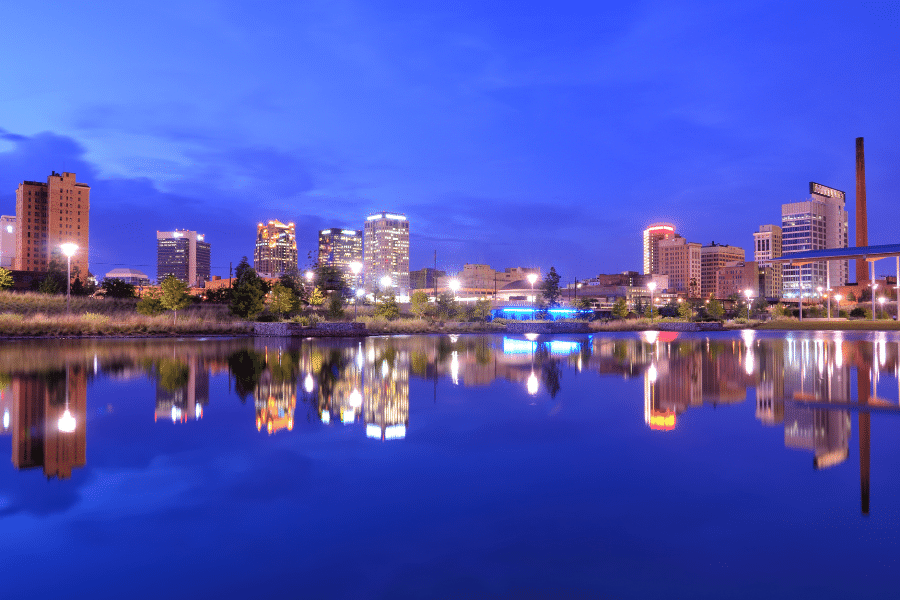 Local Favorites:
Mobile, Alabama
Mobile is a port city on Alabama's Gulf Coast, which is simply gorgeous with rich history and festivals. You can find unique museums, breathtaking French architecture, mouth-watering cuisine, and a loving crowd of residents. The population of this state is about 190,000 people, and it is a trendy area to move to due to its location!
When searching for a place to live, you have to know specific things, and here in Mobile, AL, you will have, on average, 220 days of sunshine here due to the subtropical climate! While the weather is fantastic, it also is about a 40-minute drive to a handful of beaches where you can admire the pearl white sand and breathtaking views.
On the other hand, Mobile is also known for its fusion of economic growth, innovations, old-world charm, high quality of life, and especially its low cost of living! This old city has a lot to offer you, whether it be the history, location, cost of living, or weather, you will love where you are at! Check out a few of the local favorites in this city.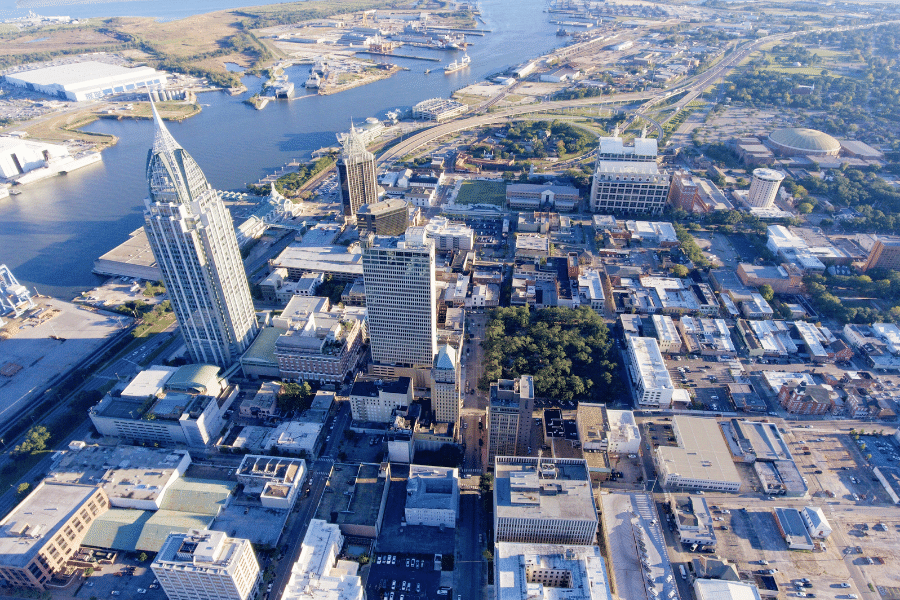 Local Favorites:
Montgomery, Alabama
As the city's capital, Montgomery is home to the Civil Rights Movement, with a total population of about 200,000 residents. Living in this beautiful city, you will experience rapid economic changes, many activities to do, many options for education, and easy access to industries and agencies.
Considering moving to this beautiful city? Well, this city offers a job market on its rise, an affordable cost of living, incredible nightlife, restaurants, activities, and views you cannot beat! Montgomery is located in the center of Alabama and has a lot to offer.
Montgomery may be for you if you do not like cold weather. This city only has about 2.7 months of cold weather with a high of 58, and sunny warm weather the rest of the year! Montgomery is a fan-favorite place with a lot to offer you, so check out all your options before choosing a move here.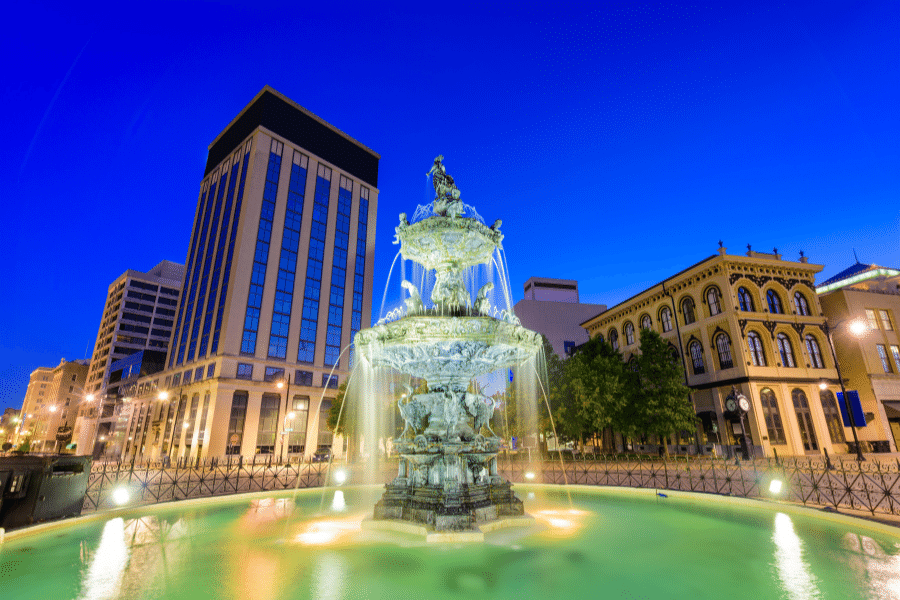 Local Favorites:
Hoover, Alabama
Hoover is a fast-growing suburb with a total population of 92,589. The location of this city is Northern central, the largest suburban city in Alabama. Living in Hoover offers residents a dense suburban feel with many parks and views to enjoy!
Hoover's economy is booming with many retail stores, award-winning school systems, and recreational facilities. This large city also offers immediate access to world-class healthcare to its residents, which makes it one of the safest places to live in Alabama.
Not only does this place offer a lot for your families, but it also has around 30 different parks and recreational facilities within Hoover city limits. It is a perfect location for hiking, biking, swimming, golfing, and many more activities. If you want a family-friendly area in Alabama to move to, Hoover is for you!
Local Favorites:
Athens, Alabama
Athens is located in the northern part of this large state, with 17,027 residents. Athens is home to several historic buildings and residences. This city has evolved into a major center of technology in Alabama.
Athens is located in Limestone Country, one of the best places to live in Alabama. This place offers residents a sparse suburban feel with many parks. Athens is a small town outside many larger cities but still gives the small town feel.
Choosing a place to move to can be difficult when there are a lot of different things to debate between. Something significant to many people is the cost of living, and here in Athens, the cost of living is 18% lower than the national average. Athens has a lot to offer, so make sure you love the place you live!
Local Favorites:
Auburn, Alabama
Auburn is located in the eastern part of Alabama, with a total population of 78,564. This beautiful city offers the residents a suburban feel with various coffee shops and parks. Most of the people here consist of young professionals and retirees.
The cost of living in Auburn is about 19% lower than the national average while providing their residents with a safe place to live and excellent education programs. Auburn is affordable and safe to live in, ranks very high in diversity, and has something for everyone.
Auburn is a beautiful place and a perfect home to raise your family. Opportunities for employment and education are expanding every day. Not only are the residents amiable and educated, but it is also a booming city that offers you many different opportunities!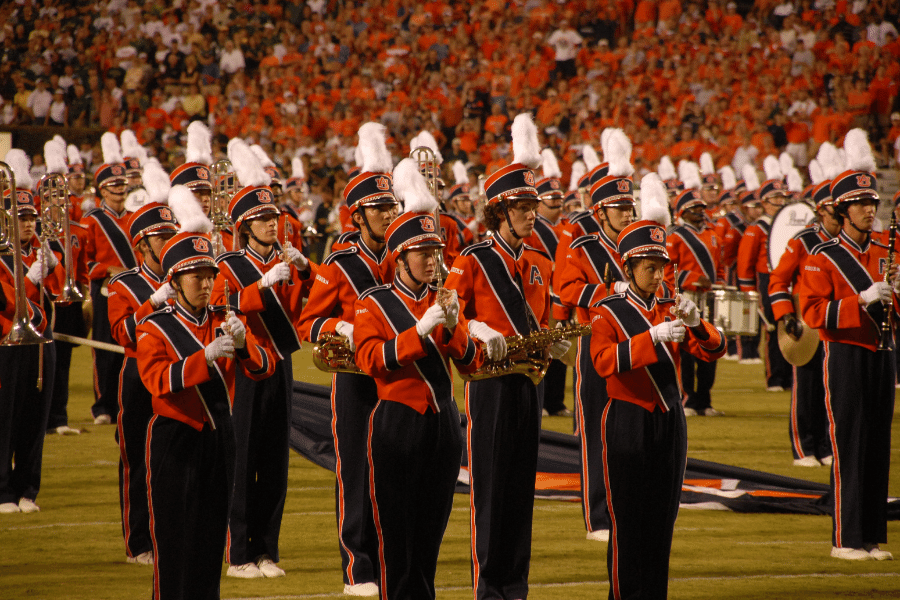 Local Favorites:
Phenix City, Alabama
Phenix City is a city in Lee and Russel counties with a total population of 38,428. This city is right on the Alabama and Georgia state line, so you get the best of both states! Phenix City is also a tiny city but is very affordable to live in and a very calm area.
Not only is it cheaper to live in this tight-knit community, but it also has meager crime rates and few bad storms, and has the southern heat. Phenix City offers many beautiful views, parks, and a sound education system!
Finding a place to live can be challenging, and one big thing many people look for is somewhere safe to live. You will be offered many things here in this small southern town. If you want a quiet little area to raise your family, this city may be for you!
Local Favorites:
Best Places to Live in Alabama - Final Thoughts
Alabama is a beautiful state with so many various things to offer you. Since Alabama is such a large state, every city has different opportunities to choose from. Alabama may be for you whether you want something with a suburban feel or exciting nightlife! Make sure you weigh all your options to find the right place.
Finding the perfect place to move to can be difficult, but Alabama has a lot to give, especially the low cost of living! If anyone else you may know is interested in homes for sale in Alabama, make sure you contact us here to connect with a Realty Specialist to make your transition easier!

Find your new home
Search real estate and homes for sale