7 Best Beaches in Georgia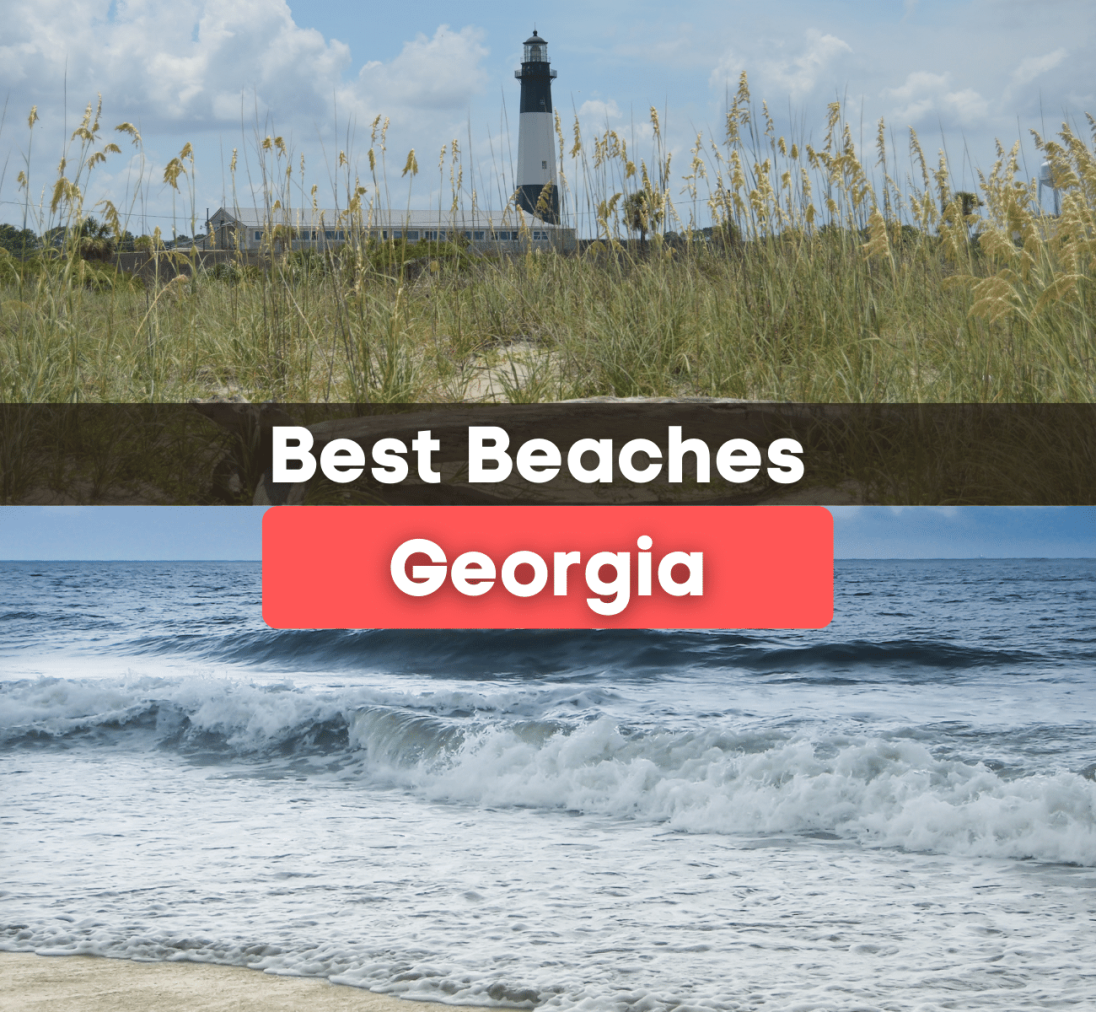 Best Beaches in Georgia
What are the best beaches in Georgia? We have you covered with the top beaches in Georgia!
Georgia offers some of the country's best beaches, with over 100 miles of sand covering its Atlantic Ocean shoreline. Many shores are just minutes away from major cities, making them a perfect vacation destination or home. Whether you are looking for a place to relax and catch up with your family, a romantic getaway with your significant other, or a weekend of partying with your closest friends, there are beach options for all types of vacations.
Luxury hotels and resorts are easy to find up and down the Georgia coast. The barrier islands create peaceful spots and nooks for you to explore. The Peach State is a beachgoer's paradise. No matter where you choose, you will be surrounded by serene nature, like the state's gorgeous live oak trees and plenty of wildlife. You will also find historical ruins near many of them, which you can explore by foot or bike. You will also find that southern seafood is most prevalent in Georgia, so there won't be restaurant options lacking along the coastline. Make sure you try fried fish, hush puppies, oysters, shrimp, and grits.
Each of the islands and beaches in Georgia has its unique personality that you can differentiate once you start exploring. Wind your way through the shores by kayak, biking trails, or just by foot on the white sand. Here is a list of some of the top beaches in Georgia and why they are favorites among tourists and locals alike. If you are ready to hit the beach, keep reading to see the top seven beaches in Georgia if you are moving to Georgia or visiting the area!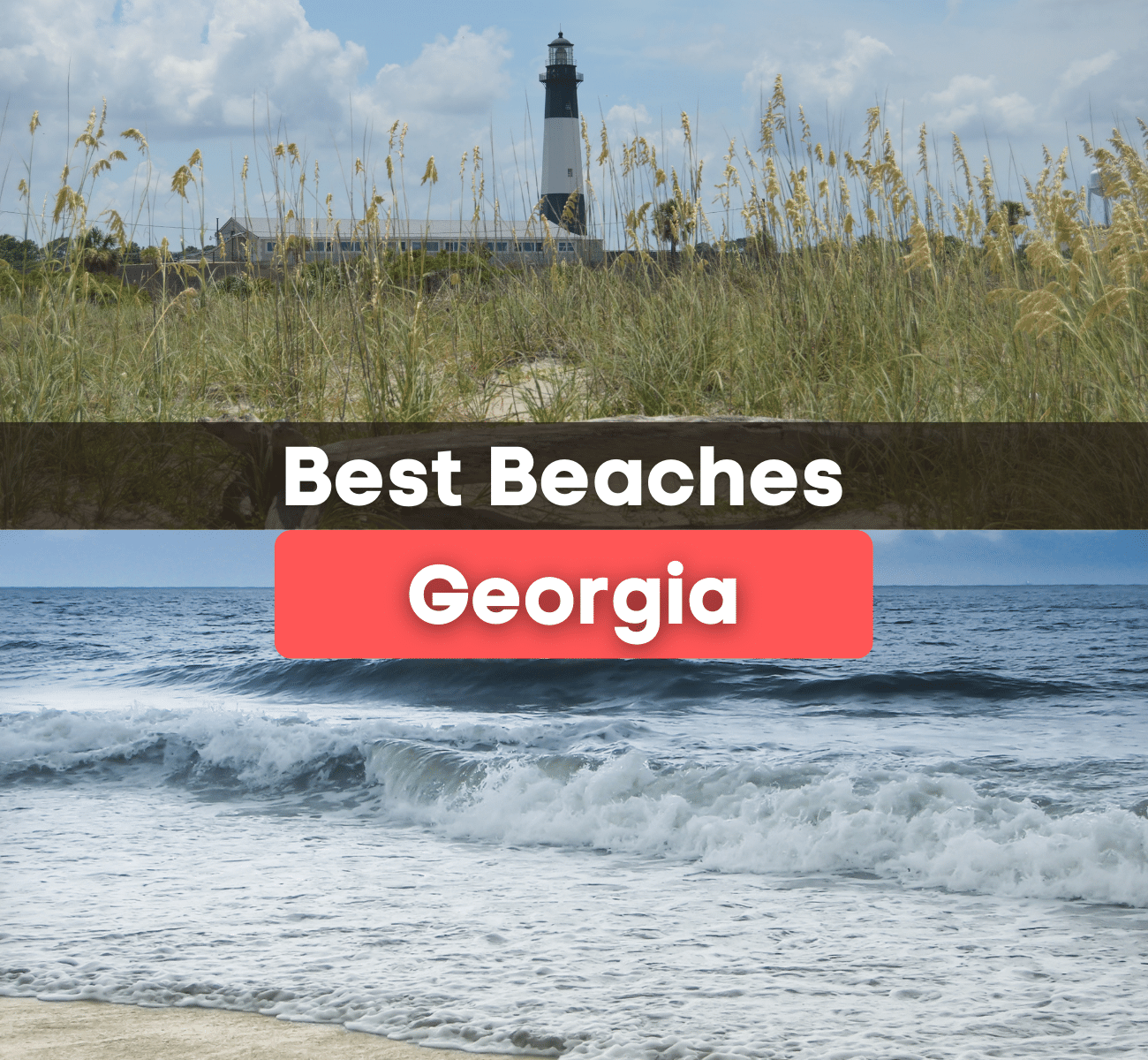 Here are seven of the best beaches in Georgia!
Tybee Island
Tybee Island, also known as "Savannah's Beach," is located about 18 miles southeast of Savannah. It would take about a 30-minute drive from downtown to Tybee, which offers three miles of shoreline. Tybee Island is composed of five different beaches. The most popular and most crowded is South Beach, which lifeguards man. It also has the Tybee Island Pier and Pavilion, where you can grab a bite. North Beach makes up a large part of the barrier Island and also offers historical landmarks, a shopping district, and the state's tallest and oldest lighthouse.
North Beach is the second most popular beach on Tybee Island. It is located across from Tybee Lighthouse. Mid Beach is the most centrally located, hence the name. Back River Beach and Savannah River Beach have amazing views and excellent opportunities to watch dolphins. Situated near the mouth of the Savannah River, Tybee Island used to be frequently visited by pirates.
Tybee is also a great place to go if you enjoy birdwatching. You can easily spot egrets, herons, and osprey on these beaches. This is a place where endangered loggerhead turtles often nest in the sand. This Island attracts many couples and families looking for a fun, relaxing vacation. People enjoy sitting on the sand and biking around the beach town. If you love seafood, you will also find plenty of unique options around town. Bubba Gumbo's is a classic on Tybee Island for seafood.
Besides the beach, the main attractions on Tybee Island are Fort Pulaski and the Tybee Island Lighthouse & Museum. Swimming, kayaking, and other water sports are also popular at these beaches. Pro tip: catch the sunset overlooking South Beach on the Tybee Island Pier.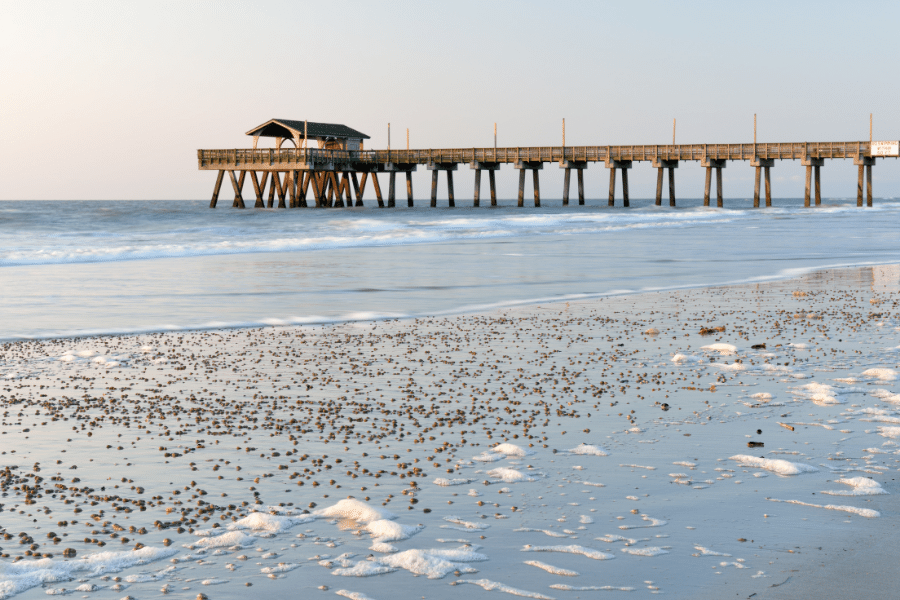 Jekyll Island
This small barrier aisle covers about 5,700 acres and is located halfway between Savannah and Jacksonville, Florida. The Island covers seven beautiful beaches that stretch across 10 miles of shoreline. One of the most notable beaches on Jekyll Island is Driftwood Beach, a gorgeous spot to take photos. You will find twisted driftwood of many sizes all along the shores. The pieces of giant oak and pine trees fell due to erosion. You will find that the landscape is breathtaking and peaceful. You can also camp there for the evening; the campgrounds are close to the beach.
Driftwood Beach is located on the Island's North end and is also especially famous for being one of the most romantic beaches. It is a popular spot for weddings and proposals. However, it is not the best place to swim because the water is muddy and full of sticks. The iconic landscape of Driftwood Beach has been used on TV shows and movies, including "The Walking Dead" and "X-Men: First Class." Other famous beaches on Jekyll Island include St. Andrew's Beach Park, the best for bird watching, Oceanview Beach Park, and Glory Beach.
South Dunes Beach Park is known for its boardwalk that crosses 20-foot dunes. Great Dunes Beach Park is great for families with enough sand for kids to run around. It is also close to a mini-golf course and playgrounds. Great Dunes Beach Park is the area's most famous beach and the most relative to parking options. Corsair Beach Park offers outdoor showers, restrooms, and picnic pavilions, which is convenient.
Jekyll Island was a favorite vacation spot for the Morgan, Rockefellers, Vanderbilt, Pulitzer, and Baker families. It was once a private retreat for the wealthy. Jekyll Island is quite famous, and visitors like to participate in guided tours of the nearby Landmark Historic District. The Island also offers a water park, the Summer Waves, a fun activity for kids. The Island also has a diverse population of plants and animals, including mammals, birds, and reptiles.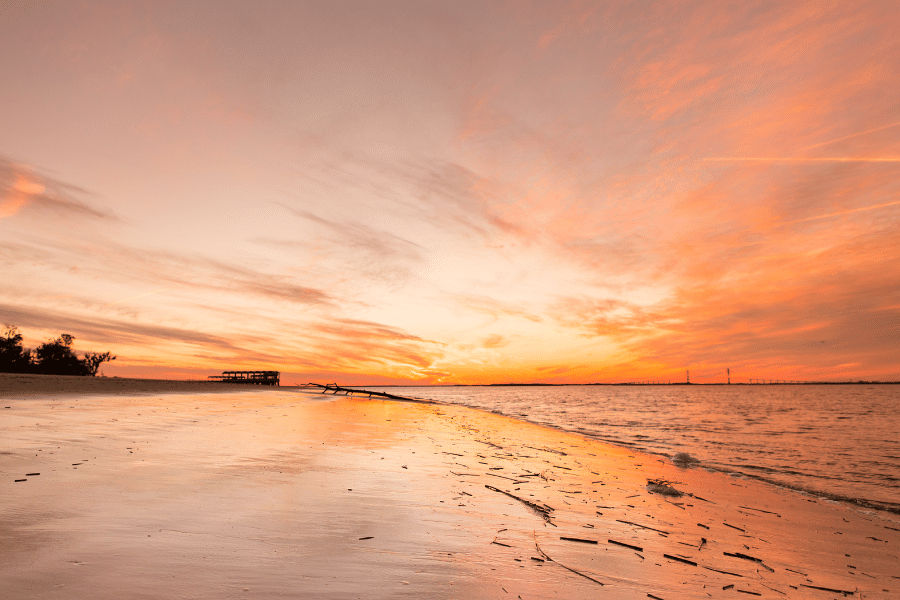 Cumberland Island
This is the largest and most southern of Georgia's isles. It is only reachable by boat from St. Mary's and offers eighteen miles of undeveloped beaches. More than 9,800 acres are devoted to the protected Cumberland Island National Seashore. You might even spot some feral horses wandering around the Island, loggerhead sea turtles nesting, or armadillos looking for food.
Cumberland Island is the perfect place to escape into a peaceful and serene reality full of maritime forests, wetlands, and beaches. There are no cars or restaurants on-site, so pack food in case you get hungry. You can book a ranger-guided tour or rent a bike at the Sea Camp Dock. Hiking around the Island is a popular activity for visitors.
When you aren't relaxing on the sand and want to enjoy some other attractions on the Island, be sure to check out the historic Dungeness Ruins, Plum Orchard Mansion, the primary winter home of George Lauder Carnegie and Margaret Thaw, or First African Baptist Church which was established in 1893.
You can spend the night at one of the Island's five campsites - Cumberland Island is a beautiful place to stargaze at night. The Cumberland Island coastline boasts a wide variety of plants and animals, so the area attracts a lot of wildlife experts. The site is known to have at least 23 different ecological communities, the largest of its kind among all of Georgia's barrier islands. The Island's largest town is St. Mary, where the ferry stops. The town has an old history museum that displays the stories of missionaries, enslaved Africans, natives, and wealthy industrialists.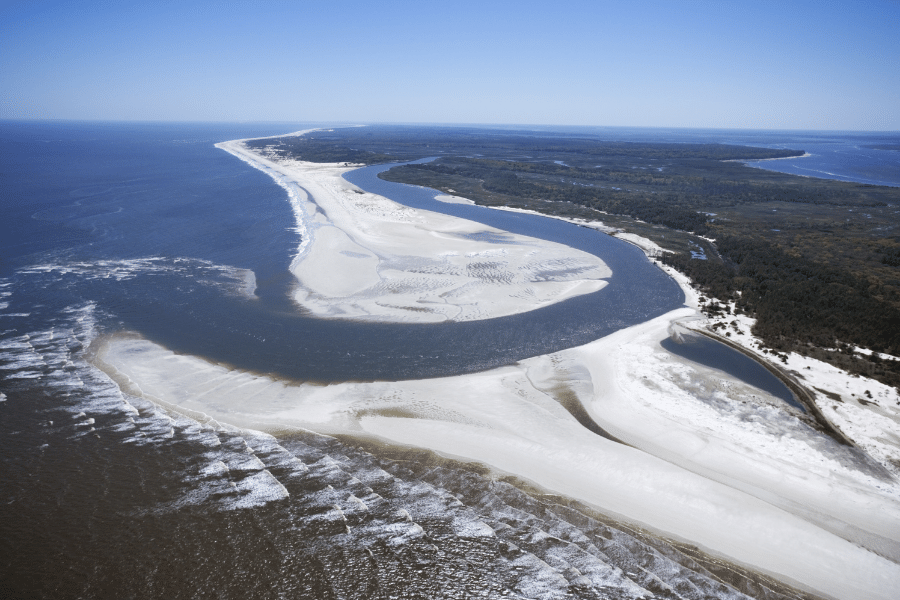 East Beach, Saint Simons Island
Also known as Coast Guard Station Beach, East Beach is located kitty-corner to Jekyll Island's Driftwood Beach. It is just before the historic St. Simons Coast Guard Station, which houses the World War II Home Front Museum and Coastal Encounters Nature Center. East Beach is famous as one of Georgia's most attractive clear-water beaches.
East Beach is a unique place to find treasures and beautiful shells like sand dollars. Popular beach activities here include kitesurfing, swimming, windsurfing, and biking. The sand is also firm enough for biking on the beach if that interests you. This beach is dog-friendly if you want to bring along your furry friend. For fishing, head to the boardwalk at Gould's Inlet.
If you enjoy looking for wildlife, you might see raccoons, alligators, white-tailed deer, terrapins, marsh rabbits, and migratory shorebirds along the landscape. In the water, you might spot dolphins, right whales, a variety of gamefish, and sometimes even manatees.
East Beach provides facilities, including restrooms and showers. Some concessions are offered seasonally, as well as lifeguards on duty. If you are looking for activities outside the beach, Saint Simons Island offers a mix of museums, shopping, golf courses, and more. Massengale Park on the beachfront has picnic tables and bathrooms. Don't leave the Island without searching for tree spirits. Legendary faces are carved into old tree trunks and are said to represent sailors who died at sea. Saint Simons Island is famous for part-time residents as well as long-term vacationers.
Little Saint Simons Island
Seven miles of beautiful beach are open to guests at Little St. Simons Island Beach. This is where it is easy to connect with nature and spend quality time with your friends and family. It is only reachable by boat; many call it an isolated utopia.
Due to the lack of people and commercialization, you will find much beautiful wildlife like birds, turtles, armadillos, and more. The Island is home to more than 330 bird species, including Wood Storks, Red Knots, and Bald Eagles. Favorite activities on the Island include walking or biking along the sand, canoeing, kayaking, looking for shells, swimming, or fishing.
You will never feel crowded at this beach. Only 32 people are allowed to stay at the Island's Lodge, and there is a cap on daily visitors. Since the Island is privately owned, you must make arrangements with the Lodge office. Make sure you book early if you want to stay overnight. There are also all-inclusive resort options where you can visit for a day trip or stay overnight. You can choose packages with guided fishing tours, hiking, biking, kayaking, and historical and ecological tours.
Some local naturalists offer daily interpretive excursions to immerse you in the Island's ecology. The owners donated to the Nature Conservancy to ensure the Island is protected long-term. Sports fishing is popular in the tidal creeks, where you can catch redfish, flounders, and speckled trout. You may also spot right whales, otters, and dolphins.
This is the perfect place for nature lovers to escape their busy everyday life. The 11,000 acres of Little Saint Simons Island feel like you are running to your private beach. It is among the least developed islands on Georgia's list of Golden Isles. It is located close to St. Simons Island but can be distinguished by the Hampton River.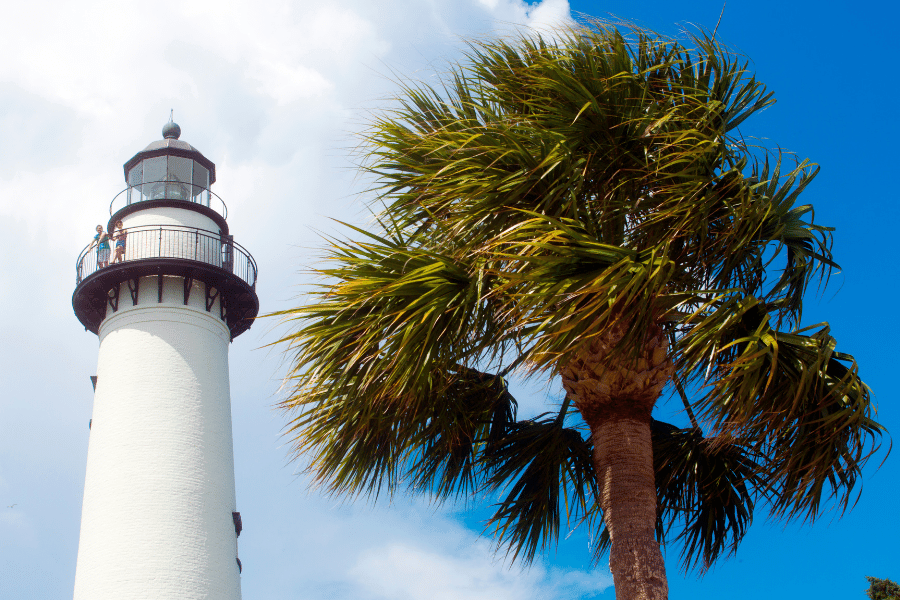 Nanny Goat Beach, Sapelo Island
This isolated beach can be reached by ferry on the southeastern tip of Sapelo Island. The coast comprises two miles of white sand, lined by maritime forest. This is another excellent spot to find gorgeous shells like sand dollars. It is also a great place to bird-watch as you will spot egrets, blue herons, bald eagles, and ospreys.
If you want to visit this Island, you have to pre-register. You can either book a public tour through the state or Sapelo Island National Estuarine Research Reserve or a private trip with a resident of the Hog Hammock community. You can get a room at the Reynolds Mansion or a spot at the Cabretta Campground. Make sure you pack snorkeling or scuba gear if you have it because you will want to explore the nearby Gray's Reef National Marine Sanctuary.
Sea Island Beach Club
This fancy club is home to five miles of private beach along the Atlantic Ocean, three swimming pools, and access to water sports. For a more exquisite experience, stay at the club's five-star resort, The Cloister at Sea Island, for a fantastic experience. You will also have access to three golf courses, sailing, horseback riding, pool pools, a restaurant, and a spa. If you want other activities besides exploring the beach, head inside to the six-lane Sea Strike Bowling alley, have fun in the game room, which includes an arcade, or explore the Sea Island Nature Centre.
Best Beaches in Georgia - Final Thoughts
Whether looking for the most excellent or family-friendly beach, it is no secret that Georgia is home to white sand, clear blue water, and breathtaking sunsets. Contact us today to be connected with one of our Real Estate Specialists if you are thinking about buying a home on or near one of the many Georgia beaches. We are always here to help!
Check out our other local area guides: 

Find your new home
Search real estate and homes for sale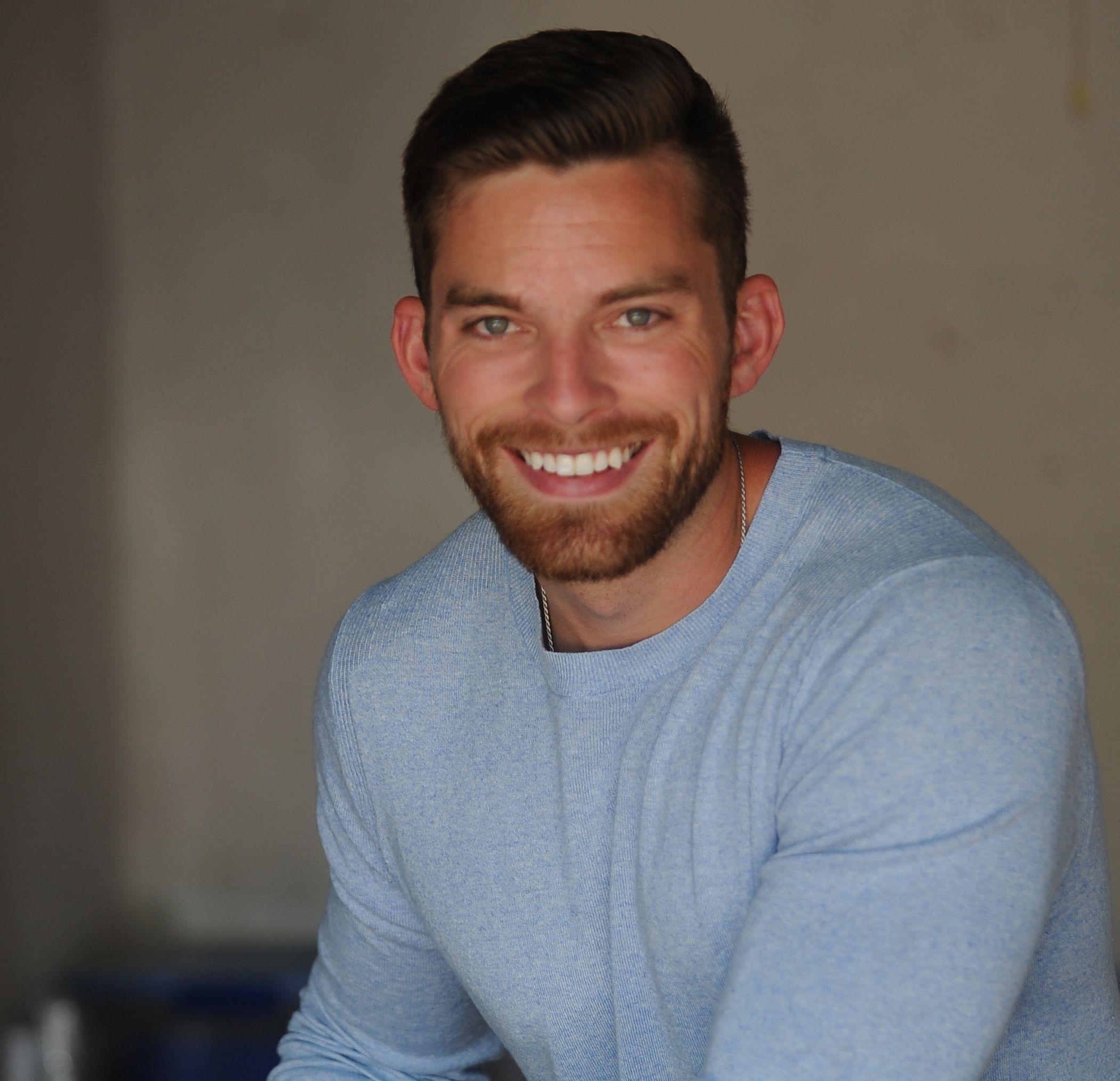 Ryan Fitzgerald
Hi there! My name is Ryan Fitzgerald, and I am a REALTOR®. My goal is to help you learn more about real estate through our Real Estate Blog! Hopefully, you enjoyed the above blog post and it found a way to provide help or value to you. When you're ready to buy or sell a home of your own let us know here. Please feel free to join the conversation by dropping us a comment below.