7 Best Things to Do in Augusta, Georgia
Exploring Augusta, Georgia
Are you moving to Augusta, GA, and searching for fun things to do? Follow along while we discuss some of the best things to do in Augusta!
The gorgeous waterfront city of Augusta is located on the Savannah River and is a fun city to visit, with plenty of activities to choose from. The city is known for its Southern charm, huge antebellum mansions, beautiful wedding venues, and several gardens.
The city is also a biotechnology, medicine, and cyber security center. Visiting Augusta will allow you to try famous Southern food, museums, galleries, and much more.
If you like golf, you may know Augusta best for the Master's golf tournament at Augusta National Golf Course. That, of course, is an incredible event to attend if you can get tickets and if you are in Augusta for that specific weekend in April. If not, you will still find much more to do in this city.
Famous people with hometown roots in Augusta include actor Laurence Fishburne, soul singer James Brown, and wrestler Hulk Hogan. Augusta is a great place to visit for an overnight trip, a weekend break, or an extended vacation with friends or family.
The city was established in 1736 and is now Georgia's third-largest city, with a population of over 200,000. More than a quarter of a million people visit Augusta every year. The city has quite a history with historical buildings that date back to slavery and the Civil War period. You can also learn more about the historical significance of many of the city's museums.
Augusta is located about 2.5 hours east of Atlanta and is truly a hidden gem in the South. So, what are you waiting for? Keep reading to see the seven best things to do in Augusta, Georgia!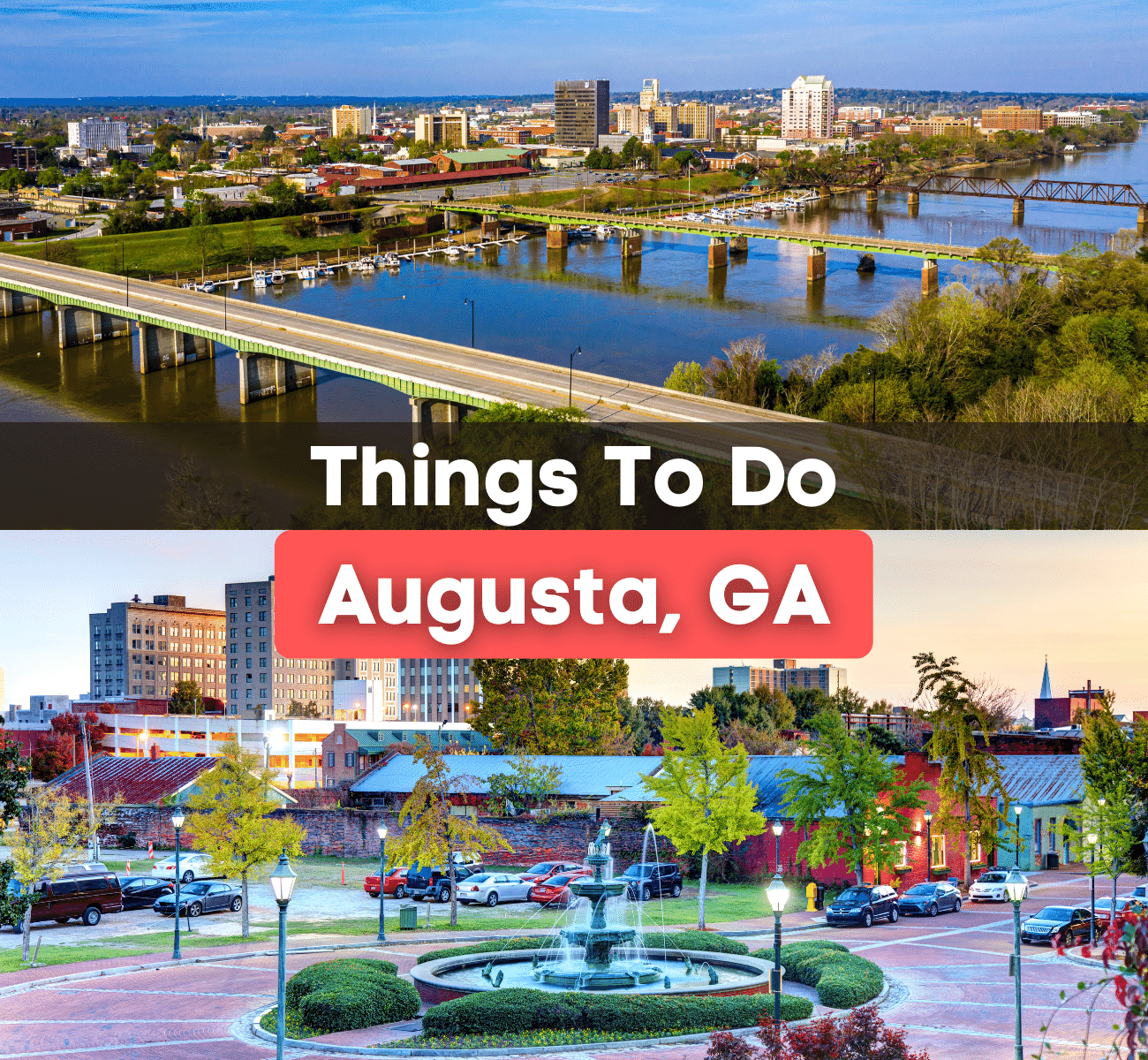 Augusta Riverwalk
The Augusta Riverwalk is one of the most popular attractions because this scenic walk is a beautiful place to enjoy the beauty along the Savannah River. This brick-lined trail is also known as the "front porch of the city." It spans 6th Street and 10th Street overlooking South Carolina on the river's opposite bank.
The Riverwalk consists of two levels which are accessible from different downtown locations. The 10th Street Plaza leads through the levee into the Heroes Overlook, and the 9th Street Plaza leads to the Jessye Norman Amphitheater, which overlooks a covered stage. You will also find the photogenic St. Paul's Episcopal Church at the east and the Morris Museum of Art at the west.
If you want more entertainment than simply the views, there is no shortage of that. Live concerts are often held at the Jessye Norman Amphitheater. You can also check out the Augusta Market on Saturdays, where local farmers and artisans sell unique items. The Japanese Gardens is also a cute park on the lower level, a popular, quiet destination for wedding photos.
If you are visiting during the summer with kids, there is a fountain they can splash in at the 8th street entrance. There is also a nearby playground!
Are you visiting on a Sunday between May and August? You're in luck! You can head to the Candlelight Jazz Series, a popular evening event on 8th Street Bulkhead.
The Riverwalk is a great place to visit, day or night, and is open 24 hours a day.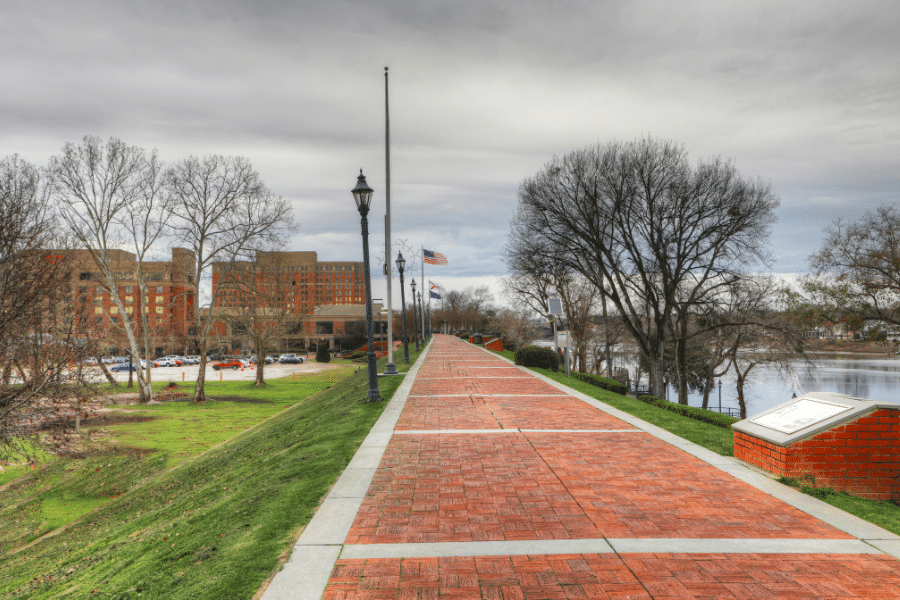 Phinizy Swamp Nature Park
This park is a go-to for nature lovers in Augusta. It's open every day, year round. Make sure you bring your tennis shoes to explore this outdoor area. The Beaver Dam Trail is a more leisurely walk where you can take children to spot wildlife like hawks, herons, egrets, owls, hummingbirds, river otters, and beavers. You may want to bring your binoculars!
The ideal locations for views in the Phinizy Swamp Nature Park are the Floodplain Boardwalk and Observation Deck, which are also great locations to spot wildlife over Butler Creek. These spots will give you a closer look at the river otters and muskrats. You may even see alligators and turtles. Mayor's Fishing Hole is a great place to stop if you want to do some fishing. However, a Georgia fishing permit requires fishermen to stay on land.
The land is available to explore stretches of 1,100 acres. It is a great place to ride bikes or go hiking on its 14 miles of trails. You can also learn at the environmental education center and water research campus. The Phinizy Center for Water Sciences uses the park as a living laboratory and conducts lab research here. There are picnic areas to relax in and a playground for children. You can also take a free, guided tour.
There is no cost for admission!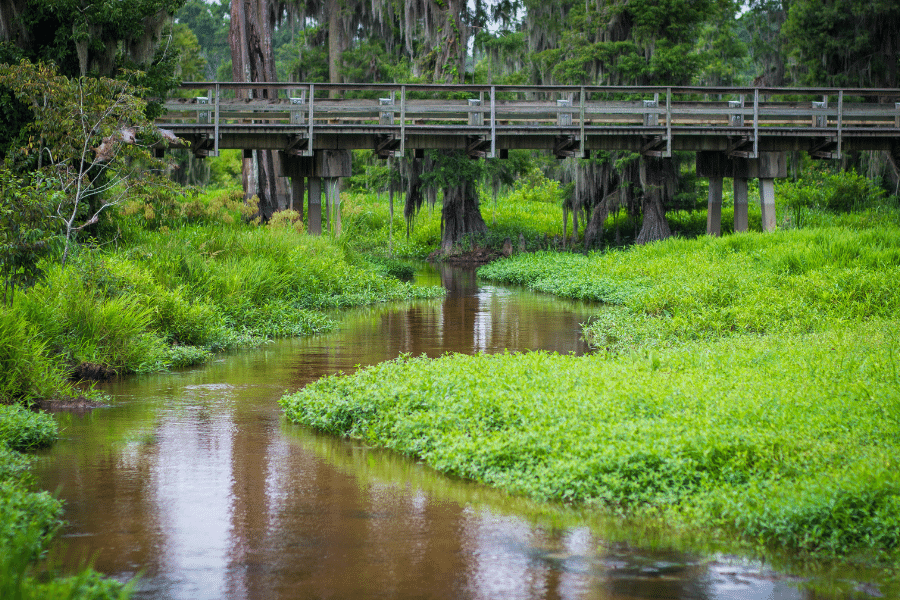 Augusta Museum of History
This museum is packed with the history of the Central Savannah River Region's cultural impact. The permanent exhibition on site, Augusta's Story, takes visitors through a story with a chronological timeline from the area's original settlement to the present day. It is the most famous, award-winning exhibition in the museum. Founded in 1937, the Augusta Museum of History is dedicated to preserving the city and regional history.
The Protect and Serve exhibit displays the evolution of public protection services that keep people safe. Children will enjoy the Transportation Corridor the most, which shows a 1914 Steam Locomotive, a trolley, a fire engine, and a Ford Model T. There is also an exhibit that details Augusta healthcare, a permanent exhibition on the city's history of banking, and the railroad industry.
The museum even features The Sport of Golf exhibition to explain the growth of golf over the centuries and its ancient history in Rome, Scotland, and China before Augusta National Golf Club, the site of The Masters, was created. Music fans can check out the collection about the "Godfather of Soul," James Brown, who grew up in Augusta. It features some of his iconic stage costumes and the history of the city's early radio stations.
This museum is far from boring. This 10,000-square-foot museum hosts a research library, archives, collections storage, and a lab for artifact conservation. In 2004, the 1797 Ezekiel Harris House was added.
Admission to this museum is cheap, just $5 for adults, $4 for seniors, and $3 for children ages 6 to 18, and it is open Thursdays through Sundays.
Morris Museum of Art
Located in downtown Augusta on the riverwalk, the Morris Museum of Art is a great place to visit if you're interested in art. It is the longest-running museum focused on southern art. Founded by William S. Morris III, the museum opened in 1992.
The museum offers thousands of pieces of art, including almost 5,000 paintings, photographs, works on paper, and sculptures, some as old as the late 1700s and more contemporary pieces. They also put on fun events like book signings and film showings.
The museum has several permanent collections, and it also hosts up to ten temporary special exhibits every year. The Center for the Study of Southern Art is also part of the museum; it's a research library and reference center on artists working in the South.
Visiting exhibitions have included The Murphys of Savannah, with works produced by members of the artistic family at the forefront of Savanna's cultural scene, and an exhibition dedicated to the creation of Augusta-native painter Mildred Weigle Nix Huie.
Admission is $5 for adults, $3 for kids ages 13 to 17, and $3 for students, military members, and senior citizens. If you visit on Sunday, admission is free! Gallery tours are also held on Sundays. Free parking is available on the west side of the Augusta Riverfront Center.
Childhood Home of President Woodrow Wilson
Augusta is home to the childhood home of Woodrow Wilson, the nation's 28th President, who spent a decade of his boyhood living in this city. This was while the country was undergoing the uncertainty of the Civil War. The home was built in 1859 and is now a National Historic Landmark that serves as a house museum depicting life during the Civil War and Reconstruction eras. Inside, you will see family artifacts, heirlooms, period furnishings, and exciting displays related to his life. You can also look into the home's original carriage house and servants' quarters.
Wilson was known as "Tommy," and his father preached at the First Presbyterian Church. He lived in the home from 1860 to 1870. Wilson explored the idea of leadership during this time as president of The Lightfoot Baseball Club. This home shows how greatness can come from small beginnings.
The museum is a historical attraction and educational facility. Each room is decorated in tableaux, making it feel like you've time-traveled.
It is open for tours by appointment from Wednesday to Sunday between 10 AM and 4 PM. Admission is $5 for adults, $4 for seniors, and $3 for students, from kindergarten to 12th grade.
Sacred Heart Cultural Center
The historic Sacred Heart Cultural Center catholic church is more than 100 years old and is beautifully striking to see in person. Its architecture is magnificent, with multiple tall spires, a red design with 15 styles of brickwork, graceful arches, a barreled vaulted ceiling, marble altars, and 94 stained glass windows. The former Catholic Church dates back to 1897
The church hosts events like concerts from the Symphony Orchestra Augusta, art exhibitions, and the Annual Garden Festival in April. It is also a fun place to visit during holiday events. The facilities can be rented out for private and public events and are used throughout the year for celebrations and civic affairs.
The last mass in Sacred Heart was held in 1971, it was added to the National Register of Historic Places in 1972, and after renovations, it was reopened in 1987 as a cultural center.
The Sacred Heart School building and the old Rectory building house offices of several local arts groups and non-profits, including the Greater Augusta Arts Council, the Augusta Ballet, the Choral Society, the Children's Chorale, and the Symphony Orchestra Augusta.
Sacred Heart is open for guided and self-led tours, Mondays through Fridays. Make sure to check their website because their events are constantly changing.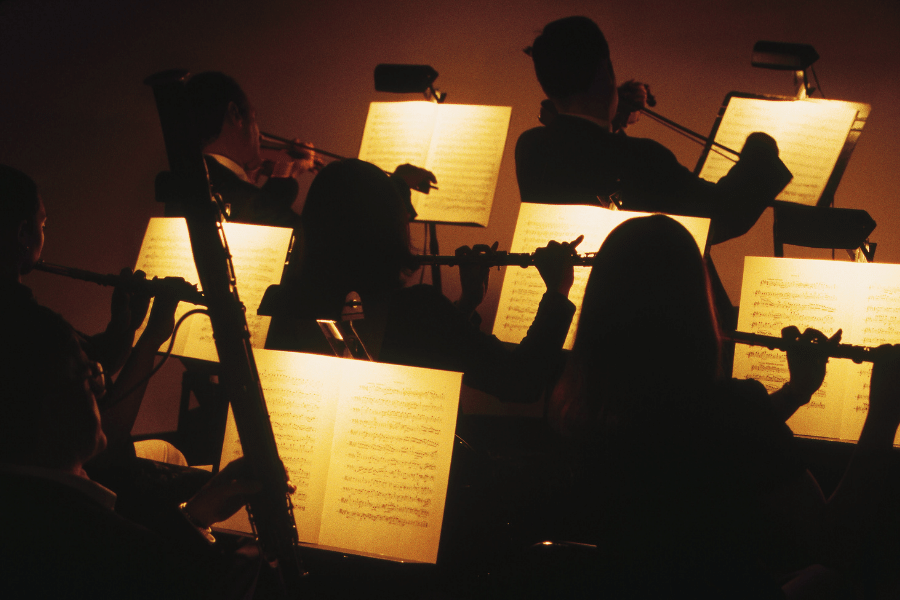 Imperial Theatre
Catch a show at the Imperial Theatre between two office buildings on Broad Street. The theatre hosts about 850 people per show on average. Built-in 1917, the theatre hosts concerts, ballets, musicals, and more.
When the theatre opened, a reporter for The Augusta Chronicle attended theopening and reported in the paper the next day about its successful first week. The prices for opening night on February 1918 were as follows: Matinee: $0.10 and $0.20, Evening: $0.15, Orchestra: $0.35, Balcony First Section: $0.35, Remainder: $0.25, and Gallery: $0.15.
Famous entertainers, including Charlie Chaplin and James Brown, have performed at the theatre. In the past, James Brown used the theatre to rehearse for his world tours. The venue hosts hundreds of performances yearly, so you will always find something fun!
You can get a guided tour of the theatre, including a look at the amazing 1925 Wurlitzer organ. You will also get an in-depth backstage tour and learn about the history and architecture of the theatre through the lobby, stage, and dressing rooms. The theatre was initially built as a vaudeville and photoplay theatre. However, most recently, you are more likely to see musical theatre shows like A Chorus Line or Mary Poppins and tribute performances.
Today, downtown Augusta has been experiencing a considerable business and entertainment activity surge, especially in the older buildings. The Imperial Theatre celebrated its 100th anniversary in 2018. Earlier that year, the theatre finished $1.25 million in infrastructure work, which took about four years. The result eliminated flooding issues, installed a new roof surface, replaced aging fire escapes, and upgraded electrical systems and HVAC. There are still $4 to $6 million in additional projects to restore the theatre.
The theatre does accept donations if you wish to contribute. They will also receive gifts of stocks. The proceeds will go to the capital improvement projects to preserve the theatre.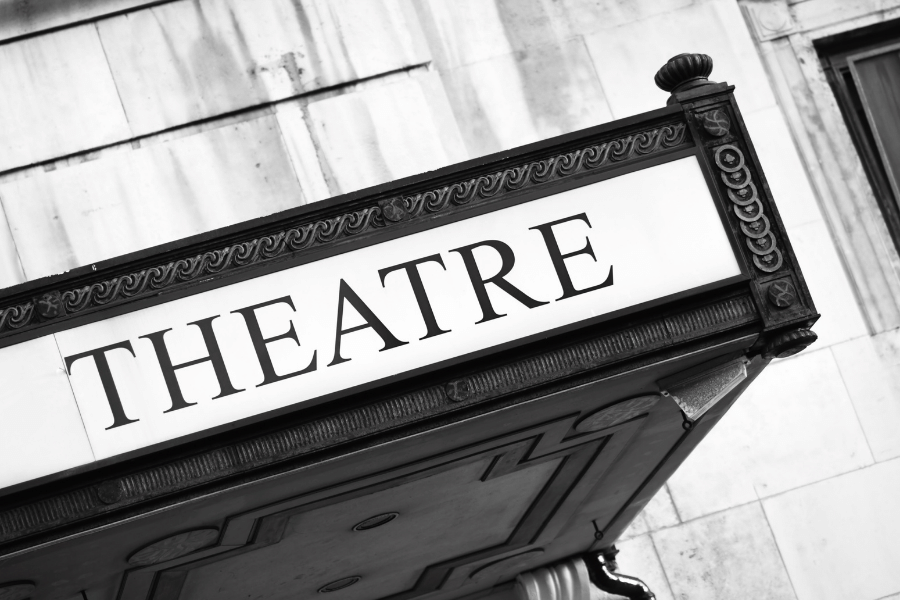 Best Things to Do in Augusta, GA - Final Thoughts
Augusta, Georgia, has great things to do for all ages and interests. No matter how you want to spend your free time, you will never be bored living in Augusts. If you are moving to Georgia and are searching for homes for sale in Augusta, contact us here so that our Realty Specialists can help you find the home of your dreams!

Find your new home
Search real estate and homes for sale