25 Things To Do in North Carolina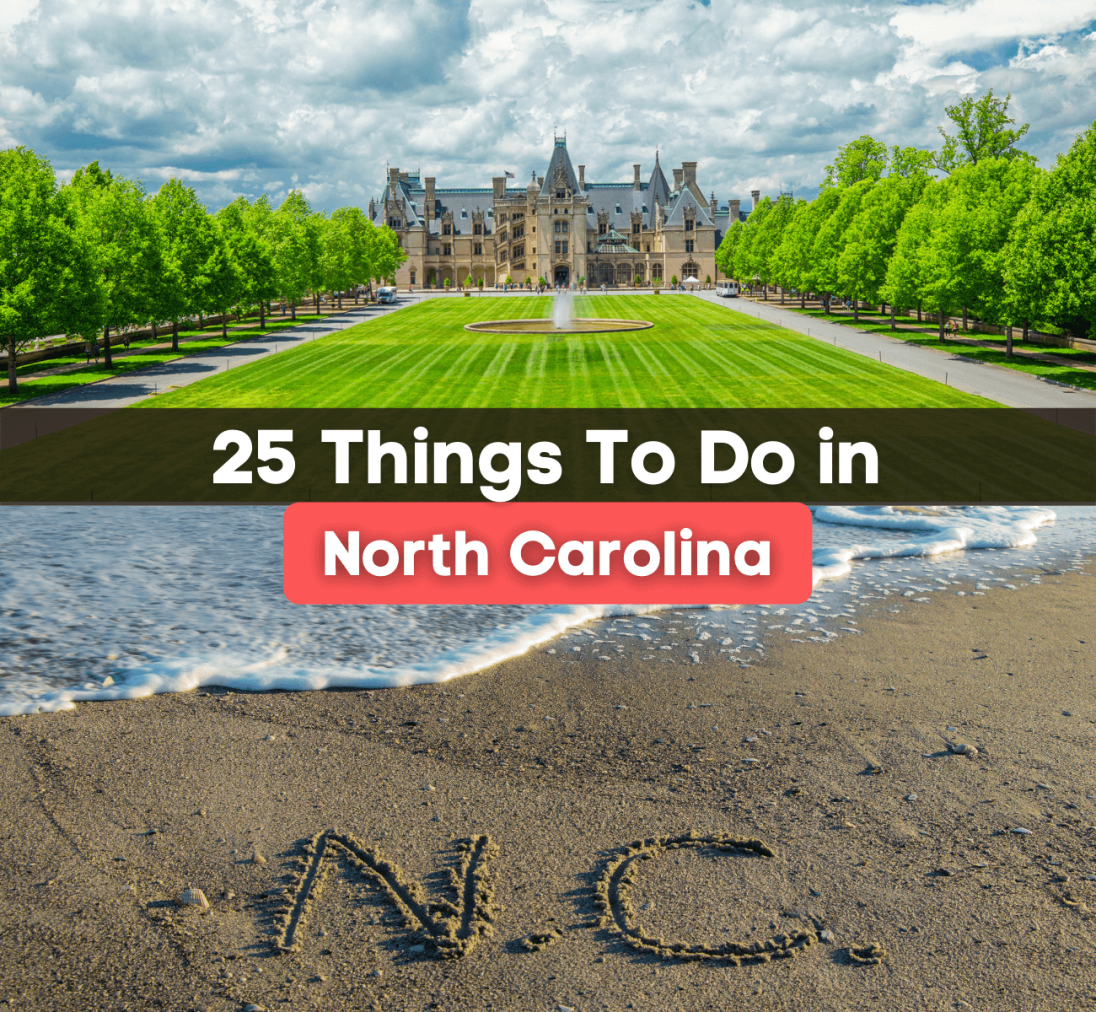 25 Things To Do in North Carolina
The Best Things to do and Places to Visit in North Carolina
Are you looking for something fun to do in NC? Check out these 25 attractions in North Carolina!
North Carolina is a gorgeous place to live that is most popular for its vast landscape, many tourist attractions, and southern charm.
Made up of four distinct regions including the mountains, the piedmont, sandhills, and coastal plains, North Carolina always has something new to explore no matter where you are in the state.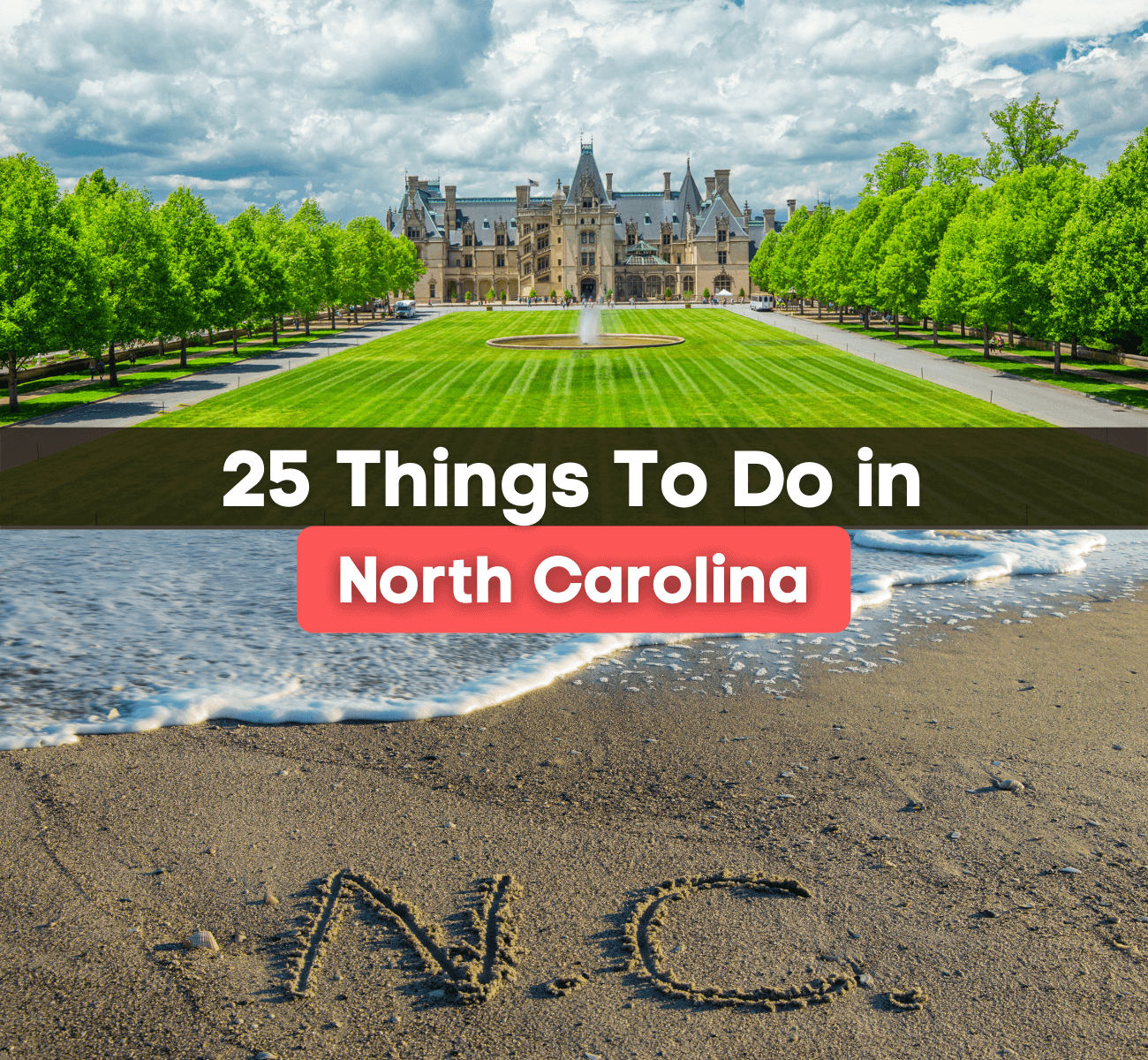 Whether you are moving to North Carolina or are just vising for the weekend, there is no shortage of fun things to do for the whole family.
No matter if you are interested in learning about North Carolina history, want to spend time in nature, or desire to sightsee on the coast, the state is not only diverse but exciting.
So, if you find yourself in the Tarheel State and have no idea where to begin, then this guide is for you.
Read on to learn more about the 25 Things To Do in North Carolina to help you decide which attraction to visit first!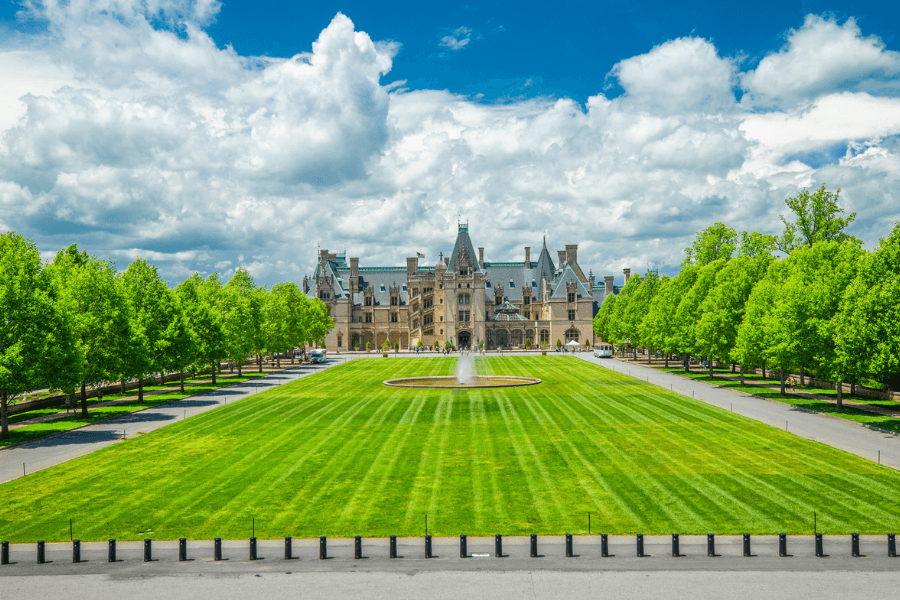 The Biltmore Estate
If you are moving to Asheville, then make sure to visit the infamous Biltmore Estate.
This historic home and museum located in Asheville, North Carolina is a Chateauesque-style mansion that was built for George Washington Vanderbilt II and his family between the years 1889 and 1895.
Known to be the largest privately-owned house in the entire United States, The Biltmore Estate is a prime example of a Gilded Age mansion and how the Vanderbilt's lived back in the day.
Featuring 178,926 square feet of floor space with over 250 rooms that sit on land totaling over 8,000 acres, The Biltmore offers daily tours of the home that attracts large crowds.
Most visited during the holiday season, make sure to stop by to admire over 100 decorated trees, 10,000 ornaments, and over 100,000 holiday lights, since The Biltmore is beloved for its breathtaking Christmas displays and events.
Plus, featuringThe Biltmore Estate Winery which can be found on the estates land, this historic winery and vineyard features tours and complimentary tastings. Selling multiple award-winning wines, it is easy to see how this is the most visited winery in the country.
Pisgah National Forest
Comprised of over 500,000 acres, Pisgah National Forest in the Appalachian Mountains of Western North Carolina is known for its whitewater rivers, cascading waterfalls, tall peaks, and miles of hiking trails.
With multiple access points found close to Asheville, Pisgah National Forest is worth a visit especially if you love the outdoors and appreciate natural beauty.
With up to six waterfalls found in the forest including the magnificent Looking Glass Falls which is one of the most beautiful and easiest waterfalls to view in North Carolina, visiting Pisgah National Forest is certainly a must-do.
Open every day throughout the year and offering free admission into the park, many individuals and families love to hike or take advantage of the on-site camping and picnic areas.
Grandfather Mountain
Found near Linville, North Carolina, Grandfather Mountain is the highest peak on the east of the Blue Ridge Mountains since it stands at 5,946 feet.
Also considered to be one of the major mountain chains of the Appalachian Mountains, Grandfather Mountains is home to diverse wildlife and scenic viewpoints.
Recognized as an icon in the North Carolina mountains region for years, this mountain peak is found just 75 miles north of Asheville.
Featuring a mile-high swinging bridge, which is the highest swinging bridge in America, visitors can expect to spend anywhere from two and a half to three hours exploring this International Biosphere Reserve.
Though Grandfather Mountain does charge an admission fee of $20 for adults and $18 for children, it is a fascinating destination in the state that is worth the visit.
Mount Mitchell State Park
Recognized as the highest peak in the Appalachian Mountains, Mount Mitchell State Park has an elevation of 6,684 feet above sea level and is also the highest peak in eastern North America.
Located just about 19 miles northeast of Asheville in the Black Mountain Range of the Blue Ridge Mountains, Mount Mitchell is special since it is part of one of the oldest geological formations on the planet.
Featuring views that can not be seen from anywhere else, a nine-site tent campground, opportunities for backpacking, and miles of hiking trails, Mount Mitchell is a perfect adventure for any outdoor enthusiast.
Offering some of the toughest climbs in the region and attracting tons of photographers to the area for sunrise and sunset viewing, make sure to add Mount Mitchell State Park to your bucket list.
Chimney Rock State Park
Chimney Rock State Park is found in Rutherford County, North Carolina, and is only 25 miles southeast of Asheville.
Owned and managed by the state, this 8,024-acre park offers some of the most dramatic mountain views in Western Carolina and was used as one of the filming locations for the movie The Last of the Mohicans.
Estimated to be up to 535 million years old, this rock is famous for its 315-foot spire that overlooks Hickory Nut Gorge and Lake Lure and offers visitors 75 miles of picturesque views.
Whether you choose to take an elevator or walk up the 500 steps to reach the top of the rock, there are multiple ways to explore this attraction and to get the most out of your time while visiting.
Featuring a network of hiking trails that will appeal to multiple levels of experience, areas for wildlife viewing, and a 400-foot waterfall, there is no better place to spend the day outside than at Chimney Rock State Park.
Blue Ridge Parkway
The Blue Ridge Parkway is considered to be an All-American Road in the United States and is open year-round.
Spanning for 469 miles through parts of western North Carolina and Virginia, this scenic parkway links the Great Smokey Mountains National Park to the Shenandoah National Park.
Known to be the most visited parkway in the United States National Parks System, driving through the entire Blue Ridge Parkway without stopping will take approximately ten to twelve hours.
Linville Gorge
Recognized as the third largest wilderness area in the state of North Carolina, Linville Gorge is found in Marion, North Carolina, and is made up of 11,786 acres around the Linville River.
Situated inside of the Pisgah National Forest, Linville Gorge is one of only two wilderness gorges in the Southern United States and is most notable for its steep and rugged terrain.
Accessed by the Blue Ridge Parkway near milepost 314, Linville Gorge is located 60 miles northeast of Asheville.
Formed by the Jonas Ridge and dropping 2,000 feet into the valley below, this gorge features hiking trails and offers multiple recreational activities including backpacking, camping, fishing, hunting, and rock climbing.
Keep in mind that when visiting Linville Gorge and other areas in Western Carolina, make sure to watch out for bears and other dangerous wildlife.
Sliding Rock
Sliding Rock is a popular summertime attraction that brings in thousands of adults and children to Western North Carolina each year.
Located near the mountain town of Brevard, Sliding Rock is a small waterfall on Looking Glass Creek that is found in Pisgah National Forest.
Resembling a slide, this waterfall was given its name since visitors can slide down the waterfall on the granite rock into the pool of cool water below.
This natural rock is 60 feet long and ends in an 8-foot-deep swimming hole. For only an admission fee of $4 per person, this recreational area is a fun stop in Pisgah Forest.
While Sliding Rock may be considered safe, all visitors that choose to slide must be able to swim and handle the plunge.
North Carolina Zoo
The North Carolina Zoo is located in Randolph County and is the world's largest natural habitat zoo which means that all of the animals in the zoo have tons of room to roam and explore.
Home to more than 1,800 animals and more than 250 species, the North Carolina Zoo is only one of two zoos that are supported economically by the state.
Found on 2,600 acres in the heart of North Carolina just south of the city of Asheboro, visitors can purchase general admission tickets for adults for $15, children for $11, and seniors for $13.
A great place to visit for school trips or as a family, there are plenty of programs available for any age to learn about the importance of animal conservation and proper animal care.
Lake Lure
Named one of the most beautiful man-made lakes in the United States, Lake Lure is found in the foothills of the Blue Ridge Mountains in Rutherford County.
Not only is Lake Lure where the famous movie Dirty Dancing was filmed, but this 720-acre serene lake is known as a top destination for nature lovers and a prime spot for water sports.
While swimming far out in the lake may be considered unsafe, Lake Lure is perfect for boating, kayaking, wakeboarding, paddleboarding, tubing, and water skiing.
Plus, great for fishing, locals claim that Lake Lure fishing is thrilling and is a fantastic place to catch rainbow trout, white bass, smallmouth bass, largemouth bass, and brown trout. A fishing license or permit is not required to fish in Lake Lure.
Since the water is not clear and generally cold, visitors should watch out for any possible alligator encounters since they are native to Eastern North Carolina.
North Carolina Aquariums
Established in 1976, the North Carolina Aquariums were created to encourage the conservation of marine life and to develop an awareness of the diverse natural environment.
With public aquariums in Kure Beach, Roanoke Island, Pine Knoll Shores, and Jennette's Pier, there is no better place to learn about the care of animals in the aquarium and in the wild.
Home to thousands of North Carolina's most exotic and colorful marine life, bringing the whole family to one of the state's aquariums is a great way to get your children involved in conservation efforts while providing them with an educational experience.
The North Carolina Aquarium at Pine Knoll Shores in particular is known as the largest saltwater aquarium in the state and is one of the best places to admire animals including giant sea turtles and sharks.

U.S. National Whitewater Center
If you are moving to Charlotte then you want to make sure to visit the U.S. National Whitewater Center.
Full of adventures and fun for everyone, this non-profit organization is a recreational area that has been bringing people together outdoors since its opening in 2001.
Featuring tons of river activities both on land and in the water, the U.S. National Whitewater Center is used as an Olympic training site where athletes train and compete in canoeing, kayaking, and whitewater rafting.
Also featuring rock climbing, zip-lining, rappelling, mountain biking, and hiking, visitors can purchase either daily activity passes or memberships for frequent use.
Offering summer camps for children as well including a survival camp, nature explorer camp, and whitewater kayaking camp, this is one of the best places in the state to learn new skills and take part in outdoor recreational activities in a safe environment.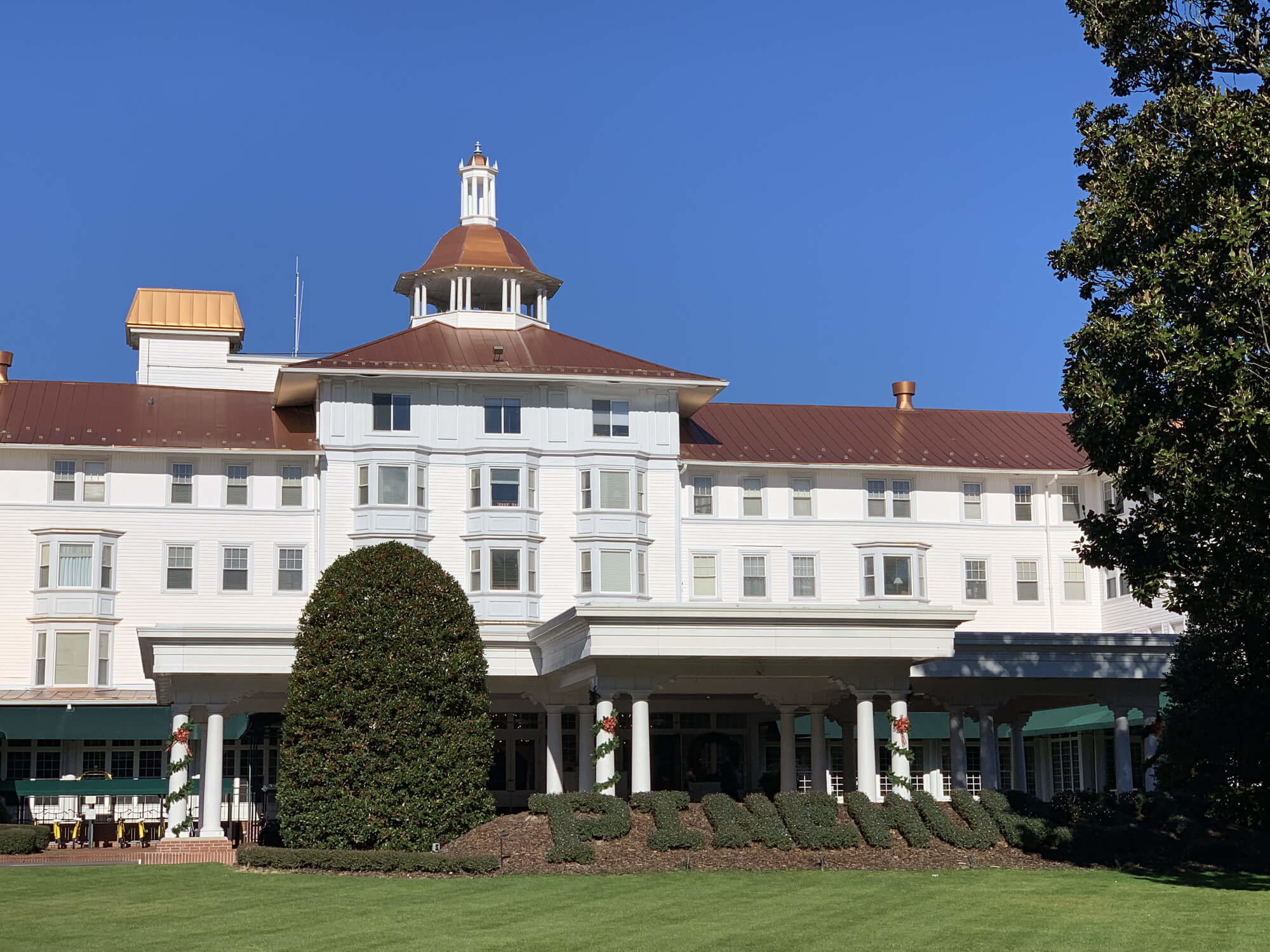 Pinehurst Resort
Known as one of the most well-known golf resorts in the country, Pinehurst Resort is host to numerous golf tournaments including three U.S. Open Championships, one PGA Championship, the Ryder Cup, and three U.S. Amateur Championships, and one U.S. Women's Open.
Whether you are moving to Pinehurst or are visiting the area, the cost to stay at Pinehurst Resort ranges between $67 to $306 a night.
Open to only members and resort guests, the most notable and popular golf course at Pinehurst Resort is Pinehurst No. 2 which will serve as the location of the U.S. Open Championship in 2024.
Fees to play on the Pinehurst No. 2 course range anywhere from $50 to $495 depending on the time of year.
While Pinehurst Resort may be a premier destination for golf, it is also offering world-class spa treatments and dining options.
The resort is also home to well-maintained tennis courts, plenty of shopping, pools, walking trails, and a fitness center.
Charlotte Motor Speedway
The Charlotte Motor Speedway in Concord, North Carolina is found just 13 miles outside of Charlotte and is a popular car racing track.
Hosting NASCAR races including the Bank of America Roval 400 and the Coca-Cola 600 on Memorial Day, the Charlotte Motor Speedway is a must-visit for racing enthusiasts.
Now also offering the Richard Petty Driving Experience, fans can drive the NASCAR race by themselves in this one-of-a-kind car racing opportunity.
While the Charlotte Motor Speedway may be used primarily for racing and NASCAR, the track is host to a popular event called Speedway Christmas which is a spectacular light show around the holiday season. Featuring up to four million lights over a three-mile drive-through course, visitors get to drive in their cars around the speedway and embrace the holiday spirit.
NASCAR Hall of Fame
Since Charlotte is considered to be the home of NASCAR, it is no surprise that the NASCAR Hall of Fame is also located here.
Dedicated to the history of NASCAR and honoring well-known drivers who heavily impacted the NASCAR world, this hall of fame will get any car racing fan excited.
Featuring evolving exhibits to explore as well as a racing simulator, visitors will learn about all 58 individuals who have been inducted into the hall of fame most of which are drivers, crew chiefs, owners, and broadcasters.
Eno River State Park
Eno River State Park is a 4,319-acre park in Durham, North Carolina that preserves over 14 miles of the Eno River.
Whether or not you are moving to Durham, Eno River State Park is home to beautiful forests, walking trails, a historic mill, and the tranquil Eno River which makes it a perfect example of the pristine natural beauty that the area has to offer.
With up to 30 miles of hiking trails available all year round as well as some free educational programs offered multiple times throughout the year, Eno River State Park is a magnificent place near Downtown Durham for sightseers, photographers, fishermen, outdoor enthusiasts, campers, and dog owners to enjoy nature.
North Carolina Museum of Natural Sciences
If you love visiting museums and are living in Raleigh then the North Carolina Museum of Natural Sciences is a must-do for all ages.
Considered to be the oldest established museum in the state of North Carolina and the largest museum of its kind in the Southeastern United States, the North Carolina Museum of Natural Sciences features cool exhibits, artifact collections, educational programs, and field experiences for visitors.
From dinosaur fossils to exhibits about reptiles and amphibians, this science museum is a fun and free way to learn about the natural world.
North Carolina Museum of Art
Also found in the capital city of Raleigh, the North Carolina Museum of Art has been open since 1956 and is recognized as the first large museum collection in the country that was completely funded by state legislation.
Consisting of 168 acres of park, walking trails, and museum space, the North Carolina Museum of Art has been ranked as one of the top 25 museums in the country.
Home to a permanent collection of artworks that span more than 5,000 years, there is always some new exhibit or event to explore and take part in.
Admittance into the permanent collection is always free.
Sarah P. Duke Gardens
Nestled in the eccentric city of Durham at Duke University lies the Sarah P. Duke Gardens which offers 55 acres of gorgeous wooded areas and gardens.
A nice reprieve from city life, these gardens were named after and created as a memorial for Sarah Pearson Angier Duke who was a benefactor of Duke University.
Now with up to five miles of walking trails, pathways, and garden benches, the grounds of this garden welcome over 600,000 visitors from around the world to admire its beautiful landscaping and serene southern charm.
If you find yourself moving to Durham then make sure to frequent these gardens.
JC Raulston Arboretum
The JC Raulston Arboretum located near North Carolina State University in Raleigh is a 10-acre botanical garden that is open to the public daily for free.
Home to one of the largest collections of landscape plants in the Southeast United States, this arboretum has more than 6,000 different plant types on display.
Even though pets may not be allowed into this arboretum, this is a fantastic spot in the city to walk around, take pictures, and view the displays inside of this nationally acclaimed garden.
Wright Brothers National Memorial
The Wright Brothers National Memorial is found in Kill Devil Hills near the North Carolina coast and commemorates the first successful flight of Wilbur and Orville Wright.
This 60-foot tall monument is known to be the tallest monument in the Outer Banks region and was originally dedicated in 1932.
With an entrance fee of $10 for adults, this memorial is worth the visit at least once while in Kitty Hawk, North Carolina.
Battleship North Carolina
Considered to be a must-do while in Wilmington, the Battleship North Carolina was the first vessel of its type that was built for the United States Navy and it is now permanently docked and used as a museum.
Offering guided tours of the main, upper, and lower decks of the ship, visitors can step back in time to learn about this battleship's importance during World War II.
Residents that live in Wilmington tend to frequent the Battleship North Carolina often.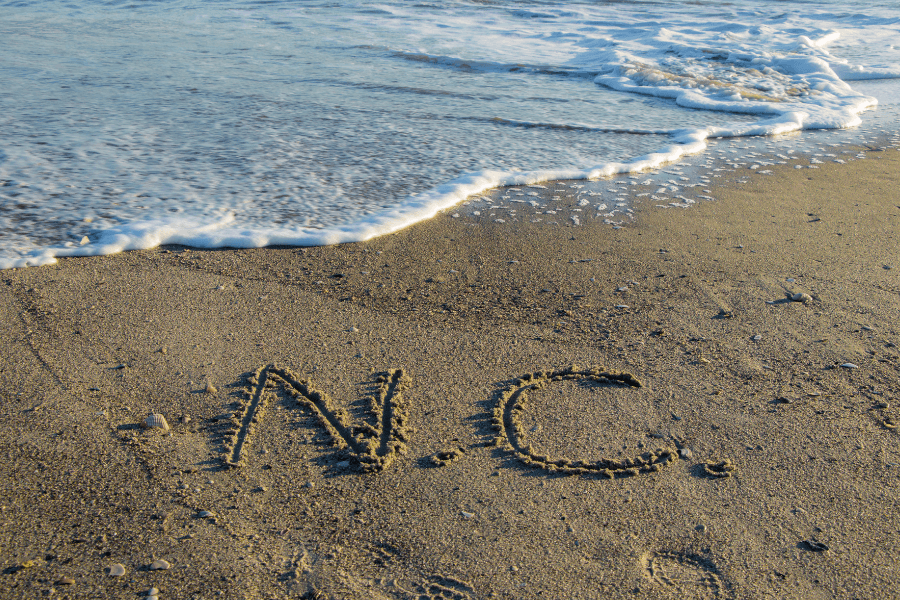 Cape Hatteras National Seashore
The Cape Hatteras National Seashore is a great option for anyone interested in moving to the Outer Banks of North Carolina.
Stretching over 70 miles from Bodie Island to Ocracoke Island, this stretch of sandy beaches and land is known for its clear, cool water and lack of crowds.
From historical lighthouses and landmarks to 4x4 beaches, it is no wonder that the Cape Hatteras National Seashore has been named one of the best beaches in North Carolina.
Jockey's Ridge State Park
Considered to be the tallest living sand dune on the Atlantic coast, Jockey's Ridge State Park in Nags Head, North Carolina is a sought-after location for kite flying, sightseeing, and hang gliding.
Covering a total area of 427-acres, Jockey's Ridge State Park is the most visited state park in the state and offers free admission.
Carolina Beach State Park
Found in New Hanover County near Carolina Beach on Pleasure Island lies the 420-acre Carolina Beach State Park.
Offering hiking trails, campgrounds, fishing areas, and a learning center for visitors, this is a great park to enjoy the beach or rent kayaks.
Best Things To Do in North Carolina - The Bottom Line
From family-friendly adventures to historical landmarks and museums, North Carolina has many interesting attractions that can not be found anywhere else in the world.
Whether you are thinking about things to do for your weeklong vacation or want to know how to spend your time once moving to North Carolina, this guide provides you only with the top attractions in the state that are worth the visit.
If you are interested in learning more about North Carolina and are considering buying a home then make sure to reach out to one of our knowledgeable Realty Specialists.
Contact us today!

Find your new home
Search real estate and homes for sale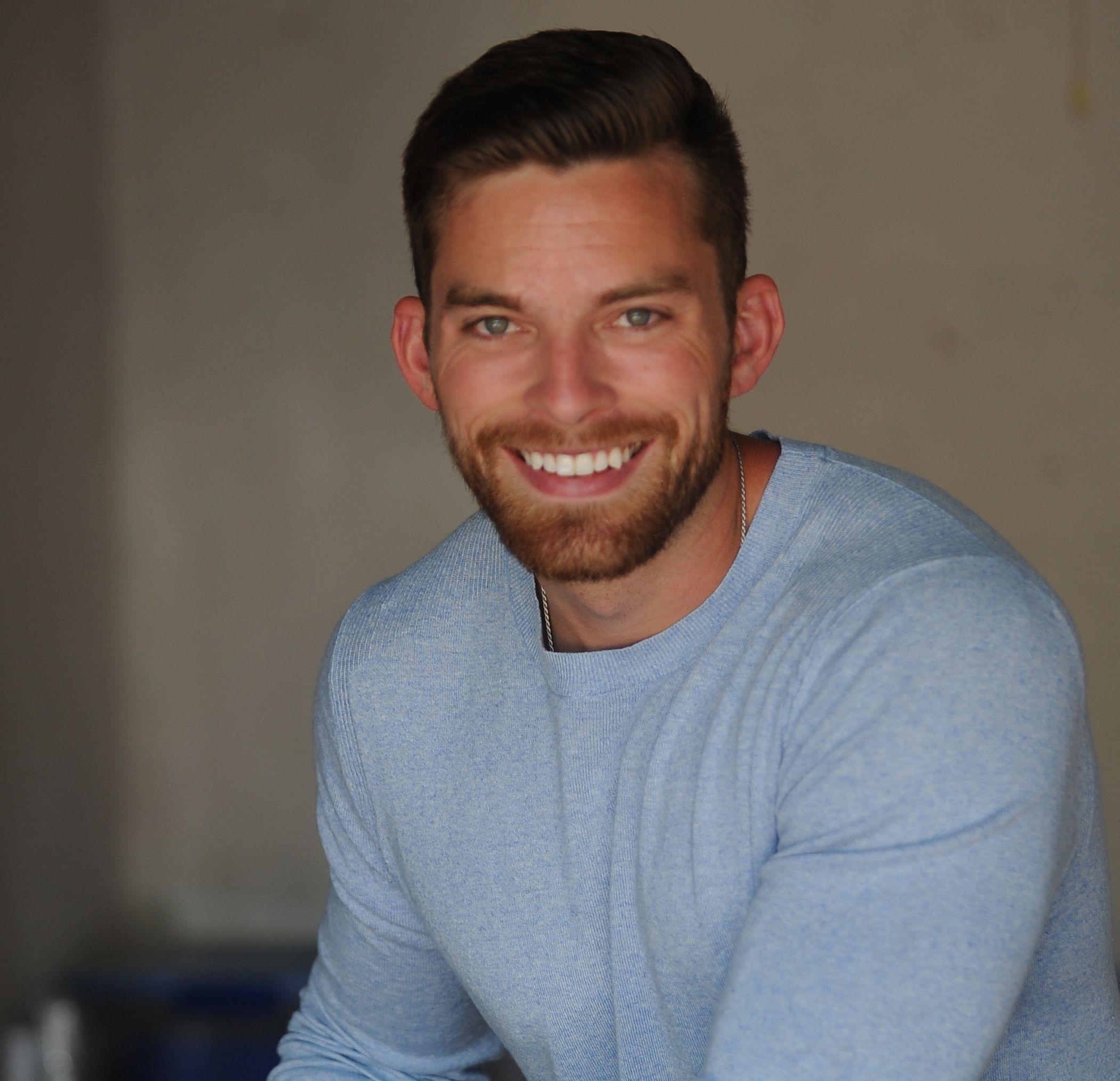 Ryan Fitzgerald
Hi there! My name is Ryan Fitzgerald, and I am a REALTOR®. My goal is to help you learn more about real estate through our Real Estate Blog! Hopefully, you enjoyed the above blog post and it found a way to provide help or value to you. When you're ready to buy or sell a home of your own let us know here. Please feel free to join the conversation by dropping us a comment below.