10 Things to Know BEFORE Moving to the Outer Banks (OBX)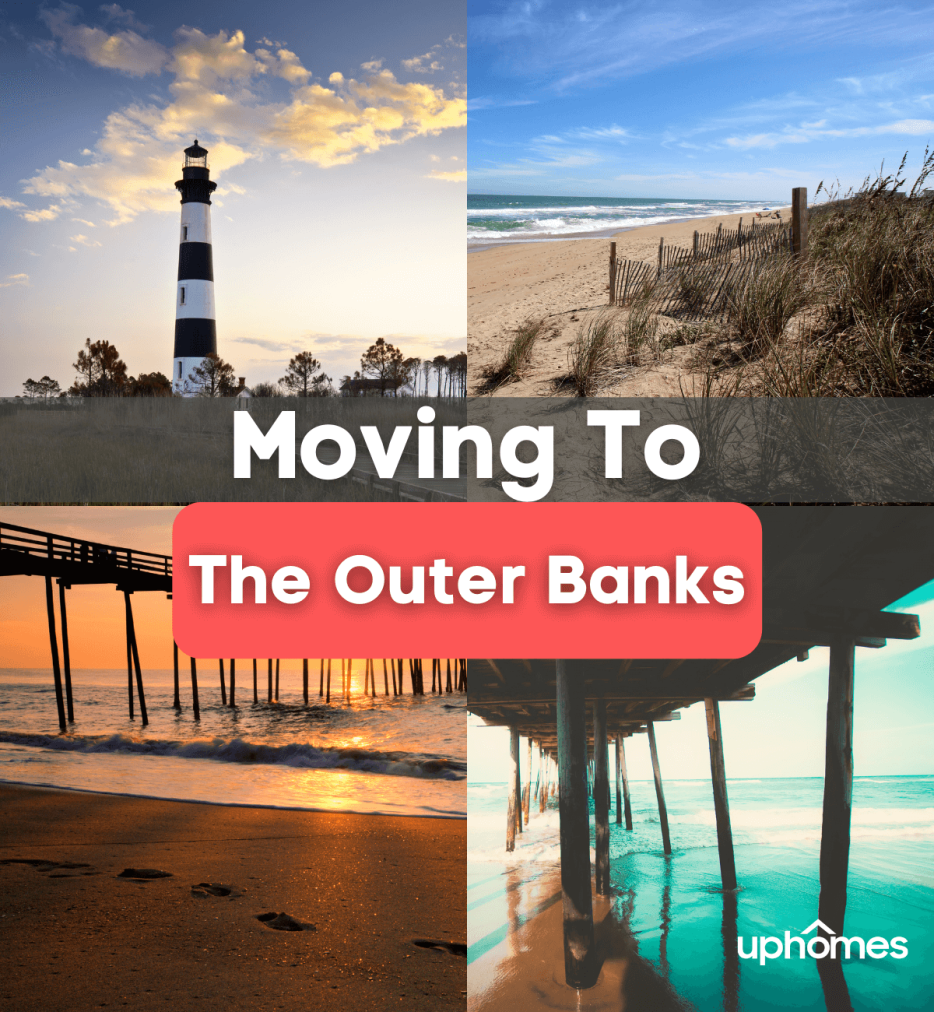 Living in The Outer Banks (OBX)
Thinking about Moving to The Outer Banks, North Carolina? Find out why people love living in theOuterBanks (OBX)!
The Outer Banks, also known as OBX, is a 200 mile stretch of barrier islands located off of the coast of North Carolina and the coast of Southeastern Virginia. Every Summer, thousands of visitors flock to the Outer Banks for sand and sun. This popular tourist destination is not just a well-known series on Netflix. So what makes these barrier islands so special? With a population of over 35,000 people living here year-round, there is a reason why many choose to call the Outer Banks home.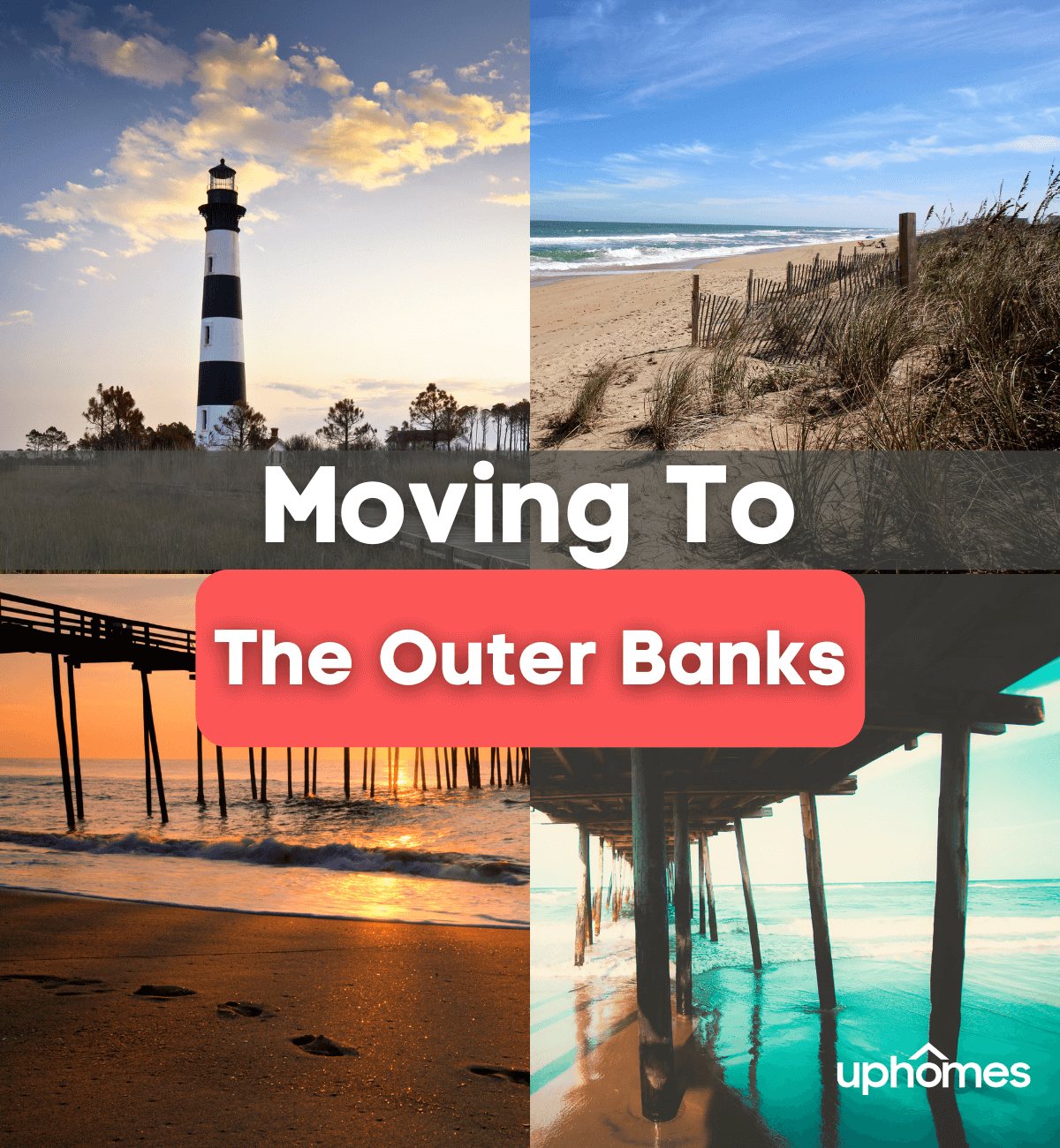 10 Things to Know BEFORE Moving to the Outer Banks!
The Picturesque Beaches
The Outer Banks is best known for its picturesque beachfront, it's one of the main reasons people love living here. This wide expanse of non-commercialized beaches is part of what makes the area so beautiful and desirable to both visitors and residents alike. The main towns of the Outer Banks include Nags Head, Kitty Hawk, Kill Devil Hills, Duck, Corolla, and Rodanthe just to name a few. In the Summer months, the warm weather brings in up to 200,000 visitors to the area each year. This expanse of free and open public beaches stretches for hundreds of miles, adding to the charm of the islands.
Without boardwalks, the beaches are only lined with oceanfront homes making this a quiet and peaceful residential area. Multiple public beach accesses offer free parking where you can walk anywhere that you want to explore. The Outer Banks is also the perfect place to look for shells and sea glass. While you are on the beach, make sure to look out for shipwrecks in the water since some are visible to spot. You never know what you will discover when youare livingin the Outer Banks!
The People & Community
People from all over the world decide to venture to the Outer Banks whether it be from California, Canada, or even Germany. The number of people moving to the Outer Banks, and relocating to North Carolina, in general, is staggering. This diverse collection of people leads to a close-knit community. Neighbors are welcoming and willing to lend a helping hand. This active local community is home to individuals with shared hobbies, interests, and passions.
If you want to get involved in the community and meet new people from various backgrounds, make sure to check out the abundance of Outer Banks Community Organizations. Find your place and discover new interests offered through these opportunities. Have the chance to become a part of surfing competitions, marathons, community choirs, theatre groups, religious groups, or volunteer organizations. The people who are living in the Outer Banks is what makes this area so great.
There is always something happening in the Outer Banks! Parades and festivals often kick off the holiday season, while celebrations of local food, art, music, and craft beer can be seen throughout the year.
Check out some of these annual events in OBX:
Annual Outer Banks Beer Mile: The perfect start to St. Patrick's day by running and drinking the best brews in the Outer Banks.
ESA Mid-Atlantic Regional Surfing Championship: Watch the best surfers in town ride the waves and show off their tricks.
Ocrafolk Festival: Join this island celebration of music, storytelling, and local food on Ocracoke Island.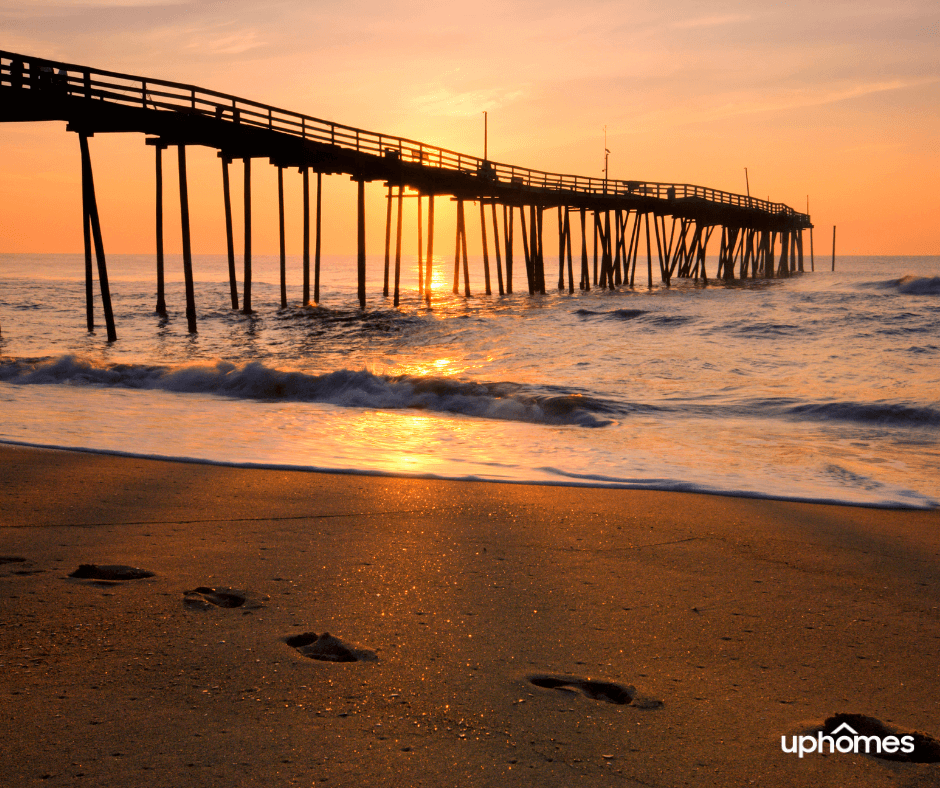 The Rich History
The history of the Outer Banks is filled with infamous stories of pirates, moonshine, and shipwrecks. Those that travel to the Outer Banks come to learn about this cultural history and seek a sense of adventure. Before the arrival of Europeans, the Outer Banks were inhibited by local native tribes such as the Algonquin. The Native Americans were known to use the barrier islands in the Summer for fishing, and the mainland of North Carolina in the winter months. Dating as far back as the 1500s, Europeans talk about their encounters with the Natives noting their happiness and overall great quality of life on the islands. This is what is prompting people to move to the Outer Banks.
Meanwhile, Ocracoke Island is notorious for being the hideout of legendary pirate Blackbeard. It is said that Blackbeard sailed the waters of the Outer Banks and chose Ocracoke Island as his favorite hideout and home. Other notable pirates in the area include Anne Bonney and Calico Jack. The Outer Banks truly is the treasure of the North Carolina coast.
Real Estate & Cost of Living
Compared to other beach towns on the eastern coast of the United States, the Outer Banks is a relatively affordable place to live and is highly sought after. We published an article on the Best Neighborhoods in the Outer Banks that is worth a read if you're considering a move and purchasing a home. Known as one of the fastest-growing real estate markets in the country, the cost of living here is cheaper than the Florida Keys and Charleston, South Carolina. This secluded and charming shoreline provides a small-town feel with lots to see and do. Houses here tend to sell quickly but we are here to help!
Depending on which town you live in could mean different costs of living but they are all relatively the same. For instance, Dare County in the Outer Banks is cheaper than living in New York City but is still a little above the national average. The draw to living in this area can be due to the low housing prices, low-interest rates, and vacation rental income that has recently soared. Living in the Outer Banks can be a good investment, not to mention a great vacation spot. Even if you're not moving to the Outer Banks many people with homes in Charlotte or Raleighend up with second homes at OBX.
The Mild Weather
The best time to visit the Outer Banks is between the months of March and May or between September and November. Most locals and visitors prefer the Summer months though due to the warm weather. The weather here is mild with average high temperatures in the upper 70s and lows in the 50s. During the winter months, lows can reach as low as 30 degrees.
If you're moving to the Outer Banks, there's a good chancethe weather is one of the main attractions for you!
Living on the barrier islands means unpredictable weather. From bright sunny days to strong storm winds, the weather is constantly changing. While OBX experiences up to 200 days of sunny weather a year, it is important to keep in mind that it could change at any second. This is especially true during hurricane season. There are many pros and cons to livingat The Outer Banks and while the weather can be a pro, Hurricane seasoncan be acon.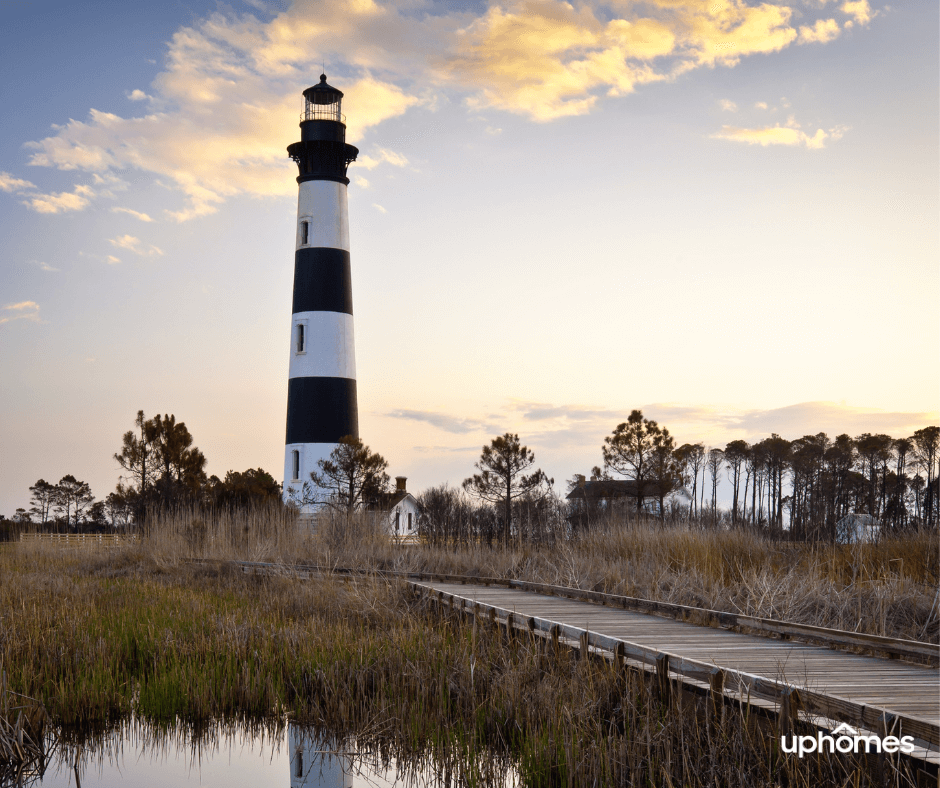 Fun Things to Do
While spending your days at the quiet beaches may be the number one thing to do here, it is certainly not the only thing to do. There are a variety of attractions and adventures that should be taken advantage of by both residents and travelers. Go horseback riding on the beautiful white sand beaches, sightsee at one of the many infamous lighthouses, or tour some shipwrecks off of the coast. You will never run out of things to do while at the Outer Banks.
Here are some notable attractions to add to your OBX bucket list:
Wright Brothers National Memorial: For those that love flying, Kill Devil Hills was where the first flight was born in the year 1903. The Wright Brothers moved here from Ohio and created the first successful airplane. Today, visit the Wright Brothers National Memorial which honors the first flight.
Jockey's Ridge State Park: Located in the town of Nags Head, this popular attraction is the largest sand dune on the Atlantic coast. With free entry, climb to the top of the dune and sandboard back down! This is also a great place to fly a kite, take hang gliding lessons, or take a spin on a Wright Brothers 1902 glider replica.
Jennette's Pier: This pier in Nags Head is a fisherman's paradise and offers amazing views. While you are here, take a peek into the aquarium. This is a fun place to bring the family and kids.
Roanoke Festival Park: Head back in time to the 1500s to the settlement of Roanoke. View the exhibits, history museum, and live performances while learning about the first colony.
Elizabethan Gardens: With over 500 different species of plants to admire, this 10.5-acre garden is a peaceful and relaxing place to walk around. The live oak on the property is ancient and is believed to have been living in 1585 when the first colonists arrived.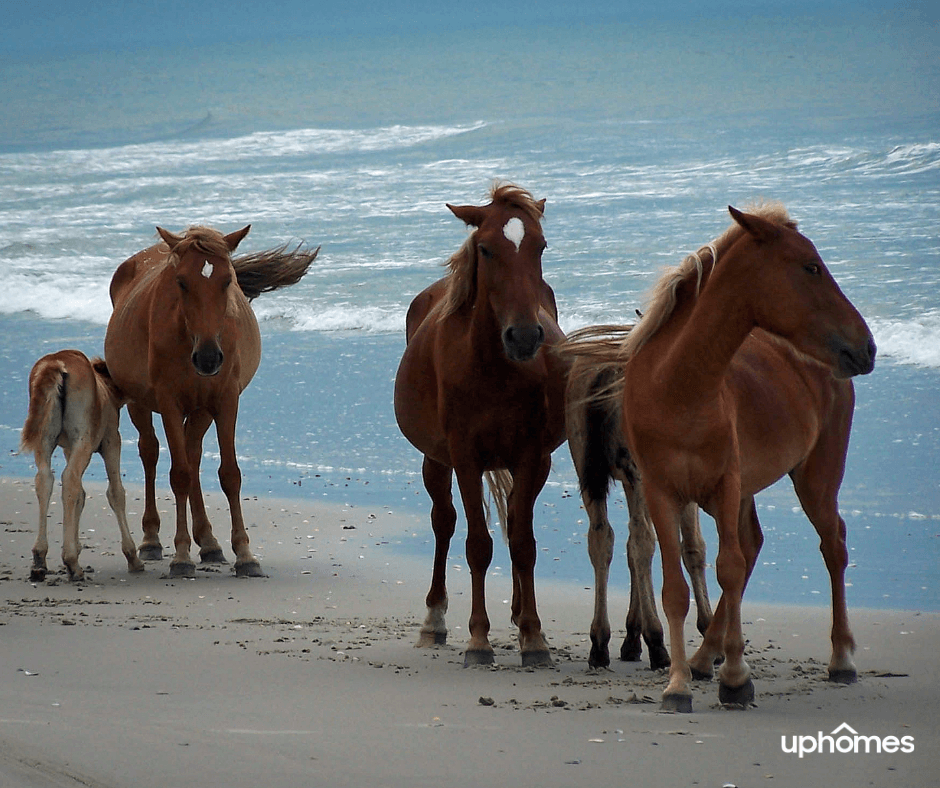 There are Wild Horses
Head to the town of Corolla to get a chance to see the wild horses that run free on the island! The wild horses here are a major draw for tourists. The herd is made up of about 100 Spanish mustangs that live naturally off of the land. Living off of acorns, sea oats, grasses, and other native plants, these horses have been around for hundreds of years. In the 1920s there was a population of up to 6,000 horses in the area alone! The best way to spot these horses is with Wild Horse Adventure Tours where a guide takes you around during peak season. If you get a chance, donate to The Corolla Wild Horse Fund, a nonprofit organization dedicated to protecting the horses and preserving the environment. These mustangs truly are a sight to behold.
You Can Climb a Lighthouse
The Outer Banks has five lighthouses that are admired by thousands of visitors a year. These lighthouses are some of the perfect sightseeing locations and make for a fantastic photo opportunity. In fact, three of these lighthouses can be climbed. While the climb might be high, the view from the top is worth it.
Here are the five lighthouses in OBX that you have to visit:
Currituck Beach Lighthouse: Located in Corolla and standing at 162 feet tall, this lighthouse can be seen for 18 nautical miles. The Currituck lighthouse has a red brick exterior that was left unpainted. Climb the 220 steps to the top and be met with beautiful views of the sound and the Atlantic Ocean.
Roanoke Marshes Lighthouse: This lighthouse is often overlooked due to the fact that it is smaller and tucked away in Manteo. Just south of Nags Head, this 156-foot lighthouse shines 19 miles offshore.
Bodie Island Lighthouse: South of Nags Head, this lighthouse is notable for its black and white horizontal stripes. Standing at 156 feet tall and shining 19 nautical miles offshore, climb the 214 steps to the top.
Cape Hatteras Lighthouse: Known for its black and white candy cane stripes, this is one of the most famous and well-known lighthouses in the world. Standing at 208 feet tall and shining for 20 nautical miles, this lighthouse is also the tallest in the world. It is the island's biggest attraction where visitors can climb 257 steps to reach the top. Protecting the most treacherous area of the Outer Banks, this lighthouse has shined its light for hundreds of years.
Ocracoke Lighthouse: Known as North Carolina's oldest lighthouse, this 65-foot structure can be spotted up to 14 miles offshore. This lighthouse is not open to climbers but it is still worth the trip.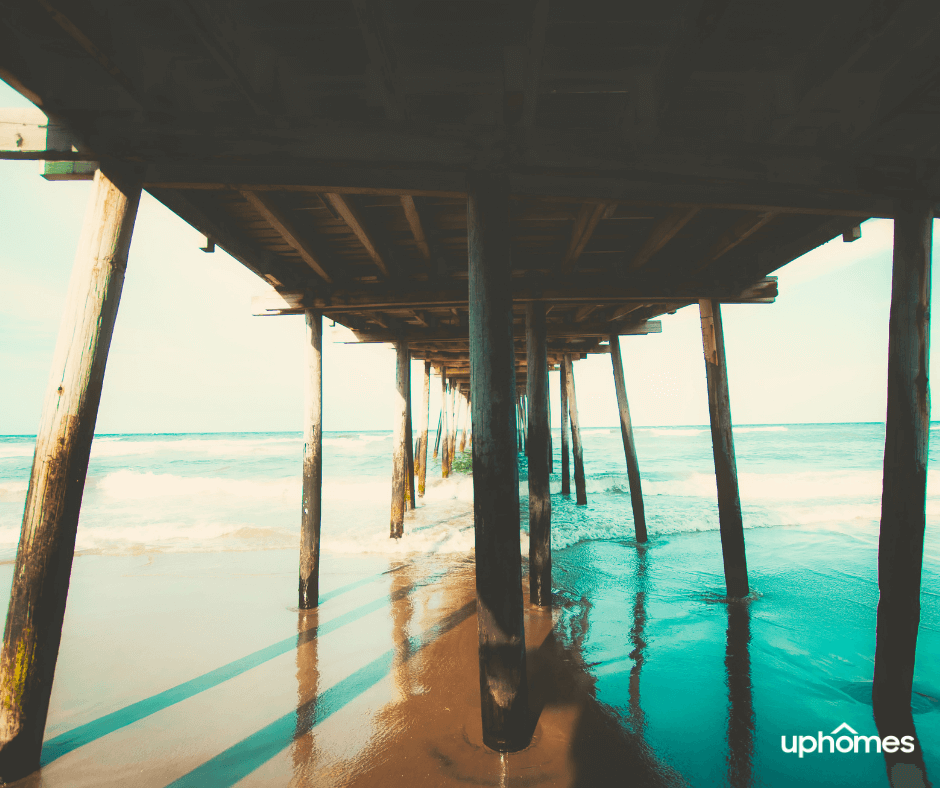 Amazing Food
OBX is known for the mouthwatering local caught seafood and classic North Carolina style flavors. The barrier islands feature many locally-owned restaurants, bars, and taverns. With many options to choose from you will never run out of a new and fun place to dine. Share tacos by the seaside or feast on fresh seafood at a pier.
Check out these top-rated dining experiences in OBX:
Fish Heads Bar and Grill: Located in Nags Head, head to this waterfront pub and tiki bar at this fishing pier for some live music and locally caught favorites.
Black Pelican: Enjoy beautiful ocean views while enjoying steaks, seafood, pizza, and vegetarian dishes. Serving lunch and dinner daily.
Sundogs: This raw bar and grill in Corolla feature live music and karaoke while you enjoy classics such as nachos and crab dip.
Miller's Waterfront Restaurant: This family restaurant right by the waterfront is the perfect place to dine and watch the sunset while enjoying craft cocktails and beer.
Coffee Shops
Start your days off right with a locally crafted cup of coffee. Luckily the Outer Banks knows just how to make the perfect cup for a much-needed caffeine boost.
Grab a latte from these favorite OBX coffee shops:
Duck's Cottage: This quaint and quiet coffee shop in Duck provides great coffee with historical charm and a laid-back environment.
Outer Bean Juice and Java: Grab your morning shot of espresso alongside freshly made to order juices and smoothies.
Wave Riders: This coffee shop located in Nags Head has a full menu of specialty coffee drinks, food, and a play area for your furry friends.
Final Thoughts on Moving to The Outer Banks:
People love living in the Outer Banks that is why so many people are moving here. If you're someone who enjoys the small-town feel with all the benefits of a beach town, then OBX is a place you will enjoy calling home. From beautiful real estate to an affordable cost of living, there is something for everyone in the Outer Banks. If you haven't already, you have to come to check out the area! If you're considering moving to OBX pleaseconnect with us so we can help answer any questions you may have!
#blog-moving-cta#
#blog-best-neighborhoods-cta#
Moving to The Outer Banks Resources:
https://obxguides.com/orgs-nonprofits
https://www.outerbanks.com/events.html
https://shorelineobx.com/blog/cost-of-living-on-the-outer-banks-nc/
https://www.outerbanksvoice.com/2014/05/22/index-dares-cost-of-living-8-7-percent-above-national-average/
https://thevirginiasportsman.com/featured/the-wild-horses-of-corolla-in-the-outer-banks
https://travel.usnews.com/Outer_Banks_NC/Things_To_Do/
https://www.outerbanks.com/lighthouses.html
https://www.outerbanks.com/restaurants.html
https://www.outerbanksblue.com/blog/top-5-outer-banks-coffee-shops/

Find your new home
Search real estate and homes for sale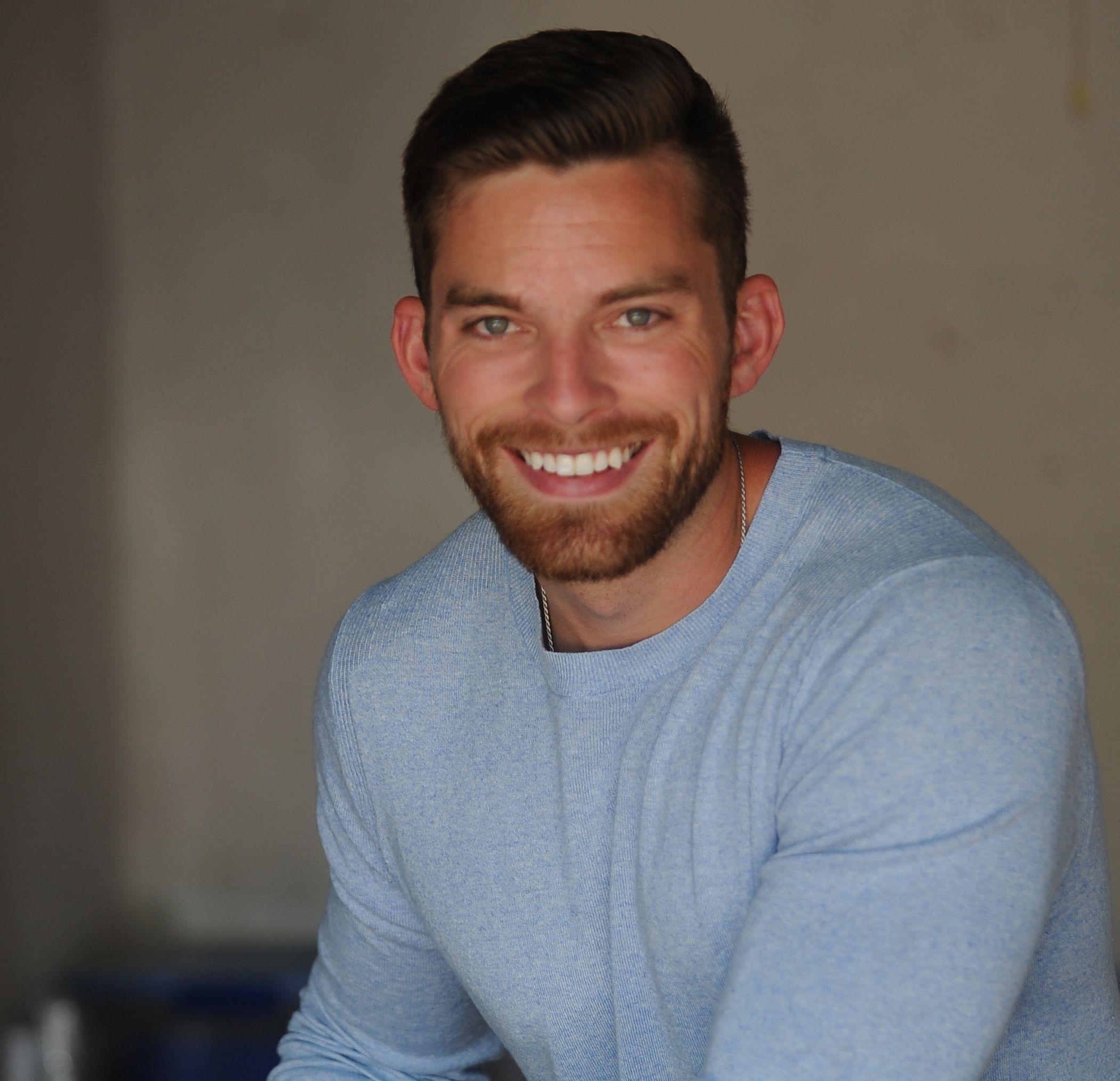 Ryan Fitzgerald
Hi there! My name is Ryan Fitzgerald, and I am a REALTOR®. My goal is to help you learn more about real estate through our Real Estate Blog! Hopefully, you enjoyed the above blog post and it found a way to provide help or value to you. When you're ready to buy or sell a home of your own let us know here. Please feel free to join the conversation by dropping us a comment below.