7 Best Neighborhoods in The Outer Banks NC
7 Best Neighborhoods in The Outer Banks (OBX)
The Best Neighborhoods in The Outer Banks, North Carolina
What are the best neighborhoods in the Outer Banks? Great question and we have you covered!
The Outer Banks is a beautiful collection of barrier islands off of the coast of North Carolina. Known for its affordable laid-back beach towns and clean beaches, it is no wonder that the real estate market here is one of the fastest-growing in the country. If you are moving to OBX and are wanting to find the best neighborhood that suits you, then you have come to the right place. We are here to help!
Looking at a map, the Outer Banks is made up of 17 established towns. Our team has compiled a list of the most popular towns and neighborhoods in the area to make your search easier. Each town and neighborhood on this list is conveniently located, safe, and provides an array of shopping, entertainment, and dining options.
We just finished up a great article for those that are moving to the Outer Banksand we are here to assist if you have questions and you'd like toconnect with us. Now it's time to talk about the best neighborhoods in the Outer Banks (OBX).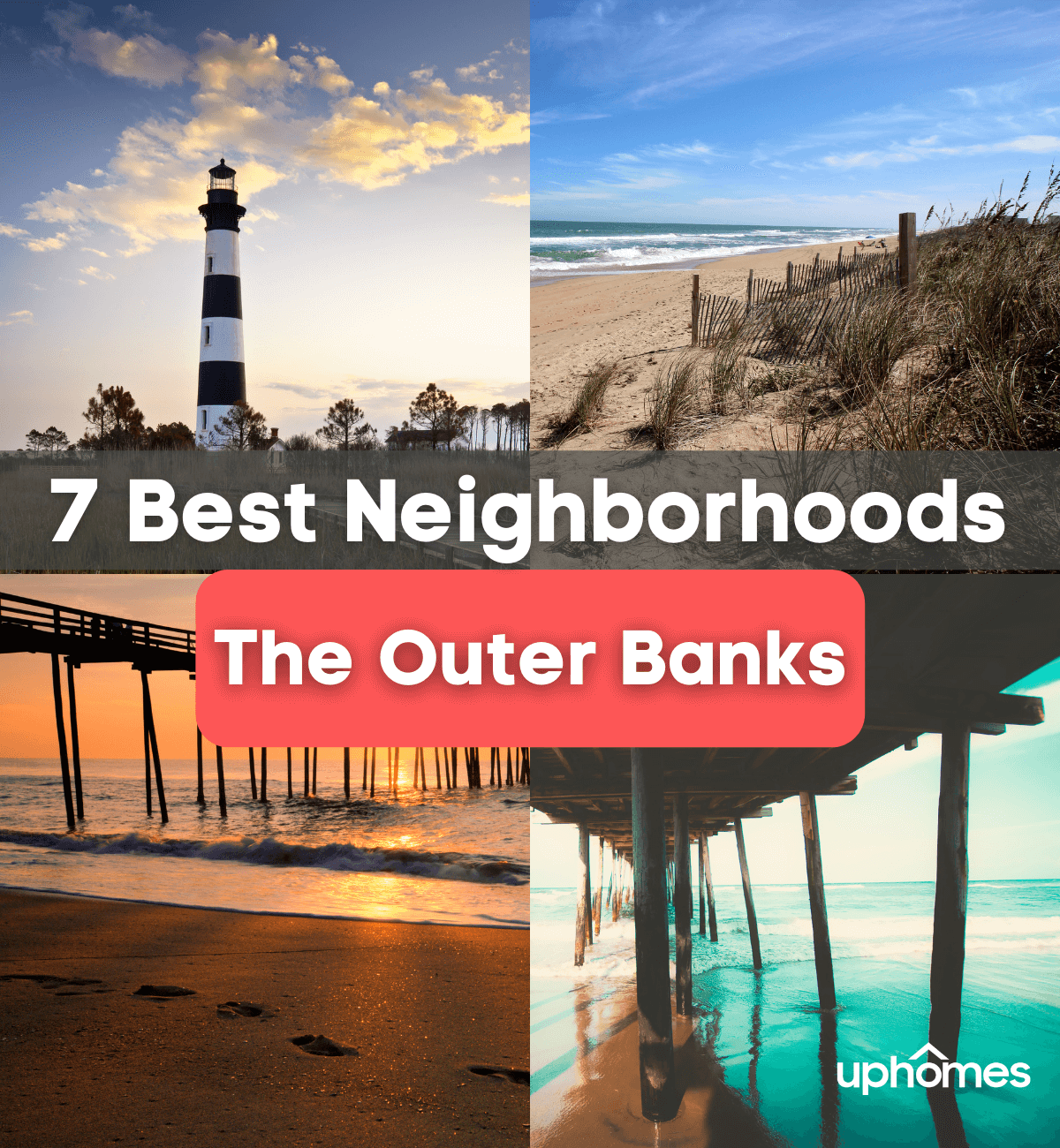 7Best Neighborhoods in the Outer Banks!
Corolla
Located on the north end of the Outer Banks, the beach town of Corolla has pristine and large sandy beaches. This town is the latest to be developed and still has areas that are untouched. Go off-roading to explore sand dunes and beaches with no roads. Even have the chance to admire the wild mustangs that roam freely on the island. This quiet beach town comes to life in the summer since people can be seen returning to their vacation homes. In the wintertime, the locals can enjoy peaceful outings and a secluded atmosphere.
The town of Corolla is unique since it has its own chain of grocery stores, farmer's markets, and restaurants. The waves here are smaller which means that this a great place to learn how to surf. The Currituck Beach Lighthouse and the Metrolopis shipwreck are located here as well. Make sure to also check out Corolla Village, featuring locally-owned shops and restaurants.
Villas at Corolla Bay: This newest community features four-bedroom homes in a quaint neighborhood. This community is gated and has bright street lights to keep it safe. Spend your day in the community pool and hot tubs.
The Currituck Club: This community sits on a golf course and is a great place for a vacation home. Stay active at the fitness center and tennis courts.
Soundfront at Corolla Bay: The best place to watch the sunset and ride your bike. Featuring a pool, sidewalks, piers, and easy access to the beach.
Local Favorites:
Outer Banks Boil Company: Come here for all of your fresh, quality seafood needs. The best place to get crab legs, clams, and lobster tails.
Mike Dianna's Grill Room: A restaurant legendary for excellent seafood and steaks using nothing but fresh ingredients.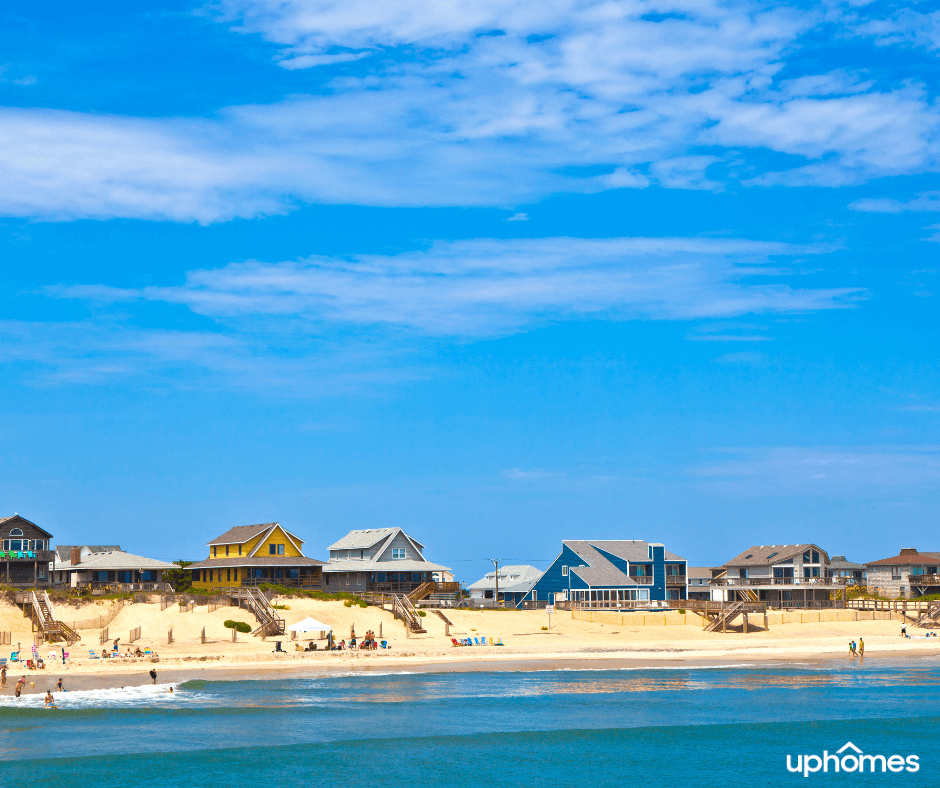 Duck
If you have a dog then this is the place for you. The town of Duck was voted as one of the "Top 10 Dog-Friendly Beaches" by US Today. Known for its small boutique shops and lowkey restaurants and taverns, the town of Duck is cute and quiet. The uncrowded beaches make it easy to take a sea stroll. There are no chain stores or establishments in the area making living here a personal experience. Make sure to visit the independent bookstore in town calledThe Island Bookstore. Located between the ocean and the sound, easily explore the area by using the bike paths and wooden boardwalk. If you want an authentic small-town beach experience then living in Duck is the place for you - there's a reason it made our list of best neighborhoods in the Outer Banks!
Bias Shores: In southern Duck, this neighborhood is small and has its own pier overlooking the Currituck Sound. Featuring a private beach, tennis courts, a pool, and a bike path. Living here is only a short walk away from popular shops and dining options.
Schooner Ridge: One of the most popular communities in Duck, enjoy gorgeous views of the sound and the Atlantic Ocean. This community includes a clubhouse with an indoor and outdoor pool.
Ocean Crest: This community has three top-rated schools nearby if you have any school-age children. Located close to the beach, Oceancrest has a pool and tennis courts as well as private beach access. Homes here are spacious and contemporary.
Local Favorites:
The Paper Canoe: Serving fresh seafood, homemade pasta, and wood oven favorites, this restaurant sits on the waterfront while delivering a high-quality dining experience.
The Village Table and Tavern: Featuring live music and a full bar, this ocean joint served pub food in a relaxing atmosphere.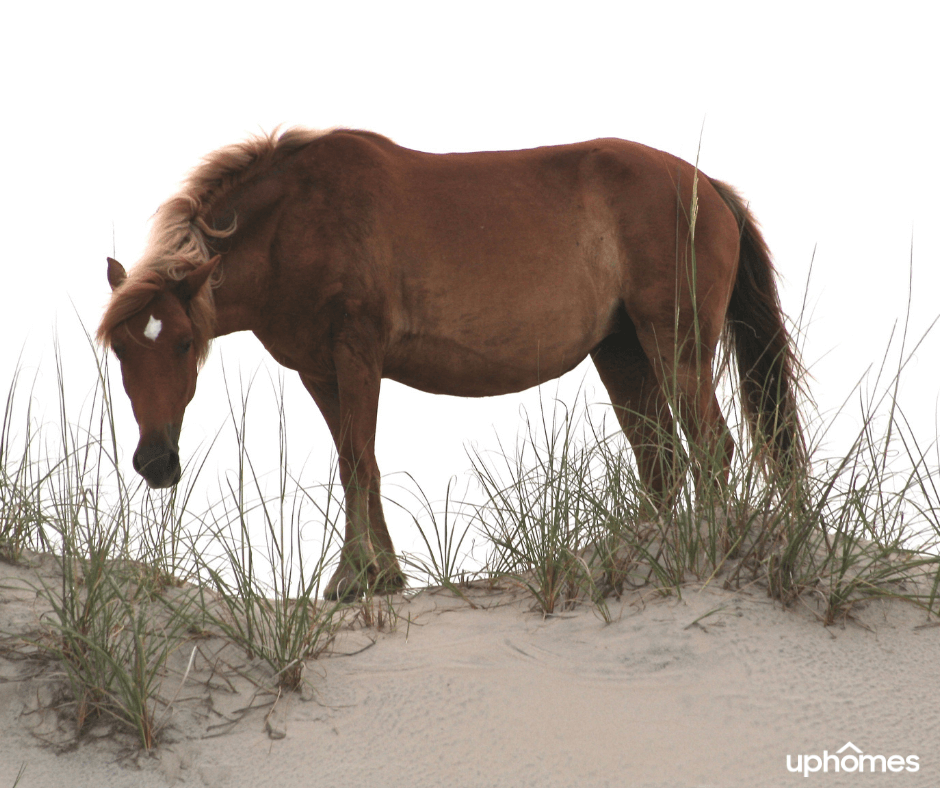 Kitty Hawk
Normally the first town that people see when visiting the Outer Banks, there is a lot to do and see here. Go kayaking, boating, surfing, or look for shells on the beach. Most of the homes here are super close to the beach which means you can walk or ride your bike. Fun Fact: The beaches here have more lifeguards than any other OBX beach! This neighborhood earned its spot on our list of best neighborhoods in the Outer Banks.
Kitty Hawk Estates: This community is perfect for raising a family or for a vacation home. This neighborhood is the center of the community and is surrounded by grocery stores, local schools, and quirky shops.
Seascape: This community is centered around a golf course which makes this a great place to live if you are a golf lover. With beautiful views of the ocean and sound, Seascape has a pool and easy access to the beach.
Martin's Point: A gated neighborhood that is safe and private making this a great place for families and retirees alike. Take an evening walk around the neighborhood and venture to the beach to catch those breathtaking views.
Local Favorites:
Rundown Cafe: Serving authentic Caribbean cuisine and Pacific Rim dishes. Try the coconut shrimp or the Calamari!
High Cotton Barbeque: Grab North Carolina style barbeque, brisket, and fried chicken at this casual eatery.
Nags Head
The town of Nags Head is one of the most famous sections of the Outer Banks and one of the most visited. The first early beach cottages were built here and were built on stilts. Some of these historical beach homes still stand today. Many attractions and famous restaurants are located here such asJockey's Ridge and Jennette's Pier. This beach town is great for families, first-timers, and beach lovers. Nags Head is also a pet-friendly place so bring your dogs for a run on the beach. Known as the premier resort spot of the North Carolina coast, come here to tan, swim, kayak, and surf. Celebrated as a great place to live, enjoy local fresh seafood and a welcoming community. There is a reason why Nags Head made our list of Best Neighborhoods in the Outer Banks.
Seven Sisters: Located off of Engagement Loop right across from the water, this oceanside neighborhood was named after a group of sandhills called the Seven Sisters. The community pool and easy beach accessis just a few steps away. These beach homes are multiple stories with driveways and decks to watch the sunset. Local shops, chain stores, a doctor, and grocery stores are next door making this neighborhood super convenient for residents. There is even a Duck Donuts!
The Village at Nags Head: Be met with wonderful views of the sound and access to the beach. Homes on this side of the sound are close to the Nags Head Golf Linksand living here provides priority tee times. Some homes feature private pools and even elevators. On the oceanside of this community, there is a community pool and bathhouse that residents love.
Local Favorites:
Tortugas Lie: This Caribbean restaurant serves burgers, seafood, and sushi in a sports bar-like setting.
Blue Moon Beach Grill: Dine on seafood and classic southern comfort food at this cozy grill.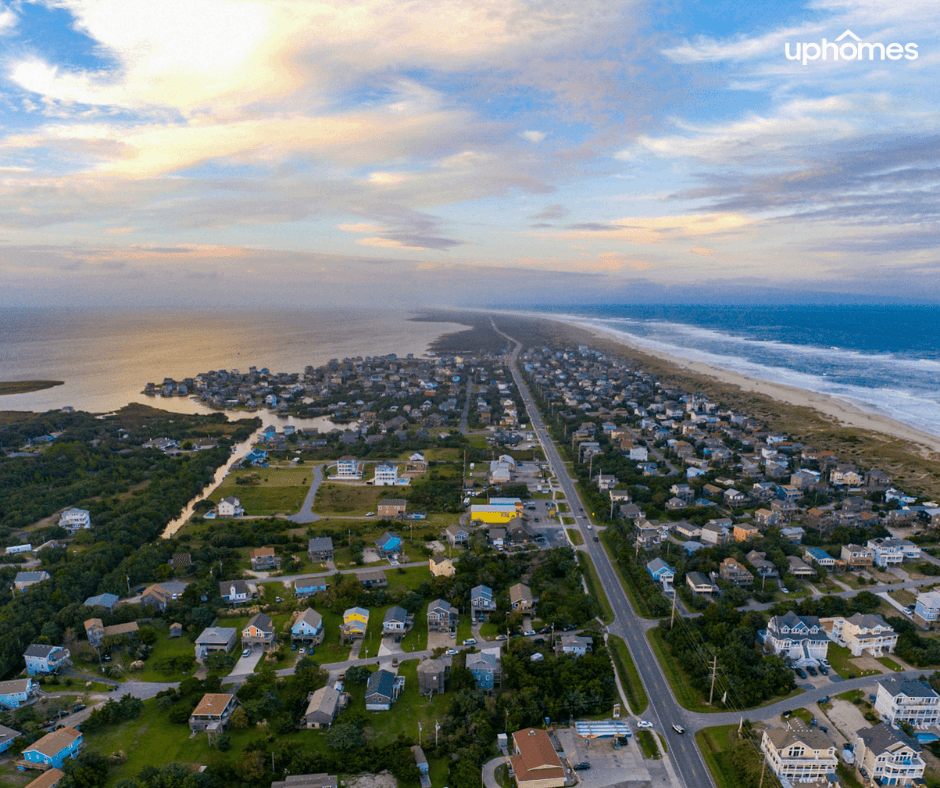 Southern Shores
Sandwiched between the towns of Kitty Hawk and Duck, this residential neighborhood is in the perfect location to get around. Most homes are surrounded by trees making this a private place to live. The beaches here are all private access which means there are rarely any crowds. Only residents and guests are allowed to use the beaches. Keep in mind there are strict rules here about dogs on the beach so if you have a dog they will sadly have to stay home. Southern Shores in the Outer Banks is great for families, if you want to live in a residential area, or if you like the peace and quiet. This is an active community with an upscale vibe and a well-deserved spot on our list of the best neighborhoods in OBX!
Seacrest Village: Perfect for families, this community is a short and safe walk away from the oceanfront. If you have kids this a great place to live since there is no through traffic.
Chicahauk: This subdivision is located in a peaceful neighborhood between the beach and the main road. Homes here have access to tennis courts and a parking area right next to the beach.
The Dunes: Homes here have amazing views of both the ocean and the sound. Have fun at the community volleyball and basketball courts. Known to be great for families, there is a playground nearby and beach parking available.
Local Favorites:
Southern Shores Pizza and Deli: Serving New York Style Pizza, subs, burgers, wine, and beer.
Steamers Restaurant and Catering: Enjoy fresh seafood, sandwiches, and cocktails.
Ocracoke Island
Take a ferry to Ocracoke Island to explore 16 miles of breathtaking beaches which is a big reason why it's on the list of the best neighborhoods in the Outer Banks. Bike ride to grab some ice cream or spend the day kite surfing. Legendary pirate Blackbeard would call Ocracoke Island his favorite hideout when he was sailing the waters of the Outer Banks. The beauty here is unmatched and so is the real estate. This historical town has much to offer including kayak tours, fishing charters, the Ocracoke Island Lighthouse, and even a museum dedicated to the infamous pirate Blackbeard himself. There are ten neighborhoods in the area to choose from and one school for kindergarten through high school.
Oyster Creek: Be on island time while living in the Oyster Creek neighborhood right next to the canal. This secluded and relaxing neighborhood offers easy access to the beach and many docks to keep your boat.
Cat Ridge Ocracoke Island: Home of the Ocracoke Island Lighthouse, this neighborhood is in a prime location right next to the water. There are a lot of vacation homes in this area which include a great view of the sound.
Down Creek: Located right next to Silver Lake Harbor, the neighborhood of Down Creek is great for families. The cool thing about this neighborhood is that there are also condos to choose from. Surrounded by local shops, an art gallery, and a medical center, this area is super convenient.
Local Favorites:
Dajio: Sit on the outdoor deck to dine on southern seafood and new American fare.
Howard's Pub and Raw Bar: This 30-year-old family restaurant serves classic pub food and oysters in a fun eccentric atmosphere.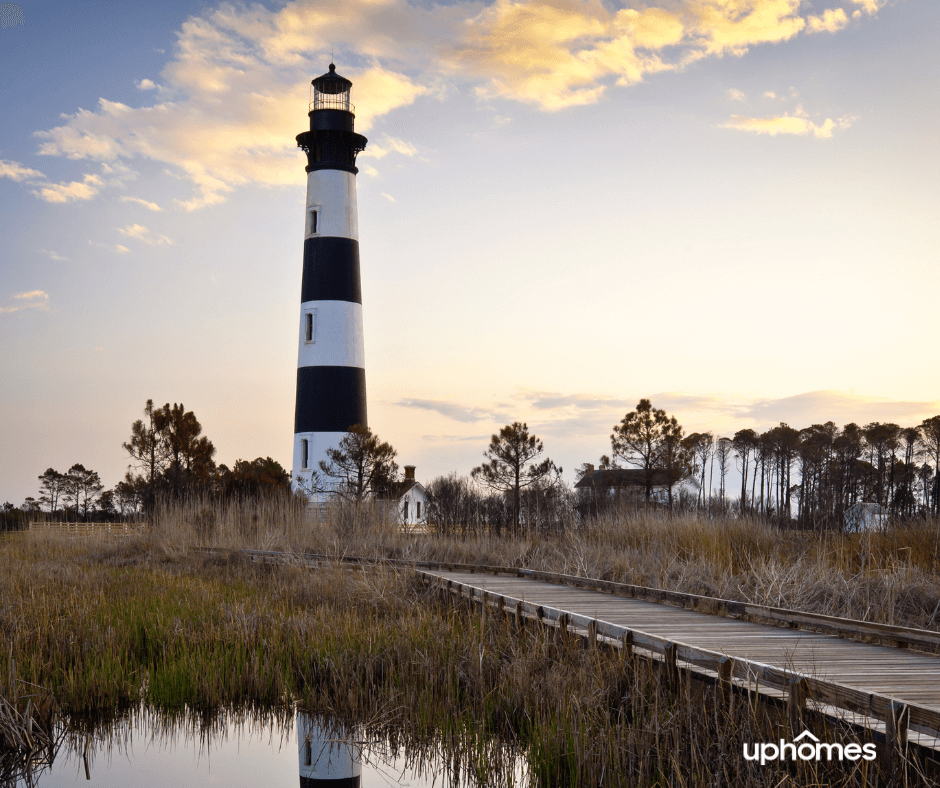 Kill Devil Hills
The Wright Brothers took their first flight here in Kill Devil Hills in the year 1903 making this a very historical town of the Outer Banks. The Wright Brothers Memorial sits here as a reminder of such a historical event. The town is now a hub of shopping and popular restaurants which are mostly open year-round. This is a great town to consider for your vacation home or second home and there's a reason it made our best neighborhoods in The Outer Banks!
First Flight Village: This neighborhood features luxury ocean-side condos with amazing ocean views. Enjoy an easy walk to the beach as well as private pools, hot tubs, onsite watersport rentals, and a game room for all ages. There is so much to do here making this a perfect place for families and young couples.
Avalon Beach: Known as the oldest neighborhood in the area, the neighborhood of Avalon Beach is safe and has its own fishing pier. Homes here are decently priced and close to the beach.
Whispering Pines: With less than 100 properties, homes in this neighborhood are secluded and surrounded by trees. Located in the heart of Kill Devil Hills, lots in this area are small but the homes are beautiful.
Local Favorites:
Kill Devil Grill: Casual spot serving American fare in a diner-like setting. Make sure to get a dessert!
Food Dudes Kitchen: In this surfer vibe eatery, chow down on some burgers and seafood mixed with Caribbean and Mexican flavors.
#blog-moving-cta#
#blog-best-neighborhoods-cta#
Resources on Best Neighborhoods in the Outer Banks:
http://www.eillu.com/most-popular-neighborhoods-in-the-outer-banks/
https://www.twiddy.com/outer-banks/duck/ocean-crest/#/RYSORLzQREOBKagrZBSSUQL/
https://www.atlanticrealty-nc.com/best-places-to-stay-outer-banks-towns
https://www.firstflightrentals.com/condo-rental-communities/first-flight-retreat-condo-rentals

Find your new home
Search real estate and homes for sale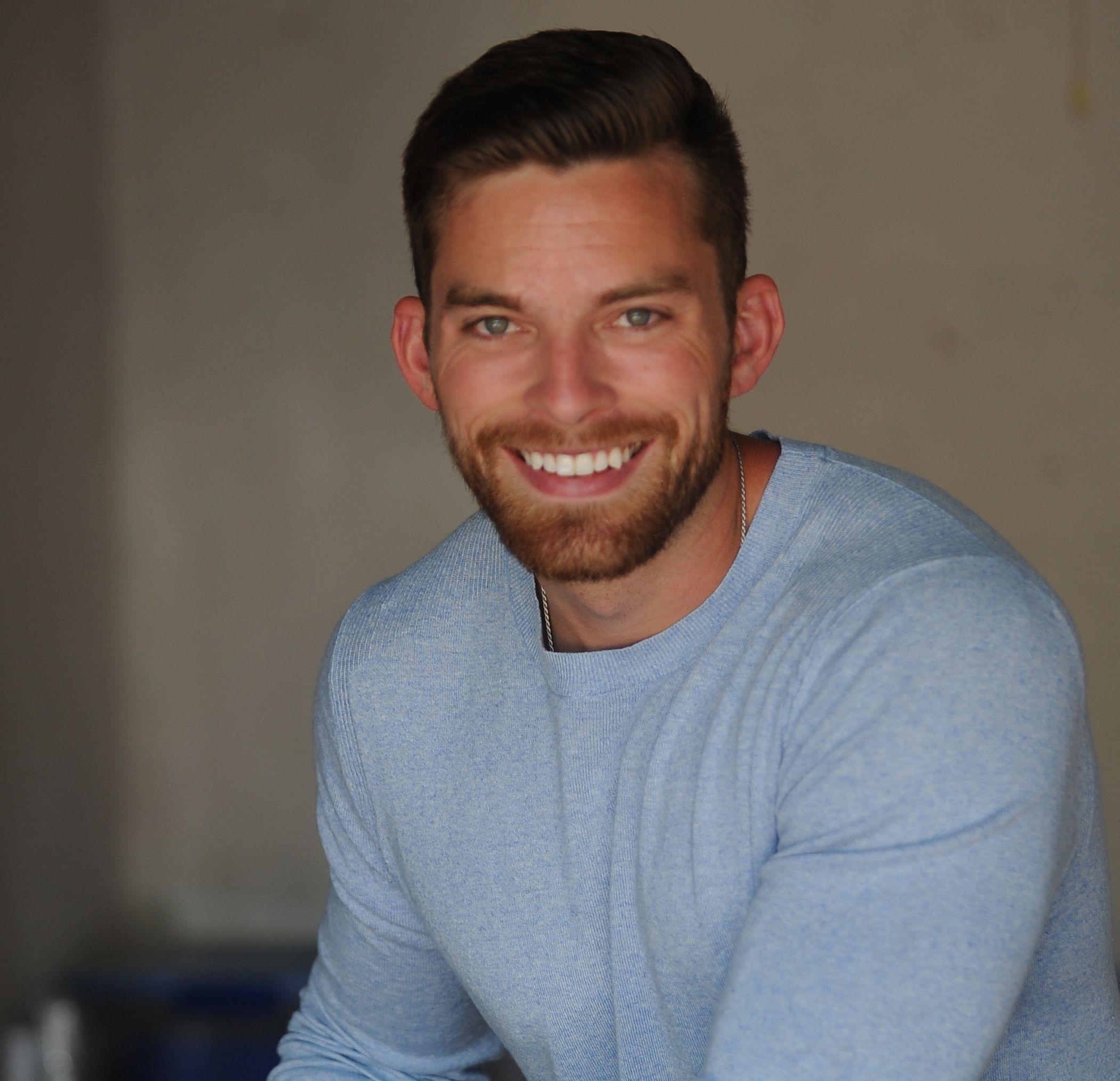 Ryan Fitzgerald
Hi there! My name is Ryan Fitzgerald, and I am a REALTOR®. My goal is to help you learn more about real estate through our Real Estate Blog! Hopefully, you enjoyed the above blog post and it found a way to provide help or value to you. When you're ready to buy or sell a home of your own let us know here. Please feel free to join the conversation by dropping us a comment below.