10 Things to Know BEFORE Moving to Mobile, AL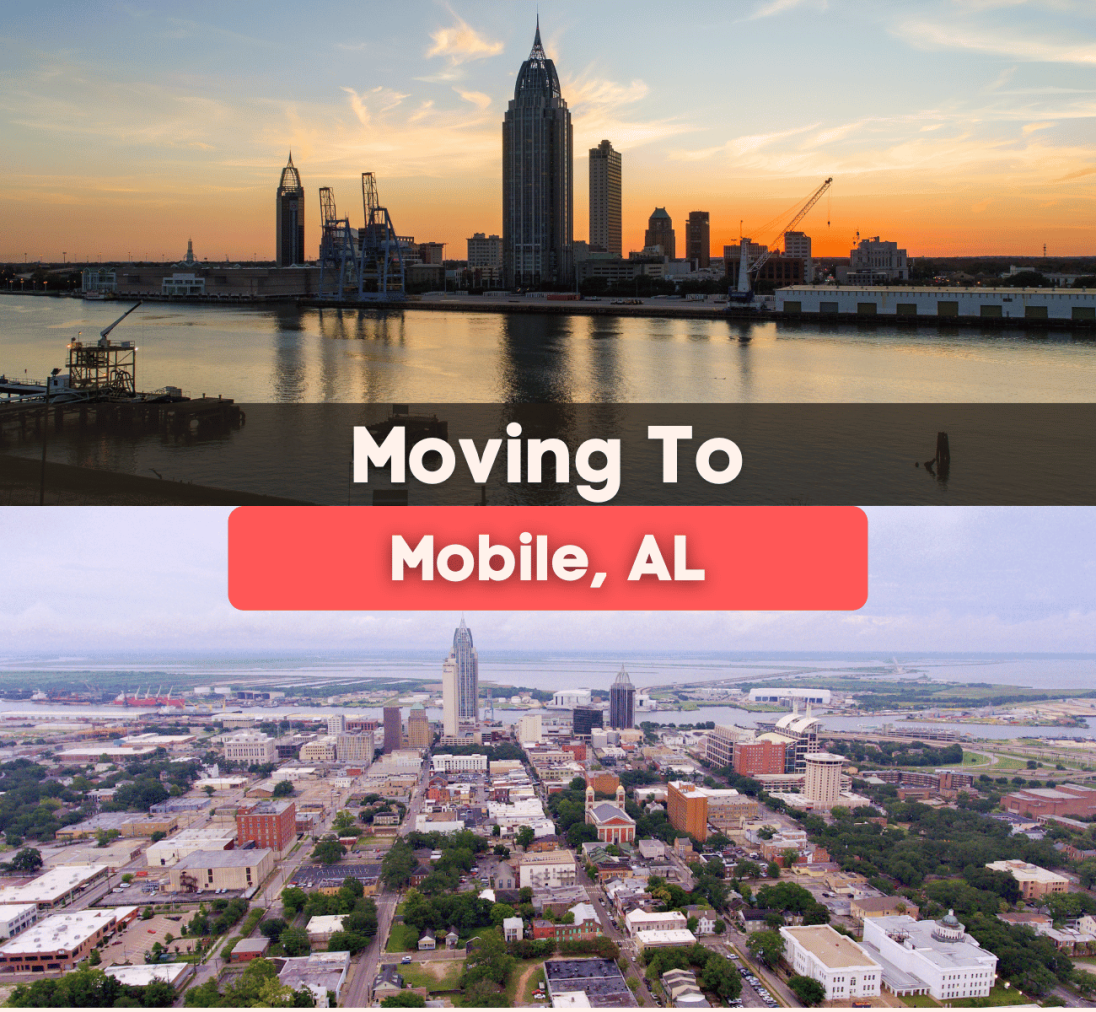 Living in Mobile
Are you considering a move to Mobile, Alabama? Make sure you know these ten things about living in Mobile!
Mobile, AL, is where Alabama meets the Gulf of Mexico and is considered the "Gateway of the Gulf" since you can't get to the beach without visiting Mobile! Mobile is located in Mobile County, has a total population of 412,000 residents, and is considered the 4th most populated city in Alabama.
Aside from being the oldest city in Alabama, Mobile is home to America's Original Mardi Gras. On the other hand, this city is Alabama's only saltwater port, and the port has always played a vital role in the city's economic health. Mobile has a lot to offer; whether it is for the low cost of living, the fantastic weather, the vibrant metro area, or even the beautiful views, Mobile is a wonderful place to live! You cannot miss out on this old-world charm, high quality of life, and the location of this great city.
If you are looking for one of the best places to live in Alabama, Mobile is the perfect place to live and even visit. You or your family will enjoy living here while the housing market and economy rise, so take advantage of what this city offers!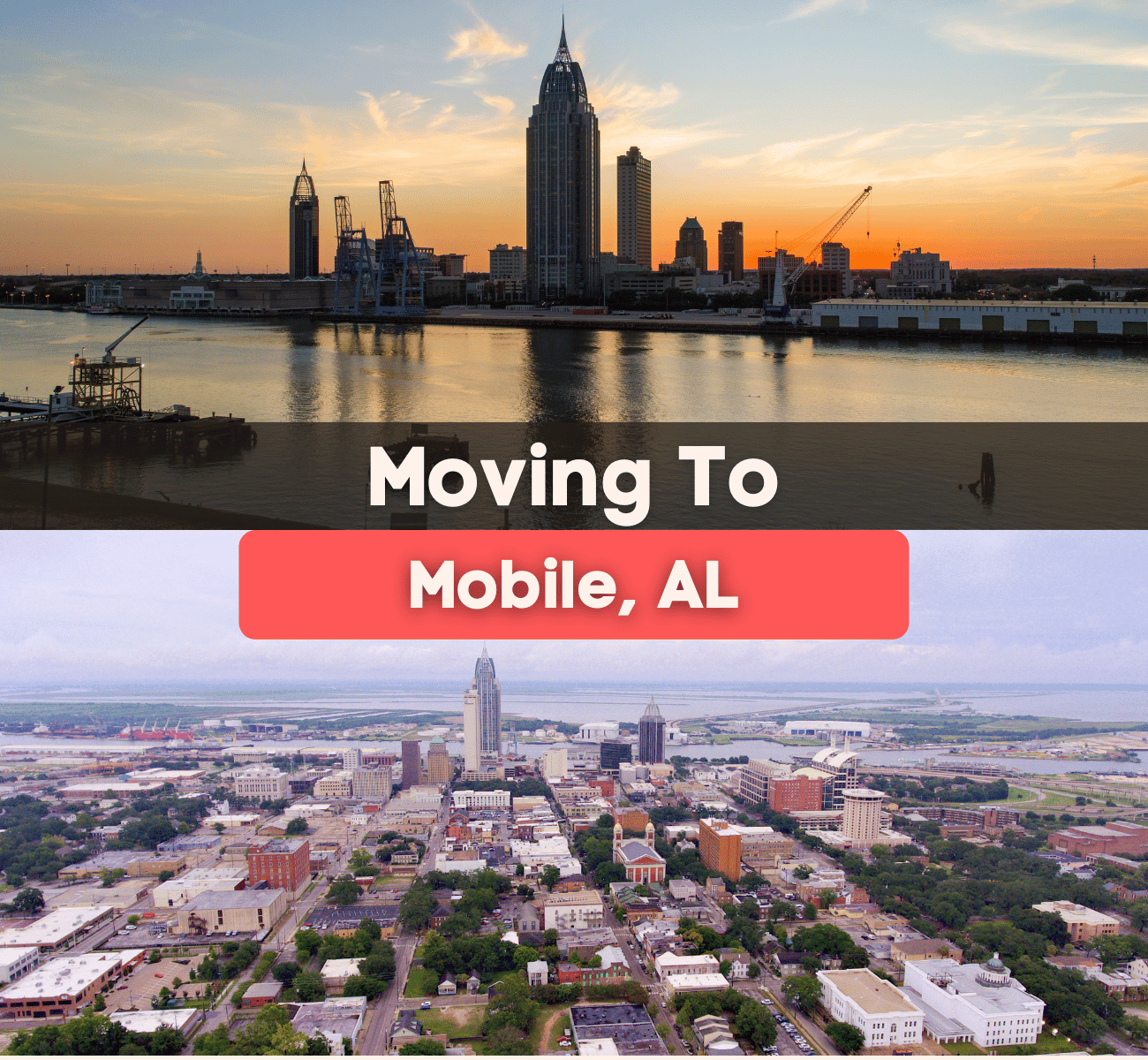 Here are the ten things that you need to know about life in Mobile!
Cost of Living
Mobile may be a growing, vibrant metro area, but its cost of living falls well below the national average, making housing inexpensive. This city's cost of living is 15 percent lower than the national average. The cost of living in this area is based on many factors, especially its location.
Mobile's housing expenses are 38 percent lower than the national average, utility prices are 2 percent lower, and transportation prices like bus fares and gas prices are 13 percent lower than the national average. You must take advantage of this affordable yet fast-growing city! 
| | |
| --- | --- |
| Cost of Living Category | Prices |
| Median Home Price | $245,410 |
| Median Rent | $749.67 |
| Gas | $3.81/gallon |
| Gallon of Milk | $2.23 |
| Doctors Visit | $119.70 |
| Veterinary Visit | $40.10 |
Source: Payscale
Weather
The weather in Mobile can be challenging. It is ranked the wettest city in the continental United States for annual rainfall, with 66 inches of rain every year. On the good side, despite the wetness, Mobile usually has beautiful weather! The hottest months are in July and August, with a high of 91 and lows of 71, while the coolest months are December and January, with highs in the low 60s and lows in the low 40s.
July and August are also the wettest months of the year, with an average rainfall of seven inches and no snow in the forecast due to its location being so south and close to the Gulf. However, since it is so close to the Gulf, hurricanes can be the most significant issue here in Mobile, so knowing the location is very important.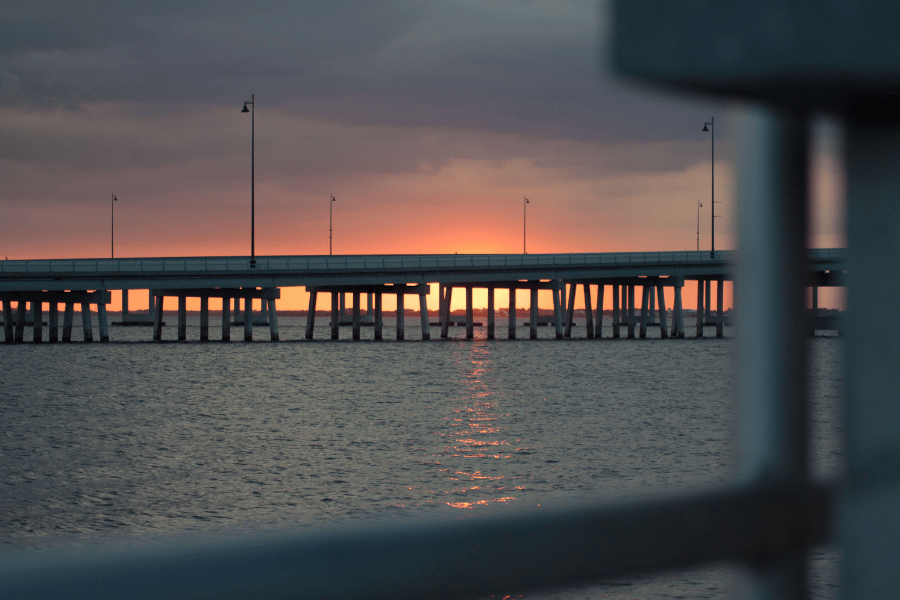 Education
The Mobile County School District serves most of the greater Mobile area and some of the smaller cities surrounding the area. The city of Mobile strives to provide its citizens with the best atmosphere for positive educational opportunities. This city contains 91 schools and 52,460 students. The district's minority enrollment is about 60 percent. Check out some of the best education systems here in Mobile!
Transportation
Two major interstates run through Mobile. I-10 runs east-west, stretches from Flordia to California, and I-65 runs south-north. Several significant highways run in and around Mobile without facing interstate traffic. 
Residents have a few public transportation options. The Wave Transit system is the most popular, operates buses throughout the city, and has a user-friendly app. Most residents must commute daily, but due to its proximity to the major interstates, residents must be aware of traffic delays, especially during the warm seasons and holidays.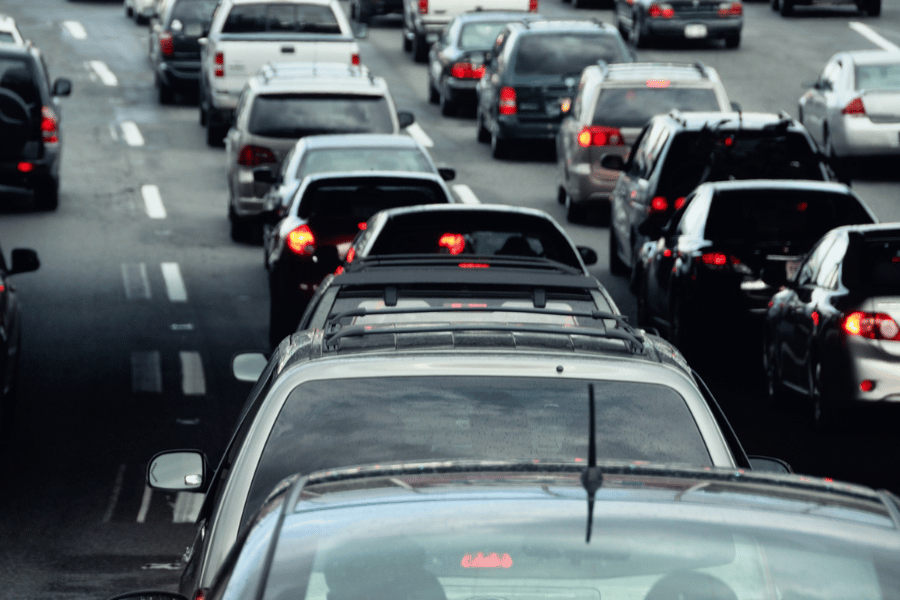 Housing Market
The climate, culture, economy, job growth, and affordable cost of living are just a few reasons why so many people want to live in this beautiful city along the Gulf! The median home price in Mobile is about $194,900, and home values have increased by 18.5 percent over the past couple of months and by more than 52 percent over the last five years.
Mobile is a fantastic place to live and offers its residents various neighborhoods that are the best locations to move to! Some of the best neighborhoods in Mobile are Milkhouse, Berkleigh, and Carlen.
On the other hand, Mobile is ranked as one of the best places to rent in the United States. The city receives high markets for rental market affordability and quality of life. The average rent price here is about $1,332 per month for a 3-bedroom home. Single-family homes make up about 73 percent of the housing units in this metro area, and renting a house here costs less than the national average.
Job Market
Mobile is home to a skilled workforce in a right-to-work state. Job mobility and low living costs are why many people and businesses like to move and locate here in Mobile! The job growth in Mobile is 6.6 percent year-over-year, while the unemployment rate is just 2.8 percent, with the median income in Mobile being $49,370.
Mobile is known for jobs in aviation and aerospace, health care, manufacturing, logistics, and distribution. On the other hand, Mobile has had a global focus since its founding, thanks to the seaport. 
Mobile has seen the job market increase by 1.5 percent over the last year. So, if you are looking for a place where you can live comfortably and find many job opportunities, this may be the perfect place to move to!
Local Favorite Restaurants 
If you are looking for some of the best restaurants in Mobile, AL, this is the perfect place to come to! Mobile is home to some of the best southern home-cooking food that stretches from seafood to Italian and southern fare.
Not only is this the best breakfast place in Mobile, but one of the best in the South. This award-winning cafe is famous for adding New Orleans flair to southern breakfast, brunch, and lunch offerings. This scratch kitchen and bar serves eye-opening cocktails and delicious homemade biscuits seven days a week!
This is one of the best brunch places in Mobile! Located across from Bienville Square makes, this a prime location to eat at. After a walk along the water, this is the perfect venue to enjoy pickled shrimp, fig crepes, or even steak and eggs made with Wagyu steak.
If you are looking for the best spot to stop for lunch, this is the place for you. Walking in, you will feel like you are in a diner where you will experience the divine quick-serve sandwiches and salads. This place offers limited hours, so eating lunch earlier is smarter since locals line up daily to enjoy a delicious sandwich from Regina's.
This restaurant is hands down one of the best places to eat in the South. It offers your standard crab shack fare, snow crab legs, crawfish, clams, shrimps, and more served with corn and potato. Everything you order will come out fresh and juicy, so you should take advantage of this spot.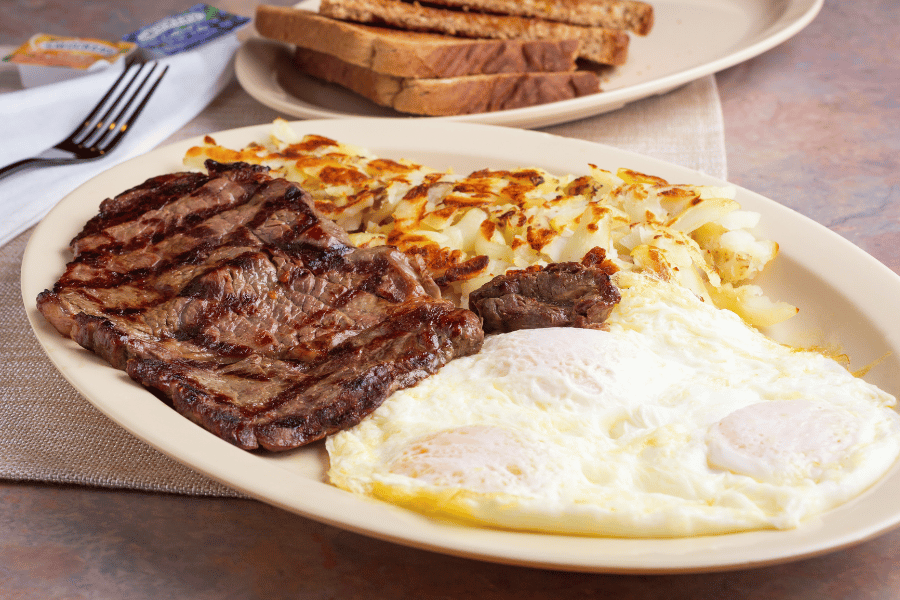 Nightlife
Mobile's music scene has always been lively, and even more recently, it has been the perfect stop for many bands. The nightlife and entertain meant options here in this city provide its residents with a unique glimpse into the heart and soul of this lively southern city. Many bars in downtown Mobile stay open until 2 am along the same street, so you can travel from bar to bar with friends.
With so many bars, restaurants, concerts, and festivals, it is easy to find something to do here in Mobile. This city has a lot to offer its residents that you can take advantage of. You will always be energized here regarding things to do and see!
Parks
Mobile is a unique town with many squares and parks scattered throughout the city, lined with benches, water features, statues, and amazing landscapes. You must take advantage of this city's peaceful views. Here are some of the popular locations to visit here in Mobile!
This is a 65-acre estate garden and historic home on Fowl River in south Mobile County. This place offers blooms and beauty every day of the year, where you can explore two miles of pathways through the Gardens. You can not miss out on these beautiful flowers and views.
This multi-use outdoor recreation facility features camping, mountain biking, hiking, trails, sports fields, playgrounds, frisbee gold, canoeing, swimming, fishing, and so much more! 
This part is a waterfront oasis in the heart of downtown. Cooper Riverside offers a spectacular vantage point for watching the ship traffic in Mobile's busiest part while enjoying tours from WildNative at the museums and many special events.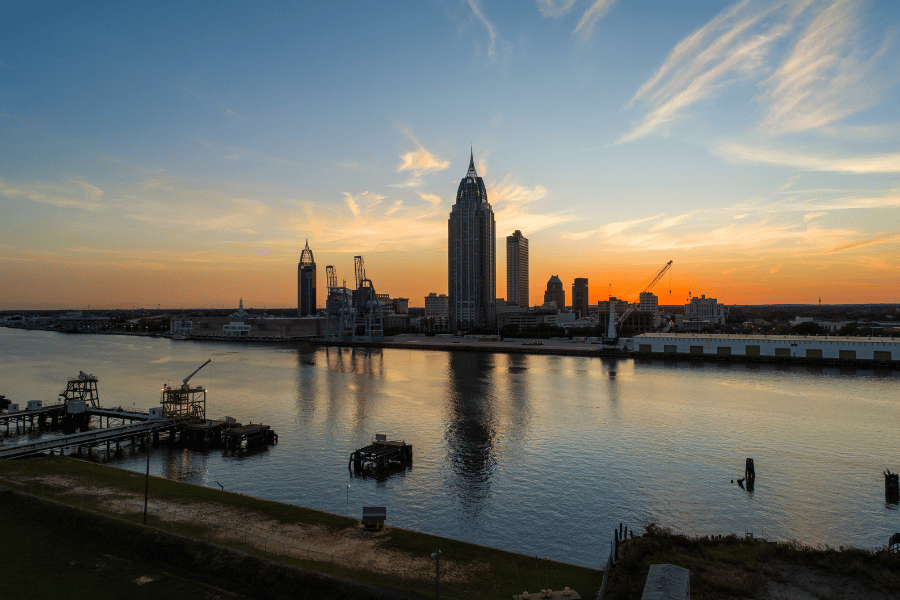 Crime Rate 
Crime in Mobile is higher than the United States average for violent and property crimes. The violent crime rate ranks at 30.8, while the United States average is only 22.7, and for property crimes, it scores at 67.5, with the national average at 35.4.
Finding somewhere you can feel safe living is essential, and unfortunately, this city does not offer a safe place feeling due to its location. 
Moving to Mobile, AL Pros and Cons
Pros:
Low cost of living
Livability
Great education
Social factors from population density
Beautiful beaches
Cultural environment
Cons:
High crime rates
Environmental factors from population density
Declining population growth
Hurricane weather
Bad humidity
Moving to Mobile, Alabama - The Bottom Line
Mobile, AL, is a fantastic place to live, especially if you are looking for a home with a low cost of living and breathtaking views! Finding the perfect place to settle down can be stressful since there are so many options, but you can experience it all here in Mobile.
This city is a very populated place to live in that offers an excellent education, low cost of living, great warm weather, fantastic food options, and many more things. You must take advantage of the culture that this town has to offer its residents.
Mobile is home to beautiful historic neighborhoods, Mardi Gras, and southern hospitality. If you are searching for somewhere where you can experience the full southern charm while also enjoying the rise of the economy, then this place is for you! No matter what industry you are looking for, Mobile has it. On the other hand, this place is one of the most affordable places to live in Alabama! 
If you or anyone you know is interested in searching homes for sale in Mobile, please get in touch with us here so we can connect you with one of our Realty Specialists to help make this transition for you go smoothly. No matter the location, price, or preferences, we are here to help you through every step of the home-buying process to make sure we can find the perfect home that meets all of your needs and lifestyle perfectly. Contact us today!
Make sure to check out our other local area guides, including moving to Alabama, moving to Birmingham, moving to Montgomery, and moving to Auburn!

Find your new home
Search real estate and homes for sale