7 Things to Know BEFORE Moving to Birmingham, AL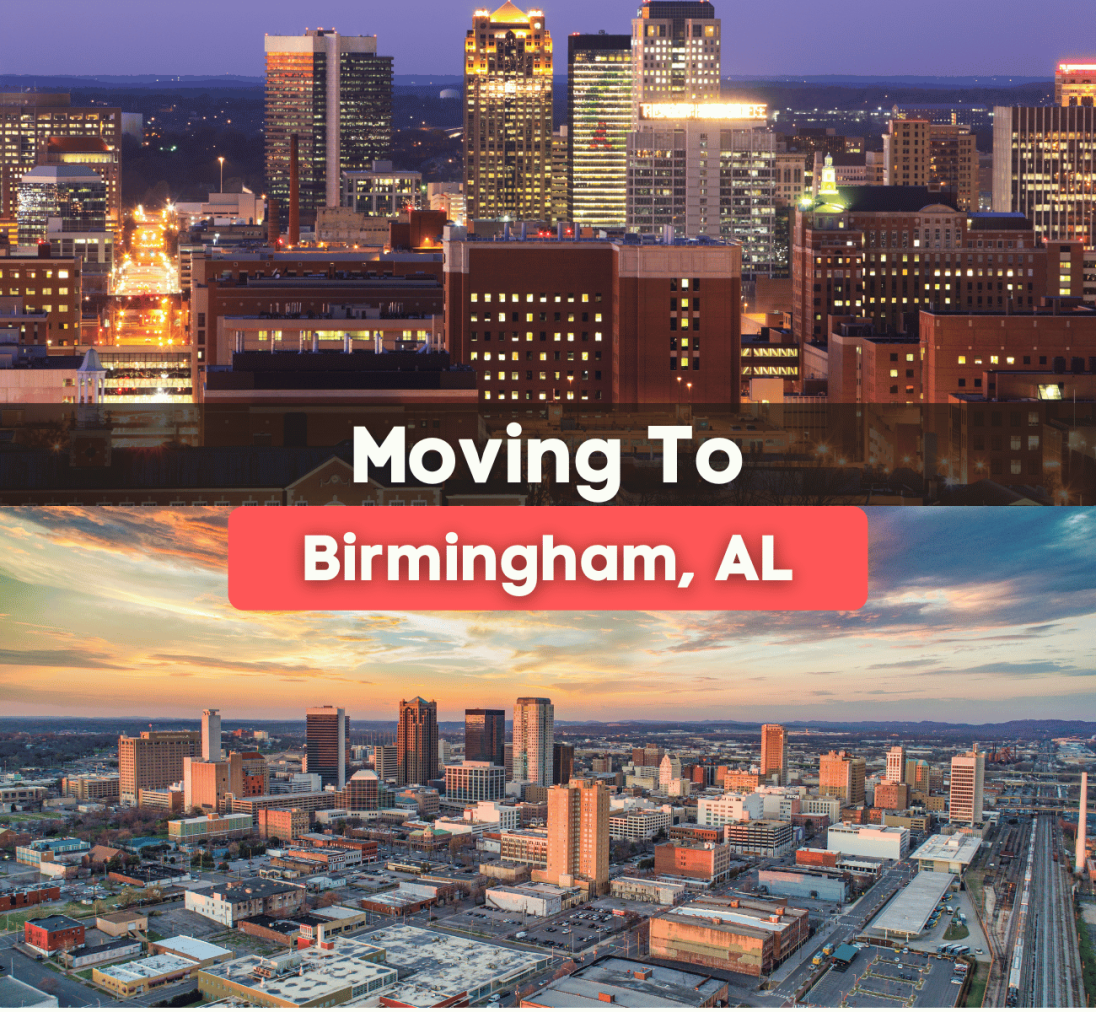 Living in Birmingham
Are you considering a move to Birmingham, Alabama? Make sure you know these seven things about living in Birmingham!
Birmingham is a city in the north-central region of Alabama. This city is in Jefferson County and is considered Alabama's most populous county. The population is about 197,575 residents, and it is regarded as one of the top 100 places to live in the United States and one of the best places to live in Alabama.
Birmingham is known as the founding city for the recognition of Veterans Day and hosts the nation's oldest and largest Veterans Day celebration. The Veterans Day celebration is usually held during the first two weeks of November. This celebration has an awards dinner, a parade, and so much more! Since this city is known for its historical significance, you must attend these annual gatherings.
This city is also the only place in the world where all the ingredients for making iron and steel are found - coal, iron ore, and limestone- all within a ten-mile radius. Living in an area where production is prevalent increases employment opportunities and allows for cheaper living expenses
This beautiful city offers its residents a meager cost of living, a booming job market, various dining options, and breathtaking views. If you want to move to Alabama, you should keep Birmingham as one of your options! Let's see if this southern-inspired city is a place you will love to call your home!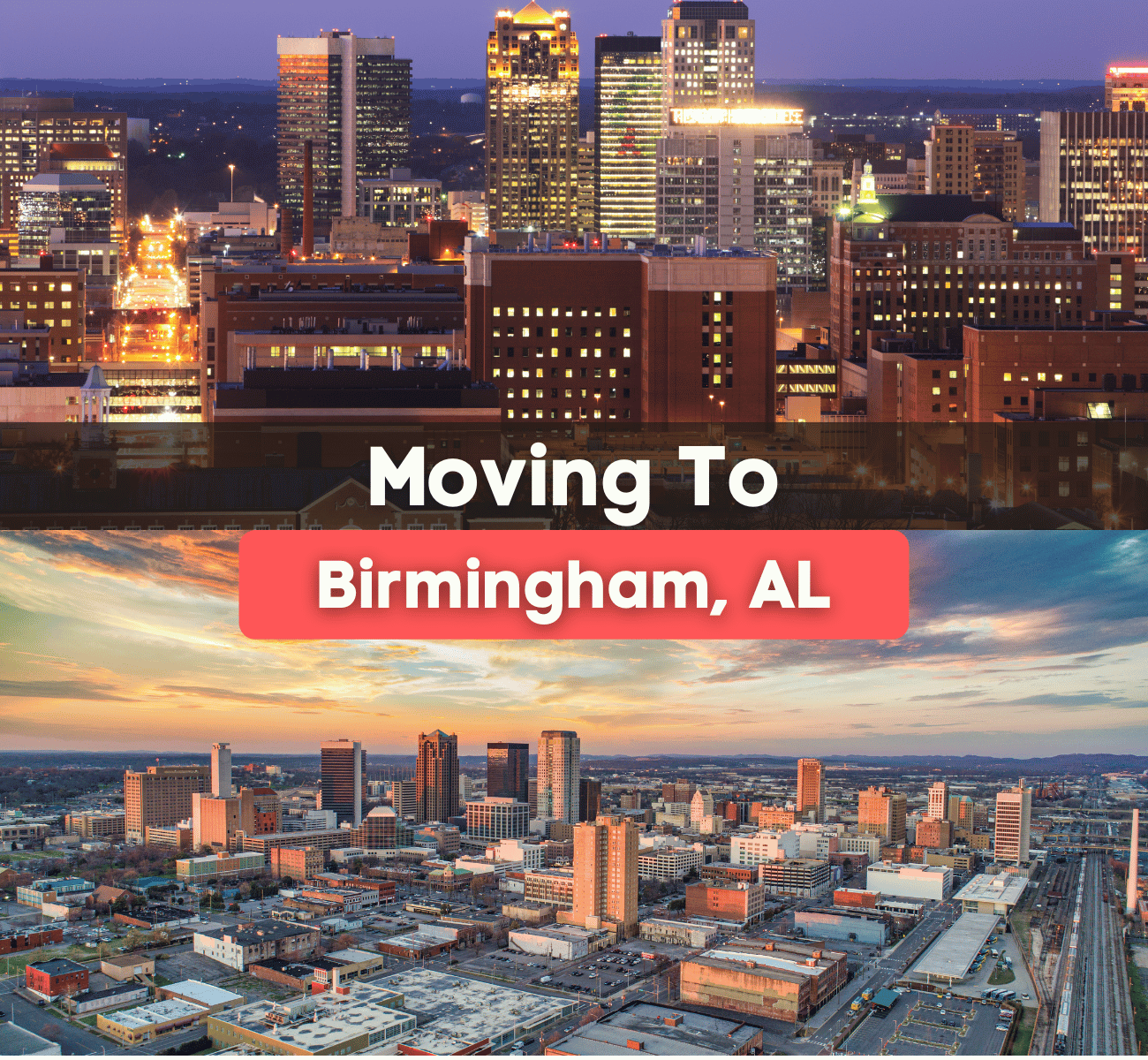 Here are the seven things you need to know about life in Birmingham, AL!
Cost of Living
The cost of living in Birmingham, AL, is 6 percent higher than the state average but 8 percent lower than the national average. On the other hand, housing expenses are 19 percent lower than the national aver, 1 percent lower for utility prices, and transportation and gas prices are also 8 percent lower than the nation's average.
Finding a place where it can be comfortable to live is essential and affordable here in Birmingham. The average median home price is $321,902, with a median rent price of $983.34 per month. Check out these other costs here in Birmingham!
| | |
| --- | --- |
| Cost of Living Item | Average Price |
| Median Home Price | $321,902 |
| Median Rent | $983.34/month |
| Gas Price | $4.00/gallon |
| Loaf of Bread | $3.18 |
| Gallon of Milk | $2.04 |
Data sourced from Payscale.
Housing is a significant expense for most American households. The cost of living in every city takes into account many different things. Finding a place to live where it is affordable is most people's number one priority. You can live comfortably here in Birmingham, AL while doing fun things around the town.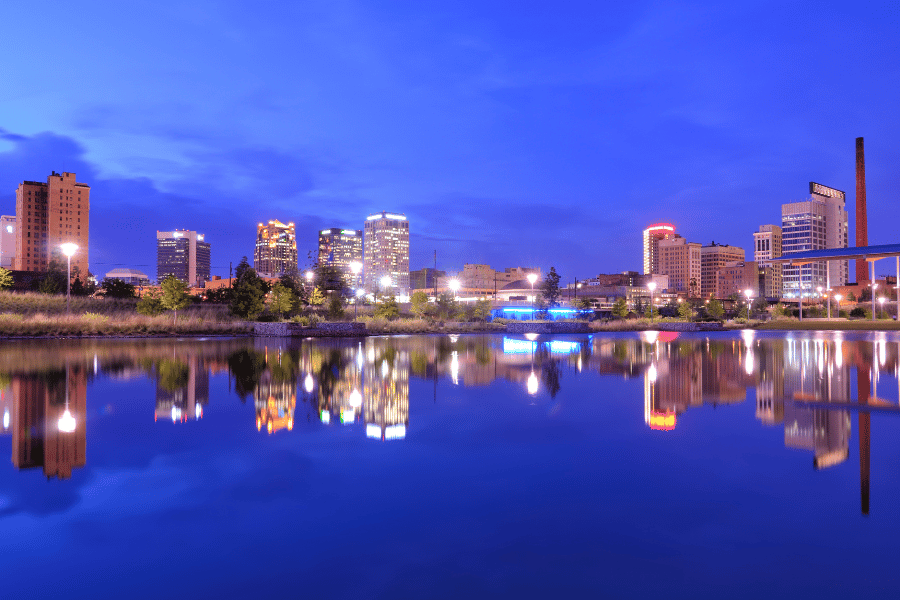 Climate
Birmingham has temperature maritime climate with the average maximum temperatures in summer and not very cold winters. This city is blessed with abundant rainfall that is fairly distributed throughout the year.
Finding a place where you are comfortable with the weather could be a deal breaker. Thankfully, Birmingham offers all four seasons and is one of the few cities with all four equally throughout the year. However, the air here usually leans more towards humidity due to the high precipitation levels.
The hot season here lasts about 3.9 months, with high average levels of 83 degrees Fahrenheit. The cold season lasts about 2.9 months, with average temperatures of 30-70 degrees Fahrenheit.
Overall, Birmingham has, on average, 56 inches of rain a year and 1 inch of snow a year. On average, this city is located in the southern part of the United States, so that you will experience more sunny and rainy days the cold and snowy ones. If you want a place to enjoy long summers and short winters, this may be the place for you!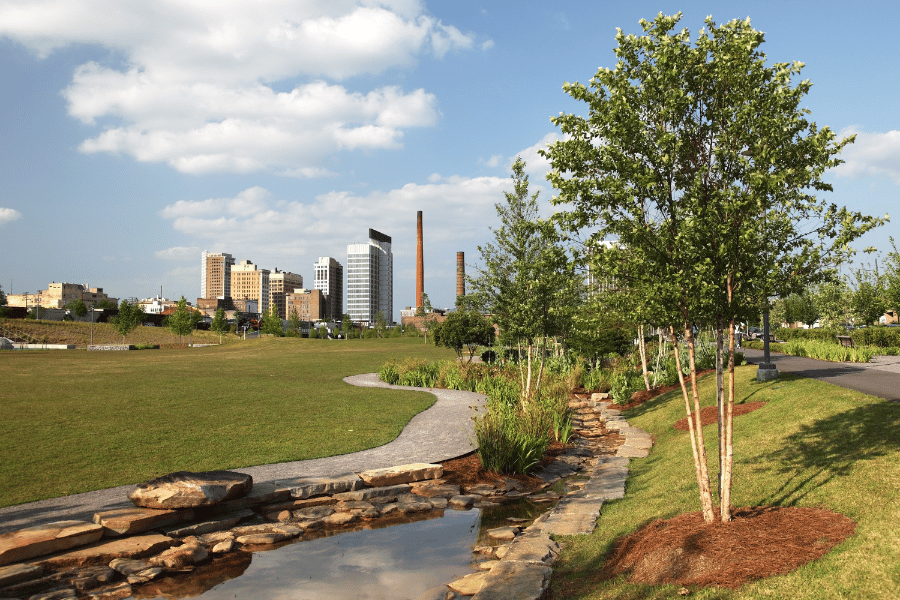 Education
Gaining an education in Birmingham offers various opportunities ranging from public health and business to many more at the best colleges in Alabama. Not only does this city have great colleges, but it also has one of the highest concentrations of top-ranked public schools in Alabama. The highest-ranked public schools in Birmingham are Mountain Brook High School, Crestline Elementary School, and Vestavia High School.
Birmingham is considered to be one of the most diverse and vibrant cities. More than 20 percent of its citizens are from other countries. This community is very diverse, and many students move to Birmingham because of the opportunities and different school options.
This city has a total of 153 schools: 115 public schools and 38 private schools. This county spends about $12,000 per student for its schools and has a ratio of 18 students per teacher.
When moving somewhere to raise your family or your own, education can be a critical topic that you need to consider to have great opportunities ahead. Here is a list of the best schools here in Birmingham, AL!
Crime Rates
Birmingham has a lower crime rate than similarly sized metro areas. The crime index in this city is safer than 1 percent of other U.S cities. Due to its large population, crime numbers are higher than in smaller cities. Although Birmingham is significantly populated, the police are more involved in the area to keep its residents safe in their homes.
Overall, Birmingham is considered to be a safe city. The safest part to live in Birmingham would be Mountain Brook due to low crime rates, top-tier schools, and many more.
With a population of over 200,00 people, there are 524 violent crimes reported per 100,000. Many people call this big city their home, and many people love to visit this place; however, since it is significantly populated, crime has become an essential topic of discussion.
Make sure you find a place you can call home and feel safe in!
Recreation
The Birmingham Park and Recreation Board operate all of the city's parks. This board holds about 100 pieces of properties that cover more than 2,000 acres of land. These amazing parks offer many amenities, including recreation centers, golf courses, tennis courts, swimming pools, walking tracks, lakes, and so many more!
The Birmingham parks offer visitors and residents the opportunities to enjoy the outdoors to encourage conservation, healthy lifestyles, and observe nature. On the other hand, it also is a great place to organize athletic events and family gatherings! Check out a few of the most popular parks in Birmingham below!
Local Favorites:
Arthur Shores Park: this is a municipal park and recreation area with about 2.7 acres of land and many accessible trails, sporting areas, and picnic tables.
A.G Gaston Park: this park is about 2.77 acres of land in which you can visit with your family for long walks on the paths or the playgrounds with your kids.
Altamont Park: sitting on 9.63 acres of land, this park is on the slope of Red Mountain and can give you one of the best views in the forest overlook area.
Not only does this city offer only parks, but it also has multiple museums, art centers, historical landmarks, zoos, and gardens. Living somewhere you can enjoy things around you can be something you are looking for, so this city may be for you since it offers many different things to do while also being located near many other places.
The Birmingham Museum of Art, Sloss Furnaces National Historic Landmark, and the Birmingham Botanical Gardens are some of the city's most popular places to visit. Making time to go and enjoy the history and art around you can help you better develop your love for your new home. Make Birmingham, AL, a place you can love to say is your home.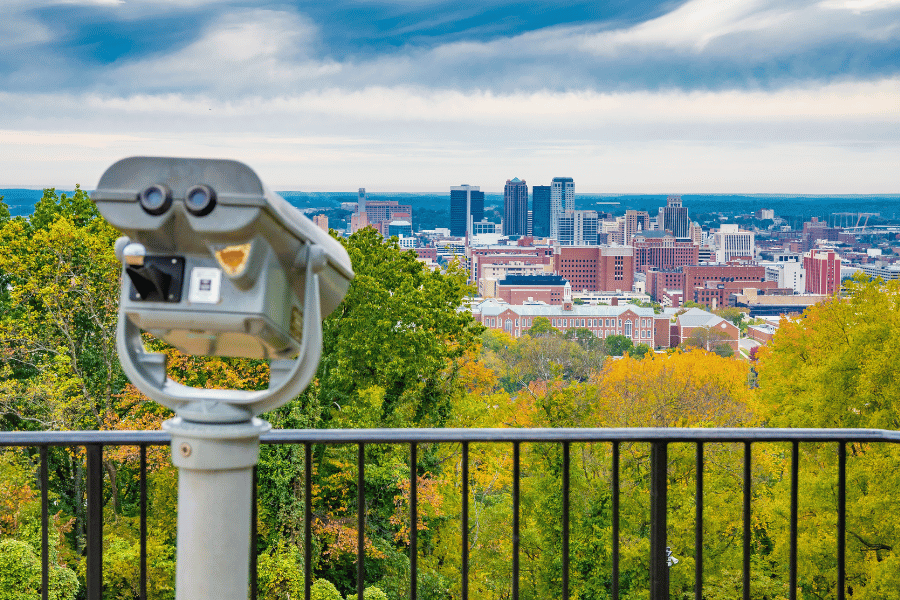 Dining
Since Birmingham is located in the south, it does offer Southern staples like barbecue, but the dining here is along the lines of French fine dining, global fusion, craft cocktails, local breweries, and so much more. You can get the best of both worlds in this city, depending on where you want to eat.
Birmingham offers so many different types of foods. Whether you want American favorites, seafood classics, high-grade meats, vegetarian options, or barbeque, they have it! Due to the very diverse population, you are many various options here. You should take advantage of the iconic foods that this city offers you!
Local Favorites:
The Southern Kitchen and Bar: a lively, rustic-chic haunt offering elevated southern dishes, cocktails, and TVs to stay tuned for sports.
Texas de Brazil: an upscale Brazillian eatery featuring all-you-can-eat grilled meat carved table and a salad bar!
Bistro Two Eighteen: a french-inspired bistro fare such as duck confit in a brick-walled space with warm and intimate vibes.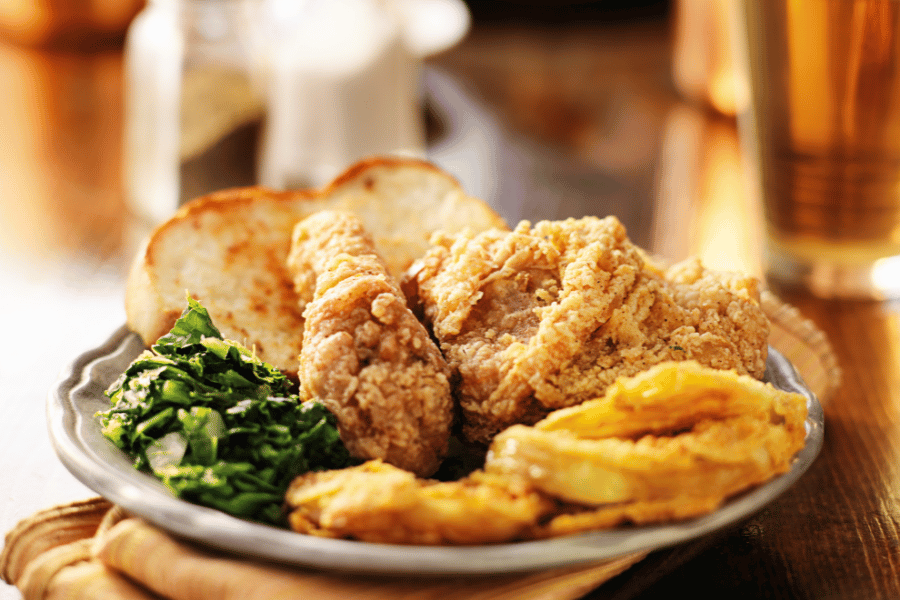 Job Market
Finding a place to move to where there is a strong job market is essential. You will be filled with tons of the city's employment opportunities here in Birmingham. This city offers many different sectors, including healthcare, financial services, and more.
Over the past couple of years, Birmingham has been growing drastically. Since this area is very diverse, it helped the metro area population stay balanced. This city has the University of Alabama at Birmingham in its neighborhood, offering more job opportunities for many industries.
Iron and steel have always been why Birmingham had such a rise in production, but recently the largest employer is now the healthcare industry. Due to its younger and growing population, there are endless opportunities in this large city near the heart of Alabama.
The United States average is about 6% for unemployment, and Birmingham sits at about 5.5%. This city has seen a job market increase by 2% over the last few years. It is predicted to have a drastic rise in future job growth in the next five years.
Moving to Birmingham Pros and Cons:
Pros:
Living is affordable
Low housing costs
Comfortable weather
Diverse population
Booming job economy
Delicious southern food
Sports
Great education
Cons:
High poverty rate
Lack of public transportation
High sales tax
Unpredictable weather
Crimes
Environmental Factors
Moving to Birmingham, AL - The Bottom Line:
Birmingham, AL, is a great place to live, especially if you are looking for somewhere that has a lot to offer. Finding a place to live can be challenging. Still, it would be best if you took advantage of the low cost of living, excellent southern food, higher education opportunities, diversity, and much more. This place gives you city life without the price!
This large city is on the rise and has a lot of job opportunities for you. Since this area is near a lot of colleges, the population is to be more younger adults. This magic city is the place to be if you want somewhere to enjoy beautiful views and find employment.
Birmingham is a great place to live and ranks very high in many factors. This large city has something for everyone and can be a perfect place to call home. Housing costs here are affordable, and the cost of living is something many people care about. Overall, this place can be somewhere where you can raise a family and grow old, depending on the neighborhood.
If you or anyone you know is interested in a move to Birmingham, AL, please contact us here so we can connect you with one of our Realty Specialists to help make this transition for you go smoothly. No matter the location, price, or preferences, we are here to help you through every step of the home-buying process to find the perfect home that meets your needs and lifestyle.

Find your new home
Search real estate and homes for sale