What's the Cost of Living in Birmingham, AL?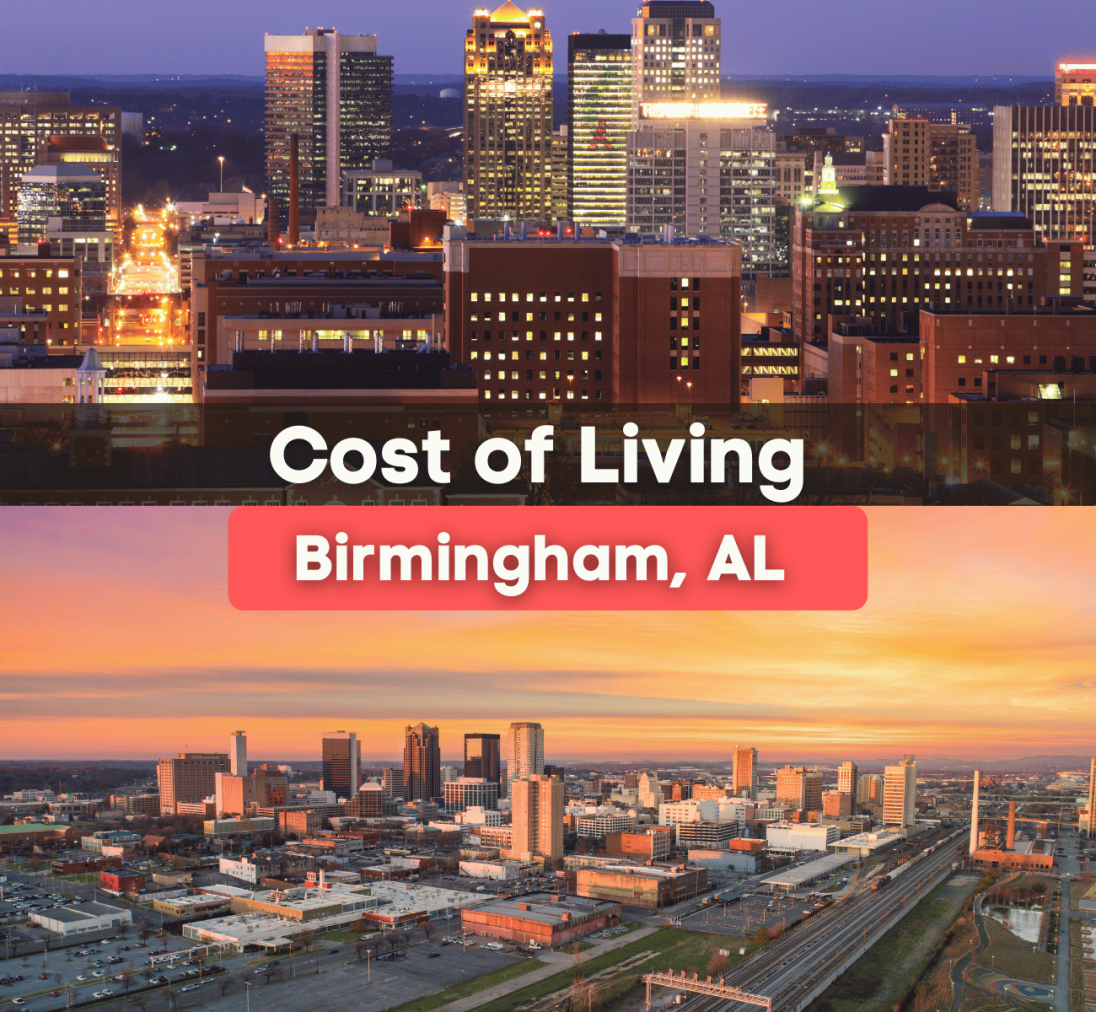 Cost of Living Birmingham, AL
Is Birmingham an expensive place to live? Let's look deeper into the costs of living in Birmingham, the average household income, typical expenses, and more!
Birmingham is a city that is located in the north-central region of Alabama. The city is located in Jefferson County, which is considered to be Alabama's most populous county. The total population is 197,575 residents, which is regarded as one of the top 100 places to live in the Unitied States.
This beautiful city offers its residents a meager cost of living, a booming job market, various dining options, and breathtaking views. If you want to move to Alabama, you should keep Birmingham as one of your options. 
In this guide, we will be covering the cost of living in Birmingham with data that covers data from all the significant areas. These categories will help you have a better idea of what you'll need to budget to live in a place you love!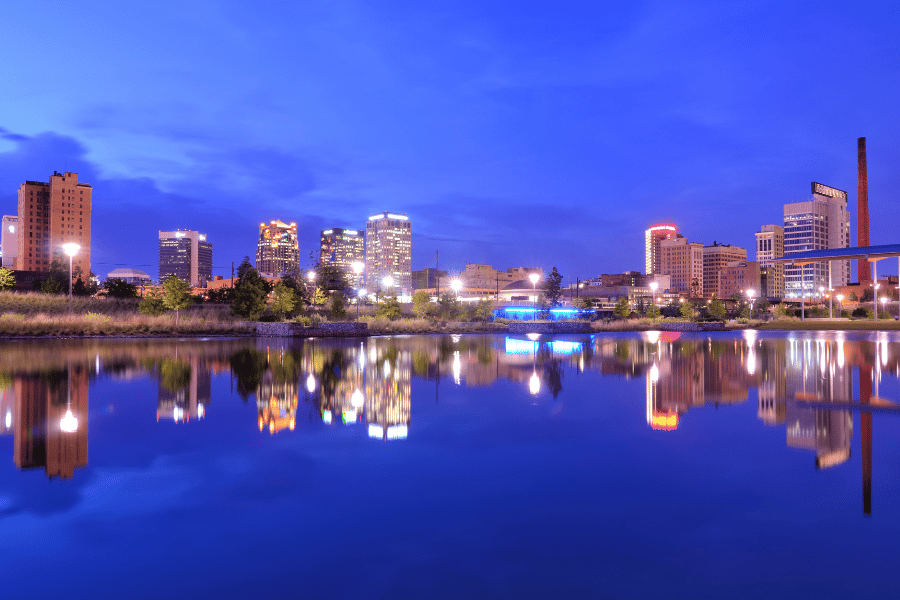 Cost of Living Birmingham 
The cost of living in Birmingham, AL, is 6 percent higher than the state average but 8 percent lower than the national average. On the other hand, housing expenses are 19 percent lower than the national average, 1 percent lower for utility prices, and transportation and gas prices are 8 percent lower than the average of the nation.
Finding a place where it can be comfortable to live is essential and affordable here in Birmingham. The average median home price is $321,902, with a median rent price of $983.34 per month. Check out some of these costs broken down below!
| | |
| --- | --- |
| Cost of Living Item | Average Price |
| Median Home Price | $321,902 |
| Median Rent | $983.34/month |
| Gas Price | $4.00/gallom |
| Loaf of Bread | $3.18 |
| Gallon of Milk | $2.04 |
Data sourced from Payscale.
Income
Most salaries in Birmingham will range between $43,090 (25th percentile) to $74,571 (7th percentile) annually. However, Birmingham does have some very affluent residents. It also has some poor areas as well. These numbers will put Birmingham in the upper middle-income range in Alabama but just the middle-income range when relating to the rest of the United States.
On the other hand, there is only about 25.5 percent of people live in poverty in this city. Birmingham does have a 6 percent higher cost of living than the state, but it does have a 6 percent lower average than the nation, so living in this city can be easily affordable. This large city offers a lot of different job opportunities and education to grow your career, so this is a perfect place to move to if you are looking for somewhere that you can live comfortably while also earning a good income.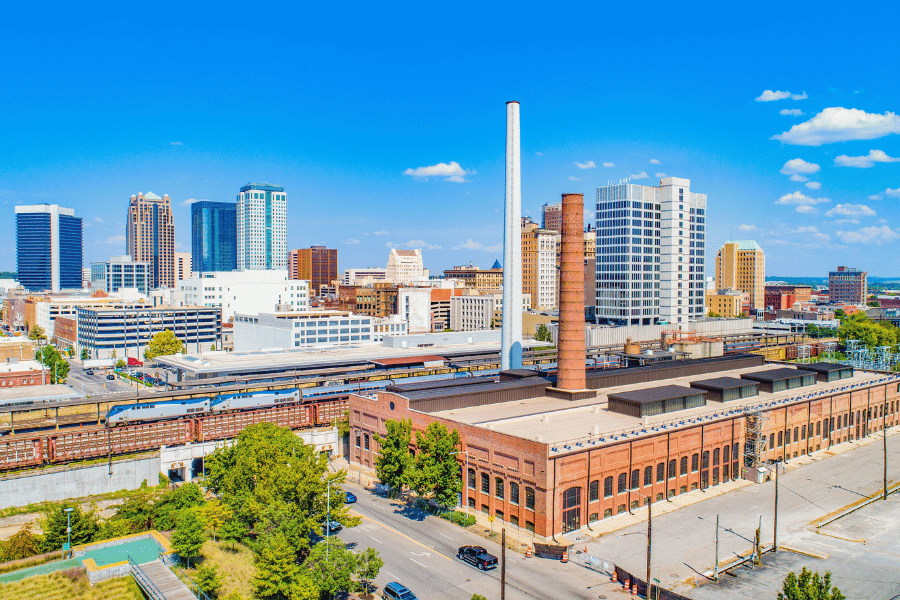 Housing Cost
The median listing home price in Birmingham was $159.7K in January 2023, trending down 3.2. percent year-over-year. The median listing home price per square foot was $112, and overall the home sold price here was $192.5K. On average, a house in the market will sell in around 30-40 days, and now Birmingham is considered to be a buyer's market, while last month, it was a seller's market. The average mortgage rate here is also 3.5 percent.
Hous9ing is a significant expense for most American households. The cost of living in every city takes into account many different things. Finding a place to live where you can live comfortably and be affordable is most people's number one priority. You can live comfortably here in Birmingham while doing fun things around the town!
Utilities
The average cost of internet access in Birmingham is about $61.00 per month, which is about the same as the national average. However, the other services that go into utilities will be around $170.00 per month or even higher due to the weather in this city. These costs can be very high, but it all depends on what you use and the location, and since this city is very south, you will be using a lot of costs for the air conditioning. Every city or state will vary on the utilities, so it is important to look at all of the factors that go into utility costs.
Food
On average, one person will spend about $582 on food, while a family of 4 will spend about $1502. Cutting down these prices, a carton of milk is about $2.04, a loaf of bread is $3.18, a carton of eggs is $1.44, and a bunch of bananas is $3.08. On the other hand, a typical fast-food meal would cost about $8.30, while also coffee at a cafe would cost about $5.10. Some people do not understand that food costs are a large part of the cost of living, and here in Birmingham, the costs of food are not super expensive but also are not super cheap. There are about 350 physicians per 100,000 population in Birmingham. 
Birmingham offers so many different types of foods. Since this city is located in the South, it does offer southern staples like barbecue, but the dining there is along the lines of French fine dining, global fusion, crack cocktails, local breweries, and so much more. You can get the best of both worlds here, depending on where you want to eat!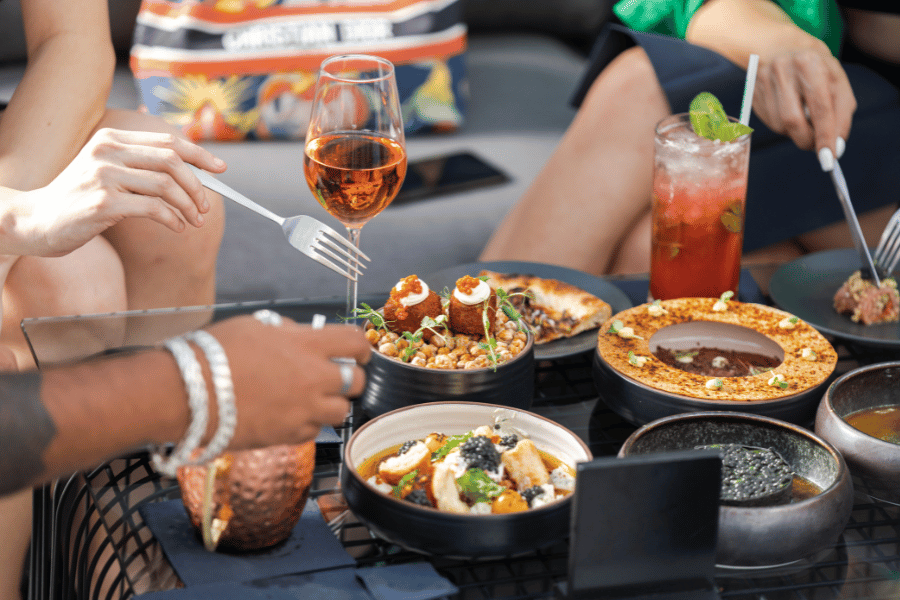 Healthcare
The healthcare of a city has a lot of factors to it. It always depends on the air quality, water quality, risks of diseases, and so much more. The people you live around can also affect your health, so knowing the risk factors of the area you move to is important.  In Birmingham, the benchmark for healthcare is based on the prices of family doctor visits and specialized services such as optometry. Below are some of the healthcare prices that are in this city.
Healthcare is an expense that a lot of people do not take into account when they are looking for a place to live. Healthcare can be one of the large costs that affect your bills as well, so make sure you know what the average cost is for the places you are looking to live in. Below are some of the healthcare prices that are in this city.
| | |
| --- | --- |
| Healthcare Category | Average Price |
| Doctor Visit | $90.74 |
| Dentist Visit | $122.23 |
| Optometrist Appointment | $93.26 |
| Ibuprofen | $8.87 |
Transportation
Even though Birmingham is considered one of the best cities to drive in, traffic jams may take you time and energy. Transportation is an expense that many people do not consider. Still, in this city, it is a big one since you need to figure out if it will be cheaper to drive your own car, or if you will use public transportation because the buses in this city are at very affordable prices!
Transportation seems like such a small expense that many people overlook, but these little costs do add up and significantly impact your expenses here in Birmingham. You will need to decide if you want those expenses to be o your own car or if you want to use public transportation, and each of those options has very different costs depending on the day and where you are traveling.

Taxes
Birmingham has a 2023 sales tax rate of 10 percent which consists of 4 percent of Alabama's state sales tax, 1 percent of the Jefferson County sales tax, 4 percent of the Birmingham city tax, and then 1 percent of the special district tax. The sales taxes and income taxes are slightly elevated over the national norms. The average sales tax in the United States is about 7.3 percent, and the income tax is 6 percent which is higher than in the city. On the other hand, the monthly cost of assisted living in Birmingham is 10.5 percent lower than the national average.
FAQ
Is Birmingham a safe place to live?
Birmingham, in general, is very safe and easy to travel around. Being a victim of a violent crime is rare, and there is also a very low risk of coming across any crime, which may put your safety at risk, especially if you do not go to dangerous areas of the city during the nighttime hours.
Is it expensive to live in Birmingham?
The cost of living in Birmingham is 6 percent higher than the state average but 6 percent lower than the national average. Housing is also 16 percent cheaper than the United States average, and utilities are 1 percent price. So, in general, Birmingham is a cost-friendly place to live!
Is Birmingham a cheap city?
In general, when looking at the basic necessities such as food and clothing, groceries are around 0 percent in Birmingham than the rest of the country, while the clothing costs are around 0 percent as well. Comparing the costs of this city to other large cities, Birmingham is considered to be a cheaper city to live in a while also having all of the other things as well.
Is Birmingham a tax-friendly city?
Birmingham, in general, is a pretty good tax-friendly city. Residents of Birmingham pay a plat city income tax of 1 percent on earned income in addition to the Alabama income tax and Federal income tax. Nonresidents who work in this city also pay that tax rate like the residents. However, if you are comparing Alabama to a city like Florida which has no state tax does make a difference. Every state differs, so make sure you look at not only the city but the state as well.
What is the weather like in Birmingham?
In Birmingham, the summers are long, hot, and muggy; the winters are short, cold, and wet; and it is partly cloudy year round. Over the source of the year, the temperature typically varies from 36 degrees Fahrenheit to 90 degrees Fahrenheit, and it is rarely below 21 degrees Fahrenheit or above 97 degrees Fahrenheit.
What salary do I need to live comfortably in Birmingham?
Most salaries in Birmingham range between $43,090 (25th percentile) to $74,571 (75th percentile) annually. A family of four estimated monthly cost is $3,842.70 without rent and a single person's estimated monthly cost of $1,085.10 without rent.
Finding the perfect place to live in Birmingham 
Birmingham, AL, is a great place to live, especially if you are looking for somewhere that has a lot to offer! This large city is on the rise and has a lot of job opportunities for you. Since this area is located near a lot of colleges, the population is younger adults, but this magic city is the place to be if you want somewhere to enjoy beautiful views and find employment.
Finding a place to live can be challenging. Still, it would be best if you took advantage of the low cost of living, excellent southern food, higher education opportunities, diversity, and much more. This place gives you city life without all of the prices! 
Birmingham is a fantastic place to live, with so many high rankings in many ways. This large city has something for everyone and can be a perfect place to call home for many people. Housing costs here are affordable, and the cost of living is something many people care about since it has such an enormous impact on life. Overall, this place can be somewhere where you can either raise a family and grow old or live out your younger years in the college town, depending on the neighborhood.
If you or anyone you know is interested in a move to Birmingham, AL, don't hesitate to get in touch with us here so we can connect you with one of our Realty Specialists to help make this transition for you go smoothly. Contact us, no matter the location, price, or preferences. We are here to help you through every step of the home-buying process to find the perfect home that meets your needs and lifestyle.
Check out some similar local area guides: moving to Alabama, moving to Birmingham, best neighborhoods Birmingham and cost of living Alabama.

Find your new home
Search real estate and homes for sale