10 Things to Know BEFORE Moving to Binghamton, NY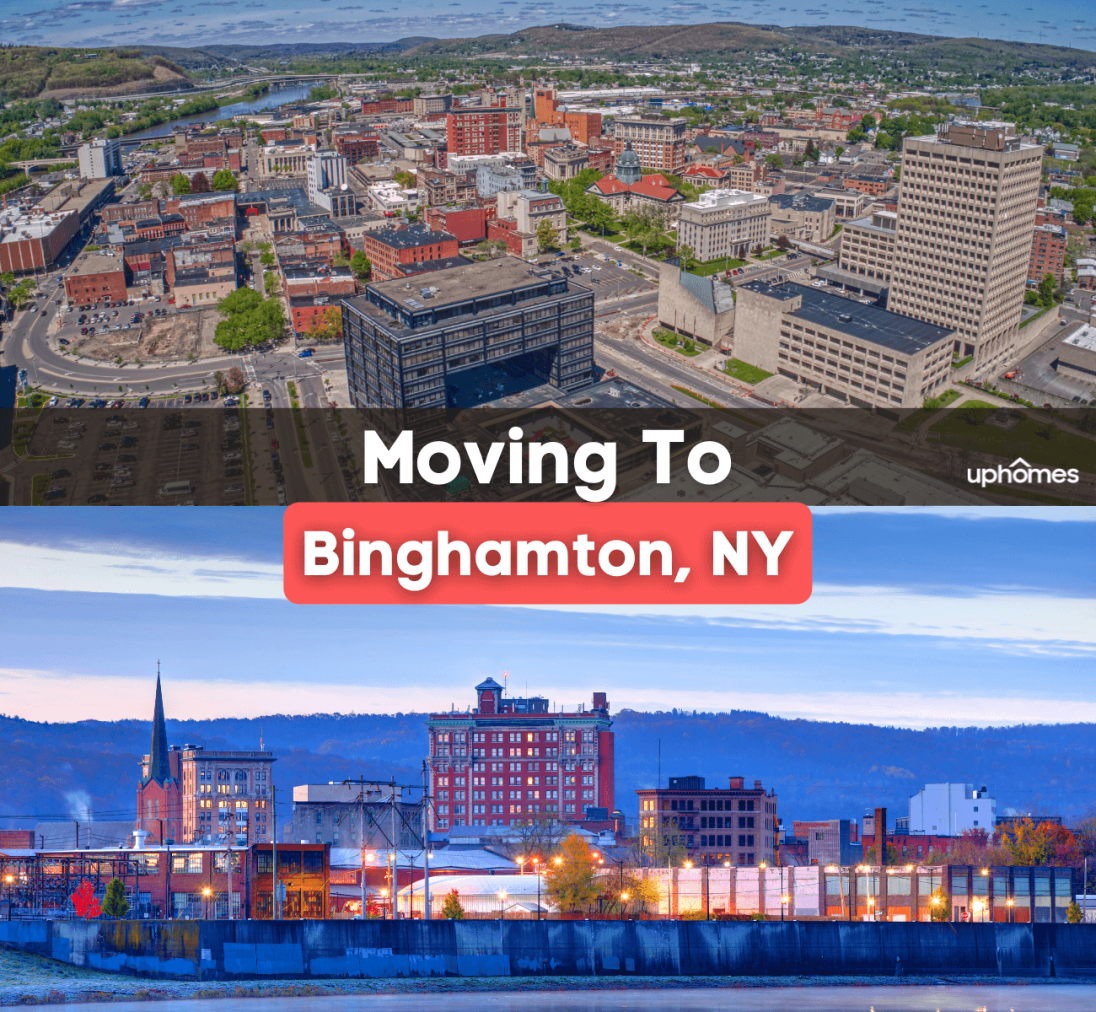 Moving to Binghamton, NY
Are you relocating to Binghamton, NY? Make sure you know these 10 things!
Binghamton, New York is a good place to live in Upstate New York that is just a two-hour drive to the Pennsylvania border, a two-hour drive to Albany, and a three-and-a-half-hour drive to New York City. Rich in history, many immigrants moved to the area in the late 19th and early 20th centuries which led to major economic and population growth. Today, Binghamton is home to over 45,000 residents and is on its way to becoming one of the best places to live in New York State. As the population continues to grow, so does the number of business opportunities and recreational activities that are available to residents.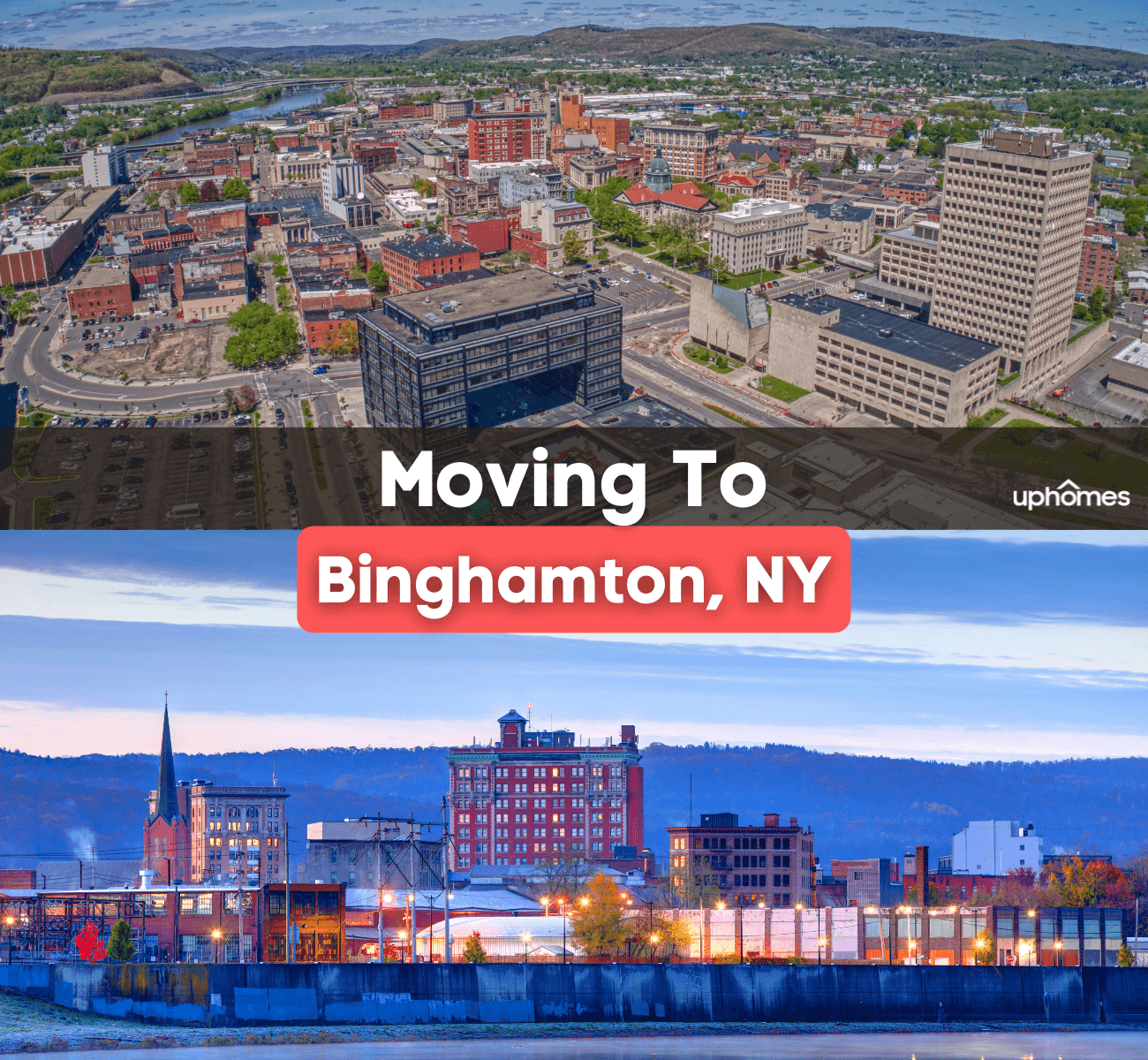 Referred to as the "Carousel Capital of the World," Binghamton is famous for its six antique carousels that are still standing today. Best known for its welcoming culture and friendly residents, Binghamton is a diverse community that attracts many college students, young professionals, and families to the area. Plus, with its affordable housing and abundance of outdoor activities, Binghamton is considered a fantastic place to live a healthy and active retirement. 
If you are moving to New York State and are thinking about making Binghamton your new home then you have come to the right place. Even though moving is thrilling, it is often overwhelming especially when you know nothing about your new city. Luckily, this moving guide was created with you in mind to help you better understand Binghamton. By providing you with the pros and cons of the city as well as any local favorites and popular attractions, find out if Binghamton is the right place for you before packing up all of your belongings.
Read on to learn more about the 10 Things to Know BEFORE Moving to Binghamton, NY!
Affordable cost of living.
The cost of living in Binghamton is 11% lower than the national average and 25% lower than the New York State average. Since living in New York State is notoriously expensive, Binghamton is a great option for residents who want to save some money but still want to be within driving distance to nearby popular cities in the state. In fact, the cost of living in New York City is 125% more expensive than living in Binghamton. With a minimum wage of $12.50 an hour, an average annual salary of $78,594 is considered a good salary in Binghamton. Keep in mind that even though Binghamton has an affordable cost of living for its location, 33% of residents still live at or below the poverty line. This means that one out of every three people living in the city lives in poverty.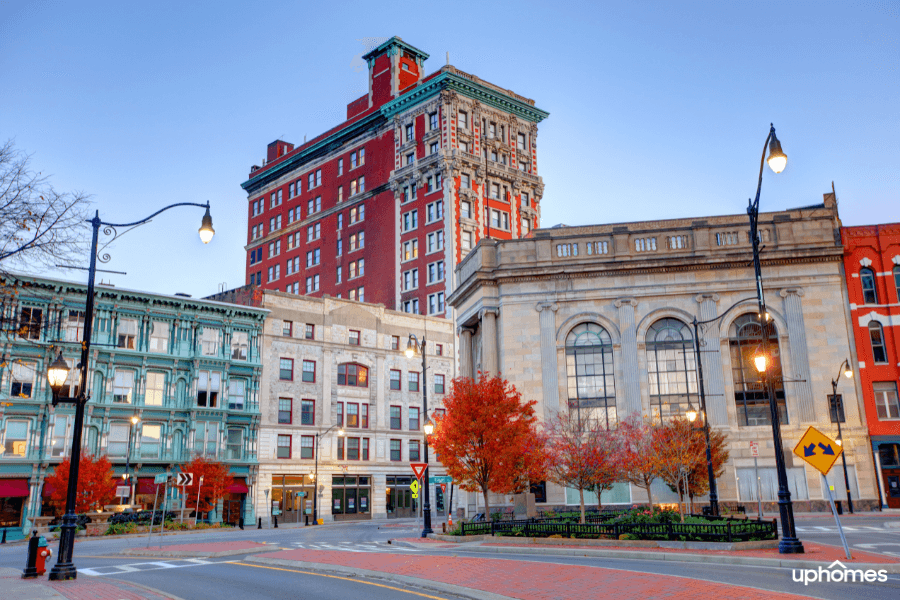 Beware of crime.
Binghamton has a crime rate of 57 out of every 1,000 residents. This means that Binghamton has one of the highest crime rates in the country compared to other similar-sized cities. Sadly, the chance of becoming a victim of both property and violent crime while living in the city is one in 18. Even though the crime rate is predominantly high, there are still plenty of safe neighborhoods and areas to live in. Much like any other large city, there are precautions to take in order to stay safe. Make sure to never walk alone, stay in well-lit areas, and always lock your doors. Refer to this Living Alone: Home Safety Checklist for more tips.
Strong housing market.
Much like the cost of living, the housing prices in Binghamton are affordable and are one of the major draws to the city. Comprised of mostly single-family homes and apartment complexes, the median age of Binghamton real estate is 76 years old. Since 48.8% of all available homes were built before or during the year 1939, it is safe to say that the real estate in Binghamton is historical and features a wide range of architectural styles that reflected the wealth of the city at the time that it was planned and constructed. Most homes in the city are prime examples of the Second Empire, Gothic, Italianate, Romanesque, and Victorian architectural styles. Since home appreciation in Binghamton has increased over the last 10 years and is currently up to a rate of 16.3%, now is the time to buy a home. More than half of the homes in Binghamton are listed at a sales price between $60,000 and $120,000.
Employment opportunities.
The three top major economic industries in Binghamton include manufacturing, healthcare, and transportation. Experiencing both periods of economic growth and decline throughout the years, the economy in Binghamton has learned how to restructure and stabilize through the good and bad times. Largely impacted by the COVID-19 Pandemic, much like the rest of New York State, Binghamton is gradually getting itself back on its feet since many businesses were forced to close. The top employers in the area include Binghamton University, United Health Services, Lockheed Martin, and Broome County Government.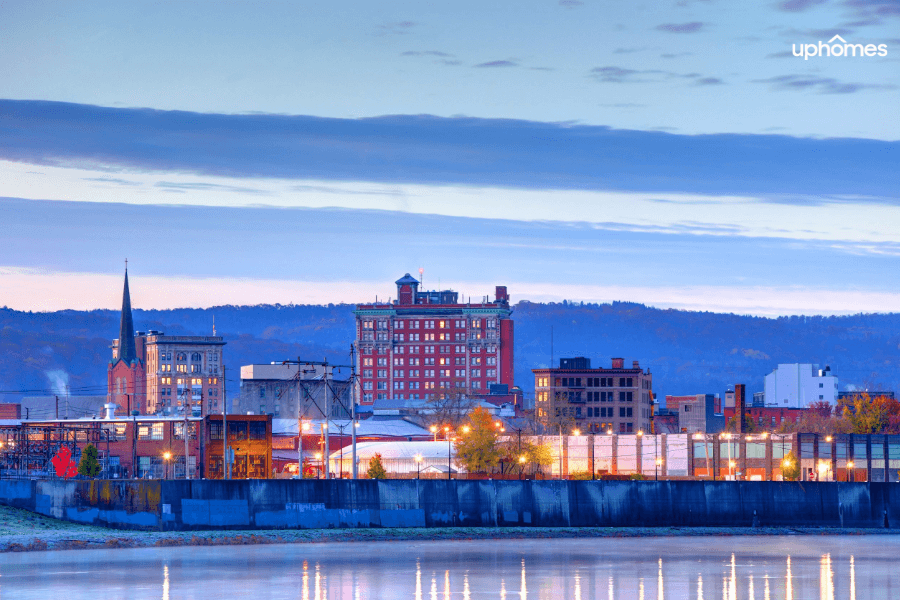 Prepare for the weather.
Known for its humid continental climate, the weather in Binghamton is normally cold and temperate with a lot of rain. In fact, Binghamton receives an average of 40 inches of rain per year which surpasses the national average of 38 inches of rainfall annually. Since the summers are mostly warm and partly cloudy while the winters are freezing cold and snowy, Binghamton has similar weather patterns to other cities in Upstate New York. 
In the summers, the hottest month during the year is July with an average high temperature of 80 degrees Fahrenheit, meanwhile, January is the coldest month of the year with an average low temperature of 13 degrees Fahrenheit. Binghamton receives an average total of 64 inches of snowfall per year which is less than the average snowfall that residents can expect when living in Rochester. Before moving, it might be a good idea to make sure that you can handle large amounts of ice and snowfall.
Binghamton is well educated.
One of the top reasons to move to Binghamton is its fantastic education system. Not only does the Binghamton City School District receive high ratings for its public elementary, middle, and high schools, but Binghamton also offers great higher education opportunities for those who are interested in higher learning. In fact, Binghamton University is ranked as the top public university in the entire state of New York. Best known for its sustainability efforts, Binghamton University has a wide variety of undergraduate and graduate programs for students as well as a top education program. With its reputation for being a public Ivy school, Binghamton University is most well known for its Accounting, Nursing, and Chemistry programs. Since one of the best perks of becoming a New York State resident is to enjoy in-state tuition status, tuition at Binghamton University is only $7,000 per semester. For those who are wanting other opportunities, SUNY Broome Community College and Davis College are other institutions that are located close by.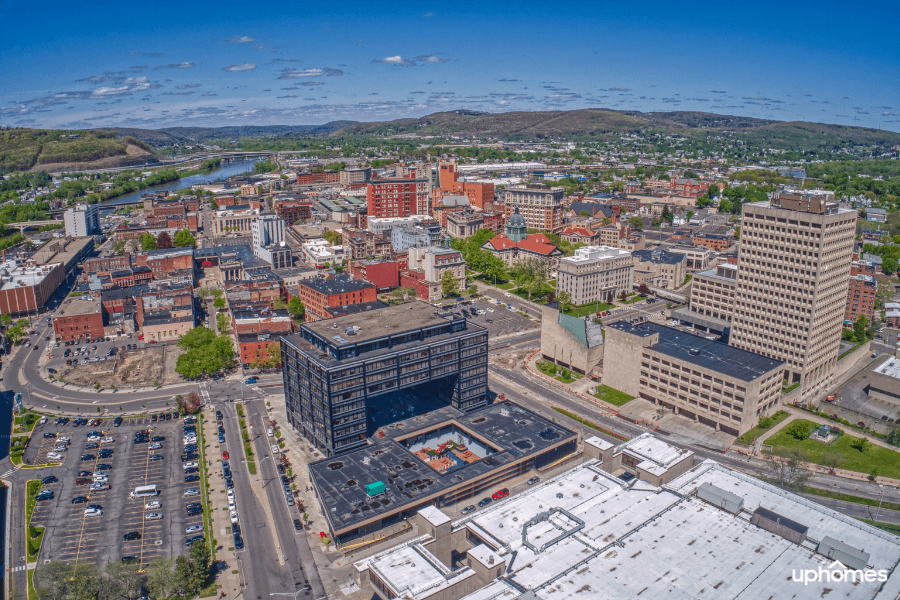 Explore local history.
Originally settled in 1787, Binghamton became an incorporated city in 1867 and has evolved exponentially over the past two centuries. Due to this rich historical background, Binghamton has become a great spot to explore local history through museums, historical sites, and architecture. 
Check out these historical museums and sites in Binghamton, NY: 
Enjoy the arts.
Welcoming residents of all backgrounds, Binghamton is an artistic community that is home to contemporary art galleries, art museums, and local theatres. Whether you want to join an art program or admire the works of local artists, there are plenty of ways to get involved and to stay creative while living in Binghamton. 
Check out these local art museums, galleries, and programs in Binghamton, NY:
Visit a local brewery.
Craft breweries are popping up all over Binghamton and have become a popular hangout spot for both locals and tourists. From hoppy IPA's to pale ales, there is always a new beer to try. Even though Upstate New York is notorious for its wine production, many Binghamton breweries are now showing up on the Finger Lakes Beer Trail. 
Check out these breweries in Binghamton, NY: 
Spend time outdoors.
Binghamton has no shortage of outdoor adventures. Surrounded by picturesque mountain ranges and stunning water features, Binghamton always has something exciting to see. Whether you want to spend the day at one of the cities 23 parks, decide to take a hike on one of the nature trails just outside of the city, or go on a weekend trip to the Finger Lakes, exploring the great outdoors is part of everyday life when living in Binghamton. Plus, only a five-hour drive from Toronto, Canada, the opportunities are endless. 
Check out these outdoor activities in Binghamton, NY: 
Moving to Binghamton, NY - The Bottom Line
Whether you are moving to Binghamton for its affordable housing, excellent educational opportunities, or simply want a new adventure, this is a good place to live with something new to explore everywhere you look. Though the crime rate may not be the best, the nice weather and beautiful surroundings make up for it. Once you have decided to relocate and are on the hunt for a new home, make sure to reach out to one of our knowledgeable Realty Specialists to assist you through the home buying process. With the help of our team, finding the home of your dreams in Binghamton will be an easy process. Contact us today!
#blog-moving-new-york-cta#

Find your new home
Search real estate and homes for sale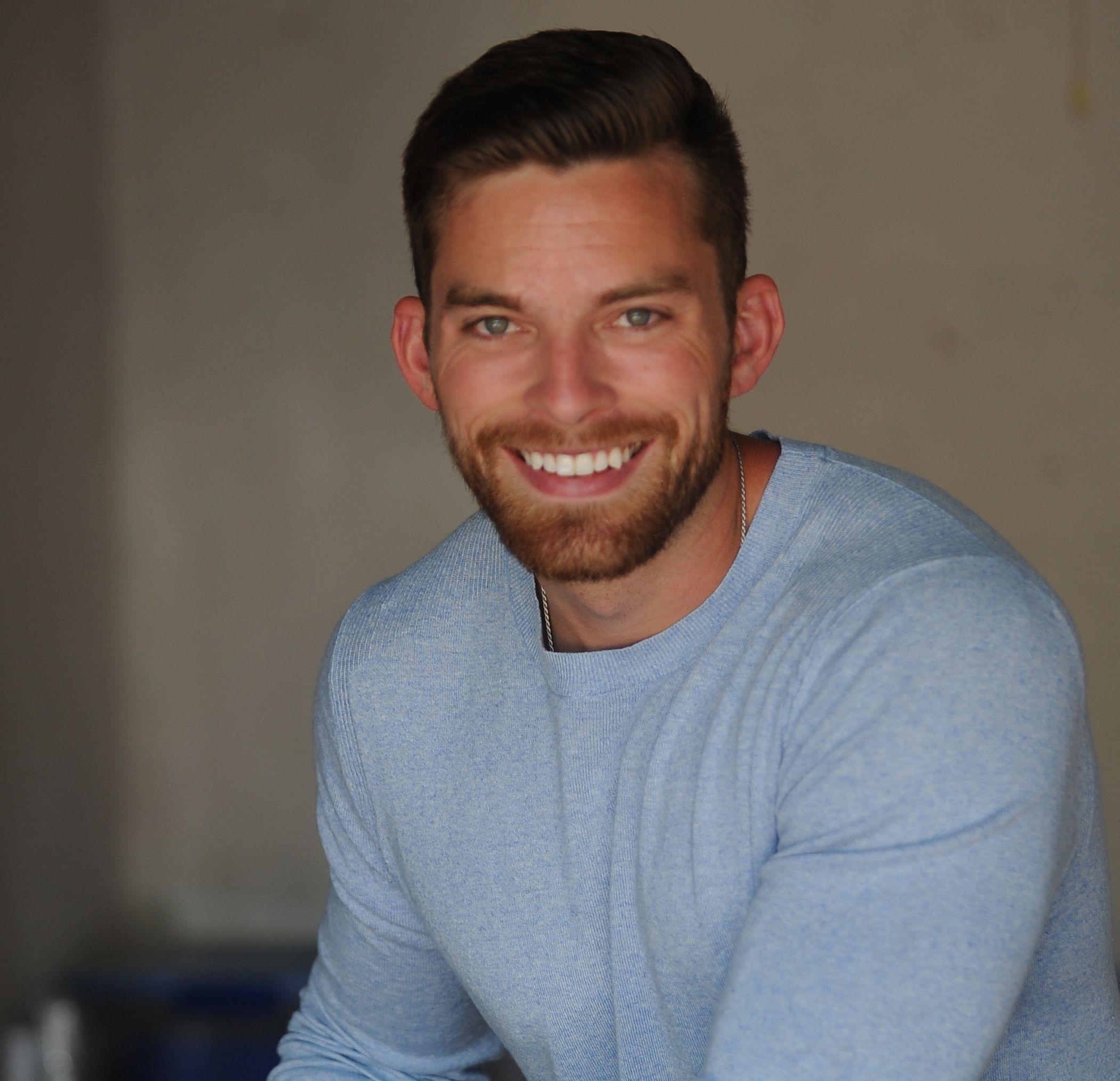 Ryan Fitzgerald
Hi there! My name is Ryan Fitzgerald, and I am a REALTOR®. My goal is to help you learn more about real estate through our Real Estate Blog! Hopefully, you enjoyed the above blog post and it found a way to provide help or value to you. When you're ready to buy or sell a home of your own let us know here. Please feel free to join the conversation by dropping us a comment below.