How To Create A Real Estate Website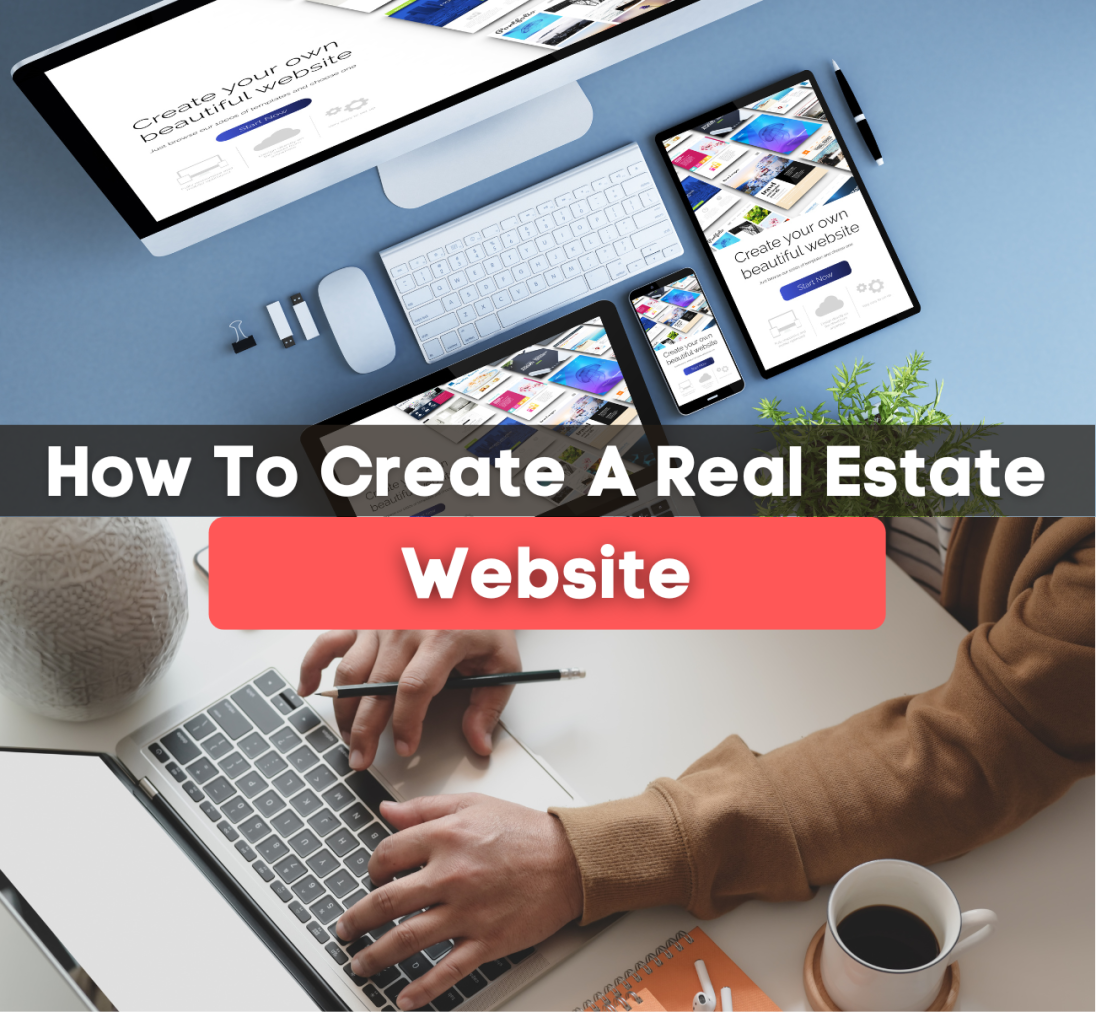 How To Create A Real Estate Website
Are you wondering how to set up a successful real estate website? Let's dive into the steps and process of creating a real estate website that stands out and engages clients.
Whether you just obtained your real estate license or are an experienced realtor, your real estate website is one of the first impressions potential clients get of who you are as an agent and person. A fully functioning website that is easy to navigate is a great way to keep and engage clients. Your current and potential clients need to be able to search for you and gather all information possible to start the process of finding their dream homes.
A website is also essential for reaching those clients who might not be active on social media, giving them a source to contact you for your services. Real estate websites are convenient, allow you to target more customers, and save you time in the long run. According to the National Association of Realtors (NAR), 42 percent of home buyers in 2017 took their first step toward their purchase by looking online for available properties. This number has only increased as years have passed, so let's look at how to get started.
Before creating a website, take a moment to look at the different ways creating a website can help grow your business.
Build awareness: In 2020, 51% of home buyers and sellers found their homes online. A website will get your name out there, and marketing your website will drive traffic.
Generate leads: With a website, agents can partner with lead generation services to provide clients for a fee.
Increase credibility and branding: Having a website that people navigate daily will help your business grow by spreading your name and services to people who may be in the market. A website will also give you the space and opportunity to include client testimonials, increasing your credibility with potential clients.
Educating: Agents can use their website to educate and inform potential clients on the current market or any real estate-related questions. This builds trust and long-lasting relationships with clients.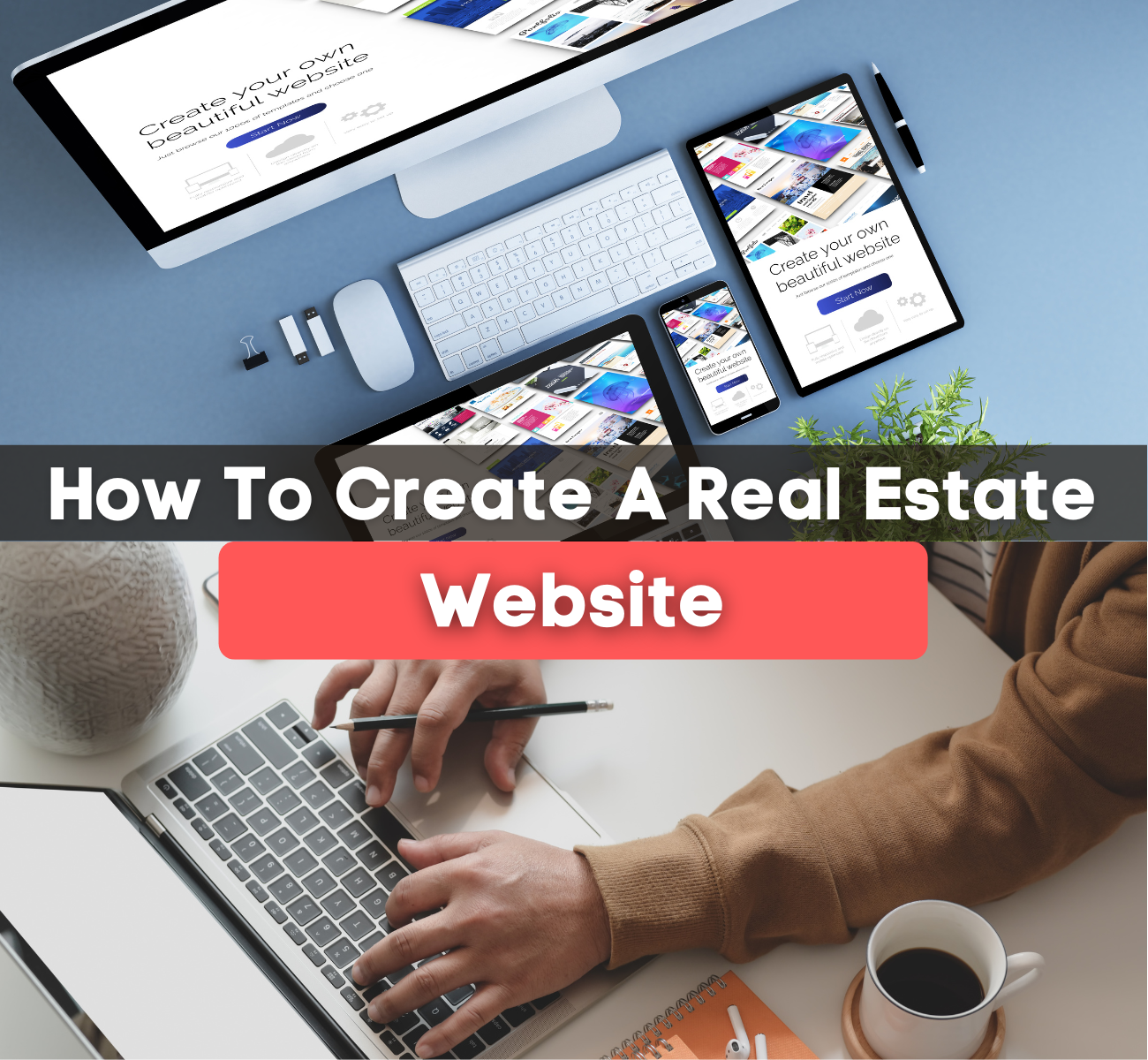 Building a Real Estate Website
1. Acquire a Domain Name
The first step in creating a real estate website is acquiring a domain name. Your domain name should be unique to you and easily accessible. This domain will be the permanent address of your website. One of the most popular domain registrars is GoDaddy. Here are a few tips to consider when choosing your domain name:
Keep it short and simple
it should be easy to remember
Make it meaningful, and choose something that represents your business
It's always beneficial to have a .com
2. Acquire a Web Space
The next step in creating a website is to acquire a web space. Web space refers to the amount of space on a web server allocated to website owners by web hosting companies. Web space can also be known as storage space or disk space. It would help to choose the appropriate web hosting plan configuration for your wants and needs. Your web space serves two primary functions; it allows you to upload file information on the World Wide Web, and it enables you to store various files that are not visible to website visitors.
3. Install a Site Builder
After acquiring web space, you'll want to install WordPress or other site builders. WordPress is one of the best and most popular CMSs available in the market, powering over 43.3% of all the websites on the internet. As a content management service, WordPress allows users to create and manage all aspects of their websites without needing to know anything about programming. Within WordPress, you must also decide what category your website fits. Category types include real estate directory, single property website, realtors website, and rental property website. Here are a few reasons people say WordPress is the best option:
Free and opensource
Flexible, with lots of intuitive options
User-friendly, perfect for beginners as well as pros
Availability of themes with different niches -- Directory, classifieds, events, business websites, blogs, eCommerce, real estate
Abundant plugins (micro software modules) to add new capabilities to your website
4. Choose a Theme
After installing WordPress and choosing your theme, you'll want to design your website and add features. The first step in customization is uploading your logo and site title. This personalizes your website and gives it a unique touch. Another way to customize is by changing the colors and adding distinguishing backgrounds. Next, you can add pages and a menu. The amount of pages you can create is unlimited, and once they are completed, you can show their link in the menu bar. With pages and your menu bar set up, you can also customize where it is on your home page and change the layout to make it easily accessible.
5. Organize The Website
Adding properties is one of the best ways to organize your website. You can choose and download the HomeQuest theme to your website, providing you with some links to help you get started with adding properties. Categories can include different property types, different resources, etc. Adding properties ensures that your website continues to stay organized and easily navigable. Along with your properties/categories, you want to ensure that you add value to your content and services.
6. Ensure Mobile Optimization
Remember that 52 percent of global internet traffic comes from mobile devices. Once you have created your website, it must be accessible on all smartphones and tablets. For mobile optimization, focus on the following:
Responsive design
Page speed
Hosting speed
Homepage
Site navigation
Site search
Forms
Conversions
Usability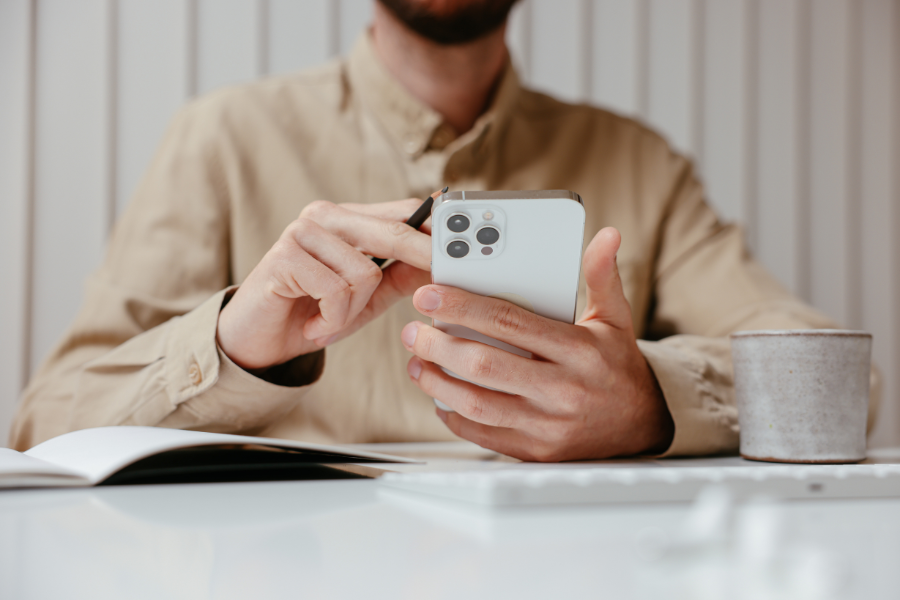 7. Market Your Website
After going through the steps to get your website up and running, it's essential to them market your website. It's easy to assume that customers will flow in once your website is complete, but that's not the case. Social media marketing is one of the primary factors in driving website traffic. Social media is a place where you can be open and interactive with potential customers. Allowing them to engage and communicate with you opens the door for possible services and lets clients get to know you better. The interactions on social media will drive these potential customers to your website, which will consist of more comprehensive information and in-depth answers to their questions.
8. Have a Good SEO Strategy
Another way to drive traffic to your website is by having a good search engine optimization strategy. Ensure all your content is indexable and reachable from popular search engines like Google and Bing. You can do a simple site search to see if your website is showing up on potential clients' search results. A good search engine optimization strategy is ensuring you include keywords on your website that are likely to be searched by consumers.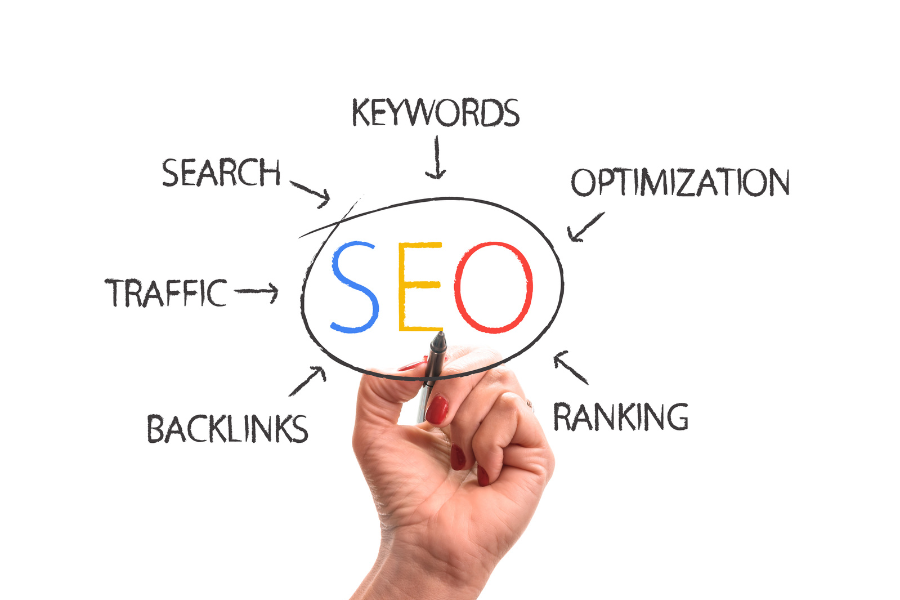 Designing Your Real Estate Website
The design and overall appearance of your real estate website should be eye-catching and memorable while also being organized and easy to navigate. Once you have set up your website by creating a domain, acquiring a web space, and adding essential features, you can get to the fun part. Making your website unique and creative is an easy way to make customers want to engage and look around. Let's dive into some ways that you can design your website to give your customers a friendly and informational user experience.
1. Simplicity
You want to ensure potential clients can easily find all the information they want. If your website is challenging or overwhelming, it will drive clients to look elsewhere. One way to make your website simple yet effective is by adding categories, such as:
An about me section
Your listings
Helpful tips on acquiring financing
Blog post to help answer frequently asked questions
2. Advance Search Options
The majority of buyers know precisely what they want. If your website or agency has a wide range of properties, it's essential to have the option for buyers to do an advanced search so they're not stuck wasting time sifting through hundreds of properties. Examples of advanced search options include:
Property type
The number of bedrooms and bathrooms
Outside space
Budget
Area or Neighborhood
House/lot area
3. Community and Neighborhood Guides
This resource can either be added to your blog or as a standalone feature. When buyers plan a move to unfamiliar places, they will often Google different facts and information about the area. By adding a community and neighborhood guide to your website, your potential clients can search for new homes and research the site simultaneously. Topics to add to your guide include:
Local schools, colleges, and universities
Recreation
Sports facilities
Shopping amenities
Community groups
Transportation
4. Photographs and Videos
One of the essential features to include on your website should be photographs, virtual tours, and videos of your property listings. Buyers need to be able to get a preview of the home before scheduling a tour or moving forward in the buying process. Your website should include high-quality photographs and videos to help clients dwindle their options and potentially introduce them to styles they didn't know they would be interested in.
While these are just a few, there are countless ways to design your website to provide the best customer experience. Including what works best for you and your target market is essential.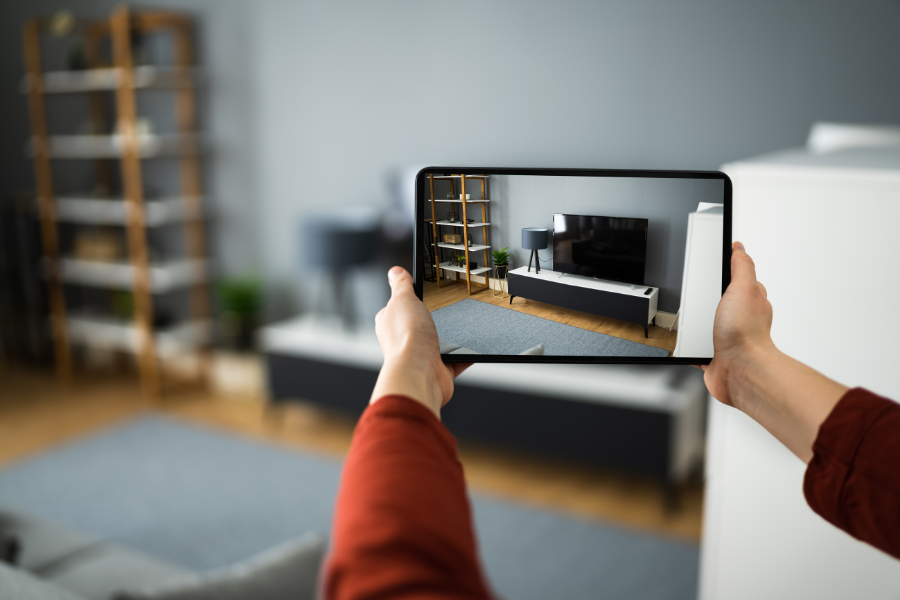 How To Make Your Website Stand Out
When it comes to the actual design of the website (color, backgrounds), it's crucial to create a website that grabs the client's attention. You can add bold graphics, trendy color schemes, interactivity, etc. Here are four ways you can make your website stand out:
1. Keep Your Design Balanced
Design balance refers to making sure that your design does not tip to one side or the other. It can quickly become unbalanced if you're not careful and particular in your design layout. Keep an eye out for your colors, sizing, and elements to ensure they all flow smoothly together.
2. Use Grids
Grids are a series of horizontal and vertical rulers that can help you categorize your elements and data. Think about your property listings and photographs; using equal columns and rows can improve the readability and overall appearance.
3. Have a Color Scheme
Some colors are meant to go together, and some are not. When designing your website, it's a great idea to pick two or three base colors and stick to them. This ensures that your website is engaging and cohesive. Choosing colors that do not work well together can make your content difficult to read and see. If two or three colors are not enough, you can expand your color pallet using different tints or shades of your base colors.
4. Use Graphics
Make sure each addition flows when choosing or creating graphics to add to your website. Pictures and images are the first things someone sees when clicking on your website or switching to a different page. Having graphics that flow together adds value to your website's visual message and cohesiveness.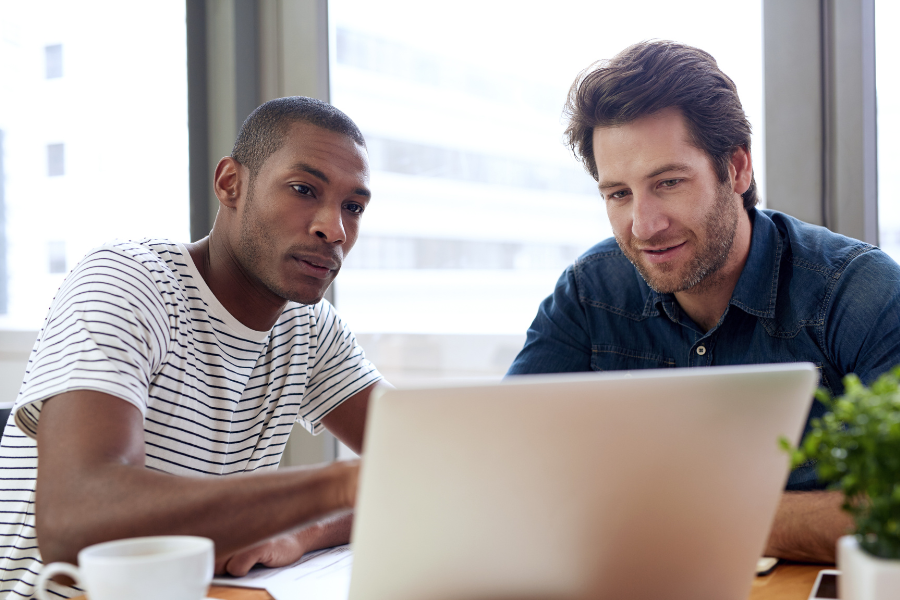 Start Creating Your Real Estate Website Today
Having a real estate website is an excellent way for agents to gain more clients and add to their sphere of influence while also being a great pit stop for clients to search for properties. It would help if you thought of your website as a place for clients to learn more about you, your services, and the real estate market and answer any real estate-related questions they may have.
It's important to take time to create your website and add all essential elements. These elements include properties and categories, advanced search options, a menu bar, pages, and more. It would help if you also spent time perfecting the design of your website. An unorganized and sloppy webpage is a quick way to steer clients away. A great design and layout will keep clients engaged and on your page.

Find your new home
Search real estate and homes for sale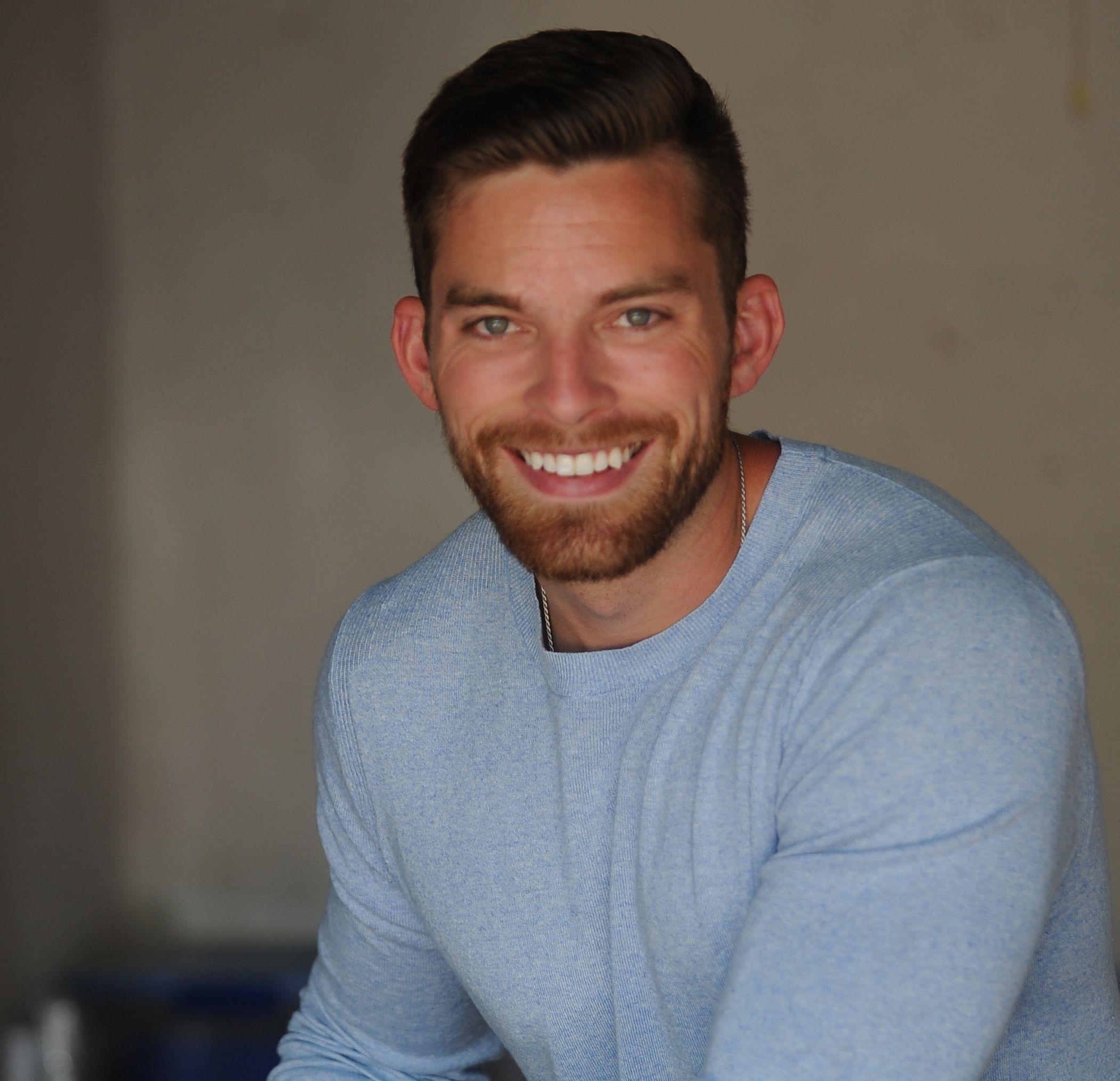 Ryan Fitzgerald
Hi there! My name is Ryan Fitzgerald, and I am a REALTOR®. My goal is to help you learn more about real estate through our Real Estate Blog! Hopefully, you enjoyed the above blog post and it found a way to provide help or value to you. When you're ready to buy or sell a home of your own let us know here. Please feel free to join the conversation by dropping us a comment below.