10 Best Neighborhoods in Wake Forest, NC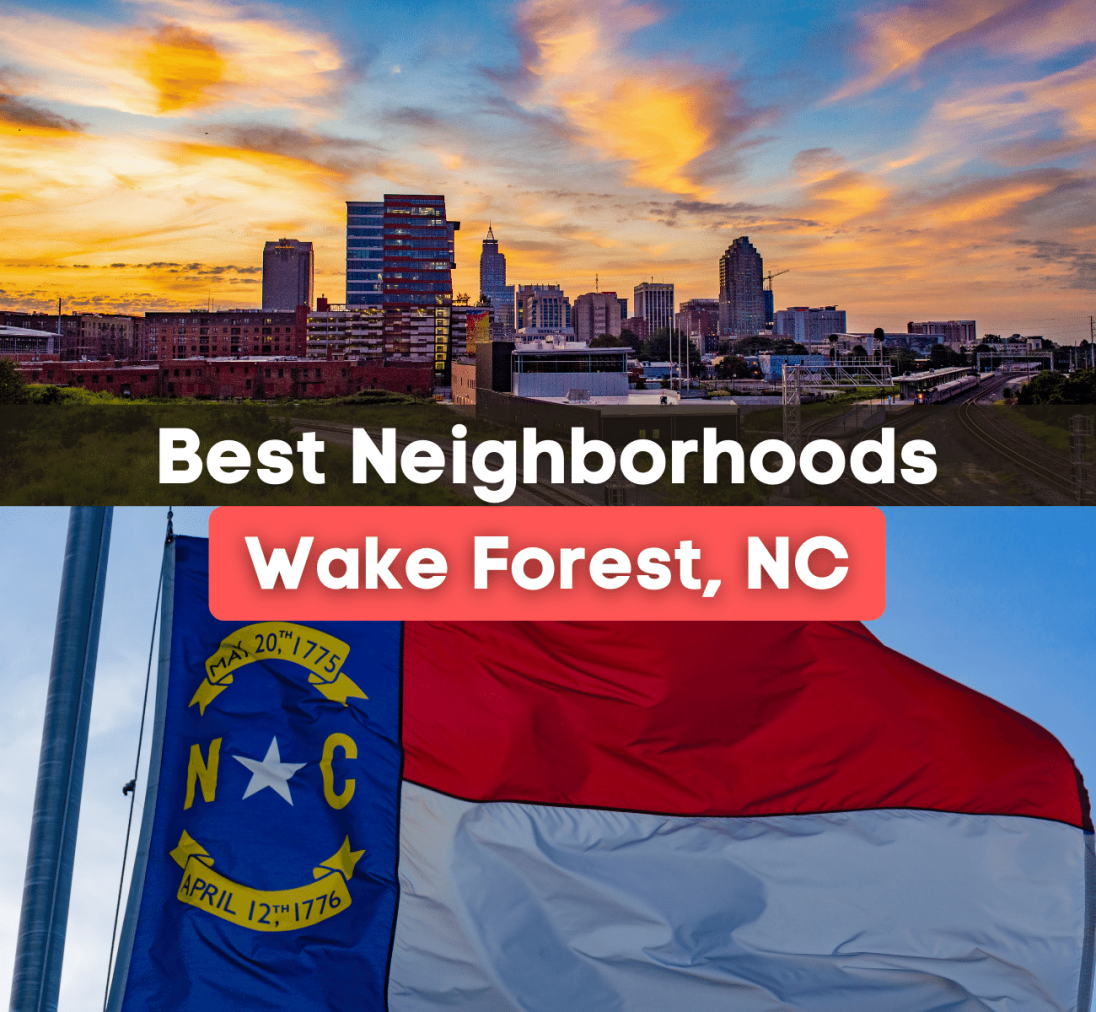 Best Places to Live in Wake Forest
Here are 10 of the top neighborhoods in Wake Forest!
If you just recently made the decision to move to Wake Forest, North Carolina, and are wondering where you should live then this is the guide for you.
Famous for its small-town feel, rich history, vibrant culture, and abundance of fun activities that will keep locals and visitors alike entertained throughout the year, Wake Forest is known to be a fantastic place to live for families, young professionals, and retirees.
Considered to be one of the best places to live in North Carolina, Wake Forest is home to numerous great neighborhoods that are located near top schools and amenities which is part of what makes this Raleigh suburb so popular.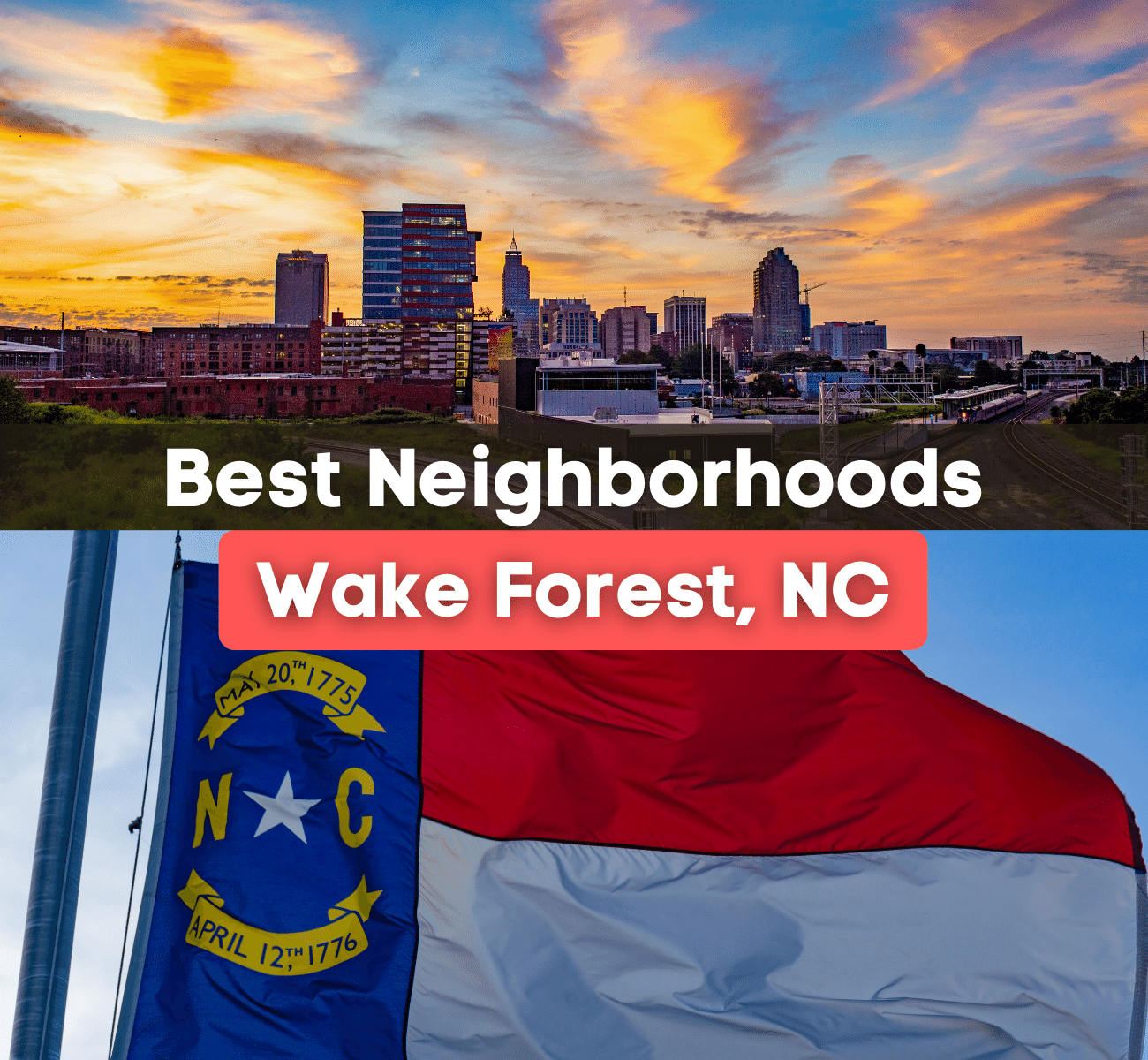 No matter if you are looking for a quiet neighborhood to raise your children or would rather be in a lively neighborhood near all of the excitement downtown, there is a place to live in Wake Forest that will fit all lifestyles.
While moving, in general, can be overwhelming, oftentimes choosing a neighborhood can be the most difficult part of the home buying process. Luckily, our team has put together this guide to the best neighborhoods in Wake Forest, NC to help narrow down your choices.
With that being said, read on to learn more about the 10 Best Neighborhoods to Live in Wake Forest, NC!
Bishops Grant
Blending small-town charm with all of the big city amenities that downtown Raleigh has to offer, the community of Bishops Grant in Wake Forest is the perfect example of a well-established Wake Forest neighborhood.
Located near the NC Highway 98 Bypass, Bishops Grant is found in a central location that allows for convenient access to nearby attractions and other cities in the Research Triangle region.
With more than 170 single-family homes and up to 49 townhomes, Bishops Grant is the ideal place to live for families, couples, and young professionals.
While most single-family homes available range in size and prices, most available in the neighborhood are over 2,300 square feet and feature three to four-bedroom floor plans. With the option to personalize certain features in available homes, residents can choose between shake and stone accents or between covered and screened porches.
Even though residents have to pay an HOA fee of about $198 every quarter, the price range for homes in the neighborhood is between the 200s and 500s.
Bishops Grant also features a community pool that opens in the summer and a large open green space that is often a meeting place for community events.
For those moving with school-aged children, some of the best schools in the area include Richland Creek Elementary School, Wake Forest Middle School, and Wake Forest High School.
Local Favorites:
Blue Jay Point County Park: A great place to bring the whole family together, this park features walking trails and a playground
E. Carroll Joyner Park: Featuring paved walking paths, a community center, and an amphitheater that is host to summer concerts and outdoor Sunday movies
Annie Louise Wilkerson, MD Nature Preserve Park: This gorgeous lakeside park features scenic hiking trails and an education center
Dansforth
The neighborhood of Dansforth in Wake Forest is a great place to live for families due to its deep sense of community, convenient location, and abundance of single-family homes.
Mostly featuring large homes that are all reasonably priced, Dansforth is a smaller neighborhood in south Wake Forest that provides its residents with a mature community feel and direct access to Capital Boulevard.
As part of the Wake County Public School System, families moving with school-aged children will have the opportunity to attend some of the top-rated schools in the area including Wake Forest Elementary School, Franklin Academy Middle School, and Heritage High School.
Local Favorites:
Green Hills County Park: Great for biking and walking
Falls Lake Trail: A nice spot to go hiking or walking with your dog
Wake Forest Historical Museum: This local 19th-century mansion is the preserved home of the town's founder and now offers daily tours.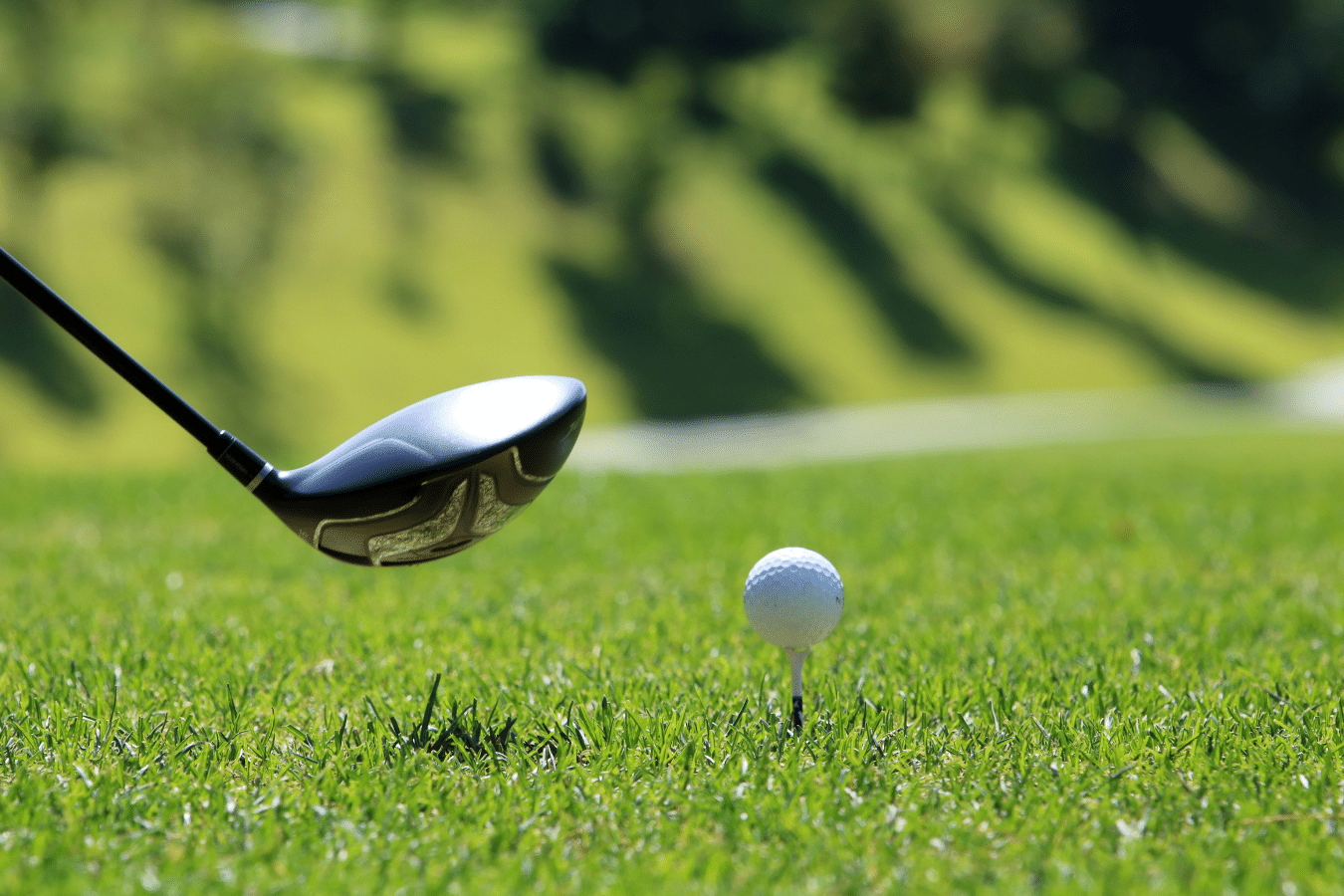 Holding Village
Known as one of the newest and most highly anticipated neighborhoods in Wake Forest, the community of Holding Village is a sought-after place to live that features modern townhomes and beautiful single-family homes that all range between 1,800 to 4,000 square feet.
The perfect place to live for families due to its abundance of amenities, this master-planned community is surrounded by walking trails, a resort-style pool, and a 15-acre lake.
Offering its residents only the best of modern living while still providing a nostalgic tight-knit community feel, Holding Village features a traditional neighborhood design which means that homes are set close to the street and have gorgeous front porches that allow for peak relaxation.
Only minutes from top restaurants and retail stores and within a 30-minute drive from downtown Raleigh and the Raleigh Durham International Airport, Holding Village is truly found in an ideal location.
Local Favorites:
Heritage Golf Course: This award-winning semi-private golf course is located just 10 minutes north of Raleigh and features a challenging course, full driving range, chipping green, practice bunker, and private teaching tee
Smith Creek Soccer Center: This 17-acre soccer facility is home to three full-size soccer fields, a playground, picnic shelters, and picnic tables
Haunted Forest at Panic Point: Located just north of Wake Forest in Youngsville, this haunted attraction is open to the public around Halloween and is full of shocks and thrills
Hasentree
Hasentree is a luxurious new home community in Wake Forest that is full of new construction single-family homes.
Situated in a peaceful setting with plenty of neighborhood amenities, the homes in Hasentree range from 3,100 to more than 6,000 square feet in size.
Featuring opulent architectural details, residents will have the option to choose from floor plans that include home offices, formal rooms, extra bedrooms, bonus rooms, and luxurious bathrooms.
Considered to be the Triangle's finest resort-style community that is found just north of Raleigh and near historic downtown Wake Forest, Hasentree is beloved for its Tom Fazio-designed golf course, fitness center, tennis courts, three pools, spa, and nature trails.
Local Favorites:
Amalia's Authentic Italian Restaurant: Serving authentic Italian cuisine in a gorgeous historical home
Gonza Tacos Y Tequila: Dine on Mexican-Colombian plates in an eclectic atmosphere
Los Tres Magueyes - Wake Forest: Enjoy traditional Mexican cuisine and tequilas in a colorful space
Wakefield Estates
Located conveniently near top shopping, dining, and entertainment in historic downtown Wake Forest, the neighborhood of Wakefield Estates features mostly expansive homes that are all competitively priced.
Dating back to 1994, Wakefield Estates has developed a ton over the last few years and features single-family homes that range from 4,000 to upwards of 12,000 square feet. Most homes in the neighborhood include four to five bedrooms.
For those moving with school-aged children, Wakefield Estates is part of the Wake County Public School District which is home to top schools including Wakefield Elementary School, Wakefield Middle School, and Wakefield High School.
Local Favorites:
White Street Brewing Company: Located in downtown Wake Forest, this brewery is making handcrafted small-batch ales and lagers as well as an assortment of seasonal and special release brews
Shorty's Famous Hot Dogs: Established in 1916, this family-owned business is serving some of the tastiest food around
Wake Forest Farmer's Market: This community event is held every Saturday morning and is a great way to buy fresh local produce, baked goods, and fresh-cut flowers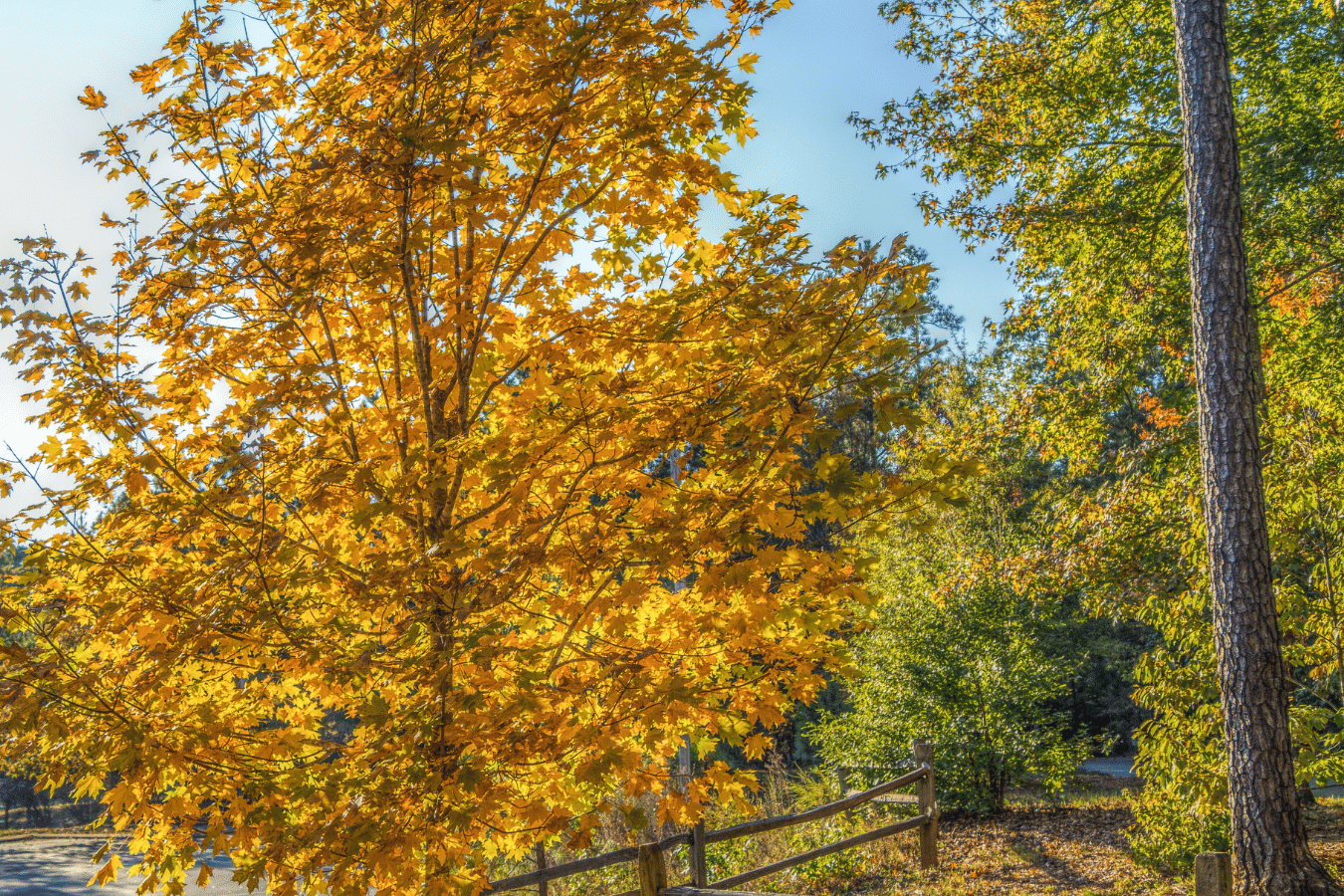 Richland Hills
Richland Hills is a laid-back subdivision in Wake Forest that has a population of over 4,000 residents, 88% of which own their own homes.
With an average age of 50 years old, most residents in Richland Hills are families or older adults who want a nice place to retire.
Local Favorites:
Johnny's Pizza Wake Forest: This pizza joint is serving tasty pizza and a great selection of classic Italian dishes
Bodega Tapas, Wine, and Rum: Order inventive small plates that are influenced by the wine regions in Europe
The Border Restaurant: This diner is serving American breakfast and lunch dishes in a homey atmosphere
Austin Creek
The master-planned community of Austin Creek is full of new construction single-family homes which makes this neighborhood one of the hottest new subdivisions in Wake Forest.
Offering a variety of beautiful yet functional home styles, Austin Creek was built by Lennar and features resort-style amenities including a pool, walking trails, and playground.
Located just minutes from downtown Wake Forest, most single-family homes in Austin Creek range in size from 1,800 to 4,000 square feet and are priced from the mid-200s to 400s.
Local Favorites:
Las Margaritas Mexican Restaurant: Order classic Mexican platters and margaritas
George's Pizzeria: Offering New York-style pizza, pasta, and salads in a brick-walled space
Real McCoy's: This American sports bar is serving burgers, beer, and other favorites
Olde Mill Stream
Found within walking distance to E. Carroll Joyner Park in Wake Forest, the neighborhood of Olde Mill Stream is a nice established, yet growing community that is home to close to 2,000 residents.
With a resident average age of 44 years old, most homeowners are families or professionals who want to live near downtown historic Wake Forest which is just north of Raleigh.
Providing wide streets that are tree-lined, sidewalks, and over three miles of walking trails, Olde Stream Mill encourages its residents to get outdoors and stay active.
Local Favorites:
Shucker's Oyster Bar and Grill: Get your fix of oysters, seafood, steak, and pasta at this highly-rated restaurant
Farm Table: Serving American fare and craft cocktails in a farmhouse setting
Backfins Crab House: Enjoy crab and seafood fare in this lively downtown joint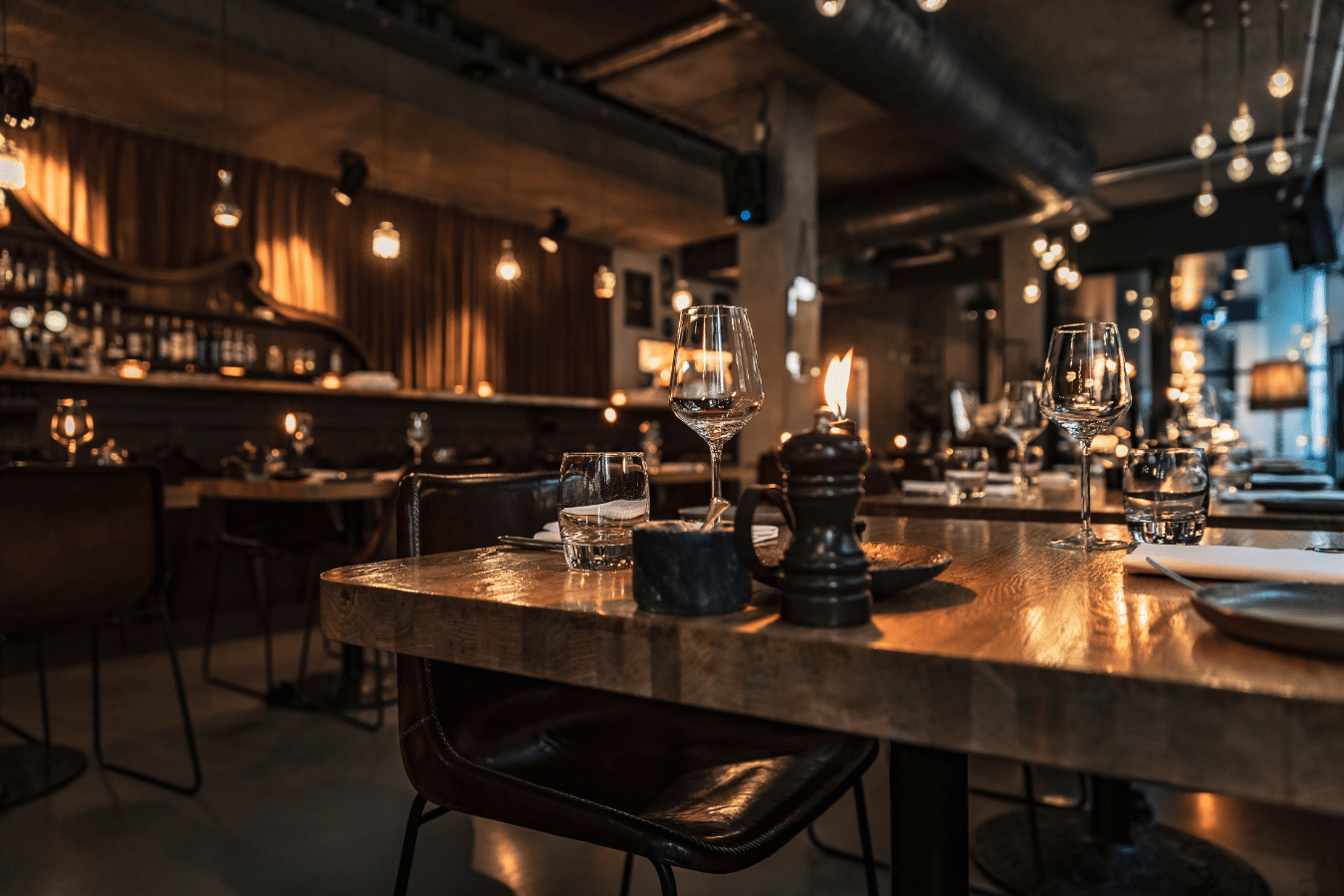 Margots Pond
Described as a quiet and lovely community, Margots Pond is ideal for families, couples, and retirees who want a more relaxing way of life outside of the downtown area.
Offering decent-sized lots all within easy access to major interstate highways such as I-540 and US-1, Margots Pond offers an easy commute to Raleigh and other nearby areas.
Local Favorites:
Norse Brewing Company: This gastropub is a cool place to enjoy great beer and snacks
Super Magnolia Cafe: This dining-tea room features a gift shop and lives music lounge
Charlie's Kabob Grill: Dine on delicious Mediterranean cuisine all made with quality ingredients
Heritage at Wake Forest
Located just 10 minutes north of Raleigh, Heritage at Wake Forest is a vibrant master-planned community that also happens to be the home to one of the Triangle's premier golf clubs.
Surrounded by playgrounds, greenway trails, bike paths, a town soccer park, and more, there is always something to do when living in Heritage at Wake Forest.
Local Favorites:
The Lemon Tree Cafe and Catering: Enjoy coffee, salads, sandwiches, soups, and other cafe staples
Tlaquepaque Mexican Restaurant: Serving Mexican and Tex-Mex plates, beer, and margaritas
Wake Forest Coffee Company: Sip on organic coffee in a space that has a friendly, artistic vibe
Best Places to Live in Wake Forest, NC - The Bottom Line
Whether you are moving for work or are simply looking for a change in scenery, Wake Forest is a nice place to live that has many great neighborhoods.
From beautiful new construction homes in Wake Forest to newly renovated townhomes in Wake Forest, there are plenty of home types and styles to choose from when it comes to searching for homes for sale in Wake Forest, NC.
No matter what you are looking for in a neighborhood, whether it be a tight-knit community or family-friendly oriented, there is no right or wrong decision when it comes to finding a place to live.
While our team here at Uphomes certainly loves to help you choose the right neighborhood in Wake Forest, our website also features other local area guides including information about what you need to know before moving to North Carolina, moving to Raleigh, moving to Durham, and moving to Chapel Hill.
Make sure to contact us here directly today if you would like to get started on your home search or if you have any questions. We are always happy to help.

Find your new home
Search real estate and homes for sale