7 Best Places to Live in Long Beach, California 
Searching for the best neighborhoods in Long Beach, CA? Here are 7 of the best places to live in Long Beach! 
Located in southern California, the coastal city of Long Beach is just south of Los Angeles and is about two hours north of San Diego. Considered a good place to live, the residents of Long Beach love the cities relaxed beach vibe and easygoing atmosphere. Though it may be expensive to live in Long Beach due to the high cost of living, many people are being drawn to the area for its amazing beaches, exciting nightlife, and abundance of restaurants.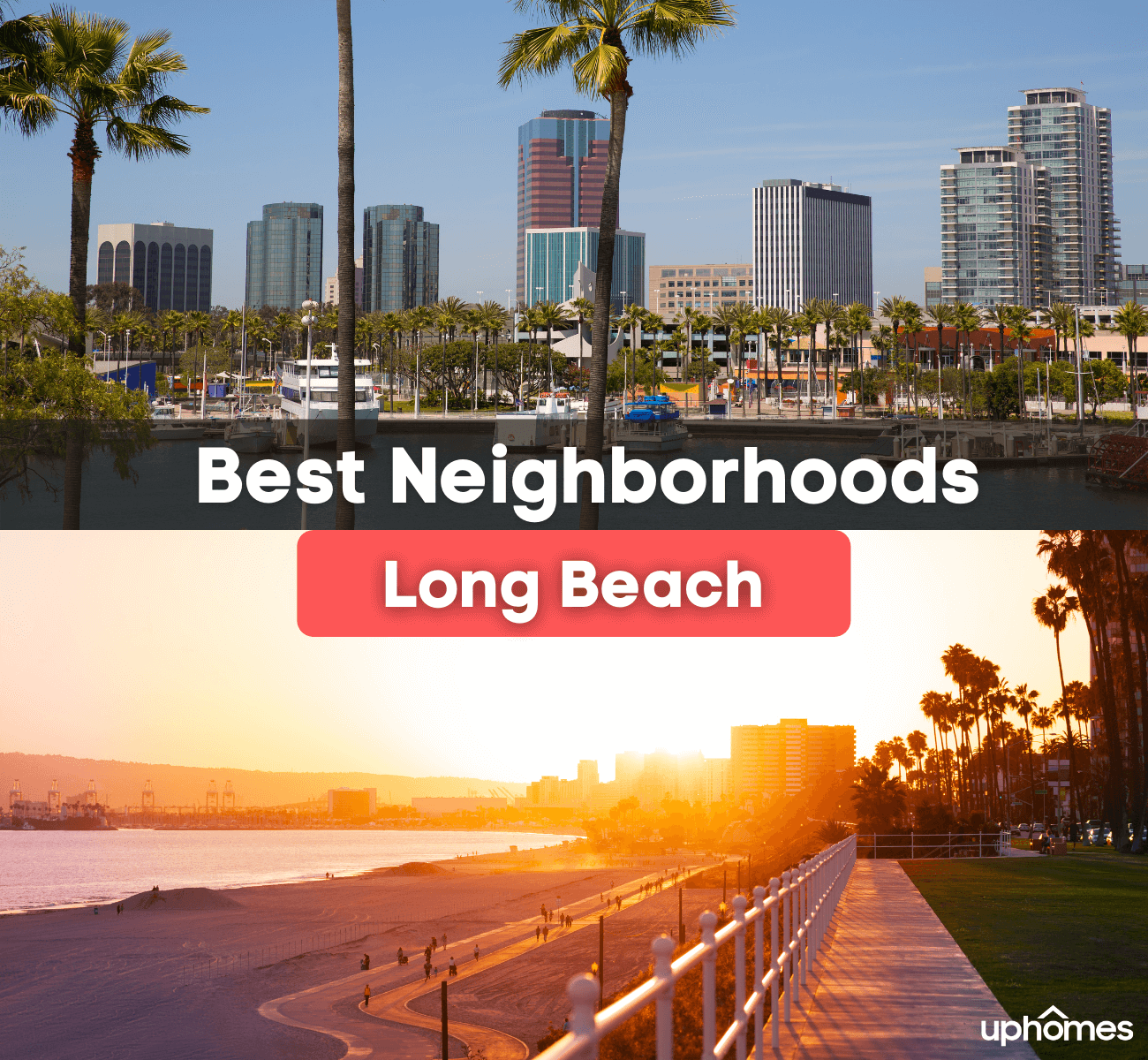 If you have always wanted to live in the sunshine near the water then you should jump at the chance to move to Long Beach. Full of many amazing neighborhoods that are both popular and safe, this neighborhood guide was created to help you find your new home in this friendly city. While making the big move to California may be stressful and overwhelming, our dedicated team has compiled this list of the best parts of Long Beach to live in to make your transition to this new city as smooth as possible. Read on to learn more about the 7 Best Neighborhoods in Long Beach, California!
1. Belmont Shores
Making its way up to becoming one of the best places to live in California, the city of Long Beach has multiple neighborhoods that make it stand out. The neighborhood of Belmont Shores is a prime example of this. Offering its residents a mixture of urban and suburban living, living in Belmont Shores means being surrounded by many parks, restaurants, bars, coffee shops, local boutiques, and thriving businesses.
Great for college students and young professionals, Belmont Shores is most well known for its beautiful sandy beaches, lagoons, canals, and boardwalks. Not to mention, a cool nightlife scene on East Second Street that is famous for its multiple drinking and dining establishments. Known to be one of the safest neighborhoods in Long Beach, real estate is some of the hottest on the market. With a variety of home styles to choose from, find a wide range of single-family homes, apartment complexes, and renovated condominiums. Since this is such a desirable place to live the median home price starts at around $800,000. In our opinion - Belmont Shores is one of the best places to live in Long Beach, CA!
Local Favorites: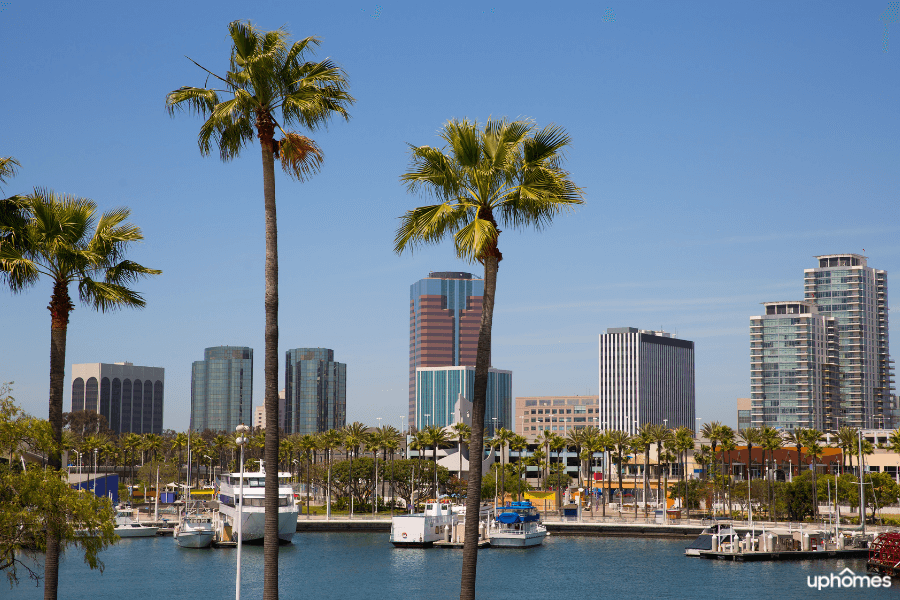 2. Naples
Located in Alamitos Bay, the neighborhood of Naples was built on three islands and is separated by a series of canals that lead into the bay. Named after the Italian city of Naples, the street names of this community are even Italian-inspired. If you love living by the water then this is definitely the place for you. Attracting many visitors to the area, both residents and travelers like to boat, kayak, and a gondola ride through the canals. Surrounded by walking paths and beautiful houses, Naples is the go-to spot for gorgeous sunset views. This is also a great neighborhood for water sports lovers. Many residents spend their free time waterskiing, jet skiing, windsurfing, and paddleboarding. 
Found in the center of the neighborhood lies the Naples Fountain which is a popular meet-up spot and local hang out. For those wanting a bustling nightlife and out-of-this-world dining experience, head over to Second Street which is close to the neighborhood of Belmont Shores. This charming street is where all of the action lies and is where many pubs, bars, cafes, coffee shops, boutiques, and specialty shops can be found.  
Local Favorites: 
3. The Waterfront
Much like the name suggests, the neighborhood of the Waterfront is found right by the seaside. Considered part of Downtown Long Beach, the Waterfront is the location of the marina and many pristine beaches. Home to several vintage shops and charming cafes, the Waterfront is renowned for the distinct character that sets it apart from all other Long Beach neighborhoods. In fact, the Waterfront has been nicknamed "the soul of Long Beach."
Considered the best place to take a morning stroll, many residents claim that the Waterfront is known to have some of the most breathtaking views of the ocean in the whole city. With plenty of activities in this part of town, spend the day biking, boating, shopping, or dining out at one of the many locally-owned restaurants. With plenty of green spaces, parks, and even a lighthouse, it is safe to say that the residents of the Waterfront prefer to stay active and love to explore. Featuring a boardwalk, multiple waterfront attractions, and annual festivals, there is a reason why this neighborhood is one of the most visited. Keep in mind that while this part of town may be beautiful, its safety rating is not the best. Always walk with a buddy and stay near well-lit areas just like in any other big city. 
Local Favorites: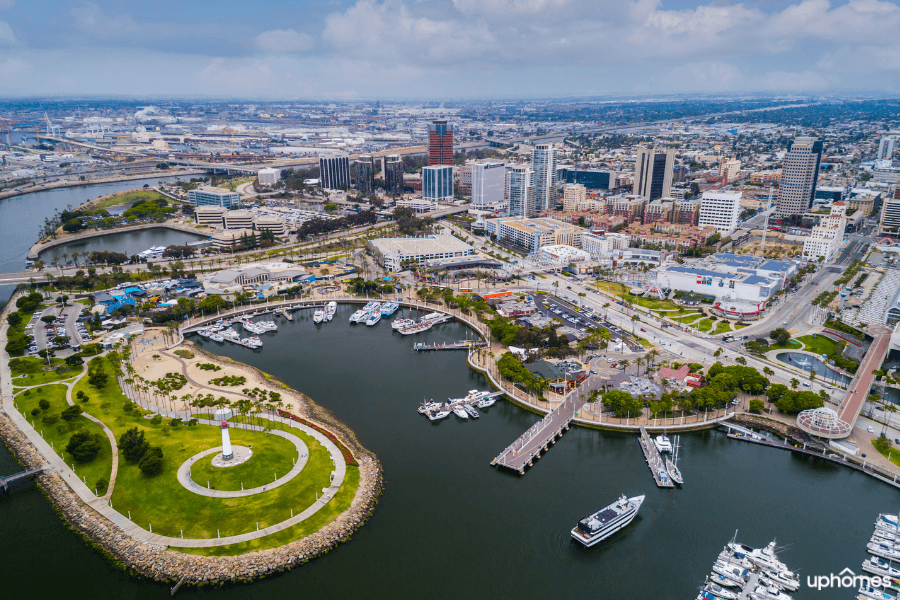 4. East Village Arts District
The East Village Arts District is the place to be for all things art and culture. Attracting artists and creative types, this neighborhood has turned into a hotspot and inspirational center for art lovers. Found southeast of Downtown Long Beach, this art district is recognized for its vibrant colorful murals, many art galleries, museums, and live music. Beloved for its eclectic coffee shops, trendy bars, and hip restaurants, there is always something to do and see in this creative residential community.
Not only does this neighborhood offer its residents a small-town feel in an urban setting, but the area is extremely walkable which makes it easy to get around without a car. Plus, with a low crime rate and highly rated public school system, it is no wonder why the neighborhood is such a sought-after place to live. Whether you are an artist yourself or simply want to be surrounded by talented individuals, the East Village Arts District is a quirky place to call home. 
Local Favorites:
5. Bixby Knolls
Considered as one of the most convenient places to live in Long Beach, the neighborhood of Bixby Knolls is found in the heart of the city and is centrally located to nearby amenities. Only a short commute to Downtown Long Beach, residents can take advantage of the city's public transportation or easily access one of the main highways. Rated as one of the safest places in the city, Bixby Knolls virtually has no crime making it a top place to raise a family. Attracting couples, young professionals, families, and retirees alike, Bixby Knolls appeals to any lifestyle. Continually holding the reputation of being the "upscale district of Long Beach," this residential community is pristine and well maintained. With tree-lined streets and beautiful large homes, it is easy to fall in love with this quiet and peaceful neighborhood. 
Local Favorites: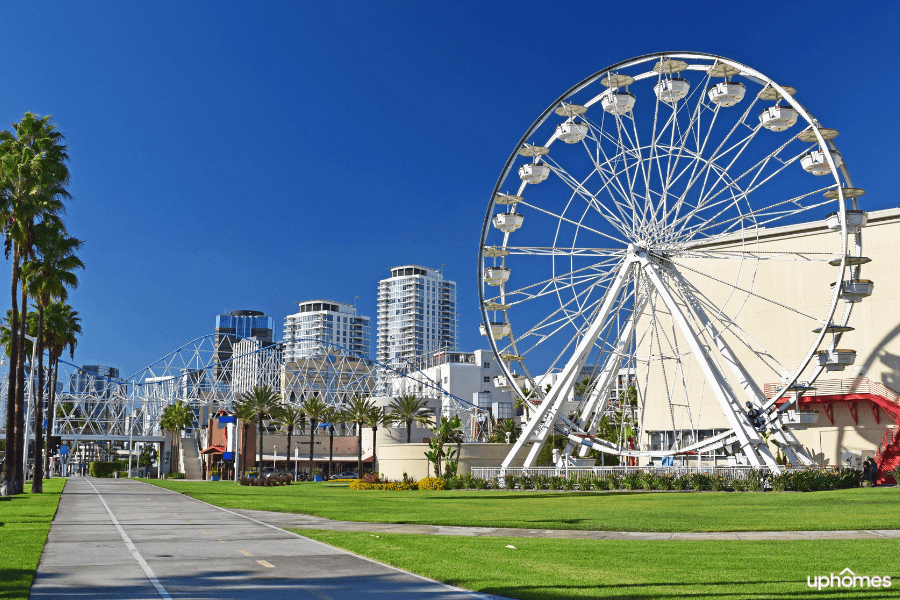 6. Lakewood Village
Found in the northeast part of the city, Lakewood Village is a small and modest community in Long Beach. Often referred to as just "The Village" by its residents, this neighborhood is safe and a good place to live. Located next to the Long Beach Airport, travel to and from neighboring cities and states with ease. With multiple drinking and dining options available on the popular Carson Street, Lakewood Village is an excellent choice for any homebuyer.
Local Favorites:
7. Alamitos Heights
Found on the southeast edge of the city, the neighborhood of Alamitos Heights borders the infamous Pacific Coast Highway. Considered an extremely safe neighborhood with a great school system, this community is highly regarded and was even ranked as the fourth-best neighborhood in Long Beach to raise a family. Also great for young professionals and retirees, Alamitos Heights offers its residents a mixture of urban and suburban living. With an abundance of bars, restaurants, coffee shops, parks, and green spaces, there is always something to do and see. Currently holding a population of just over 9,000 people, Alamitos Heights continues to grow over the years.
Local Favorites: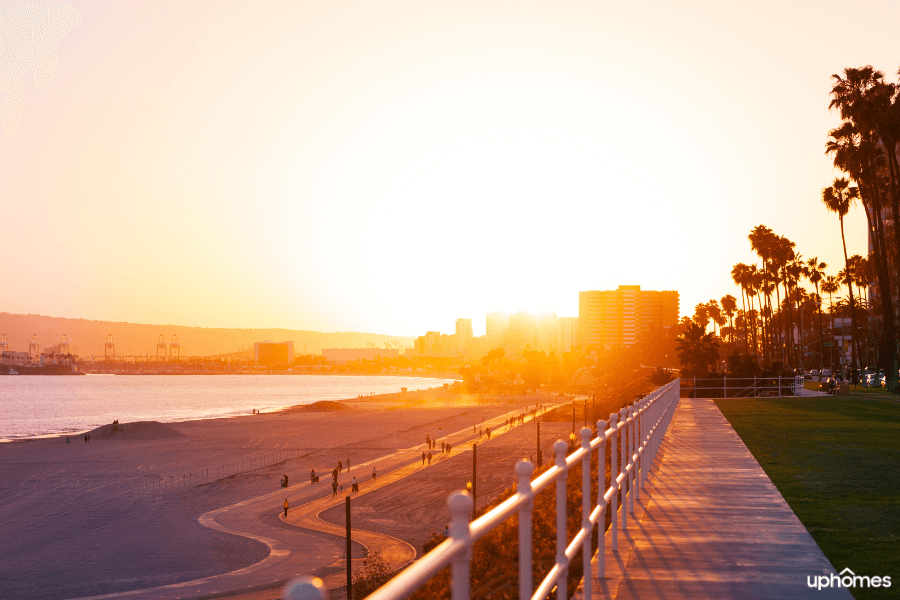 The Best Neighborhoods in Long Beach, CA - The Bottom Line
A great place to call home, Long Beach is renowned for its beautiful beaches that are perfect for swimming and relaxing on the sand. With many top-rated neighborhoods to choose from, Long Beach is ready to welcome you with open arms. Before buying a home in Long Beach, make sure to reach out to one of our knowledgeable and experienced Realty Specialists to assist you through the home buying process. Once you have decided on a budget and property type, our team is ready to help you. Contact us today to find your dream home in Long Beach, California!
#blog-moving-california-cta#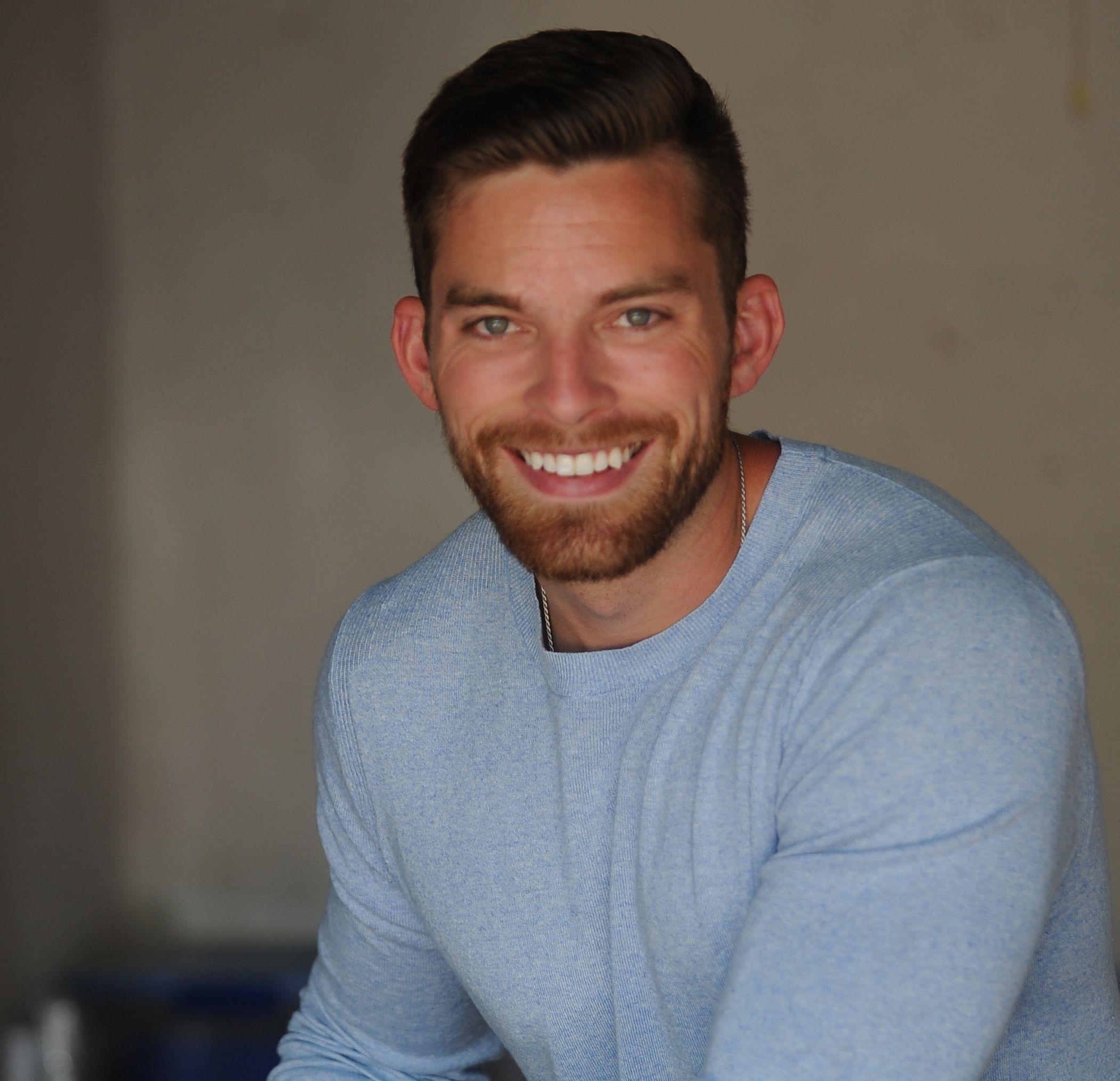 Ryan Fitzgerald
Hi there! My name is Ryan Fitzgerald, and I am a REALTOR®. My goal is to help you learn more about real estate through our Real Estate Blog! Hopefully, you enjoyed the above blog post and it found a way to provide help or value to you. When you're ready to buy or sell a home of your own let us know here. Please feel free to join the conversation by dropping us a comment below.