7 Best Things to Do in Key Biscayne, FL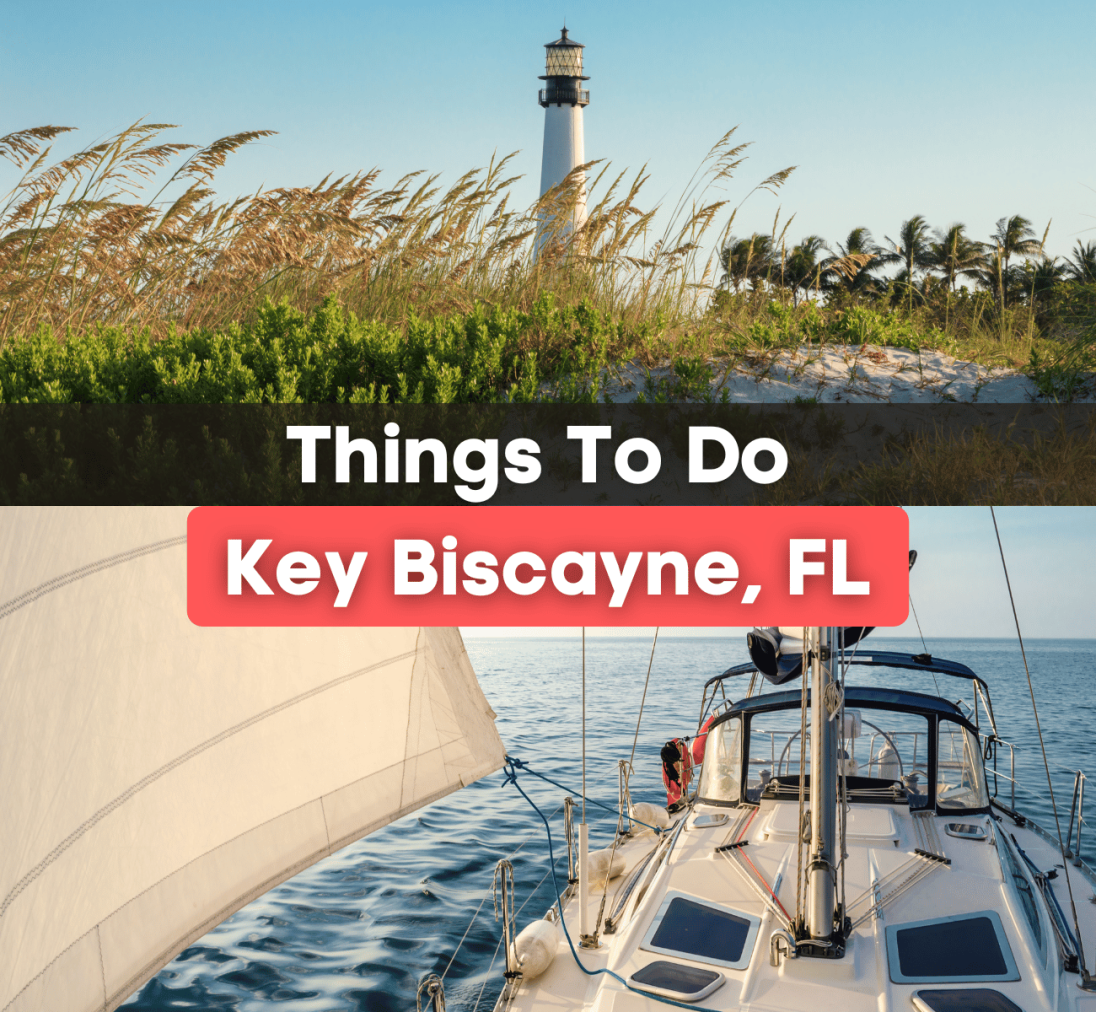 Top Things to Do in Key Biscayne 
Are you visiting or moving to Key Biscayne, FL, and looking for the best things to do? Check out these top seven things to do in Key Biscayne! 
Key Biscayne is a secret paradise located on a barrier Island across from Miami. Known for its luxurious homes, diverse and delicious dining options, crystal clear waters, and lush landscapes, this is a great place to live or visit. With a population of 14,487 residents but 709,000 visitors a year, there are tons of things to do, history to uncover, and jaw-dropping views to be seen.
Once a pineapple plantation, the tiny Island of Key Biscayne is located off the Miami coastline and is very different from its party city neighbors. You will find stunning parks with recreational fields and fountains, sparkling and non-overpopulated beaches, historic landmarks, and a little party area on the water!
If you are looking for the top things to do on your trip to Key Biscayne or are just moving to the area and looking for the best things to do and discover, you have certainly come to the right place. You can read below to find the top seven things to do in this tropical paradise!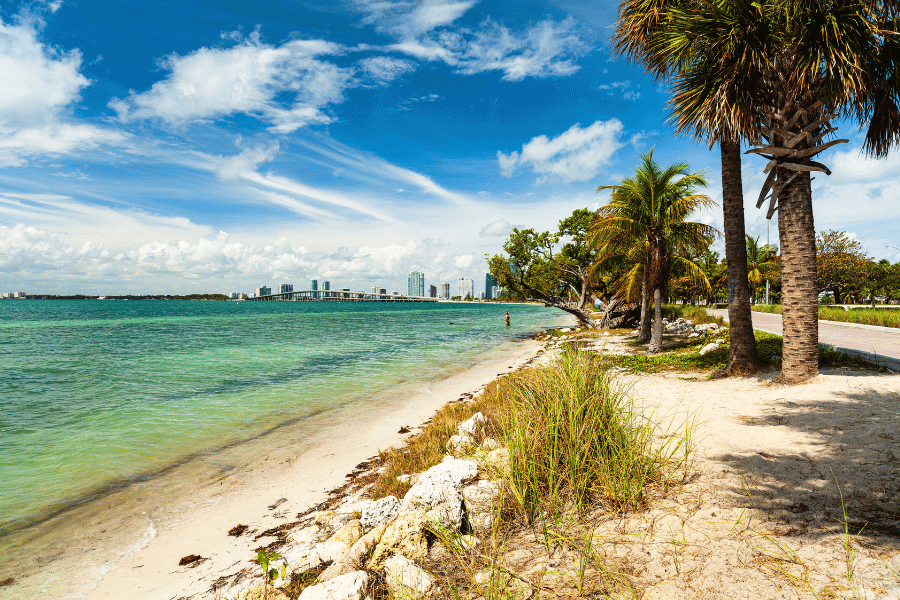 Check out these top things to do in Key Biscayne! 
Nixon Beach Sandbar 
Nixon Beach Sandbar is a natural sandbar located off the west coastline of Key Biscayne and is the top tourist attraction and favorite local hangout on the Island. This shallow sandbar is perfect for local boaters to dock boats, hang out with others, or enjoy water sports and activities. Feel free to rent your boat, find a friend with one, or join a tourist group and spend the day on the water. 
One of the most popular sandbars in Florida, Nixon Beach Sandbar attracts many people looking to have a great time partying or partaking in some water activities. From this spot, you can also view some of the most impressive homes inside Hurricane Harbor, making it a beautiful view. Enjoy scheduled parties with DJs and drinks, or even rent exciting water equipment such as jetskis, jet packs, fly boards, hoverboards, wake surf gear, yachts, and more. 
So, if you are looking for excitement and a fantastic way to spend the day, grab your sunscreen and head out to Nixon Beach Sandbar. 
Village Green Park
Are you looking for a relaxing way to spend your day or a beautiful landscape to enjoy while playing recreational games or getting some exercise? This lush grassy park in the middle of town is a local favorite to picnic, take a stroll and soak in some sun, or sweat it out during a pickup game or jog. 
A great family-friendly option, Village Green Park features a playground with slides, a rock wall, swings shaded by canopies, and an interactive fountain and community center with a pool for all ages to enjoy. This is also an excellent location for a picnic or lunchtime stroll with paved paths lined with palm trees and other greenery, a shaded pavilion, and a half-mile jogging path; this place is not only beautiful and relaxing, but it also showcases the Island's unique landscaping and a great way to get acquainted with the community. 
Spanning 9.5 acres in the middle of the community, there is a ton of space to enjoy one of the many soccer fields, whether it's a pickup game or a team. Prefer to be indoors sometimes instead? Enjoy the full-service gymnasium and pool with lap pools, dance studios, multipurpose rooms, an indoor playground, a toddler room, a basketball court, and more. With endless opportunities, you could spend all day or just a moment here. 
Bill Baggs Cape Florida State Park 
You will find Key Biscayne's crowning jewel just south of town, Bill Baggs State Park. This recreation area occupies the southern third of the Island and contains sweeping views of the water paired with lush foliage and the oldest standing structure in Greater Miami.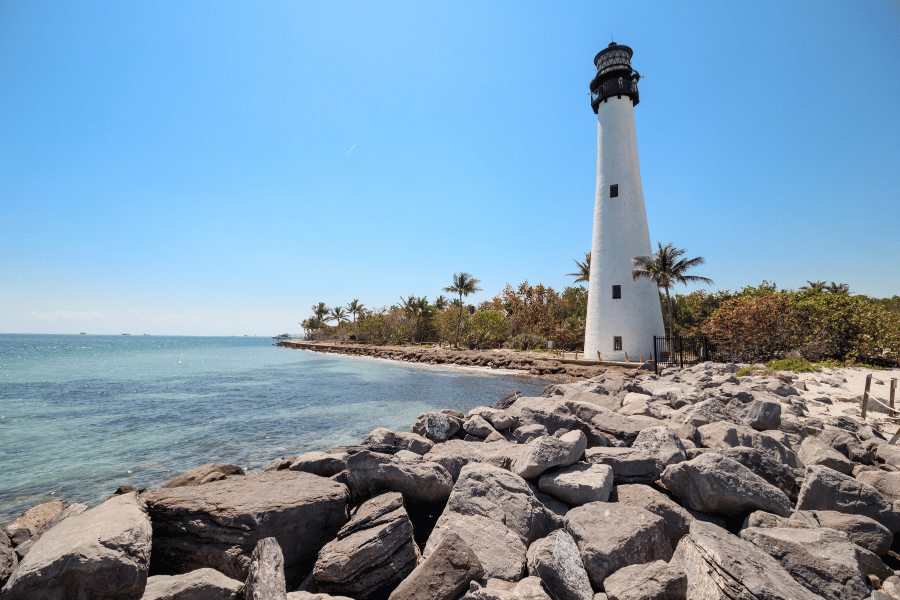 When people think of this Island, they think of images of beautiful beaches, delicious restaurants, and the Cape Florida Lighthouse. The oldest standing structure overlooking the ocean's blue waters is a top attraction of the Island and a piece of living history. This lighthouse serves as a time capsule of the Island's history; first built in 1825, the structure has survived many tropical storms and hurricanes, attacks by native Seminole Native Americans, and 200 years of erosion. Enjoy this cultural landmark from afar or enjoy the views from the top with free entry to the public. Or, if you want to learn the tower's history from an expert, enjoy a tour from 10 am-1 pm every day but Tuesday and Wednesday. 
Although the lighthouse is a grand attraction of this recreation area, there is much more to do and see to enjoy your day outside of town. If you want to exercise, rent a bike and enjoy the 1.5-mile paved bike path, diving below trees and offering bay views. Or, if you're going to enjoy the views on foot, enjoy the nature trails on the west side of the park. 
Want to take to the water for the day while enjoying the landscapes from the waves? Or try your luck at catching some oceanwater fish off of the fishing pier? Bring your equipment or try many of the rentals available for paddleboarding, camping boats, fishing, wildlife viewing, and more. Residents and visitors can also enjoy picnicking, laying out, or swimming at Atlantic Beach. 
Whether you want to immerse yourself in history, spend some time on the water, or be surrounded by tropical wildlife, this is the spot to be. 
Ritz-Carlton Key Biscayne 
The Ritz-Carlton Key Biscayne is a world-known 5-star hotel known to have the gold standard of hospitality, and the location in Key Biscayne lives up to its expectations. Located on the east side of town and not far from downtown, the beach, and just a short drive to Miami, this is a stay to remember with lots of accommodations for both the people that stay there and the public!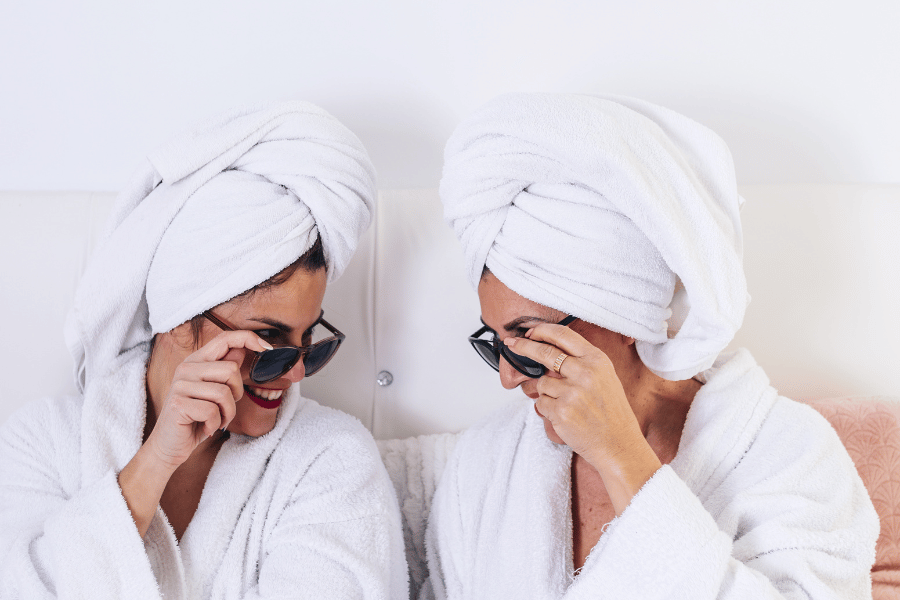 Even if you are not staying at the hotel, it offers a lot, including four restaurants, a poolside ice cream parlor, private cabanas, adult-only pools, a fitness center, and a luxury spa. With many amenities surrounded by artful architecture and breathtaking views, this hotel serves as a mini oasis on a tropical Island. 
Although only some things are open to the public, the restaurants and spas are! Rated as the top restaurant in Key Biscayne, the hotel has dishes for every palate, from up-scale dining with elegant plated seafood and steak to a more relaxed beach party vibe with Mexican words on the beach. Great for a nice date night on the water or a family dinner celebration, with four options, it is a great place to look for the best food. 
Are you looking for a more relaxed afternoon? The hotel spa will make you feel like you are in a dream and like a brand new person when you leave. Offering a diverse list of services such as massages, facials, body scrubs, scalp treatment, hair and nail appointments, hot stone treatment, and more, you can find something to treat every part of your body to help you feel rejuvenated. 
Key Biscayne Yacht Club 
Would you like to enjoy the ocean waves from a different view? The Key Biscayne Yacht Club has served the community for over 60 years, offering waterfront parties, fishing tournaments, swimming and sailing options, youth activities, and, best yet, a warm and inviting community of individuals.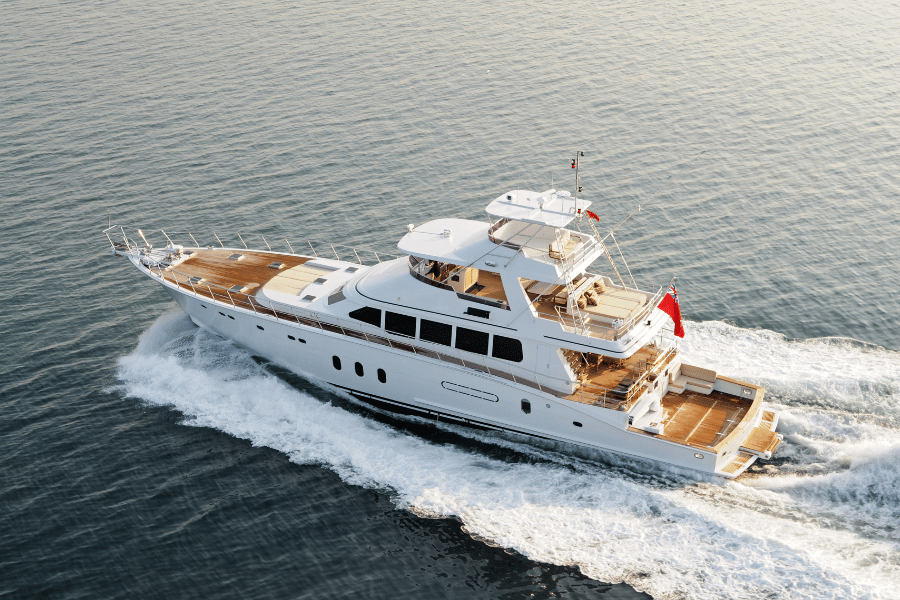 Not a member? No problem! To visit as a guest, you must be accompanied by a member. So, if you are visiting a friend or looking to move here, you are free to join the community and the fun! The club offers more than just a beautiful marina and clubhouse; its main characteristic is its sailing. Never sailed before? You are at the right location; the club has three renowned instructors to show you the ropes. You can learn how to sail, join a welcoming and fun community of sailors, and possibly even invest in your own boat!
Are you staying awhile? Once you feel confident in your sailing abilities and invest in a boat of your own, you can also sign up for the Island Race, hosted by the club, an exciting event for the community each year. A yacht club is an excellent place for new homeowners and residents in the area to form new connections and feel a part of the community while picking up new hobbies and getaways! 
Crandon Beach 
If you are moving to Key Biscayne to take advantage of its beautiful beaches, then you are in luck. The best part of any tropical Island must be the beaches, and you will find the best ones in the Island's northern region. Technically outside the town limits, Crandon Beach is still considered the neighborhood beach with white sand and calm waters. People from all over come to enjoy swimming in the clear blue water and host BBQ's on the grills, kiteboard, and kayak. An excellent area to relax and escape with the sounds of seagulls, palm trees, and plenty of space, unlike many Florida beaches.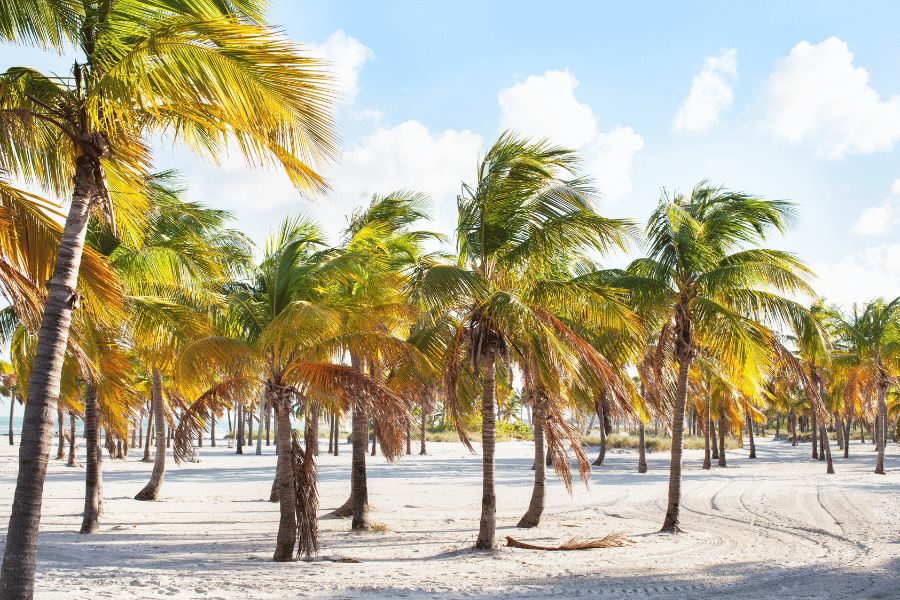 Already in the North part of the Island for the beach? Stay awhile and enjoy the other attractions in this area, including the Butterfly Jungle at Crandon park, the volleyball courts at Cabanas Beach, the Crandon Park Cabanas, and much more to explore in this natural preservation. Known to be a very wild area with tons of nature surrounding you, it is an excellent place for the entire family to explore the Island and enjoy some time outdoors. Just a short drive from downtown, park at the Crandon Parking Lot #4, and everything you could want to spend the day is close by. 
Crandon Golf at Key Biscayne
Every golfer's dream is to be on beautiful greens overlooking the water with salty warm air surrounding them. Well, you can find just that at Crandon Golf at Key Biscayne. Located on the very northwest part of the Island, close to the highway bringing you to Miami and just 10min away from downtown, locals, and visitors enjoy this challenging course together. 
This public championship 18-hole course is popular with golf enthusiasts and those looking to have a good time out on the greens. Considered one of the most stunning and challenging par-72 courses in Florida, this is a prevalent location to visit and enjoy. Surrounded by water and palm trees, it's a great place to escape for the day and test your skills. Due to the popularity, please reserve your tee times early to ensure you have a spot! 
Top Things to Do in Key Biscayne, FL - Final Thoughts 
Considered to be one of the best places to live in Florida, Key Biscayne is a great place to live or visit. Known as a tropical paradise with gorgeous beaches, stunning homes, delicious restaurants, historical landmarks, and beautiful hotels, this is an excellent escape from the craze of the city, or you can enjoy a tropical vacation.
If you want to escape to a tropical oasis and enjoy lush green parks, swim or boat on crystal clear water, explore the town's history through its standing historical monuments, golf with ocean views, or relax at the spa, this is the place to be. Want to make this wonderful area your permanent oasis? Read more about what it is like to move to Key Biscayne or Miami and enjoy these fun things and everything else the town has to offer daily!  
If you or anyone you know is moving to Key Biscayne, FL, contact us here to connect you with one of our Realty Specialists and help you find the perfect paradise to call home. 
Check out our other best things to do guides: Top 12 Things To Do in Melbourne, FL, Moving to Melbourne, FL

Find your new home
Search real estate and homes for sale