7 Things to Know BEFORE Moving to Clearwater, FL
Living in Clearwater
Are you moving to Clearwater, FL? Make sure you know these seven things about living in Clearwater!
Famous for its sugar white sand and clear blue water on the Gulf Coast, Clearwater is a beautiful city in Florida's Tampa Bay area. Experiencing frequent sunny weather, this sought-after waterfront city has been named one of the best places to live in Florida and is considered a great family-friendly beach destination.
Located 27 miles from Tampa and 23 miles from St. Petersburg, Clearwater is part of Pinellas County. With a walkable downtown, numerous waterfront parks, tons of delicious restaurants, and no shortage of outdoor activities, Clearwater is worth visiting and moving to. From swimming and boating to fishing and kayaking, the three-mile barrier Island of Clearwater Beach is a sunseeker paradise.
While moving to Clearwater can be exciting, ensuring you know what living here is like is essential. That is why with the help of this moving guide, our team hopes that your move to Clearwater is easy and stress-free. Keep reading to learn about the seven things you should know before moving to Clearwater!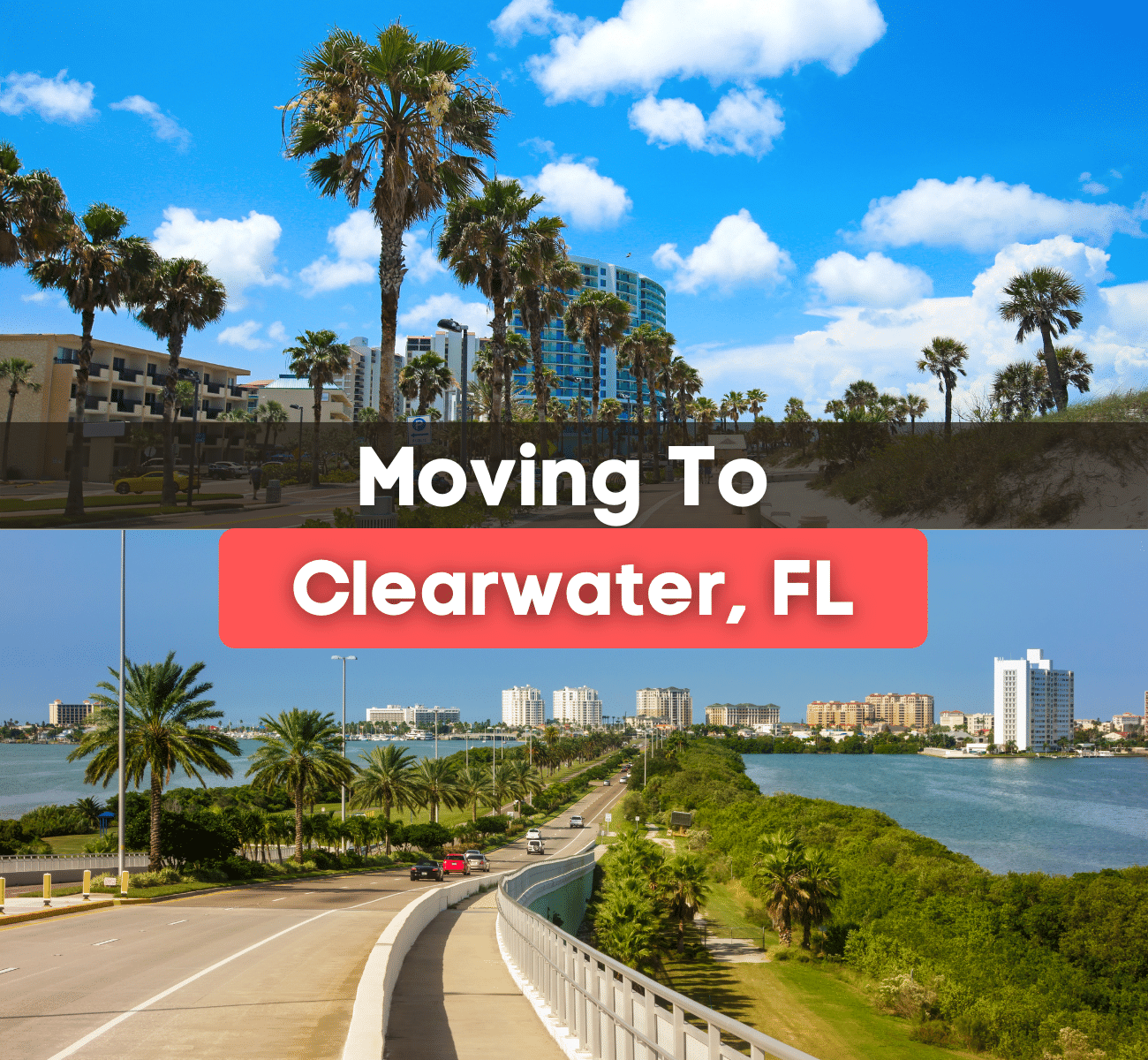 Here are the seven things to know about life in Clearwater, FL!
Cost of Living
The cost of living in Clearwater is 2% lower than the national average. Considered to be one of the most affordable cities in Florida, housing expenses are 10% lower than the national average, and utility prices are 0% lower than the national average. Meanwhile, transportation expenses are 1% higher than the national average, while grocery prices are 7% higher than the national average. With area prices up by 1.1% compared to last year, the most significant increases can be found in food and housing.
With an average household income of $50,355, it is estimated that an individual spends approximately $2,291 per month, including rent, and a family of four spends roughly $5,033 per month, including rent. An excellent annual salary in Clearwater is $42,000, and an hourly wage of $20.19. For those visiting Clearwater for vacation, individuals should plan to spend up to $241 per day. The average hotel price in Clearwater is $208 a night.
| | |
| --- | --- |
| Cost of Living Item | Average Price |
| Median Home Price | $356,723 |
| Median Rent | $1,090 |
| Loaf of Bread | $3.72 |
| Gallon of Milk | $2.38 |
| Doctors Visit | $112.37 |
| Veterinary Visit | $53.73 |
Data sourced from Payscale.
Weather
Known for having a warm and temperate climate, the summers in Clearwater are long, hot, and humid, while winters are short, cool, and windy. Experiencing wet and rainy weather year-round, Clearwater receives about 51 inches of rain, 13 inches more than the national rainfall average.
With an average of 240 sunny days per year, temperatures throughout the year in Clearwater typically vary between 55 degrees Fahrenheit to 90 degrees Fahrenheit. It rarely drops below 44 degrees Fahrenheit or rises above 93 degrees Fahrenheit. The warmest month is July, with an average summer high of 90 degrees, and the coldest month is January, with an average winter low of 52 degrees. The months of March, April, and November are considered the most pleasant due to temperature and weather conditions.
Attracting many snowbirds to the area, Clearwater receives zero inches of snow per year, below the United States average of 28 inches of snow per year. For those moving from a cold climate, winter jackets, snow boots, and other winter gear are not needed to live here.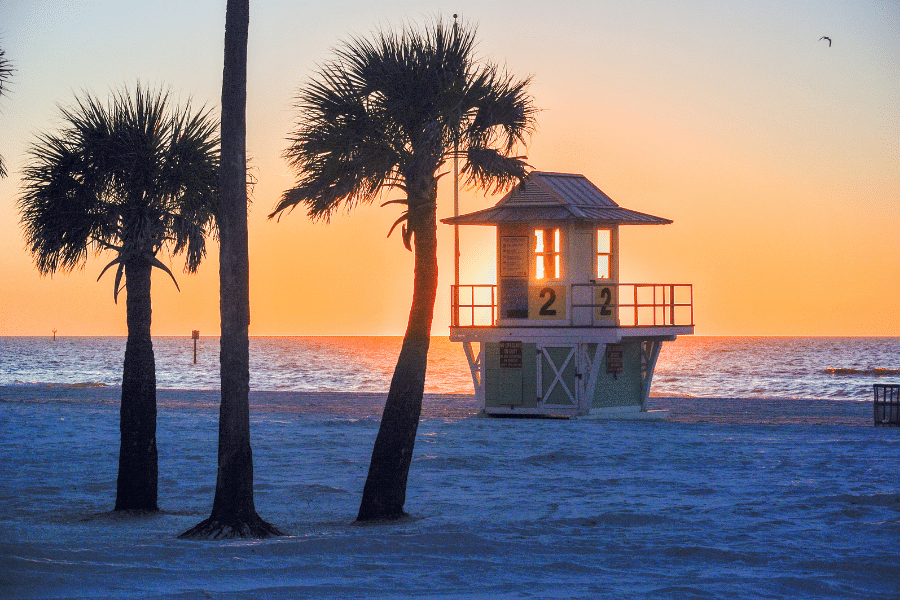 Education
As part of the Pinellas County School District, the seventh-largest school district in Florida, Clearwater has plenty of options for education. Considered to have one of the highest concentrations of top-ranked public schools in Florida, there are a total of 31 public schools in Clearwater that serve a total of 16,105 students and a total of 24 private schools that serve 5,454 students. Some of the best schools in Clearwater are Plato Academy Charter School, Leila Davis Elementary School, Clearwater Fundamental Middle School, Countryside High School, and Clearwater High School.
For those searching for higher education opportunities, residents can commute to plenty of highly-rated colleges and universities nearby. The University of Tampa, for example, is located 23 miles away and within a 34-minute drive. This private, residential university is known for its academic excellence and offers more than 200 programs, including 22 master's degrees.
Check out these top colleges and universities near Clearwater, FL:
| | | |
| --- | --- | --- |
| Name | Location | Price |
| The University of Tampa | Tampa, FL | $32,000 a year |
| St. Petersburg/Gibbs Campus | St. Petersburg, FL | $2,668 a year |
| Eckerd College | St. Petersburg, FL | $37,000 a year |
| University of South Florida | Tampa, FL | $8,346 a year |
| Florida College | Temple Terrace, FL | $21,000 a year |
| Ultimate Medical Academy | Clearwater, FL | $18,000 a year |
Employment Opportunities
Clearwater has a strong economy that employs over 53,000 people. Clearwater's most significant economic industries are health care and social assistance, retail trade, and food service. The highest-paid sectors include utilities, management, and professional, scientific, and technical services. With a job market increase of 2.3% over the last year, the economy in Clearwater is growing and changing. Future job growth is predicted to increase 41.1% over the next ten years, higher than the United States average of 33.5%.
If you are moving to Clearwater for a job, you will not be looking for long. Whether you are looking to advance your career or explore new career options, plenty of employment opportunities are available, whether you are searching for a part-time or full-time position. Some of the best companies to work for in Clearwater include BayCare Health System, Lincare Holdings, Tech Data Corporation, The Moorings, Vela, Cash Management Solutions, and Apg Electric.
Beaches
Clearwater Beach is constantly ranked one of the best beaches in America for its dazzling emerald waters and sugary white sands. Recognized as a centerpiece in the city, this laid-back beach is a go-to for sunbathers, kayakers, paddleboarders, jet skiers, parasailers, boaters, and fishermen. Beloved for its gorgeous sunsets and home to Pier 60, Clearwater Beach is located just steps away from some of the best hotels and restaurants in the area.
With lifeguards on duty 365 days a year, this family-friendly beach is a must-visit if you are moving to Clearwater or just visiting. Offering the perfect Island getaway, there are plenty of opportunities to enjoy fun in the sun in Clearwater. Even though the beaches in Clearwater are open all year long, the best time to visit is between October and December for its low humidity and lack of tourists.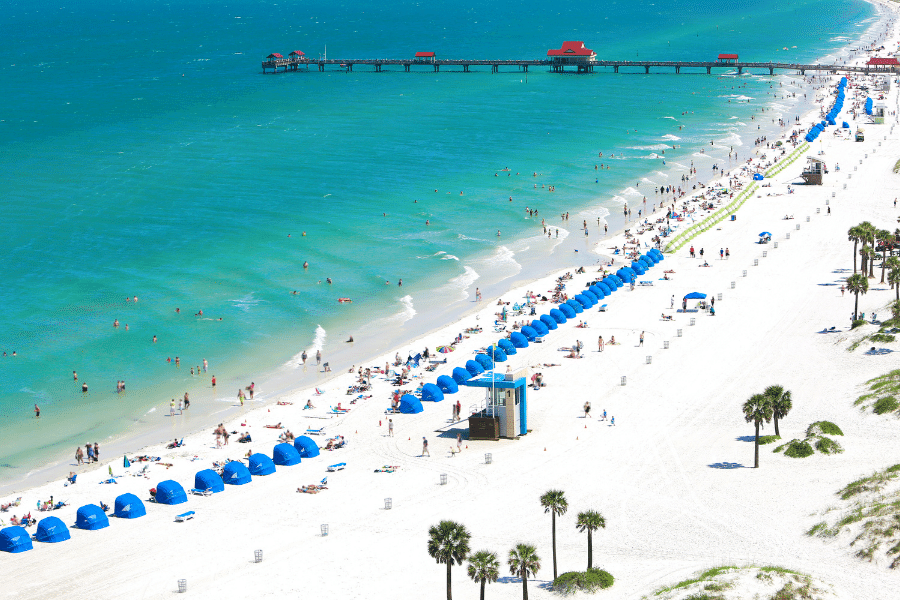 Visit these top-rated local favorite beaches in Clearwater, FL:
Things to Do
While Clearwater might best be known for its beaches, plenty of other activities available do not require spending time in the sun near the ocean. Offering plenty of family-friendly activities, there are many ways to make fond memories with your loved ones that are worth paying for. Known as an active community, there are multiple parks to explore, retail stores to shop at, and local sports teams to watch. Providing accessible and affordable options, Clearwater has no shortage of fun and unique things that all ages will enjoy.
Check out these popular things to do in Clearwater, FL: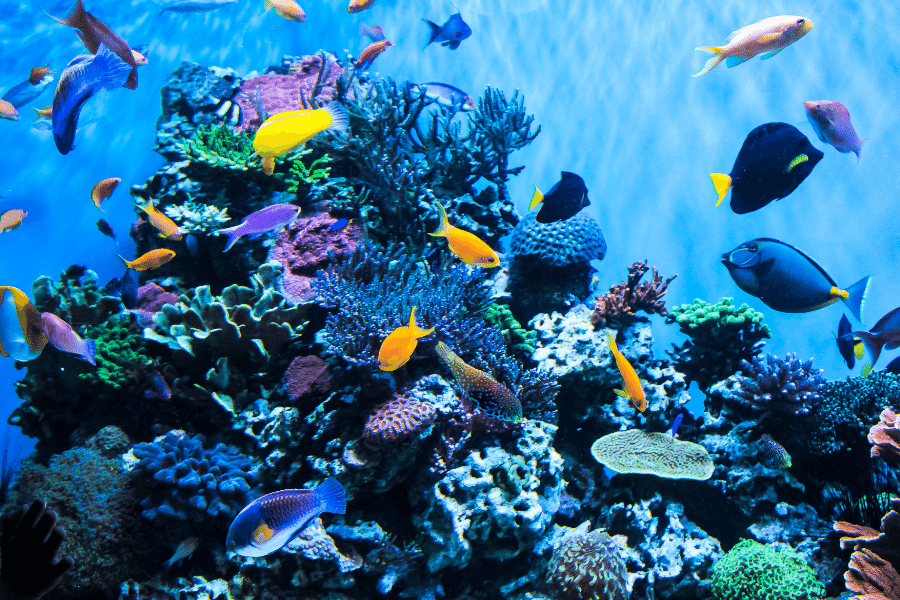 Restaurants
Best known for its delicious seafood and unique American southern cuisines, Clearwater is home to some of the most iconic restaurants on the coast of the central Florida Gulf of Mexico. Serving freshly caught seafood, fresh local produce, and cold beverages with live entertainment and unmatched waterfront views, dining out in Clearwater is an experience unlike any other. No matter what food you may be craving, there is always a new creative dish and a top-rated restaurant in Clearwater.
Dine at these highly-rated favorite local restaurants in Clearwater, FL: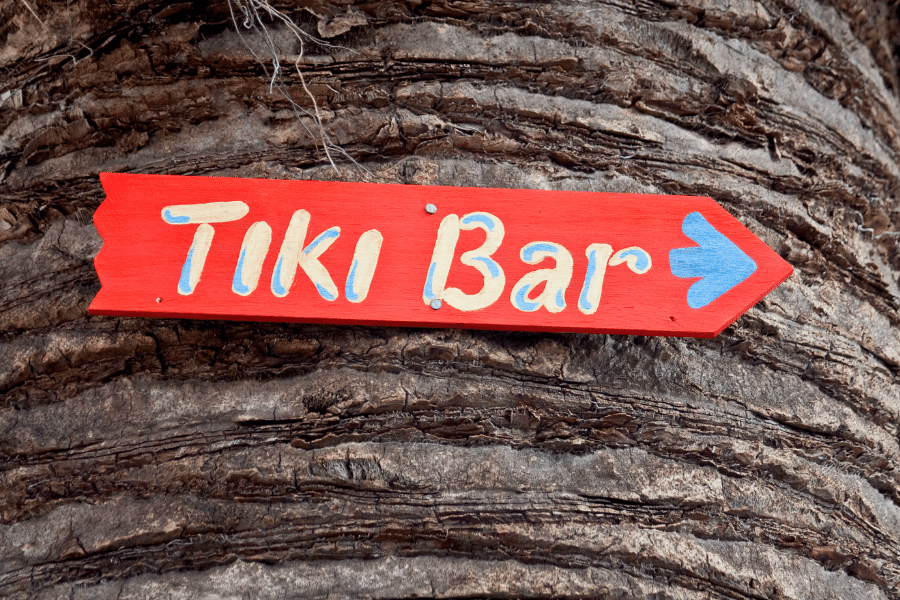 Pros and Cons of living in Clearwater, FL
Pros:
Affordable cost of living
Delicious food scene
Warm weather
Beautiful sunsets
Excellent beaches
Popular nightlife
Proximity to other cities
Good education
Abundance of outdoor activities
Cons:
Possible pest invasions
Prone to severe weather and hurricanes
Heavy traffic
Lack of public transportation
Moving to Clearwater, FL - Final Thoughts
Whether you are looking for a great place to retire or want to live near the beach and its turquoise-blue waters, Clearwater is a lovely area full of class and beauty. With an affordable cost of living and a high safety rating, it is no wonder many people want to call Clearwater, Florida, home.
If you or anyone you know is moving to Florida and is interested in making Clearwater, FL, home, make sure to contact us here so that we can connect you with one of our Realty Specialists and help you find your dream home in Clearwater.
Make sure to refer to our other local area guides for more information, including moving to Tampa, the best neighborhoods in Tampa, moving to St. Petersburg, and the best neighborhoods in St. Petersburg.

Find your new home
Search real estate and homes for sale