7 Best Neighborhoods in Clearwater, FL
Best Places to Live in Clearwater
Here are seven of the best places to live in Clearwater, FL, with local information on the top places to live!
While Clearwater, FL, might be best known for its white sandy beaches and clear blue waters, this famous Florida beach city is also home to some of the most sought-after neighborhoods and communities on the west coast of Florida. With an overall cost of living cheaper than living in Tampa, many young professionals, families, and retirees are moving here for its beautiful sunsets and numerous beach activities.
Located 30 minutes from Tampa, two hours from Orlando, and one hour and 20 minutes from Sarasota, Clearwater is considered one of the area's most popular beaches. Offering sunny weather, highly-rated restaurants, and plenty of things to do, this city in the Tampa Bay Area has a lot to offer its residents.
So if you are moving to Clearwater and want to know where you should live, then you are certainly in the right place. Whether you are searching for single-family homes for sale in Clearwater, luxury homes for sale in Clearwater, townhomes for sale in Clearwater, or condos for sale in Clearwater, there is a place for you to call home in Clearwater.
Keep reading to learn about the seven best neighborhoods in Clearwater, FL!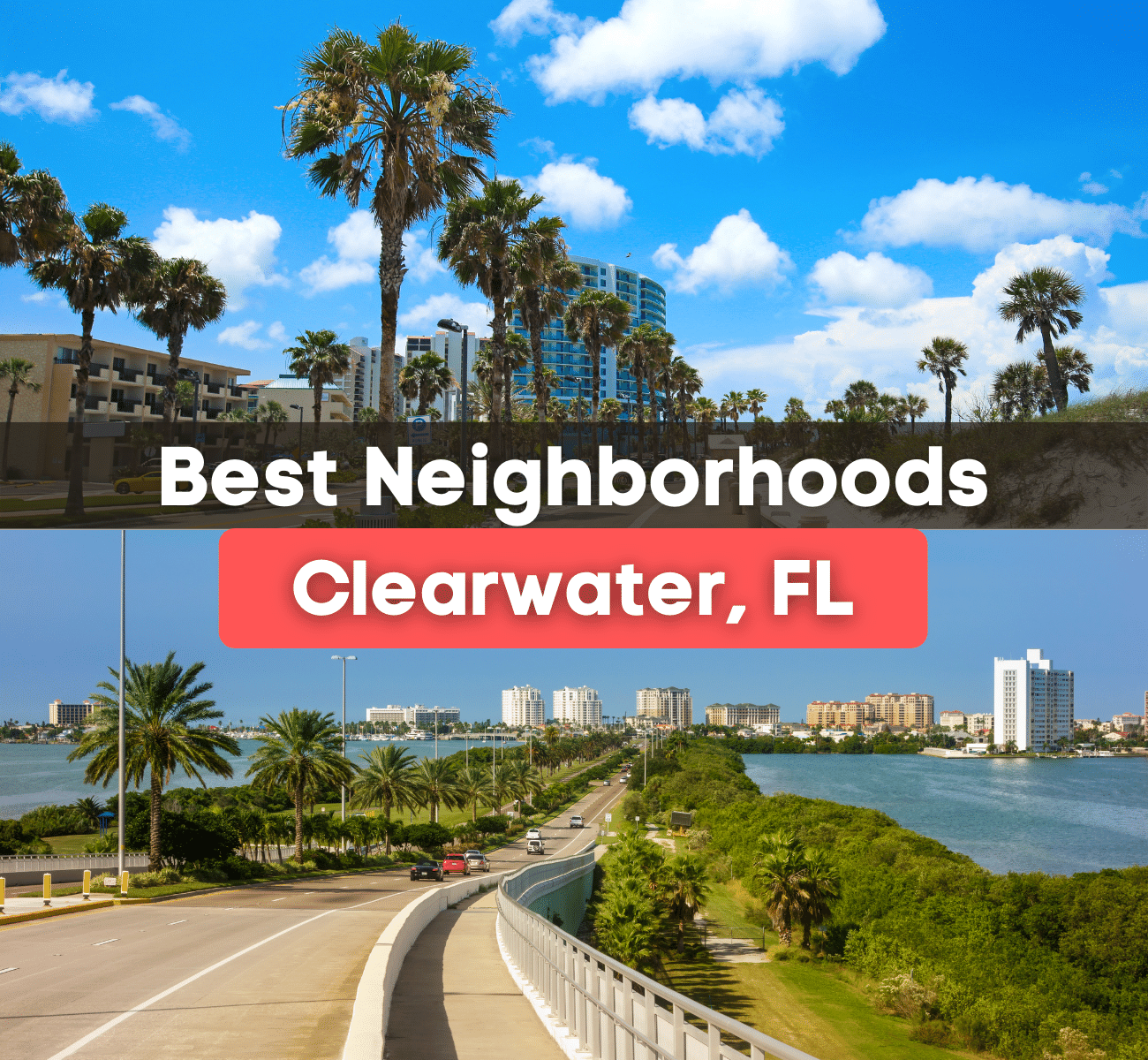 Here are the best places to live in Clearwater, FL!
Sand Key
If you are moving to Florida and want to call Clearwater home, you need to check out the neighborhood of Sand Key. This quiet barrier Island is a popular spot for beachgoers and kayakers. Most famous for its namesake park, Sand Key stretches from Maderia Beach to Clearwater Beach and is one of the area's most popular attractions. Featuring tons of seashells, top-rated seafood restaurants, laid-back grills, picturesque views of the bay, and sought-after family-friendly amenities, it is no wonder that so many people want to move here.
Sand Key is a spectacular place in Clearwater known to be a nesting site for endangered sea turtles and home to herons and anhinga. With plenty of high-rise condos, two large full-service resorts, and hotels, many people visit the area for its clear open water, sandy beach, and nature trails. While dogs are not allowed on the beach, there is a designated dog park and a few other facilities that your furry friends can explore. Offering seasonal lifeguards and beach cabanas, and umbrellas that are available to rent, living in Sand Key is an Island experience unlike any other on the Florida Gulf Coast.
Local Favorites: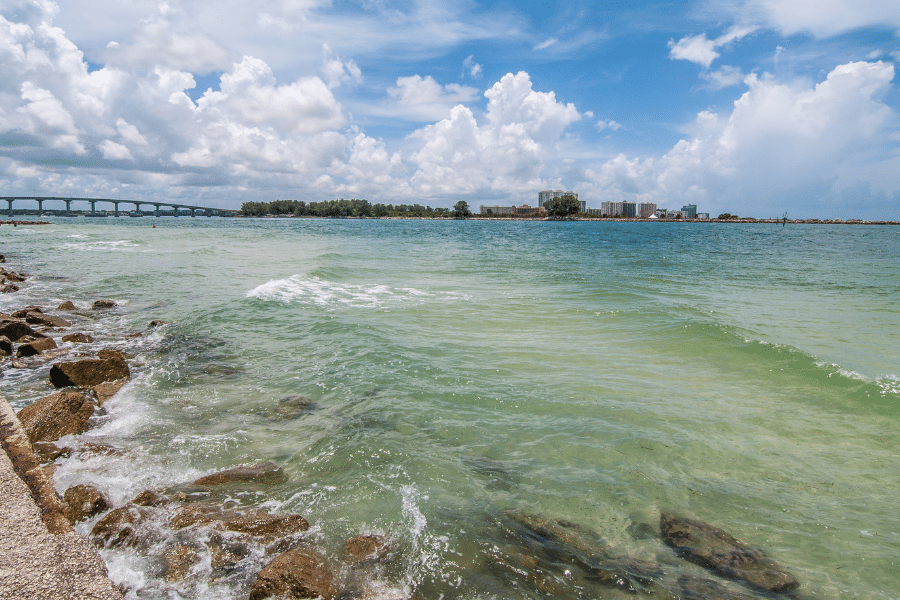 Island Estates
The neighborhood of Island Estates is a quiet and relaxed place to live in Clearwater Bay. Located just a mile east of Clearwater Beach, Island Estates has a variety of single-family homes and condos to choose from that are popular among boaters and residents that want to live near the beach. Most condos are found on the Island's western side, and single-family homes are on the eastern side.
Offering homes with picturesque waterfront views and options for keeping a boat in your backyard, there are plenty of ways to access the Gulf of Mexico and the Intracoastal Waterway without leaving home. Providing a wide range of home styles at different price points, most homes have pools and have undergone extensive remodeling and renovations in recent years.
Local Favorites:
Imperial Cove
Imperial Cove is a gated 55+ retirement community full of beautifully built condominiums and villas. This quiet community is located near Tampa Bay and offers homes that have stunning waterfront views. Providing multiple floor plans with one or two bedrooms and one or two bathrooms, most homes are affordable and range between 950 to 1,400 square feet. Also providing split floorplans and private lanais, this popular community is perfect for snowbirds since Imperial Cove allows residents to lease a condo or villa for a minimum of three months.
Located off of US 19, most homes were built in the 1970s and remodeled with new appliances, granite countertops, and tile flooring. An ideal place for retirees who live an active lifestyle, this sought-after community offers many activities, including yoga, fitness classes, a putting green, water aerobics, a fishing pier, and shuffleboard—even a 1.5-mile lighted walkway winds around the complex near the waterfront.
Local Favorites: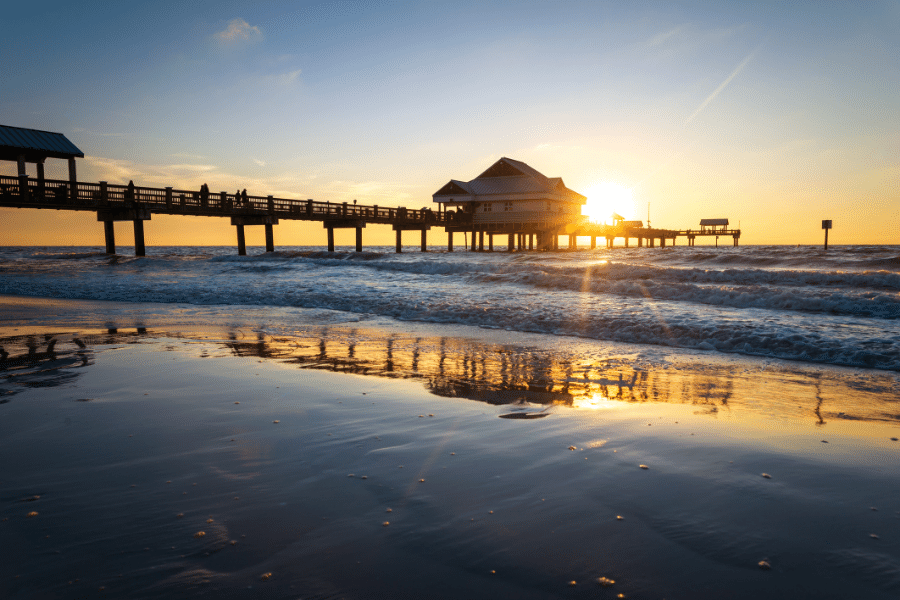 Clearwater Point
Clearwater Point is a community of waterfront high and mid-rise condos on the southern tip of Clearwater Beach across from the Sand Key Sanctuary. With over 400 units in the community, plenty of choices are available that vary in price, layout, and view. This is a perfect place to call home for retirees and snowbirds and offers moderately priced two-bedroom and two-bathroom condos.
Featuring four nine-story towers surrounded by multiple three-story buildings, some of which are 55+ and over, Clearwater Point is a luxurious community in Clearwater built in 1974. Home to a semi-private beach, residents will have access to beautiful views of Clearwater Harbor and can watch boats and ships go by as they pass through Clearwater Pass on their way to the Gulf of Mexico. The building also features a heated outdoor pool and a tennis court.
Local Favorites: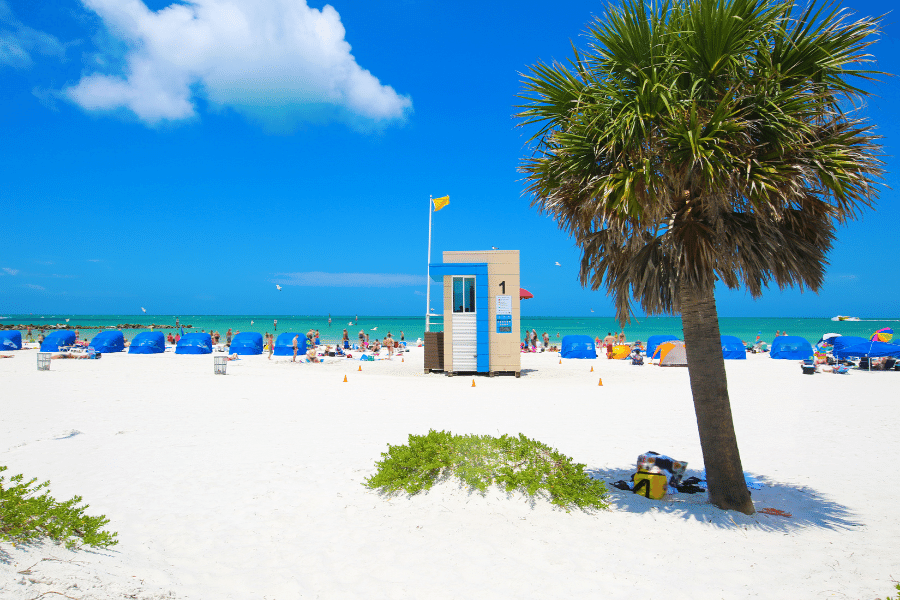 Misty Springs
Misty Springs is a densely populated condominium in the Countryside area of Clearwater. Located west of Highway 19, Misty Springs offers easy access to other nearby Florida cities, including Tampa and St. Petersburg. Offering two- and three-bedroom condos that range between 1,100 to 1,400 square feet, residents can choose units with open floor plans, fireplaces, and sunrooms. While no pets are allowed in the community, monthly fees collected include water, cable, pest control, lawn care, and roof maintenance.
Found close to highly-rated schools, many delicious restaurants, shopping malls, movie theatres, and coffee shops, there is no shortage of things to do when living in Misty Springs. Offering fantastic views of the waterfront, there is a community dock, neighborhood pond, and large swimming pool located in the neighborhood that residents can use and enjoy.
Local Favorites:
Viewpoint on the Bay
Viewpoint on the Bay is the place to be in Clearwater if you want fantastic views of Clearwater Harbor. This beautiful bayfront condo tower is located on the eastern bank of the Intercoastal waterway that offers spectacular views of the Gulf of Mexico and the Clearwater Barrier Islands. Known to have a strong, tight-knit community, Viewpoint on the Bay was built in 1981 and has seven floors. Providing multiple amenities, including an outdoor pool near the waterfront, underground parking, a pool table, a kitchenette, and a storage room, there are many reasons why so many people want to live here.
Offering multiple beautiful condo styles that vary in size and price, most units available range between 1,500 to 2,200 square feet and have a median home price between $350,000 to $499,000. Viewpoint on the Bay is a great place to live for retirees near Downtown Clearwater and the Morton Plant Hospital. This community-based healthcare center provides service in more than fifty specialty areas. In our opinion - Viewpoint on the Bay is one of the best places to live in Clearwater.
Local Favorites:
Sand Key Club
Sand Key Club is a sought-after beachfront high-rise community that overlooks the Gulf of Mexico. Located 2.5 miles south of the heart of Clearwater Beach, this 14-story building has 104 condos and offers one, two, and three-bedroom floor plans. Built in 1974, the condos on the western side offer stunning views of Sand Key Beach and the Gulf of Mexico, while the condos on the eastern side have views of Clearwater Harbor and the Intracoastal Waterway.
Located close to public tennis courts, award-winning restaurants, and local retail shops, Sand Key Club provides something of everything for everyone. For those who love to travel, this community is also located within 45 minutes of the St. Petersburg Clearwater International Airport and the Tampa International Airport.
Best known for its many unique features and desirable amenities, Sand Key Club provides covered parking for owners, a raised deck plaza with a heated pool and jacuzzi, a sauna, fitness center, community grill, shuffleboard, club room, and storage for bikes, kayaks, and paddleboards. There is also a private beach in the community on the Gulf of Mexico with outdoor showers that residents can take advantage of.
Local Favorites: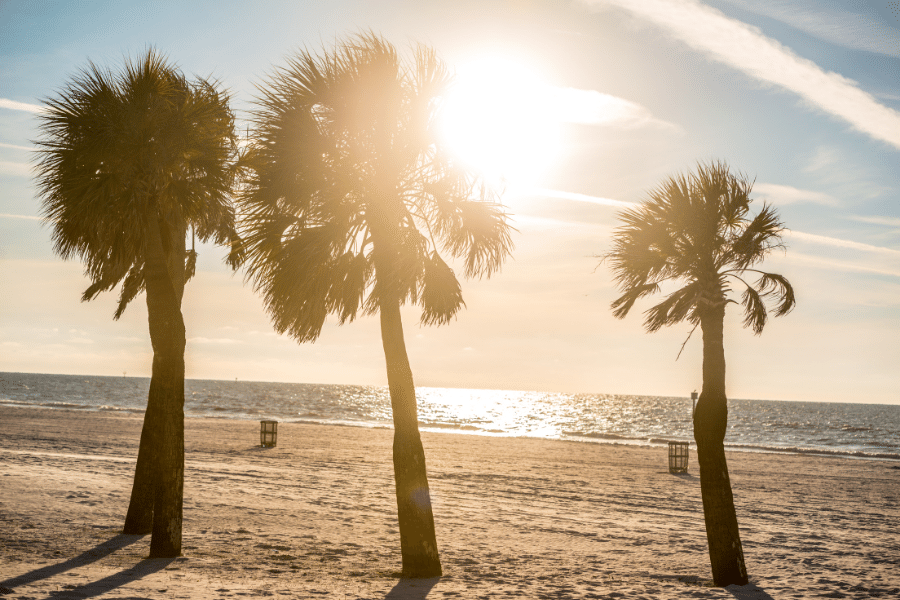 The Best Places to Live in Clearwater, FL - Final Thoughts
From high-rise apartment communities to quiet, safe, family-friendly neighborhoods, there are many great places to live when relocating to Clearwater. Whether you move to Sand Key or Clearwater Point, there is a neighborhood to fit your lifestyle and needs while staying close to the beach.
If you are interested in searching for homes for sale in Clearwater, make sure to contact us here today to be connected with one of our friendly Real Estate Specialists. We are dedicated to helping you find your dream home and are eager to assist you throughout your home-buying journey.
For more information about moving or overall life in Clearwater, refer to our other local area guides, including the best places to live in Florida, moving to Clearwater, moving to Tampa, the best neighborhoods in Tampa, moving to St. Petersburg, and the best neighborhoods in St. Petersburg.

Find your new home
Search real estate and homes for sale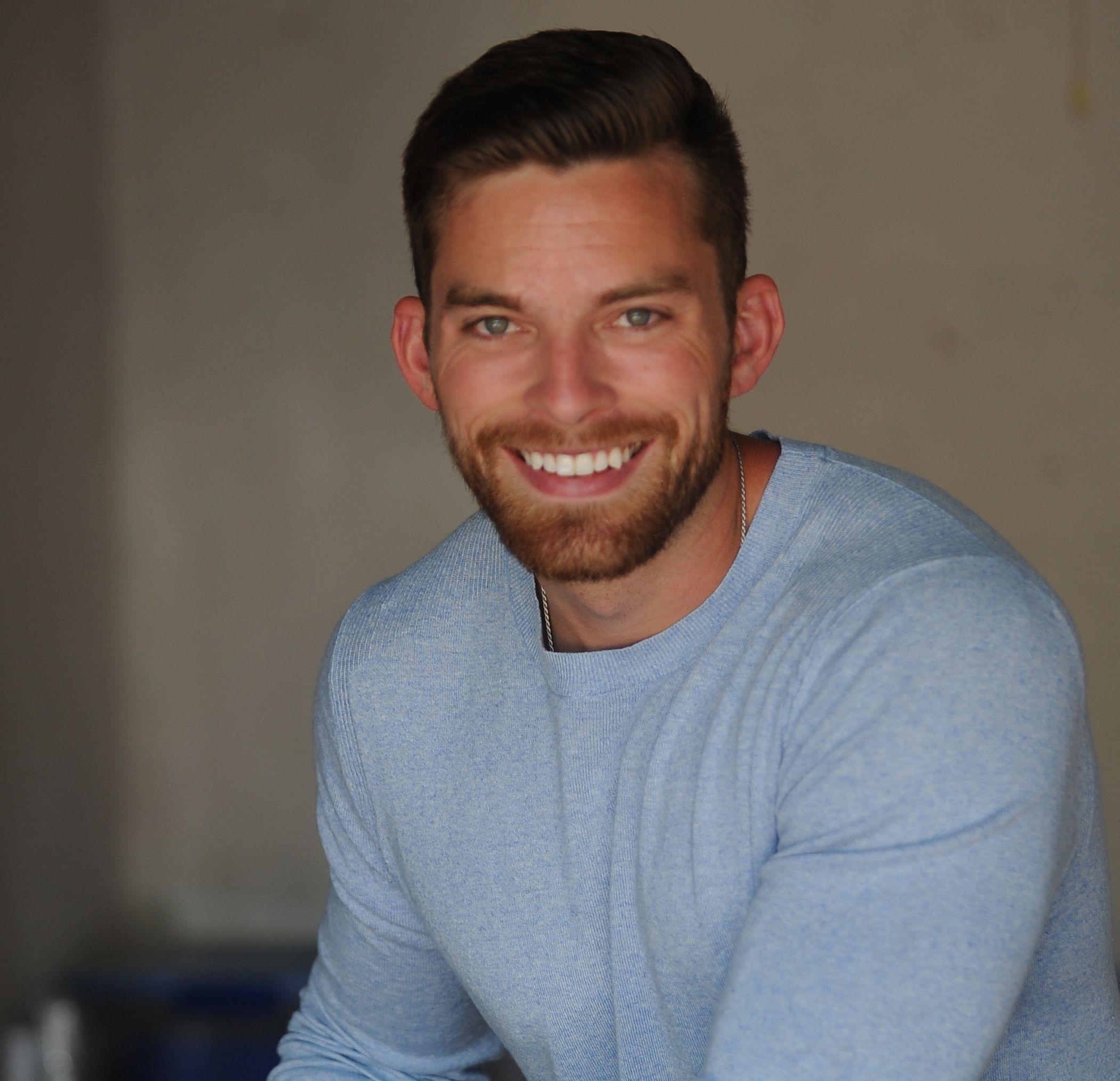 Ryan Fitzgerald
Hi there! My name is Ryan Fitzgerald, and I am a REALTOR®. My goal is to help you learn more about real estate through our Real Estate Blog! Hopefully, you enjoyed the above blog post and it found a way to provide help or value to you. When you're ready to buy or sell a home of your own let us know here. Please feel free to join the conversation by dropping us a comment below.