10 Things to Know BEFORE Moving to Bellevue, WA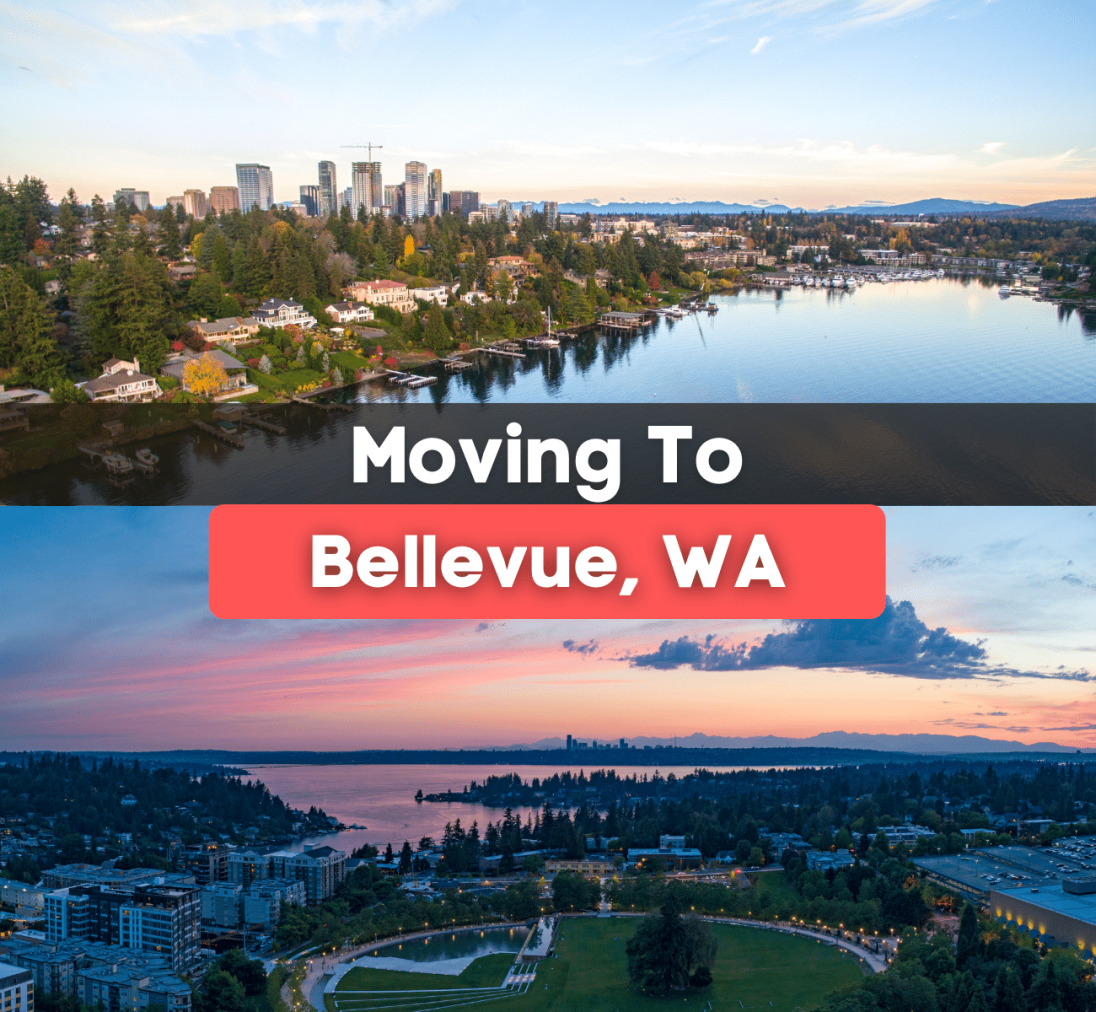 Living in Bellevue
Are you considering a move to Bellevue, WA? Here are ten things you need to know about living in Bellevue!
Bellevue, Washington, is a beautiful city in the Eastside region of King County that is found across Lake Washington from Seattle. Best known as the high-tech and retail center of the Eastside, Bellevue is considered to be one of the best places to live in Washington and is often ranked among the best mid-sized cities in the country for its promising job market, excellent schools, and top-rated parks.
Recognized as an excellent place to live, Bellevue has a growing population of 149,440 people, most of which are young professionals and families. Providing a mixture of urban and suburban living, most residents in Bellevue own their homes and are known to enjoy its many local restaurants, coffee shops, and retail stores.
So if you are relocating to Bellevue and want to know more about the area, this Bellevue moving guide is an excellent place to start. Keep reading to learn about life in Bellevue!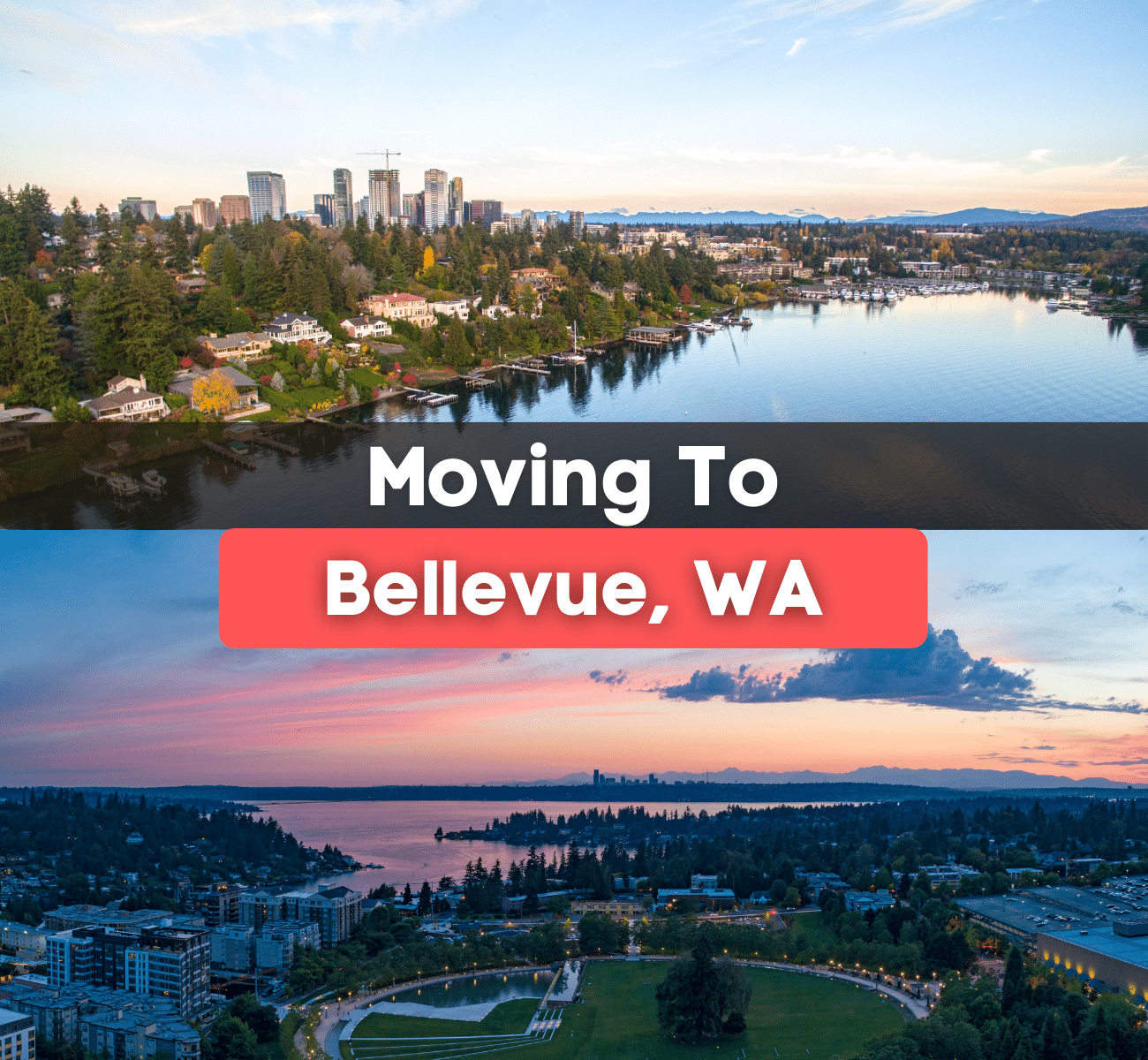 This is what life is like in Bellevue!
Location
Bellevue might be the perfect place to call home if the location is an essential factor in your moving decision. Located in the Eastside region of King County in Washington state, Bellevue is only about a 15-minute drive to Seattle across from Lake Washington. Easily accessible by two bridges and the light rail extension project, Bellevue is the fifth largest city in Washington.
Found 16 minutes from Redmond, 41 minutes from Tacoma, and an hour and six minutes from Olympia, Bellevue is frequently recognized as a suburb of Seattle since it is part of the Seattle Metropolitan area. Developed as a residential urban area along Puget Sound, hundreds of thousands of people flock to Bellevue for its natural beauty and beautiful waterfront properties.
Cost of Living
Bellevue, WA, is one of the most expensive places in Washington. With the cost of living 68% higher than the national average, Bellevue is certainly not an ideal place for individuals on a budget. With area prices up 2.8% from a year ago, some of the most significant cost increases can be found in food, housing, and transportation expenses. Healthcare costs are 33% higher than the national average, grocery prices are 30% higher than the national average, utility prices are 8% higher than the national average, and transportation expenses such as bus fares and gas prices are 35% higher than the national average.
The cost of living in Bellevue is 16% higher than the cost of living in Seattle. As part of the wealthiest metro areas on the West Coast outside of California, the average salary in Bellevue is $73,719. Most households earn at least $82,000 annually, and 12% earn over $200,000 annually. A family of four is estimated to have a monthly expense of about $4,516 without rent. Bellevue is such a desirable and expensive place to live because of its high quality of life, top-rated public schools, access to job opportunities, proximity to outdoor recreation, and sought-after amenities.
| | |
| --- | --- |
| Cost of Living Type | Average Price |
| Median Home | $1,020,614 |
| Median Rent | $3,118 / month |
| Energy Bill | $184.44 / month |
| Loaf of Bread | $4.50 |
| Gallon of Milk | $2.88 |
| Bunch of Bananas | $4.36 |
| Veterinary Visit | $71.30 |
Housing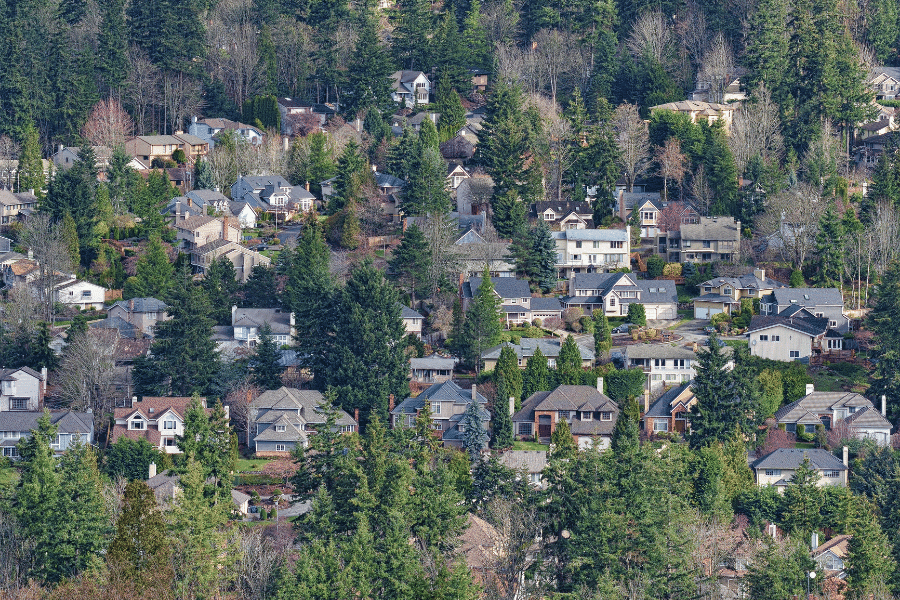 Housing is the most expensive cost in Bellevue since housing expenses are 156% higher than the national average. With a median square price per square foot of $588, the average home price in Bellevue is over one million dollars. With home prices up 12.2% compared to last year as of September 2022, most homes sell after an average of 24 days on the market.
Known for having a very competitive housing market, most homes get multiple offers with some waived contingencies. The most popular homes typically sell around the list price and are off the market within five days. Bellevue housing costs are considered to be 1.9% more expensive than New York City housing costs.
Weather
Bellevue experiences short, warm, and dry summers alongside cold, wet, and cloudy winters. Bellevue is considered one of Washington's coldest cities, with temperatures typically varying between 37 degrees Fahrenheit to 79 degrees Fahrenheit throughout the year.
The warm season lasts from June to September, with an average daily temperature of 72 degrees Fahrenheit. August is the warmest month, with an average temperature of 77 degrees Fahrenheit and a low of 58 degrees Fahrenheit. Meanwhile, the cold season lasts from November to March, with an average daily high temperature of 52 degrees Fahrenheit. December is the coldest month, with an average low temperature of 37 degrees Fahrenheit and a high of 46 degrees Fahrenheit.
Never forget your rain jacket! While Seattle may be associated with being a rainy city, Bellevue receives more rainfall per year than Seattle receives, earning up to 42 inches of rain per year. The United States rainfall average is 38 inches of rain per year, and the Seattle rainfall average is 37 inches of rain per year.
Since the winter temperature in Bellevue is relatively mild, Bellevue only receives an average of five inches of snowfall per year. The snowy period lasts 1.5 months, from early December to mid-January. If it does snow, most snowfall occurs in January.
Job Opportunities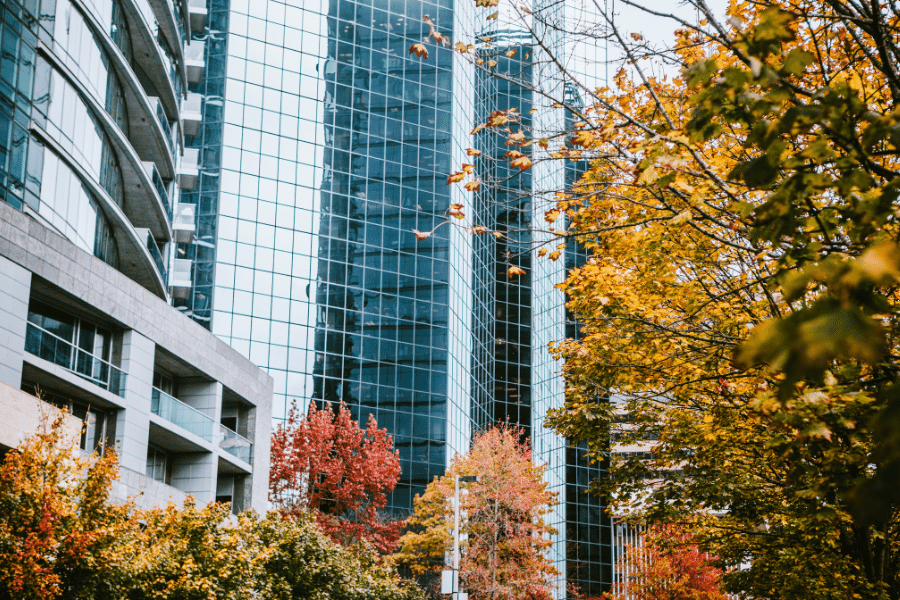 Named in 2015 as the second-largest city in Washington state in terms of employment, Bellevue has over 150,000 jobs and has been growing at an average annual rate of 1.12% since 2000. Bellevue is a solid and diverse regional economic center with a dynamic economy consisting of four industry clusters, including business services, information technology, retail, and tourism.
If you move to Bellevue for a job, you will not be looking for long. A total of 75 major Fortune 500 company jobs are located in Bellevue. Some of the best companies to work for in the area include Microsoft, Amazon, Symetra Financial, Expedia Group, Cambia Health Solutions, Intellectual Ventures, Esterline, PACCAR, and Valve.
Education
Known to have one of the highest concentrations of top-rated schools in Washington, Bellevue is a wonderful place to live for families with school-aged children. The Bellevue School District is a top-rated public school district with a total of 31 schools and teaches 21,609 students.
| | | |
| --- | --- | --- |
| School Name | School Type | Number of Students |
| Bennett Elementary School | Elementary School | 513 students |
| Somerset Elementary School | Elementary School | 658 students |
| Jing Mei Elementary School | Elementary School | 461 students |
| International School | Middle School | 573 students |
| Chinook Middle School | Middle School | 945 students |
| Newport Senior High School | High School | 1,733 students |
| Bellevue High School | High School | 1,587 students |
Data sourced from GreatSchools.
For those searching for higher education opportunities, Bellevue College is a two-year public college that is the third-largest higher education institution in the state. Accredited by the Northwest Commission on Colleges and Universities, Bellevue College is part of the Washington Community and Technical College system.
Excellent Recreational Opportunities
Due to the city's proximity to Mt. Rainer, Olympic, and the North Cascades National Parks, there are endless opportunities for adventure seekers in Bellevue. With over 100 public parks, 2,700 acres of open green space, and over 800 miles of walking trails, there is no better place to live for fun outdoors in the sun.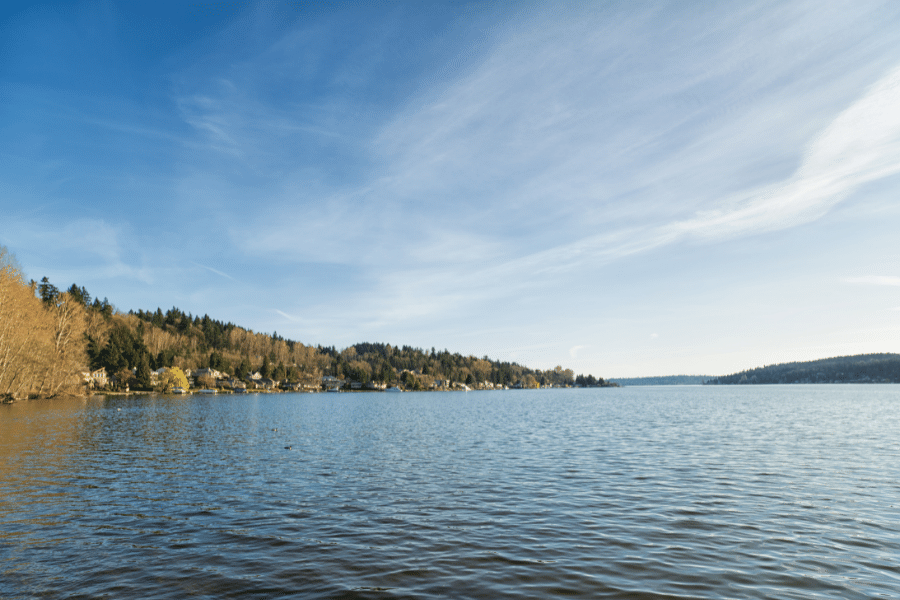 Explore these favorite local parks and recreational opportunities in Bellevue, WA:
Public Transportation
Even though most people have cars in Bellevue, the city provides numerous transportation options with multiple routes. Public bus transportation is provided throughout the entire Puget Sound region. This includes the Sound Transit Express Bus Route 550, which offers daily airport transportation services. While most of Downtown Bellevue is considered to be walkable, a car or access to public transportation is necessary to get around the rest of the city.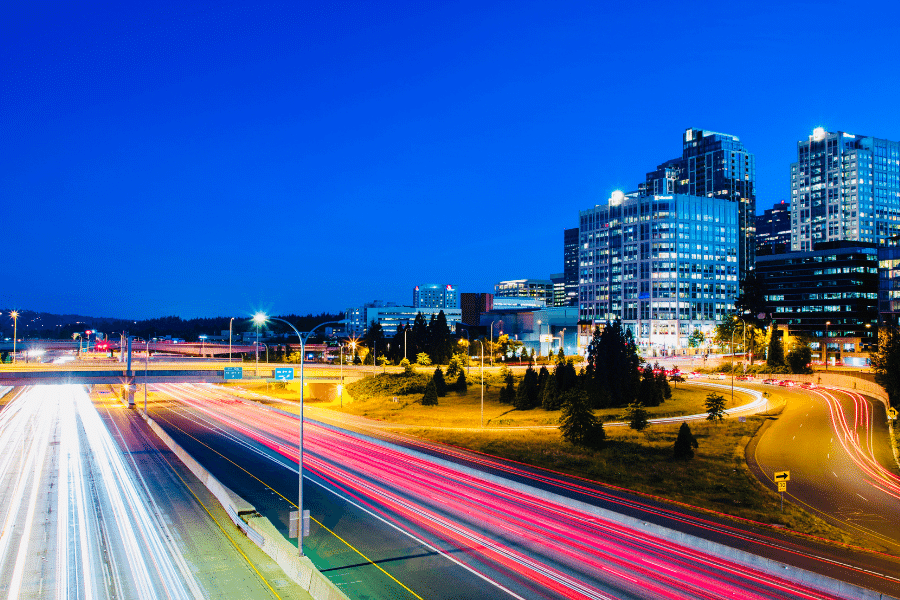 Here are some of the transportation systems offered in Bellevue with information on fares:
| | | |
| --- | --- | --- |
| Transportation System | Transportation Type | Price |
| Seattle-Tacoma International Airport | Airport | varies |
| Link Light Rail | Light Rail | $2.25 - $3.50 |
| Metro Transit | Bus | $1.25 - $2.00 one way |
| Sound Transit | Bus | $1.50 - $3.00 one way |
Dining
Home to award-winning five-star restaurants and small cozy cafes, Bellevue has one of the most incredible dining scenes in Washington. No matter what food you may be craving, there is a mixture of international and Pacific Northwest cuisine. Whether you are searching for a new place to eat with the whole family or want to make dinner reservations for a romantic date night, there is no shortage of great restaurants to try.
Dine at these favorite local restaurants in Bellevue, WA:
Crime Rate
Bellvue is considered a relatively safe city since your chance of becoming a victim of violent crime is one in 863, and your chance of becoming a victim of property crime is one in 34. With a crime rate that is about average for most communities in the country, 99% of residents report that they feel safe walking around during the day, and 88% say that they feel safe walking around after dark.
Compared to Seattle, Bellevue has very little crime. You are six times more likely to be the victim of aggravated assault in Seattle than in Bellevue. Known to be a more upscale community, violent crimes in Bellevue are 70% lower than the national average. Even though Bellevue is safe, paying attention to your surroundings is essential. Please refer to our Living Alone: Home Safety Checklist for more safety tips.
Pros and Cons of Moving to Bellevue, WA
Pros:
Mild weather
Proximity to other cities
Beautiful parks
Job opportunities
Great shopping areas
Amazing public schools
Good public transportation
Delicious restaurants
High safety rating
Cons:
High cost of living
Expensive housing costs
Small downtown area
Overcrowded schools
Tons of traffic
Moving to Bellevue, WA - Final Thoughts
Located just 15 minutes from Seattle, Bellevue is a beautiful city full of high-paying tech jobs and large luxurious homes. Offering a mild climate, excellent schools, and endless outdoor adventures for nature lovers, many families and individuals moving to Washington choose to call Bellevue home.
If you are ready to search for homes for sale in Bellevue, contact us today to be connected with one of our friendly and knowledgeable Realty Specialists to help you find your dream home. We are here to help!
For more information about moving and buying a home, please refer to our other local area guides, including moving to Seattle, the best neighborhoods in Seattle, moving to Redmond, and the best neighborhoods in Redmond.
#blog-moving-washington-cta#

Find your new home
Search real estate and homes for sale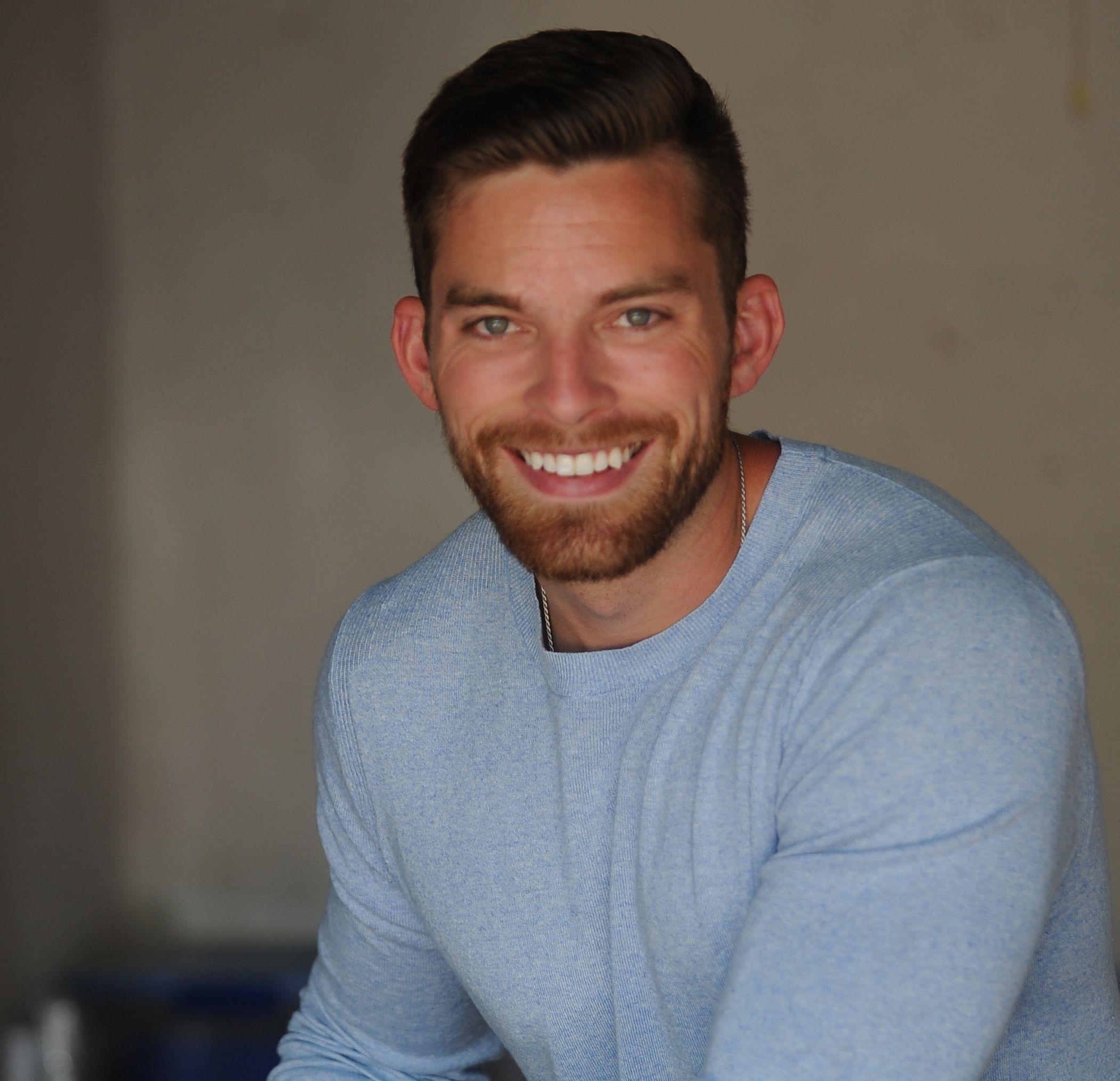 Ryan Fitzgerald
Hi there! My name is Ryan Fitzgerald, and I am a REALTOR®. My goal is to help you learn more about real estate through our Real Estate Blog! Hopefully, you enjoyed the above blog post and it found a way to provide help or value to you. When you're ready to buy or sell a home of your own let us know here. Please feel free to join the conversation by dropping us a comment below.