10 Things to Know BEFORE Moving to Seattle, WA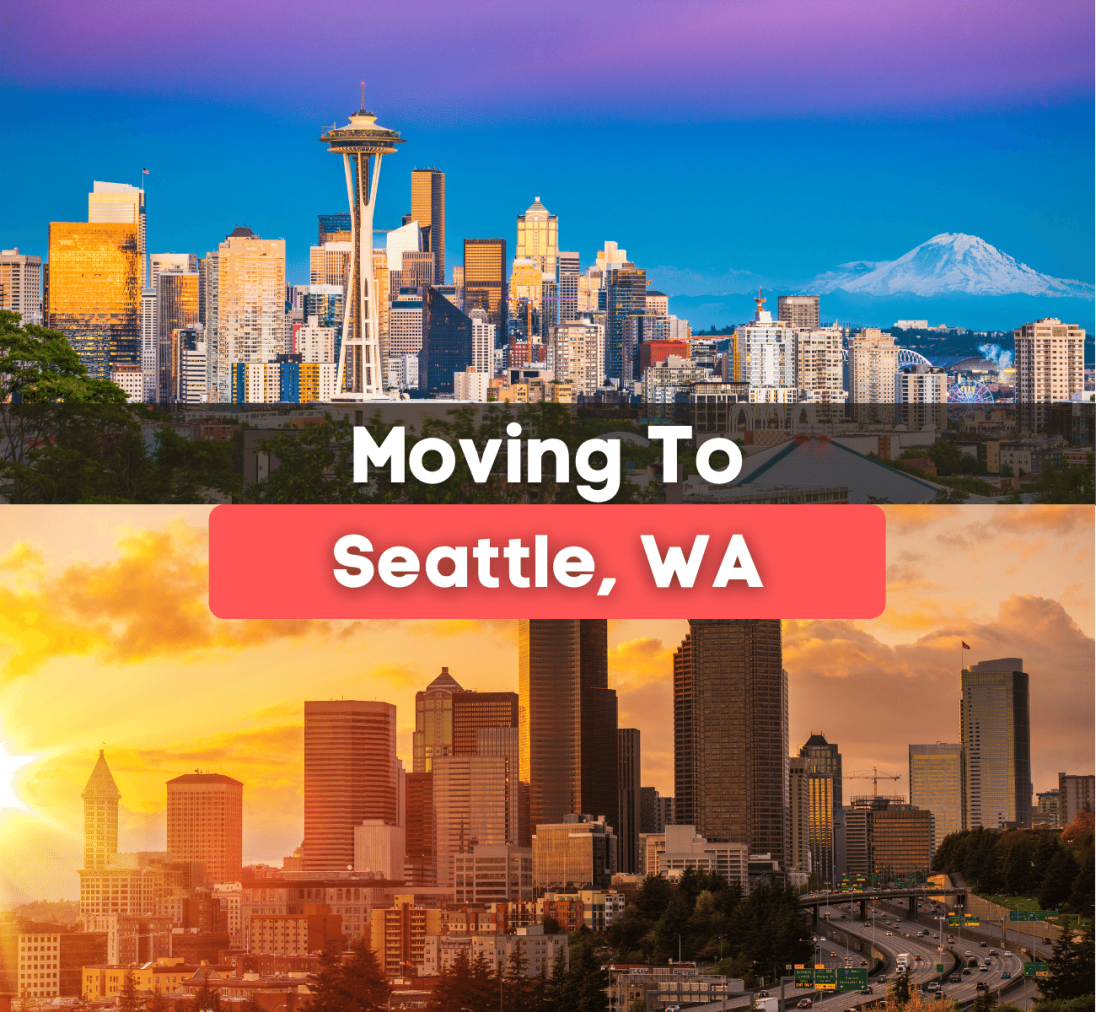 Living in Seattle
Are you considering moving to Seattle, WA? Make sure you know these ten things before deciding to live in Seattle!
Surrounded by water, picturesque mountains, and beautiful evergreen forests, the city of Seattle in Washington state is one of the most popular places to live in the Pacific Northwest. Best known as the home of Starbucks, grunge music, the Space Needle, the Seahawks, outdoor recreation, and a booming tech industry, there are approximately 57 people that move to Seattle each day.
As the largest city in Washington state with a population of over 733,000 people, Seattle offers a variety of attractions and opportunities that can not be found anywhere else. A great place to live, Seattle is a very safe place to call home, with hardly any crime towards tourists.
Bounded by Lake Washington to the east and Puget Sound to the west, Seattle is a dynamic urban city with a charming coastal setting and a thriving dining scene. Home to eclectic neighborhoods and modern, hip culture, Seattle is often considered one of the best places to live on the West Coast for singles and young professionals.
So if you are moving to Washington and are wondering if Seattle might be the place for you, then keep reading! We have put together this list of the top things to know about life in Seattle and local favorites to help you make an informed moving decision.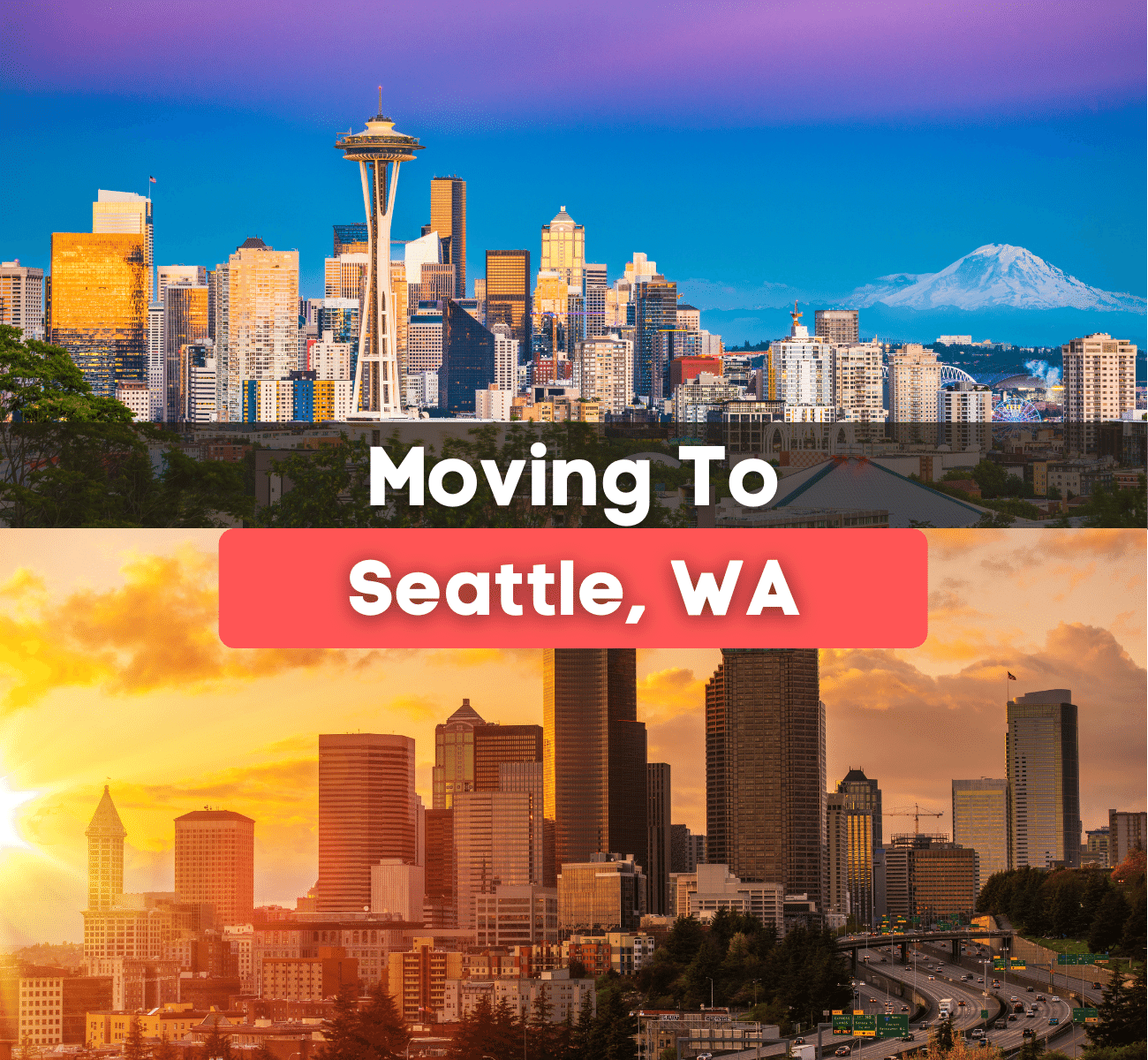 Here are the top ten things you need to know about Seattle, WA!
Cost of Living
Seattle, Washington, is not a cheap place to live. With a cost of living that is 53% higher than the national average and 36% higher than the state average, Seattle is considered the eighth most expensive major city in the United States, right behind Boston, based on monthly household spending.
Grocery prices are 30% higher than the national average, utility prices are 8% higher than the national average, and transportation expenses such as bus fares and gas prices are 35% higher than the national average. Even though Seattle is less expensive than living in Los Angeles, San Francisco, and New York City, it still has one of the country's highest costs.
It is estimated that a family of four living in Seattle spends approximately $4,647 without rent in monthly costs. In comparison, a single person is estimated to spend about $1,289 without rent in monthly expenses. To keep up with this high cost of living, the minimum wage in Seattle as of 2022 is $16.50 an hour. To live comfortably in Seattle, it is recommended that an individual make a good salary of anything over $65,000.
Luckily, Washington state does not have a personal or corporate income tax which helps residents save money.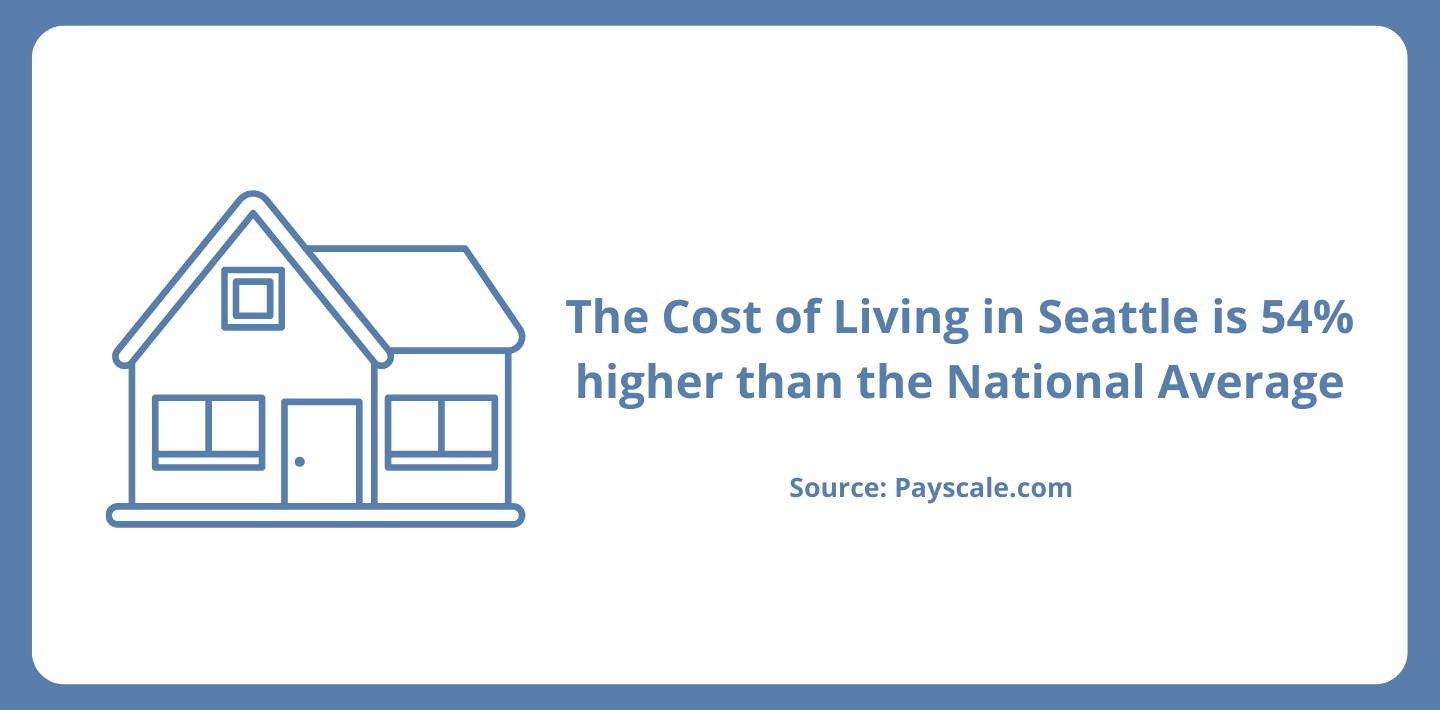 Housing
Real estate is the most costly expense in Seattle. With housing expenses in Seattle costing 109% higher than the national average, buying and renting a home can be challenging to afford. Known to have a competitive housing market due to supply and demand, prices and mortgage rates continue to rise. To afford a home in Seattle, it is recommended that a potential first-time homebuyer make at least $170,171 a year. For residents interested in renting, a one-bedroom apartment typically rents for an average of $2,899 per month.
Prepare For Rainy Weather
Known for having a temperate climate, Seattle has cool, wet winters and mild, short, relatively dry summers. With temperatures typically varying between 37 degrees Fahrenheit to 79 degrees Fahrenheit, temperatures rarely drop below 28 degrees Fahrenheit or rise above 88 degrees Fahrenheit.
The warm season in Seattle lasts from June to September, with a daily high temperature above 72 degrees. August is the hottest month during the year, with average high temperatures of 77 degrees Fahrenheit and a low of 58 degrees Fahrenheit. The cool season lasts from November to March, with an average daily high temperature below 53 degrees Fahrenheit. December is the coldest month, with an average low of 38 degrees Fahrenheit. The best time to visit Seattle is between early July to late August, when the weather is the warmest and most desirable.
With a reputation of being the rainiest city due to the number of days with precipitation, Seattle receives 150 days of rain a year and about 37 inches of rain annually. Receiving about 6.8 inches of snow per year, generally, between November and March, snowfall in Seattle is not uncommon.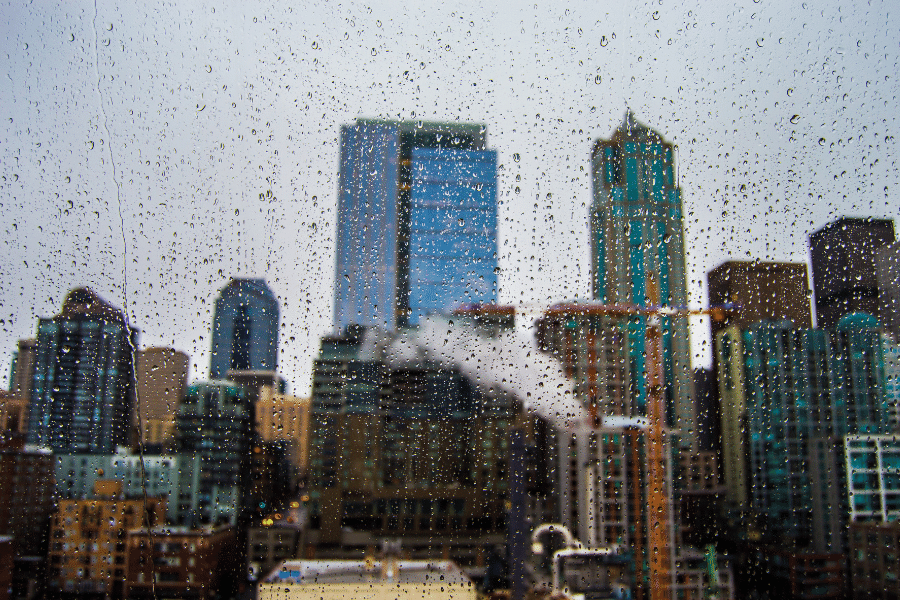 Explore Nature
Nicknamed the Emerald City, Seattle is surrounded by beautiful greenery and scenery that can not be found anywhere else. It is home to plenty of parks, a picturesque waterfront on Puget Sound, and three national parks within a two-and-a-half-hour drive. Seattle is an outdoorsy city; its residents love hiking, biking, and exploring.
Check out these popular favorite local hiking areas and parks in Seattle, WA:
Family-Friendly Things to Do
Seattle is highly family-friendly with its vibrant culture and diversity. From museums to outdoor recreation opportunities, there are plenty of family-oriented activities to explore in the city that all ages will enjoy.
Visit these family-friendly attractions in Seattle, WA:
Public Transporation
If you want to avoid paying for parking and having to navigate Seattle's busy, narrow city streets, then taking advantage of the available public transportation is a must. Traveling throughout Seattle is easy and affordable when offering multiple transit options, including a bus service, light rail trains, and a ferry.
| | |
| --- | --- |
| Public Transportation Option | Price |
| King County Metro Transit | $2.75 - $3.25 per ride |
| Seattle Streetcars | $2.25 per ride, $4.50 all-day pass |
| Seattle Center Monorail | $3.00 one-way ride |
| Seattle Ferry | $9.45 for adults, $4.70 for seniors |
| Seattle Water Taxis | $5.75 for adults, $2.50 for seniors or disabled riders |
| Link Light Rail | $2.25 - $3.50 per ride |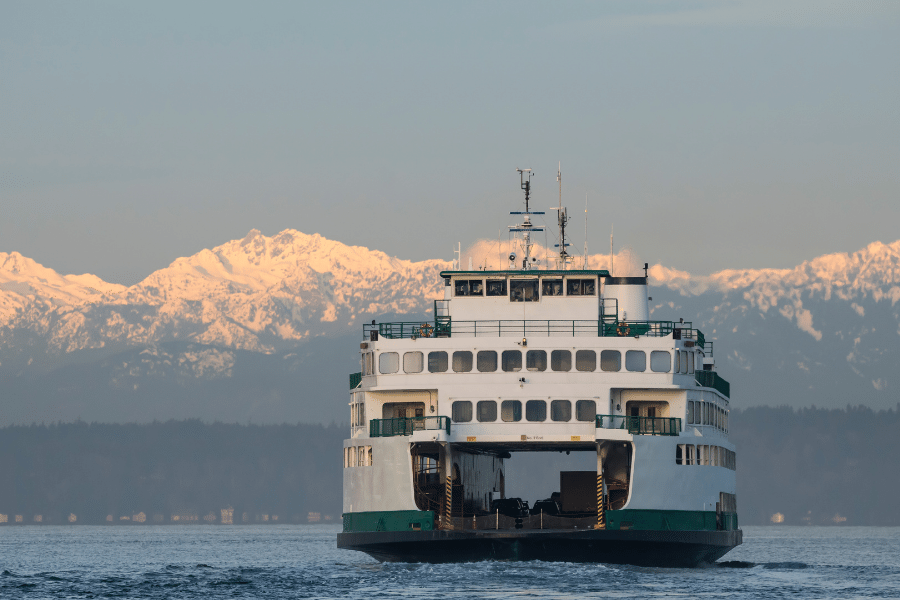 Coffee
Did you know that the people in Seattle consume more coffee on average than in any other city in America? Spending an average of $36 a month just on coffee, Seattle has gained a reputation for having a prominent coffee culture. With up to 35 coffee shops for every 100,000 residents in Seattle, coffee has shaped and influenced this Pacific Northwest City over the past 50 years.
Home to the world's most famous coffee chain, Starbucks first got its start in 1971 along the cobblestone streets of Seattle's Pike Place Market. Located along the waterfront, the original Starbucks store is open today and serves freshly roasted coffee, tea, and spices from around the world.
Order coffee from these popular favorite local coffee shops in Seattle, WA: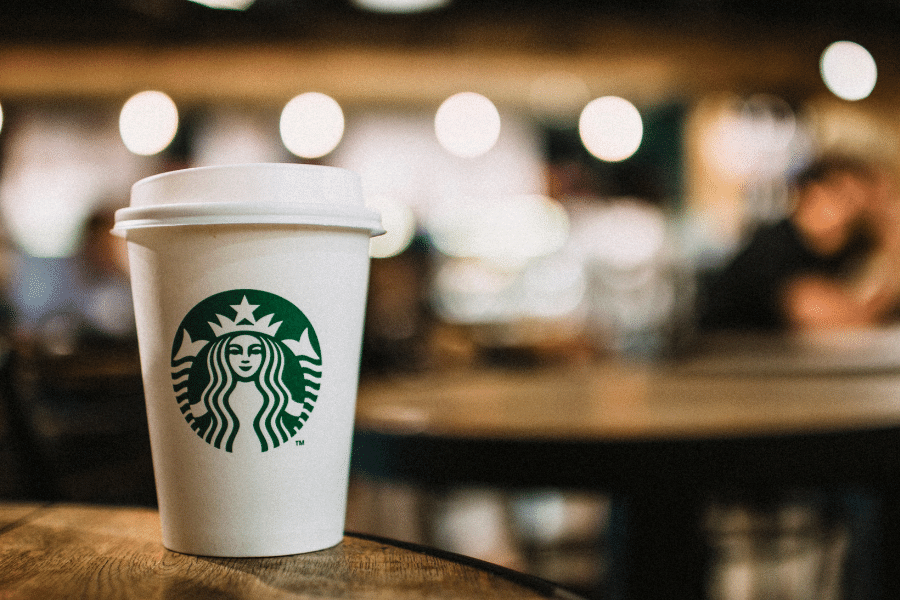 Beer
There are nearly 70 breweries located in Seattle. As a hub and pioneer in the craft brew movement, the Seattle area is home to a thriving craft brewing community specializing in high-quality craft beer. As one of the best craft beer cities in the nation, Seattle is the perfect destination if you are looking for fresh, delicious, and seasonal brews.
Visit these top favorite craft breweries in Seattle, WA:
Job Market
Known for having a healthier job market than similarly sized metropolitan areas, many individuals are moving here to take advantage of its plethora of job opportunities. With a job market that has been ranked number five in the country due to its low unemployment rate and wage growth, some of the top economic industries in Seattle include technology, aerospace, manufacturing, global health, and retail trade. With the second-highest median income in the country, some of the best companies to work for in Seattle are Microsoft, Amazon, Smartsheet, Outreach, Boeing, and Slalom Consulting.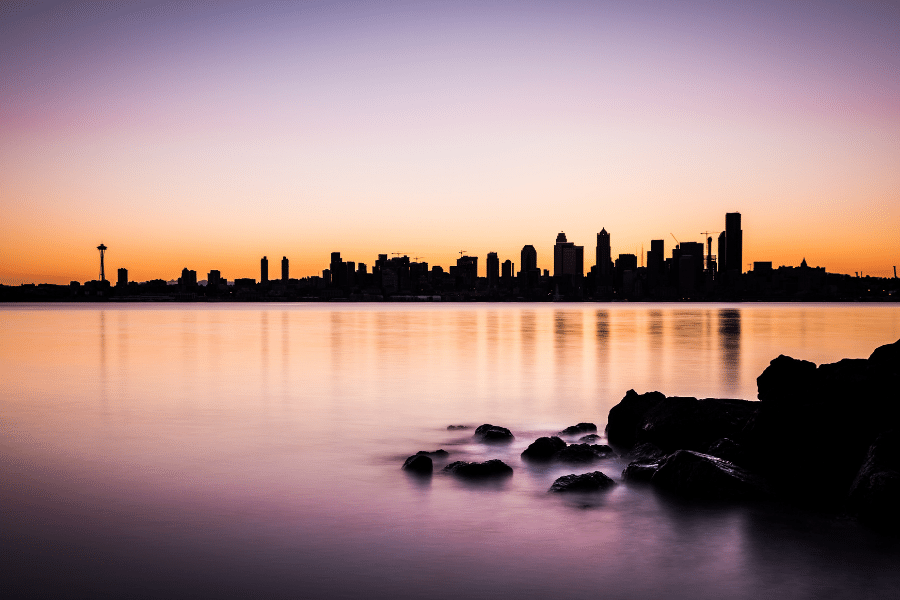 Seattle Is Eco-Friendly
Voted as one of the most sustainable cities in the United States, Seattle is a proud green city that has found ways to incorporate green practices into every facet of life. With almost all of its electricity generated from hydropower, Seattle's moderate climate allows residents to use less energy for heating and cooling. Recycling and composting nearly 60% of its waste, this beautiful city is committed to reducing its carbon footprint and further bettering the environment.
Learn more about what Seattle is doing to protect the environment here.
Pros and Cons of Moving to Seattle, WA
Pros:
Booming job market
Eco-friendly way of life
Proximity to nature
No state income tax
Incredible food scene
Cozy coffee shops
There is always something to do
Seattle is dog-friendly
Thriving craft beer scene
Cons:
High cost of living
Expensive housing
Rainy weather
Constant traffic
High rate of homelessness
Lack of public transportation
Rise in wildfires
Are you ready to live in Seattle, WA?
From its thriving job market to its cozy coffee shops, there are many great reasons to consider moving to Seattle. As one of the fastest-growing cities in the nation, many people who choose to call Seattle home search for carefree living, unique culture, and a hot job market.
Even though the cost of living may be high and it tends to rain often, living in this famous Washington city has more advantages than disadvantages. If you are ready to search for homes for sale in Seattle, contact us today and reach out to one of our knowledgeable Real Estate Specialists to help you find your dream home.
#blog-moving-washington-cta#

Find your new home
Search real estate and homes for sale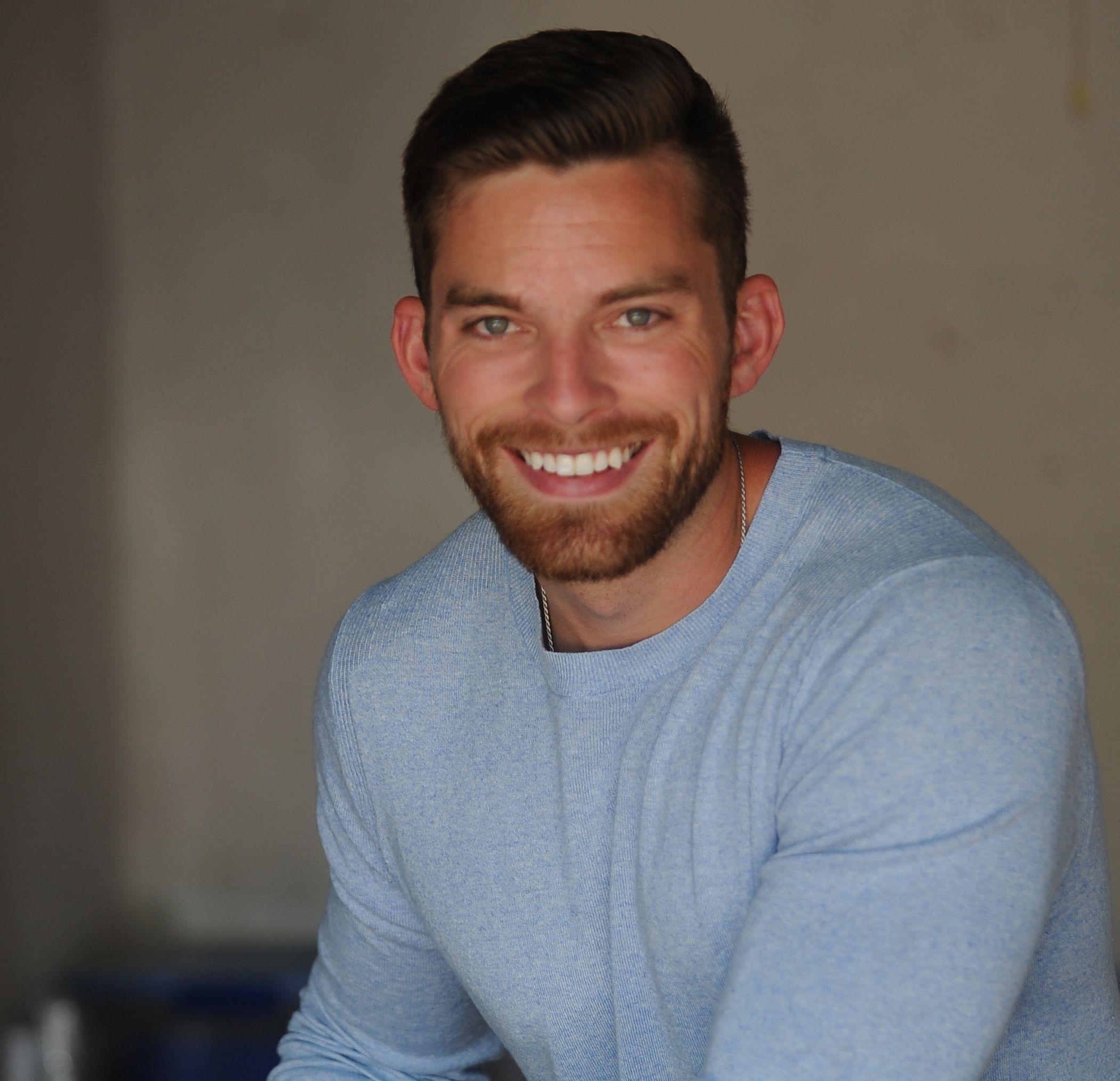 Ryan Fitzgerald
Hi there! My name is Ryan Fitzgerald, and I am a REALTOR®. My goal is to help you learn more about real estate through our Real Estate Blog! Hopefully, you enjoyed the above blog post and it found a way to provide help or value to you. When you're ready to buy or sell a home of your own let us know here. Please feel free to join the conversation by dropping us a comment below.