First Time Home Buyer Programs in Charlotte, NC!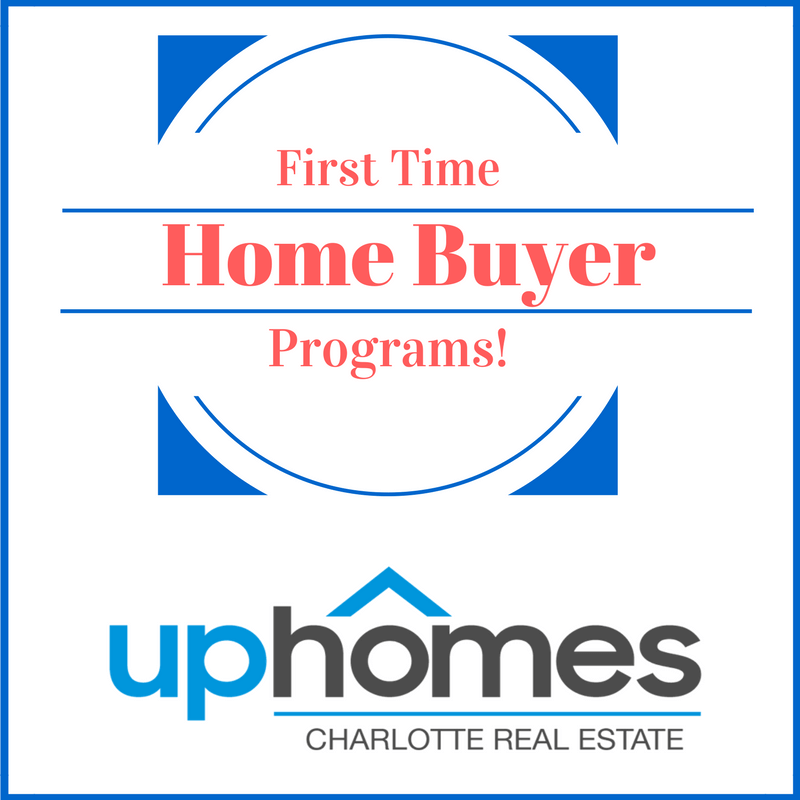 If you're a first time home buyer in Charlotte, NC we are here to help! Thank you for taking the time to jump in and learn more about how to make your first time home buying experience a great one! We help so many first time home buyers in Charlotte, NC that we knew we had to write an article on the topic to help folks!
Whether you're a first time home buyer in Charlotte, NC or anywhere in the country, the next few minutes you spend reading this article is an investment in yourself and your knowledge about buying a home.As a First Time Home Buyer inNC you can even buy a home with no money down thanks to state-wide programs!
This article is intended to walk you through EVERYTHING you need to know when it comes to buying a home for the first time. We will be diving into the benefits and programs available to you as a first time home buyer as well as be guiding you from the beginning to the closing table with our 10-Step Guide below.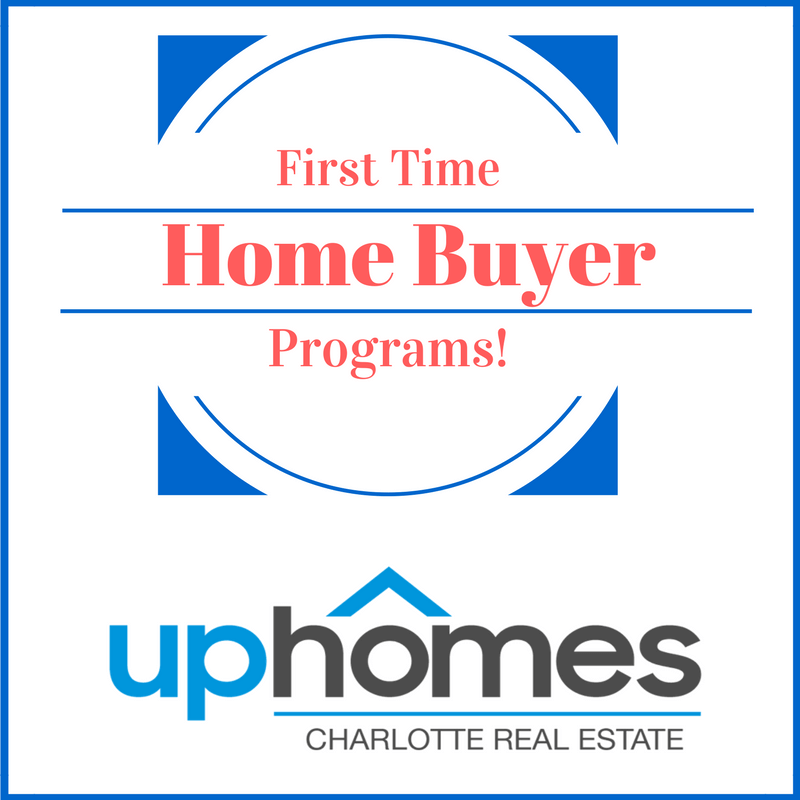 Without further ado, let's roll...
First Time Home Buyer Programs
Deciding on buying your first homeis likely one of the biggest decisions of your life thus far. The great thing about buying a home is that you no longer need a 20 percent down payment.In some cases, which we will explain below, you can buy your first home with no downpayment at all and in some cases, even receive money back at the closing table.
One thing to understand is that this is your first home. It doesn't have to be your dream house and to be perfectly honest, your dream home doesn't exist. The home that you have always dreamed of isn't out there, let that sink in for a minute. What you want to find, is a home that is going to be as close as possible to what you're looking for. Finding a great first time home buying program for you will be crucial to whether or not you have a good experience.
There is a lot of information that you will want to receive before you start searching for homes for sale. If you are a first time home buyer, your main focus is to find the best home out there for you. Charlotte, NC has had a huge inundation of first time home buyers. Charlotte has been increasing in population exponentially. The population rises every day with people searching for homes to buy in Charlotte, NC.
There are always going to be hidden fees and some costs that you aren't aware of since this is your first time buying a home. That's okay! Very rarely are there first time home buyers that have stacks of cash just laying around. Finding the right information will benefit you greatly in this process, make sure you are getting the best information out there. Not everything you find is valuable or correct for that matter.
What are the differences between local and state assistance programs? That is something that we will touch on and go over to help you get a better understanding. It is important to know the differences between them. There are also national first time home buyer programs.You'll want to understand how both apply to you.
Educating yourself is always the first step. The best thing you can do to welfare yourself is to attain the best knowledge about first time home buyers. Go to different programs that are offered and learn about what they do. Find one that gives you great information and makes it easy for you to successfully buy your first home.
Mecklenburg County first time home buyers have it a bit easier since the Charlotte area real estate market has been pretty resistant to any sort of volatility or depreciation when compared to other cities.
One thing a first time home buyers needs to understand is that a mortgage pre-approval is the first step to buying a home. A lot of buyers tend to put the cart before the horse and want to see homes before they've educated themselves and sometimesbefore they have spoken to mortgage lenders."
Finding money is the next step. Most first time home buyers have trouble putting together the cash to use for a down payment. You are most likely making the biggest financial decision so far in your life. So compare your loan options. Find the one that will be best for you in the long run.
Finding a top local realtor is crucial. Although it not required, hiring someone with experience and with the knowledge to work towards your best interests will be tremendously helpful. Realtors have worked with first time home buyers before, they have been through the process of buyers applying for loans. Find a realtor that you trust and that will put all their efforts to helping you. If you're living in Charlotte, let us know, we will be happy to help any way we can.
You should develop a strong plan. Figure out what it is you need and what steps you need to take to accomplish your plan. How are you going to develop it? Having a good strategy and work ethic. You want to finish this whole process knowing that you executed your plan and you achieved your goal. Focus on a plan, execute on that plan and stick to it.
Two Important Types of First Time Home Buyer Charlotte, NC Programs (Local + National)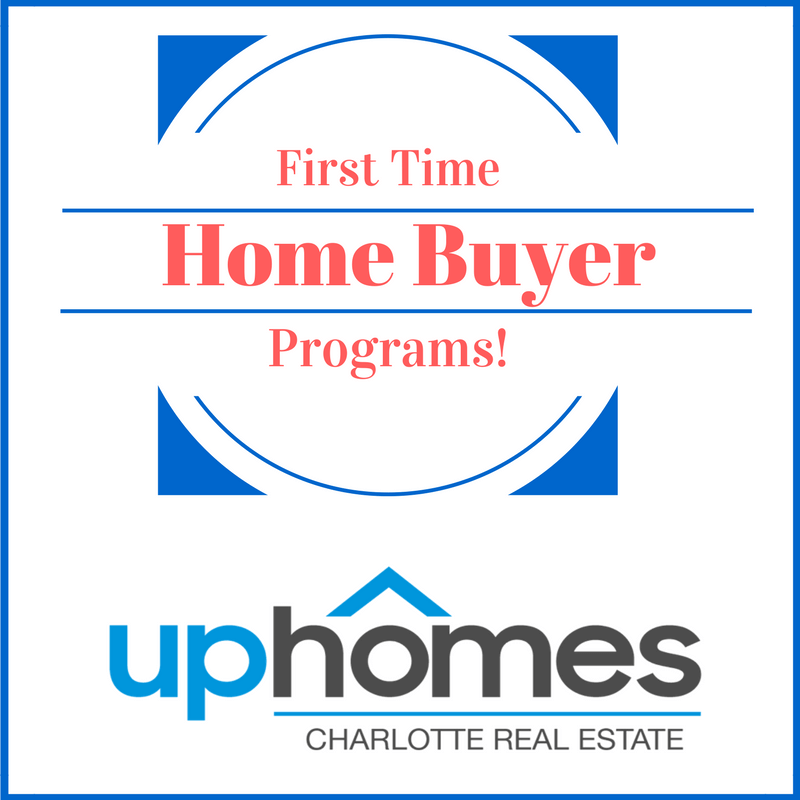 As a Charlotte, North Carolina Real Estate company we will be using NC as our example of local state programs available to first-time buyers. If you're not in North Carolina there are likely other benefits your state offers.
North Carolina Programs
It is important to find the best programs that are going to be most beneficial to you. These are state-wide programs so they anywhere in North Carolina. We can help you whether you live in Charlotte, Raleigh, you name it!
Being a first time home buyer in Charlotte, NC, you may not have much knowledge of what kind of program it is that you need. There are certainly going to be some great local programs that you want to check out. But always make sure to get second opinions and do your own research. It is always helpful if you know someone who may have used a program you are looking at, get their advice. Or you can always contact a professional. There is always a good chance that you will find something that will benefit you.
N.C. Home Advantage Mortgage
Going out and buying your first home is a long process and some first time home buyers can be anxious or overwhelmed. One thing you never want to do is let your emotions take control of your decision making. One awesome program that will make your life easier and less overwhelming is the N.C. Home Advantage Mortgage. It provides awesome down payments assistance for first time home buyers. They help guide you through the long mortgage process and if you qualify, the will ensure a stable, fixed-rate mortgage with down payments up to 5% of the loan amount! It will cover your usual FHA, VA or conventional loans for 30-year fixed rates.
N.C. Home Advantage Mortgage is a great program to check out if you are looking for competitive interest rates. They offer very affordable financing as well!
What Makes it Even Better…
If you thought it stopped there, then check this out! The repayment of your down payment is only required if you sell, refinance or transfer your home before year 15—the down payment assistance is forgiven at 20% per year after living in it for 11 full years. Also, if you are a first- time home buyer or a military veteran than you may be able to combine this program with mortgage credit certificate which could end up saving you $2,000 per year on your federal taxes.
Are You Eligible For the N.C. Home Advantage Mortgage?
Am I eligible for an N.C. Home Advantage Mortgage™? You may be if:
You're buying a new or already existing home

You are a first time home buyer or an upgraded buyer

You buy a home in North Carolina and move in within 60 days of closing

Your yearly income is not larger than $87,500 you are applying for an FHA, USDA, VA or conventional loan through a Participating Lender and meet the sales price limits of the loan type

Your credit score is at least 640, and

You are a legal resident of the United States.
Properties that are eligible:
Single-family homes new and previously owned

Condominiums

Townhouses

Manufactured Homes (only new, never occupied, double wide or greater manufactured homes on permanent foundations)*

Duplexes*
*Only accessible for FHA, VA and USDA loans. NOT conventional loans.
National Programs
The Mortgage Credit Certificate
The Mortgage Credit Certificate is a great program that is offered throughout North Carolina and the rest of the country. It is awesome because it can be combined with the N.C. Home Advantage Mortgage. You could save up to $2,000 in taxes per year with this awesome combination. As long as your income and sales price meet the specific criteria, then you are able to pursue this. If the home you are buying is 50% of the interest in a new home or if you are planning on buying an already existing home, you will be able to lower your income-tax liability. This program helps you in many ways and can be very beneficial for you.
The Mortgage Credit Certificate is awesome in that it can be combined with the majority of loans. It is very beneficial to first time home buyers. This includes some adjustable-rate mortgages, which of course like most loans, has its pros and cons.
If you would like, you can keep learning about Mortgage Credit Certificates here.
The U.S. Department of Veteran Affairs (The V.A. Loan)
The Veteran Affairs Loan is a great national loan that is offered to only those who qualify for it. If you are looking for a loan and want a 0% down option, the V.A. loan may be the one for you. This loan is perfect for first time home buyers in Charlotte. They offer the loan to them and also buyers who are military veterans. This program is perfect exclusively for veterans, so if you are a veteran then this applies to you! The V.A. loan, in some cases, will finance 100% of the loan if you qualify for it.
USDA Rural Development Program
If you are a first time home buyer, then you may want to look into The United States Department of Agriculture program, it may just be perfect for you! If you qualify for the low income that they require, then you will be able to use this program. They usually only make loans out to buyers that have a lower annual income. But even if you are not a first time home buyer, you also may qualify for this program. This program is available to offer 100% financing of the loan and the program also will partner with lenders all over the country. As long as you are eligible, check out the USDA Rural Development Program.
Find out if you are eligible here!
Qualifying for a USDA loan may be a little tougher than most other loans. Their qualifications may be a little tougher as they want to make sure that their money is safe. It can be frustrating trying to qualify for a USDA loan because of the housing costs not being allowed to exceed 29% and the total debt not being allowed to exceed 41%. Something that you are always want to keep in the back of your mind, if there are any repairs or improvements that have to be made, they may be added to the loan eligibility.
How Does My Credit Score Impact My Ability To Obtain A Mortgage?
Something that is important to always remember is that when it is time to qualify for a loan, you want to make sure your credit score and credit report look good. These are very important in the loan process, and if they aren't looking strong, the bank may deny you a loan. If your credit score is low, the bank will want to protect their money and charge you a higher interest rate. They want to ensure that they will receive their money back. There have been instances where buyers had really strong credit scores but still did not qualify for a loan based on their credit report. Because both play impactful parts in the loan process, you are going to want to make sure that they look good BEFORE you go for a loan.
One thing that has been seen many times is buyers who have different credit scores with different credit organizations. If you aren't aware of how to check your credit score or credit report, there are plenty of websites that offer it to you. A great example is Credit Karma, it will show you how strong or weak of a credit score you have. It would be smart to check it out first! Also, most mortgage lenders are known to use the FICO score. Be aware of this when you are applying for a loan.
Some pointers to keep your credit score up:
Use Credit Karma to track it online

Only apply for lines of credit for what you need, never over apply

Do not use all of your available credit and make sure to pay it off

You can dispute any and all mistakes on your credit report
Finding the Mortgage That is the Greatest For You!
Making sure to do a lot of research before deciding is crucial. We know how tough it can be finding the right one for you.

---
Educate Yourself
Whether you're buying a home for the first time or the fifth time you will want to go into the process well educated on how it works, especially at a state-level. As with anything in life, you will want to know how to do something before you do it or you'll likely make a mistake and learn the hard way. You'll want to understand exactly what the best neighborhoods are for you and your lifestyle!
The great thing about buying a home is that there is so much information on the internet that you can learn everything about what it's like to live in Charlotte without even ever visiting!
---
Find Money
Before you find a home, you'll want to find money (assuming you need a mortgage). With interest rates so low it's hard to understand why people would choose to use cash to buy homes vs. leveraging the bank's money.
When you start shopping around for money and a mortgage lender make sure you areasking about first time home buying programs and benefits available to you.
Long gone are the days ofneeding 20% down to buy a home. Often times, first time home buyers are able to secure a mortgage with no money down at all and in some cases they receive cash back at the closing table!
There are certain documents you'll need when working with a bank on a mortgage such as your credit score, your monthly debts, your income, your down payment. We call this the ACID test (Assets, Credit, Income, Debts).
---
Top Local Realtor
Part of your home search is going to include finding the best Realtor to work with you. All Realtors are different so be sure you take the time to meet with a few and choose the one you're most comfortable with.
At uphomes, we believe we have some of the best Realtors in Charlotteworking for our brokerage because we only work with people who are trustworthy, know how to execute and provide great customer service.
Whether you're buying or selling a home, you'll want to be sure you find a great local Realtor to help with your home search. It's likely they can help you avoid making mistakes while ensuring a high level of success in your real estate transaction. Once you've hired the right Realtor it's time to develop a proper game plan
---
Game Plan
We don't plan to fail, we fail to plan.
Having a game plan is an important part of your real estate search. The more clarity you have around what it is you are looking for the more likely you are to be successful in your real estate purchase.
One of the best things you can do when buying a first home is to understand that this is not your forever house. Don't be afraid to buy a house that is well below your price range... the real mistake is trying to reach for your dream house the first time around.
Take emotions out of the home buying process. Obviously, it's difficult to do since buying a home is an emotionalprocess, if you can take emotions out of it you will have far more success.
---
Find a Home
Finding a home sounds fun right? Brace yourself. Buying a home can be a roller coaster ride you didn't sign up for. A lot of folks will give up along the way, don't do this! If you don't get the first one or the second one, don't give up, keep going!
Here are some great tips for anyone buying a home.
The best way to find a home is to have clarity on the location and the home you want that'saffordable.
Your Real Estate Agent will help you by setting you up for a home search that will immediately alert you the minute a home becomes available.
---
Negotiations
When you find a home, it's time to make an offer! Negotiating the specific terms of a home purchase is an opportunity to find out if there is a mutually acceptable offer that both parties will be happy with. It is NOT a battle. One of the biggest mistakes sellers make is they get greedy and one of the biggest mistakes a buyer makes is they get too emotional.
If you're buying your first home your Realtor will walk you through the home buying and negotiating process.
One of the most important aspects of negotiations is to determine the seller's motivation. This will help you understand just how motivated they are to sell their home. Some of the most common reasons are they relocated, bought a new home, downsizing, divorce, death and more. Knowing the motivation will help you prepare better for the negotiating process and you can use that in your offer.
---
Earnest Money and Due Diligence
Due diligence and Earnest Money are two of the most common terms in a North Carolina Real Estate transaction. Due Diligence is the money you pay to the seller to take the home off the market and allow you a 'due diligence period' to inspect the home. You are not going to get your due diligence money back after you hand it over to the seller because this money is guaranteed to them after yougo under contract.
The great thing about Due Diligence money is that it gives you the opportunity to show the sellers just how confident you are in buying their home. If you're in a multiple offer situation, one of the first things sellers are going to look at is the amount of due diligence the buyers are willing to give. Due diligence amount is often the determining factor in the winning offer.
Earnest money is the money held in escrow. This is good faith money that still belongs to the buyer until they reach the end of the due diligence period. That's when the money becomes the sellers. There's always an opportunity for the buyers to get their earnest money back if the seller breaches the contract but more than likely that money will sit in escrow for years if there is any disagreement.
---
Inspect Everything
When you're buying a home, you will want to make sure that you have everything inspected. An inspection is one of the best investments you can make once you're under contract on a home. If the inspector costs a few hundred dollars and finds $5,000 in damages to the home, that's ammunition for you to negotiate a better price with the sellers.
A lot of our best purchases came from the worst inspection reports. As a buyer, especially if it's your first time, you need to remember that it's the inspector's job to tear the home apart.
Home inspections are a great insurance policy and are a 'must have' no matter if you're buying new construction or a home built in the 19th century.
---
Real Estate Attorney
Hiring a great real estate attorney is an essential part of the home buying process. We also invest in transaction managers who will overlook every detail and every number before closing for our clients in Charlotte. This ensures you are protected as a first time home buyer in Charlotte, NC.
A good real estate attorney is one that is responsive and willing to answer your questions as you work your way towards the closing table. Lenders, attorneys, transaction managers, Realtors all work closely together to ensure a smooth transaction. The attorney is chosen by the buyer and represents the buyer. A lot of new construction attorneys overlook the fact they represent the buyer and not the builder even though they work closely with the builder.
When you're at the closing table do your best to avoid sticker shock. Make sure you bring your license and whatever money you owe. Then, once the documents are signed (and the attorney records the closing) you will receive the keys!
---
Keys to Your First Home
Congrats! Now that you've signed off on the closing documents and the closing has been recorded you're ready to move in! This is the fun part. Hopefully, you've scheduled movers and already transferred utilities in your name by this point!
---
Final Thoughts For First Time Home Buyers:
When you're buying your first home make sure you take advantage of the programs and benefits available to first time home buyers. We work with so many first time home buyers in Charlotte that it becomes second nature to us. If you have any questions drop us a line in the comments below or shoot us an email on the contact us page!

Find your new home
Search real estate and homes for sale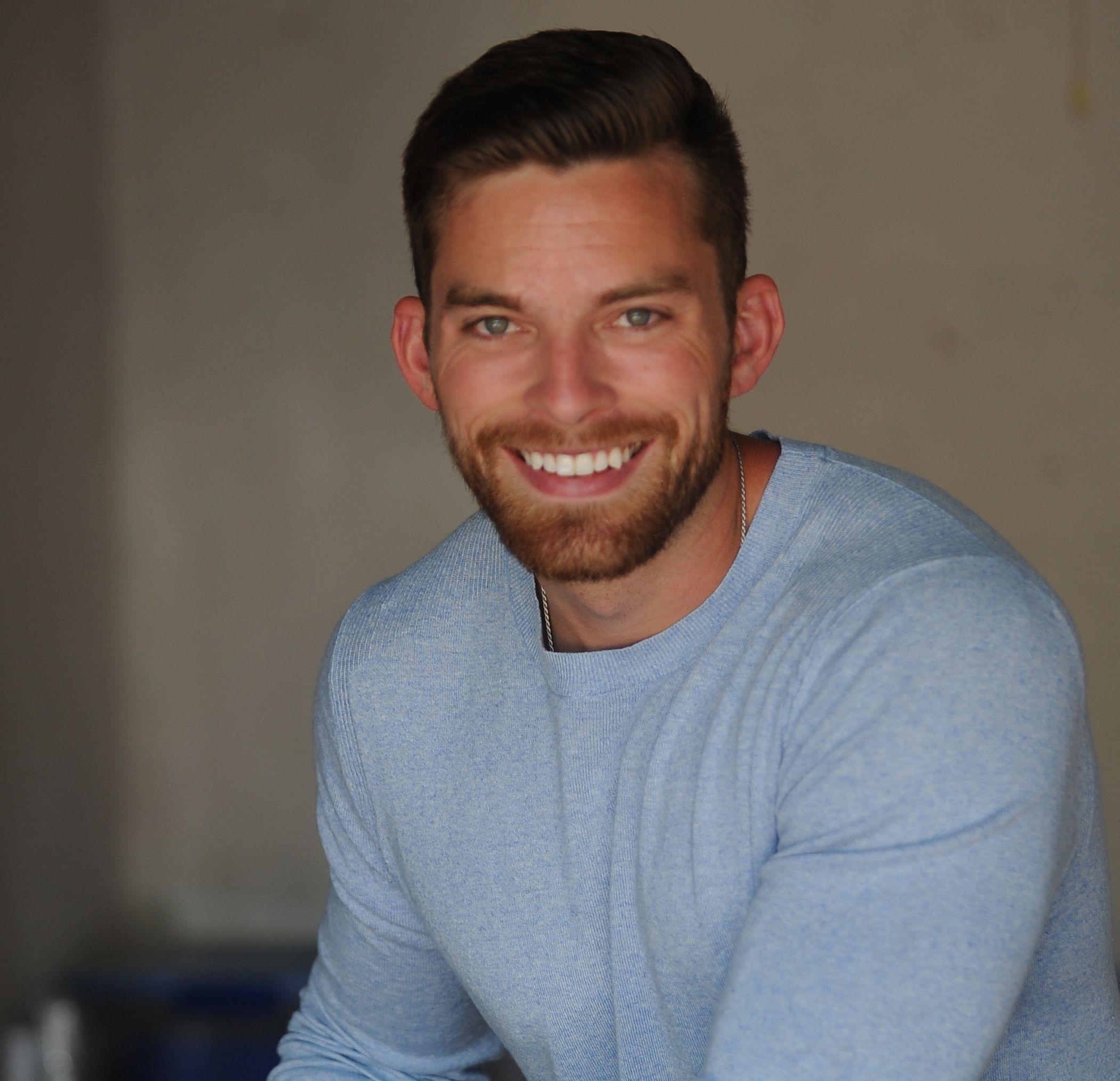 Ryan Fitzgerald
Hi there! My name is Ryan Fitzgerald, and I am a REALTOR®. My goal is to help you learn more about real estate through our Real Estate Blog! Hopefully, you enjoyed the above blog post and it found a way to provide help or value to you. When you're ready to buy or sell a home of your own let us know here. Please feel free to join the conversation by dropping us a comment below.