7 Things to Know BEFORE Moving to Washington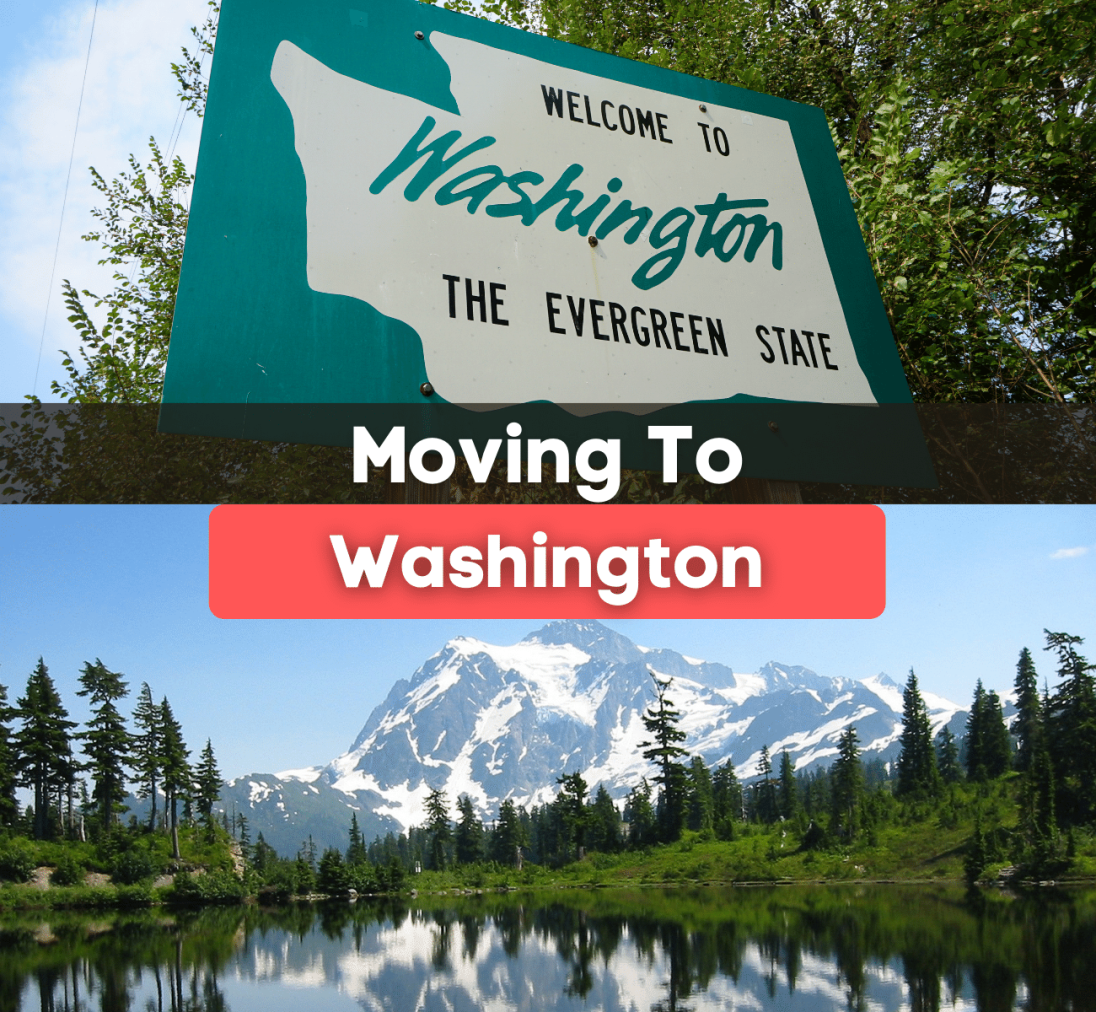 Living in Washington
Are you considering moving to Washington? Find out what it's like living in Washington!
Washington state is located in the Pacific Northwest region of the country and is an excellent place to live for families, retirees, and young professionals. Home to a population of 7.5 million people, Washington is most famous for its multiple national parks, snow-capped volcanic mountains, and agricultural lands.
Bordered on the west by the Pacific Ocean, Oregon to the south, Idaho to the east, and the Canadian province of British Columbia to the north, Washington is well-known for being eco-friendly and a hot spot for outdoor enthusiasts and nature lovers. Also referred to as the Evergreen State, Washington features a mixture of bustling city life and beautiful scenery.
So is Washington right for you? Since deciding to move to a new state can be overwhelming, we have gathered all the information you need to know about moving to Washington in one place to make your moving decision easier. Covering everything from its booming economy to its stunning natural beauty, find out everything you need to know in this Washington moving guide.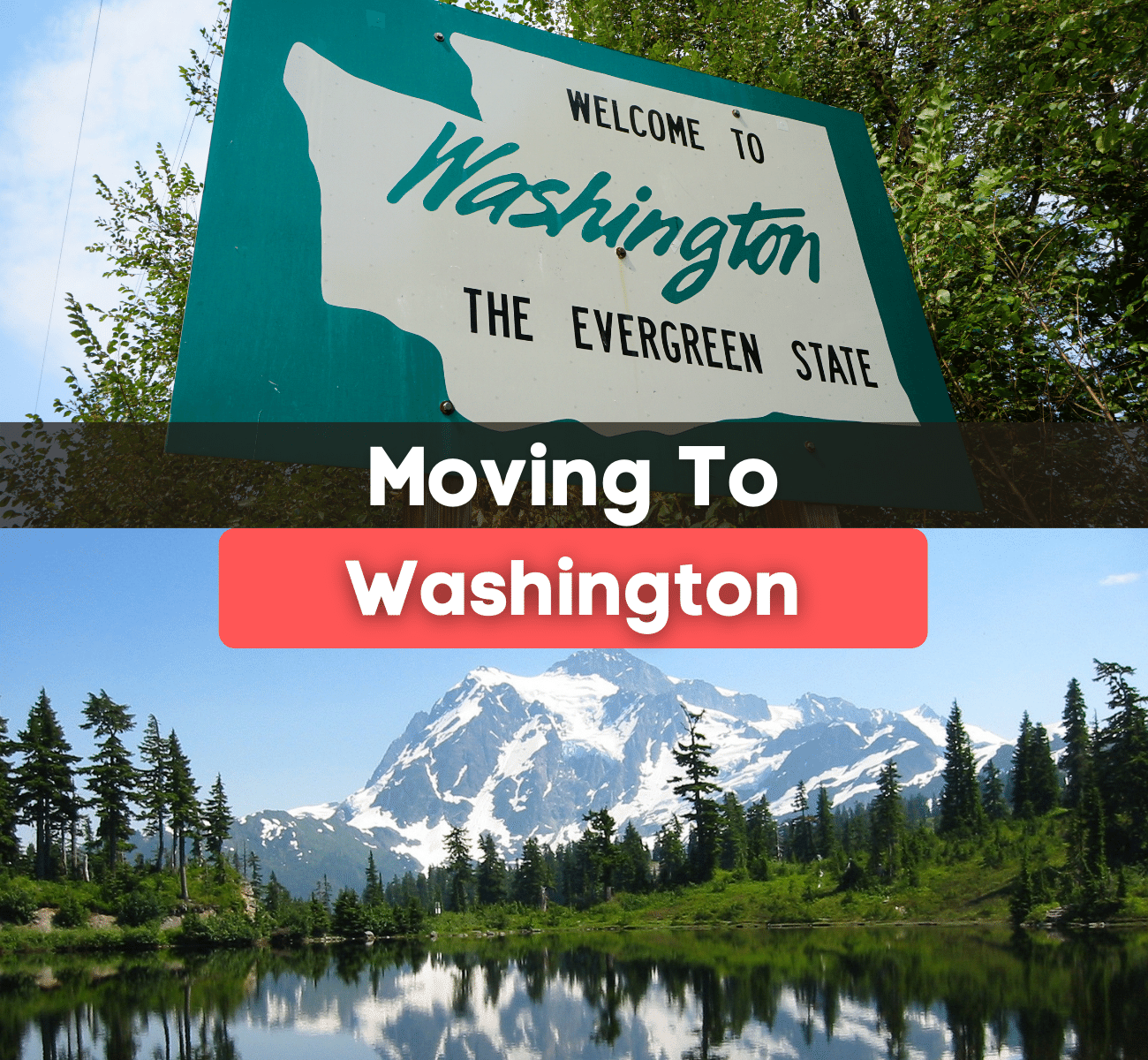 Here are seven things to know before moving to Washington!
Cost of Living
Affordability is arguably the most crucial factor for people that are moving. Luckily, Washington state is an affordable place to live, but it all depends on what area you are in. Cities like Seattle, Bellevue, and Sammamish are all considered to be more expensive than living in Olympia, Quincy, or Auburn, for example.
Overall, the cost of living in Washington is 13% higher than the national average and 7.8% higher than in Oregon but 6.9% cheaper than in California. Housing is 22% higher than the national average for those looking to buy a home, making this the most costly expense. Due to low supply and high demand, housing prices remain out of reach for many people.
According to a recent study from Purdue University, the minimum salary needed to be happy and comfortable living in Washington is $117,180. It is estimated that a single person spends about $1,167 per month without rent, while a family of four is estimated to spend about $4,262 per month without rent.
Since Washington relies on sales tax, property tax, and business and occupation tax, Washington is among the nine states that do not have a state income tax. This means that residents do not have to pay taxes on the money they earn, which is a huge benefit, especially for high-income earners.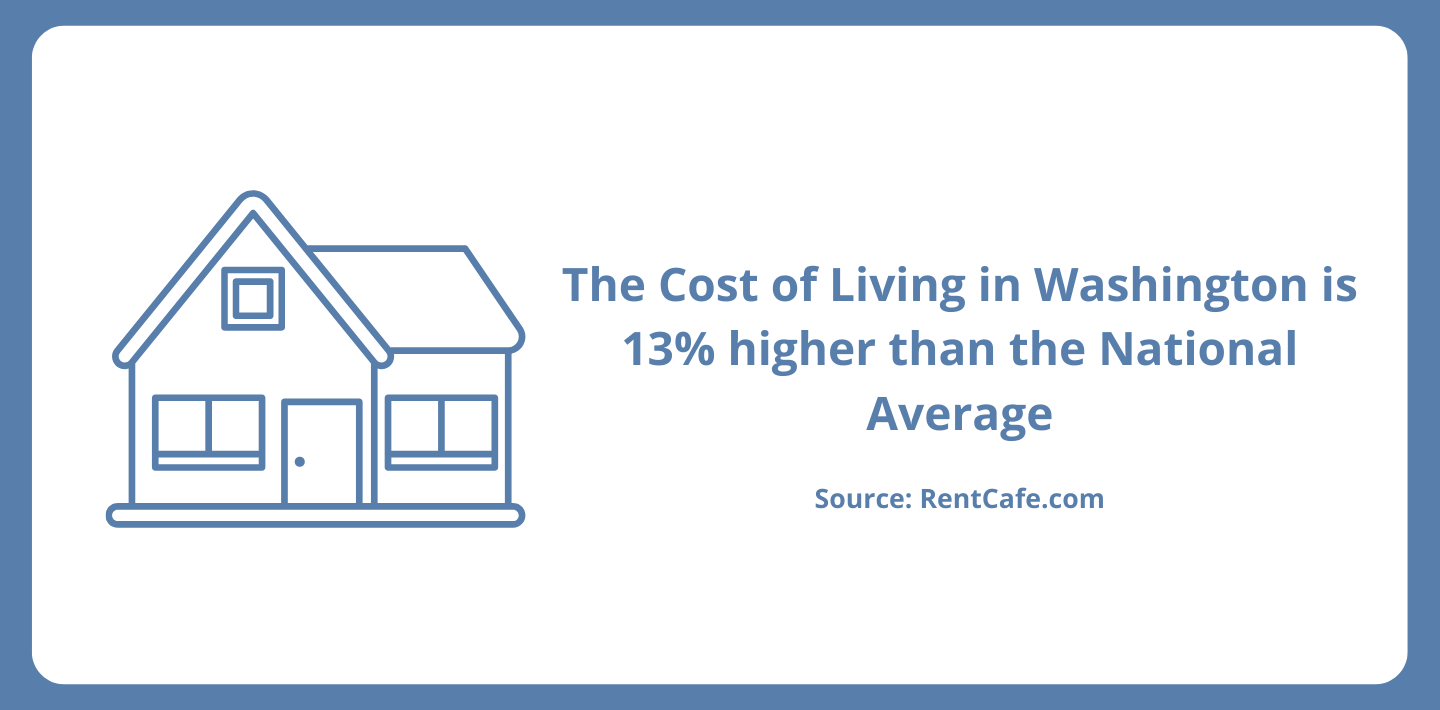 State Economy and Job Market
According to Wallethub, Washington state ranked as the country's best economy in 2022 based on economic activity, economic health, and innovation potential. The top three economic sectors by total employment in Washington are information, real estate and rental and leasing, and retail trade. Leading the nation in the net percentage of new tech positions, Washington employment has grown by almost 34% in the last decade, specifically in the tech sector. Some top companies to work for in Washington include Microsoft, Amazon, Boeing, Google, and HomeStreet Bank.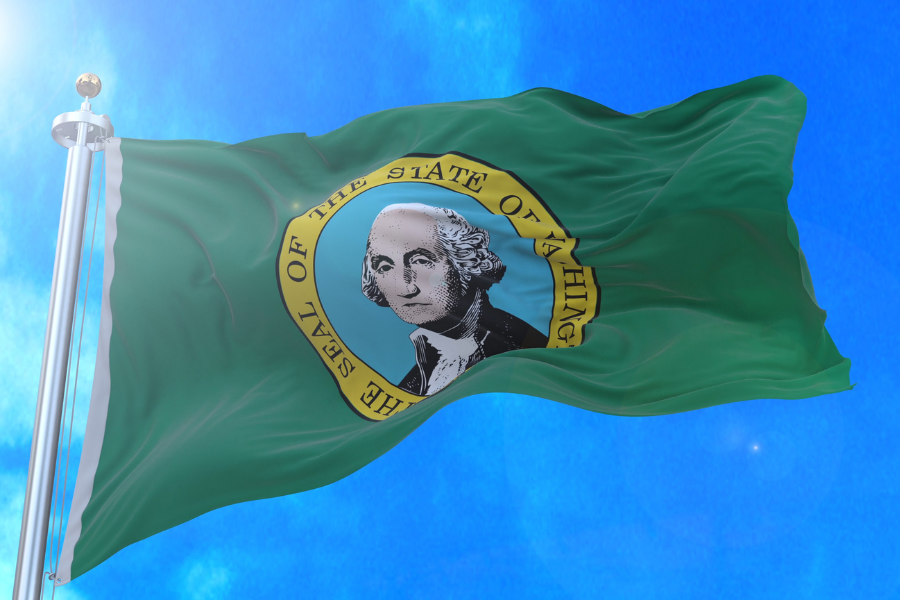 Weather
Did you know that Washington has two climate zones? While western Washington experiences frequent cloud cover, fog, and rain, Eastern Washington has warm summers and cool winters. In western Washington, summer days rarely rise above 79 degrees Fahrenheit, and winter days rarely dip below 45 degrees Fahrenheit. Meanwhile, in eastern Washington, summers are around 87 degrees Fahrenheit and the average daily high temperature is rarely below 46 degrees Fahrenheit.
The average total precipitation in Washington ranges from 70 to 100 inches over the Coastal Plains to upwards of 150 inches along the mountains and in portions of the Olympic Peninsula. The city of Tacoma is known to have the best weather in the state and the country since it receives less rainfall each year on average. Regarding snowfall, Washington can receive between 50 to 75 inches in the lower elevations. Mount Rainier and Mount Baker are the snowiest places in the United States since they can receive up to 645 inches of snow annually.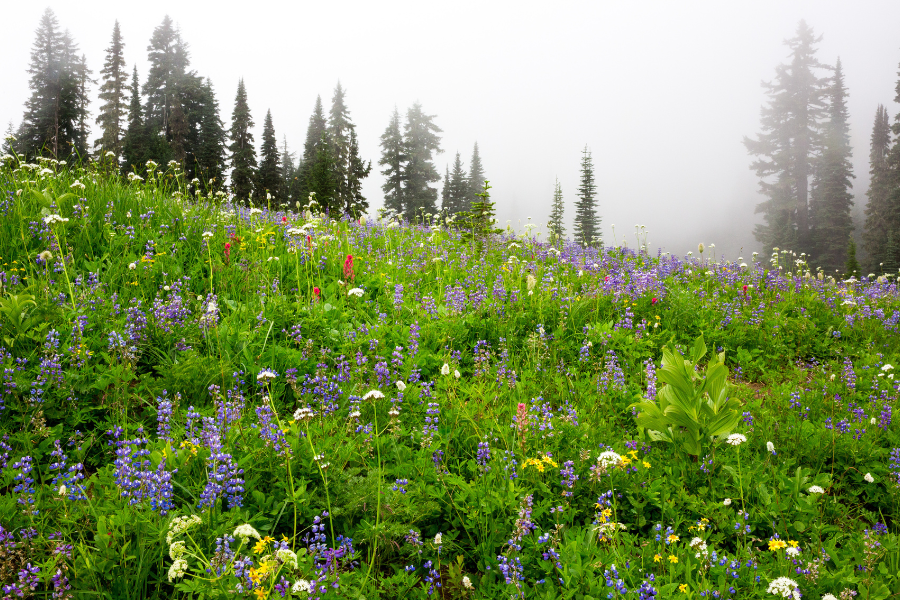 Explore the Great Outdoors
Washington is considered to have some of the most dynamic and breathtaking scenery in the country. Home to more than 8,000 lakes and three national parks, Washington is a beautiful state with many outdoor activities and natural areas. Covered in hiking trails, serene forests, picturesque mountains, and sandy beaches, Washington is the perfect location for adventure seekers and nature lovers.
Whether you love hiking, biking, kayaking, picnicking, or simply enjoying a peaceful sunset, there is no better place to enjoy the great outdoors than in Washington state. No matter which city you reside in, there is always a new natural area to explore.
Check out these must-visit parks and natural areas in Washington: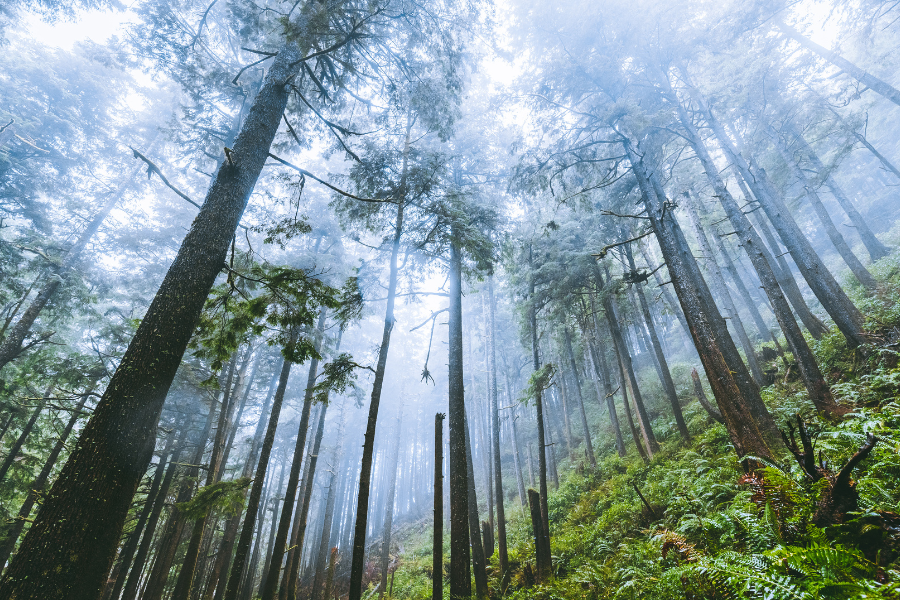 Education
Named fourth in the nation for the Best States for Education according to the USNews, Washington is known to excel in public education. Home to multiple high-performing school districts, including The Snoqualmie Valley School District, which is recognized as the best school system in Washington based on test scores and graduation rates, Washington prioritizes educational excellence.
For those searching for higher education opportunities, Washington is home to six public four-year colleges and universities and more than 300 independent colleges, universities, and career schools that offer various degrees and programs. Some of the best schools in Washington state include the following:
Name
Location
Tuition and Fees
University of Washington
Seattle, WA

$40,740 (out-of-state)

$12,242 (in-state)

Gonzaga University
Spokane, WA
$50,735
Seattle University
Seattle, WA
$51,274
Washington State University
Pullman, WA

$28,385 (out-of-state)

$12,701 (in-state)

Seattle Pacific University
Seattle, WA
$37,158
Whitman College
Walla Walla, WA
$58,622
Data Sourced from USNews.
Dining Scene
Known for its fresh coastal seafood, vineyards, and agricultural prowess, Washington's thriving dining scene uses fresh and local seasonal ingredients. While Washington may be most famous for its coffee culture thanks to Starbucks, its state produce and locally owned restaurants are certainly something to celebrate.
Since Washington is a leading producer of some of the country's delicious foods, including apples, cherries, salmon, and crab, choosing to dine out no matter where you are in the state is guaranteed to be a tasty experience. From five-star dining establishments to cozy cafes, Washington has endless options for satisfying your taste buds.
Dine at these popular restaurants in Washington:
Sports
Even though football is the most popular sport residents follow in the area, Washington is home to many other professional sports teams with dedicated fans. From hockey to basketball, cheering on the local team is one of the best ways to become acquainted as a new Washington resident.
While most of the professional sports teams in the state have been around for a while, the Seattle Kraken National Hockey League team had their first season last year in the 2021-22 NHL season. All of the professional sports teams in Washington are based out of and play in Seattle.
Pros and Cons of Moving to Washington
Pros:
No state income tax
Perfect summer weather
Breathtaking Pacific Northwest beauty
Plenty of job opportunities
Lots of dog-friendly things to do
Washington is environmentally friendly
Diverse culture
The locals love to stay active
Strong sports base
Cons:
There are lots of rainy days
Home prices are high
High sales tax
People are known to be reserved
Threat of natural disasters, including wildfires
There is tons of traffic near Seattle and big cities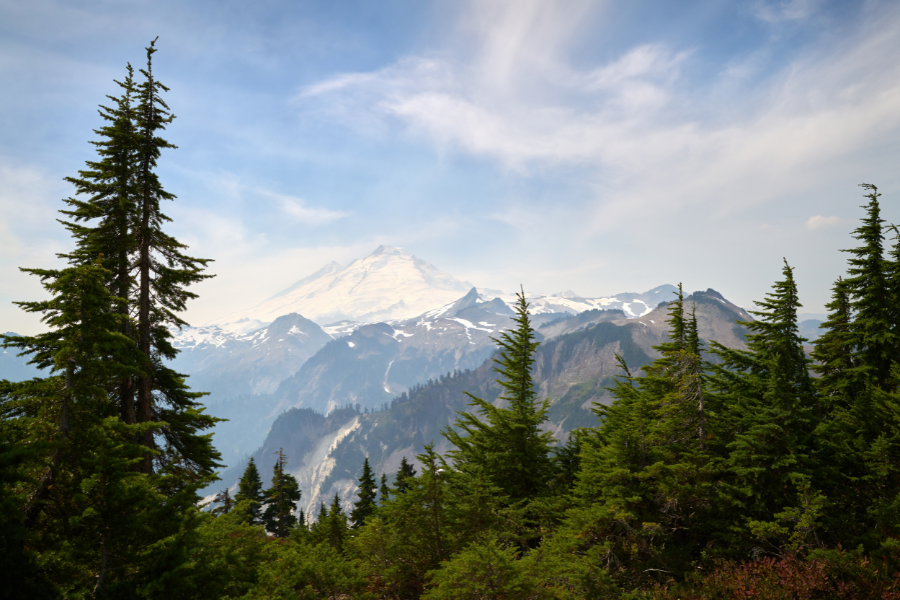 Moving to Washington - Final Thoughts
It is safe to say that Washington is an excellent place to move to. Even though the state has its fair share of pros and cons, there are more advantages to living in Washington than disadvantages, in our opinion. Whether you choose to move to Washington for its breathtaking scenery or a job opportunity, our team at UpHomes is here to help you find your dream home in this great state. If you are ready to search for homes for sale in Washington, contact us today to connect with one of our talented Real Estate Specialists.
#blog-moving-washington-cta#

Find your new home
Search real estate and homes for sale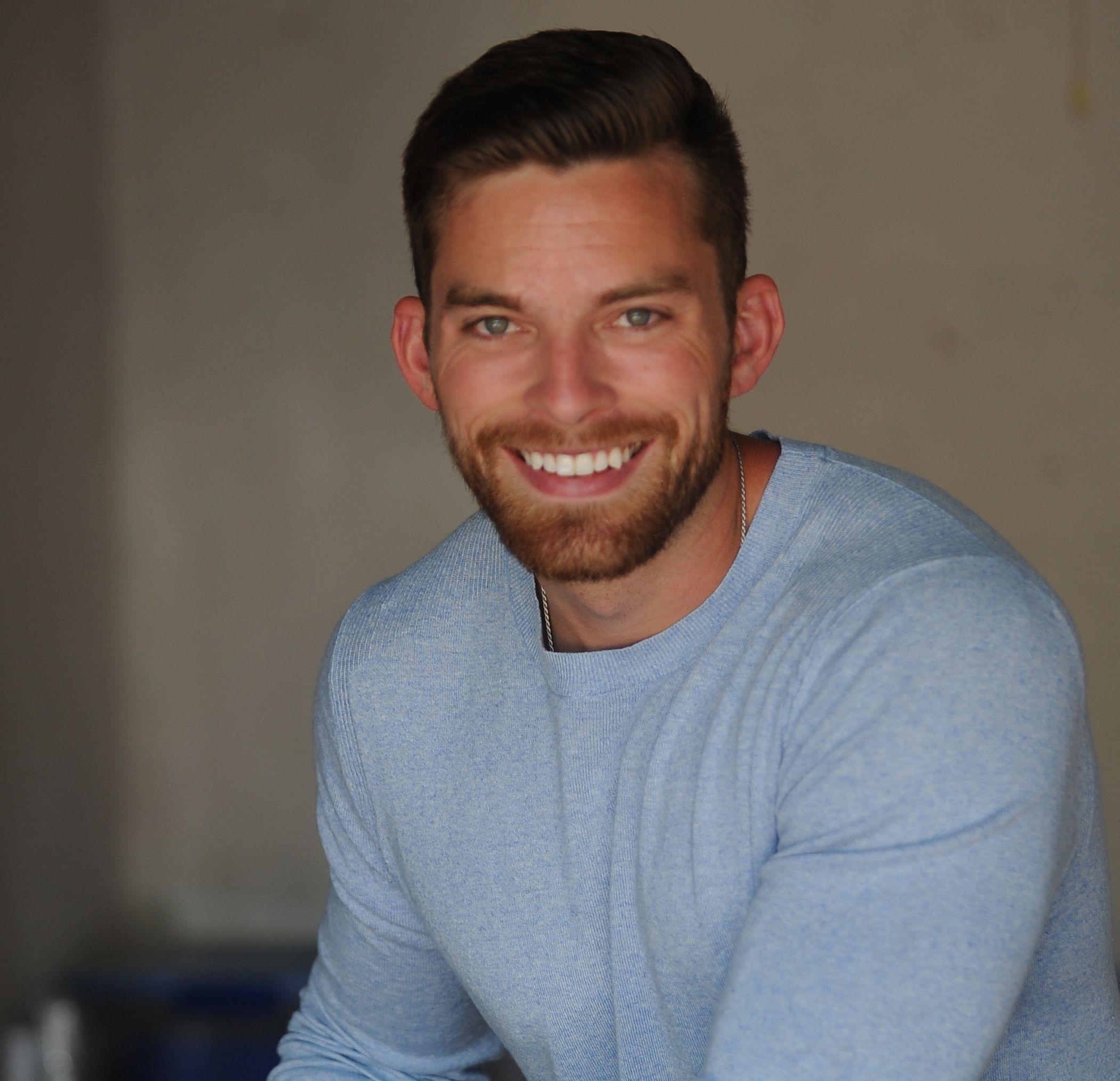 Ryan Fitzgerald
Hi there! My name is Ryan Fitzgerald, and I am a REALTOR®. My goal is to help you learn more about real estate through our Real Estate Blog! Hopefully, you enjoyed the above blog post and it found a way to provide help or value to you. When you're ready to buy or sell a home of your own let us know here. Please feel free to join the conversation by dropping us a comment below.