10 Best Restaurants in Atlanta, GA
Choosing the Best Restaurants in Atlanta
Are you moving to Atlanta and searching for the best restaurants? Check out these ten best restaurants in Atlanta!
It is hard to narrow down the best restaurants in the Atlanta area because there are many excellent choices. Since the pandemic began, restaurants have truly evolved in the city, installing all-weather patios, takeout windows, and outdoor kitchen areas, transforming the parking lots, and adding more to-go options to the menus.
Atlanta has many cultures and neighborhoods that all incorporate different types of food. From Mexican to modern French cuisine, Asian, and much more, your taste buds will be satisfied while eating in Atlanta. Charleston and New Orleans were the food capitals of the south for a long time, but many restaurants in Atlanta have grabbed that title. If you are looking for southern food, it's also one of the best places for southern favorites like chicken and waffles and BBQ.
Not only is this a place where you will find southern delicacies, but it's also a famous culinary powerhouse, and well-known chefs choose to show off their talents. Every city has certain restaurants that you have to try. With Atlanta being such a foodie city, many residents would say you can't visit without trying.
Some of the must-try spots in Atlanta are beautiful buildings among the hustle and bustle of the city, while others are hole-in-the-wall joints that you might not even notice. Whether you are looking for a casual brunch, or fancy dinner, eating great food is one of the best things to do in Atlanta. So, what are you waiting for? Keep reading to see the top ten restaurants in Atlanta!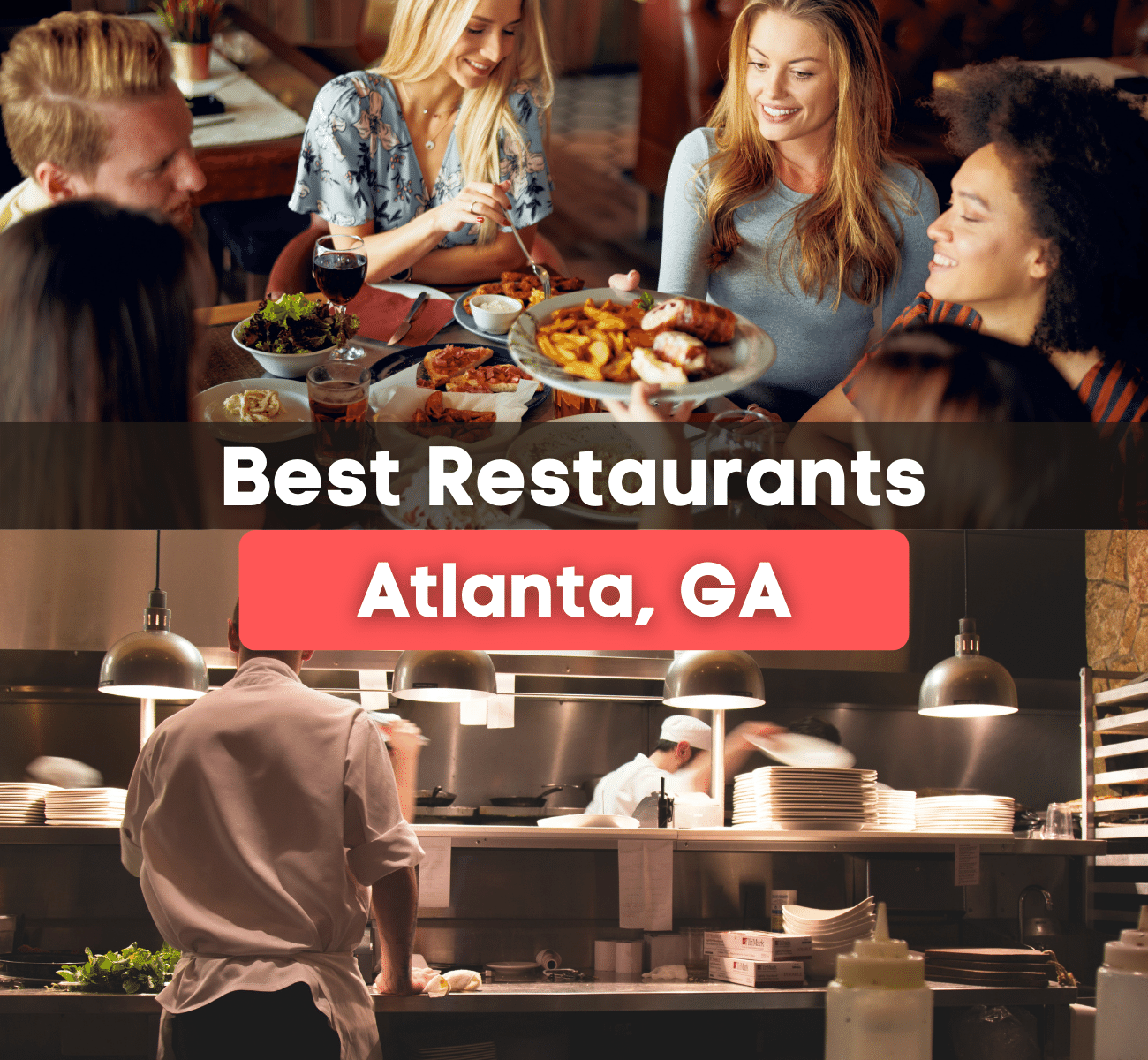 Spring
Spring is a restaurant that makes "best of" lists quite often because of its owner, chef Brian So, and partner, Daniel Crawford. The seasonal menu is carefully paired with a list of the restaurant's natural and biodynamic wines.
This place popped into the restaurant scene in 2016, almost on top of the railroad tracks in a far corner of Marietta Square. It also had a small menu with four starters and four mains. However, years later, chef Brian So's food attracted people from miles and miles around. The restaurant's venue is still modest and small today and is best for dinner dates or small groups of friends and family. There are about 14 tables that are lit up by one Edison bulb. You also won't find a bar at Spring.
So uses classical French techniques to create Southern-inspired dishes. Favorite appetizers on the menu include sockeye salmon Crudo, beets and burrata, and foie gras terrine. Entrees include braised short ribs, grilled wagyu flatiron steak, pappardelle with green garlic cream, or a whole fish course. For dessert, Spring often uses seasonal ingredients like herbs and fruits. Try the chocolate and hazelnut combo. Something you will notice about Spring is that it is anything but ordinary. If you like sustainability, this restaurant goes above and beyond. It connects local farms and artisans to provide fresh food to its guests.
The restaurant has a fantastic wine menu and a variety of local beers, including Creature, Comforts Tropicalia IPA, which comes from Athens.
Make sure that you make reservations.
Miller Union
The chef at Miller Union, Steven Satterfield, is a James Beard award winner for his simple, fresh, Southern cooking. He is a Georgia native and likes to change people's notions about southern food. The menu is seasonal, and the chef uses a lot of locally grown vegetables to change up the menu.
Favorite dishes include the farm egg baked in celery cream with grilled bread, fried pork chop with creamed greens, duck breast with hoecakes and strawberries, and the vegetable plate. You'll also find Miller Union has an impressive restaurant list. A favorite dessert is the brown-butter bourbon cake.
Satterfield won the James Beard Award for Best Chef in the Southeast in 2017 and was the first Atlanta chef in 10 years to bring home the award. His mentor was Scott Peacock, who he spent a decade working for at Watershed. Now, Satterfield co-owns Miller Union with general manager & sommelier Neal McCarthy. The restaurant is in an old warehouse on the west side of Atlanta and was established in 2009. It has a modern and rustic theme that you will enjoy.
During the pandemic, Satterfield and his team offered takeout from the restaurant for the first time!
Sushi Hayakawa
This sushi restaurant arguably dominates the sushi scene in Atlanta. It recently relocated to Star Metals on Howell Mill Road. You'll need to make reservations for this restaurant before you get a seat.
Sushi Hayakawa now offers a special dinner where you can watch chef Hayakawa prepare your food himself. The two-and-a-half-hour honkaku omakase is a meal with the chef who prepares 14 courses, including fish items such as salmon, halibut, bluefin tuna, and more. This is a Japanese feast in which the diners let the chef decide. Hayakawa is a master of handling fish and rice and is highly charming. The entry fee is $185.
However, if you are interested in spending less, you can opt for the restaurant's regular menu. You can eat at the sushi bar, where you choose from a $135 or $95 tasting menu. The more expensive option will get you nigiri brushed in housemade soy sauce and maybe even his signature dish of monkfish liver and scallops.
The fish you will eat a Sushi Hayakawa was flown in from Tokyo's Tsukiji Fish Market. Remember that this is a traditional sushiya, so you will find many options here that are similar to what they offer in Japan. There are a lot of sushi restaurants in Atlanta but nothing like this one! Sushi Hayakawa has been open for business since 2008.
In 2020, the James Beard Foundation nominated Hayakawa for Best Chef in the Southeast.
Please make sure you try to get a reservation in advance, but I wish you good luck. Reservations are typically booked several weeks out.
Bacchanalia
To treat yourself, you must try this fine-dining spot that has been open for two decades. Located next to the market and cafe Star Provisions on Ellsworth Industrial Boulevard, reservations are necessary to dine here.
Bacchanalia has an exciting history. It was first located in Buckhead, the epicenter of Atlanta's food scene. In 1999, Bacchanalia moved to a repurposed warehouse on a quieter part of town called the Westside right before it grew exponentially. In 2017, the restaurant got an even more modest space farther west. The restaurant is owned by chef Anne Quatrano and her husband, Cliff Harrison.
Menu favorites include crab cake, Maine lobster with caviar and brioche, Rohan duck, pasture-raised lamb, and more seasonal entrees. For dessert, try a slice of cherry cheesecake or banana pudding. The ingredients are fresh-sourced, some coming straight from the chef's farm. If you like creative food, this is one of your favorite places to eat in Atlanta.
If you don't have reservations, you can go to the bar for a cocktail, a glass of wine, and the a la carte menu. The restaurant also offers a fancy, four-course takeout menu with options such as New York strip, Maine lobster, cheeses, and dessert.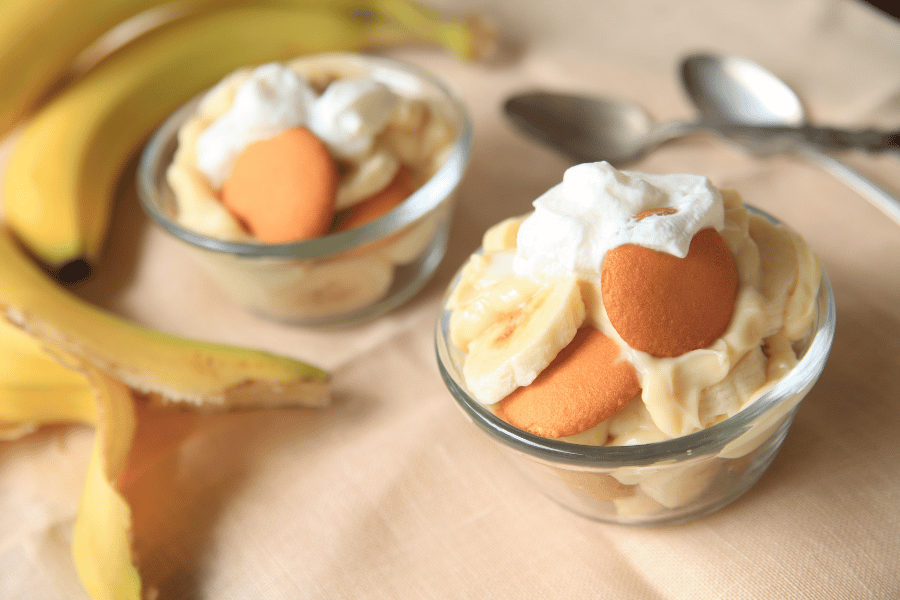 Heirloom Market BBQ
This small BBQ joint in Cobb County is a small, modest restaurant, but it is worth the cramped quarters. Owned by chefs Cody Taylor and Jiyeon Lee, this southern-Korean barbecue restaurant is to die for. This married couple combined the homestyle Korean cooking from her childhood with his Texas-style background. When the restaurant first opened, it was a Texas-style barbecue. However, the meshing of cultures came later, and the southern-Korean barbecue style was born.
Menu favorites include the spicy Korean pork sandwich with chopped rib meat marinated in fermented chili paste, topped with kimchi coleslaw, black sesame seeds, and scallions. The brisket pulled pork and rack of ribs rubbed with Korean chili paste are also must-try dishes. Popular sides include the Brunswick stew, traditional slaw, Korean sweet potatoes, kimchi slaw, and collards. There are also five different sauces to choose from.
Heirloom Market BBQ only has a few standing tables and offers take-out. Remember that the lines will be extended and the parking situation could improve. BBQ experts rank Heirloom Market among the best BBQ spots in Atlanta.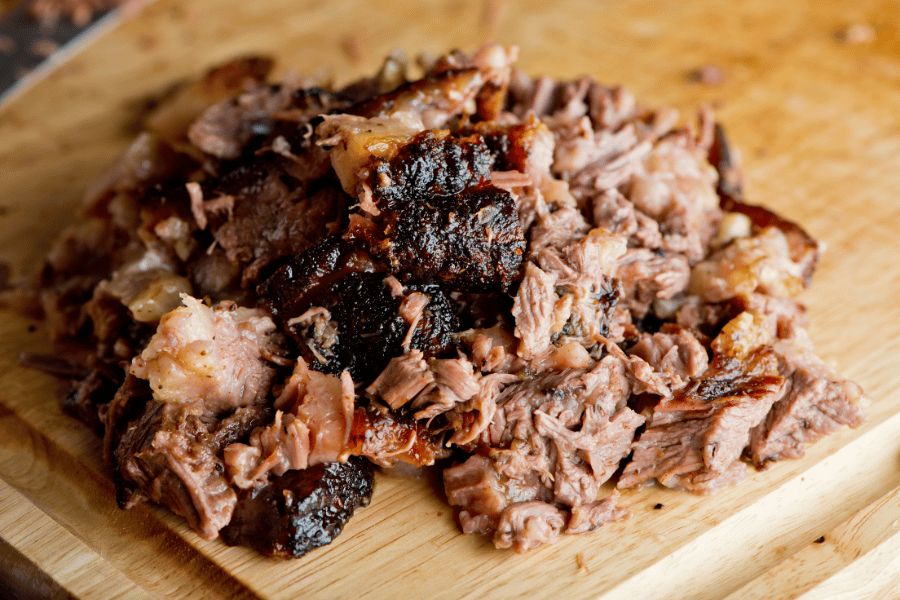 Masterpiece
Situated on a remote stretch of Buford Highway in Duluth, Masterpiece is where you find the best Chinese Sichuan food in the city. The James Beard Foundation nominated chef Rui Liu for Best Chef in the Southeast in 2018. The restaurant is housed in a simple building with tile floors and pictures of Lie's family, who helps run the restaurant with him. Rui Liu is a certified chef from northeastern China who was given an O-1 visa only given to "individuals with extraordinary achievement."
Must-try dishes on the menu include the dry-fried eggplant (with chili powder and pepper ash powder) and the Dong Po Pork, a braised pork belly soaked in a syrup-like glaze. Dry pot shrimp, braised beef noodle soup, and spicy mayo tofu are also excellent. There are more than 125 other dishes on the menu as well that you must try! You will find regular menu items as well as more adventurous options.
This restaurant has been open since 2014 and has established a fantastic reputation as a foreign-inspired restaurant in Atlanta by showcasing its authentic Chinese cuisine.
BoccaLupo
Open in 2013; this Italian-American restaurant has become a favorite in the Inman Park area for locals and visitors alike. The chef, Bruce Logue, has a serious resume. The Atlanta native was sous chef at Babbo in New York and executive chef at Park Hyatt Aviara in Carlsbad before he received his Master Italian Cooking certificate.
Fresh pasta dishes are the favorites here, including the black spaghetti with red shrimp, hot Calabrian sausage, and scallions, the 20-yolk tagliatelle with mushrooms and kale kimchi, the spaghettini with dry-aged meatballs, or the pan-fried white lasagna with creme fraiche and jalapeno pesto. Excellent appetizer options include octopus and mortadella spiedino and wild calamari in brodetto. For dessert, you can't go wrong with gelato and cookies. The menu items are pretty creative and a little adventurous.
Make sure you also check out BoccaLupo's wine and cocktail menus. Take a seat on the covered patio or at the little bar.
The New York Times recognized Logue as the king of his own "neighborhood pasta kingdom." BoccaLupo is one of the go-to places for fancy food from Europe.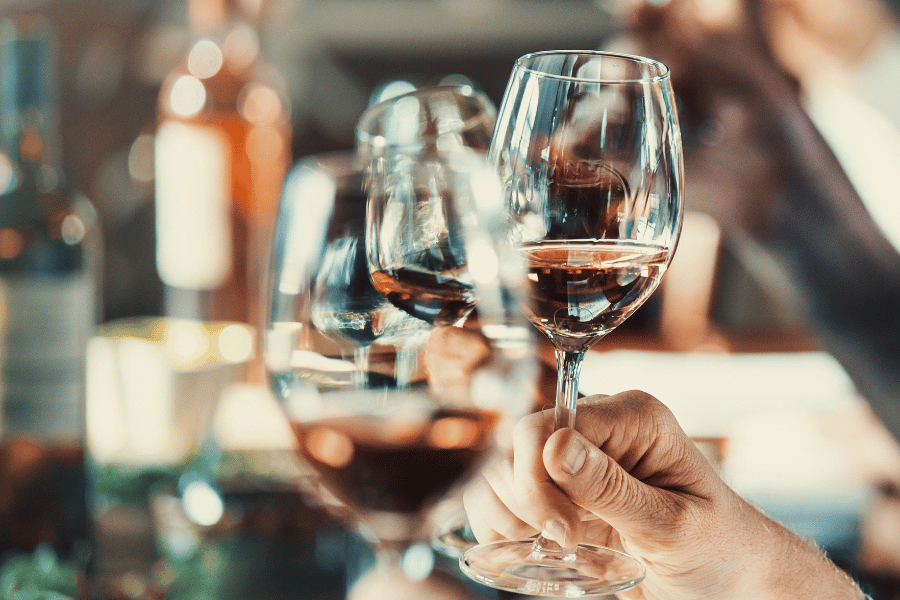 Kimball House
Kimball House is another spot for elegant fine dining located in the former Decatur train depot. The vibe is cozy, laid-back, and dimly lit.
It is well known for its oysters, considered the best in the city thanks to partner and oyster bar manager Bryan Rackley. Stop in between 5 and 7 for the daily oyster happy hour. Executive chef Brian Wolfe also created a spin on a cheesesteak, including bordelaise, brie, and foie gras. You can't go wrong with the grouper collar, bar steak, lemon-pepper chicken skins, Georgia trout, duck breast with shishito peppers and okra, or caviar and Carolina Gold rice middlins. Delicious sides include mushrooms, turnips, broccoli, radish, and greens in a butter sauce. Only leave with trying one of pastry chef Yesenia Justiniano's desserts, like the frozen peanut butter bomb.
This restaurant features award-winning cocktails but also a wine list that is quite impressive. It includes muscadet, Chenin blanc, sherry, Madeira, and vermouth options.
Kimball House is an annual James Beard Award nominee.
Lanzhou Ramen
This ramen joint has two locations that serve giant plates of hand-pulled noodles and noodle soups. You can find it in the Pinetree Shopping Plaza off Buford Highway and Kennesaw.
Favorite menu items at Lanzhou Ramen include pork or oxtail stir-fried noodles, beef or roast duck hand-pulled noodle soup, soup dumplings, spicy crawfish, vegetable and egg hand-pulled soup, and pork buns.
You can even watch the chefs through the kitchen window as they throw, roll, twist, and pull the noodles into shape. This restaurant is known explicitly for Lanzhou-style, hand-pulled noodles, an art form. The noodles are so long that your bite will go on and on. This is the go-to spot for people who love Chinese noodles.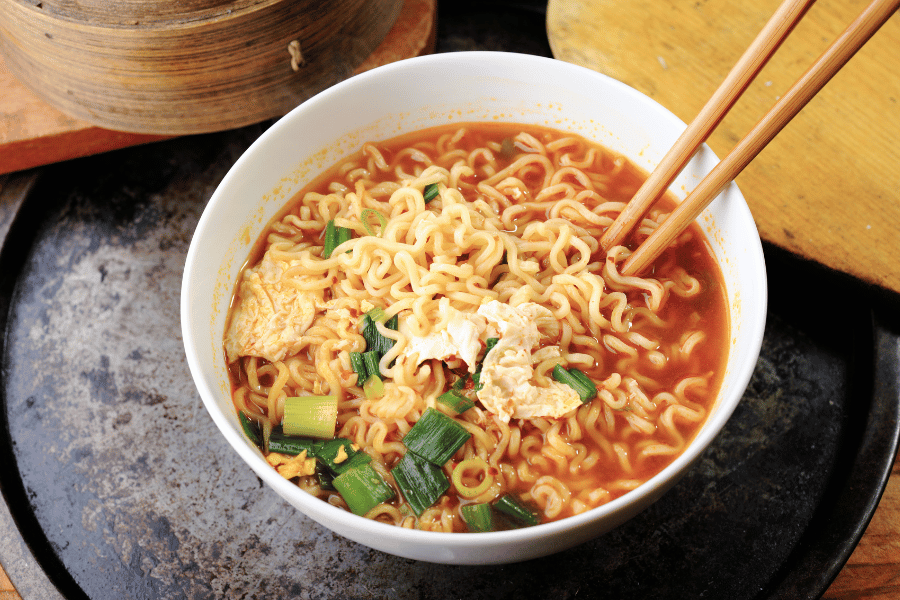 Bones Restaurant
Dine on prime beef and seafood dishes at this top-rated Atlanta steakhouse. Receiving the Best of Atlanta Steakhouse award each year for the past sixteen years, Bones Restaurant is best known for its fantastic service and mouthwatering food. Offering an old-school vibe and private party rooms, Bones Restaurant is known to accommodate only the best fine dining experiences. It is the perfect place to celebrate a special occasion.
Best Restaurants in Atlanta, GA - Final Thoughts
No matter what you may be craving, Atlanta is home to plenty of restaurants that satisfy even the pickiest eaters. Whether you are looking for a casual eatery or a fine dining experience, there is no shortage of new restaurants.
If you are moving to Georgia and searching for homes for sale in Atlanta, please contact us today to connect with one of our friendly and knowledgeable Realty Specialists. We are here to help!

Find your new home
Search real estate and homes for sale