7 Best Things to Do in Atlanta, GA
The Best Activities in Atlanta
Are you moving to Atlanta and searching for fun things to do? We've got you covered with the seven best things to do in Atlanta, Georgia!
Atlanta is a history known for sightseeing with a rich history. It is the birthplace of Civil Rights leader Martin Luther King Jr and is also known as the Hollywood of the South. It has been at the center of military conflicts and cultural movements and has hosted the Olympic Games.
Atlanta has something to offer everyone, from new hotel openings to unique retail options and plentiful green spaces. You could visit Buckhead's fun bars and shops and see sports attractions like Centennial Olympic Park and the College Football Hall of Fame. You can check out Atlanta's green spaces like Piedmont Park or entertainment venues like the Fox Theatre. Families love to check out the Georgia Aquarium and World of Coca-Cola.
Atlanta also has a diverse and delicious food scene, with many restaurants focused on locally-grown products. You will find some of the country's best restaurants here in Atlanta.
It's important to remember that this city is known as "Hotlanta" for its sweltering summer temperatures. Make sure you find ways to keep cool and hydrated if you are visiting during the summer or choose to visit during a cooler time of the year. Either way, you will find fun things to do in Atlanta, both inside and outdoors.
Every year, Atlanta welcomes millions of tourists to its unique attractions, professional sports, delicious food, exciting entertainment, and fascinating museums. To help you figure out what you should do with your time in this grand city, we've composed a list of some of the top activities you can't miss. Keep reading to see the seven best things to do in Atlanta!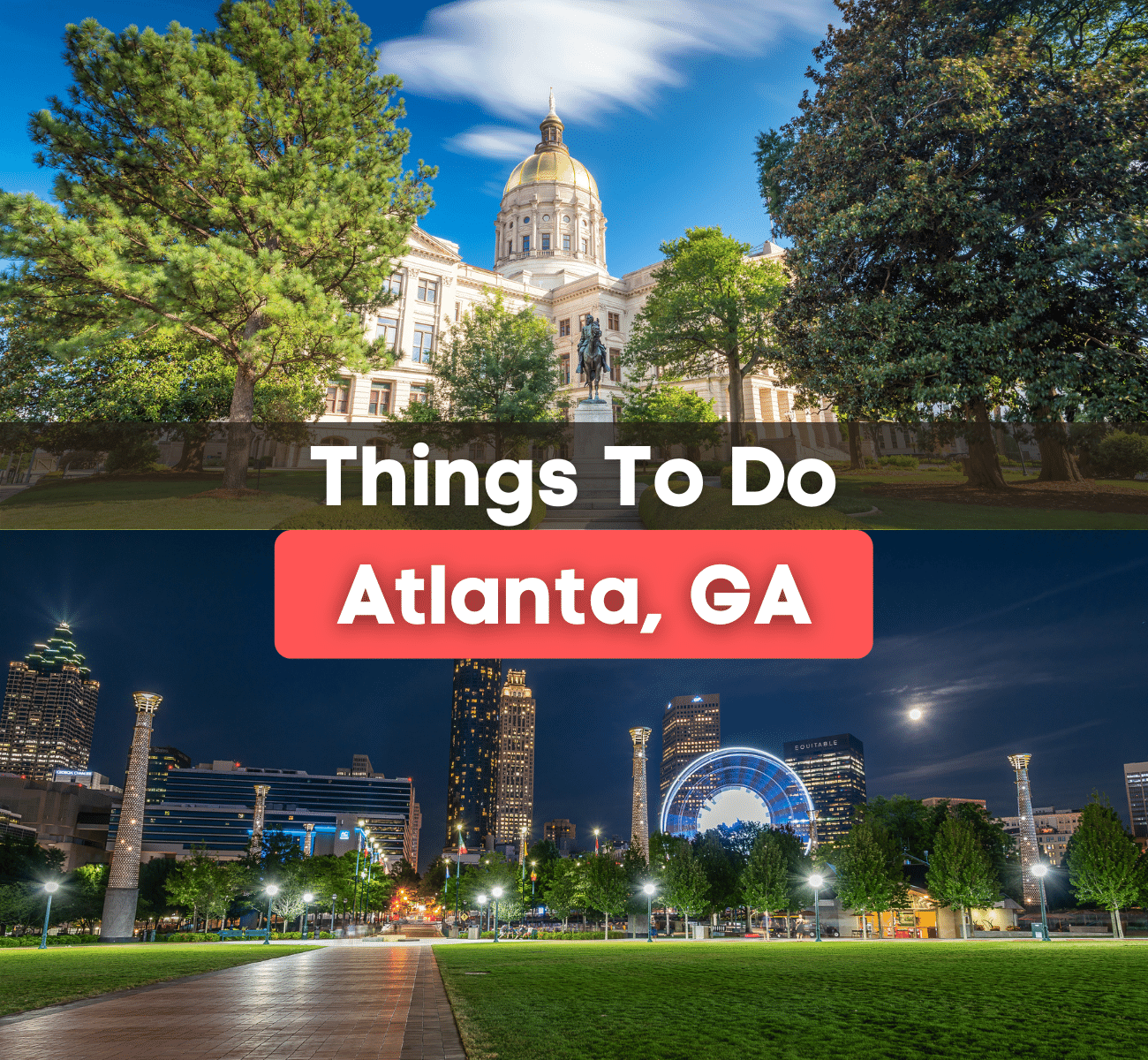 Atlanta Beltline
The Atlanta Beltline is an excellent place to visit if you want an outdoor activity and want to explore the city. The in-progress beltline has 22 miles of streetcar rails, 22 miles of trails, 5,600 units of affordable housing, and more than 1,000 acres of green space.
The BeltLine is opening in phases and will be finished by 2030. So far, there are ten parks and eight trails along the BeltLine that locals and visitors can enjoy. Some of the parks that you will find along the way include Historic Fourth Ward Park, which has 17 acres of green space and a splash pad; Historic Fourth Ward Skatepark, the city's first public skate park; Perkerson Park, which offers tennis courts, softball fields, and a disc golf course, Gordon White Park, which hosts music events, art installations, and fitness classes, and Westside Park, which is 280 acres and includes a playground and pavilion.
You can walk, bike, or run on the BeltLine to explore nearby communities. The path will also take you to places like Piedmont Park and Ponce City Market. Take the Eastside Trail to access bars, restaurants, and street art.
When the BeltLine is finished, it will connect 45 in-town neighborhoods, including 33 miles of multi-use trails and 2,000 acres of parks. It will become one of the country's most extensive urban redevelopment programs. The BeltLine used to be a bunch of abandoned railroads which is why it is such a massive reconstruction project.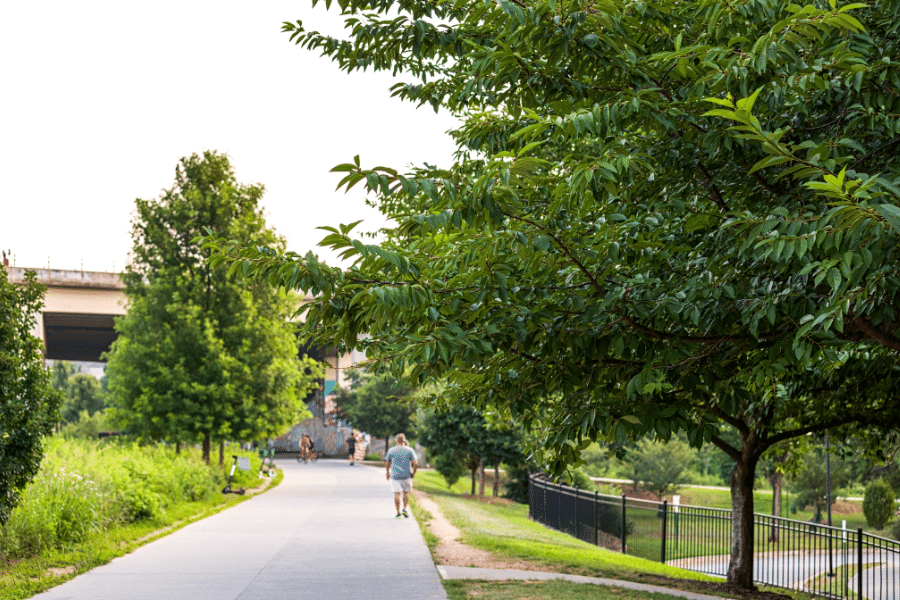 Martin Luther King, Jr. National Historical Park
The Martin Luther King Jr. National Historical Park is the home of where one of history's most influential figures was born and raised. It would be best if you tried to arrive early to take a free 30-minute guided tour of King's home. You can also explore the Ebenezer Baptist Church, where King was once a pastor. Learn about the desegregation of Atlanta's Fire Department by stepping foot inside Fire Station No. 6. This park is a complete representation of Martin Luther King Jr's life and death.
There is also a Visitor Center where you can see exhibits about the civil rights movement and the D.R.E.A.M. Gallery. Next to the church is the Martin Luther King, Jr. Center for Nonviolent Change, which has more exhibits and the tombs of King and his wife, Coretta Scott King. The tomb is in the center of a reflecting pool with an eternal flame burning nearby. There is also half of the fame featuring other important figures of the time, including Rosa Parks.
Tours are offered from 10 a.m. to 4 p.m. and are first come, first served. According to the National Park Service, weekdays and Sunday mornings are the least crowded. The entire historical park is spread across several blocks, so you will have to do some walking.
There are also Civil Bikes Tours which will take you through the historic Sweet Auburn district, by the Ebenezer Baptist Church, and other sites related to the human rights campaign to free African-American widow Rosa Lee Ingram.
Atlanta's Fox Theatre
One of the city's most iconic landmarks and a fabulous performance venue is the Fox Theatre, built in 1929. You can explore the inside without needing tickets. The Karnak Temple Complex inspired the theater's design in Luxor, Egypt, and the Alhambra in Granada, Spain.
You can get a tour and learn about the building's architectural details, like domes, archways, towers, gold leaves, and stone patterns. The tour guides take you through more than 10 locations in the building. You will also see Mighty Mo, one of the world's most significant theater organs. The theatre also has an Arabian courtyard with an artificial night sky.
Atlanta's Fox Theatre is where you can see Broadway tours, top-billed bands, and comedy shows. For example, you could catch the B-52s and Chelsea Handler at this theatre, as well as the schedule of Broadway Across America touring shows. The theatre offers 4,665 seats to check out ballet recitals, rock concerts, and more. The theatre's inaugural movie screening happened in 1929 with Steamboat Willie, Walt Disney's debut cartoon. Although, there aren't a lot of films shown at the Fox Theatre anymore.
After you see a performance, stop into the theater's restaurant, the Living Restaurant, and bar to have a meal and a drink.
Ponce City Market
Ponce City Market is a 2.1 million-square-foot market that is the Southeast's largest brick structure and offers local boutiques, retail shops, offices, education centers, coffee shops, and food stalls. The massive building used to house Sears & Roebuck was built in 1926. This is a fun place to walk around and shop, eat, explore, and hang out with friends.
The food is fantastic! The central food hall features three James Beard Award winners. You will find Japanese sushi, spicy Brazilian pork, burgers, and more. The wine offerings are also some of the best you can see in the city!
The market also hosts fun events like cooking classes, wine tastings, and art and candle-making workshops. You can also pay a fee to take a freight elevator to the rooftop to play carnival games and see some fantastic city skyline views. Known as Skyline Park, you can play games like Skee-Ball and mini-golf or ride down a slide.
You can also catch a show at the RoleCall Theater, look through the farmers market, or compete at a Trivia Night. You can even stay the night at the market if you book one of the available rental units.
There is even a Ponce City Market food tour which is highly recommended for foodies. You will have the chance to try local staples from many vendors, learn about the history of the building, and much more from a tour guide.
Georgia Aquarium
One of the world's largest aquariums, the Georgia Aquarium has more than 100,000 animals of 500 different species. There are seven various galleries to explore, including the "Ocean Voyager" gallery, which features a giant whale shark in a tank with more than 6 million gallons of water. The "Southern Company River Scout" gallery features freshwater animals. The "Sharks! Predators of the Deep" exhibit holds multiple shark species, including hammerheads and tiger sharks, in a tank holding 1.2 million gallons of water.
The aquarium is always quite busy so keep that in mind when you visit. "Ocean Voyager" is one of the most popular attractions inside because of the incredible tank and whale shark. It is the only collection of whale sharks outside of Asia, and it was a huge deal when they were imported from Taiwan back in the day. Other species you can check out include sea lions, jellyfish, fire eels, puffins, penguins, otters, seadragons, and more. The aquarium likes to emphasize its tremendous and unusual breeds and species of animals.
Visitors say the free dolphin show is fun and worth paying to swim or dive with the aquarium's whale sharks.
It would be best if you tried to order your general admission tickets online in advance. You can typically reserve seats for the dolphin and sea lion presentation and the 4D theater in the morning before your visit.
This aquarium has so many cool things to see that you could spend all day exploring. There is a self-guided tour app available for download that will navigate you through the exhibits.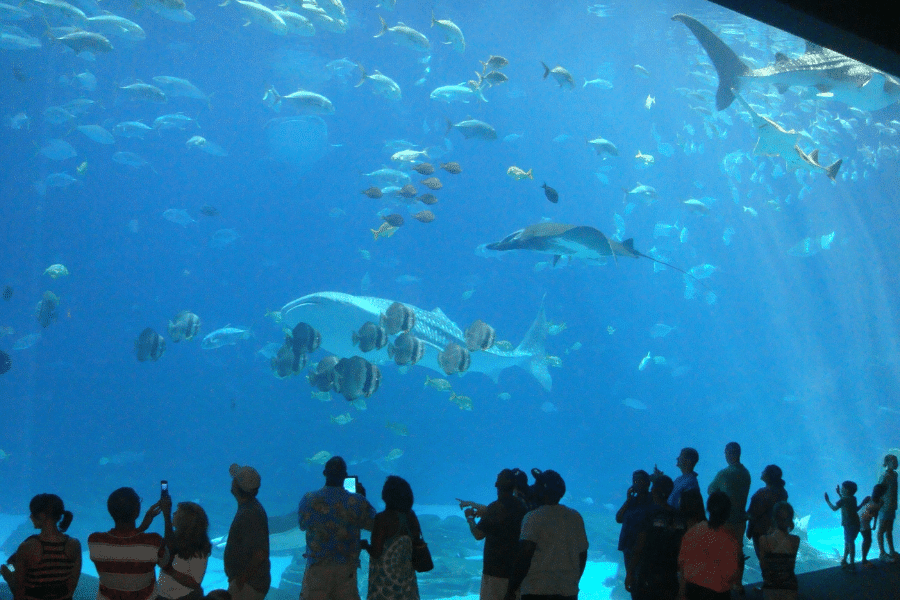 World of Coca-Cola
A museum dedicated entirely to Coca-Cola - what more could you want? The two-story museum starts with exhibits on the drink's history, its role in pop culture, and how the soda is bottled. You will also learn about the brand's global impact. Coke is quite famous in Atlanta after its invention in 1886 by pharmacist John S. Pemberton. It is also where the brand's global corporate headquarters are located.
One of the more popular parts of the museum is the Taste It! area, where you can try coca-cola varieties from other countries. There are more than 100 beverages, including all the classics and limited editions. You can also buy Coke products from the gift shop. Make sure you also check out the museum's 3-D theater and the coca-cola-making stations where you can create your drinks. You can snap a photo with the Coca-Cola polar bear's life-sized figure.
Test your nose in the brand-new Scent Discovery exhibit at World of Coca-Cola. You can guess the origin of different scents, learn about the anatomy of smell, and determine which smell profiles and Coca-Cola drinks might be your new favorite. You will be surrounded by artifacts from Coca-Cola's history in the loft. It is home to nearly 200 historical and international artifacts representing over 135 years of Coca-Cola. There are also more than 30 different countries represented in The Loft. Some items you may find are an 1896 syrup urn or 1970 Coca-Cola beach pants.
You can do a self-guided tour of the World of Coca-Cola, a guided tour, or combine it with a CNN backstage experience.
Keep in mind that the museum can get crowded and the lines are long.
Expert tip - if you plan to go to several of Atlanta's top attractions, including the Georgia Aquarium, World of Coca-Cola, Zoo Atlanta, Fernbank Museum of Natural History, College Football Hall of Fame, or National Center for Civil and Human rights, make sure you buy CityPASS tickets. It includes admission to five attractions, and you will save money that way.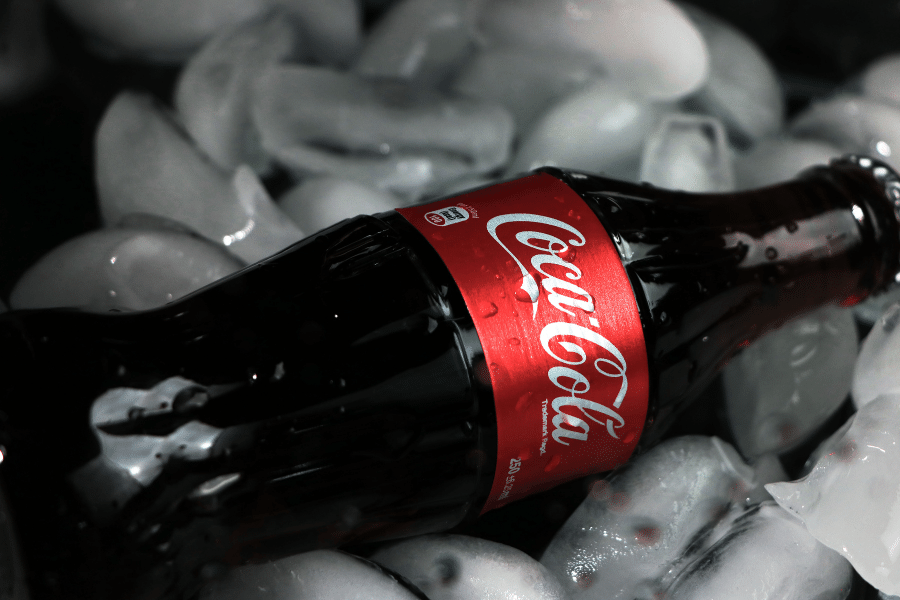 Truist Park
Atlanta Braves fans have come to Truist Park to cheer on their favorite team since its opening in 2017. Formerly known as SunTrust Park, up to 41,000 people can get a seat to watch a baseball game. The Atlanta Braves baseball season runs roughly from March to October every year, so there are plenty of opportunities to catch a game. Make sure you grab a hot dog and a soda!
You can also explore the park when games aren't happening. There are daily tours year-round that inform visitors of the Braves' long history. You will see the dugout, press box, Monument Garden's historical displays, the Braves Clubhouse Store, indoor batting cages, Xfinity Rooftop, and more.
If you go to a themed night at Truist Park, you will be in for a treat. Make sure you don't miss out on the pregame parade!
Located next to the park is the Atlanta Battery, where you can go for food, shopping, and other services.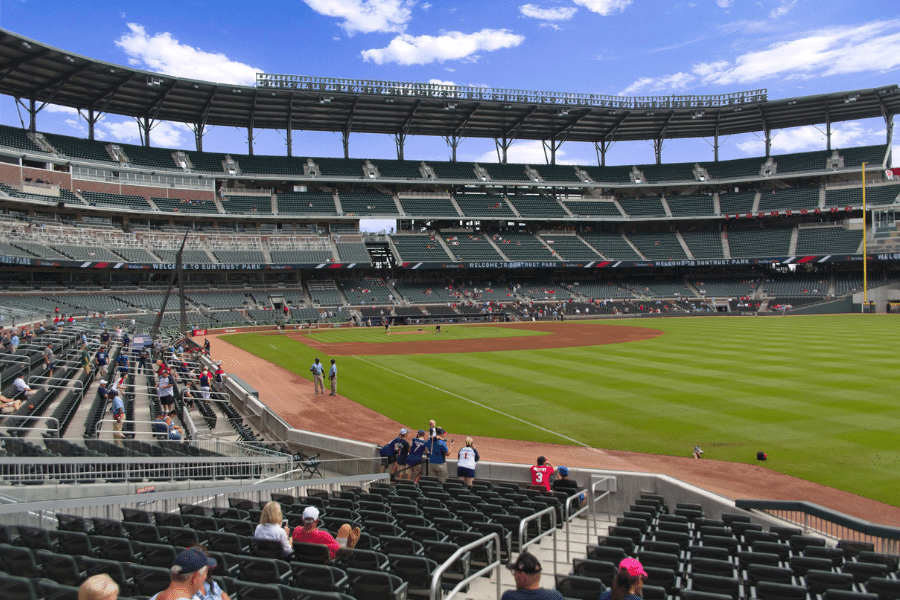 Best Things to Do in Atlanta, GA - Final Thoughts
Whether you are searching for a fun activity with the whole family or a unique date idea, there is always something to do in Atlanta that all ages will enjoy. Whether you are moving to the area or just visiting, it is safe to say that you will never be bored living in Atlanta.
If you are moving to Georgia and searching for homes for sale in Atlanta, contact us today to find your dream home in this vibrant city! We are always here to help.

Find your new home
Search real estate and homes for sale