9 Best Neighborhoods in Atlanta, GA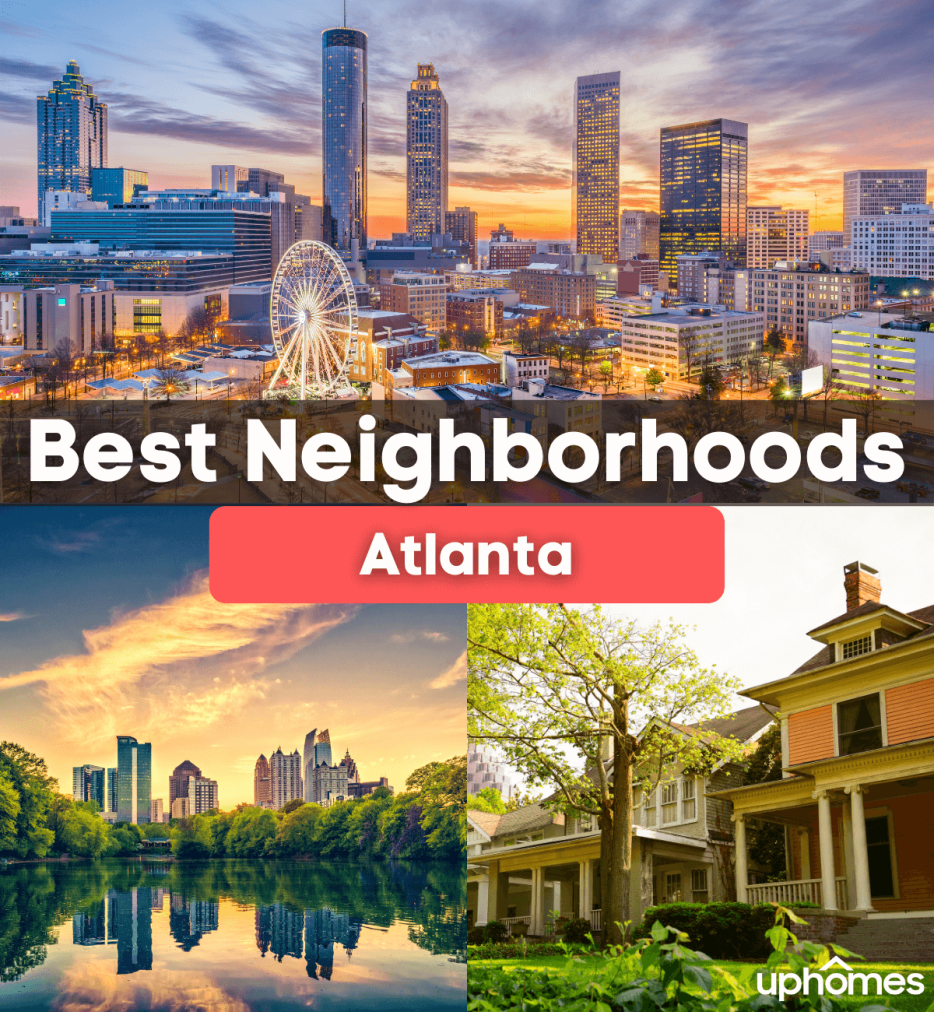 Best Places to Live in Atlanta
With 36 new residents daily making a move, it's no wonder many people are asking us about the best neighborhoods in Atlanta. We have compiled a list of the nine best places to live in Atlanta, GA, and a synopsis about each one so you can decide which area is for you!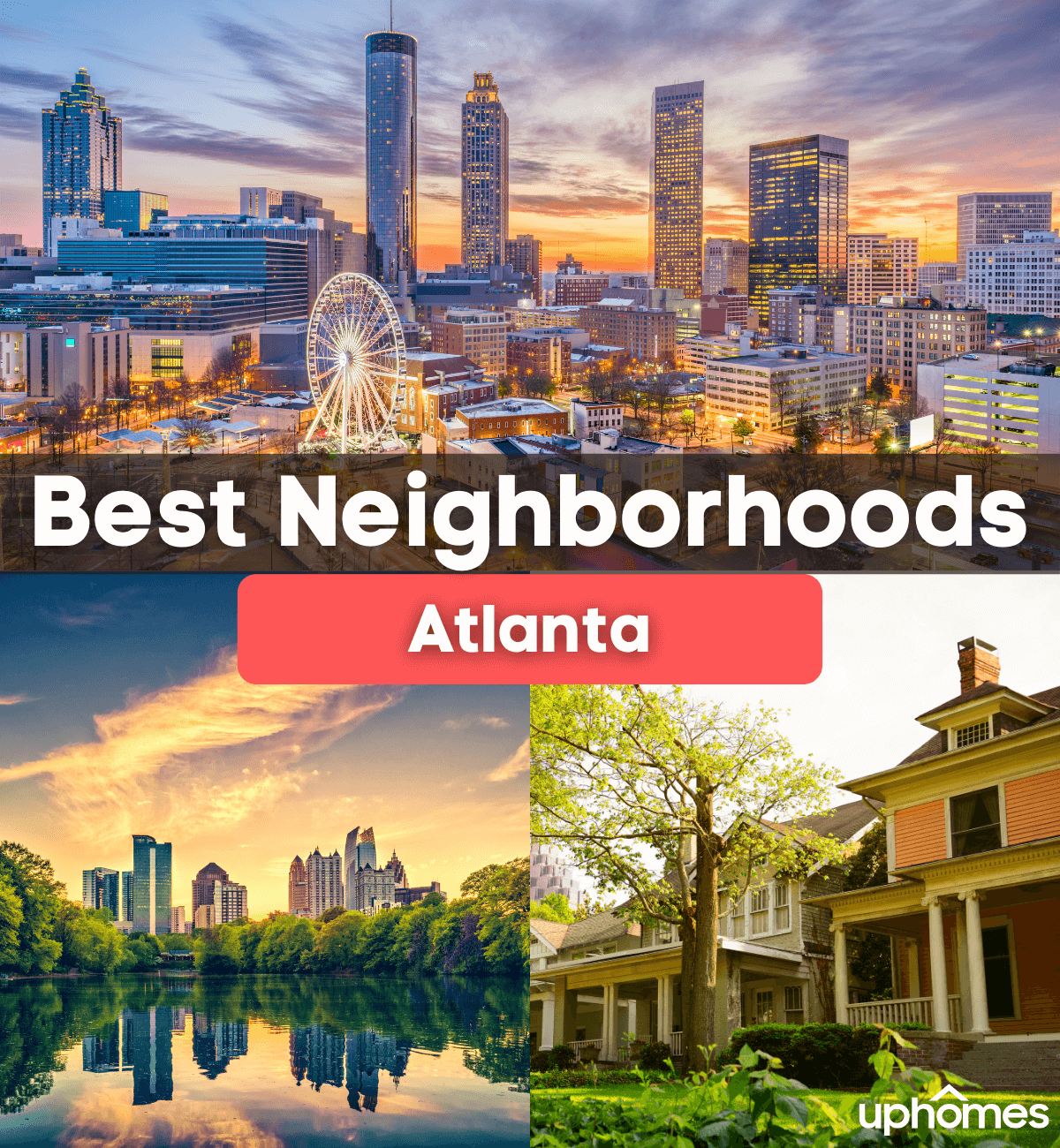 If you are moving to Atlanta, Georgia, you might ask yourself, what neighborhood is best for me? There are currently 242 distinct neighborhoods in the city of Atlanta, meaning that there are many neighborhoods to choose from. While deciding on a neighborhood in this big city may seem overwhelming, it is essential to pick one that meets all of your needs and expectations.
Whether you decide to live downtown or in the suburbs, a lot can go into making a buying decision. Are you looking for yourself, or are you raising a family? How do you feel about commuting? Do you want a large yard? Is it safe? How many rooms do you want? Quiet nights or exciting nightlife? These are all questions to consider when choosing a neighborhood that is a perfect match for you.
Atlanta is a massive city full of historical significance and cultural diversity. With the ninth-largest metropolitan area in the country, this "City of Peaches" appeals to many different types of lifestyles. Whether you are a young professional, an empty nester, a first-time buyer, a retiree, or moving from a foreign country, there is a place for you in Atlanta. This city is unlike any other, full of excellent restaurants and entertainment, affordable price points, beautiful architecture, and convenience. There's a reason so many Atlanta suburbs made our list of best places to live in Georgia!
Read on in this go-to guide to learn more about the best neighborhoods in Atlanta, Georgia!
Buckhead
Considered one of the most lavish and trendy neighborhoods in all of Atlanta, Buckhead is the place to be. This upscale neighborhood is walkable and full of designer shopping, luxury hotels, and gorgeous mansions. Considered the "Beverly Hills of the South," this neighborhood has become the city's most prestigious place to live. Many celebrities have houses in Buckhead so if you want to be neighbors with Vince Vaughn or Robert Downey Jr., then now is your chance.
Celebrities living in multimillion-dollar homes are found in Tuxedo Park, Atlanta. This subdivision is praised for its perfect landscaping and rolling hills. Remember that this prestige level certainly comes with the price tag since the average home price is around $1,000,000. Another celebrity living in the area is Tyler Perry, who happens to own the most expensive home in all of Atlanta.
Find your dream home in a picturesque mansion, moderate-size condo, or newly built high-rise apartment. In this neighborhood, you will find top fine dining and never-ending entertainment. Buckhead also happens to be one of the best shopping destinations in the city. Shop your heart out at some of the favorite local boutiques, Lenox Square, or at The Shops Buckhead Atlanta. Prized for its excellent school districts and kid-friendly amenities, living in Buckhead can be great for raising a family.
Local Favorites:
Cadence Bank Amphitheater at Chastain Park: Known as "Atlanta's Oldest Outdoor Music Venue." Opened in 1944, this is a great place to see live music.
Atlanta History Center: Founded in 1926, learn about the history of Atlanta and admire the grounds of the Swan House, which was featured in The Hunger Games movies.
King and Duke Atlanta: This eatery serves American fare with a vast open hearth. The restaurant is praised for its fantastic food and service.
Summerhill
Rich in history and sought after for its diversity and lower cost of living, the neighborhood of Summerhill is on the rise in popularity. Located close to the Georgia State Stadium, be a walk away from football games. Recent new construction has brought in over 1,000 multi-family homes with contemporary architecture and is situated near Truist Park downtown where the Atlanta Braves play. Close to The Beltline which is a walking trail that circles around the entire city of Atlanta, have easy access to outdoor recreation. Bringing in new grocery stores, restaurants, and shopping, the area has been building up over recent years. New apartment complexes are also being built with sustainability in mind. If you want to be a part of a growing community, move to Summerhill.
Local Favorites:
Wood's Chapel BBQ: This hip space is serving up amazing BBQ with classic southern sides.
Junior's Pizza: Fresh New York-style pizza with quality ingredients and delicious dough.
Halfway Crook's Beer: This brewery has a rooftop bar and all types of craft beer.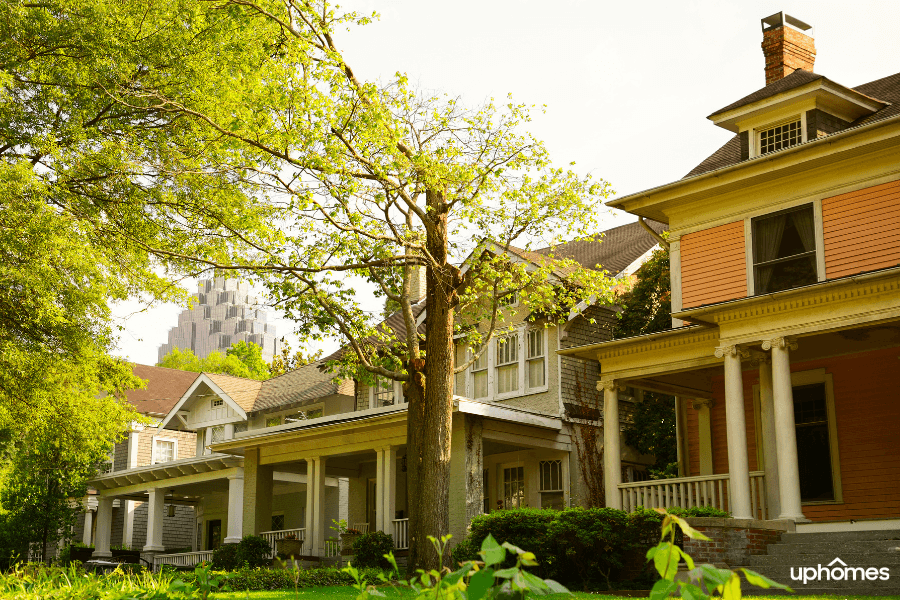 Westview
Westview is a historic neighborhood with older residents. Full of small Tudor-style cottages, charming bungalows, and a fair share of fixer-uppers, it is possible to find a home in this neighborhood that meets your budget. Thanks to The Beltline and the Westside Trail, buyers have been attracted to the area. Located only five minutes southwest of downtown Atlanta, Westview is considered one of the hidden gems of the city. This residential neighborhood has a strong community and a pretty village center. Still building traction, new restaurants and markets are starting to open up which will continue to bring in new residents.
Local Favorites:
Slutty Vegan: This hip vegan restaurant is making plant-based dishes that anyone will love.
Stokes Avenue Pocket Park: This little park and community garden host sunset yoga and other community events.
My Potato Factory: The only restaurant serving up a wide variety of baked potato dishes that are fully loaded with all sorts of toppings.
East Atlanta
Living in the east area of Atlanta is considered the safest part of the city. The East Atlanta neighborhood is praised for its fun nightlife and affordability. Find your fair share of townhomes, brick-style ranches, and Victorian architecture. New single-family homes are being built in the area as well which means that East Atlanta is constantly growing. Only a short drive from downtown and Interstate 20, this neighborhood is in the perfect location and has the safety rating to back it. Great for raising a family, expect to find highly rated schools in the area. With a bohemian vibe, residents will find hip yoga studios, dive bars, and a prized art scene.
Local Favorites:
The Earl: This bar and lounge hosts live music located in an intimate setting.
Brownwood Park: Take a stroll on one of the many nature trails at this 12-acre community park. Featuring playgrounds, tennis courts, and basketball courts.
The Glenwood: This gastropub has BBQ and American favorites with a live DJ on the weekends.
Midtown
Often referred to as Atlanta's cultural capital and epicenter, the neighborhood of Midtown is one of the most sought-after and desirable neighborhoods in the city. Surrounded by parks, restaurants, a popular arts district, and convenience to public transportation, Midtown is all about accessibility. Find your dream home in a renovated modern condo or a Victorian-style single-family home. Close to amenities, this central business district is perfect for young professionals or couples. And if you love spending time outdoors, residents will be close to many walking and biking trails.
Local Favorites:
Woodruff Arts Center: This visual and performing arts center is home to the Atlanta Symphony Orchestra.
Atlanta's Midtown Mile: A mile strip of the best restaurants and boutique shops that runs along Peachtree Street.
Mary Mac's Tearoom: This staple and favorite restaurant has been around for 70 years and is serving the best banana pudding, cinnamon rolls, and cornbread.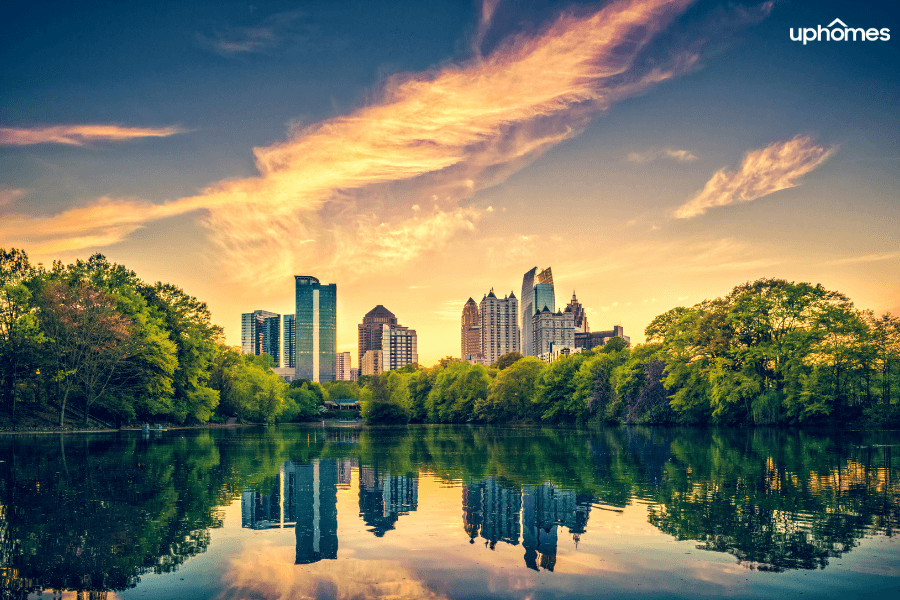 Old Fourth Ward
A newly renovated community, The Old Fourth Ward is a young and affordable neighborhood to live in. Great for students, young professionals, and couples buying their first homes, this neighborhood is undergoing massive amounts of new construction. This revamped neighborhood is bringing in new dining establishments and retail stores for residents to enjoy. Considered an amazing art district and active community, homeowners can be seen enjoying the many parks and green spaces on the weekends. Close to The Beltline, this neighborhood is one of the many pedestrian and bike-friendly areas. Fun fact: Back in the day, Martin Luther King Jr. actually grew up here which makes this a very historical neighborhood. This a great place for small businesses and many homes are being renovated.
Local Favorites:
Ponce City Market: This industrial market houses local retailers, restaurants, and offices.
Historic Fourth Ward Skate Park: Featuring bowls, ramps, and rails, this is the coolest place to learn how to skateboard.
Renaissance Park Atlanta: This five-acre park is a great place to bring your family or dog.
Virginia Highland
Located close to downtown and the neighborhood of Midtown, Virginia Highland is in the perfect location. Often referred to as VaHi, residents consist of families and students at one of the local universities. This charming neighborhood is walkable and has an exciting nightlife scene. Keeping families and kids in mind, the area is made up of four villages that are connected by easily accessible blocks. Known for its eclectic bar and restaurant scene, there is always something to do in VaHi. The homes here are older and feature townhomes, bungalows, and Victorian-style single-family homes. In our opinion - It is no wonder that Virginia Highland is considered one of the best neighborhoods in Atlanta.
Local Favorites:
Piedmont Park: This urban park is one mile from downtown. The best place for a picnic or to even host a wedding.
San Francisco Coffee Roasting Company: Enjoy freshly roasted coffee and homemade baked goods at this quaint coffee shop.
Press and Grind: This cafe is serving coffee, pastries, and sandwiches.
Piedmont Heights
Many residents are moving to the neighborhood of Piedmont Park due to its quiet down-home feel even though it is in a big city area. Located near Interstate 85 and a former railroad line, this neighborhood is a hipster's paradise. Find brick townhomes, condos, and new construction in this area. Found on the east side of Atlanta, residents are known to be friendly. Piedmont Heights is also in the process of getting its own part of The Beltline on the northeast trail which will connect the area to other nearby neighborhoods. With easy access to the highway, there is a reason why many locals love to call this neighborhood home.
Local Favorites:
The Liddel House: Built in the 1860s, this house is the second oldest home in all of Atlanta which still stands today in Piedmont Heights.
Grindhouse Killer Burgers: This Atlanta burger chain is serving up some of the best burgers, hot dogs, and milkshakes in town. Now also serving veggie burgers for non-meat eaters.
Smith's Olde Bar: This great local bar has pool tables, live music on the weekends, and classic American pub food.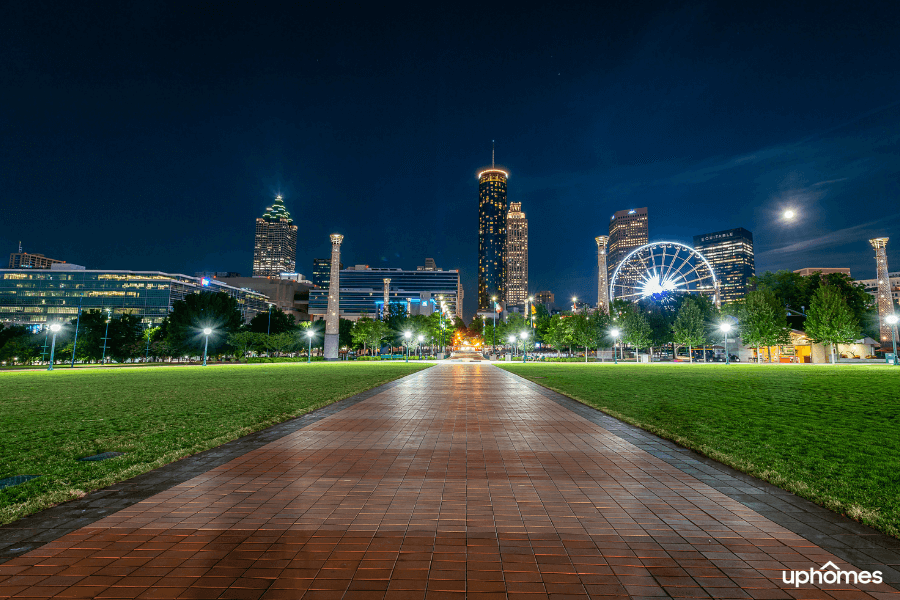 Inman Park
What began as the first residential neighborhood in the city of Atlanta, has since turned into a vibrant community. Home to Atlanta's first electric trolley system, the neighborhood of Inman Park provides homeowners with spacious lots, curved streets, parks, and beautiful Victorian-style homes. Lined with cafes, wine bars, and popular brunch restaurants, foodies love living and visiting Inman Park. See runners and cyclists on one of the many trails, and sit outside to read a book at one of the greenspaces available in this safe neighborhood. Located only a few miles away from the downtown city center, this is a fantastic place with a lot to do. Full of rich history, Inman Park was actually built on one of the Civil War Battlefields in Atlanta which occurred in the year 1864. Now regarded as one of the most popular neighborhoods in the city, Inman Park has come a long way.
Local Favorites:
Krog Street Market: This indoor street market has many popular shops and eateries to enjoy.
Inman Park Festival: This three-day street festival in the month of April has live music, vendors, and a tour of homes.
Atlanta Beltline Lantern Parade: Held every year in September, admire lanterns that light up the path at night while listening to bands and watching parades that march down the street.
Final Thoughts on Best Places to Live in Atlanta
Hopefully this guide to the 9 Best Neighborhoods in Atlanta, Georgia will help you find your dream home in this new city. Not only are the neighborhoods on this list highly sought after, but they are considered some of the best places to live in all of Atlanta. With tons of new construction, easy access to The Atlanta Beltline, and charming shops and fine restaurants, it is no surprise that these neighborhoods made our list.

Find your new home
Search real estate and homes for sale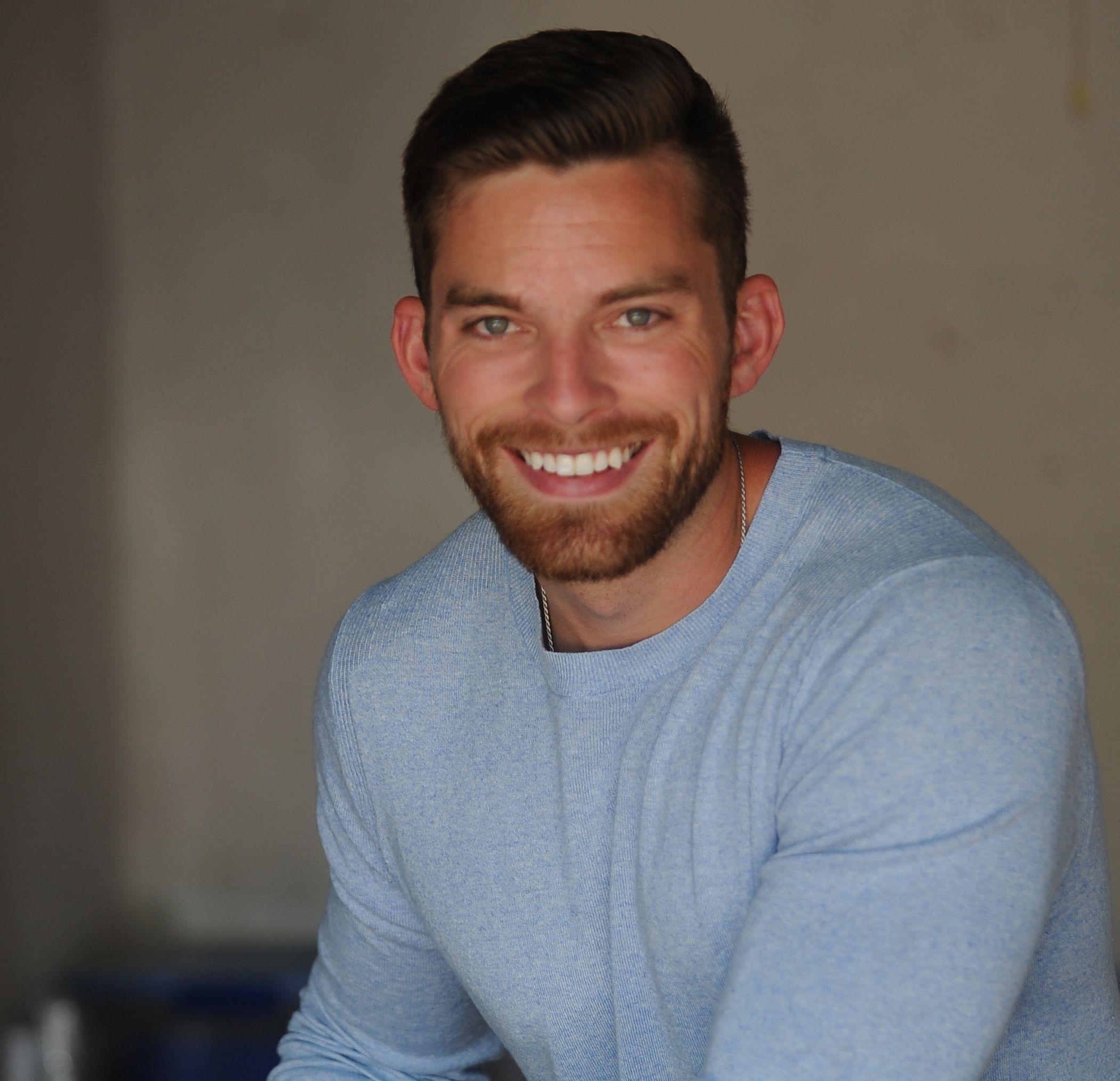 Ryan Fitzgerald
Hi there! My name is Ryan Fitzgerald, and I am a REALTOR®. My goal is to help you learn more about real estate through our Real Estate Blog! Hopefully, you enjoyed the above blog post and it found a way to provide help or value to you. When you're ready to buy or sell a home of your own let us know here. Please feel free to join the conversation by dropping us a comment below.