7 Best Neighborhoods in Buffalo, NY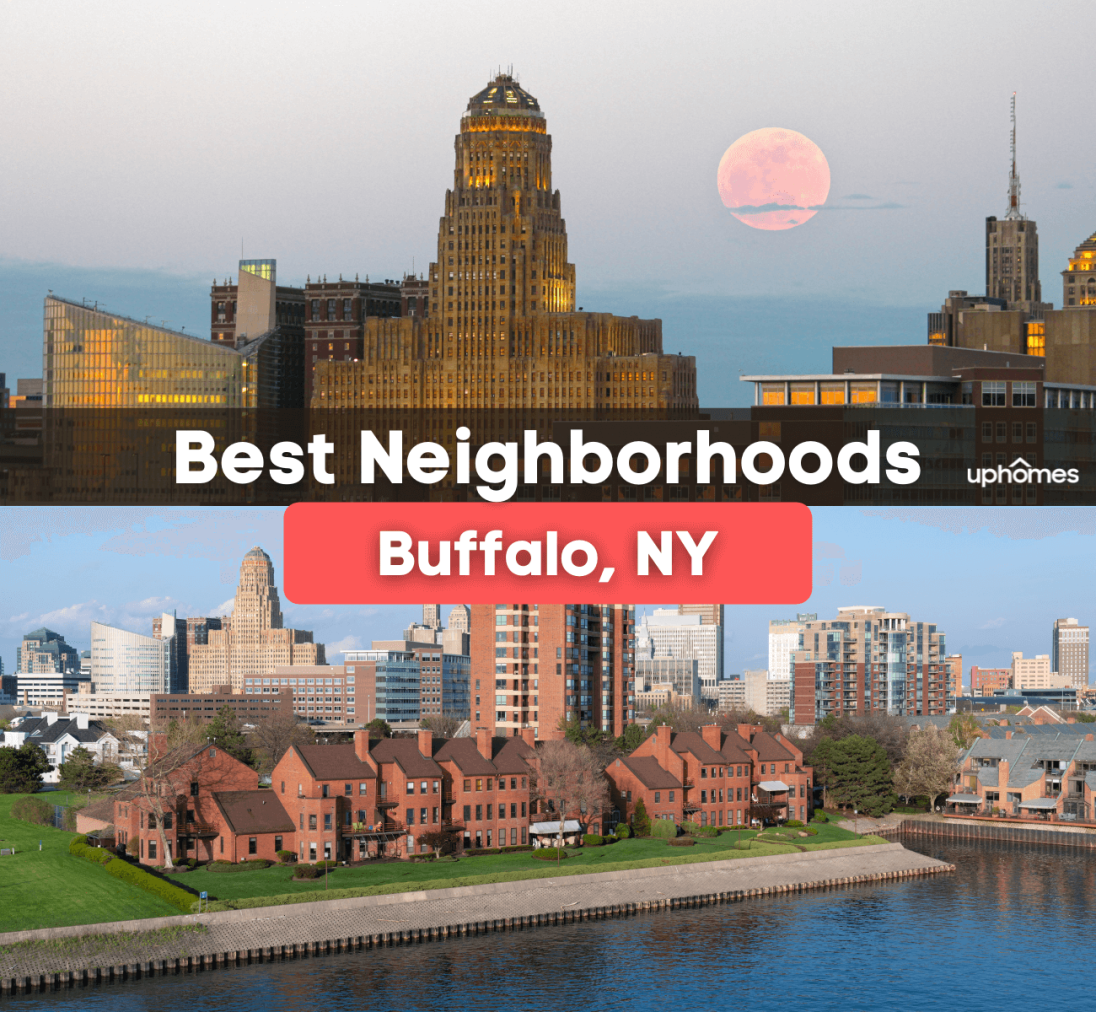 7 Best Places to Live in Buffalo, NY
Are you moving to Buffalo? Learn all that you need to know about these 7 best neighborhoods in Buffalo, NY, and local hot spots in each!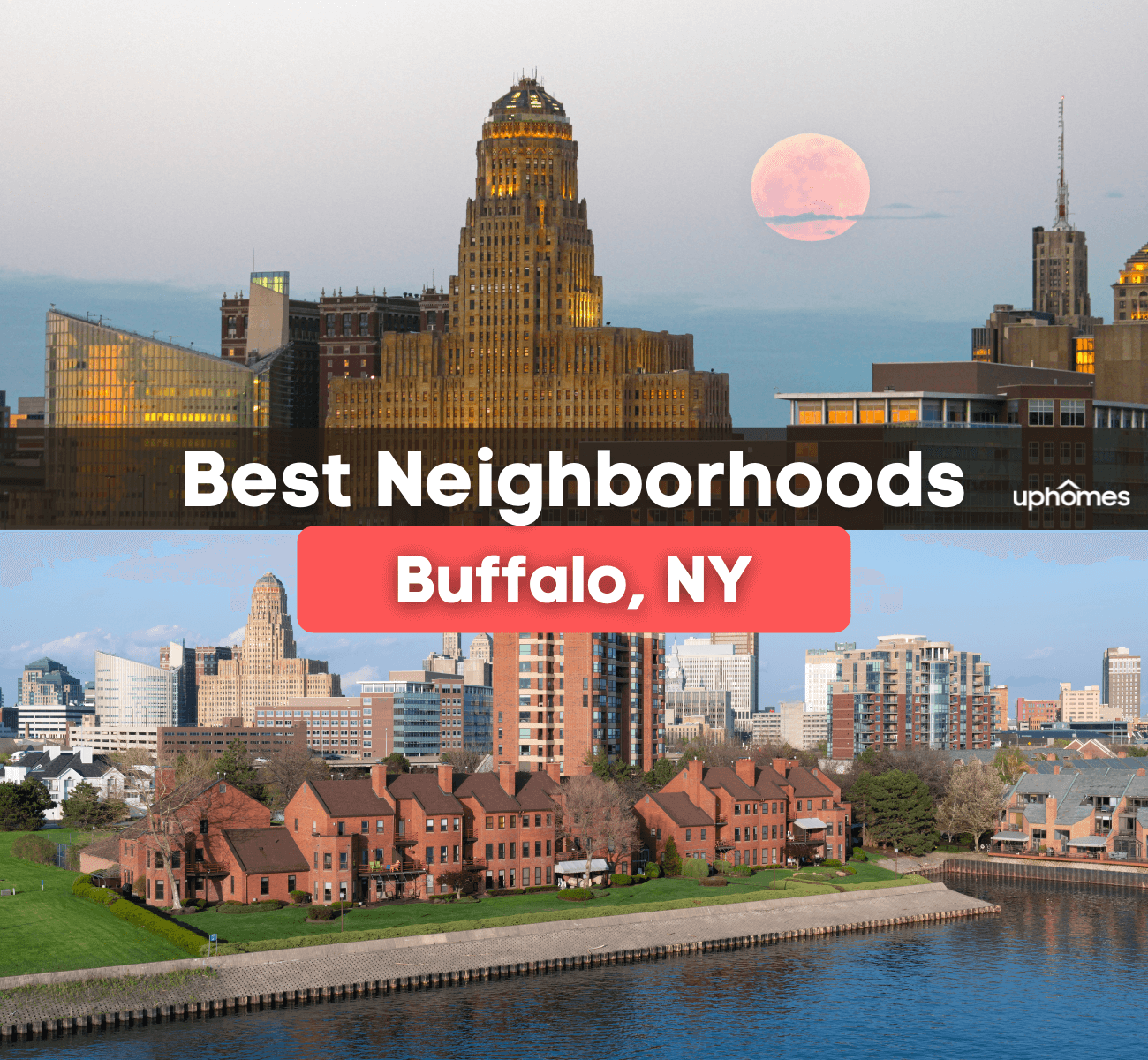 Buffalo, New York is famous for its thriving nightlife, affordable cost of living, and diverse employment opportunities. As the second-largest city in New York State, Buffalo has a growing population and prosperous downtown area. Considered one of the best places to live in New York State, Buffalo is situated close to the Canadian border near Lake Erie and Niagara Falls. Known as a good place to live for its large number of entertainment options, bars, restaurants, coffee shops, and extensive park system, Buffalo is home to young professionals, families, and college students alike.
While Buffalo may be notorious for its high crime rate and heavy snowfall in the winter, there are plenty of safe areas and affordable neighborhoods to choose from. Even though moving is often thrilling and exciting, finding a neighborhood that is best for you and your family can be a difficult task. Luckily with the help of this neighborhood guide, you will be able to stay away from any bad areas of Buffalo and will discover only the best of what the city has to offer.
Without further ado, read on to learn more about the 7 Best Neighborhoods in Buffalo, NY!
Elmwood Village 
If you are moving to Buffalo then make sure to check out the neighborhood of Elmwood Village. Known as a vibrant community full of open-air venues and weekend farmer's markets, this neighborhood is the perfect place to be for prime shopping and dining. Considered the most walkable neighborhood in Buffalo, residents can be found shopping at one of the local boutiques or spending time outdoors at a nearby park.
Embracing cultural diversity and all things art, Elmwood Village offers only the best for its residents through its beautiful historical architecture and friendly people. Located in the central part of Buffalo, Elmwood Village remains as one of the cities most popular neighborhoods for its popular amenities and relaxed way of life.
Local Favorites: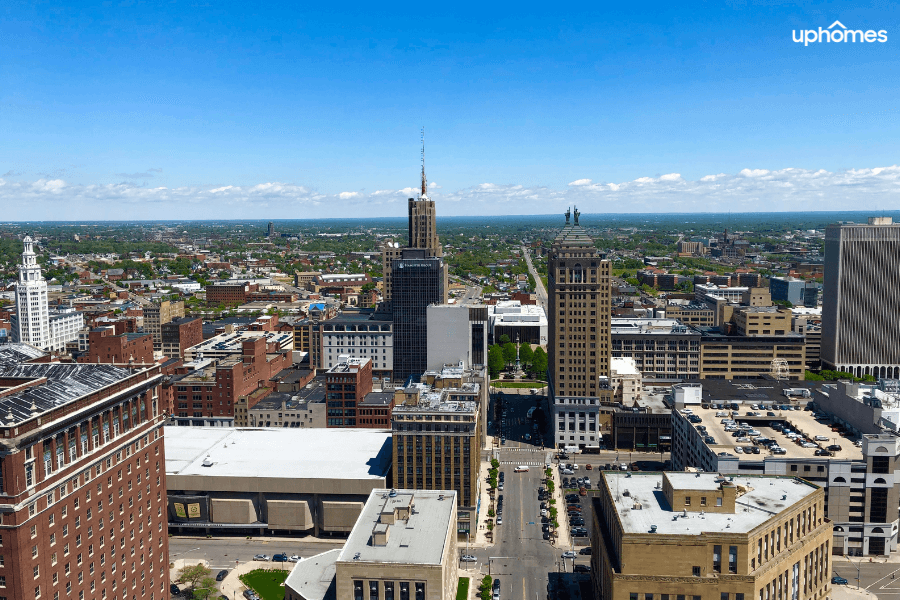 Downtown Buffalo
Living in Downtown Buffalo is the best neighborhood to live in if you want to be around constant action and excitement. Instead of living the suburban lifestyle, this neighborhood is in a dense urban area with plenty of high-rise apartments and townhomes. Taken over by mostly young professionals, individuals tend to move to this part of town in order to be close to work and top amenities. Full of high-end restaurants, boutique shops, breweries, concert halls, and parks, there is always something happening in Downtown Buffalo. Plus, with multiple annual events and festivals happening year-round, this is a great place to meet new people and get involved. Known for its affordable rent prices, diverse population, historical landmarks, and highly-rated schools, the Downtown area of Buffalo is truly the beating heart of the city. 
Local Favorites: 
Allentown
The neighborhood of Allentown is a picturesque residential area with a bohemian and creative flair. Known as a safe and secure neighborhood with a low crime rate, Allentown is super family-friendly and is only a short walk away from Elmwood Village and Downtown Buffalo. With its many street murals, trendy eateries, hip cafes, art galleries, and a lively bar scene, living in Allentown is perfect for families, young professionals, and college students.
Featuring 1800s mansions, brightly colored Victorian homes, large brick buildings, and Gothic Revival structures, the architecture and real estate located here is honestly something to admire. Plus, named as one of the best LGBTQ-friendly neighborhoods in not only Buffalo but the entire country, this neighborhood welcomes and embraces all backgrounds and cultures.
Local Favorites: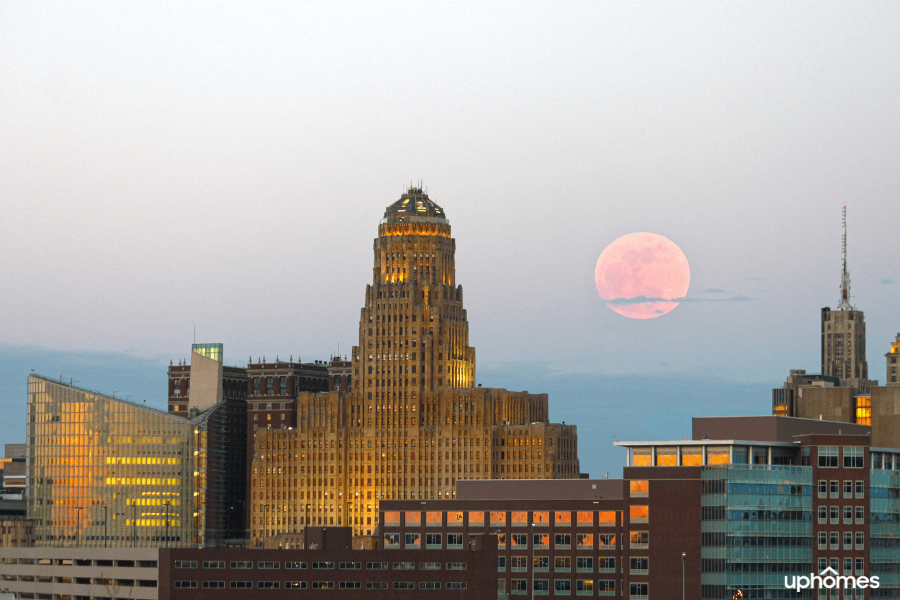 Central Park
Known as a great family-friendly place to live, the neighborhood of Central Park is definitely an area to consider moving to. While this neighborhood may share the same name as the infamous New York City landmark, this Buffalo neighborhood is safe and desirable among young parents. Located close to the Buffalo Zoo, Central Park is surrounded by parks, playgrounds, and family-oriented activities that will keep your young ones entertained and occupied.
Not only are the schools in this neighborhood highly rated, but Central Park's low crime rate makes residents feel safe and protected. Plus, with its super walkable streets and easily accessible amenities, many residents opt to not own a vehicle of their own. Providing a great mixture of urban and suburban living, Central Park was rated as the number one neighborhood in Buffalo to own a home.
Local Favorites:
Black Rock
Found in the northwest corner of the city of Buffalo lies the neighborhood of Black Rock. Named after the black limestone that is found along the Niagara River, this neighborhood is full of history and character. What was once an independent municipality has since been turned into one of the most unique and innovative neighborhoods in the city. Some of the major draws to the area include the neighborhood's affordable rent prices and various entertainment options.
Providing its residents with both urban and suburban living, the neighborhood of Black Rock is the go-to destination for young professionals and families. Featuring public art installations, interesting museums, eccentric eateries, live music venues, galleries, and an abundance of beautiful outdoor parks, there is always something to do when living in Black Rock. With its distinctive charm and high safety rating, it is easy to see why Black Rock is considered to be one of the best neighborhoods in Buffalo, NY. 
Local Favorites: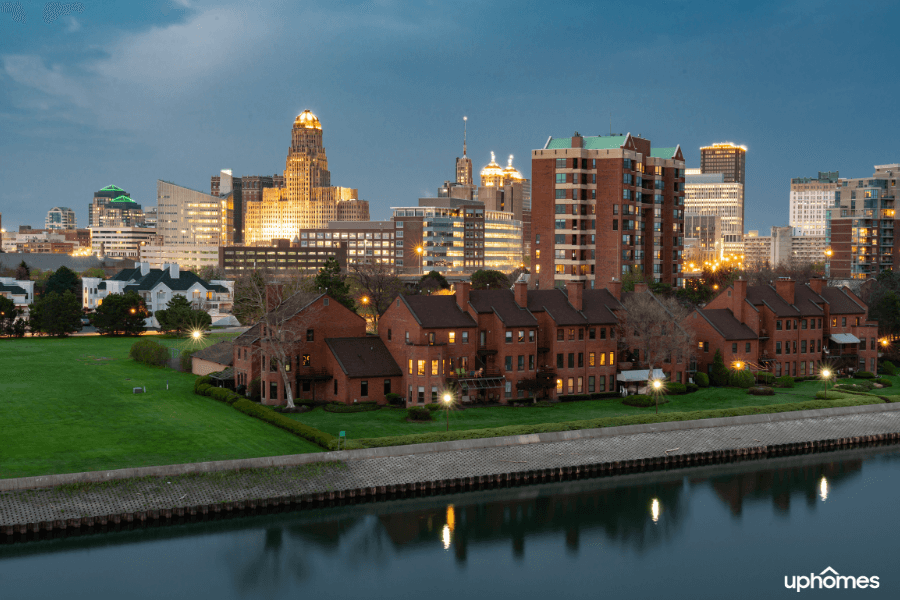 South Buffalo
The neighborhood of South Buffalo can best be described as suburbia. Named as one of the most affordable neighborhoods in Buffalo, this is a great place to buy a home without spending all of your money. Featuring multiple property types and home styles, finding your dream home in this neighborhood is easily attainable. Also considered to be one of the cities most popular and largest suburban areas, South Buffalo is home to a chill nightlife scene and many outdoor recreational activities.
Best known for its large Irish-American population, find an endless amount of Irish pubs, taverns, restaurants, and annual events. The St. Patrick's Day Bash in South Buffalo in particular is an exciting event that brings the community together and features food, dancing, and live music.
Local Favorites:
North Park
The neighborhood of North Park is home to a population of just over 3,000 people and is considered one of the best places to live in Buffalo for its large selection of popular bars, restaurants, coffee shops, and public parks. Providing its residents with a nice mixture of urban and suburban living, many young professionals are drawn to the area for its business opportunities and proximity to amenities. Also ranked as a top neighborhood in Buffalo to raise a family, North Park is a safe place to live with both cultural and economic diversity.
Local Favorites: 
The Best Neighborhoods in Buffalo, NY - The Bottom Line 
Whether you want to live in an action-packed urban neighborhood or quiet residential area, Buffalo is a good place to live with many housing options. No matter where you decide to move to in Buffalo, there is a neighborhood that will meet your lifestyle. By prioritizing safety, affordability, and location, this neighborhood guide was created with your needs in mind. If you decide to purchase a home of your own in Buffalo then make sure to reach out to one of our knowledgeable and friendly Realty Specialists to help you find the neighborhood that best suits you. Contact us today!
#blog-moving-new-york-cta#

Find your new home
Search real estate and homes for sale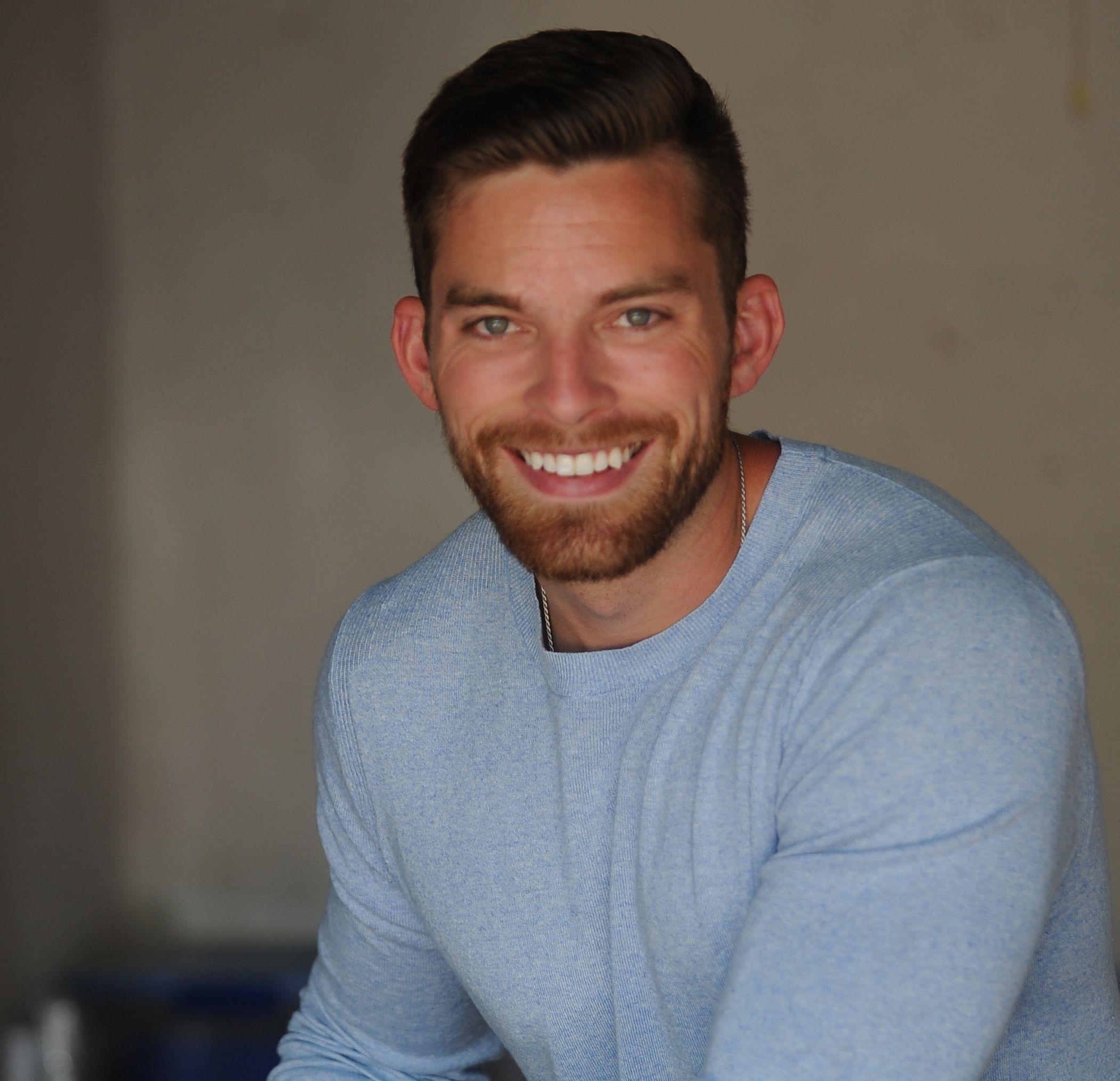 Ryan Fitzgerald
Hi there! My name is Ryan Fitzgerald, and I am a REALTOR®. My goal is to help you learn more about real estate through our Real Estate Blog! Hopefully, you enjoyed the above blog post and it found a way to provide help or value to you. When you're ready to buy or sell a home of your own let us know here. Please feel free to join the conversation by dropping us a comment below.