15 Best Things To Do in Asheville, NC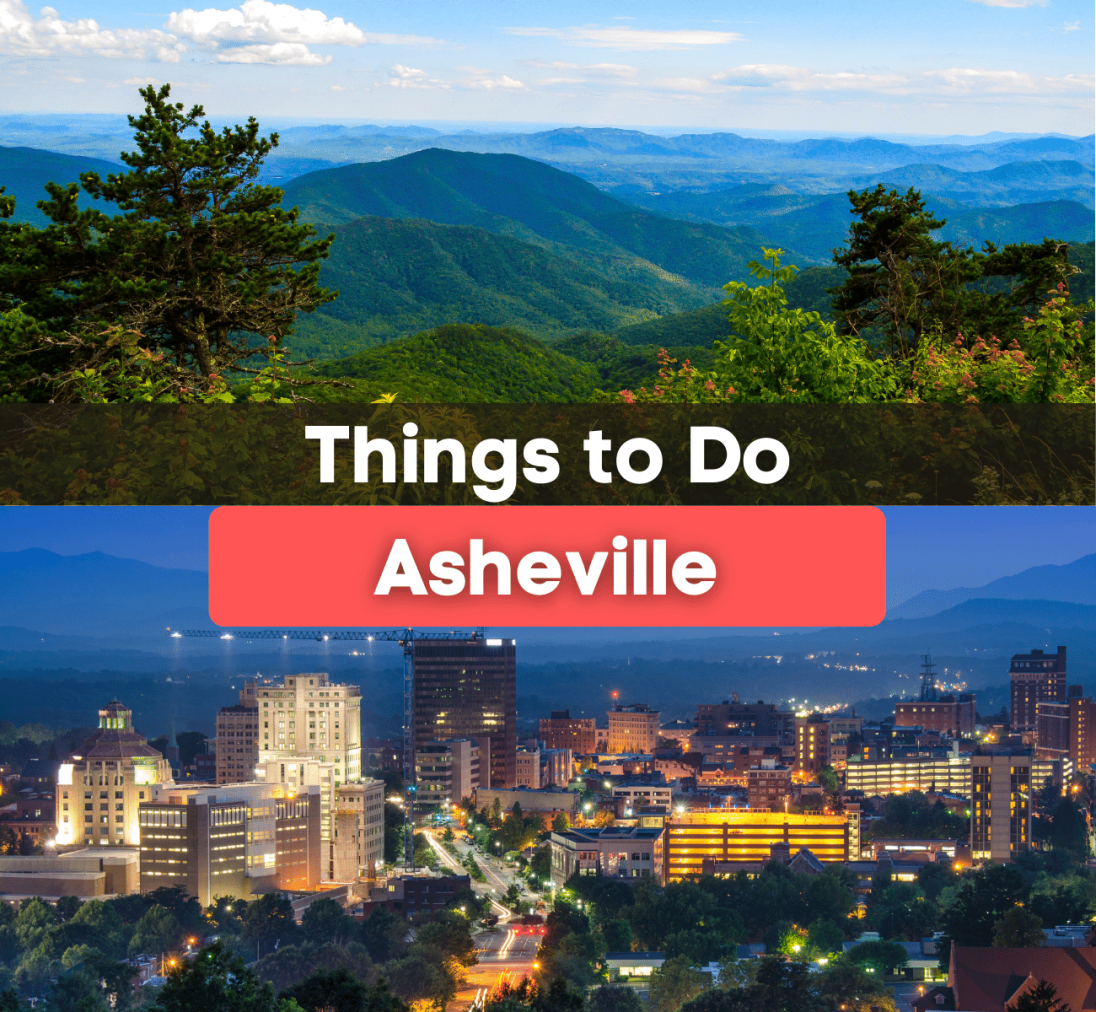 Fun Things To Do in Asheville
Wondering how to spend a day in Asheville? Check out 15 things to do in the city of Asheville, North Carolina!
Found in Western North Carolina's the Blue Ridge Mountains lies the small but lively city of Asheville which is described by many as a bohemian hang out with a contagious spirit of adventure that inspires both locals and tourists alike.
Ranked as one of the best places to live in North Carolina and one of the best travel destinations on the east coast, Asheville has made a name for itself as a fun and cool city.
Best known for its hipster culture, vibrant art scene, amazing craft breweries, and plenty of beautiful parks and outdoor activities that bring thousands of tourists to the area each year, it is no secret that Asheville is special.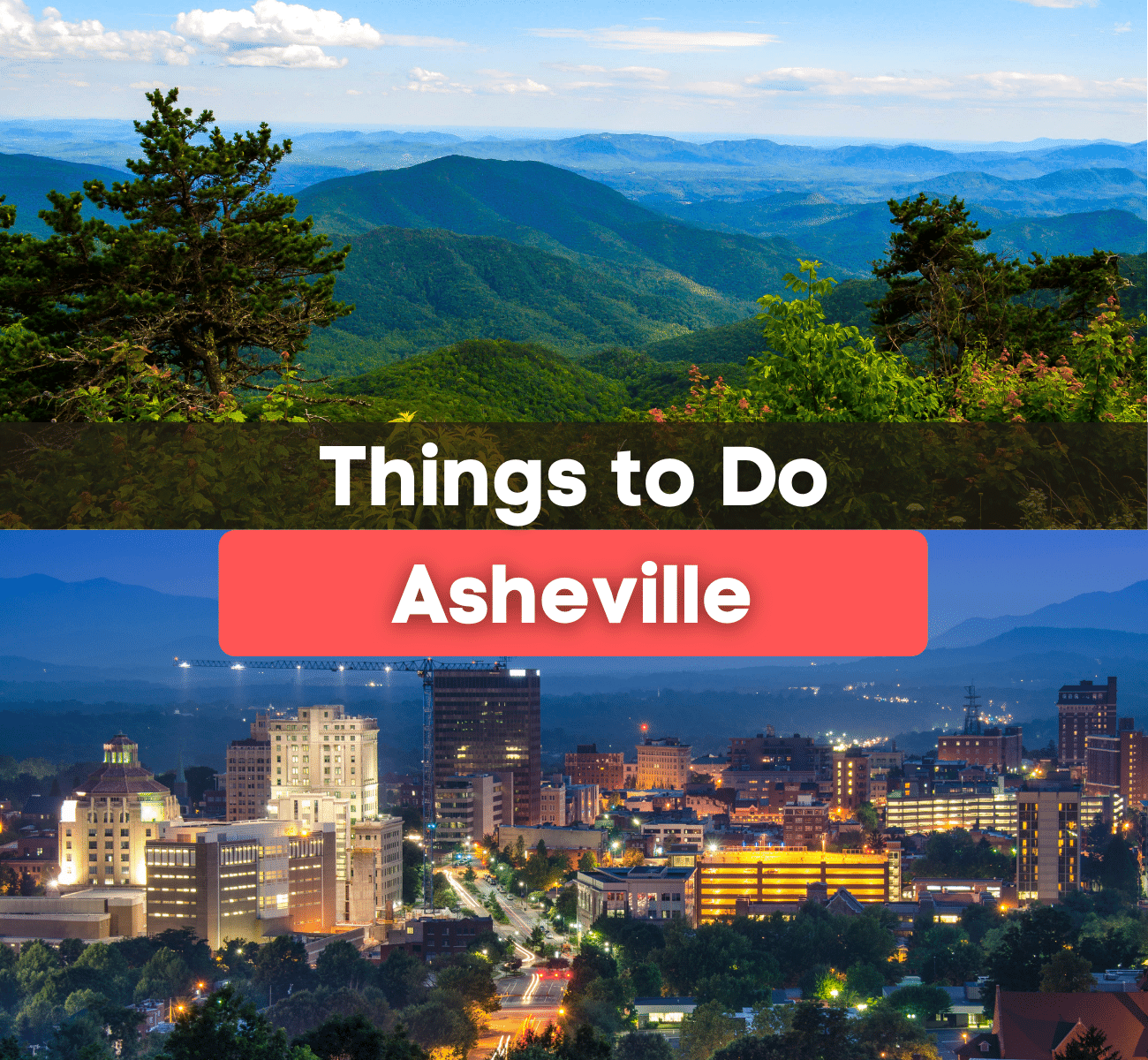 So if you are moving to Asheville or are planning a nice weekend getaway and are wondering how you should spend your time while in town then this activity guide is for you.
While there is certainly more to Asheville than what is listed in this guide, hopefully, the top-rated attractions that are recommended by our team will give you a head start when deciding what to do first in Asheville no matter what you love to do.
With that being said, read on to learn more about the 15 Best Things To Do in Asheville, NC!
The Historic Biltmore Estate
There is nothing more grand or magnificent in Asheville than the historic Biltmore Estate which is a top tourist attraction and historic house museum.
Considered to be the largest home in America, the Biltmore Estate was built for George Washington Vanderbilt and his family who was a prominent businessman in the 19th century.
After visiting Asheville in 1888 and falling in love with the area, George Vanderbilt began the construction of his country home and first opened the estate to his family and friends on Christmas Eve in 1895.
This French Renaissance chateau-style home spans 175,000 square feet and features 250 rooms which include 35 bedrooms, 43 bathrooms, and 65 fireplaces.
Now recognized as one of the most prominent examples of Gilded-aged mansions, the Biltmore Estate features daily tours, wine tastings at its award-winning winery, outdoor excursions, and plenty of relaxing activities that the whole family will enjoy.
Most visited during the holiday season for its beautiful Christmas displays including more than 100 decorated trees, the Biltmore Estate is the perfect backdrop for weddings, romantic getaways, and family fun.
Omni Grove Park Inn
Located just three miles away from the Biltmore Estate, the Omni Grove Park Inn is a beautiful golf resort that offers some of the best views of the Blue Ridge Mountains.
Built in 1913, the Omni Grove Park Inn has been serving guests for over a century and features five-star hotel rooms, four amazing restaurants, a Donald Ross championship-designed golf course, and a subterranean spa with an indoor pool and therapeutic waterfalls.
Plus, with a 50,000-square-foot fitness complex and three indoor and outdoor tennis courts, it is easy to see why this historic resort is so highly regarded.
So whether you are looking for a place to stay while in Asheville, visiting for a spa treatment, or stopping by to check out the popular National Gingerbread House Competition during the holiday season, the Omni Grove Park inn is certainly a must-visit when in Asheville.
Drive the Blue Ridge Parkway
Most noted for its breathtaking scenic beauty and unmatched views, the Blue Ridge Parkway is a National Parkway and All-American Road that runs for 469 miles through western North Carolina and Virginia.
Connecting the Shenandoah National Park to the Great Smoky Mountains National Park, the Blue Ridge Parkway takes about ten to twelve hours to drive from start to finish but will require up to seven days to fully explore it.
Beloved for its stunning close-up views of the mountains and unique landscape of the Appalachian Highlands, this spectacular parkway is a great way to get to know the Asheville area while only requiring your car and a positive attitude.
Pisgah National Forest
Do you love the great outdoors and all things adventure? Then make sure to visit the Pisgah National Forest in the Appalachian Mountains of western North Carolina.
Found to both the north and south of Asheville and only a ten-minute drive away from downtown Asheville, this National Forest is found only in North Carolina and is administered by the United States Forest Service.
Definitely worth visiting, the Pisgah National Forest is made up of more than 500,000 acres of forest, mountains, rivers, waterfalls, and hundreds of miles of hiking trails.
Considered to be one of the best areas in the country for outdoor recreation, some of the most popular things to do in Pisgah National Forest are visiting Looking Glass Falls, Sliding Rock Natural Water Slide, Black Balsam, and Mount Pisgah.
Open all day every day throughout the year and offering free admission, most visitors that venture into the park choose to hike, mountain bike, picnic, camp, or play in the many waterfalls and swimming holes that the park has to offer.
The North Carolina Arboretum
Established in 1986, The North Carolina Arboretum is located in the Bent Creek Experimental Forest area of the Pisgah National Forest and is found just southwest of Asheville.
Open every day except on Christmas and offering free admission for visitors, this arboretum is a center for research, conservation, education, and garden demonstrations that all ages will love.
With picturesque views of the mountains, well-maintained gardens, a bonsai exhibit, and hiking and biking trails, the North Carolina Arboretum is a 434-acre public garden that features some of the most beautiful natural settings in the United States.
An ideal backdrop for picnics and relaxing strolls, make sure to check online for any information on upcoming events and programs that the North Carolina Arboretum has planned.
Asheville Art Museum
If you love admiring amazing works of art then make sure to visit the Asheville Art Museum downtown which is home to a collection of American art from the 20th and 21st centuries.
Originally opened in 1948, the Asheville Art Museum welcomes visitors from all over the state and the country who are interested in learning more about the western North Carolina art scene through permanent collections and unique exhibits.
Also features a museum store, classes and workshops, artist and gallery talks, discussion groups, and special events, there is always something going on in the museum that is new and exciting.
This community-based non-profit organization only has a general admission price of $15 for adults and is open every day except on Tuesdays. While walk-in tickets are available, save time by buying your tickets online.
Plus, now offering virtual tours of the museum and virtual programs that are completely online, have the chance to visit the museum within the comfort of your own home.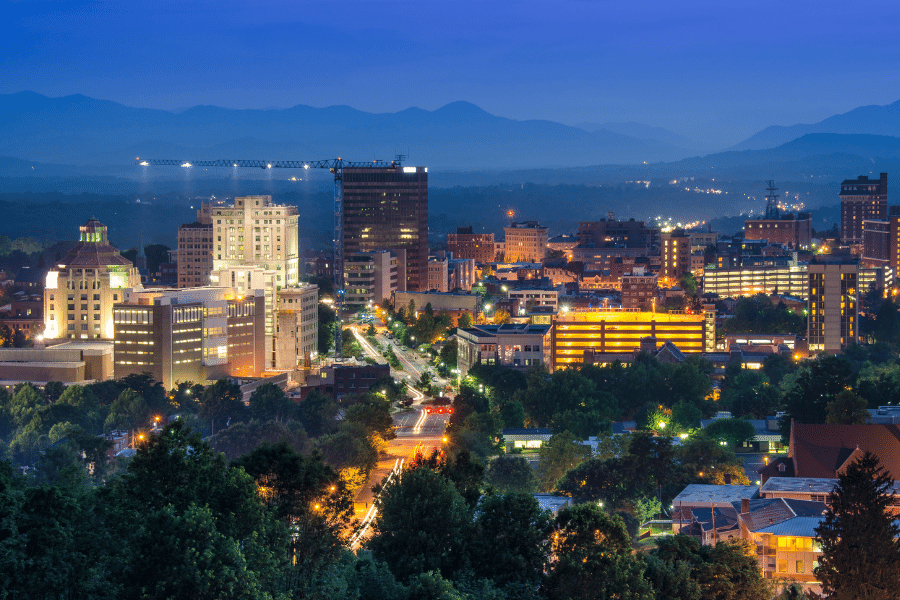 Haunted Asheville Ghost Tours: Oldest and Original
Even though Asheville is renowned for its beauty, the city has a darkness that is lurking beneath the surface that can only be discovered by going on an outdoor adventure with Haunted Asheville Ghost Tours.
Voted as one of the top three Ghost Tours in America by USA Today, Haunted Asheville Ghost Tours is the oldest and original ghost tour that is offered in Asheville.
Run by Joshua P. Warren who is a professional paranormal expert and author, the Haunted Asheville Ghost Tours take you to all of the scariest sites of downtown Asheville where you will learn about the dark history of the city and enjoy spooky tales.
From the pink lady who haunts the Omni Grove Park Inn to the chilling apparitions that appear at Helen's Bridge, there is no better way to explore Asheville after dark than by going on a ghost tour.
Asheville Pinball Museum
The Asheville Pinball Museum is located in downtown Asheville on Battle Square and is an all-you-can-play arcade that features 35 pinball machines and 35 classic video game machines.
Only costing $15 for adults and $12 for children 10 years and under to play the games, the Asheville Pinball Museum is a great place to visit on a rainy day and will bring back all of the nostalgia of a classic arcade.
Serving beer and soda as well to guests, the Asheville Pinball Museum is a fun place to hang out throughout the week.
Operating on a first-come, first-served basis, this museum is open every day but closed on Tuesdays for repairs.
River Arts District
Also referred to as RAD, the River Arts District is a popular neighborhood in Asheville that is home to hundreds of art studios and galleries making it the creative hub of the city.
Found along the French Broad River, the River Arts District has transformed what was once an area of warehouses and mills into a thriving district that features colorful murals, trendy cafes, hip art galleries, and artisan studios that contains art tours as well as glassblowing and pottery classes.
While most artisans in Asheville do live in this part of the city, the River Arts District is also a fantastic spot to enjoy live music and explore Asheville's artistic side for the day.
Folk Art Center
The Folk Art Center is found at milepost 382 on the Blue Ridge Parkway near Asheville and is a museum of Appalachian arts consisting of art galleries, artist demonstrations, and a craft shop.
Focusing on the traditional and contemporary crafts of the southern Appalachian mountains, the Folk Art Center is a good place to stop while driving on the Blue Ridge Parkway to stretch your legs and check out the amazing pottery and craft selection available.
Western North Carolina Nature Center
Spanning 42 acres, the Western North Carolina Nature Center offers a unique adventure where visitors can get up close and personal to the diverse wildlife of the Southern Appalachians.
Home to more than 60 species of animals such as the black bear, red wolf, river otter, barn owl, gray wolf, coyote, cougar, white-tailed deer, red panda, and many more, this zoological park is a fun place to bring the whole family together and learn about the importance of conservation and respecting nature.
Operated by the City of Asheville's Parks and Recreation Department, the Western North Carolina Nature Center used to be known as the Asheville City Zoo until 1973 when it was renamed.
While the nature center may be on the smaller side, these well-maintained facilities feature award-winning exhibits and show visitors just how well the animals living here are taken care of.
The Grove Arcade
Also known as the Asheville Federal Building, The Grove Arcade is a historic commercial and residential building in downtown Asheville that is a center of commerce and entertainment.
Originally opened in 1929, The Grove Arcade opened as Asheville's original mall and is where many local boutiques, businesses, and restaurants can be found.
Not only does The Grove Arcade feature amazing historical architecture, but this building is the heart of downtown Asheville and provides a unique shopping, dining, and lifestyle experience to all that visit.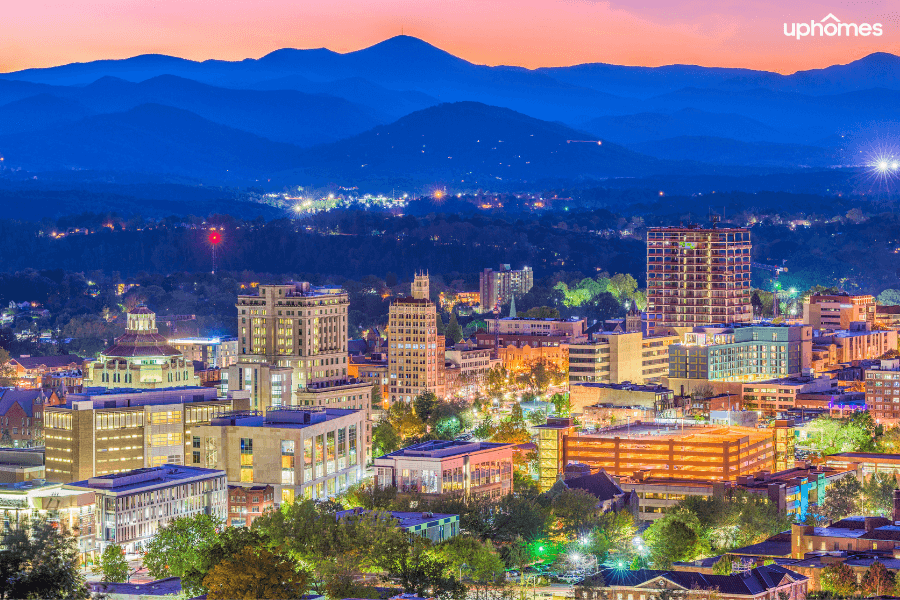 Pritchard Park Drum Circle
Whether you are an avid drummer or just love the smooth sound of percussion, then make sure to visit the Pritchard Park Drum Circle in downtown Asheville for an experience that can not be missed.
This lively drum circle meets in Pritchard Park every Friday night between April and October during the warmer months and is surrounded by the rhythm of dozens of drums.
No matter if you choose to drum, dance, or simply watch this spectacular free event, the Pritchard Park Drum Circle is a prime example of how Asheville embraces creativity and individuality.
Thomas Wolfe Memorial
Once the childhood home of American author Thomas Wolfe who wrote four legendary novels in the early 20th century, the Thomas Wolfe Memorial can be found in downtown Asheville and has been converted into a National Historic Landmark.
Offering tours of the home where visitors can learn about the life of Thomas Wolfe and his family, make sure to add this historical landmark to your Asheville bucket list.
Wicked Weed Brewery
Specializing in West Coast-style brews including hoppy beers, sours, and fermented Belgians, Wicked Weed Brewery in downtown Asheville is one of the most renowned breweries in the city and western Carolina.
Complete with a full restaurant, tasting room, bottle shop, and brewery, visiting Wicked Weed is a must-do experience for beer lovers where guests will have the chance to try up to 25 of Wicked Weed's many popular beers.
What will you do first in Asheville, NC?
It is safe to say that there is no shortage of cool things to do and fun activities to explore while in Asheville no matter if you are planning out your next family vacation or romantic holiday.
While figuring out what to do in Asheville might be overwhelming, hopefully, this activity guide will help point you in the right direction while saving you time and money.
Contact us today to learn more about the best neighborhoods in Asheville if you are interested in buying a home in Asheville, NC!

Find your new home
Search real estate and homes for sale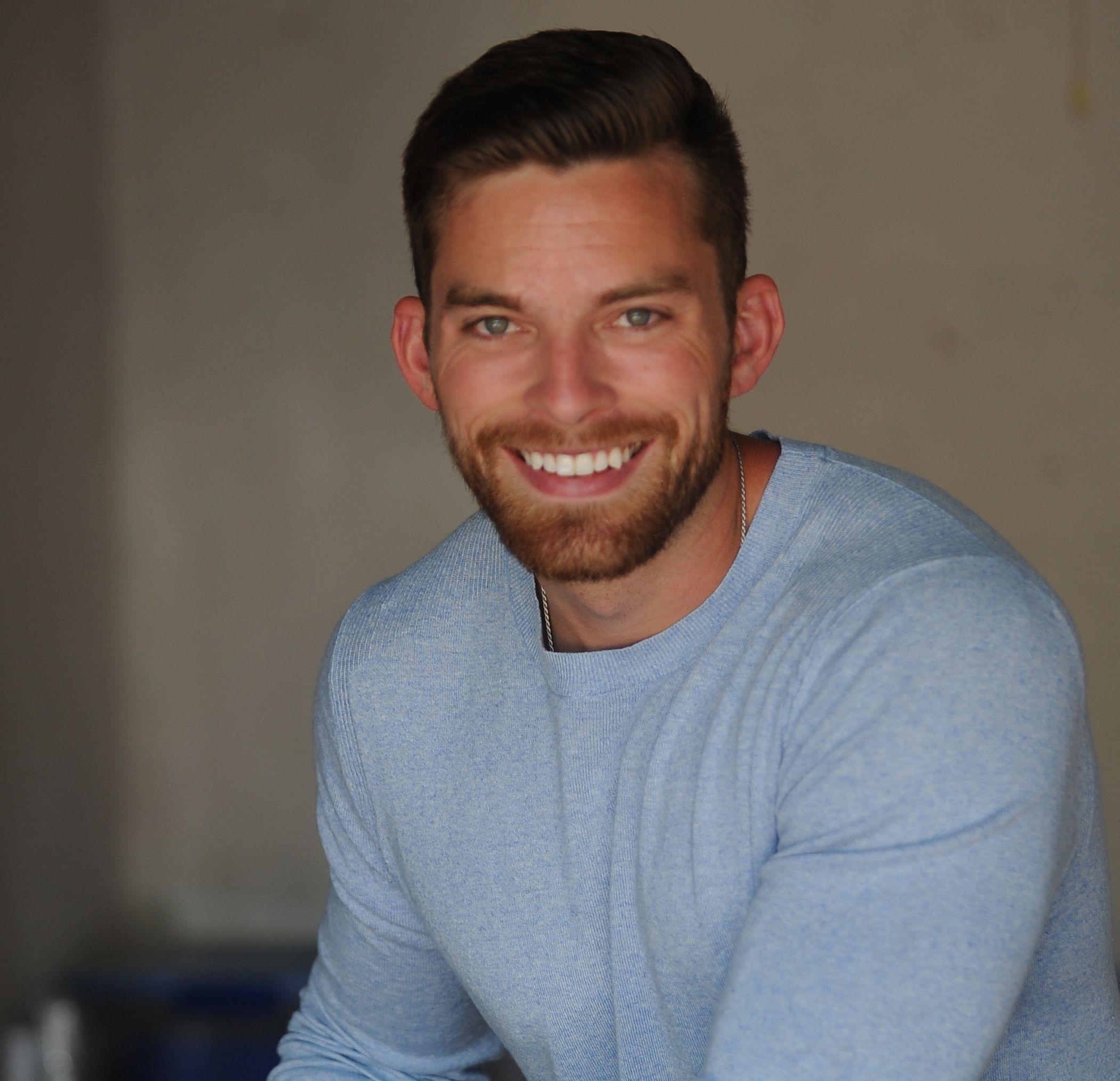 Ryan Fitzgerald
Hi there! My name is Ryan Fitzgerald, and I am a REALTOR®. My goal is to help you learn more about real estate through our Real Estate Blog! Hopefully, you enjoyed the above blog post and it found a way to provide help or value to you. When you're ready to buy or sell a home of your own let us know here. Please feel free to join the conversation by dropping us a comment below.