15 Things to Know BEFORE Moving to Virginia Beach, VA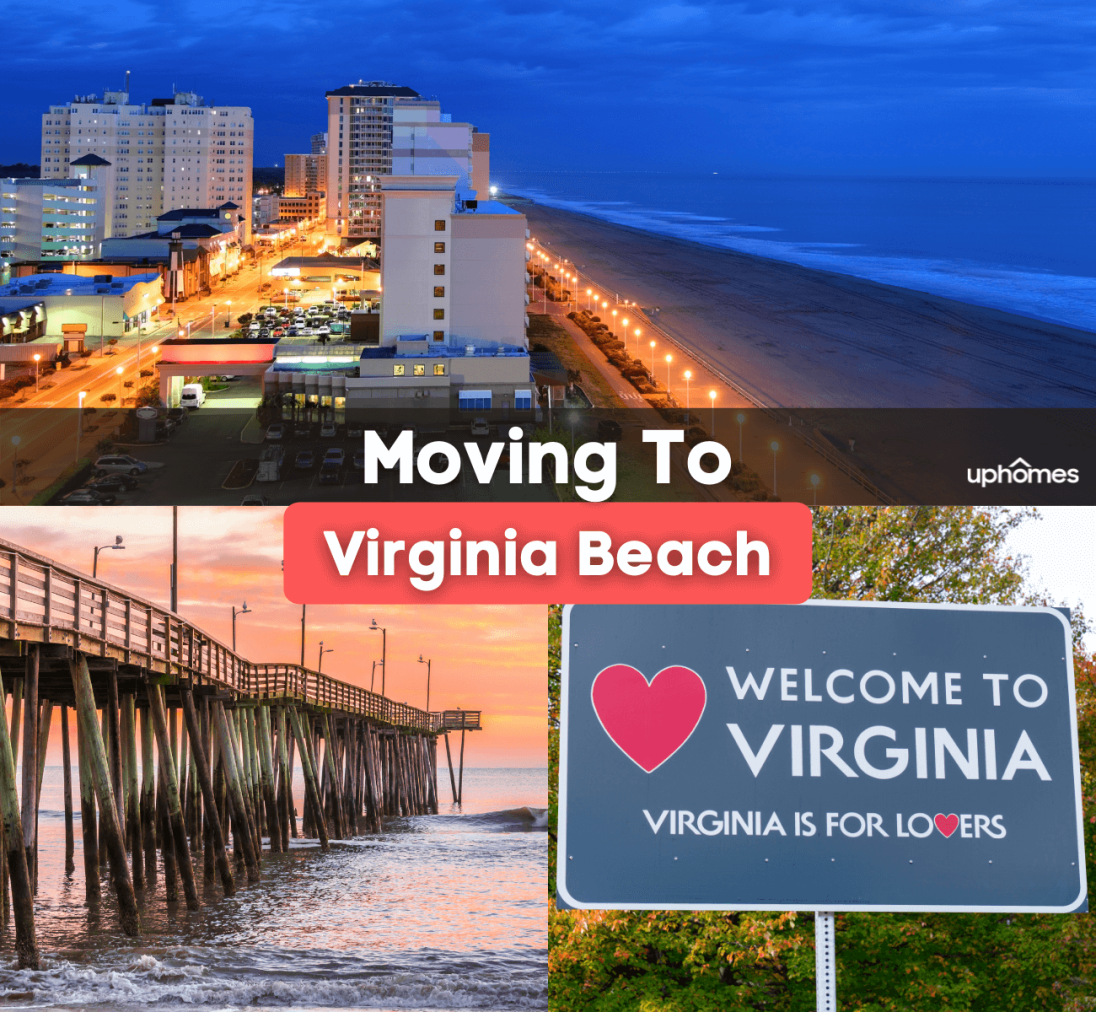 Living in Virginia Beach
If you're moving to Virginia Beach we have you covered with the guide below! Here's what it's like living in Virginia Beach!
If you're thinking of moving to Virginia Beach, you've come to the right place. The coastal city has a lot to offer for people with all types of interests -- it even made the list of thebest places to live in Virginia! It was also named the best place to live in America by USA Today Weekend. Virginia Beach is known as an ideal remote working destination as well with its skilled workforce, diverse economy, low tax rates, and beautiful scenery. VirginiaBeach is a resort city with hundreds of hotels and restaurants along the oceanfront. It's also an independent city with a population of about 459,470. It's the most populous city in Virginia and the 43rd-most populous city in the nation.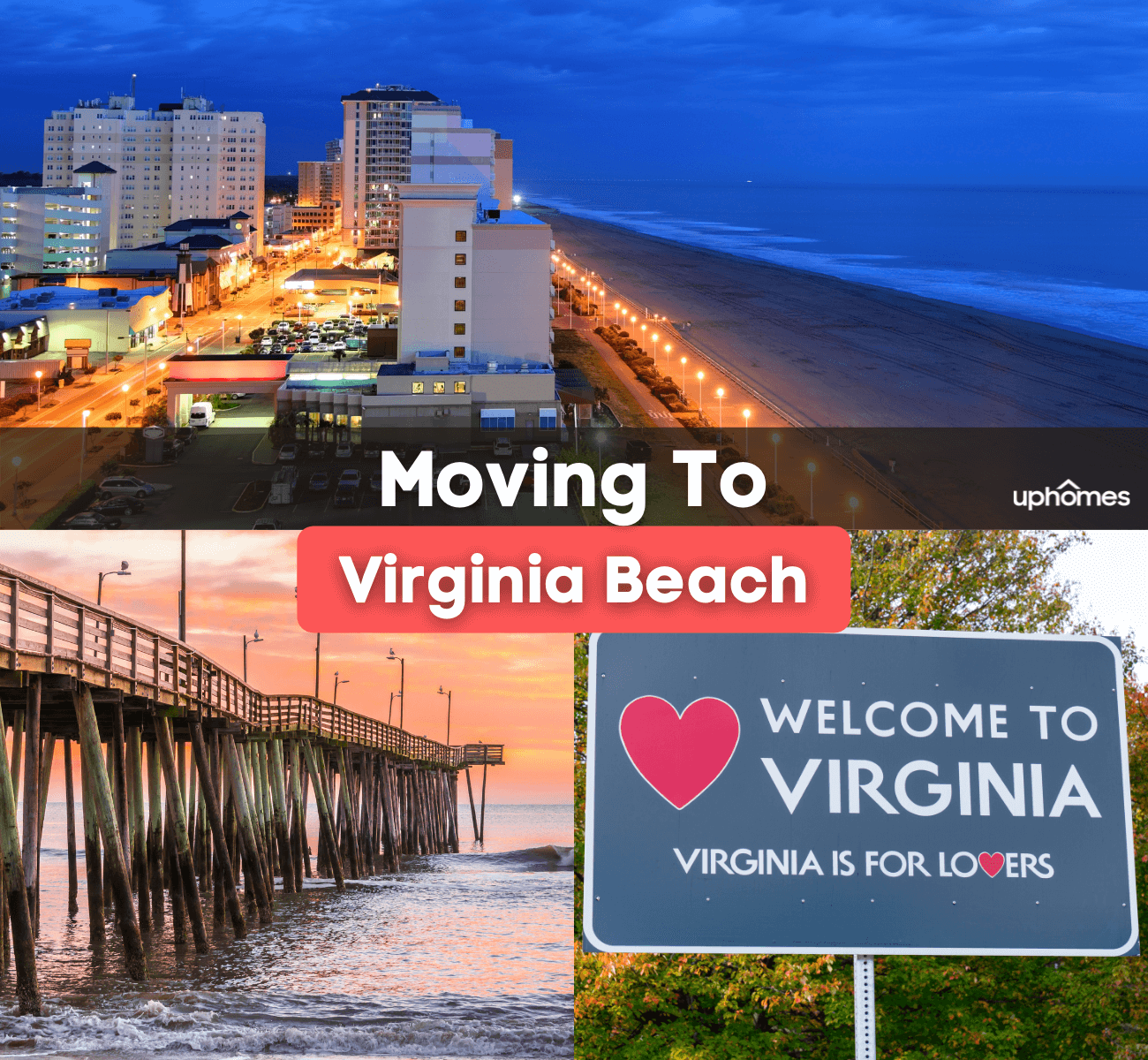 The city is located on the Atlantic Ocean at the mouth of the Chesapeake Bay and it's the largest city in the Hampton Roads Metropolitan area. This area also includes the independent cities of Chesapeake, Hampton, Newport News, Norfolk, Portsmouth, and Suffolk. We have put together a great guide for those moving to the state of Virginia and below we have our guide on Virginia Beach as well as the best places to live!
Here are 15 things you should know about your move to Virginia Beach!
The Climate is Comfortable
Virginia Beach has a moderate climate year-round and you'll still get all four seasons. The National Climatic Data Center reports Winters are mild, while Fall and Spring are wonderful. If you love the summer, this is the place for you. Summers do get warm and they are long, which is perfect if you love going to the beach. There are about 28 days a year when the high temperature is over 90 degrees, which is hotter than most places in Virginia. It does get a bit windy at times too and there are sometimes cool periods during the summer. The area gets a bit more rain than average, about 47 inches per year compared to the U.S. average of 38 inches. January has the coldest nighttime temperatures for Virginia Beach with an average of 32 degrees. It's one of the warmest places in Virginia!
Housing is Affordable
Some beach towns can be annoyingly expensive because of the tourists it attracts. That isn't the case in Virginia Beach! You can find a home or apartment at a reasonable price if you plan to move there. The median home price is about $262,000 and the median monthly rent is $1,258. Now the cost of living is about 10 percent higher than the national average, but for a beach town within a city, the price tag isn't bad. The housing market is strong in Virginia beach so houses are in demand, making buying a home here an incredible investment.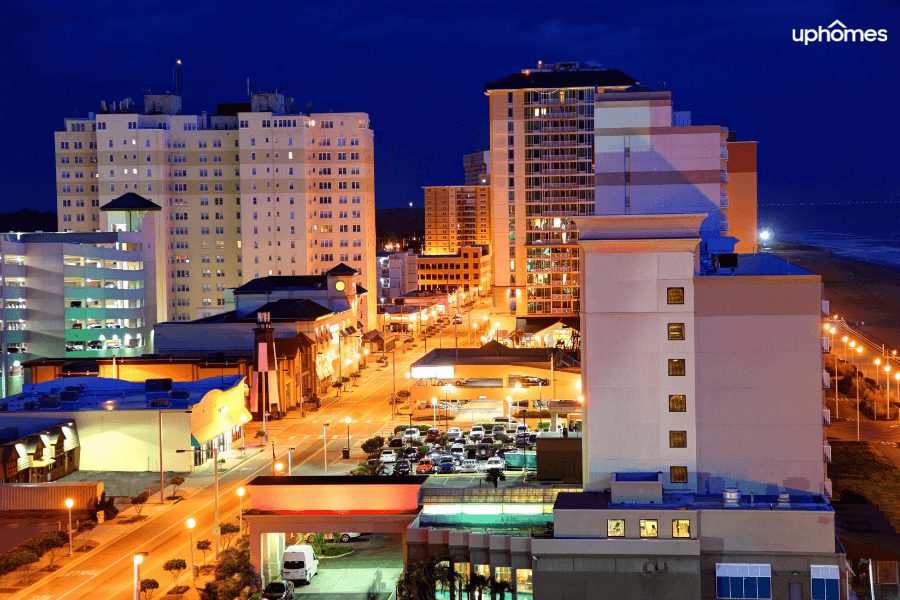 Enjoy the Trendy, Lively Nightlife
There is always somewhere to go and something to do in Virginia -- and make sure you order an Orange Crush! That's Virginia Beach's signature cocktail.
Local Favorites:
Catch 31: Near the boardwalk and resort area, this spot has a big live music space on the patio.
Lynnhaven Pub: A good ole' dive bar that the locals love.
Funny Bone Comedy Club: If you need a good laugh, this is the spot to go.
Peabody's Nightclub: If the club scene is more your style, order Peabody's Purple Cosmo and hit the dance floor here.
Dive into the Tasty Seafood
One of the best perks of living near the coast is enjoying the fresh seafood! If you want a taste of everything, Calypso Bar & Grill has it. You could also stop by Chix on the Beach for their signature Steamer Bags -- a Chesapeake Bay tradition. If you're looking for finer dining, Blue Seafood & Spirits has built a decadent reputation. The French bistro is elegant and the decor complements the exquisite menu. They are best known for their award-winning crab cakes, tempura fried shrimp, fish dishes and chocolate bread pudding.
Enjoy a Day on the Boardwalk
The Virginia Beach Boardwalk is full of restaurants, shops, art and sometimes live music. It's ranked among Virginia's top attractions (link to my other blog here) and you'll be guaranteed to find tons of activities to do while walking it. You can find the famous King Neptune Statue on the boardwalk so be sure to take a picture with him! If you enjoy fishing, head to the Virginia Beach Fishing Pier and see what you can catch. If you want to see the Boardwalk from a bird's eye view, get a ride on the Atlantic Fun Park's 100-foot Ferris wheel. The Boardwalk is a great place to go to get a bite to eat or drink while enjoying a beautiful day lounging on the beach.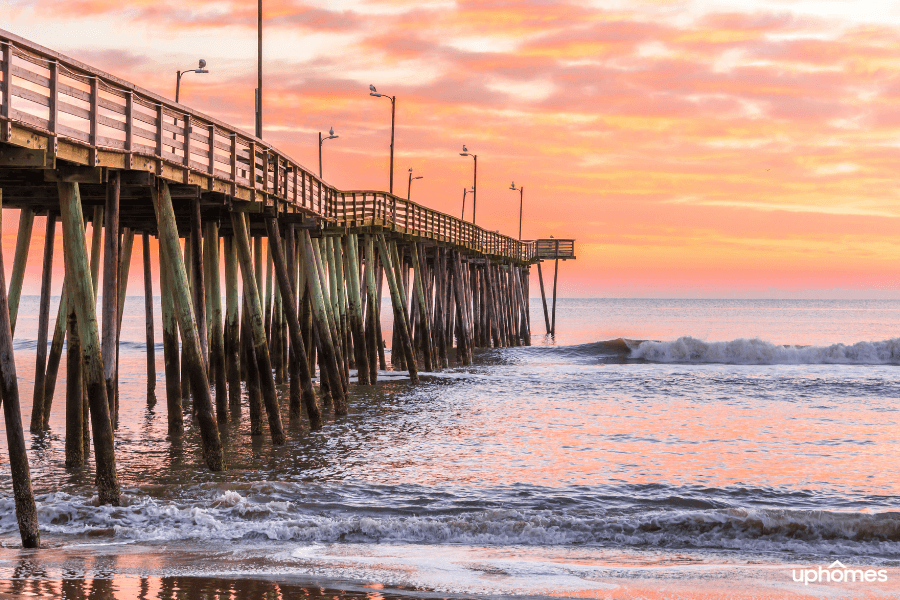 Education is Top-Notch
Virginia Beach residents have excellent public and private school options with many educational and workforce training opportunities as well. Virginia Beach has 88 public schools serving 68,986 students and it has one of the highest concentrations of top-ranked public schools in Virginia. The top-ranked public schools in Virginia Beach are Old Donation School, North Landing Elementary School, and Kingston Elementary School based on the school's math and reading proficiency test scores. Minority enrollment is 51% of the student body. If you prefer private schools, you can choose from more than 37 including Norfolk Academy or Catholic High School in the Catholic school district. There are more than 21 colleges, universities, and trade schools including the College of William & Mary, the second oldest college in the U.S. You can also check out Regent University, a liberal arts school, and Virginia Wesleyan College. The local community college is Tidewater Community College. One of the many reasons families are moving to Virginia Beach.
Great Healthcare
Hampton Roads' largest provider, Sentara Healthcare, has seven hospitals in the area including one of the best cardiac facilities in the world. U.S. News and World Report has ranked Sentara Norfolk General among America's Best Hospitals for more than a decade. The hospital has received numerous awards in the past few years and has specialties in neurosurgery, orthopedics, colorectal and thoracic surgeries.
Virginia Beach is a Military Town
Hearing the sounds from fighter jets is a normal occurrence in Virginia Beach. The area has a long relationship with the United States Military. It's home to several military facilities including the Navy's East Coast master jet base and Naval Air Station Oceana, which is the world's largest naval station. The Department of Defense also spends more than $14 billion every year in the Hampton Roads region. Virginia Beach is flourishing with military history. You can find one of the largest private collections of World War I and World War II-era aircraft at the Military Aviation Museum. You can even schedule a plane ride over the city!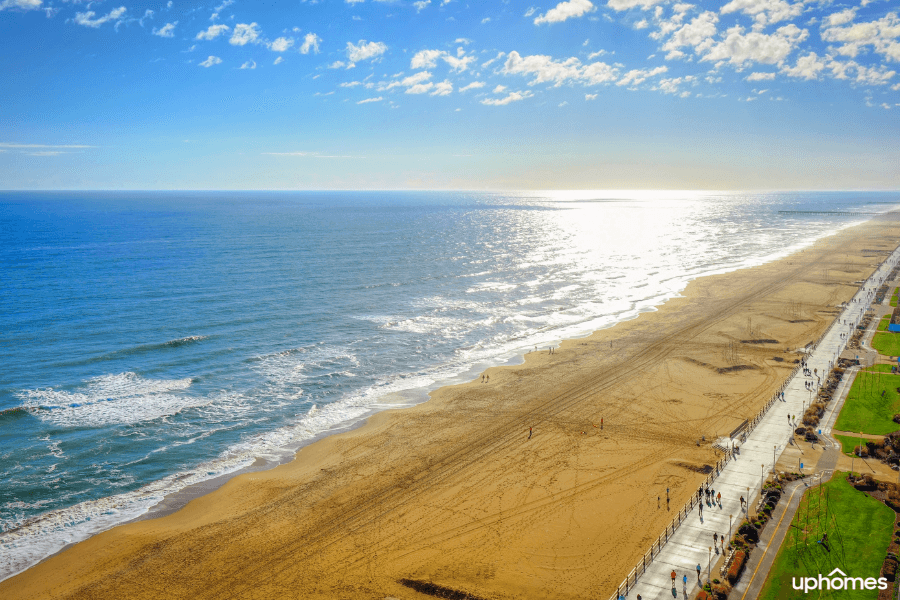 Beaches and Nature Galore
Nature-lovers never get bored in Virginia beach! If the sand and the salt is what you desire, head to the secluded Sandbridgebeach or, if you like to people-watch, The Oceanfront at Virginia Beach is the place to be and home to the boardwalk. The sand and the surf are only the beginning! The Back Bay National Wildlife Preserve is a must-see and you may even be able to spot some unique animals wandering around. If you love to hop on your bike, the city has more than 100 miles of bike-friendly paths. Many of them run through scene parks including False Cape State Park and First Landing State Park. If you want to see the city, there are easy paths to follow in the metro area too! The beaches are a big reason people are moving to Virginia Beach.
Families Stay Safe
The crime rate in Virginia Beach is average to low -- 14% percent lower than the national average. If you choose to live in Northeast Virginia Beach, it's even better. The crime rate there is 47% lower than the overall average of Virginia Beach. According to FBI statistics, Virginia Beach has one of the lowest crime rates in the nation of a city of its size. AdvisorSmith released a new study last year called Safest Cities in America. It ranked Virginia Beach as the #1 safest large city.
Sand and Water Sports Galore
Virginia Beach is in the Guinness Book of Records for having the longest pleasure beach in the world. Every year, people flock to the area for the East Coast Surfing Championships. The event attracts more than 100 of the world's top pro surfers and hundreds of others who come to compete. Another must-see is the North American Sand Soccer Championshipwere soccer players come to watch or compete with Virginia's top soccer teams. If you love watersports, it's easy to rent gear for wakeboarding, waterskiing, surfing, or parasailing at the local rental shops. And don't forget beach volleyball!
Your Furry Friends are Welcome
Virginia Beach is a dog-friendly city. Dogs are welcome at the beaches and in Virginia Beach's parks on a leash during the Spring, Fall and Winter months. There are also several dog parks to take your pet for a run or walk and to play with other pups! If you love craft brews, your dog is welcome at Wasserhund Brewing Company which offers a pet-friendly patio and even boasts some pints just for your pup! The city offers several pet-themed events every year like the annual Woofstock festival which includes musical entertainment all day long. There are certain restrictions when it comes to dogs, just be sure to check before taking your dog off the leash!
Virginia Beach Throws Awesome Festivals
If you enjoy festivals, the city throws several every year that you are sure to love. More than 500,000 visitors come every year for the City's annual Neptune Festival. It's a family-friendly event withan incredible sandcastle competition, vendors, food, music, and performers. Every August is the American Music Festival with non-stop parties and excitement. And don't miss the airshow at NAS Oceana which brings in about 350,000 visitors every time.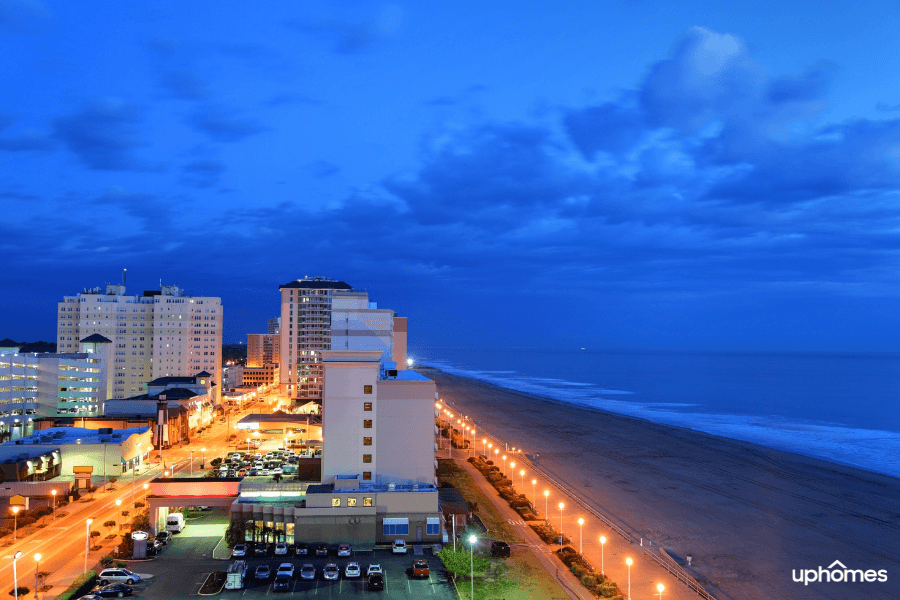 Step into History
Virginia, in general, is a state rich with history -- and you can find plenty of it in Virginia Beach. It was founded in 1887 as a beach resort and is now nicknamed "Resort City." It's home to Cape Henry Lighthouse which is the nation's first federally-funded public works project. You can get a beautiful view of the Chesapeake Bay. North Virginia Beach's First Landing State Park is one of the city's most popular historical sites, named for the pilgrim's arrival at Plymouth Rock back in 1607.
Traffic and Transportation
Commute times are below average in Virginia Beach but because the majority of residents drive their own cars, there tends to be bad traffic congestion during rush hour. Public transportation is not one of the city's strong suits. Hampton Roads Transit is the bus and light rail service which serves Virginia Beach, Norfolk, Chesapeake, Portsmouth, Hampton, and Newport News. There are a lot of bus stops but they tend to be on the main roads and it can be hard to switch from an east-west line to a north-south line.
City Amenities (Bonus!)
Your tax dollars go a long way here! The city offers over 200 parks and 4,000 acres of green space and ten libraries. The city also has an easy-to-use app to find recreation facilities or activities you might be looking for as well as services through the libraries. Join one of the city's seven recreation centers for just $86 for the entire year. The centers have an indoor pool, weight room, and cardio equipment.
Final Thoughts on Moving to Virginia Beach
There is so much to do in Virginia Beach, you really cannot go wrong! Neptune City is one of the best beach towns in America due to its beautiful coastline, extensive history, growing economy, and the great job market. Many people think Virginia Beach is one of a kind with a vibe that is unmatched by other locations. Every day can be a new adventure in Virginia Beach whether you're a history buff, outdoor enthusiast, beach bum, or a foodie. If you're considering a move to Virginia Beach, our team of top Real Estate Agents can help you make the move - contact us to help with your relocation or with any other questions you may have.

Find your new home
Search real estate and homes for sale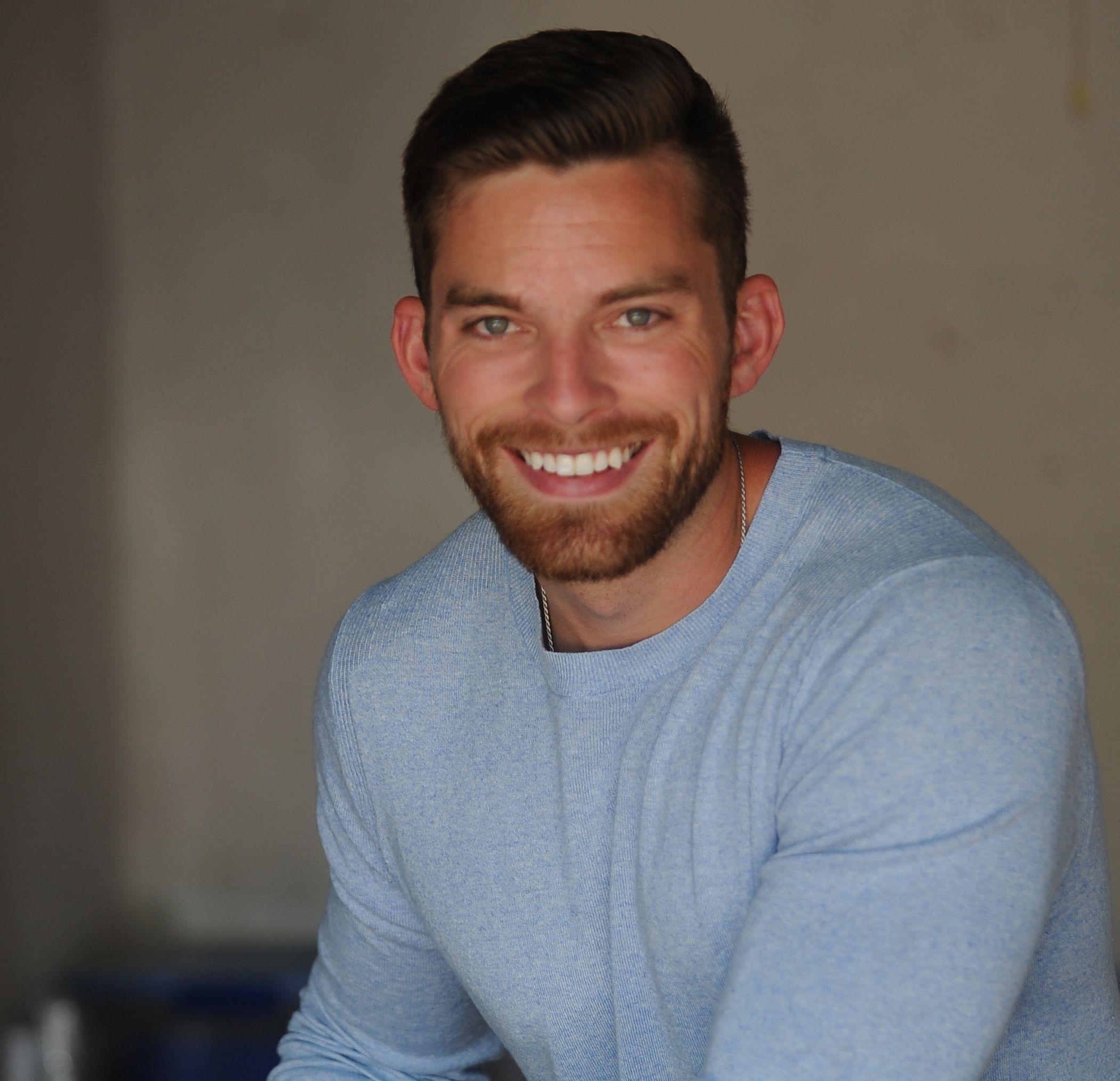 Ryan Fitzgerald
Hi there! My name is Ryan Fitzgerald, and I am a REALTOR®. My goal is to help you learn more about real estate through our Real Estate Blog! Hopefully, you enjoyed the above blog post and it found a way to provide help or value to you. When you're ready to buy or sell a home of your own let us know here. Please feel free to join the conversation by dropping us a comment below.