5 Best Places to Live in Virginia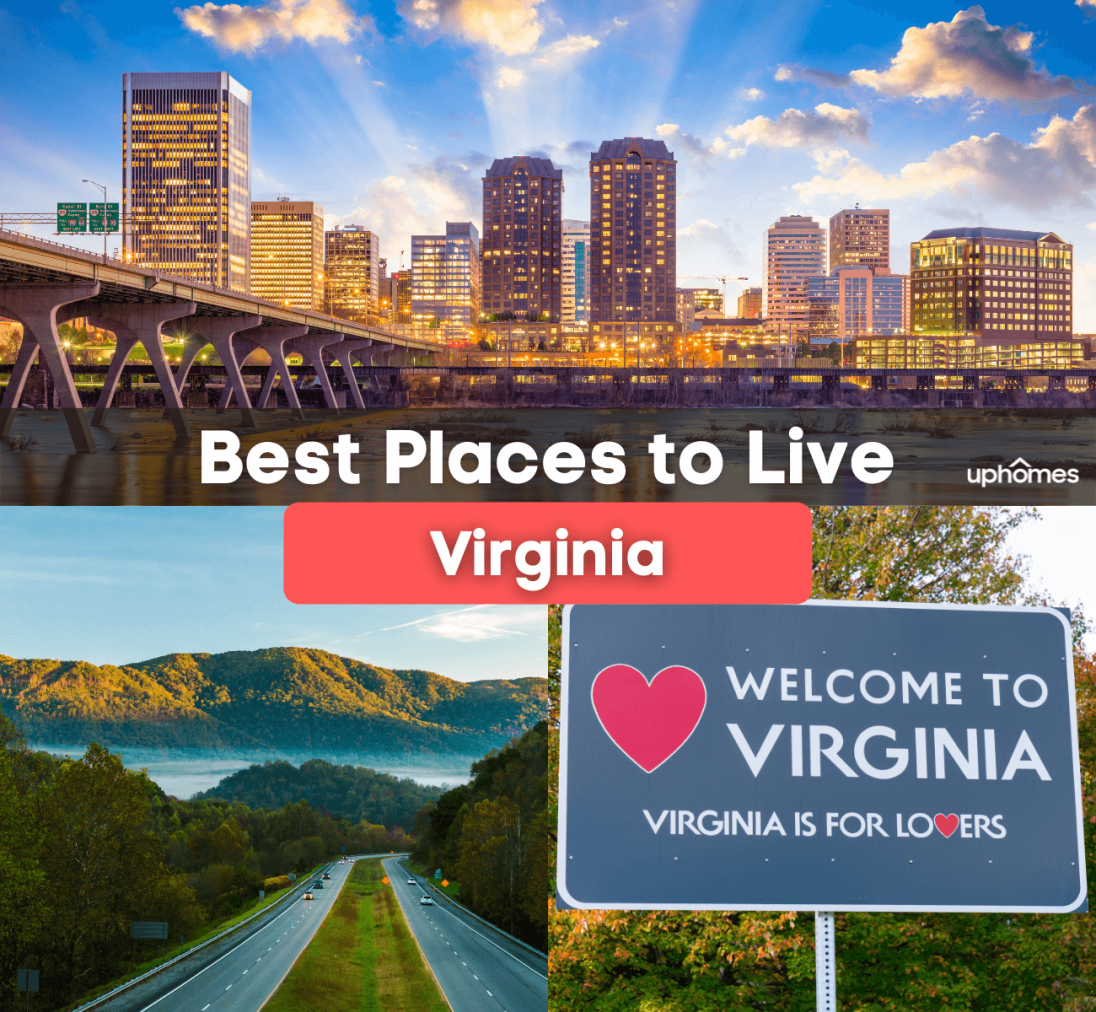 Best Places to Live in Virginia
What are the best cities to live in, in the state of Virginia?
Virginia is for Lovers and -- lovers of life. Best known as "the birthplace of the nation," Jamestown was the first English settlement in the U.S. It's a city rich with history from the beautiful, scenic mountain towns to the beach and it's perfect for anyone who loves the outdoors. The state stretches from the Chesapeake Bay to the Appalachian Mountains with a long Atlantic coastline. Virginia's population in 2020 was over 8.65 million divided into 95 counties with 38 independent cities. Virginia is growing -- ranked number 12 in the country for population and 13th for growth. People are moving to Virginia because this state has it all and we are going to dive into the best places to live here!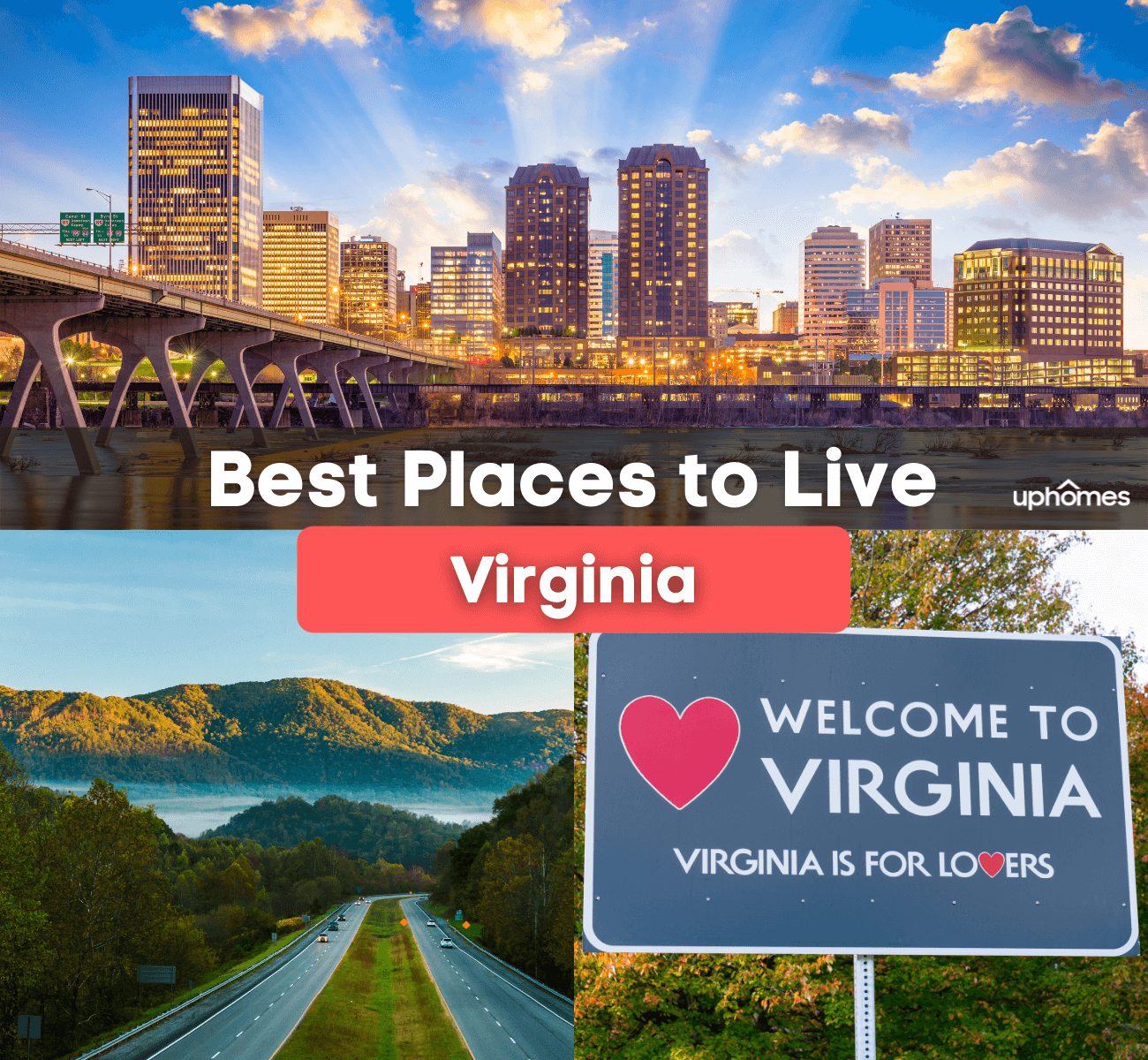 Key industries in Virginia are the military, government services, and technology, with the Commonwealth having the highest concentration of technology workers of any state. The Capital of the Commonwealth is Richmond, while Virginia Beach is the most populous city. Virginia has many different options when it comes to choosing what type of city you might want to live in. This guide was created to help you figure out the best places to live in Virginia!
Arlington
This vibrant city sits on the border between Virginia and Washington with a population of nearly 224-thousand residents. Arlington has been ranked #3 on the Top 100 Places to Live in the U.S. and #1 as the Best Place to live in Virginia. The reasons people love Arlington are its top schools, lively nightlife, extremely low crime rate, short commute times, and a plethora of outdoor activities. Arlington is the 7th wealthiest county in the United States with rent prices averaging $1,827 and the median home value at $607,700. Residents who live here don't mind the high prices for what the city offers. Arlington houses a big art community and historical sites including several cultural destinations and museums. People who move to Arlington love the easy access to D.C. Many residential properties, retail spaces, and offices are located near the Metro stop in Arlington to facilitate a more effortless commute to D.C. Arlington has a growing economy with an unemployment rate of only 3.7%. Many residents work for the U.S. Government or the Armed Forces but many others work for small businesses.
Local Favorites:
Arlington National Cemetery: A United States military cemetery situated across the Potomac River from Washington, D.C. The National Cemetery encompasses 624 acres of land containing the graves of soldiers who died in the nation's wars beginning with the American Civil War.

Signature Theatre: See a show at this Tony Award-winning theatrethat offers contemporary and classical plays and musicals. The theatre is at the Village at Shirlington, which means there are wonderful dining options nearby for before or after a performance.

Pentagon Tour: The headquarters for the United States Department of Defense. The pentagonal-shaped building is the largest low-rise office building in the World. The guided tour lasts about an hour and includes information about the branches of the military and provides an opportunity to see the Hall of Heroes, an indoor memorial near the crash site of September 11th.

MedStar Capitals Iceplex: Skate at the ice sports center where the Capitals hockey team practices. You can also watch their practices for free! The center has two NHL-sized locker rooms, public skating hours, a gift shop, and a skating campus throughout the year.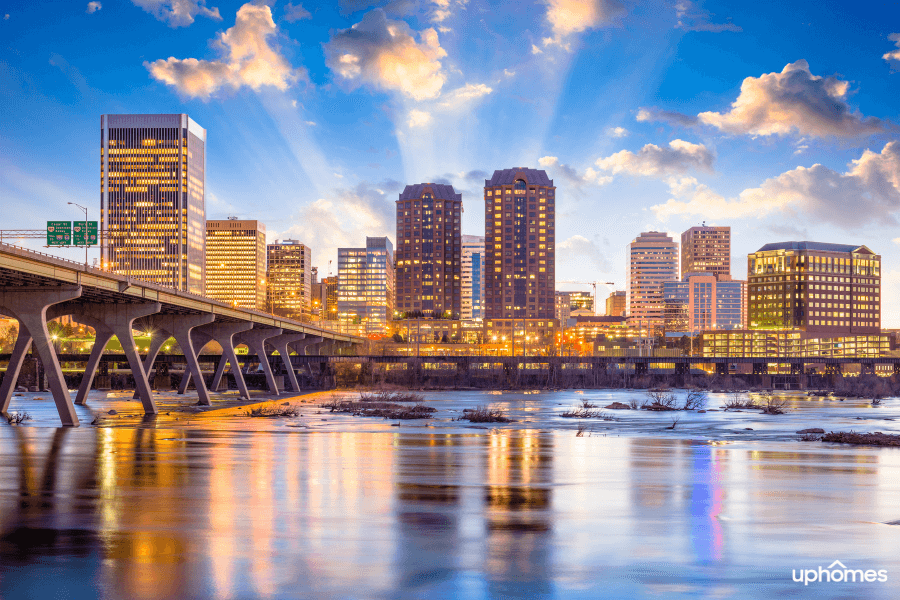 Virginia Beach
Beach-lovers come one, come all. With a population of 448,290, it's one of the most populated areas in Virginia. There's a reason so many people are moving to Virginia Beach! The coastline offers residents a choice of clean and easily accessible family and pet-friendly beaches. People who live at the coast love the low cost of living, although it isn't the cheapest place to live in Virginia. The average price for homes is $259,900 and rent averages about $1,200. Virginia Beach has been ranked as the 105th best place to live in the U.S. Residents who live here love the outdoors and enjoy kayaking, fishing, waterskiing, and paddleboarding nearly year-round. There are dozens of hiking, cycling, and jogging trails as well as multiple skate parks for skateboarders and BMX riders. U.S. News & World Report also ranked Virginia Beach as the 46th best place to retire. It has a lively arts culture as well as an impressive food scene. You could dine at a different restaurant every day of the year.
Local Favorites:
Virginia Beach Boardwalk: Fun entertainment and activities stretching for three miles along the oceanfront. The boardwalk has a mix of restaurants, shops, and vendors. It's also a center for performing arts including live musical acts, summer concerts, and nautical sculptures.

Military Aviation Museum: Located at the Virginia Beach Airport, it is home to one of the largest collections of World War I and World War II military aircraft in the world. This living history museum includes four hangars and an exclusive space for the collection's non-flying pieces.

Cape Henry Lighthouse: One of Virginia's six historic sites. The Lighthouse guards the entryway into the Chesapeake Bay and is one of the oldest surviving lighthouses in the U.S. The Lighthouse is rich in history, originally authorized by George Washington and overseen by Alexander Hamilton.

Ocean Breeze Waterpark: A family-friendly water park in the heart of Virginia Beach. The park is Caribbean-themed and includes more than 30 rides as well as water slides, river adventures, a pirate ship, and a huge wave pool. Popular rides include the Log Rolls, Walk the Plane, and Jungle Falls.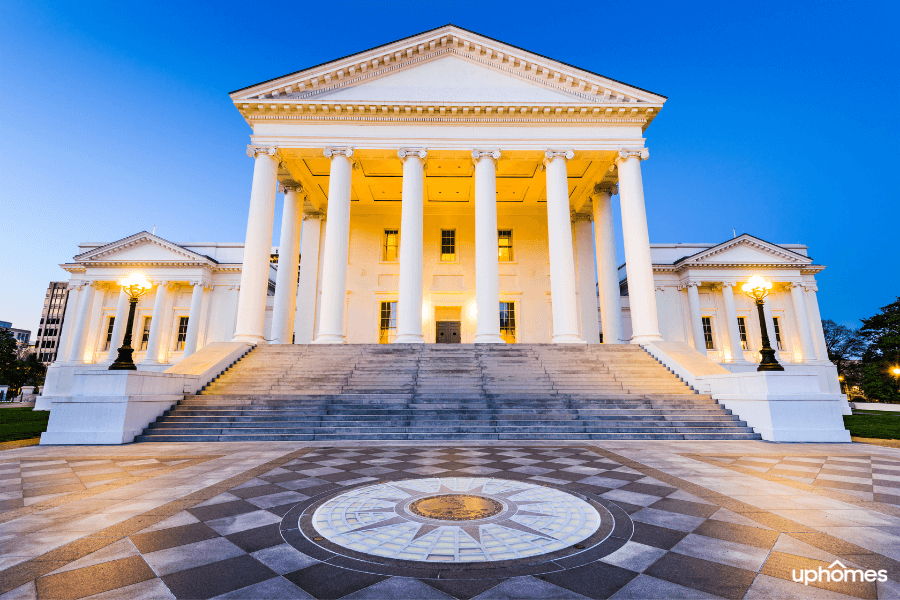 Alexandria
Located just seven miles away from the nation's capital, you won't be bored in Alexandria! Mainly a tourism community, it has boutiques, restaurants, theaters, 70 parks, and a Northern Virginia Community College campus. Alexandria is a walkable, smaller D.C. rich with history, but not quite as bustling as the nation's capital. With a population of just 150,000, its historic character and intimate feelmake it perfect for families. One of the most attractive things about Alexandria is your ability to go car-free, especially in the historic Old Town. You will easily find bike-sharing and car-sharing options in the city. There's even a water taxi at the riverfront. The efficient D.C. Metro system also has multiple stops throughout the city so commuting is easy if you work in or outside Alexandria.
Local Favorites:
King Street Mile: A scenic stretch is known as one of America's "great streets." King Street has more than 200 shops and restaurants and architecture that dates back to the 18th and 19th centuries. Have a sweet tooth? Grab a scoop in the "Ice Cream Cone Capital of the U.S." Or, if you love history, visit the George Washington Masonic National Memorial, a visible tribute to George Washington.

Gadsby's Tavern Museum: The two-building complex offers daily tours to explore what life was like back in the Colonial days. The tavern was visited by several famous people including George Washington, John Adams, Thomas Jefferson, James Madison, James Monroe, and the Marquis de Lafayette.

Alexandria Colonial Tours: Take a ghost tour -- a spooky option in Alexandria! The Alexandria Colonial Tours offers a nighttime ghost tour led by a guide dressed in colonial garb. They lead you by lantern light over six blocks of Old Town Alexandria.

Mt. Vernon Trail and Dora Kelley Nature Park: The 18-mile paved walking and biking trail runs parallel to the George Washington Memorial Parkway and the Potomac River. If you want something less urban, check out the 50-acre forested park at the Dora Kelley Nature Park.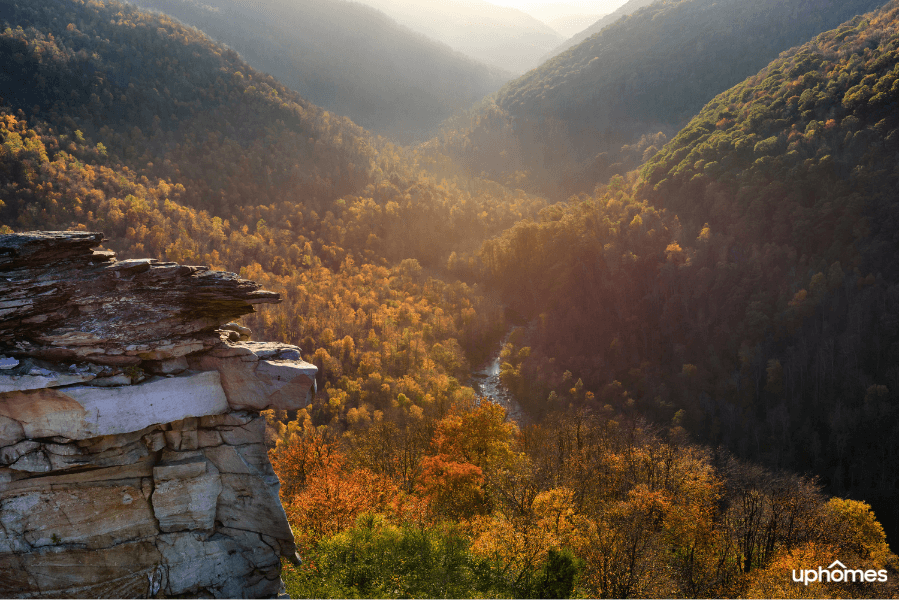 Richmond
Populated with 213,735 residents, the capital city of Virginia appeals most to millennials who like a fast-paced life in a city that is reasonably affordable.The median home value is $193,700 and rental prices average $896. Eight Fortune 500 companies are nestled in Richmond including Brinks, Carmax, Universal Corporation, and Performance Food Group. The city's key economic sectors include government, finance and higher education. Richmond has award-winning restaurants, fascinating art galleries, and museums as well as an exciting music scene. The beautiful James River runs through the city and residents are frequently seen swimming, paddle boarding, and kayaking in it. The city is known for being one of the most historical places in the U.S. and is also known for its art. Tattoos can be spotted as often as murals on the city's walls. If you're a beer lover, Richmond also has a rich craft beer scene with residents often bar-hopping the breweries on the weekends.
Local Favorites:
Maymont: The estate was built by James and Sallie Dooley in the late 1890s. It includes the mansion, arboretum, gardens, a 100-acre park, petting farm, and carriage collection. You can pack a picnic and also visit the Nature Center within the gardens.

Virginia State Capitol: The Capitol was builtfrom 1785 to 1788 to the design of Thomas Jefferson. The capitol sits in a park known as Capitol Square where you can also see the 1813 Governor's mansion and a bell tower.

Canal Walk: The 1.25-mile trail is the best way to take in Richmond's 400-year history. It's set along the Haxall Canal and the James River and Kanawha Canals. The canal is open year-round and is a hotspot for large activities and events in the city. It is also home to the first successful electric streetcar system in the world.

Virginia Museum of Fine Arts: Contains a collection of more than 33,000 works of art from around the world. Some pieces of art located in this museum are nearly 5,000 years old. With free admission all year long, it also holds education activities, studio classes, and traveling exhibitions.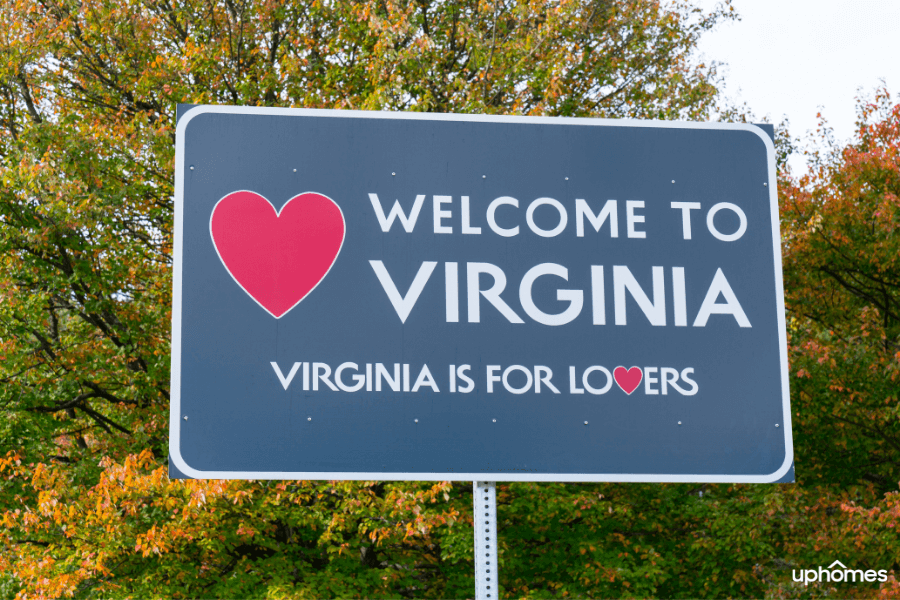 Salem
Bordered by the Allegheny and Blue Ridge Mountains, Salem offers fantastic views for the residents who live there. With a population of about 25,317, it's the 22nd largest city in Virginia.Salem is nicknamed "Virginia's Championship City" in honor of its strong athletic presence which includes the Class-A Salem Red Sox baseball team and Amos Alonzo Stagg Bowl, an NCAA Division III Football championship event. Living in Salem offers a suburban feel and most residents own their homes. Salem is an affordable place to live with the median household income at $57,165 and the median home value at $192,282.
Local Favorites:
Parkway Brewing Company: Established in 2012 in Salem, it produces 17,000 bottles per year. Parkway produces 22 kinds of beer per year and has sample batches that are only available in the on-site tasting room. The tasting room is attached to the brewery production facility where people meet to taste beer, meet friends and listen to local music.

Salem Red Sox: Check out the Minor League Baseball team where they play home games at Haley Toyota Field at Salem Memorial Ballpark. The team is a member of the Carolina Class A-Advanced League and the Boston Red Sox farm team.

Dixie Caverns: A commercial show cave located four miles west of Salem. Visitors can explore the caverns in a 45-minute guided tour. The best-known attraction is a bell-shaped flowstone formation known as the "Wedding Bell."

Salem Museum: Located in the historic William-Brown house of Longwood Park, it offers a range of exhibits, programs, and special events. It became a Roanoke College fraternity house for a while, then served as an office and later as apartments. It's the first Salem house listed on the NationalRegister of Historic Places.
The Bottom Line
Whether you're looking to live in the peaceful mountains or by beautiful beaches, Virginia has a lot to offer. The state's solid economy, excellent colleges, and universities, and rich history are just a few of the things that people love about the Old Dominion. If you're thinking of moving, Virginia has it all. Before moving, make sure to reach out to one of our knowledgeable and experienced Realty Specialists to aid and guide you through the home buying process. While moving can be stressful, our team is here to help you through every step of the way. Contact us today to find your new home in Virginia!

Find your new home
Search real estate and homes for sale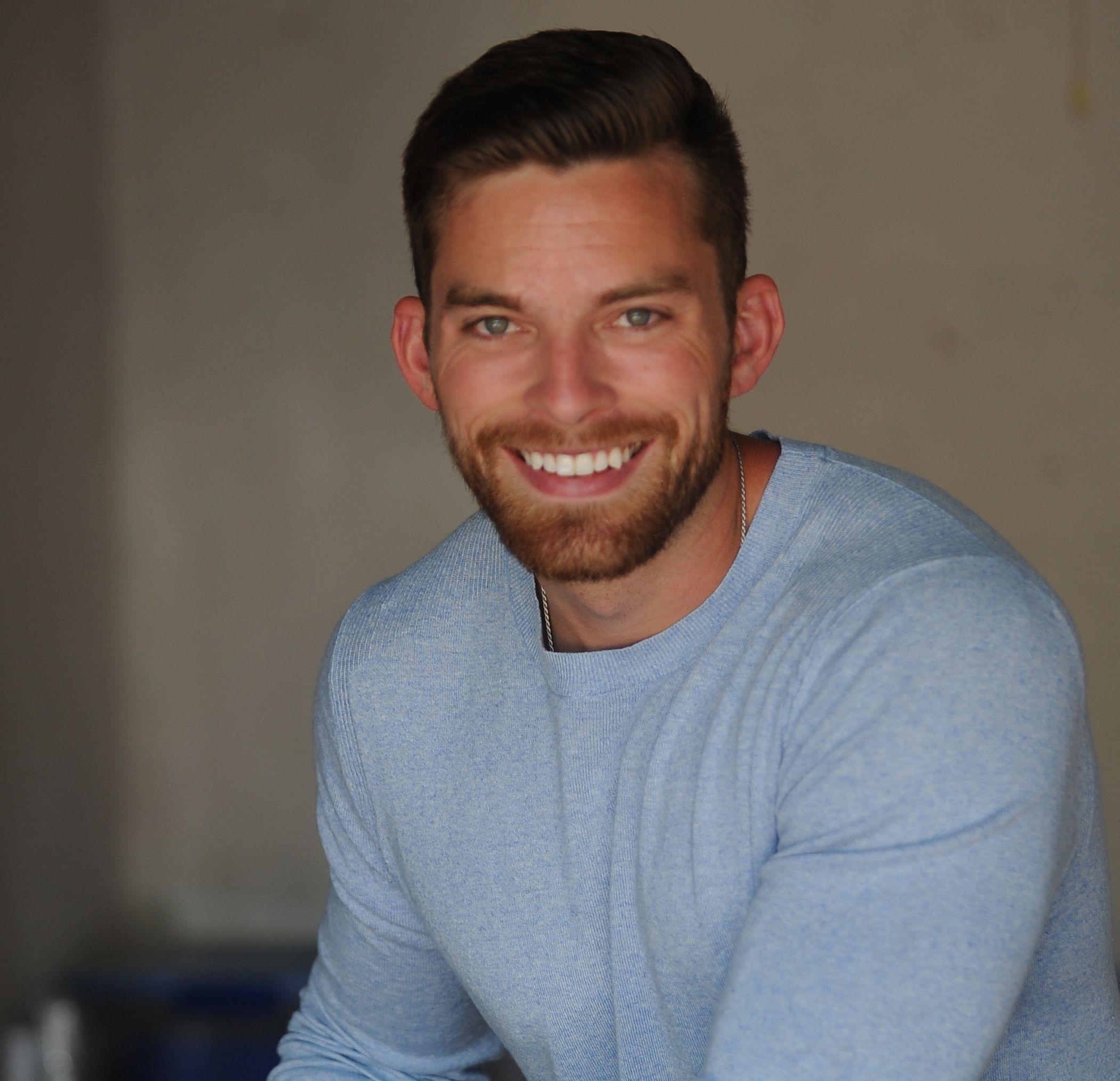 Ryan Fitzgerald
Hi there! My name is Ryan Fitzgerald, and I am a REALTOR®. My goal is to help you learn more about real estate through our Real Estate Blog! Hopefully, you enjoyed the above blog post and it found a way to provide help or value to you. When you're ready to buy or sell a home of your own let us know here. Please feel free to join the conversation by dropping us a comment below.