17 Things to Know Before Moving to Alexandria VA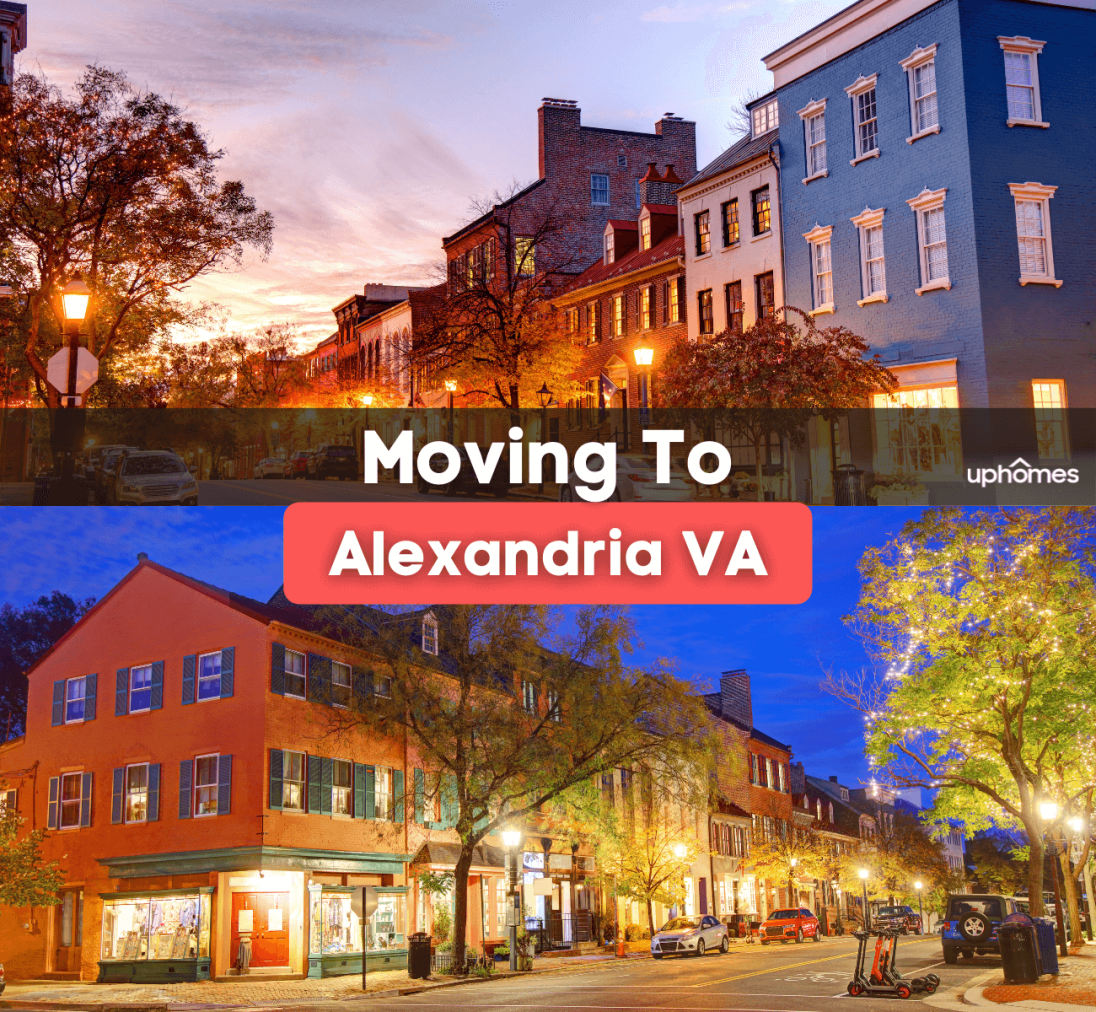 Living in Alexandria, VA
Searching for information on moving to Alexandria? Here are 17 things to know about living in Alexandria, VA!
Thinking about moving to Alexandria, Virginia? You've come to the right place. Located along the western bank of the Potomac River, Alexandria is about 7 miles south of downtown Washington, D.C. As of 2020, the population was estimated at about 159,200. Much of Alexandria has been influenced by its close proximity to the U.S. capital.
There is a large population of professionals who live there that work in the U.S. military, federal civil service, or for a private company that contracts for the federal government. If you're looking for a place with small-town charm with big-city services, Alexandria county could be the place for you! The city also has a fascinating history and many of its historic buildings are still preserved today. There are a lot of reasons Alexandria made our list of best places to live in Virginia!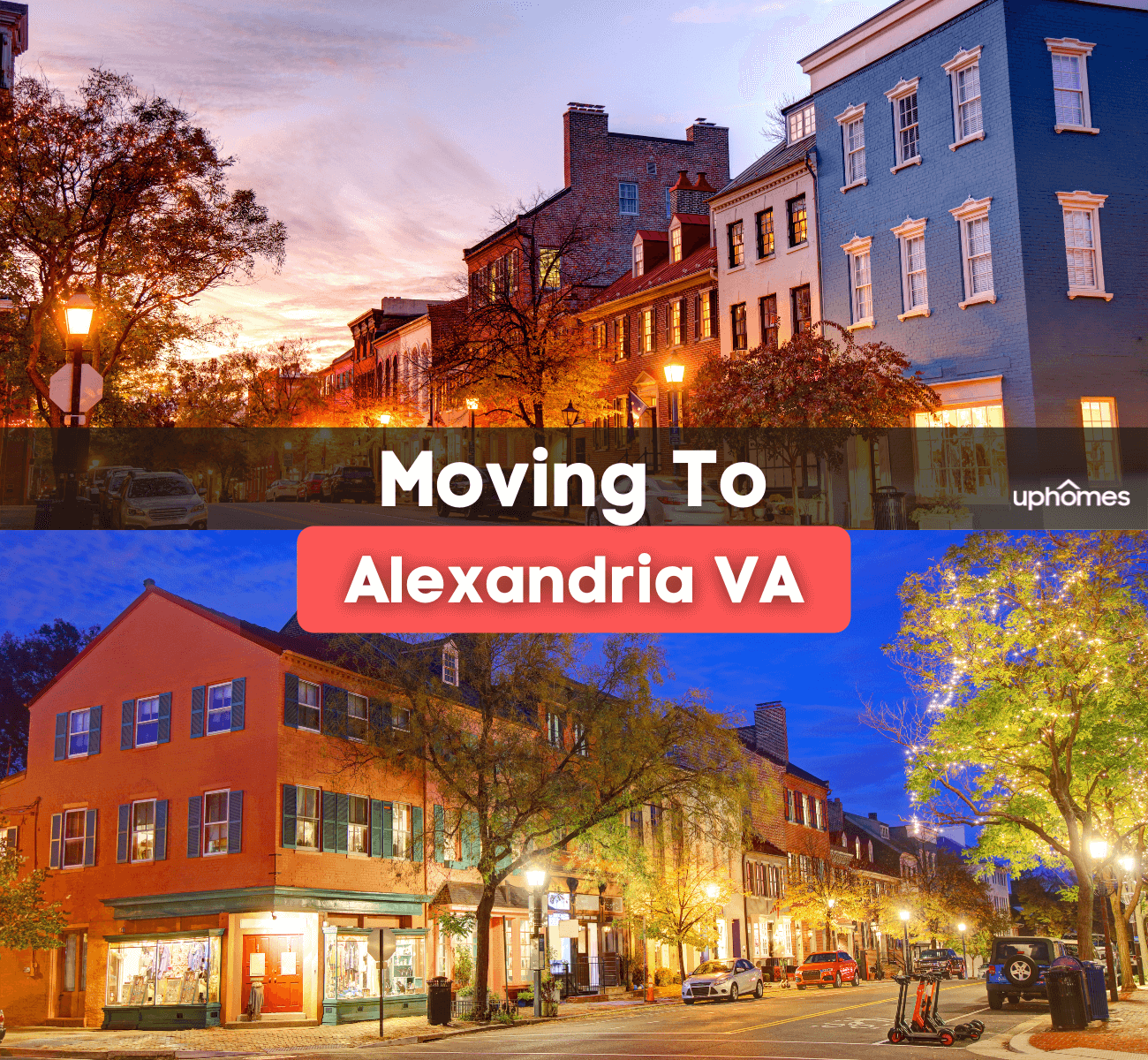 If you're moving to the state of Virginia it's likely Alexandria is a place you are going to check out. There are a lot of things you should know before making the move to Alexandria which is why we've created this guide with everything you should know before moving - the positives and the negatives. Read on to learn more about the 17 things you should know BEFORE moving to Alexandria, Virginia.
Old Town Alexandria is the Place to Go
The historic center of Alexandria is known as Old Town. It's a collection of restaurants, boutiques, antique shops, and theaters and it's a popular place for people who live in Alexandria as well as visitors. This is the cultural center of Alexandria and is known for its cobblestone-lined streets and historical significance. Old Town is very condensed so you can find more than 100 retail stores on the iconic King Street which leads to the waterfront. If you're in Old Town, you have to check out the Old Town Farmers Market! It's one of the nation's oldest and you can buy some of the freshest fruits and veggies.
Foodies Can Celebrate
If you love food, you'll love Alexandria, Virginia. The city is full of favorites that have been around for a while - like Magnolia's on King for brunch. It's also a citythat constantly has new restaurants popping up. Warehouse in Old Town serves prime steaks and fresh seafood in a historic building, or you could try their Sunday brunch. Viola's Dockside Grill is also in Old Town with a casual menu and seating that overlooks the marina. Make sure you try Lena's Woodfired Pizza as well! Lord of the Rings fans can also get excited and stop into Bilbo Baggins Restaurant. They opened in 1981 complete with hobbit hole murals and menu items like Bilbo's Burger, Frodo's French Toast, Lord of the Rings chocolate cake and so much more.
It's a Bit Pricey to Live Here
Alexandria is one of the most expensive places to live in Virginia. Housing is by far the highest expense if you live in the city. The median home cost is about $542,000 compared to the state's average of $258,000. If you're renting in Alexandria, studio apartments go for about $1,665 per month and one to two bedrooms average $1,700-$2,560. Transportation is also slightly more expensive than the rest of Virginia. However, you may save a little money when it comes to health care and utilities which are slightly more affordable in Alexandria compared to the U.S. average.
Alexandria is a Melting Pot
Alexandria has a wide variety of ethnic residents who live there. The Scottish community will be more obvious due to their attire, but there are also many from Latin America as well as Afghanistan, Ethiopia, Eritrea, and Pakistan. Residents in Alexandria love celebrating different cultures! The Alexandria Irish Festival is every August in Waterfront Park. The Vietnamese community puts on Vietfest in August at Landmark Mall. There is also an Armenian Festival and the Good Shepherd Catholic Church's annual Labor Day weekend International Festival.
Convenient & Easy Access
Living in Alexandria automatically gives you easy access to Arlington and Washington, D.C. The middle of Alexandria is located within I-495 (Capital Beltway), and the city is connected to D.C. by the Metrorail service. If you don't feel like sitting in D.C. traffic, you can just hop onto the metro. Like most cities, there is traffic congestion in Alexandria and most residents have a 30-minute commute without traffic. Public transportation gets people to work within 30-45 minutes without delays on most days. Many people choose to do that or walk instead of driving their own car.
The Place for History Lovers
Alexandria's roots are traced back to 1669 which makes it one of the oldest settlements started by Europeans in North America. George Washington himself was born on the Northern Neck in Westmoreland County but moved to Mount Vernon in 1759. The rich history of Alexandria has been well preserved in museums as well as in original homes and buildings. Two of the most famous museums are Gadsby's Tavern Museum and the Stabler-Leadbeater Apothecary Museum. The George Washington Masonic National Memorial is also a big one, founded in tribute to the country's first President.
Thriving Job Market
The variety of major Alexandria employers portrays the quality of jobs in this thriving market.
One of Alexandria's largest employers is the U.S. Department of Defense and another is the Institute for Defense Analyses. Independent and technology enterprises also call Alexandria home with companies like Systems Planning & Analysis Inc, Pro-Sphere Tek, Inc, Culmen International, Edgesource Corporation, and the National Science Foundation. International Organizations include the Salvation Army National Corporation and United Way Worldwide. In November of 2018, Amazon picked Arlington, Virginia as its east coast headquarters. The final location the company chose is actually just as close to Alexandria as it is to anywhere in Arlington so living in Alexandria gives people the opportunity to work for the tech giant.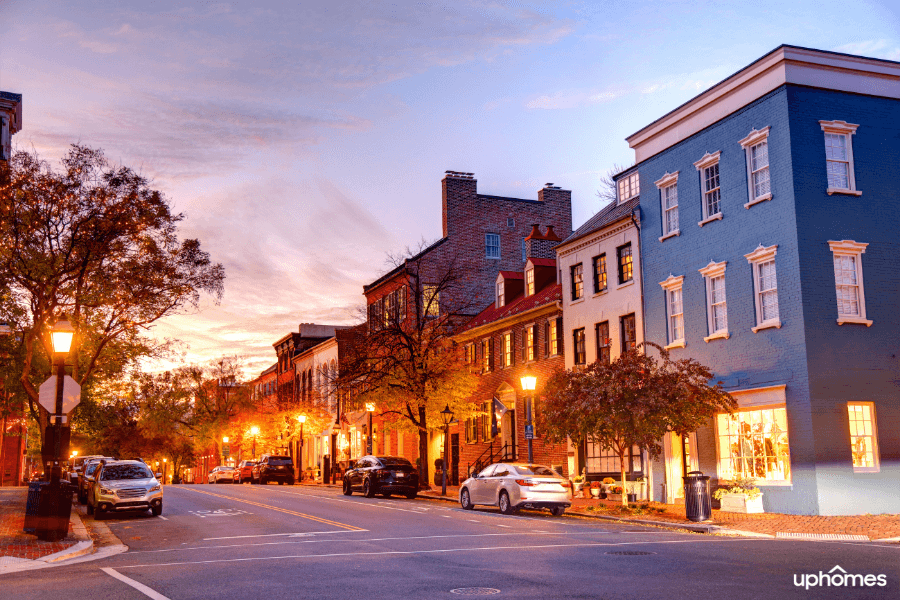 Local Art is Booming
Alexandria is the place to be for artists and those who love art. One of the major attractions in the city is the unique Torpedo Factory Art Center. The building was originally constructed by the U.S. Navy for the construction of torpedoes a century ago. The factory was shut down in 1964 after WWII and was acquired by the Art League of Alexandria in 1974. Now it's occupied by more than 165 artists' studios and several galleries, an art school, a cafe, and the Alexandria Archaeology Museum. It's always open to the public so residents can watch people create their art and buy it directly from the artist! There is also the P&C Art Gallery, the Del Ray Artisans Gallery, and several city art festivals every year.
Alexandria Schools
Alexandria City Public Schools is a public school district with more than 16,000 students in grades preschool and K-12. The city has one preschool, 12 elementary, two middle, and one high school. However, over 200 schools exist in the greater Alexandria region. Residents with an Alexandria address who lives in Fairfax County go to schools in the Fairfax County School District. For higher learning in Alexandria, there is Stratford University, Strayer University, the Virginia Tech Washington-Alexandria Architecture Center, and others.
One of the Nation's Healthiest Communities
Alexandria has been ranked high on the list of the nation's healthiest communities, barely scoring lower than Arlington. Many people who live in the D.C. area are generally nature lovers and conscious of their health. Alexandria has more than 900 acres of outdoor parks, picnic grounds, dog parks, hiking & walking trails, spray adventures, and botanical preserves. Mount Vernon Trail is a scenic 17-mile hike or bike along the George Washington Memorial Parkway. Huntley Meadows is a wildlife preserve that contains some of Virginia's most beautiful wildlife and wetlands. Fort Scott Park is 12 acres of nature trails and Lyon Village Park is two acres with tennis, basketball, and a spray playground. There is no shortage of outdoor activities in Alexandria!
Home to Seven Military Installations
Within the state of Virginia, there are 27 military installations and seven of them are located in or near Alexandria and consist of Army, Coast Guard, and Marine installations. Many residents employed by the military in Alexandria choose to live on base while others live off-base with their monthly housing allowance. The seven bases located near Alexandria include Navigation Center Coast Guard Base, Telecom Systems Command Coast Guard, Warrenton Training Center Army Base, Henderson Hall Marine Corps Base, Fort Myer Army Base, National Maritime Center Coast Guard, and National Pollution Center Coast Guard.
Property Values are Rising
Homes in the D.C. area have been popular for a while now and property values continue to increase as more people move to the area. Now that Amazon is making progress on their new headquarters and other companies do the same, the prices will only get higher. Even though the properties in Alexandria are already expensive, it means you'll likely get a great return on your investment later in life when it's time to sell!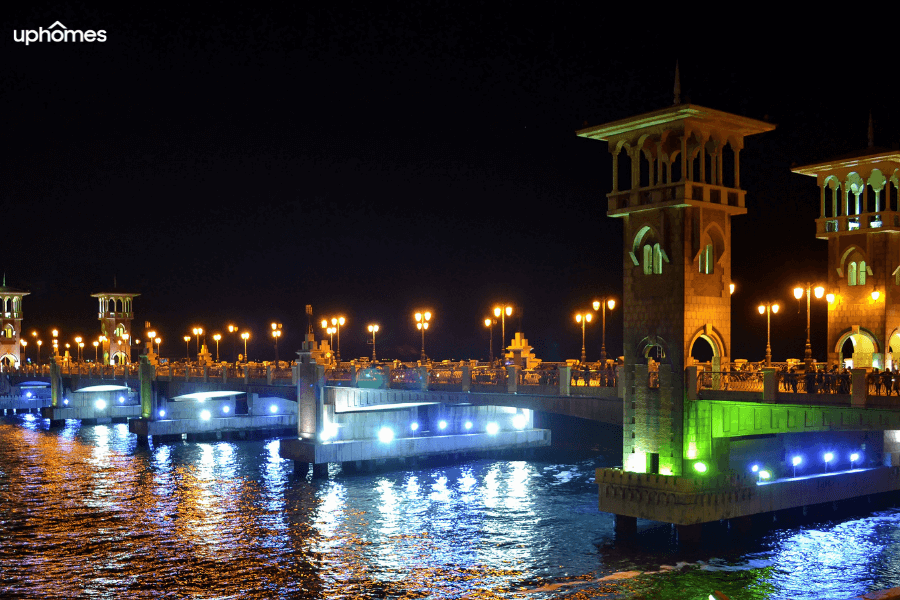 There is a Church on Every Block
Largely because of Alexandria's old, rich history, the city is full of churches, especially historical ones. Saint Mary Catholic Church, established in 1795 is Virginia's oldest Catholic parish. The Washington and Lee families both worshipped at Christ Church and the Old Presbyterian Meeting House dates back to the early 18th century. The area's first black Baptist church, the Alfred Street Baptist Church opened in 1818. If you're religious or simply enjoy the historical significance, you'll find a church in Alexandria.
Beautiful Waterfront Views
Since Alexandria is located along the Potomac River, the city has gorgeous waterfront views and opportunities for biking, hiking, walking, or boating along the river. If you aren't into that, you can also eat along the river and enjoy the views. Chart House Restaurant and Waterfront Market are just two dining options along the river. Don't own a boat? You could also take a ride with Potomac Belle Charters or the Potomac Riverboat Company.
All Four Seasons in Alexandria
Like many parts of Virginia, you'll see all four seasons in Alexandria. The city has an average of 200 sunny days, 40 inches of rain a year, and about 15 inches of snow. Residents love June to early October the most because the temperatures are between 65 and 80 degrees. The Spring and Fall are also scenic in Alexandria. In Spring, you will see the cherry blossoms and other local flowers blooming while Fall will bring beautiful red, gold, and orange colors. Summer is a bit hot and humid, especially because of the city's location near the water. During July, temperatures have reached upwards of 88 degrees. It's definitely a mild-tempered city to live in and one to enjoy if you love seeing all four seasons!
Healthy, but Still Love Their Desserts
Even though Alexandria is known as a "healthy" city, the residents there still love their desserts. You have to try Pop's Old-Fashioned Ice Cream which specializes in old-time soda fountain classics like banana splits, hot fudge sundaes, root beer floats, and egg creams. They also make their own ice cream! Or, check out Buzz Bakery. There's the ICB - a booze/cake mashup flavored with Guinness and Baileys Irish Cream. Or - order the 9:30 - a chocolate-dipped vanilla buttercream topped with chocolate ganache frosting.
Neighborhoods for Everyone
Alexandria has quitea collection of diverse neighborhoods. That's why, when people talk about living in Alexandria, they have to specify by neighborhood instead of the entire city itself. You can find a more suburban feel, like Rosemont, or you live in a more urban environment by choosing Old Town or Del Ray.
The Bottom Line
All in all, no matter what you're looking for or what you like to do for fun, Alexandria has a neighborhood for everyone. It's a vibrant city that has seen fast growth over the past several years. Hopefully, you have enjoyed reading about the 17 Things to Know Before Moving to Alexandria. If you're considering a move to this city, our team of top local Real Estate Agents would love to help you. Just contact us to help with your relocation or with any questions you might have.

Find your new home
Search real estate and homes for sale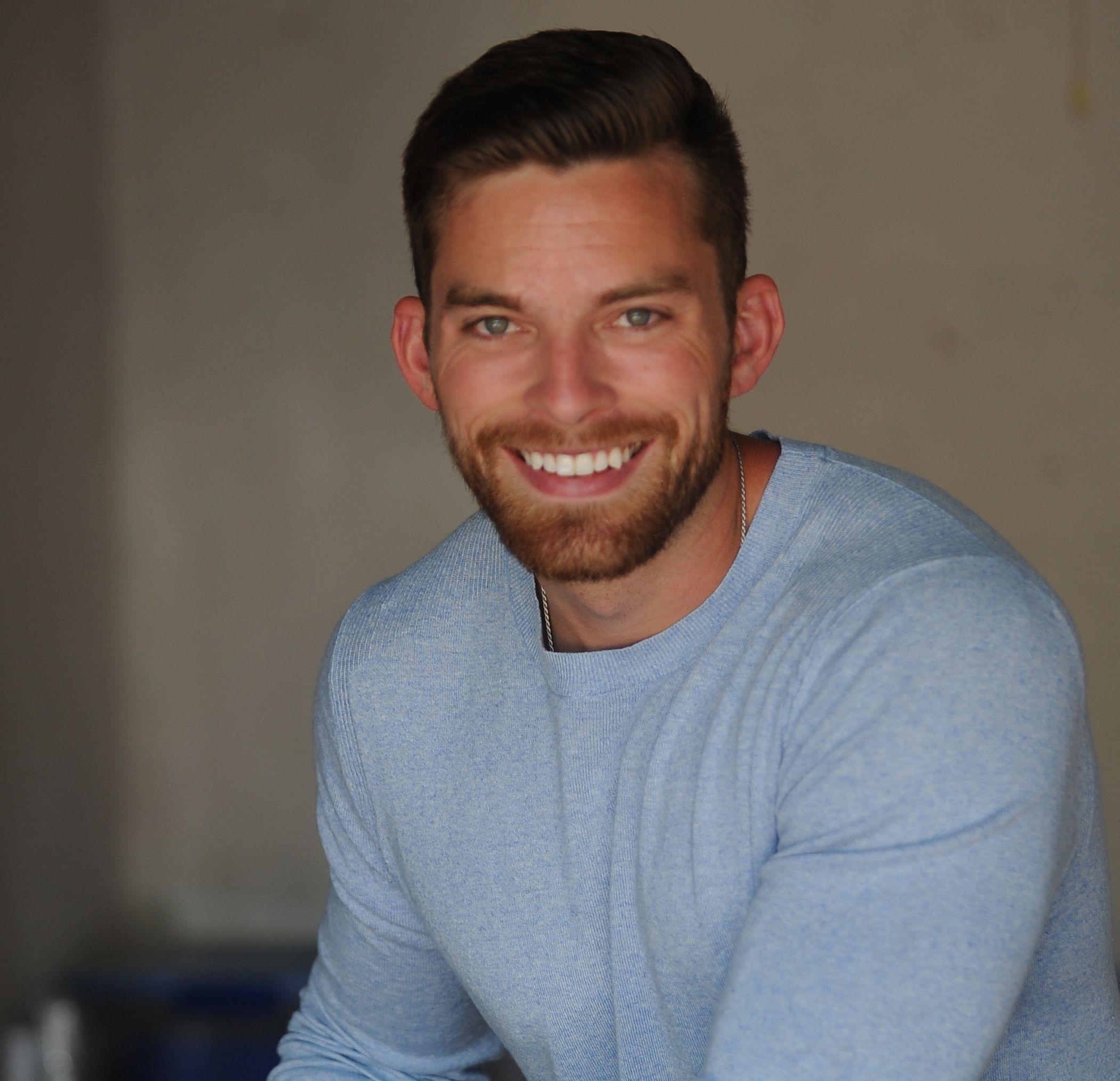 Ryan Fitzgerald
Hi there! My name is Ryan Fitzgerald, and I am a REALTOR®. My goal is to help you learn more about real estate through our Real Estate Blog! Hopefully, you enjoyed the above blog post and it found a way to provide help or value to you. When you're ready to buy or sell a home of your own let us know here. Please feel free to join the conversation by dropping us a comment below.