10 Things to Know BEFORE Moving to Albany, NY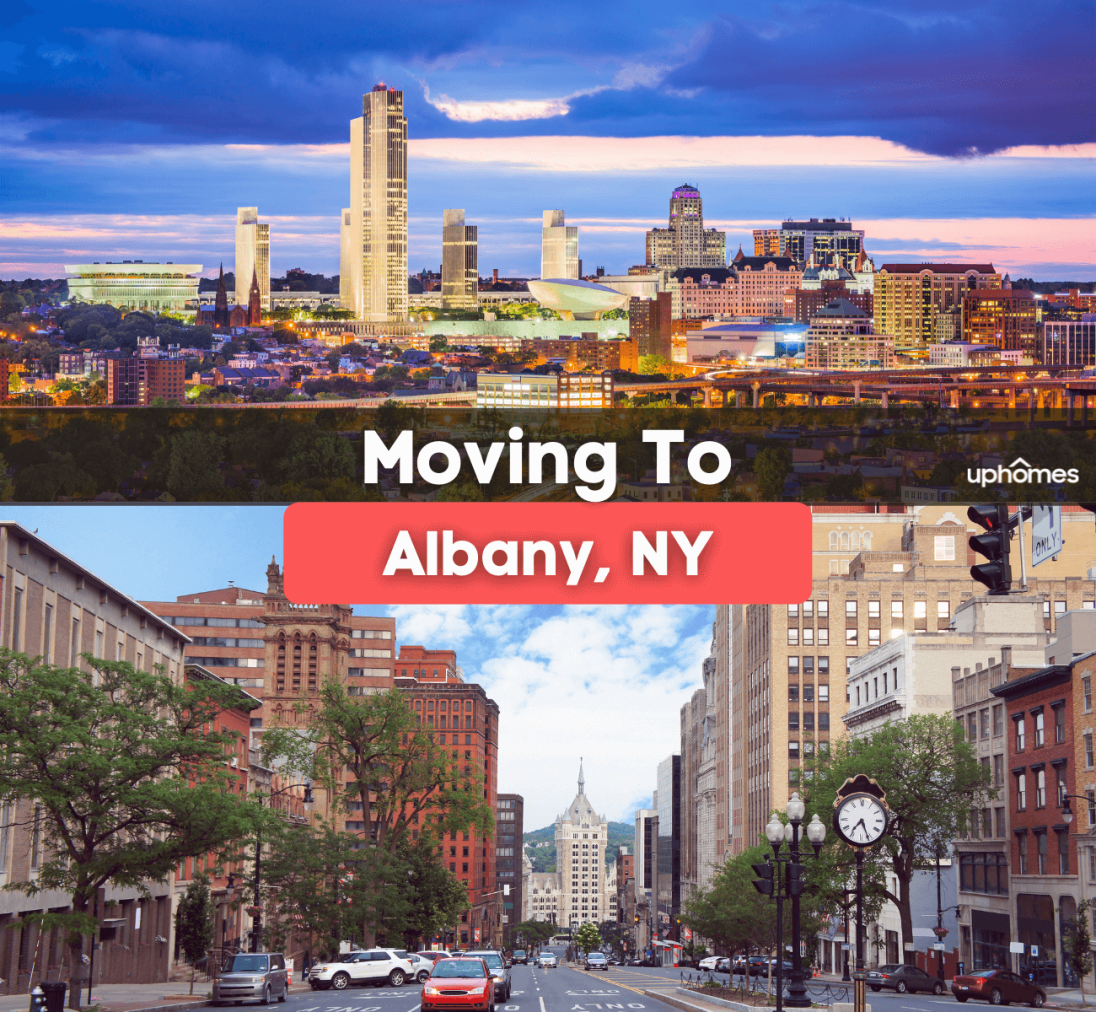 Moving to Albany, NY
Are you moving to Albany, New York? Here are 10 things to know about living in Albany!
Albany is the capital of New York and sits on the west bank of the Hudson River. Considered one of the best places to live in New York, Albany is found in upstate New York and has an exciting urban city center. Recognized as one of the oldest cities in North America, the city of Albany has a rich history that is home to just about 100,000 residents. Known for its diverse culture, higher education opportunities, and beautiful architecture, it is no wonder that Albany is one of the best places to live in New York.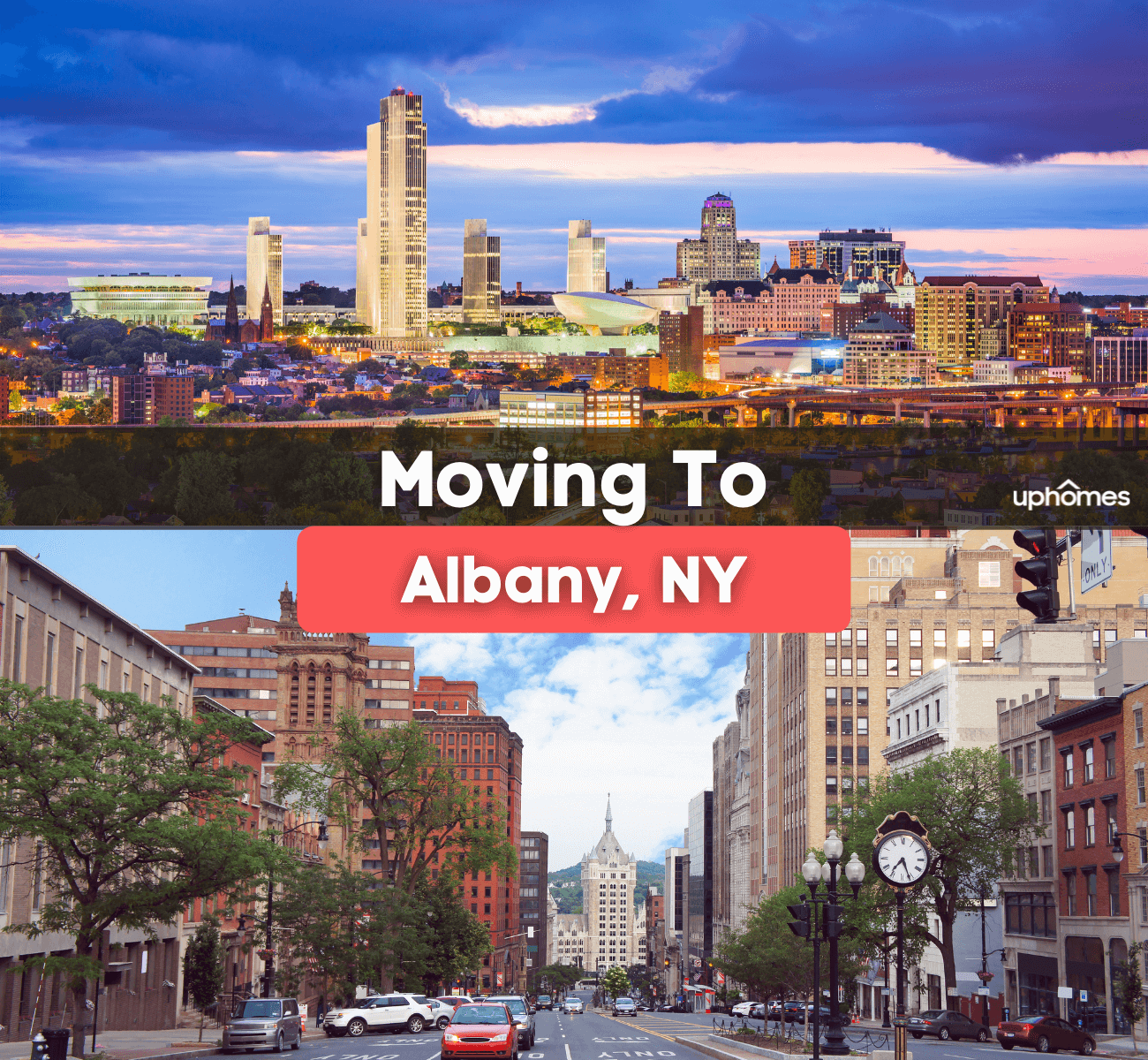 Even though Albany itself may be a relatively small city, there are many advantages that come with living in the Capital District. With a high walkability score and eclectic mix of activities and entertainment options, residents can be found dining at a new restaurant, visiting a performing arts center, or admiring the exhibits in local art galleries. Due to its proximity to the beautiful coastline and breathtaking mountain ranges, Albany is truly located in a prime location for weekend trips and easy commutes. In fact, Albany is only about a two-and-a-half-hour drive from New York City.
If you are moving to New York and are considering making Albany your new home then you have come to the right place. While moving, in general, can be exciting and fun, sometimes it can also be stressful and overwhelming. Luckily with the help of this moving guide, discover the pros and cons of living in Albany before packing up all of your belongings. By discussing both the good and bad parts of Albany, figure out whether or not this city is for you. 
Read on to learn more about the 10 Things to Know BEFORE Moving to Albany, New York!
High cost of living.
The cost of living in Albany is 9% higher than the national average. Compared to living in New York City, Albany is a much more affordable and cheaper option even though it is still more expensive than other similar cities in the United States. In fact, Albany is considered 29.35% less expensive than living in New York City without factoring in rent prices. The average annual salary for residents living in Albany is $69,036, while top earners earn up to $147,658 annually. The current minimum wage is $13.20 an hour. Unfortunately, even though most residents make enough money to maintain a good living, 22.9% of the population lives below the poverty line in Albany.
There is a hot real estate market.
For a city in New York, Albany surprisingly has modest and affordable housing that residents can take advantage of. While homes are definitely priced higher in the more wealthy areas of the city, the further north you go the cheaper the real estate. If you are looking to buy a home in Albany then now is the time to buy. As of 2021, homes generally sell after only spending 12 days on the market. Comprised mostly of single-family homes, the most popular architectural styles to choose from in Albany include Colonial, Craftsman, and Bungalow. Even though home prices have increased by 22.9% over the past year, real estate in Albany is still cheaper than living in New York City.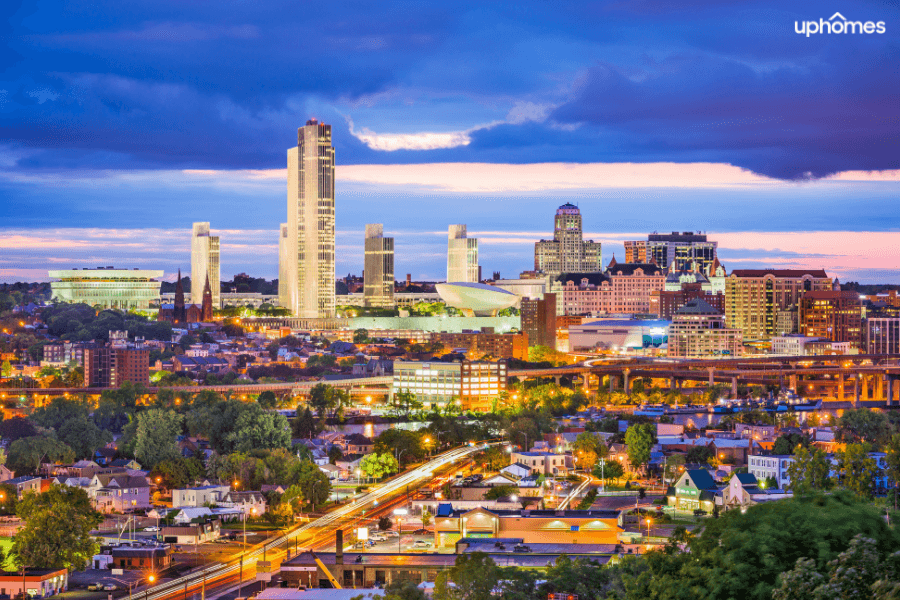 The economy is healthy.
Even though the current unemployment rate may be higher than the national average at 7.1%, the city is predicting future job growth to increase by 24.8% in the upcoming years. As the state capital, more than one-third of the population works for the state government. While most state offices can be found in Downtown Albany, large companies and tech startups are also moving into the area. The top industries in Albany right now include government, healthcare, education, manufacturing, construction, technology, and financial services. Besides the state government, the largest employers in the area are University at Albany, IBM, GE, and St. Peter's Health Partners. As more banks, insurance companies, and tech start-ups decide to make Albany their new home, the city has received the nickname "Tech Valley." If you are moving to the area in search of a new job, then you will most likely not be looking for long.
Albany is one big college town.
If you are moving to Albany for higher education opportunities then you have certainly made the right choice. As the state capital, Albany is home to a variety of institutions that offer both two-year and four-year degree programs as well as specialized programs. Since most of these colleges and universities are located just on the edge of the city, many residents living in Albany are students.
The Capital District as a whole takes so much pride in its education system that many locals choose to support the college sports teams over the state's many professional sports teams. Home to seven colleges directly in the city and 28 colleges within the surrounding area, there are plenty of institutions to choose from in regards to higher education. Plus, as a new resident, enjoy the perk of attending a highly-rated university with in-state tuition status.
Top higher education institutions in Albany, New York include: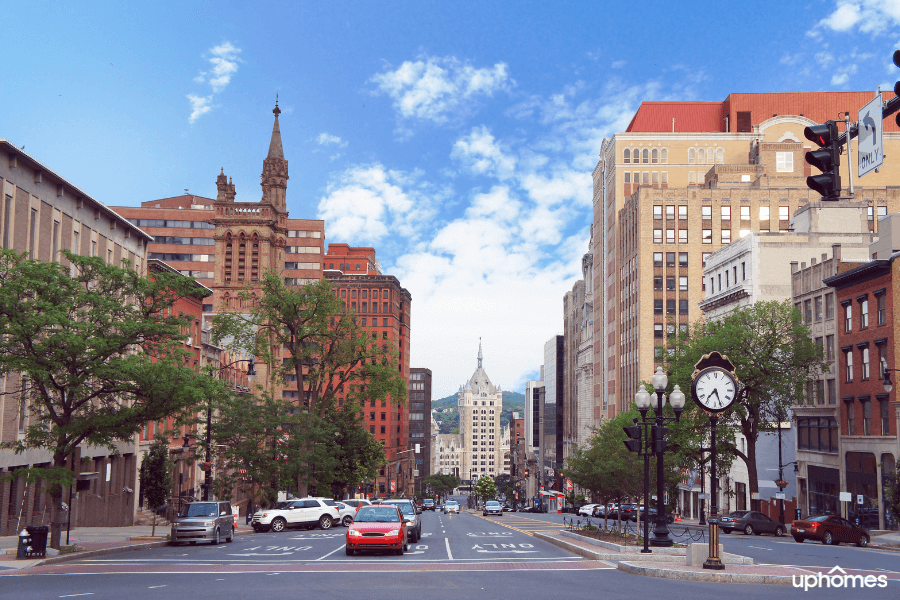 Hockey is the sport of choice.
Get ready to lace up your skates and hit the ice. As a city located in upstate New York, hockey is a huge deal. Even though Albany does not have its own professional hockey team in the NHL, many residents choose to support other New York teams such as the New York Rangers, New York Islanders, Buffalo Sabres, and even the New Jersey Devils. Plus, with many recreational hockey programs to take part in, there are multiple ways to enjoy this exhilarating sport whether it be on or off of the ice. Union College and Rensselaer Polytechnic Institue are also known for their talented Division one hockey programs.
The weather can get cold.
Winter is coming. Experiencing a cold and temperate climate, Albany receives wet and hot summers alongside freezing winters. While the seasons of Spring, Summer, and Fall are nice and mild, the winter months are brutal and unforgiving. In the Summer, July is the hottest month with an average high temperature of 83 degrees Fahrenheit. On the other hand, January is the coldest month during the winter with an average high temperature of 14 degrees Fahrenheit. Albany receives an average of 132 days per year of low temperatures that dip below freezing. The city also receives an average of 52 inches of snow per year which is higher than the national average of 28 inches of snow. Before moving, do not forget to pack your snow shovel and insulated winter jacket.
Live music is everywhere
A great place for music lovers, Albany has an abundance of music venues and concert halls in the city that pack large crowds. From music festivals to live performances put on by local musicians, there always seems to be a concert to attend. 
Check out these venues for live music in Albany, New York: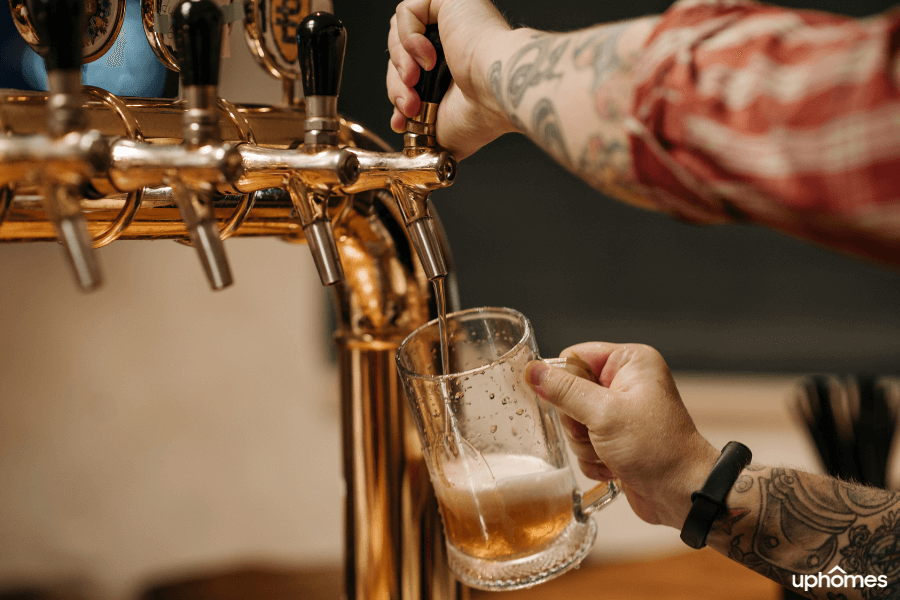 Discover a new brewery.
There are more than 350 breweries located in upstate New York, 20 of which are located in Albany. As the years go on, more and more breweries and microbreweries are opening up all over the city as the New York beer industry takes the world by storm. From blonde ales to IPA's, the residents in Albany are known to end a long work week with a cold one. Offering tours and tastings to visitors, many breweries even serve food among their wide selection of brews.
Check out some of these local favorite breweries in Albany, New York: 
Explore the great outdoors.
Not only does Albany have an exciting city center, but the natural beauty that surrounds this urban area is definitely something to see. From nearby parks to the Adirondack Mountains, there is always an adventure waiting just outside of the concrete jungle. While most outdoor activities in Albany might require a short drive outside of the busy Downtown streets, this short travel time will certainly be worth it. Whether you enjoy hiking, biking, camping, mountain climbing, or swimming, now is the time to try new things. 
Check out these parks and outdoor activities in Albany, New York: 
There is always something to do.
Whether you are looking for the next best romantic date location or are on the hunt for a new family-friendly activity, you will never run out of things to do when living in Albany. While some people might call Albany boring, especially during the winter, there are plenty of indoor and outdoor activities that will appeal to anyone. 
Check out these local favorite fun things to do in Albany, New York:
Moving to Albany - The Bottom Line 
From its historic architecture to its many local museums, Albany is a beautiful city that is worth moving to. Ranked as one of the best places to raise a family, this lively city is full of nice neighborhoods and plenty of entertainment options. Even though Albany may have a considerably high crime rate for its size, the city still has plenty of safe areas to take advantage of. Before relocating to Albany, reach out to our team of knowledgeable Realty Specialists to help your move go as smoothly as possible. By personally assisting you through the home buying process, find the home of your dreams in no time. Contact us today!
#blog-moving-new-york-cta#

Find your new home
Search real estate and homes for sale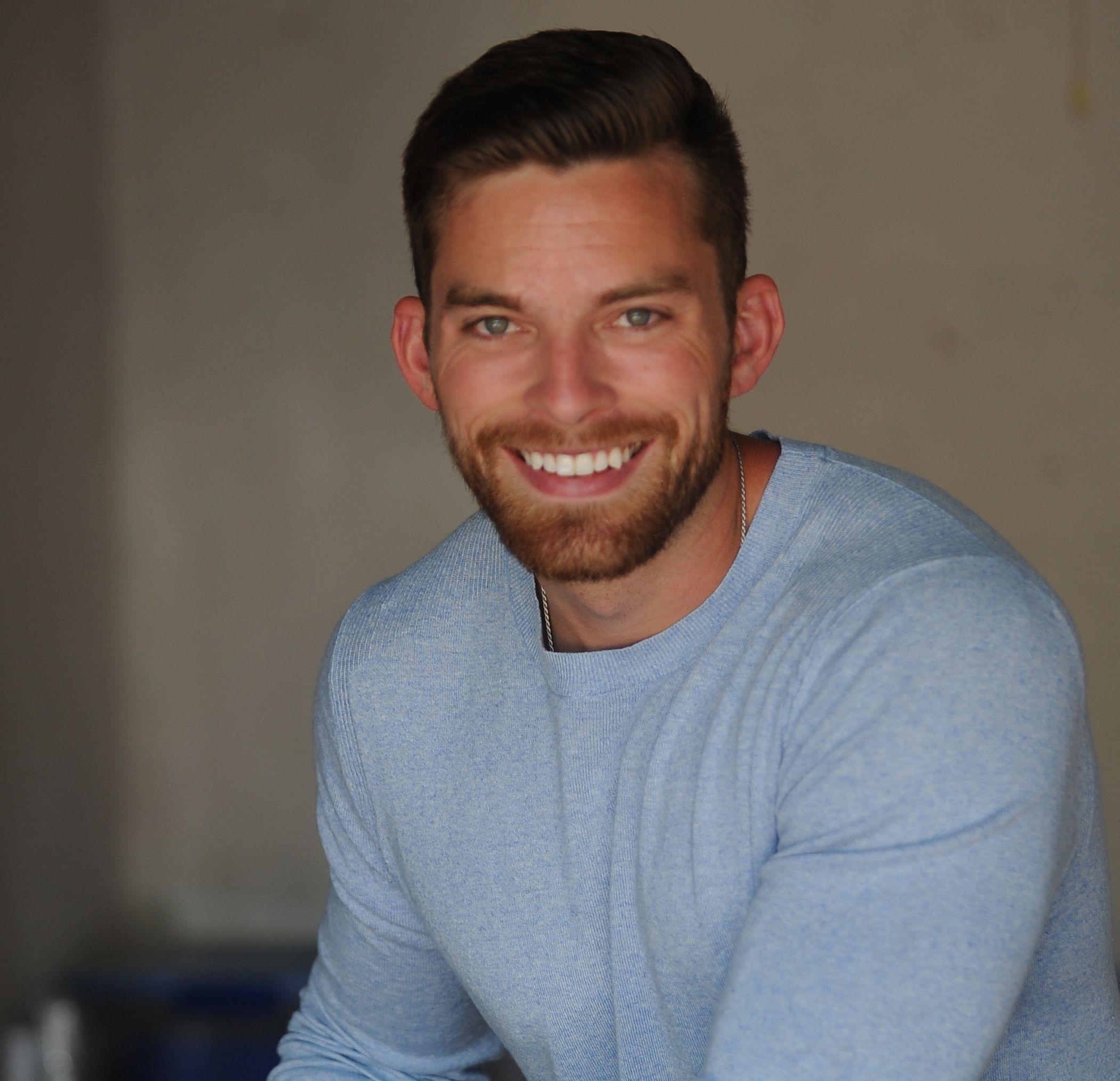 Ryan Fitzgerald
Hi there! My name is Ryan Fitzgerald, and I am a REALTOR®. My goal is to help you learn more about real estate through our Real Estate Blog! Hopefully, you enjoyed the above blog post and it found a way to provide help or value to you. When you're ready to buy or sell a home of your own let us know here. Please feel free to join the conversation by dropping us a comment below.