15 Best Restaurants in Asheville, NC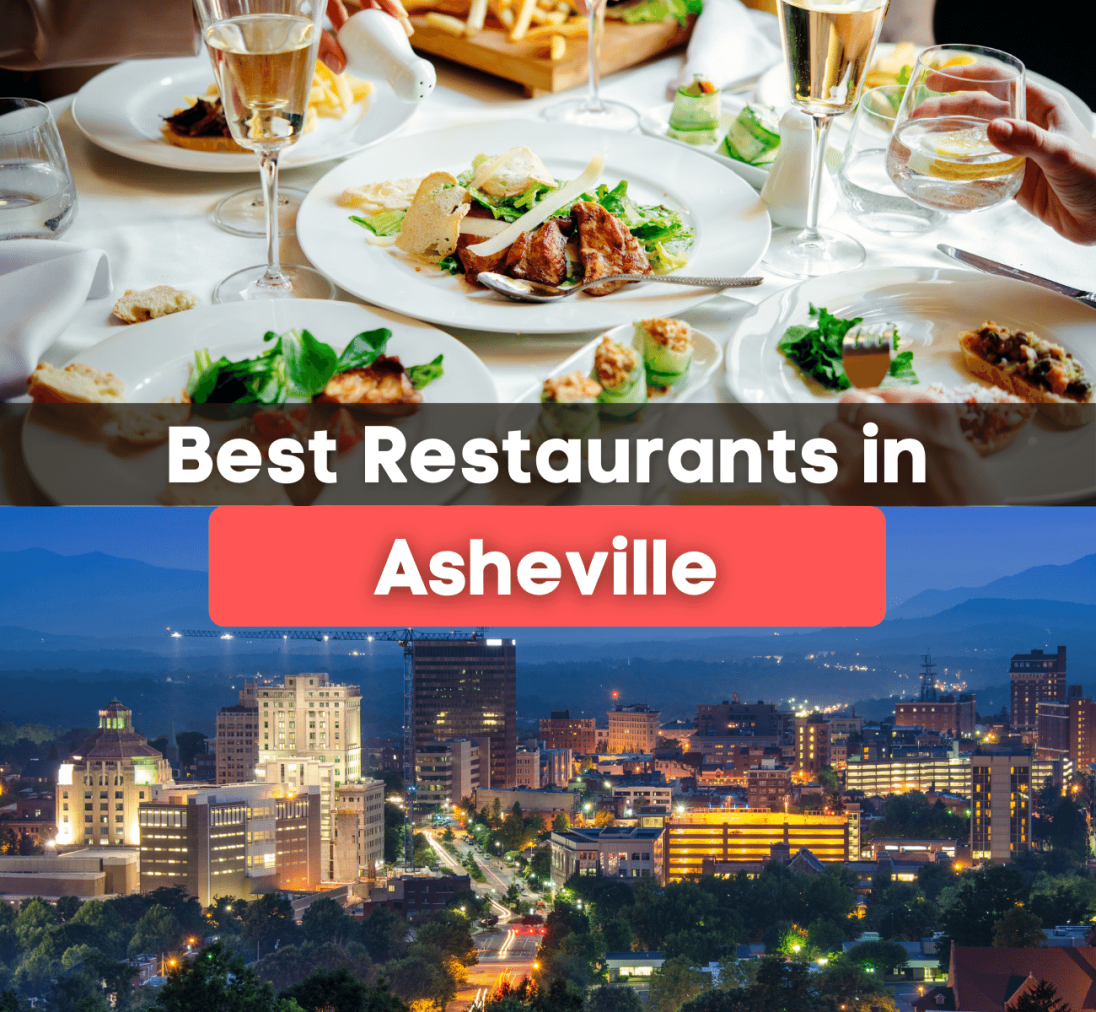 Best Places to Eat in Asheville
Looking for the most popular places to eat in Asheville? Here are 15 of the best local Asheville restaurants!
With its creative spirit and strong individuality, Asheville is home to a thriving restaurant scene that is best described as eclectic, and unique, and ranked the #1 food destination in the country!
Surrounded by the beauty of the Blue Ridge Mountains, this small city is well known for its numerous award-winning restaurants that focus on local fresh ingredients and farm-to-table dining experiences.
Blending Southern comfort food and Appalachian cuisine with the distinct flavors of international influence, locals and visitors alike can be found indulging in one of the strongest and most innovative culinary scenes in America.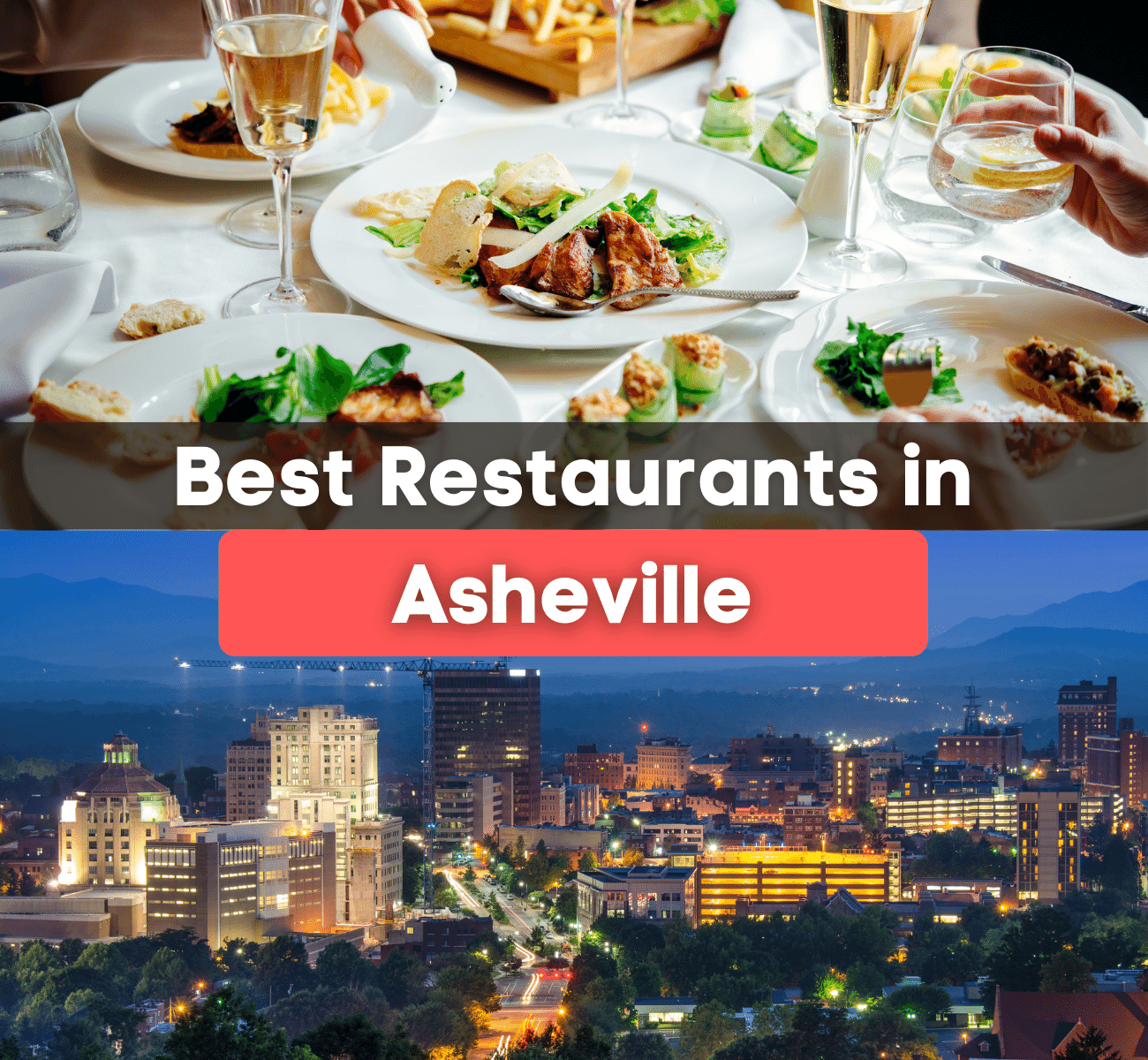 Whether you choose to dine outdoors on a casual dog-friendly patio or opt for fine dining where you are encouraged to make a reservation, there is no shortage of restaurants to choose from when in Asheville.
While having so many great restaurant choices may seem like a convenience, sometimes choosing where to dine first can be a difficult task.
So if you find yourself moving to Asheville or are simply trying to find a good place to eat after exploring the many things to do in Asheville, then this restaurant guide is for you.
Even though this guide may just be scraping the surface of the top-rated restaurants that are found in Asheville, hopefully, the restaurants that made this list will be the jumpstart to your culinary journey in this thriving mountain city.
Read on to learn more about the 15 Best Restaurants in Asheville, NC!
Vivian
Beloved for its excellent Sunday brunch and innovative lunch and dinner menus, the restaurant Vivian is making a name for itself as one of the most genuinely delicious eateries in town that has equally great food and service.
With a European-influenced menu that changes with the seasons, there is always a new item on the menu to try that will appeal to all culinary tastes and desires. Plus, found in a light and airy space with plenty of windows and natural light, dining at Vivian is always enjoyable.
Originally opened as a small pop-up restaurant in 2015 inside of Burial Beer Company, Vivian was able to gain enough traction to then open a permanent food truck before finding a brick and mortar restaurant space in the River Arts District which is where Vivian operates out of now.
Keep in mind that Vivian has a hard time accommodating vegetarian and vegan diets since there is never any set plant-based entree available on the seasonal menus.
Jargon
Only located within a short distance from the Biltmore Estate and other popular Asheville tourist attractions, Jargon remains a sought-after New American restaurant in the city for its creative menu and tasty desserts.
Found in a small historic building, Jargon is beloved for its causal and intimate space that welcomes people of all backgrounds and serves cuisine that is inspired by other countries around the world.
Serving Sunday brunch and dinner, the menu at Jargon changes frequently due to the availability of seasonal ingredients but guests will always have a wide range of appetizers, small plates, and entrees to choose from.
When dining at Jargon, make sure to save room for desserts since they are always talked about by the locals. There are even dessert martinis on the menu including the Magic Martini which is made with Godiva, Frangelico, and cold press coffee.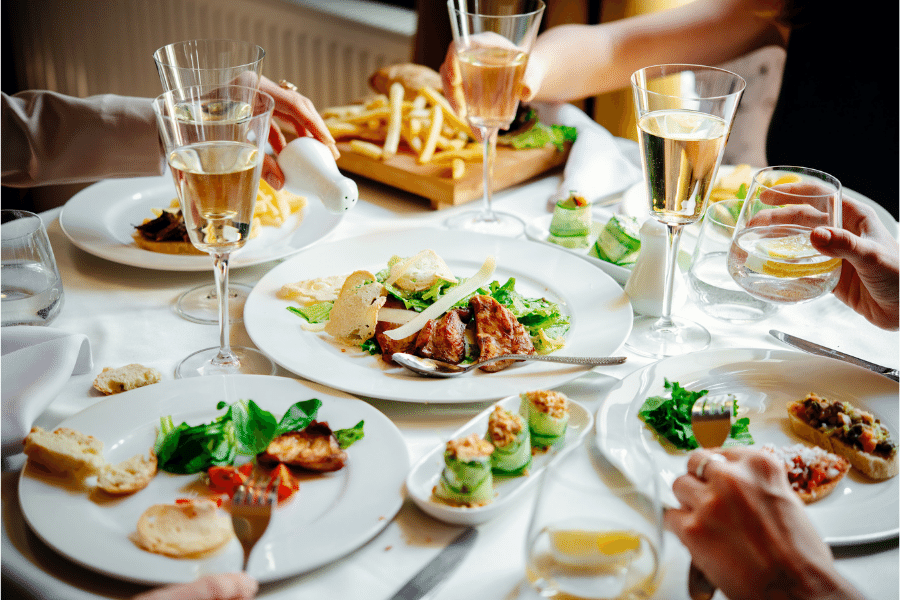 Corner Kitchen
The Corner Kitchen is found in Biltmore Village and is housed in a 118-year-old charming Victorian cottage with an outdoor patio.
Open for lunch and dinner every day throughout the week, Corner Kitchen is serving New American fare and southern comfort food with a modern twist alongside delicious craft cocktails.
With an emphasis on farm-to-table dining and using only the freshest ingredients possible from local North Carolina farmers, this restaurant is dishing out mouthwatering cuisine in an intimate interior.
Serving the Asheville area for over 16 years, some of the most popular items on the menu include the charcuterie board, shrimp and grits, and the bourbon-glazed pork chop.
Whether you choose to dine in or take out, guests are encouraged to order dessert since the pear chocolate fudge cake and the amaretto cheesecake are local favorites.
Rhubarb
Serving seasonal and regional American cuisine, the restaurant Rhubarb in the heart of downtown Asheville has found a way to serve contemporary Appalachian fare in a welcoming atmosphere.
Sourcing ingredients from local farms and dairies, Rhubarb puts an emphasis on fresh, local ingredients and in turn, creates seasonal menus based on what ingredients are available.
With a brunch and dinner menu as well as a long list of wine, beer, and craft cocktails, expect to find favorites such as pancakes, omelets, gnocchi, burgers, salads, soups, and steak on the menu.
Also offering a weekly family-style dinner on Sunday, Rhubarb is a great place to bring the whole family to chat and dine on a three-course meal at one of the restaurant's communal tables. The menu for Sunday Supper is different than the regular menu.
Providing both dine-in and take-out, make sure to make a reservation in advance to ensure that your party will be seated without a long wait time.
Nine Mile
Are you looking for a fantastic vegetarian restaurant in Asheville? Then look no further than Nine Mile which has three locations in the city.
Open since 2008, this Caribbean-inspired eatery has a cozy relaxed atmosphere where guests will find many delicious menu items that feature fresh and healthy ingredients.
Known as a local and tourist favorite for its bold flavors and extensive menu, Nine Mile does a great job pleasing all guests and diet restrictions since almost all dishes can be made vegetarian, vegan, or gluten-free.
With dishes cooked using Nine Mile's three hot sauce flavors including the Hempress Rising, Red-I, and the Sun is Shining, these hot sauces can also be bought in stores or online.
Twisted Laurel
Located in downtown Asheville, Twisted Laurel is an independently and locally owned casual restaurant that is serving up Mediterranean-inspired comfort food and farm-to-table New American cuisine.
Offering a wide variety of food and a great beer and wine list, guests can expect to find handmade pasta, stone hearth pizza, fresh salads, burgers, and many other delicious entrees.
With a large dining room and a nice dog-friendly patio, there is plenty of space in Twisted Laurel for large parties to have an enjoyable and relaxing experience while dining on great food.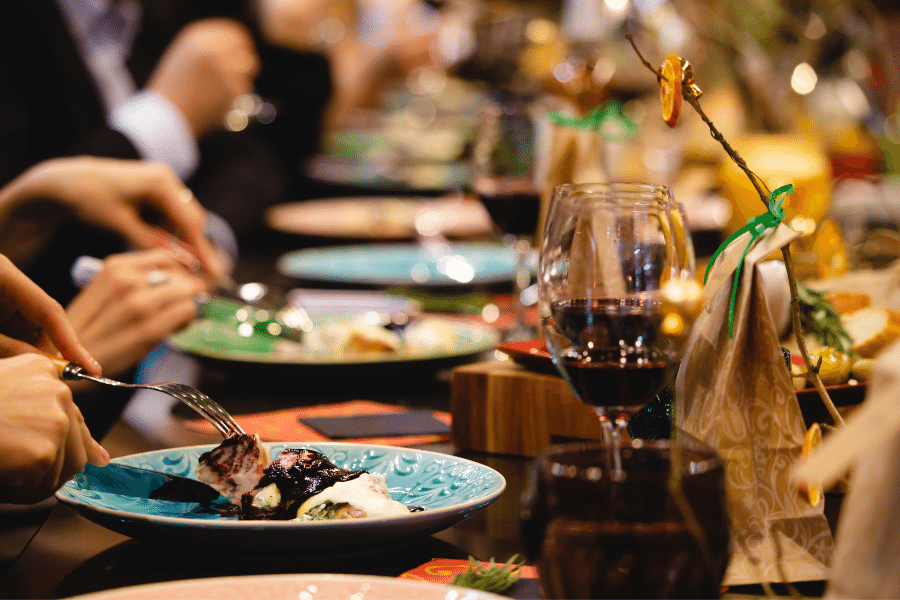 The Bull and Beggar
Great for a romantic date night or birthday dinner, The Bull and Beggar in downtown Asheville is an upscale venue with stylish decor and two levels of seating areas.
Serving excellent New American fare and offering an extensive wine list, this restaurant may be three-dollar signs but dining at The Bull and Beggar is worth it for the awesome service and even better food.
Both reservations and walk-ins are available.
Cúrate
Cúrate has been considered an Asheville favorite for over a decade and is serving authentic Spanish cuisine including classic tapas and cured meats in a lively atmosphere.
Located in what was once a 1927 bus depot, Cúrate is certainly an eccentric and memorable experience for any guest that chooses to dine here for its high-quality food and service.
Closed Monday but open every other day of the week, this restaurant features a menu that changes with the seasons and a wine list that has been listed as one of America's 50 Wine Restaurants We Love in 2011 by Wine Enthusiast Magazine.
For those interested in hosting a large event, Cúrate has a private wine cellar that can accommodate up to 32 guests and features its own select seasonal menu and wine list. Make sure to contact the restaurant if you want to rent out the private dining room.
The Admiral
Beloved for its creative and ever-changing menu that has been crafted with global influence, The Admiral in downtown Asheville is found in a cinder block building with timeless decor and friendly service.
Showcasing some of the best local produce, seafood, and ingredients that can be found in North Carolina, The Admiral has found a way to create small plates and entrees that are both refreshing and delicious.
With a menu that changes weekly, guests will be able to always try something new and will easily fall in love with innovative charcuterie boards, pasta, entrees, and desserts.
Sawhorse
Sawhorse is located at 101 New Leicester Hwy in Asheville and is a laid-back full-service neighborhood restaurant that offers both dine-in and takeout options.
Inspired by diners and old lumber camps of northern New York and Quebec, Canada, Sawhorse is serving rustic fresh food that is sourced from local farmers in the mountains.
Open for breakfast, lunch, and dinner Tuesday through Saturday as well as brunch on Sunday, all of the food and drinks at Sawhorse are distinctive and homemade.
Popular menu items include biscuits and gravy, buttermilk pancakes, salads, burgers, chicken sandwiches, poutine, and comforting desserts such as chocolate chip cookies and maple eclairs.
Tupelo Honey
With 20 locations across the country, Tupelo Honey has one location in downtown Asheville and another location in south Asheville that serves some of the best made-from-scratch southern food in the city.
With an all-day menu and a long list of handcrafted cocktails to choose from, Tupelo Honey is a must-visit when in Asheville for brunch, lunch, and dinner.
With traditions formed in the North Carolina Mountains, there is no better place in town to enjoy a revival of southern classics such as fried chicken, shrimp and grits, meatloaf, and delicious banana pudding.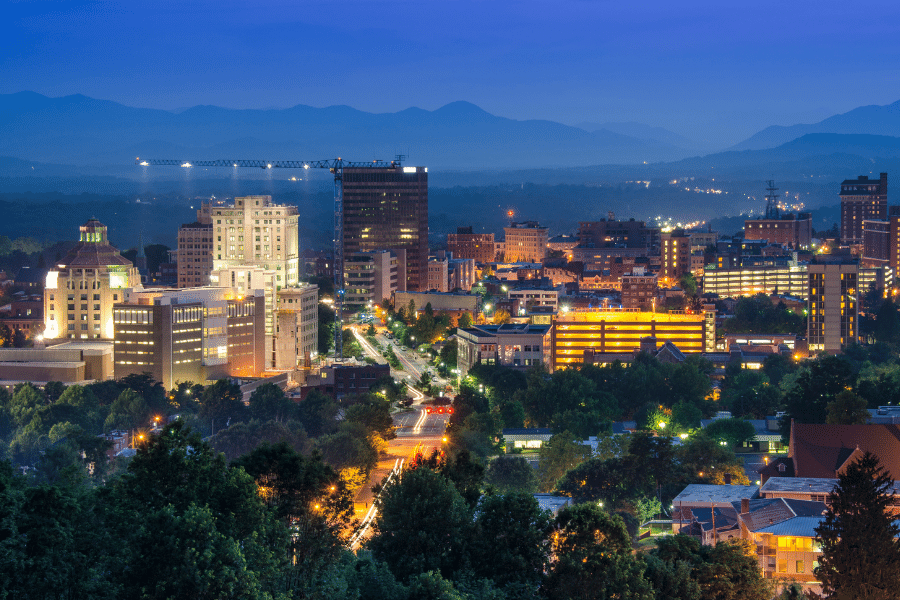 Bouchon
Bouchon in Asheville is a fine dining experience unlike any other. Owned by chef Michel Baudouin, this restaurant specializes in locally sourced French cuisine and uses only honest, in-season ingredients to serve French comfort food.
Valuing sustainability and the importance of integrating fresh ingredients into dishes served, Bouchon has been named a Certified Green Restaurant since all glass, plastic, metal, and cardboard, are recycled and all raw vegetable materials are composted.
Whether you choose to dine on escargot or freshly steamed mussels, guests are encouraged to step out of their comfort zone and order something unique to Bouchon.
Red Stag Grill
Blending a rustic lodge setting with upscale and modern decor, Red Stag Grill in the Grand Bohemian Hotel Asheville is the go-to spot for contemporary European comfort food.
With a menu constructed using only the finest local ingredients, guests visit the Red Stag Grill for its refined dinner and lounge selections.
Also boasting its own wine label, dining at the Red Stag Grill is a one-of-a-kind experience while in Asheville where reservations are encouraged.
Bear's Smokehouse Barbecue Asheville
Located in the South Slopes brewery district of downtown Asheville, Bear's Smokehouse Barbecue is a locally owned and award-winning food truck that is open seven days a week and is serving authentic Kansas city-style barbecue in the heart of this North Carolina city.
From pulled pork and ribs to brisket and chicken, Bear's Smokehouse Barbecue is also serving a wide selection of southern sides including cornbread, mac and cheese, and bbq beans.
With multiple vegetarian options on the menu as well, this barbecue food truck will appeal to all types of picky eaters and dietary restrictions.
The Blackbird
Beloved for its world-class desserts and colorful cuisine, The Blackbird is located in downtown Asheville and is serving southern favorites in a modern and upbeat atmosphere.
Serving tasty lunches, dinners, brunches, and desserts including the pecan pie brownies and the blackbird cobbler, it is no wonder that the locals constantly rave about eating here.
Call ahead or visit the website to make a reservation.
Where will you eat first in Asheville, NC?
From southern comfort food to European-inspired favorites, Asheville has a wide variety of restaurants to choose from whether you are in the mood for a casual dining experience or something more refined.
Whether you are thinking about where you are going to eat after a day of exploring some of the best things to do in Asheville or want to learn more about the dining options available near the best neighborhoods in Asheville, there is always a new restaurant to try.
Contact us today to find out more about the local cuisine in the area before buying a home in Asheville, NC!

Find your new home
Search real estate and homes for sale