7 Best Neighborhoods in San Francisco, CA: Best Places to Live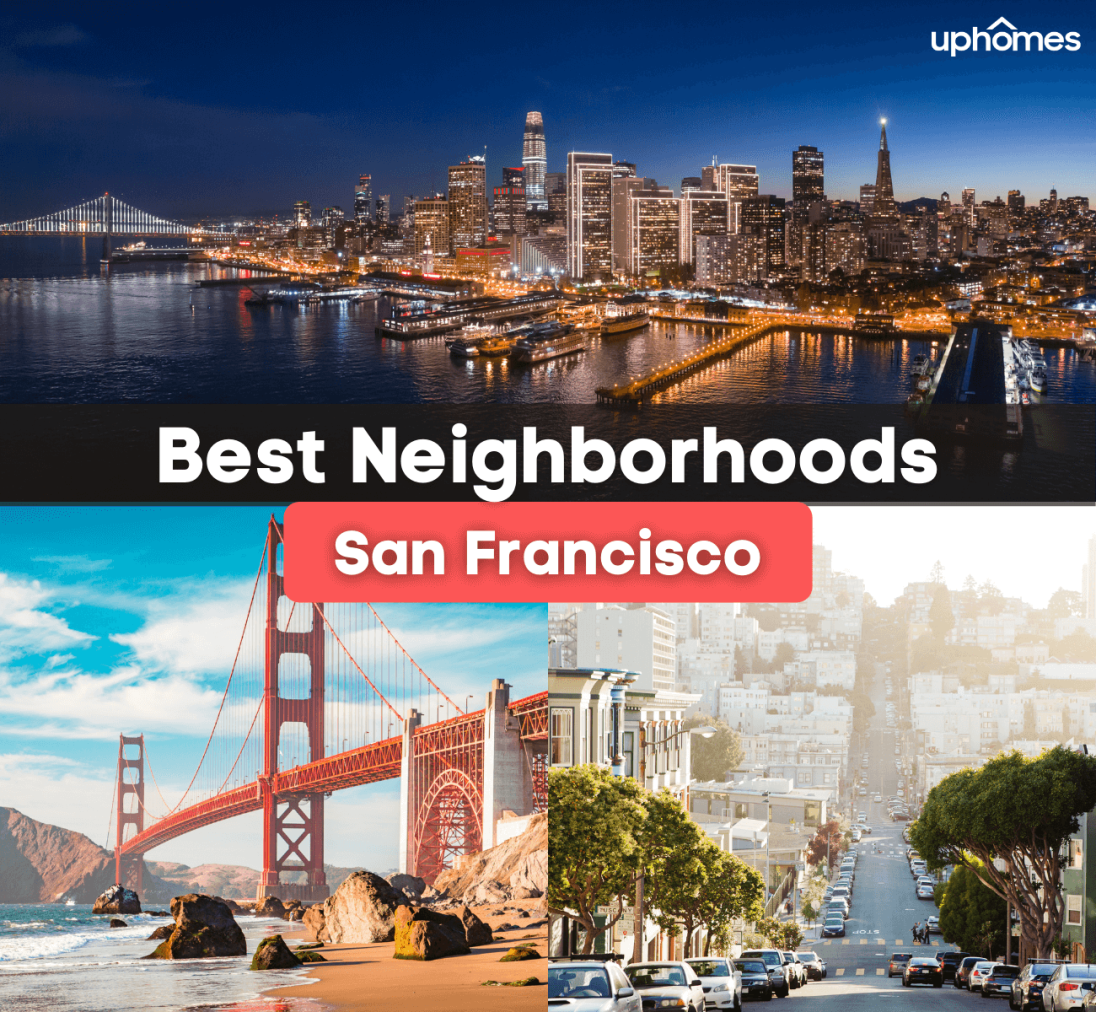 7 Best Places to Live in San Francisco, California
Here are the seven best places to live in San Francisco, CA, with local information on each neighborhood!
Full of trendy neighborhoods, hip, and a little old school, San Francisco is one of the most exciting and diverse places to live if you can afford the high prices. From colorful and historic Victorian row homes to houses with perfect views of the infamous Golden Gate Bridge, living in this vibrant city has a lot to offer its residents. If you decide whether or not you should move to San Francisco, you might need some help figuring out where to live. Whether looking for an affordable, safe, family-friendly neighborhood or near all the hustle and bustle of city life, San Francisco certainly has a place for you.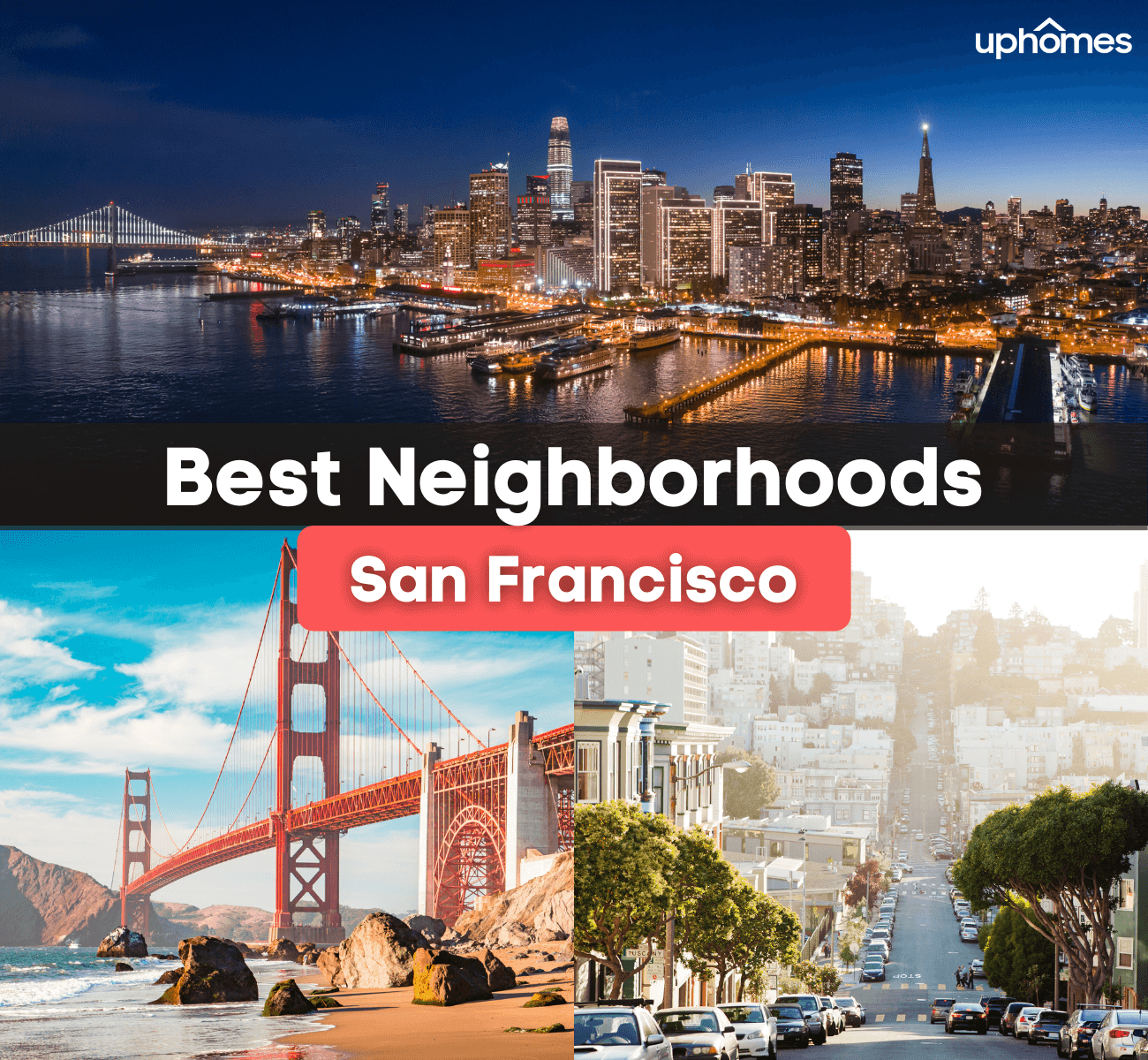 This neighborhood guide was created to help make your big move to California a little easier and will become your go-to when picking a neighborhood that is right for you. Read on to learn more about the 7 Best Neighborhoods in San Francisco, California!
Fisherman's Wharf
San Francisco was named one of the best places to live in California. Thanks to the city's great neighborhoods, it is no surprise that it made the list. Perhaps one of the most iconic and most famous neighborhoods in San Francisco is that of Fisherman's Wharf. Located on the northern waterfront, this neighborhood is a popular tourist attraction and is home to many hotels and cute little souvenir shops. While Fisherman's Wharf may be crowded on most days, this part of the city is so widely recognized that it is hard not to love.
Known for being the location of the well-liked Pier 39, hang out with the local sea lions or find an array of restaurants, an aquarium, boutiques, live performances, and even a video game arcade. Great for families and young adults, the neighborhood of Fisherman's Wharf is prized for its low crime rates and never-ending things to do. As one of the main stops and turnarounds for San Francisco's cable cars, living in Fisherman's Wharf is a classic San Fran dream.
Local Favorites: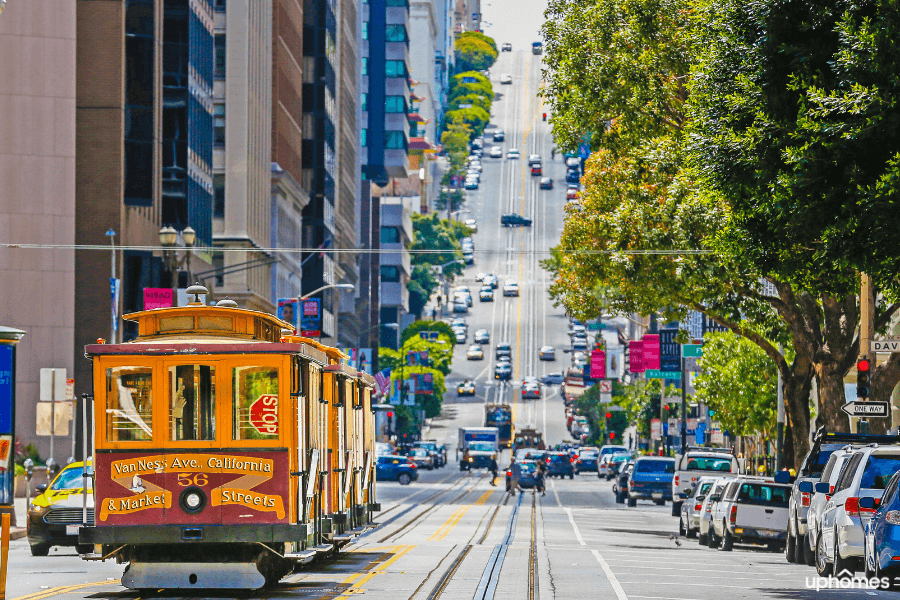 Financial District
Often referred to as "The Wall Street of the West Coast," the Financial District in San Francisco is the city's business center and the location of tall skyscrapers and iconic landmarks. Located downtown, this part of the city is close to high-end restaurants, fantastic date night spots, and fun nightlife that keeps San Francisco exhilarating. While this neighborhood is a great place to live for young professionals and aspiring entrepreneurs, the Financial District is also a great place to stay for travel or business.
Bordering the nearby neighborhoods of North Beach and Chinatown, the Financial District is bordered by Market Street, Grant Avenue, Embarcadero, and Broadway Street. If you are moving to San Francisco for work, this neighborhood might be the perfect place. Close to many companies and start-ups, walk to work without worrying about owning a car. Plus, home to one of three operating cable car lines, getting around the Financial District is super easy.
Local Favorites: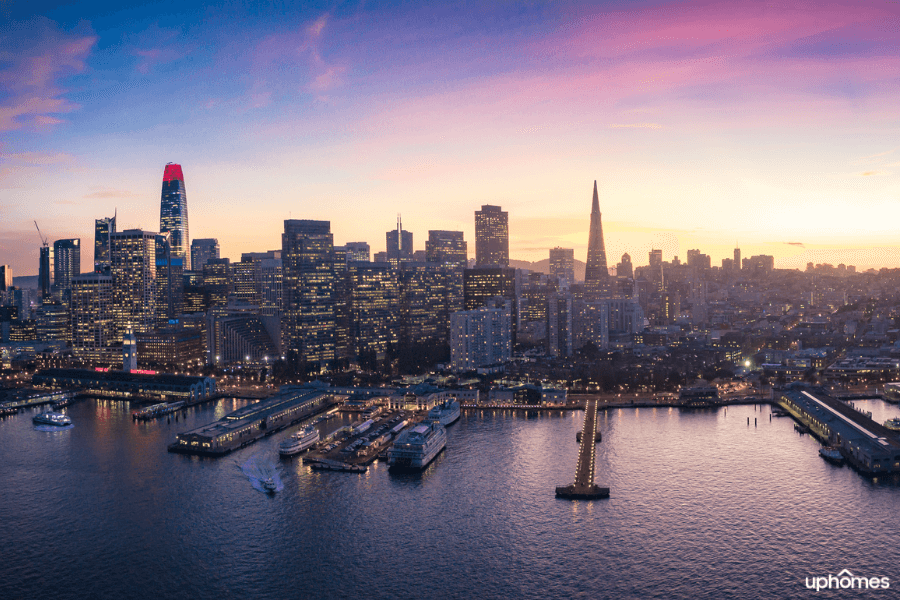 Mission District
Living in the Mission District will mean having more than just access to the best burritos in San Francisco. Named after the iconic 18th-century Mission Dolores, the oldest surviving structure in San Francisco, the Mission District is known for its authentic taco shops, hip local boutiques, lively nightclubs, and unique cocktail lounges.
This ever-evolving neighborhood has seen massive growth over the years as more families, and young professionals move to the area due to the technology industry. Surrounded by breathtaking murals and colorful streets, the street art alone should make you want to visit the Mission. While the neighborhood may not be known for its safety ratings, and you probably do not want to be walking around alone at night, this neighborhood is full of culture and should be considered a place to call home.
Local Favorites:
North Beach
Often called "Little Italy," the neighborhood of North Beach is home to a large population of Italian Americans. Living in North Beach is a great option for residents who work downtown close to the Financial District and Chinatown. Find authentic Italian pizzerias, trattorias, coffee shops, and gelato all over town. Also known as a nightlife district, find yourself surrounded by eccentric nightclubs and craft cocktail bars.
Since this charming neighborhood is prized for its local history and Italian heritage, North Beach has risen to the top as one of the many popular tourist destinations in the city. Perfect for families, young couples, and retirees alike, living in North Beach means being surrounded by many open green spaces and parks as well as an abundance of things to do. In our opinion - North Beach is one of the best neighborhoods to call home in San Francisco, California.
Local Favorites: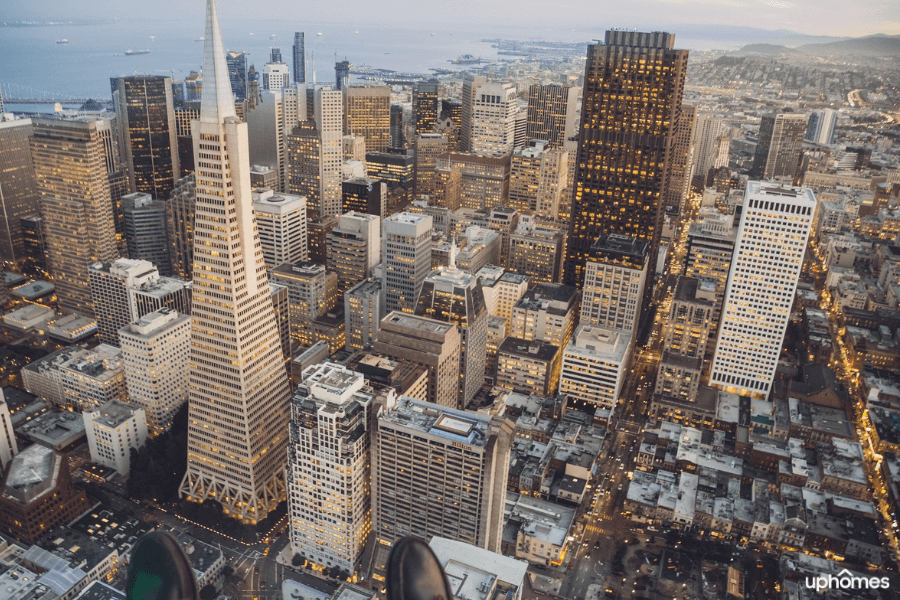 Russian Hill
The high-end upscale neighborhood of Russian Hill sits on one of the 44 hills in San Francisco. Initially named by settlers who discovered a Russian cemetery on top of the hill during the Gold Rush, this neighborhood is rich in history that the locals love to explore.
Home to one of the most popular tourist attractions in the city, make sure to visit Lombard Street, which is known as the "Crookedest Street in the World." If you decide to bring your car to the city, it is a right of passage to drive down this street at least once. With plenty of shops, restaurants, and bars, Russian Hill has a perfect mixture of trendy and classic hotspots. The neighborhood is also home to multiple pedestrian walkways and open green spaces that provide a great workout or a nice place to enjoy the day.
Check out Russian Hill Homes for Sale.
Local Favorites:
Haight-Ashbury
Part of the counterculture movement in San Francisco during the 60s and 70s, the neighborhood of Haight-Ashbury remains standing today as a remembrance of this revolutionary time. Now a historical area with a distinct free spirit and hippie vibe, those that choose to live in Haight-Ashbury are surrounded by funky storefronts, vintage boutiques, and quaint eateries. Considered one of the safest San Francisco neighborhoods, families and young professionals flock to this part of the city for its lively and eccentric atmosphere. Featuring many vibrant and colorful Victorian homes that line the streets, many celebrities such as Joan Jett, Janis Joplin, The Grateful Dead, and Jimi Hendrix used to have homes of their own here.
Local Favorites: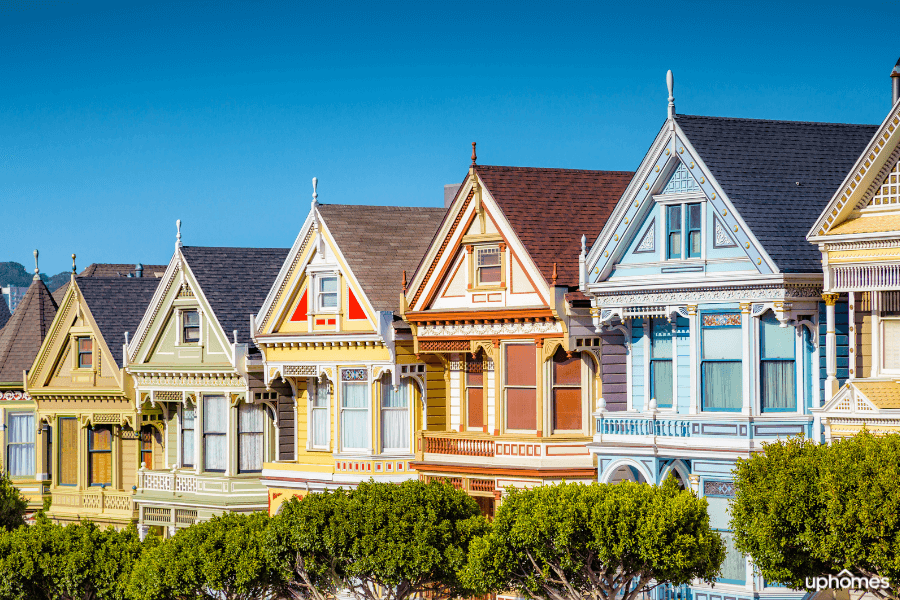 Pacific Heights
If you want panoramic views of the Golden Gate Bridge, look no further than Pacific Heights. Voted as one of the most prestigious and wealthiest neighborhoods in San Francisco, Pacific Heights features showstopping Victorian-style homes that bring many families to this residential community. Billionaire's Row is found in this neighborhood with the most extensive and expensive homes in the city that house most of the 48 billionaires currently living in San Francisco. Not only are the homes extraordinary, but Pacific Heights is known to have a below-average crime rate, making it one of the most desirable places to live in San Francisco. Living in Pacific Heights could be your next dream come true, surrounded by lively streets, picturesque parks, and famous homes, including the Mrs.Doubtfire house.
Check out the homes for sale in Pacific Heights.
Local Favorites:
The Best Neighborhoods in San Francisco, CA - The Bottom Line
San Francisco has a neighborhood to fit any lifestyle and culture. Before buying your own home in this city full of character, reach out to one of our knowledgeable and experienced Realty Specialists to aid and guide you through the home buying process. No matter your budget, our team is here to help. Contact us today to find a home for you in San Francisco, California!
#blog-moving-california-cta#

Find your new home
Search real estate and homes for sale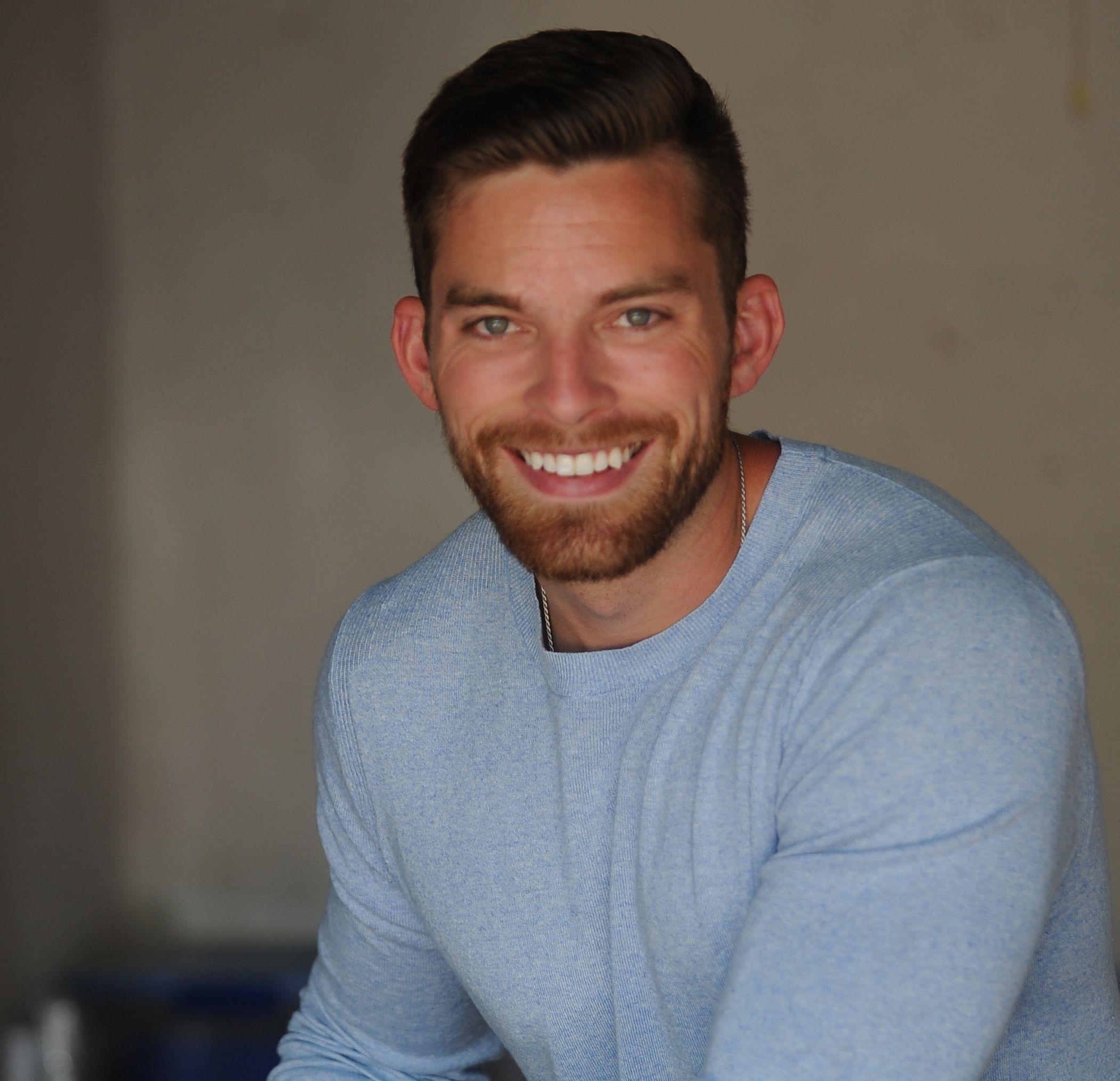 Ryan Fitzgerald
Hi there! My name is Ryan Fitzgerald, and I am a REALTOR®. My goal is to help you learn more about real estate through our Real Estate Blog! Hopefully, you enjoyed the above blog post and it found a way to provide help or value to you. When you're ready to buy or sell a home of your own let us know here. Please feel free to join the conversation by dropping us a comment below.