5 Best Neighborhoods in Roanoke, VA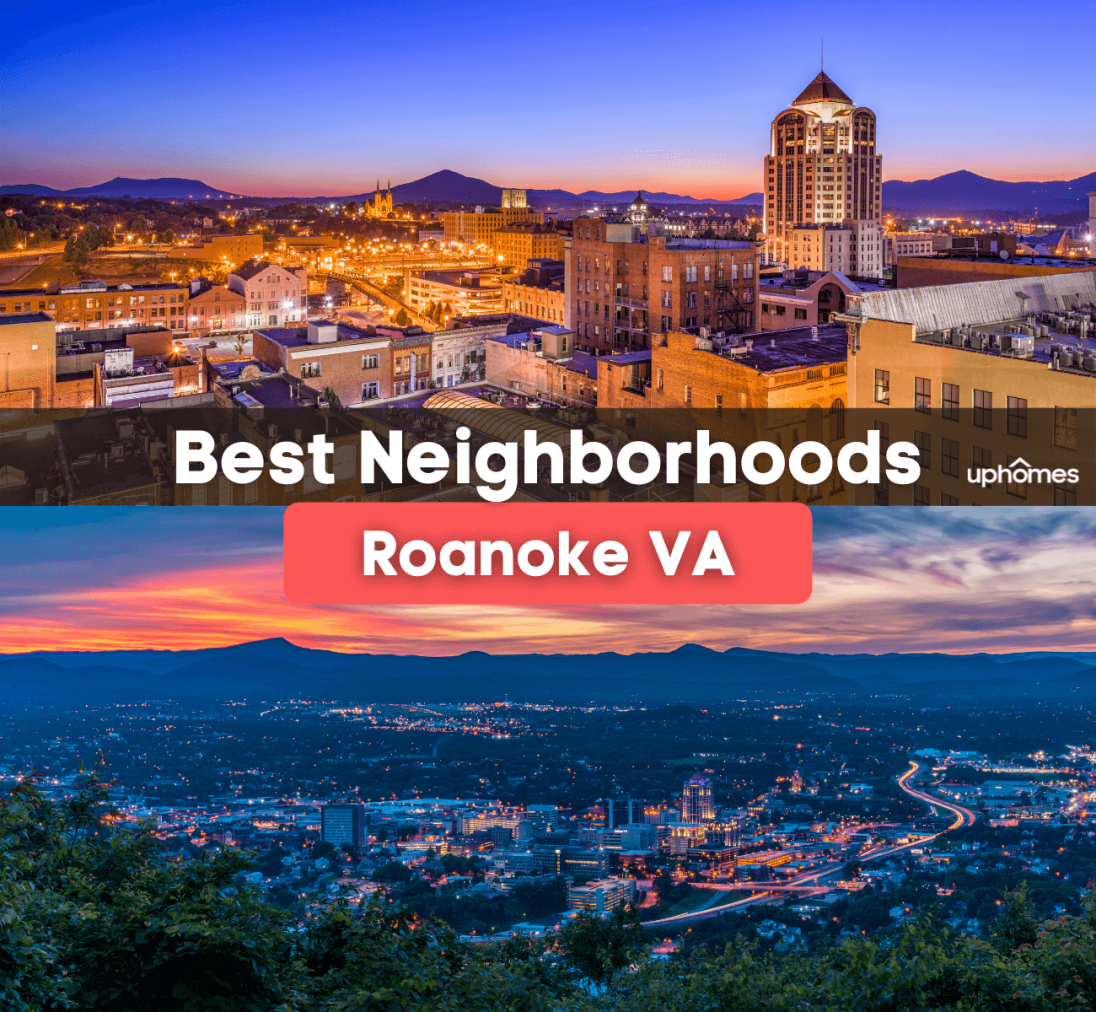 Best Places to Live in Roanoke, VA
What are the best neighborhoods in Roanoke, VA? We have you covered with5 of the best places to live inRoanoke!
Thinking about moving to the beautiful mountain city of Roanoke, Virginia? You've come to the right place. The mid-sized city with a population of 100,011 is located in Southwestern Virginia, between the Blue Ridge Mountains and the Appalachian mountains. Roanoke offers a lot of activities for people who love the outdoors with its bike routes, national forests, Roanoke River Greenway, Blue Ridge Parkway, and Smith Mountain Lake. If you're moving to Virginia you have to check out Roanoke!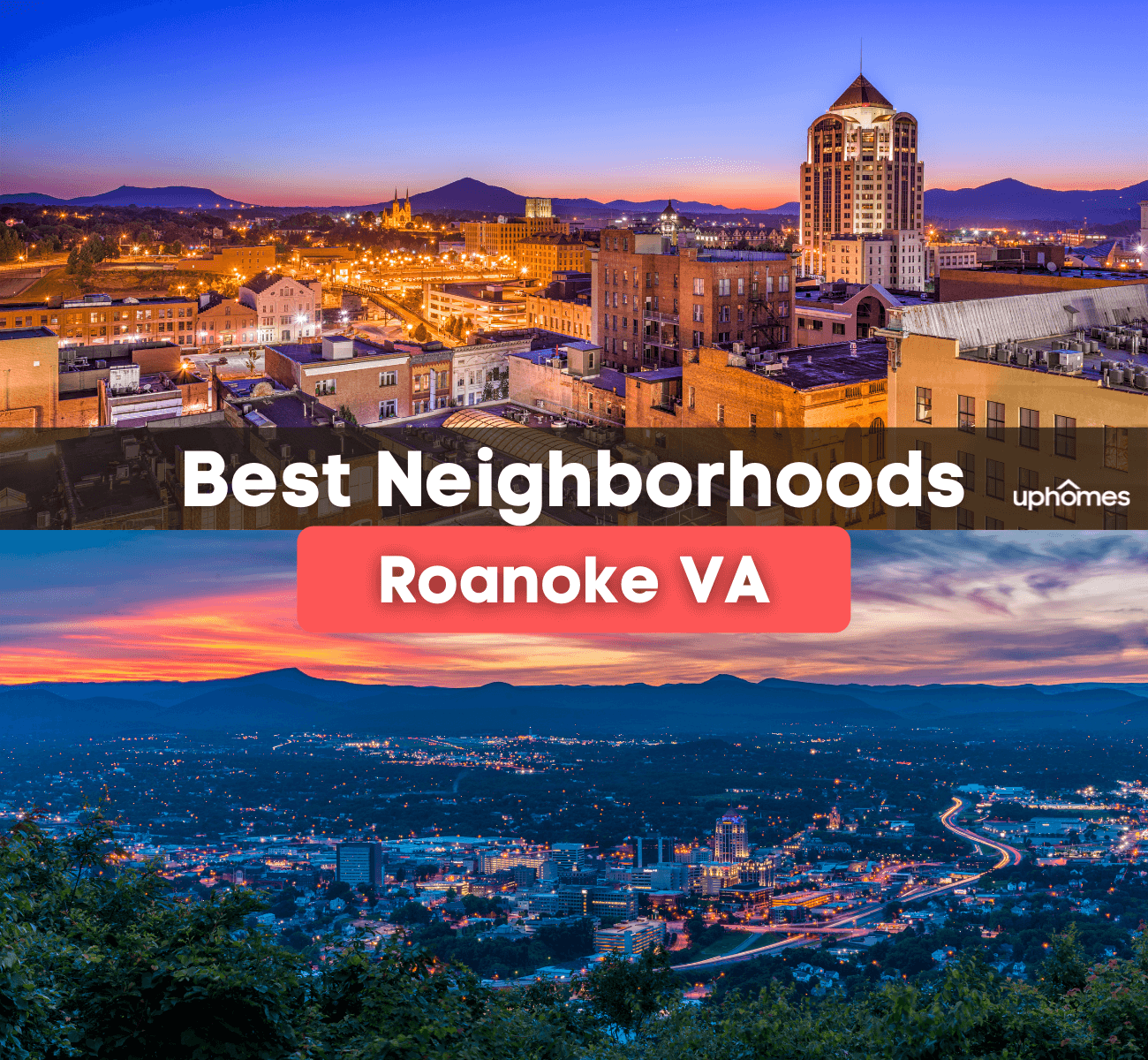 The city also has a fun downtown area filled with restaurants, shops, and museums. Even better, Roanoke is extremely affordable with a solid economy. Art, history, and culture are important to the residents of Roanoke so there are frequent festivals and events. Some of the most popular include the Chili Cook-Off, Festival in the Park, Local Colors Festival, Big Lick Blues Festival, Henry Street Festival, Strawberry Festival, and many more.
If you are still deciding whether to move to Roanoke, be sure to read the 11 Things You Need to Know Before Moving to Roanoke, Virginia. Neighborhoods in Roanoke range from a rural setting to a more trendy urban setting so there are a variety of options when it comes to choosing the right place for you and your family. No matter your income, age, or family status there is a place in the Roanoke Valley for you!
Finding the right home can be a stressful process but we've narrowed it down so that you know where to look. With the help of this neighborhood guide, learn about the best, most popular neighborhoods in Roanoke and what might be the best fit for you. Read on to see the 5 Best Neighborhoods in Roanoke, VA,and then come back to check out the 5 best places to live in Virginia!
Mill Mountain
Located in the southeast corner of Roanoke, Mill Mountain could be the perfect neighborhood for you if you're searching for a great single-family home. It's also the best neighborhood in Roanoke for people who love the outdoors and want access to open spaces! There is something for every budget in Mill Mountain. You can find a modestly priced ranch home or a six-figure mansion estate. If you're interested in a fixer-upper home, this is also the perfect place for you. There are many historic homes in Mill Mountain that many residents have chosen to restore. This neighborhood is also convenient to shops and restaurants which are located right at the base of the mountains. The medical center is also nearby so it's a short commute if you work there. However, even if you work downtown, your commute still shouldn't be too bad because downtown Roanoke is only a few miles away.
Local Favorites:
Mill Mountain Zoo and Park: A 586-acre park just off the Blue Ridge Parkway. The zoo overlooks the city of Roanoke and focuses on species that are native to Appalachia and the Blue Ridge Mountains such as Black bears, Bald eagles, and North American river otters.
Mill Mountain Greenway: A 3.3-mile paved route connecting downtown to the Mill Mountain Star perfect for walkers, runners, and bicyclists. The Mill Mountain Star is an iconic symbol of Virginia's Blue Ridge and a must-see spot in Roanoke. As the largest, free-standing, man-made illuminated star in the world, it's one of the most photographed attractions in the area.
Roanoke River Greenway: A 13.5-mile back trail that features a river and is great for all skill levels. Mainly used for walking, running, nature trips, and road biking.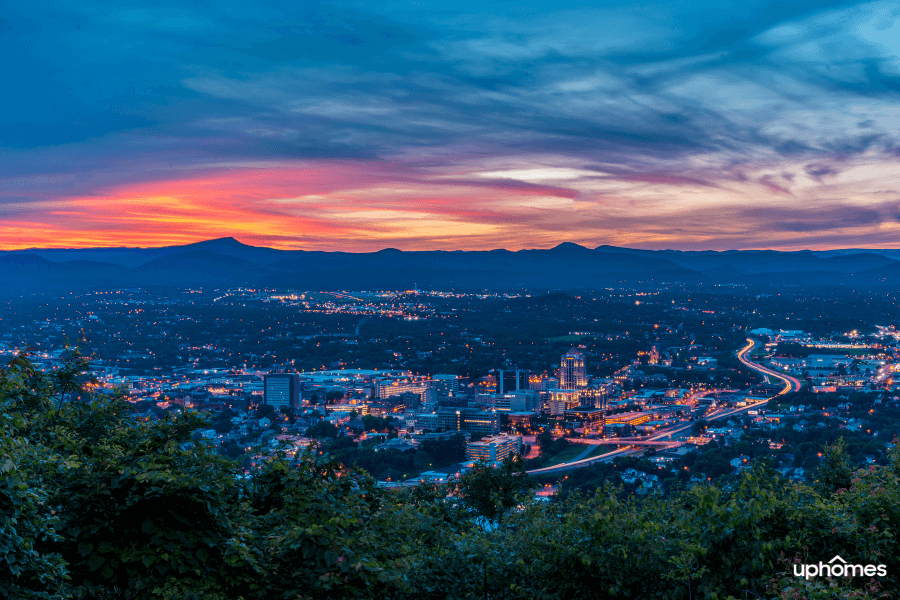 Downtown Roanoke
Downtown Roanoke is the neighborhood for you if you'd prefer more city living versus a rural setting. There are countless entertainment options, shops, restaurants, and businesses right down the street from your home or apartment. However, downtown Roanoke will be a little less of a hustle and bustle compared to some larger cities you may be used to. It does not have skyscraper condos and apartments and instead has older buildings that have been renovated and revamped. Since most of the development happened in the 1920s, downtown Roanoke is full of historic charm.
You might find yourself living in a former cafe or cotton mill! In terms of housing, there are single-family homes, apartments, and townhomes to choose from. There are more than 1700+ downtown units to choose from as well as 106 condos & townhouse units available in the downtown Roanoke area. Living downtown is extremely affordable! Prices for homes start at under $200,000 for some properties but they do get quite expensive for some of the bigger, fancier homes. Downtown Roanoke has gone through a transformation since the mid-2000s with more people choosing to live and work in the downtown area. Today, more than 2,500 people live in Downtown Roanoke.
The 122 blocks that make up Downtown Roanoke are the heart of the city. From the oldest, continuously operating Farmer's Market in the state to its unique restaurants and shops, there is so much to explore in downtown Roanoke! Transportation is also super easy in this area. You can drive and park in one of the 7,000 parking spaces, take a bike through Bikeshare by RIDE Solutions, or public transportation with the free Star Line Trolley.
Local Favorites:
Mill Mountain Theater: A professional theatre offering comedies, dramas and musicals, educational classes, and outreach programming.
Science Museum of Western Virginia: A 50,000 square-foot space in the heart of downtown dedicated to making science and technology accessible to all people. The museum has gone through a $27 million renovation.
Elmwood Park: Park with play areas, fountains, and an outdoor amphitheater. Elmwood park hosts occasional festivals and community events.
Old Southwest
One of the largest historic districts in Virginia, Old Southwest is located just a few blocks from the city center. This is the neighborhood for you if you want a close tight-knit community neighborhood. The neighborhood community association arranges many events and keeps track of them on a community calendar. Two of the biggest events are the Parlor Tour of Homes, which celebrates the 100-year-old-plus houses in the neighborhood, and Neighbors Helping Neighbors, which connects volunteers to residents needing help with home projects.
Old Southwest has plenty of single-family homes with a historic feel because of their old architecture, unique colors, and stained glass windows. The neighborhood also has a bit of an artsy vibe with a number of local businesses and churches nearby. Buying a home in Old Southwest will cost you more than the average cost of a home in Roanoke, but it's still extremely affordable.
The median home price is between $196,000 and $225,500 which is on the lower cost end for the United States overall. Old Southwest has won several awards including Best Neighborhood Project of the Year and Best Neighborhood Organization of the year at the Virginia Statewide Neighborhood Conference and Best Neighborhood of the Year from Neighborhoods USA. As one of the most sought-after areas in the Roanoke area, people love the location, history, and the mix of old and new.
Local Favorites:
Highland Park: Hilly park featuring a 3,180-foot disc golf course, dog park, playground, and sports fields. The one-acre enclosed dog park allows for off-leash dogs to run and play
Highland Park Elementary School: Local elementary school located within the Old Southwest neighborhood.
Evie's Bistro and Bakery: American cuisine and cocktails served in a casual cafe space with local art.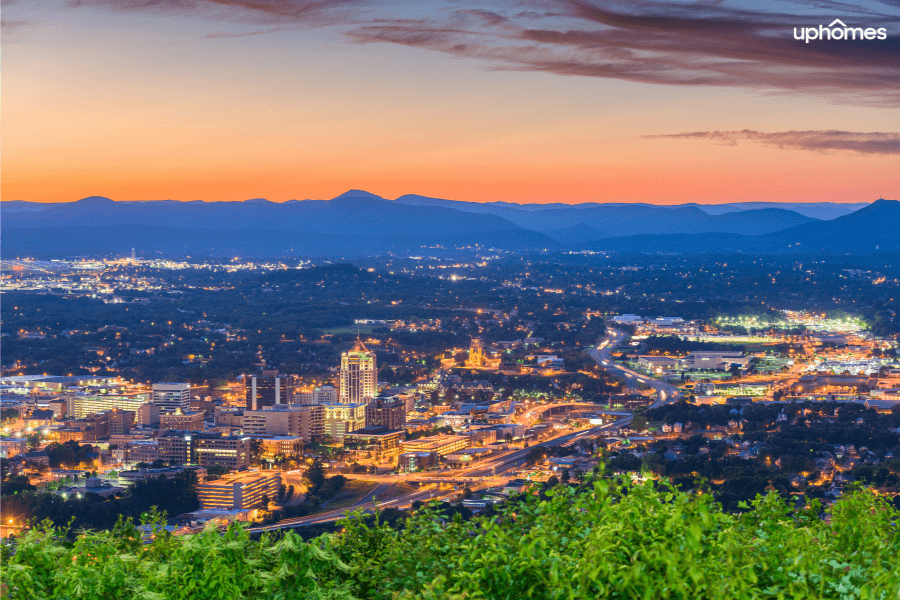 South Roanoke
Located in the southeast part of the city, South Roanoke is most popular among families. The neighborhood is convenient to restaurants, sports bars, and plenty of shops. One of the most popular attractions of the neighborhood is its old-fashioned trolley that shuttles people to and from downtown Roanoke. However, living in South Roanoke will cost you. It's one of the most expensive areas in Roanoke with the median home price at around $420,000.
That's almost three times the median price of Roanoke homes as a whole. There is a large variety of architectural styles and many of the homes are historical because the area was settled more than 300 years ago. The most common type of home architecture in this neighborhood is the foursquare. Roanoke's Strategic Housing Plan calls this neighborhood an "Urban Advantage Neighborhood." That means it's a small community in itself that has integrated housing types, a strong commercial area, easy walkability as well as schools and churches.
Another reason residents love living in South Roanoke is because of the amazing restaurants. Be sure to check out Fork in the Alley, Pastel, The River and Rail, and Sweet Donkey Coffee House. If you work at Carilion Hospital, this is also a convenient neighborhood for you because you can walk to work. If you have kids, the schools in this area are also top-notch. One of the popular ones includes Crystal Spring Elementary School which some kids walk or bike to because residents feel it's a safe area.
Local Favorites:
Town Center on Crystal Spring Avenue: Offers sports bars, fine dining, and an old-time soda fountain.
Virginia Tech Medical School: Public medical school associated with a university-level research institute called the Fralin Biomedical Research Institute at VTC.
Blue Cow Ice Cream Co: Small batch ice cream company that makes unique and classic flavors using local ingredients.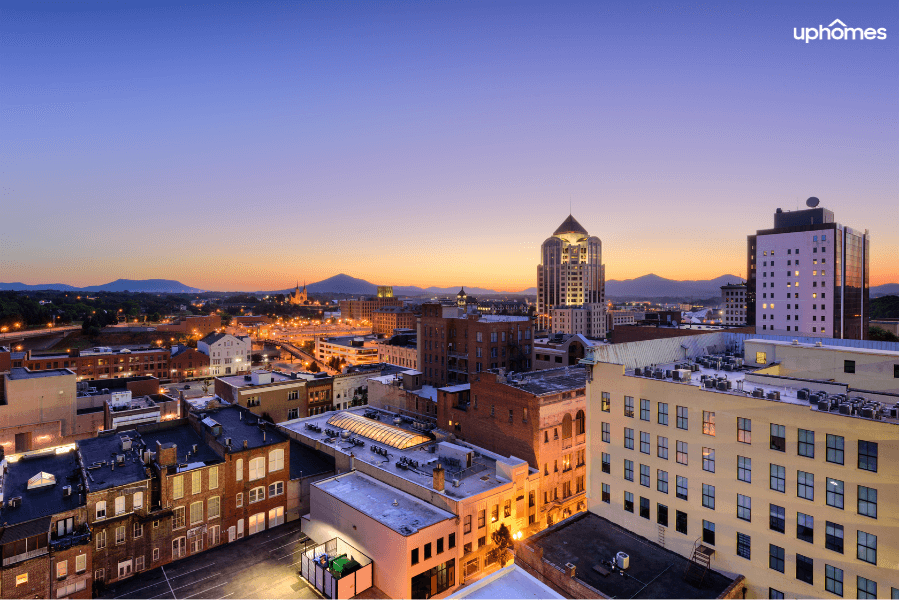 Grandin Village
This area is part neighborhood and part tourist attraction! People who live here say it's the coolest and most fun neighborhood in Roanoke. This neighborhood is described as an urban village which is a mixed-use community where people can live, work, and play. You can walk or bike everywhere and there are many outdoor dining restaurants, shops, a bank, spa, and even a salon within the neighborhood. Restaurants in this area are big on farm-to-table and locally-sourced products.
There are more than 80 businesses in just one square mile so you could probably find almost everything you need within the neighborhood without even leaving! Prices to buy a home in Grandin Village are above average but you'll find a wide range of prices depending on the style of home you are looking for. Many of the houses have an old-fashioned feel, even if they are new builds because the neighborhood dates back to the early 1920s.
This area is also easy to find rentals, condos, and mixed-use housing. Grandin Village has a quirky vibe as well with vintage clothing shops, antique stores, and local art. If you're looking for live music, a family outing, a romantic evening, a delicious meal, or unique stores, Grandin Village is the right place for you!
Local Favorites:
Grandin Village Farmers Market: Farmer's market is held every Saturday morning where you can find local fruits, vegetables, baked goods, and much more.
Grandin Theatre: The historic and cultural anchor for the Grandin Road Commercial Historic District. The suburban movie house opened in 1932 and was renovated in 2002. After going digital in 2013, the Grandin shows first-run, independent, and classic movies.
Taaza Indian Cuisine: Casual restaurant with a buffet and a full bar offering popular Indian and Mediterranean food.
The Bottom Line on the Best Neighborhoods in Roanoke, VA
Roanoke, Virginia has a lot to offer to everyone who decides to move there. With its expansive outdoor amenities, charming neighborhoods, and affordable living, it could be the perfect city for you! The best neighborhoods in Roanoke have small-town feels and a great sense of community. However, since the city has a cheaper cost of living, you will find that it has fewer amenities than larger cities.
One of the best parts about living in Roanoke is that it is so close to the Appalachian Trail so you can head out for a weekend hike or camp any time! Roanoke also has very mild weather compared to the rest of the country. The average highs are no higher than the upper 80s and the temperatures rarely go below freezing.
By reading this guide, our team hopes that you are able to find your dream home and location in the best areas of Roanoke. Before you move, make sure to reach out to one of our helpful Realty Specialists to guide you through the moving and home-buying process. Contact us today to find your dream location in Roanoke!

Find your new home
Search real estate and homes for sale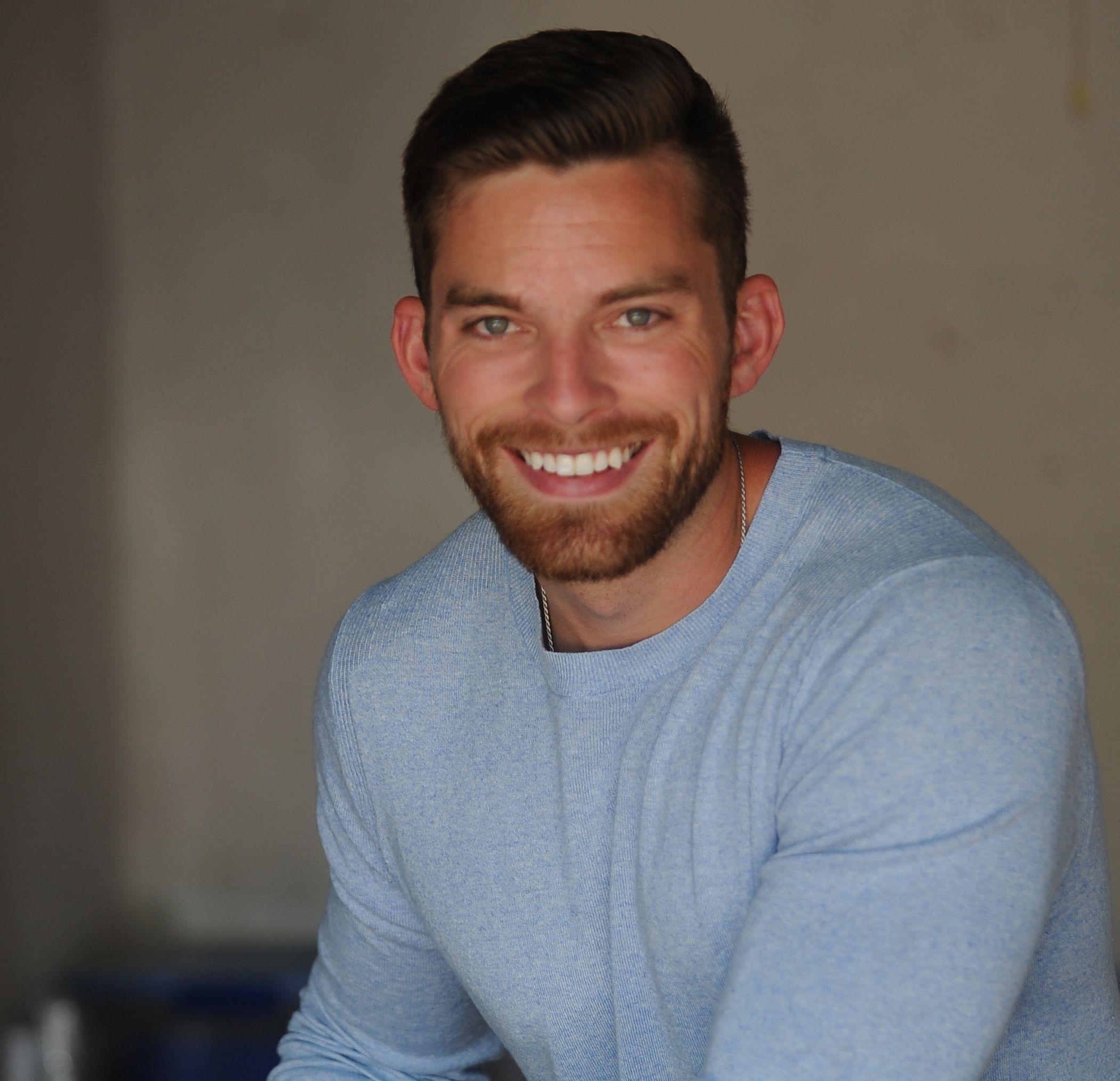 Ryan Fitzgerald
Hi there! My name is Ryan Fitzgerald, and I am a REALTOR®. My goal is to help you learn more about real estate through our Real Estate Blog! Hopefully, you enjoyed the above blog post and it found a way to provide help or value to you. When you're ready to buy or sell a home of your own let us know here. Please feel free to join the conversation by dropping us a comment below.