10 Best Neighborhoods in Holly Springs, NC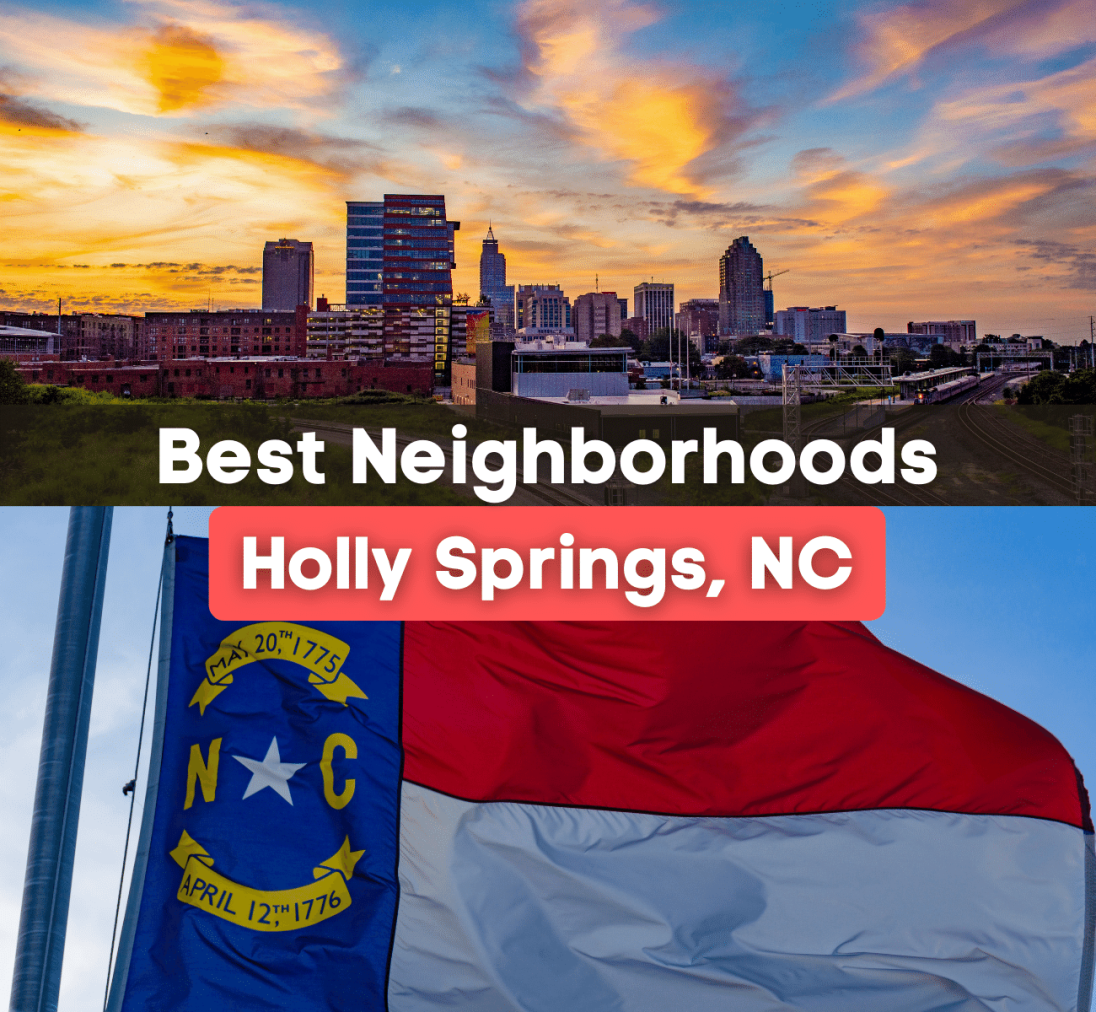 Best Places to Live in Holly Springs
Searching for the best neighborhoods in Holly Springs? Here are 10 of the best places to live!
Holly Springs is found in Wake County only 20 minutes from Cary and 12 minutes to Apex. Holly Springs is a popular suburb of Raleigh that has exploded in growth over the last few years as more and more families and young professionals move to the area either for work or for its laid-back atmosphere.
Home to a population that has grown by over 300% since 2000, Holly Springs, North Carolina is a beautiful town that is located in the heart of the Triangle area which is considered to be one of the fastest-growing regions in the United States.
Considered to be one of the best places to live in North Carolina, Holly Springs is known for its thriving downtown village district, friendly community, and rich civil war history.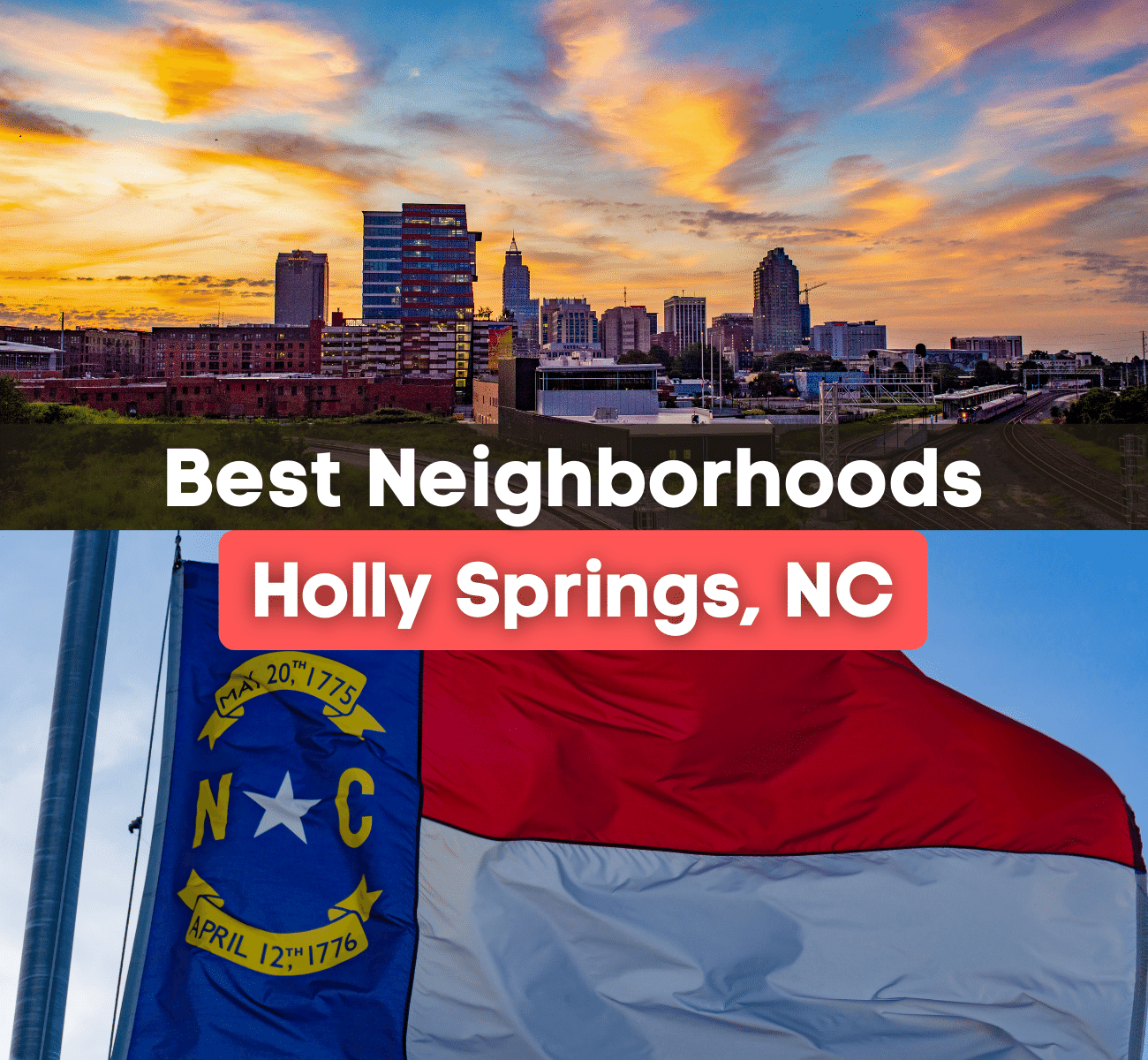 Since there are so many great neighborhoods in Holly Springs, it can be hard to decide on just one. Luckily, there are a few subdivisions that stand out over the others and deserve to be recognized if you are thinking about buying a home in the area.
With that being said, make sure to check out these 10 best neighborhoods in Holly Springs, NC!
Jump ahead to the best neighborhoods in Holly Springs:
Holly Glen
Holly Glen is one of the most sought-after neighborhoods in Holly Springs for its convenient location to nearby amenities and a wide assortment of recreational activities that everyone will enjoy including two swimming pools, tennis courts, a playground, and open green space.
With easy access to Research Triangle Park and major interstate highways, Holly Glen is a great place to live that is just minutes away from the Holly Springs Towne Center which is a popular shopping plaza full of both local and chain stores including a Target, Bed Bath and Beyond, and an Ulta.
Featuring three to five-bedroom floor plans all equipped with garages and either a quarter or third-acre lots, Holly Glen is ideal for growing families and young professionals who are looking for lots of space.
Local Favorites:
Go fishing, watch for wildlife, rent a canoe, or walk around the 1.90-mile trail at Bass Lake Park
Have a picnic and spend the day outside with the whole family at Parrish Womble Park
Order a tasty bundt cake at Nothing Bundt Cakes in the Holly Springs Towne Center
Holly Pointe
Known to be one of the most well-established residential areas in Holly Springs, the neighborhood of Holly Pointe is a quiet and lovely place to call home that features spacious, luxury homes.
Surrounded by mature trees and located near some of the top-rated dining, shopping, and entertainment options that Holly Springs has to offer, Holly Pointe is truly a unique place to live found within a short highway commute to the neighboring cities of Raleigh and Durham.
Providing residents with a variety of home types and styles to choose from that all range between 2,200 to 4,000 square feet, new homes in the neighborhood feature top-of-the-line stainless steel appliances, hardwood floors, granite countertops, programmable thermostats, and LED lighting.
Also home to a neighborhood pool and pool deck, cabana, fire pit, clubhouse, and neighborhood playground, meeting and befriending your neighbors could not be any easier.
Not to mention, for those moving with school-aged children, Holly Pointe is part of the Wake County Public School System and is districted to some of the top schools in the area including Holly Grove Elementary School, Holly Grove Middle School, and Holly Springs High School. Make sure to double-check zoning within the district before buying a home if you have certain schools that you would prefer your children to attend.
Local Favorites:
Have a picnic or bring your dog out to Sugg Farm at Bass Lake
Attend a festival at the Holly Springs Cultural Center
Play tennis, basketball, soccer, baseball, and other recreational activities at Ting Park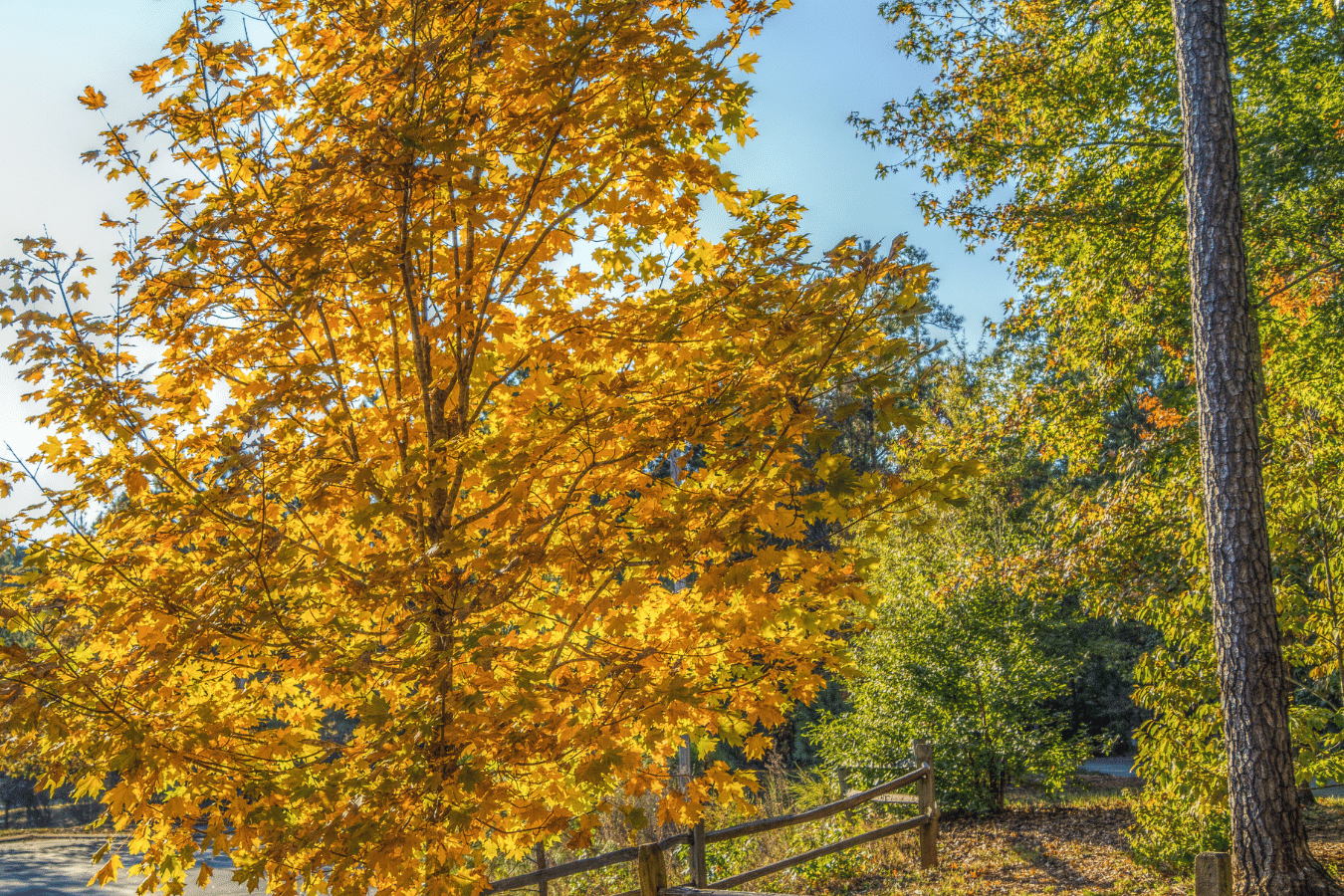 Arbor Creek
Featuring a selection of single-family homes and townhomes in Holly Springs, the neighborhood of Arbor Creek is a sought-after medium size community that is best known as being a mature neighborhood full of many tall trees and quiet wooded areas.
With multiple commercial properties sitting at the front of the neighborhood including a doctor's office, daycare, and restaurants, living in Arbor Creek means having the ability to walk to amenities without having to travel far.
Coming in a variety of home styles and designs, all single-family homes sit on private lots whereas the townhomes available provide private patio access and off-street parking.
Also featuring a clubhouse, playgrounds, and large pool, it is easy to see how Arbor Creek is considered to be one of the best neighborhoods in Holly Springs.
Local Favorites:
Order tasty Italian food at Mama Mia Italian Bistro of Holly Springs
Bring the family to Vieni Ristobar
Order great drinks and fresh food at Ashley's Harvest Moon Bakery-Cafe
Sunset Ridge
If you love playing golf and tennis, then Sunset Ridge might just be the place for you. Beloved for its five-star amenities, prime golf course views, and luxurious way of life, Sunset Ridge is a fantastic master-planned community that is ideal for families, young professionals, and retirees alike.
Featuring large lot sizes that back up to the golf course, well-manicured lawns, sidewalks, and sought-after amenities including a clubhouse, premier golf course, tennis facilities, and pools, there is no better place to live in Holly Springs than at Sunset Ridge.
Local Favorites:
Become a member and play golf at the Devil's Ridge Golf Course which is an 18-hole, par 72 golf course designed by John LaFoy
Join the Sunset Ridge Swim and Racquet Club which is open to all residents of the sunset communities and includes access to multiple pools with waterslides and a professional tennis complex with six fully lighted tennis courts
Enjoy specialty pies, calzones, and pasta dishes at Homegrown Pizza
Sunset Oaks
First built in 2004, Sunset Oaks is a top Wake County neighborhood full of beautiful single-family homes that have gained a reputation for their perfect location, aesthetically pleasing atmosphere, and quality construction.
With more than 550 single-family homes found in this 340-acre neighborhood all ranging between 1,500 and 3,700 square feet in size, Sunset Oaks is by far one of the most highly rated communities in Holly Springs for its landscaping, recreational amenities, and unbeatable prices.
With most homes featuring front porches, custom finishes, two-car garages, and oversized closets, there is bound to be a home in Sunset Oaks that will appeal to your everyday needs and lifestyle.
Perhaps one of the biggest draws to Sunset Oaks is its exclusive neighborhood amenities which include access to the Sunset Ridge tennis courts, Devil's Ridge Golf Course, a picnic pavilion, and a resort-style pool that features a lazy river and waterslide.
Plus, located just down the road from West Lake Elementary School, West Lake Middle School, Middle Creek Elementary School, and Middle Creek High School, school-aged children will have access to some of the best education that the Wake County Public School District has to offer.
Local Favorites:
Enjoy specialty teas and southern-style Sunday brunch at the Pimento Tea Room
Order a cold beer and bar food at Hickory Tavern
Dine on excellent made-from-scratch Italian fare at Cristo's Bistro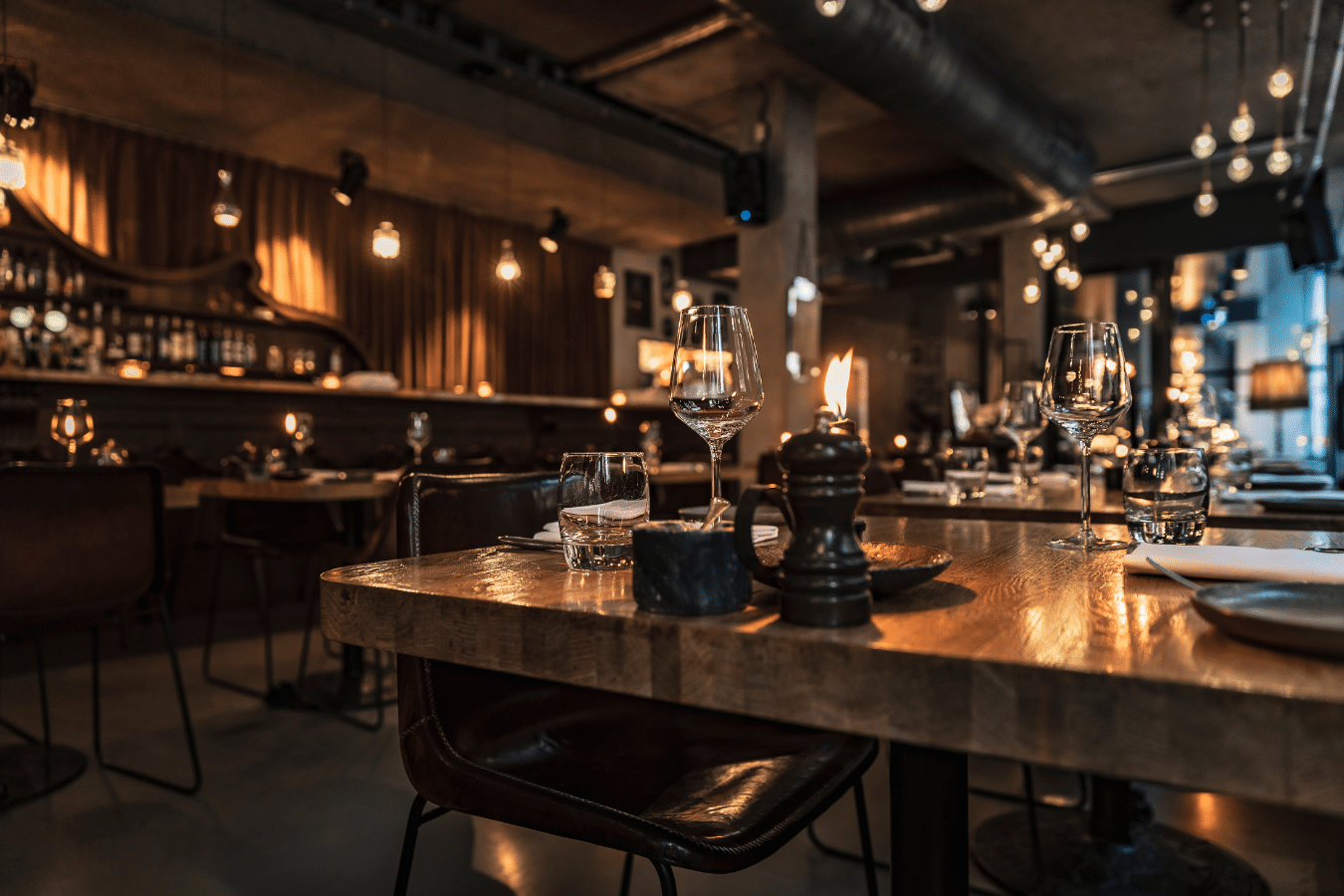 Sunset Lake Village
Sunset Lake Village surrounds Sunset Lake which is a 125-acre privately owned lake in Holly Springs and is recognized for its gorgeous waterfront properties that are all competitively priced.
Found in the southwestern corner of Wake County, Sunset Lake Village is a mature and secluded neighborhood that is located just minutes from some of the most popular attractions in the Triangle area.
From custom-built lake homes to spacious suburban estates, Sunset Lake Village should be high on your priority list when looking for homes in Holly Springs if you are willing to spend anywhere from the 500s to upwards of one million dollars.
Local Favorites:
Play tennis at the Middle Creek Tennis Courts which are part of Middle Creek Park
Stock up on premium meats at the Butcher's Market of Holly Springs
Head to Town Hall Burger and Beer for delicious burgers and other American favorite dishes
Braxton Village
Braxton Village is considered to be one of the best places to raise a family in Holly Springs due to its small-town feel and quiet streets.
Located only two miles from the Highway 55 bypass and found within 30 minutes of the Raleigh Durham International Airport and many other popular attractions in the Triangle area, Braxton Village is the perfect place to put down roots.
Made up of a total of 420 homes that come in a variety of home styles and sizes, most homes feature hardwood floors, stainless steel appliances, custom finishes, and two-car garages. In our opinion – Braxton Village is one of the best places to live in Holly Springs!
Local Favorites:
Go fishing, boating, hiking, biking, or picnicking at Harris Lake
Grab a latte at Thanks A Latte - Coffee and Gift Boutique
Play disc golf or bring your kids to the playground at Jones Park
12 Oaks
Located in the heart of Holly Springs lies the popular neighborhood of 12 Oaks which is a vibrant, new home community full of resort-style amenities and all of the southern charms that you can imagine.
Known to be a quiet neighborhood with property types that are perfect for the whole family, 12 Oaks is one of the top master-planned communities in Holly Springs that is home to an award-winning 18-hole championship golf course, great pools, dog parks, and beautiful open green spaces.
Local Favorites:
Dine on innovative southern cuisine at The Mason Jar Tavern
Get your fix of Mexican fare at Mi Cancun
Watch a new movie at AMC Dine-IN Holly Springs 9
Woodcreek
If you are already familiar with the Holly Springs area then you probably already know of Woodcreek which is a fantastic subdivision located near Sunset Ridge and Arbor Creek.
Featuring single-family homes and townhomes, Woodcreek has a lot to offer its residents including a resort-style clubhouse with a pool, lazy river, tennis courts, playground, and fitness center.
Local Favorites:
Bass Lake Draft House features a menu that has over 30 draft beers to choose from
Enjoy made-to-order mac and cheese and other favorites at My Way Tavern
Sip on wine with friends while listening to live music at Niche Wine Lounge
Brook Manor
Brook Manor is a top single-family subdivision in Holly Springs that offers a more secluded and quiet way of life within central Holly Springs.
Even though homes are priced on the higher end, Brook Manor is still a sought-after community for its high-quality construction and access to amenities.
Local Favorites:
Grab a coffee at Sir Walter Coffee and Kitchen - Holly Springs
Order homemade ice cream at Mama Bird's Ice Cream
Enjoy authentic Thai cuisine and fresh sushi at Osha Thai Kitchen and Sushi
Final Thoughts - Best Neighborhoods in Holly Springs, NC
Holly Springs, North Carolina has made a name for itself as a nice place to live partly due to its abundance of great neighborhoods and residential communities that welcome all lifestyles and backgrounds.
Whether you are looking for new construction homes in Holly Springs, townhomes for sale in Holly Springs, or condos for sale in Holly Springs, there is no right or wrong answer when it comes to choosing a neighborhood.
While we do love helping you find the perfect neighborhood in Holly Springs, our website also provides you with up-to-date information regarding homes for sale in Holly Springs as well as features other local area guides including the best neighborhoods in Raleigh and the best neighborhoods in Durham.
If you are interested in buying a home in Holly Springs and want to find out more about the best neighborhoods in the area, then make sure to reach out to one of our amazing Realty Specialists. Contact us here directly today so that we can kickstart your home buying journey and answer any questions that you may have about the process.

Find your new home
Search real estate and homes for sale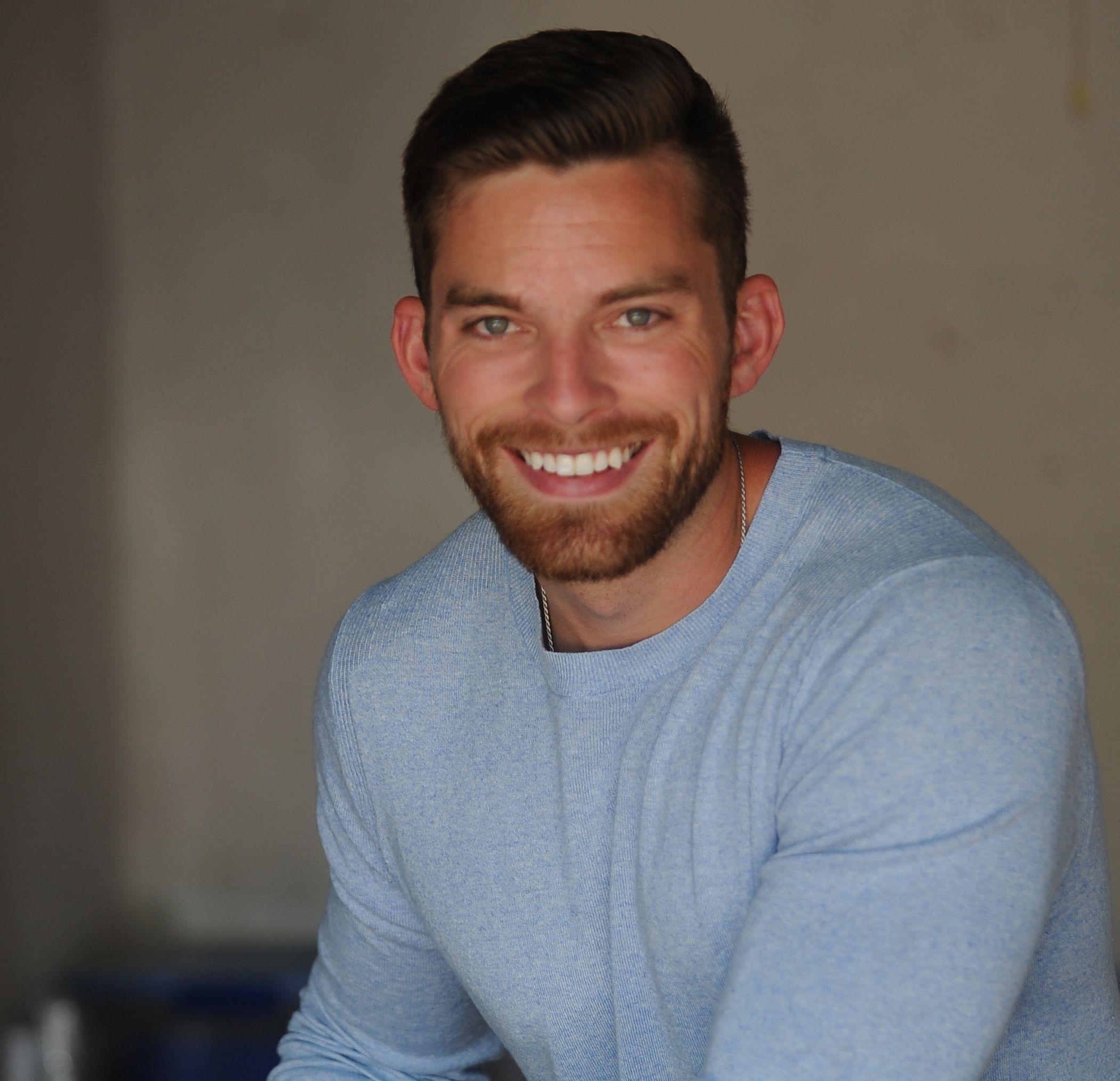 Ryan Fitzgerald
Hi there! My name is Ryan Fitzgerald, and I am a REALTOR®. My goal is to help you learn more about real estate through our Real Estate Blog! Hopefully, you enjoyed the above blog post and it found a way to provide help or value to you. When you're ready to buy or sell a home of your own let us know here. Please feel free to join the conversation by dropping us a comment below.