10 Best Neighborhoods in Durham, NC
Best Places To Live in Durham!
Did you know that Durham is one of the fastest-growing cities in the United States? As part of the Research Triangle Park Region, Durham is famous for its technology and innovation advancements as well as its abundance of top-rated scholarly institutions.
Not only is Durham considered to be one of the best places to live in North Carolina, but living in Durham offers its residents a dense suburban feel along with providing prime access to some of the best restaurants, parks, museums, and entertainment that can be found in the Triangle area.
Attracting families, young professionals, and retirees alike, it is no secret that Durham is a nice place to live that happens to be located near the state capital of Raleigh and the neighboring city of Chapel Hill.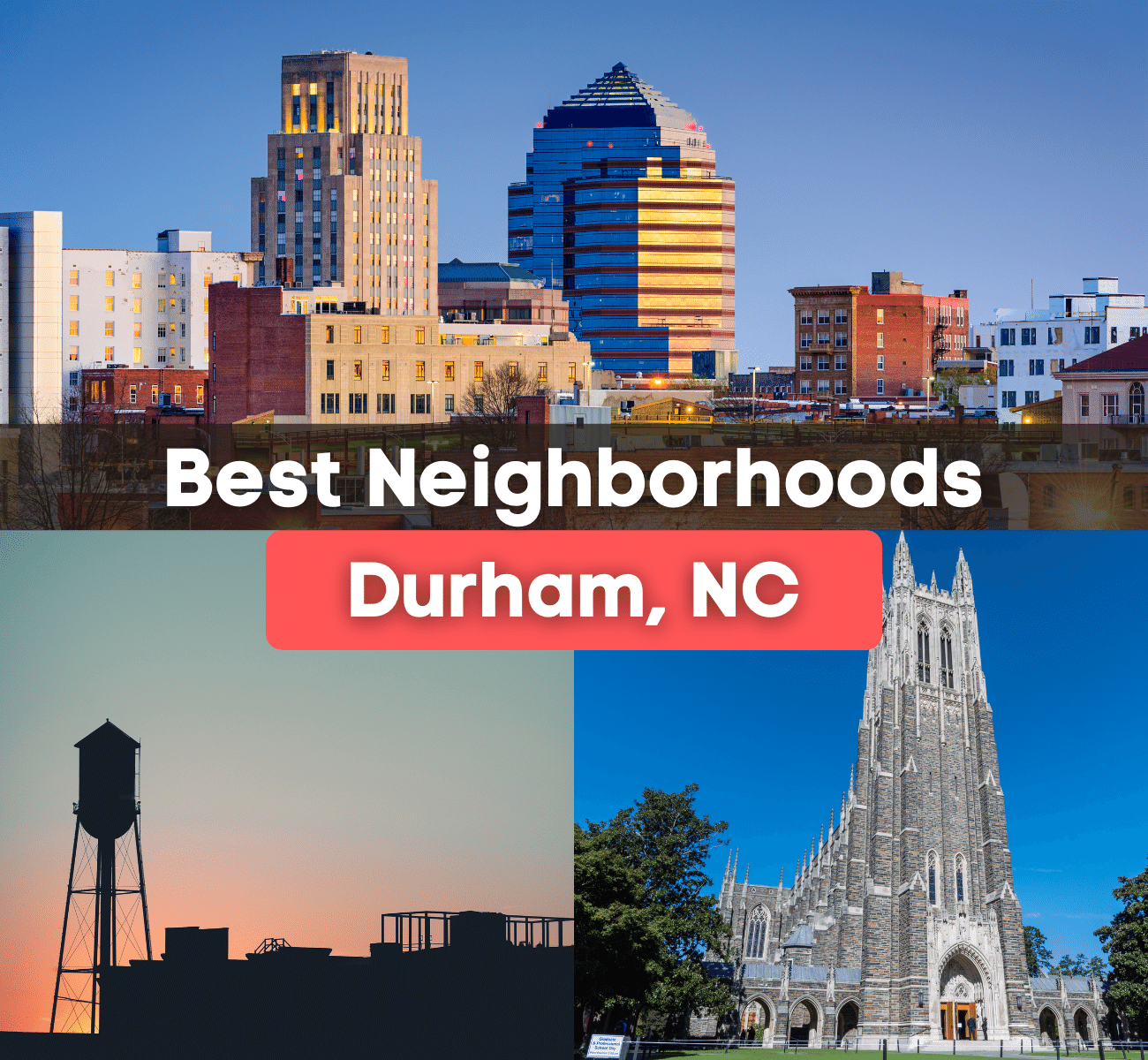 So if you are among the masses who are moving to Durham and are looking for more information on the top neighborhoods in Durham, NC, then you have certainly come to the right place.
Read on to learn more about some of Durham's best neighborhoods!
Jump ahead to the Best Neighborhoods in Durham:
Downtown Durham
If you want to be surrounded by the top restaurants, breweries, and shops of Durham, then you might want to consider moving to Downtown Durham since it is the busiest and one of the most exciting neighborhoods in the city.
Downtown Durham is not only a historic area, but it is often recognized as a vibrant, creative, and diverse place to live that features several events throughout the year that are centered around food, culture, and the arts.
Not only is Downtown Durham considered to be one of the cleanest downtown areas in the country, but this section of the city is home to several landmarks that are all listed on the National Register of Historic Places including The Historic Parish Street which is often called the "New South" for its modern take on southern ideals.
Home to several revitalized industrial areas such as Brightleaf and the American Tobacco Historic District, there is always something to do and see when living in Downtown Durham no matter your interests or age.
Since Downtown Durham considers walkability to be a priority, walks through the city can be as short as 20 minutes or as long as an hour depending on where you are going. While Downtown Durham is certainly not as large as New York City, a city of this size definitely needs other walkable areas to accommodate its residents.
Local Favorites:
See a concert, comedy show, or Broadway hit at The Durham Performing Arts Center
Cheer on the Durham Bulls baseball team at the Durham Bulls Athletic Park
Learn about important local history at the Museum of Durham History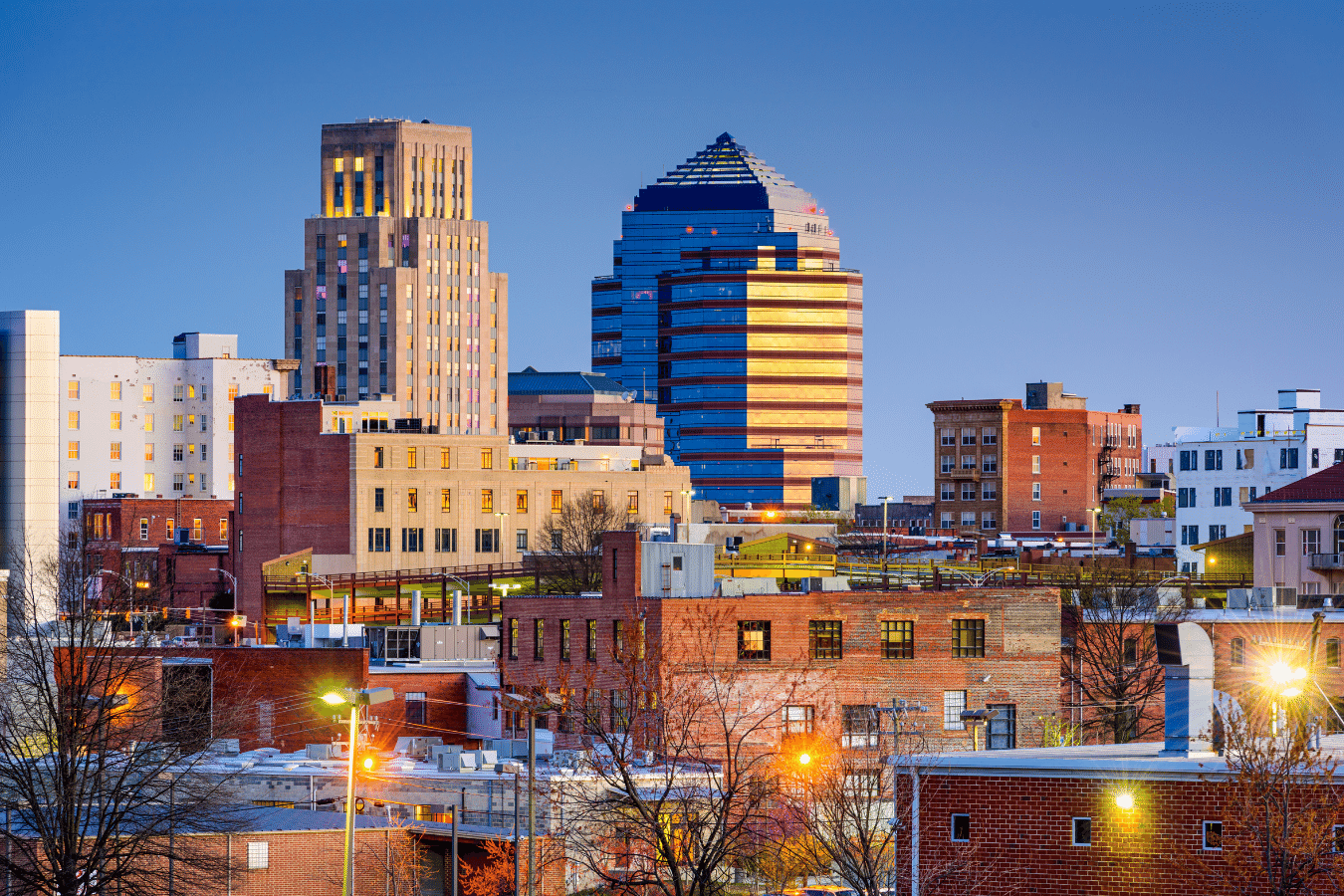 Research Triangle Park
Often referred to as The Triangle, Research Triangle Park is the largest research park in the United States that is home to hundreds of science and technology firms, government agencies, startups, and nonprofit organizations.
As a prime destination and large metropolitan area in the Piedmont region of North Carolina, Research Triangle Park is anchored by the cities of Durham, Raleigh, and Chapel Hill which is why these three cities are highly regarded for their educational, medical, and research opportunities.
Founded in 1959 and making up 7,000 acres in the region, many workers in Research Triangle Park tend to live close by in Durham in order to ensure shorter commute times and convenience traveling to and from the office.
Now that large technology companies Apple, Google, and Meta have announced that they will be launching hubs in The Triangle, Research Triangle Park is expecting a large influx of professionals and families to move into the neighborhood.
Local Favorites:
Walk around the Sarah P. Duke Gardens
Explore the Durham Museum of Life and Science with your family
Spend the day at Lake Betz which is found adjacent to major companies in RTP
Trinity Park
Situated between Downtown Durham and Duke University's East Campus lies Trinity Park which is considered to be a great community for families, singles, retirees, and couples to call home.
Known as one of Durham's oldest central neighborhoods, Trinity Park features 40 square blocks of shaded tree-lined streets and is full of beautiful historic homes and buildings which is why it has earned a special spot on the National Register of Historic Places.
With a neighborhood association that is dedicated to preserving the neighborhood's historic architecture, building a tight-knit community, keeping the neighborhood safe, and working on smart development, residents in Trinity Park are guaranteed to love living in this top Durham neighborhood.
Local Favorites:
Have a family picnic at the Trinity Park playground
Admire modern and contemporary collections of art at the Nasher Museum of Art at Duke University
Go hiking nearby at Eno River State Park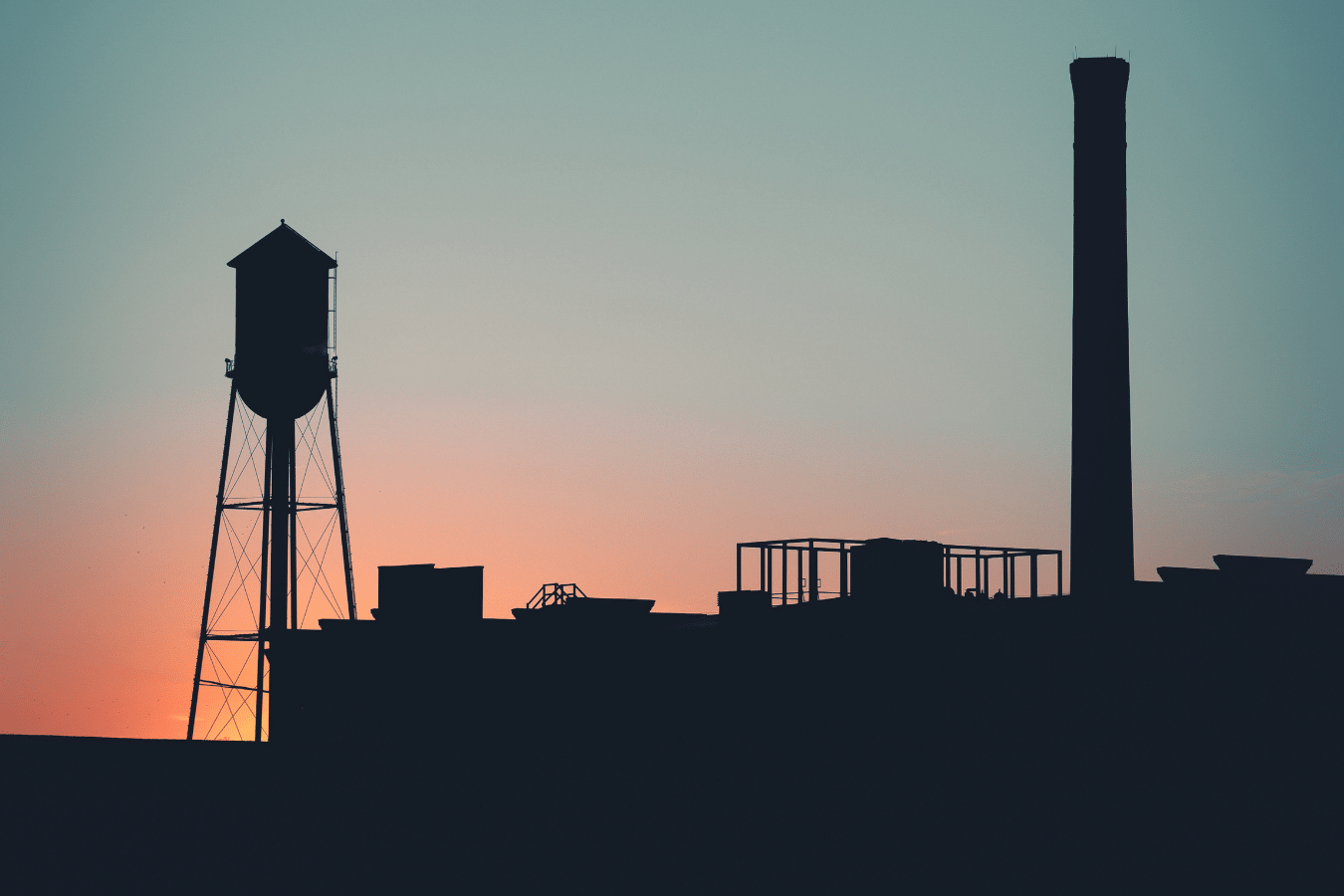 Duke Park
Are you looking for a quiet and peaceful residential area to call home? Then look no further than Duke Park which is a prized residential development in North Durham.
As one of the oldest neighborhoods in Durham, Duke Park is best known for its beautiful 1920s-style homes that were built around an open green space. Featuring a playground, walking trails, picnic tables, and even a dog run that your furry friends will enjoy, it is safe to say that Duke Park has much to offer its residents.
Hosting several events throughout the year that aim to bring the whole community together, residents will have the opportunity to meet new friends and participate in activities including the annual Beaver Queen Pagent which is where participants dress up in beaver-themed costumes and have fun eating at local food trucks.
Also located near popular natural areas including Pearl Mill Preserve and Ellerbe Creek, the residents of Duke Park are active citizens who can be found hiking, biking, or exploring the outdoors just outside of Downtown Durham.
Local Favorites:
Visit the Durham Farmers' Market at Durham Central Park
Check out the Duke Homestead State Historic Site which was the farm and home of Washington Duke and his family and is now a National Historic Landmark
Run, walk, and breathe in the fresh air at Duke Forest
Old West Durham
The neighborhood of Old West Durham is found adjacent to Duke University's East Campus and near Duke's Main Campus which makes it a great place to live for college students actively attending Duke University.
Made up of quiet, tree-lined streets and historical homes with wide front porches, Old West Durham has certainly come a long way since its establishment as a former mill town.
Home to locally-owned bookstores, cute coffee shops, casual bars, and a number of laid-back eateries and diners, Old West Durham is one of the largest neighborhoods in Durham that has become a popular retail sector.
With just over 2,000 residents living in this neighborhood, Old West Durham is beloved for its high walkability to and from campus as well as its accessibility to public transportation and bike-friendly streets.
Local Favorites:
Visit the popular Ninth Street Shopping District in between classes
Check out local businesses and national chain stores at the Shops at Erwin Mill
Buy gourmet donuts, sandwiches, and homebaked bagels at Monuts Cafe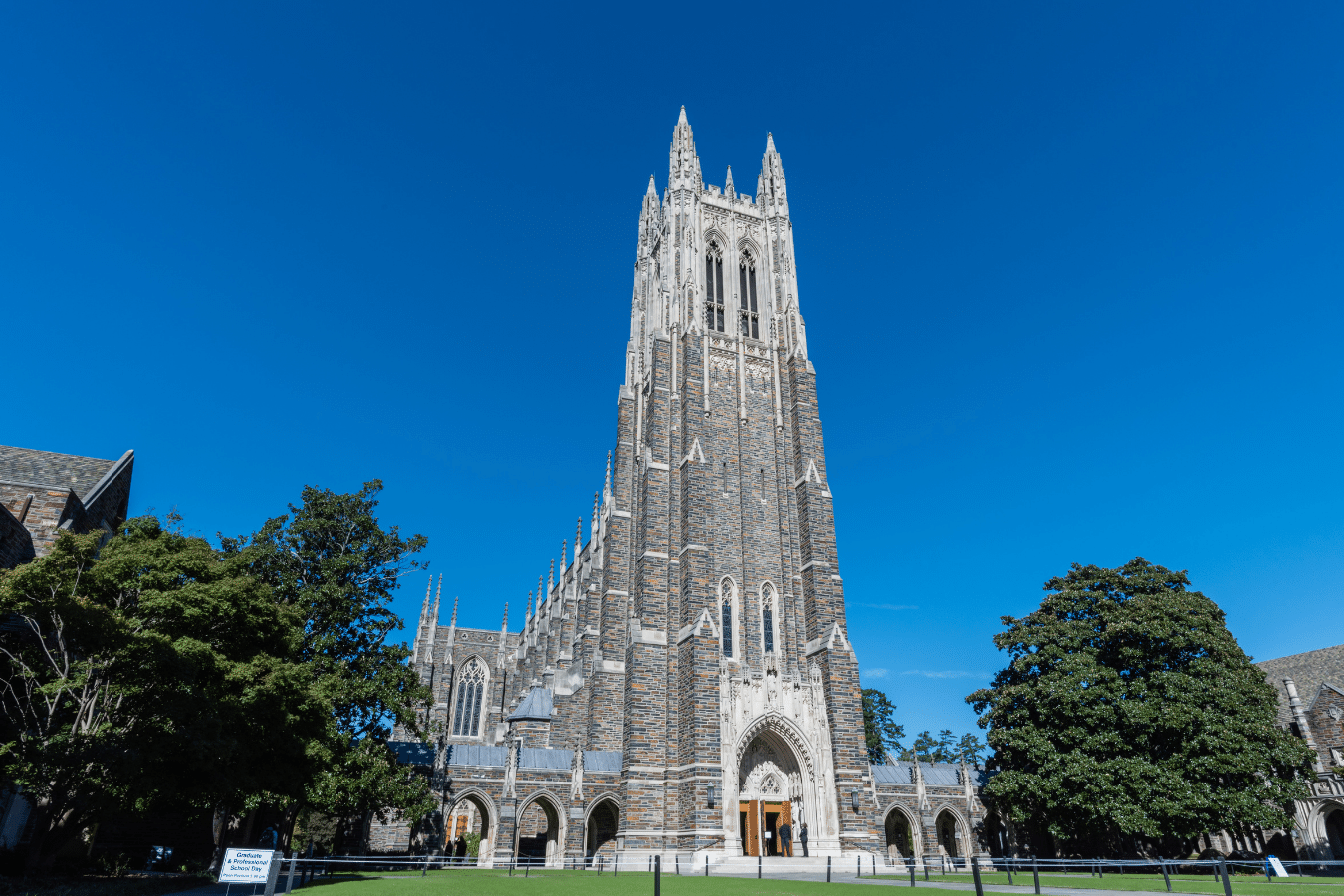 Northgate Park
Northgate Park in Durham is a quiet and suburban neighborhood that is known for its family-friendly attractions including the interactive Museum of Life and Science which houses a magnificent butterfly conservatory.
Featuring a variety of single-family homes as well as a large multiple acres park that shares the same name as the neighborhood, Northgate Park is not only a great place to settle down but it is a nature lover's dream since it features multiple walking paths and biking trails as well as a dog park.
Recognized as a safe, walkable, and diverse neighborhood in Durham, Northgate Park is a perfect example of a wonderful neighborhood in the Durham area.
If you are moving with school-aged children, Holt Elementary Language Academy, George L Carrington Middle School, and Riverside High School are all located nearby and boast good ratings.
Local Favorites:
Let your furry friends run around at the Northgate Dog Park
Have a picnic or walk around at Northgate Park
Dine at the American Hero Restaurant Durham for classic American cuisine
Old North Durham
Rated as one of the safest neighborhoods in Durham, Old North Durham is a good place to live due to its accessibility to top amenities and diversity of real estate.
Primarily a residential neighborhood, Old North Durham is found north of the Duke Beltline and is one of the oldest neighborhoods in the city of Durham since it was first established in the early 1800s.
Home to people of many ages, gender identities, races, sexual orientations, religions, and political backgrounds, Old North Durham has been experiencing an exciting revamp since many homes are being renovated to welcome the many young professionals and families that are moving to the area.
Since Old North Durham is such a tight-knit community, the neighborhood holds multiple home association board meetings and puts on multiple events throughout the year including annual neighborhood socials and plant sales. For more information about events, check out the Old North Durham neighborhood Facebook page.
Local Favorites:
Take a Trolley Pub Public Tour of Durham with a group of friends
Visit the Duke University Chapel
Enjoy craft beer and southern food at Fullsteam Brewery
Woodcroft
The Woodcroft community is a top neighborhood in Durham that aims to keep its residents active since it features up to six miles of hiking trails that connect all neighborhoods located inside Woodcroft.
With biking and walking trails as well as multiple common areas for people to enjoy the day and come together, Woodcroft is a popular place to live for families and young professionals.
Also featuring the Woodcroft Club golf course that includes a community pool, tennis courts, and a fitness center, residents will never run out of things to do when living in Woodcroft. In our opinion – Woodcroft is one of the best neighborhoods in Durham!
Local favorites:
Visit the Duke Lemur Center which is the largest sanctuary for strepsirrhine primates in the world
Go camping or hiking at William B. Umstead State Park
Dine on southern Italian dishes at Pulcinella's Italian Restaurant
Hope Valley Farms
Hope Valley Farms neighborhood is located on the southwest side of Durham and is one of the top neighborhoods in Durham since it provides residents a taste of rural living without being far from busy city life.
Surrounded by mature trees, lakes, creeks, and only the best that nature has to offer, Hope Valley Farms is one of the most peaceful and quiet neighborhoods in Durham.
Local Favorites:
Enjoy upscale Italian cuisine at Bocci Trattoria and Pizzeria in Durham
Order chicken and seafood dishes at GG Fish and Chicken in Hope Valley
Get your taco fix at Chubby's Tacos in Durham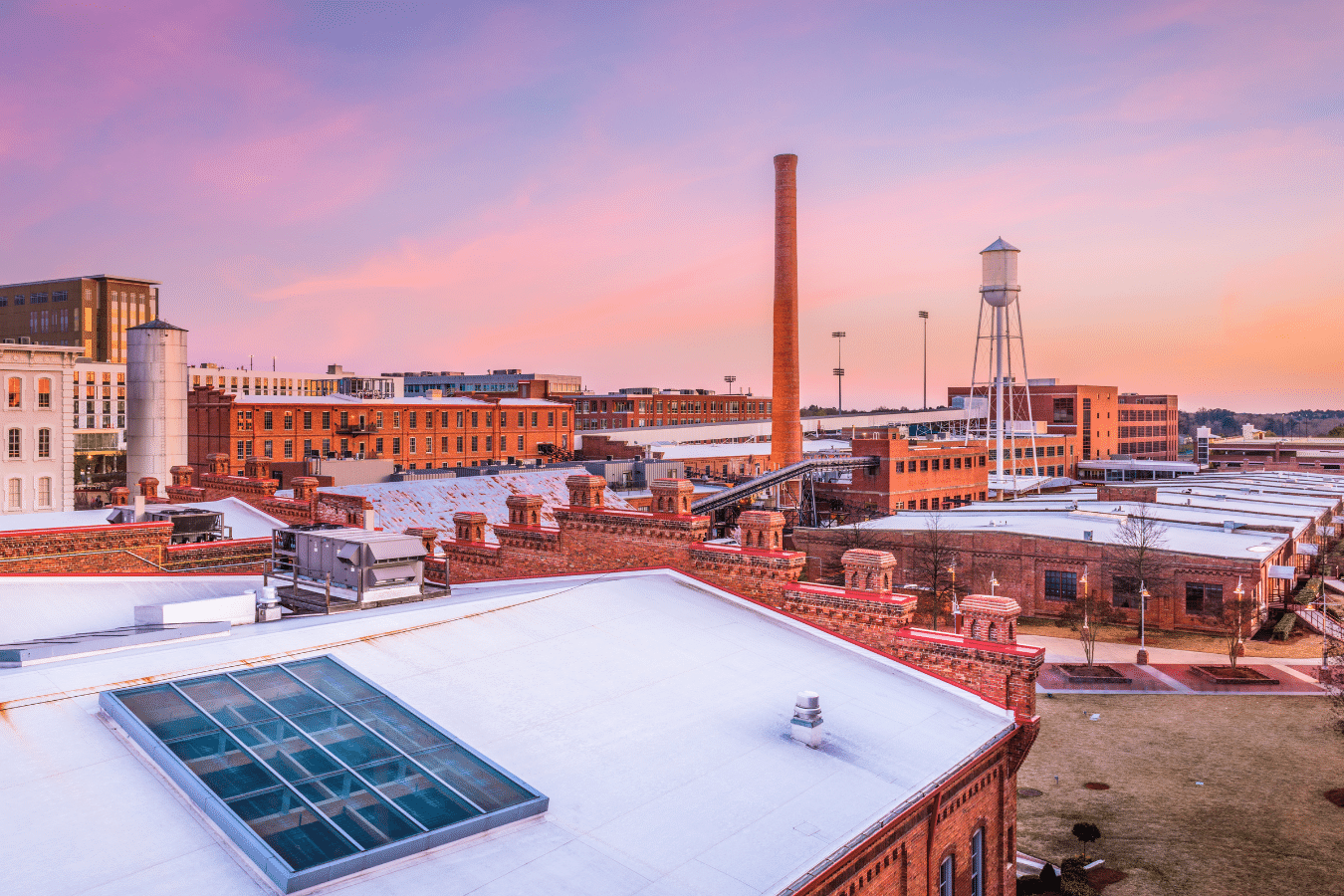 Southpoint
Southpoint is one of the top destinations in Durham since it is a go-to place for shopping and dining. Home to the Streets at Southpoint which is an upscale shopping mall featuring both indoor and outdoor shops and chain stores, Southpoint is a perfect central location for residents who want to live near great restaurants and big businesses.
Local favorites:
Take a cooking class at Sur La Table in Durham
Watch a new movie with friends at AMC Southpoint 17
Order a margarita at Uncle Julio's in Durham
Explore Durham, NC Neighborhoods With Uphomes
No matter if you see yourself living near the hustle and bustle of Downtown Durham or would rather settle down in a quiet neighborhood with new construction homes in Durham, there is no right or wrong answer when it comes to finding a great neighborhood in Bull City.
Whether you are looking for the safest neighborhood in Durham or the nicest area in Durham, our local Durham Realty Specialists are here to assist you no matter your home buying or selling goals. Make sure to contact us today so that we can go ahead and help you find homes for sale in Durham that best meet your needs.
While we most certainly love helping you learn all there is to know about the best neighborhoods in Durham, our website also provides easy access and up-to-date information about buying a home in Durham as well as other local area guides including moving to Raleigh.
When you or anyone you know is interested in buying a home, make sure to contact us!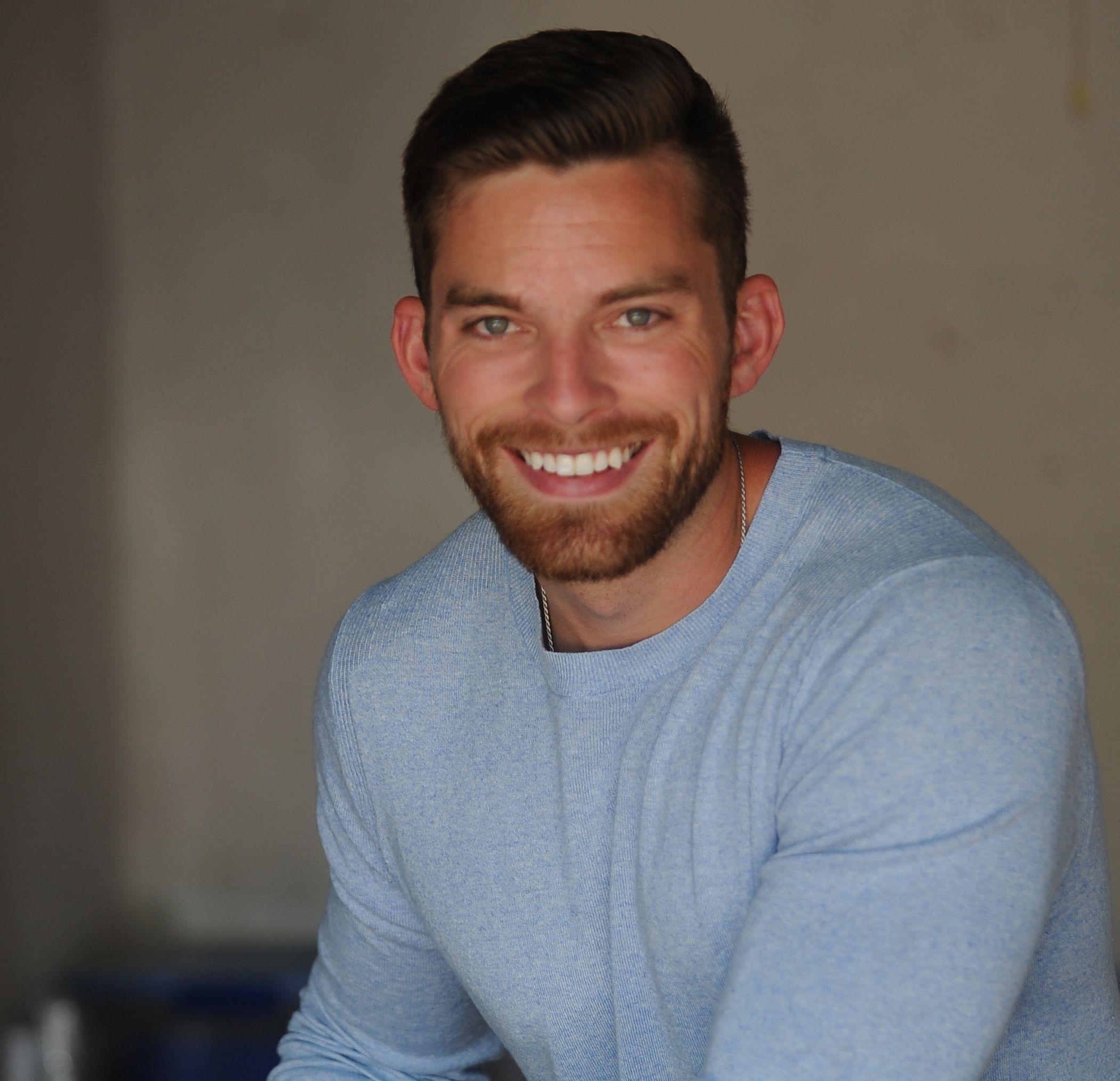 Ryan Fitzgerald
Hi there! My name is Ryan Fitzgerald, and I am a REALTOR®. My goal is to help you learn more about real estate through our Real Estate Blog! Hopefully, you enjoyed the above blog post and it found a way to provide help or value to you. When you're ready to buy or sell a home of your own let us know here. Please feel free to join the conversation by dropping us a comment below.