7 Best Neighborhoods in Denver, CO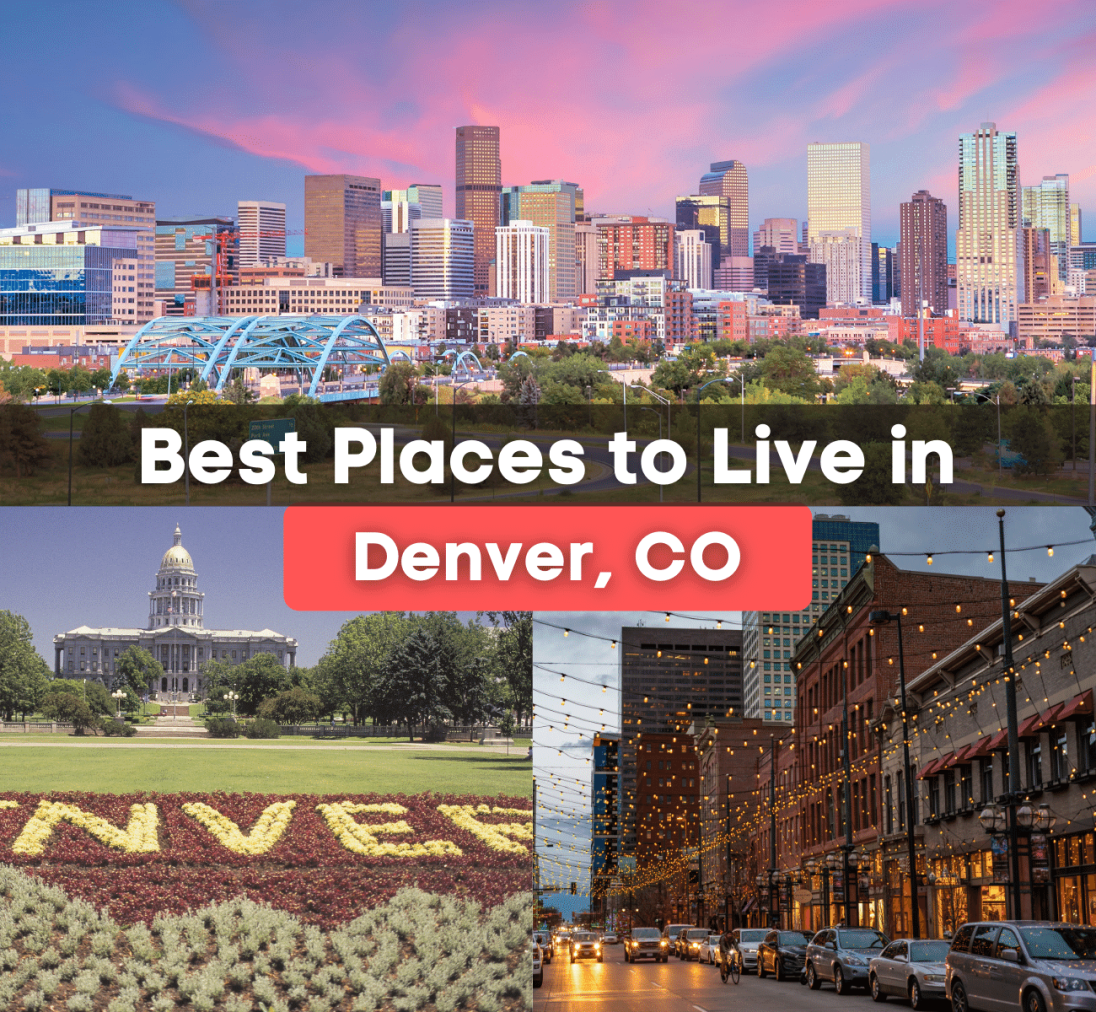 Best Places to Live in Denver
What are the best places to live in Denver? Check out 7 of the top neighborhoods below!
Not sure where you want to live in Denver? There is a lot to choose from within the city and surrounding areas whether you're looking for the hustle and bustle of a big city or a more low-key suburb. Denver is a great place to live if you love beautiful views, incredible architecture, sunshine, and great beer and food. The city is full of young professionals and families alike with tons of activities to participate in year-round. While searching for a home or apartment, keep in mind that Denver is similar to the San Francisco Bay area and Seattle when it comes to home prices outpacing income growth and affordability. On average, apartments in Denver rent for $1,519 a month and median home prices are about $420,000. Besides the prices, one thing you're guaranteed if you're living in Denver is amazing views. The metro area is surrounded by 140 miles of panoramic mountain vistas, including 200 visible peaks. If you're moving to Colorado, Denver is a great spot!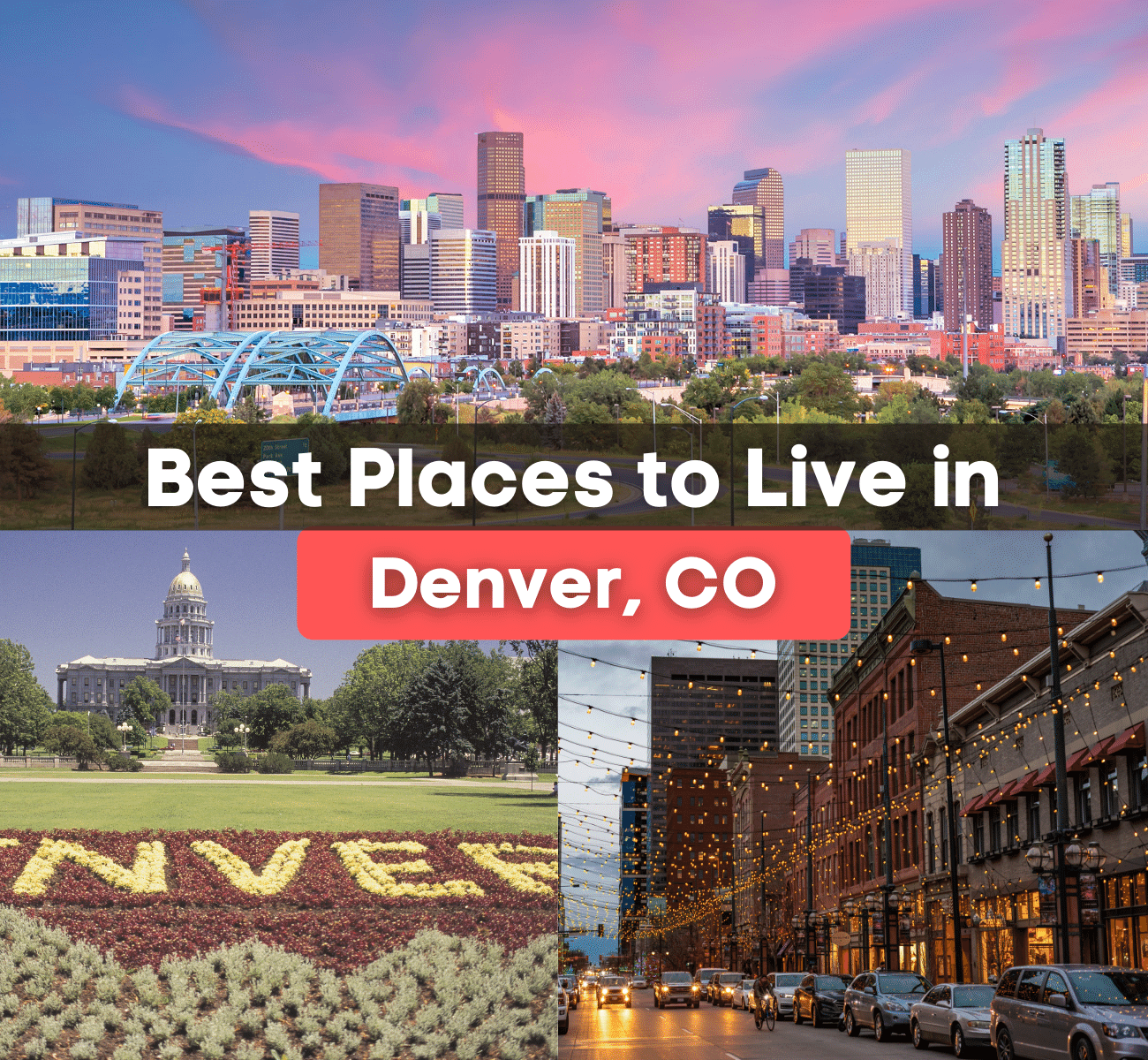 Finding a neighborhood with a fast-paced lifestyle or a relaxed vibe is possible in Denver but every area has something different to offer. It's important to choose the right location for you and your family. With the help of this neighborhood guide, learn about the best, most popular neighborhoods in the city. When you're finished reading about the best places in Denver, check out our list of the best places to live in Colorado.
Read on to see the 7 Best Neighborhoods in Denver, CO!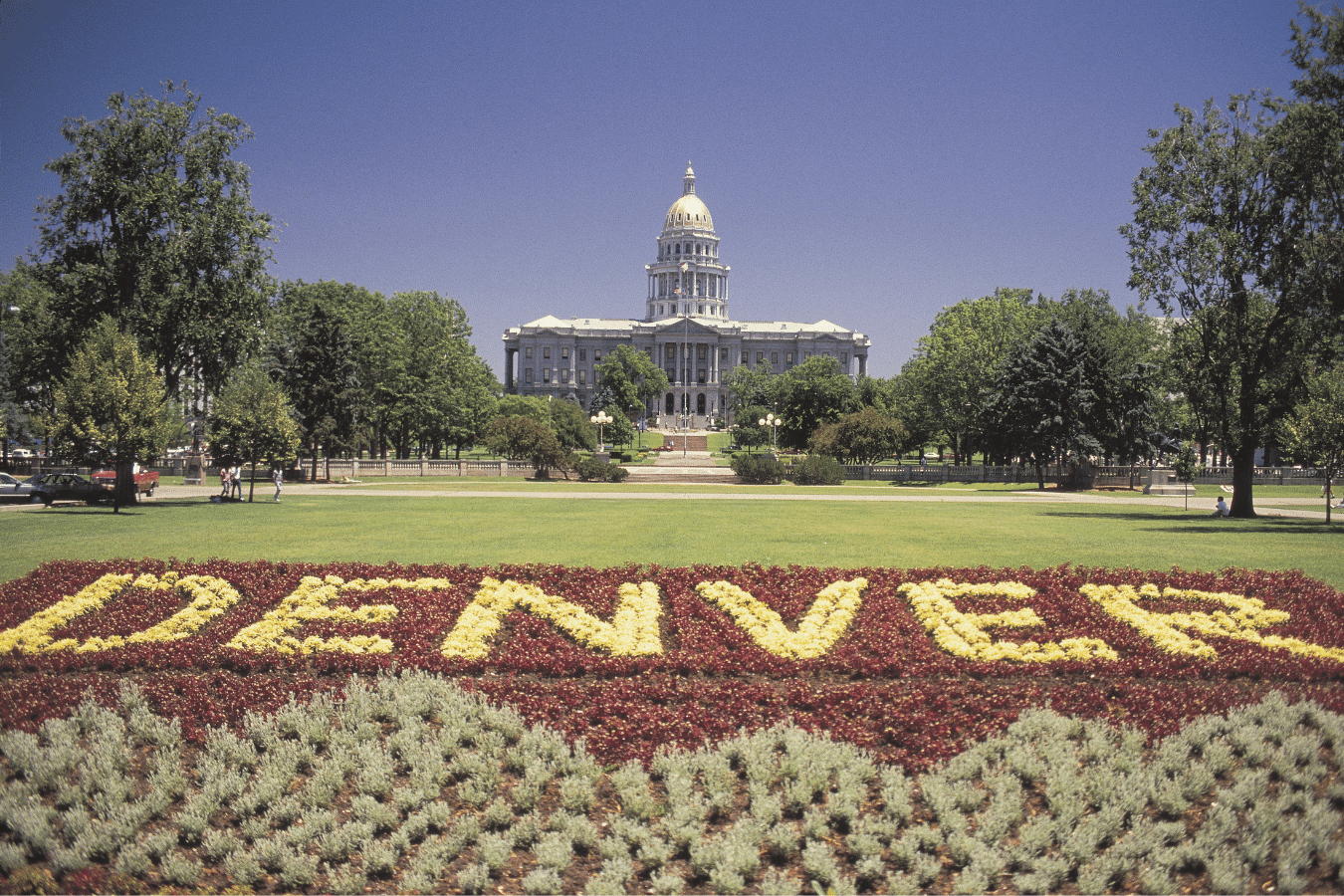 Capitol Hill
Located just south of downtown, Capitol Hill is one of the best neighborhoods for art and culture. Home to the capitol building, its major thoroughfare of Colfax Avenue is the longest street in America. Capitol Hill is one of Denver's oldest neighborhoods and a lot of the buildings are late Victorian Era mansions that were converted into apartments, condos or townhomes. It's also in a super convenient location - smack dab in the middle of Denver. This neighborhood is one of the most affordable for renting among central Denver neighborhoods. The average cost of rent for an apartment in Capitol Hill is about $1,519 a month. If you're buying a home, the houses have beautiful architecture. This neighborhood is also super walkable to loads of restaurants, coffee shops, bars, and stores as well as various attractions. One downside to Capitol Hill is the parking, which can be a nightmare to find a spot on the street. It's Colorado's most densely-populated neighborhood so there are always a lot of people around and things to do and see.
Local Favorites:
Denver Art Museum: One of the largest art museums between the West Coast and Chicago. It's known for its collection of American Indian Art, as well as The Petrie Institute of Western American Art.
Governors Park: City park with grassy areas, public art, a playground, and a path for biking, walking, or jogging.
Ivy on 7th: Delicious spot for breakfast, lunch, and brunch with two patios and a full bar.
Lower Highland (LoHi)
Lower Highland, also known as LoHi, is a recent addition to Denver's neighborhoods. This is definitely one of the most expensive neighborhoods but a great place to be if you can afford it. LoHi is located just across the I-95 footbridge from the lower downtown area and has a more traditional neighborhood feel. It has plenty of single-family units and some of the best restaurants in Denver. The average cost to rent an apartment in this area is about $2,156 per month. The homes and streets are beautiful but will cost you a pretty penny. LoHi's restaurants, shops, and businesses are on the cutting edge so you won't miss out on the fun, unique businesses. LoHi is super convenient to downtown Denver with amazing views of the city skyline. It's a lively neighborhood to live in but quieter at night than it would be living in downtown Denver.
Local Favorites:
Linger: It used to be an old mortuary; Now, it's a lively restaurant with a rooftop lounge with delicious tapas.
Little Man: Denver's favorite local ice cream shop. It's named after the founder's father who was small in stature but big in heart and making a difference in the world was his legacy.
Avanti Food and Beverage food collective: Food hall with seven different restaurants with sushi, pizza, arepas, and much more, plus a rooftop bar.
River North Art District (RiNo)
This industrial neighborhood is located just north of Lower Downtown and Five Points. It's the neighborhood you might call the most "hipster" with all of the restaurants, coffee shops, and apartments situated in old warehouses and factories. The one thing that sets RiNo apart from other neighborhoods is its love for art. It's a vibrant neighborhood with huge street murals that define its character. It bills itself as the destination "where art is made" and you can find various art galleries and studios located all around it. RiNo is one of the trendiest areas in Denver and a hotspot for nightlife, which could be a good or a bad thing depending on what you're looking for. RiNo also has an awesome dining and drinking scene so you'll find amazing restaurants and bars scattered throughout. However, it can be a bit loud on the weekend since party goers like to come here at night. The average cost to rent an apartment in this neighborhood is about $1,727. It's most perfect for students, nightlife lovers, and East Coast transplants. You'll most likely need a car to get around this area. It is walkable in some places but the highway and rail track barriers make it harder to walk to other areas.
Local Favorites:
The Source: An old warehouse turned hotel and food hall with a rooftop terrace & a pool. The former 1880s brick foundry building has a vibrant collection of food vendors and retail stores.
Lekker Coffee: A mother-daughter team opened this coffee shop in Denver. They donate some proceeds to protecting the rhino population in South Africa.
Larimer Square: An iconic & lively gathering place. You can find live music, restaurants, and bars to explore.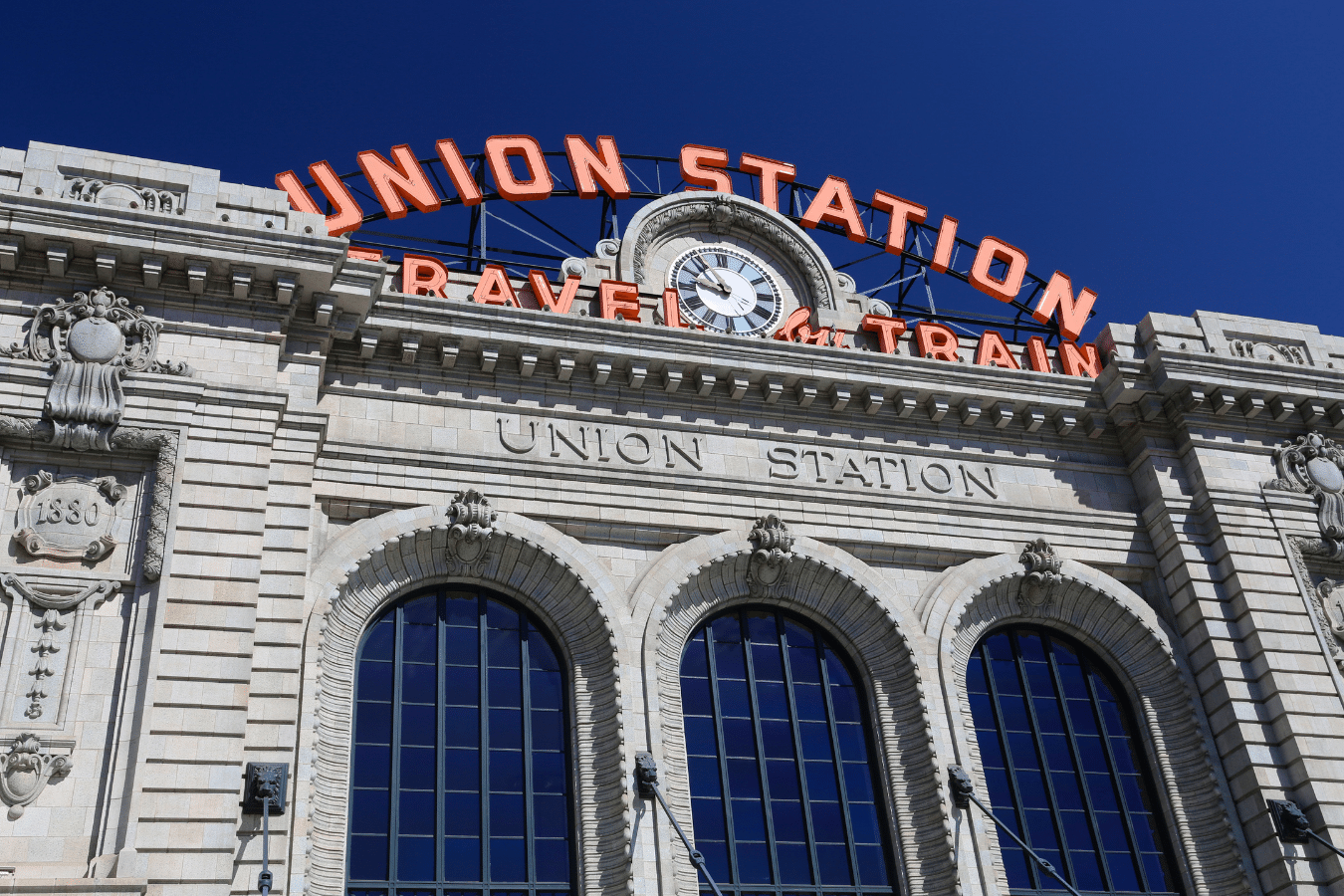 Downtown/LoDo
If you're looking for a big city feel, living in downtown Denver is the perfect place for you. You'll be in the heart of the city with bustling streets, lots of pedestrians, and plenty of high-rise buildings. It's outlined by North Broadway, Park Ave West, Speer Boulevard, Colfax Avenue, and the South Platte River. Lower Downtown or LoDo is hip and happening and this area has some of the best things to do in Denver. You'll find plenty of modern apartment and condo buildings but you'll also pay for it because it's a prime location. If you're living downtown, you can expect to pay about $2,145-$2,200 in rent or about $480,000 for a home. LoDo is the place to go to experience Denver's best bars, restaurants, nightlife, and attractions. Denver is a city of breweries and Downtown/LoDo has a high concentration of them. It's an ideal spot for people who don't want to drive everywhere and have an active social life. It's definitely a better location for young professionals than families because it's a louder area and is also lacking in good schools.
Local Favorites:
Union Station: A transportation hub that opened in the 1800s and operates as a train and bus station but also houses restaurants, shops, and bars.
Coors Field: Check out a Rockies game located in the heart of LoDo! The 76-acre baseball field stands at 20th & Blake streets.
Commons Park: Urban park offering running paths, a riverfront trail, benches & shady spots to relax.
Five Points
This vibrant neighborhood borders Lower Downtown on its west side around North Broadway/Park Avenue. The neighborhoods of RiNo, Ballpark, and Curtis Park are often included in the Five Points area. It was one of Denver's first suburbs and has remained a popular one ever since. Housing is affordable and public transportation is easy in Five Points and there are tons of breweries! The southern part of Five Points has more of a traditional neighborhood feel with more trees and older homes available to rent. If you live closer to Larimer street, you'll have more of a city feel with its new apartments, art galleries, tattoo shops, and other businesses.
Local Favorites:
Our Mutual Friend Brewing: Brewed beers served on draft at a modern, hip building with walls covered in art, a store & a patio.
May's Five Points Jazz Festival: An annual festival that celebrates the history of the Five Points neighborhood. Five Points used to be home to several jazz clubs which hosted many legends such as Miles Davis and Thelonious Monk.
Great Divide Brewing Co: Small, lively joint offering taste of their own brews, growlers as well as good food truck options if you get hungry.
Baker ("South Broadway")
Located catty-corner to Washington Park and Lincoln Park, this Mile High city neighborhood is close to food, nightlife, and action on South Broadway. It offers a great community with a mix of mostly smaller families and young professionals. Everything is just a walk away if you live in Baker! You can find big-box retail or locally-owned shops close by. It's also just a couple of miles away from Cherry Creek Mall and several parks. Baker has a unique vibe with mostly charming, smaller, single-family homes. The neighborhood has a large collection of Queen Anne Middle-Class homes with classic architecture. Baker has some of the trendiest shops and dining in all of Denver! It's a popular spot for Denver residents and tourists alike. The average sales price on a home in Baker is $603,266. Baker has a lot to offer so parking can sometimes be tricky. The heavy parking traffic can overflow from retail areas into surrounding neighborhood streets. If you're looking for good food, If you're looking for something to do in Baker, there is plenty; the Mayan Theatre and Blue Bonnet restaurant are local landmarks.
Local Favorites:
Cherry Creek Mall: Premier shopping location with more than 160 shops
Washington Park: A neighborhood and green space close by that offers sports facilities, flower gardens, and trails for cycling and jogging. It also has a boathouse that overlooks Smith Lake which is popular with kayakers and anglers.
Cherry Creek Trail & Bike Path: Picturesque 40-mile route that begins in downtown Denver and connects suburban and rural Arapahoe & Douglas counties.
Sunnyside
The Sunnyside neighborhood offers plenty of spacious single-family homes, large yards, and friendly neighbors. It's a 1.5-square-mile area bordered by Federal Boulevard to the west, I-70 to the north, Inca street to the east, and West 38th Avenue to the south. This neighborhood used to have high crime rates and low property values but has turned around because of the popular neighborhoods that have exploded nearby. Property values in Sunnyside are quite high, as in most of Denver. Median home prices stand around $504,450 and rent costs about $2,337 a month on average. Sunnyside also has a few large parks nearby including Columbus Park, Ciancio Park, Chaffee Park, and the Pecos & 46th Park which are all family-friendly green spaces. Sunnyside has spent the last decade in a revival as new buildings are replaced or renovated and new coffee shops, restaurants, and breweries pop up nearby.
Local Favorites:
Common Grounds Coffeehouse: Their original roastery in Sunnyside has been transformed into a full-service coffee shop with a patio. You can even see them sorting beans right from the dining room.
Sunny's: The popular breakfast spot in the neighborhood which offers all your morning food favorites as well as healthy, gluten-free options.
Diebolt Brewing Company: Family-run microbrewery that creates French-inspired craft beers with a taproom and food truck vendors.
The Bottom Line on the Best Neighborhoods in Denver
Denver, Colorado has a neighborhood for everyone whether you're a single, young professional, or a family of five. If you're still debating whether you want to make the move to Denver, make sure to read the 10 Things To Know Before Moving To Denver, Colorado. It may help you narrow down the pros and cons of the city! Before you move, make sure to reach out to one of our helpful Realty Specialists to guide you through the moving and home-buying process. Contact us today to find your dream location in Denver!

Find your new home
Search real estate and homes for sale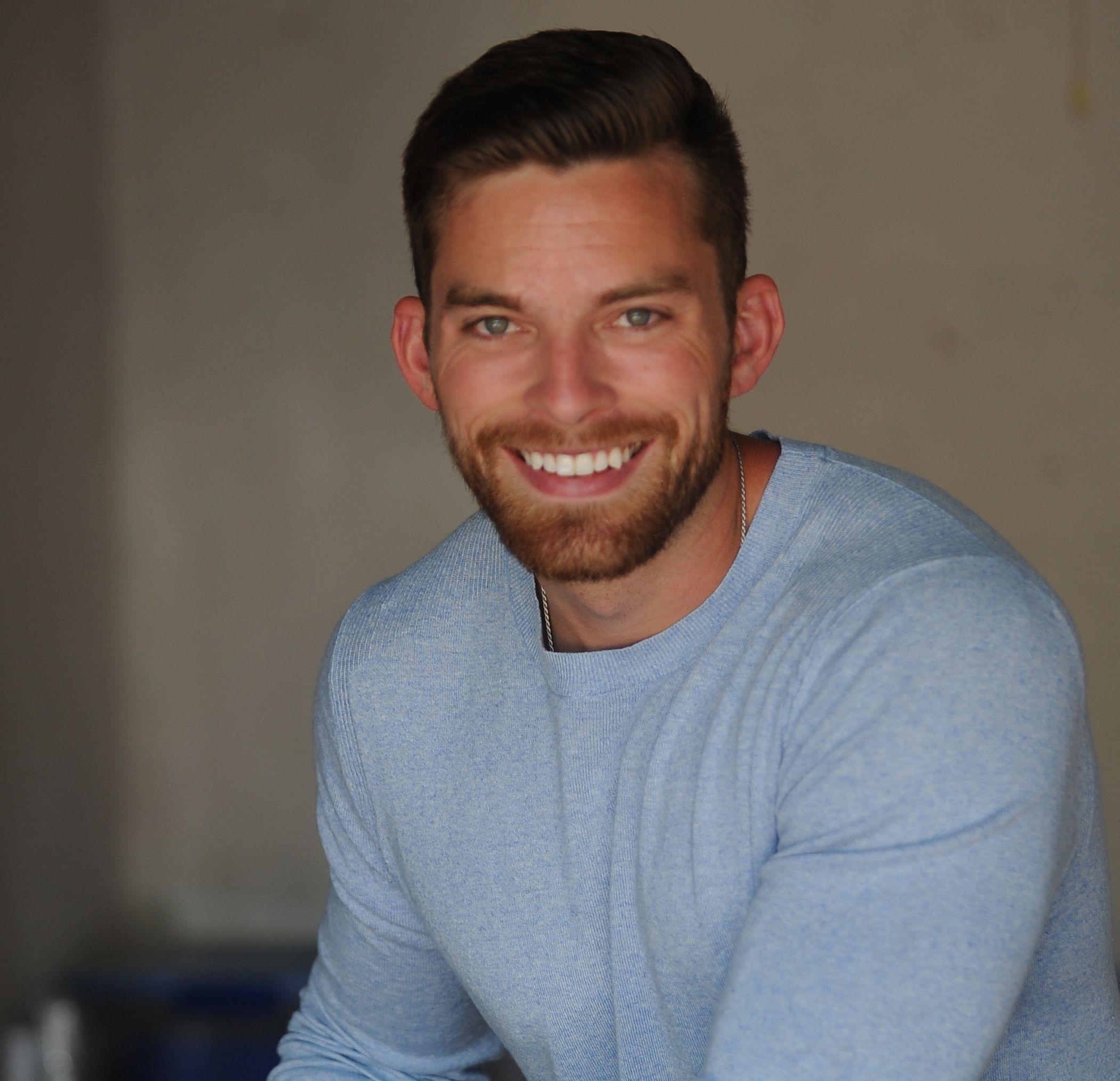 Ryan Fitzgerald
Hi there! My name is Ryan Fitzgerald, and I am a REALTOR®. My goal is to help you learn more about real estate through our Real Estate Blog! Hopefully, you enjoyed the above blog post and it found a way to provide help or value to you. When you're ready to buy or sell a home of your own let us know here. Please feel free to join the conversation by dropping us a comment below.