8 Best Neighborhoods in Chesapeake VA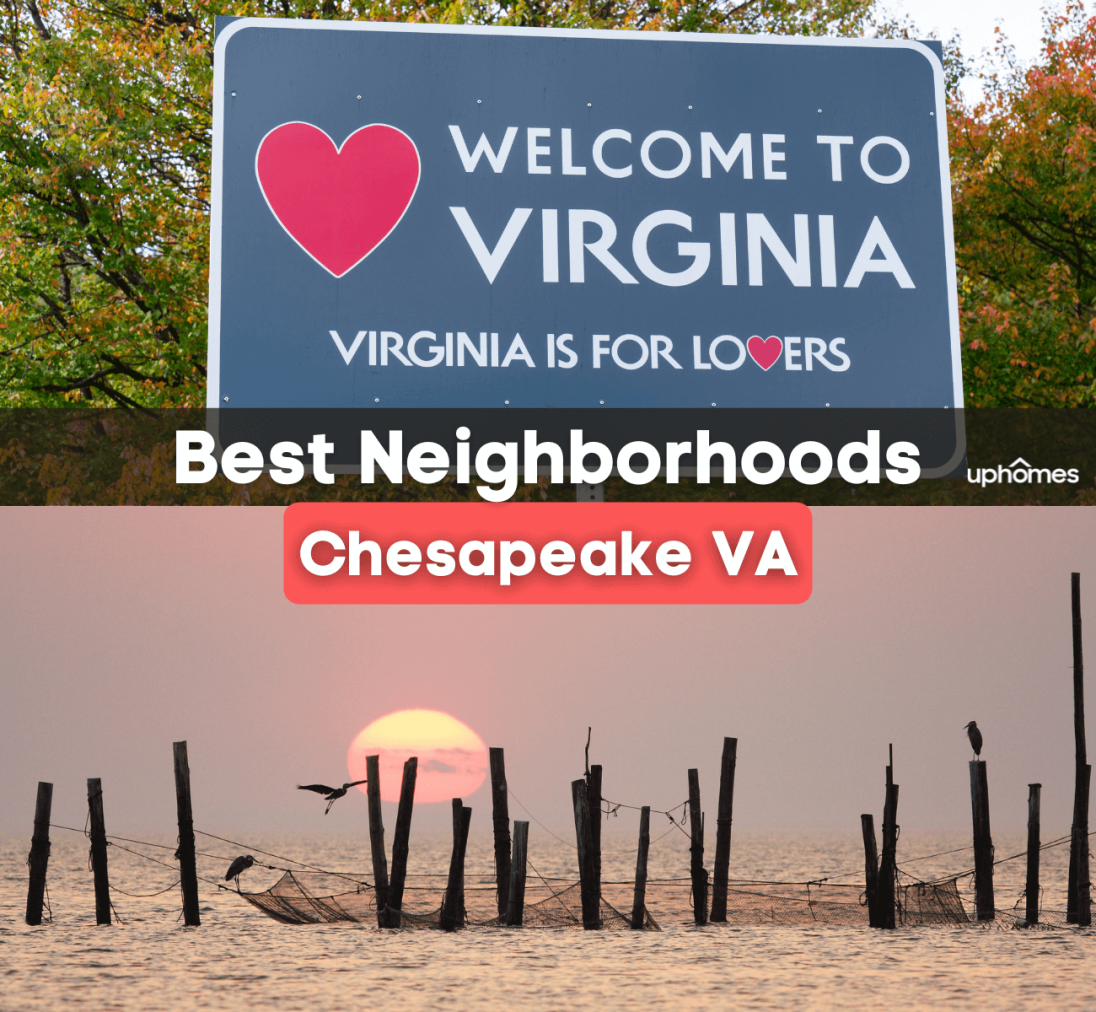 Best Places to Live in Chesapeake
Searching for the best neighborhoods in Chesapeake, VA? You've come to the right place! Here are the 8 best places to live in Chesapeake!
Chesapeake, Virginia has a lot to offer for people looking for both urban and rural ways of life. It's part of the reason so many people are moving to Chesapeake, VA. As Virginia's second-largest city in land area, about 233,000 people call Chesapeake home. The city is also in an ideal location that attracts a variety of different types of businesses. Its proximity to other cities and its easy access to different types of transportation has helped it appeal to businesses such as Hewlett-Packard, General Dynamics, QVC, HSBC Financial, and many more.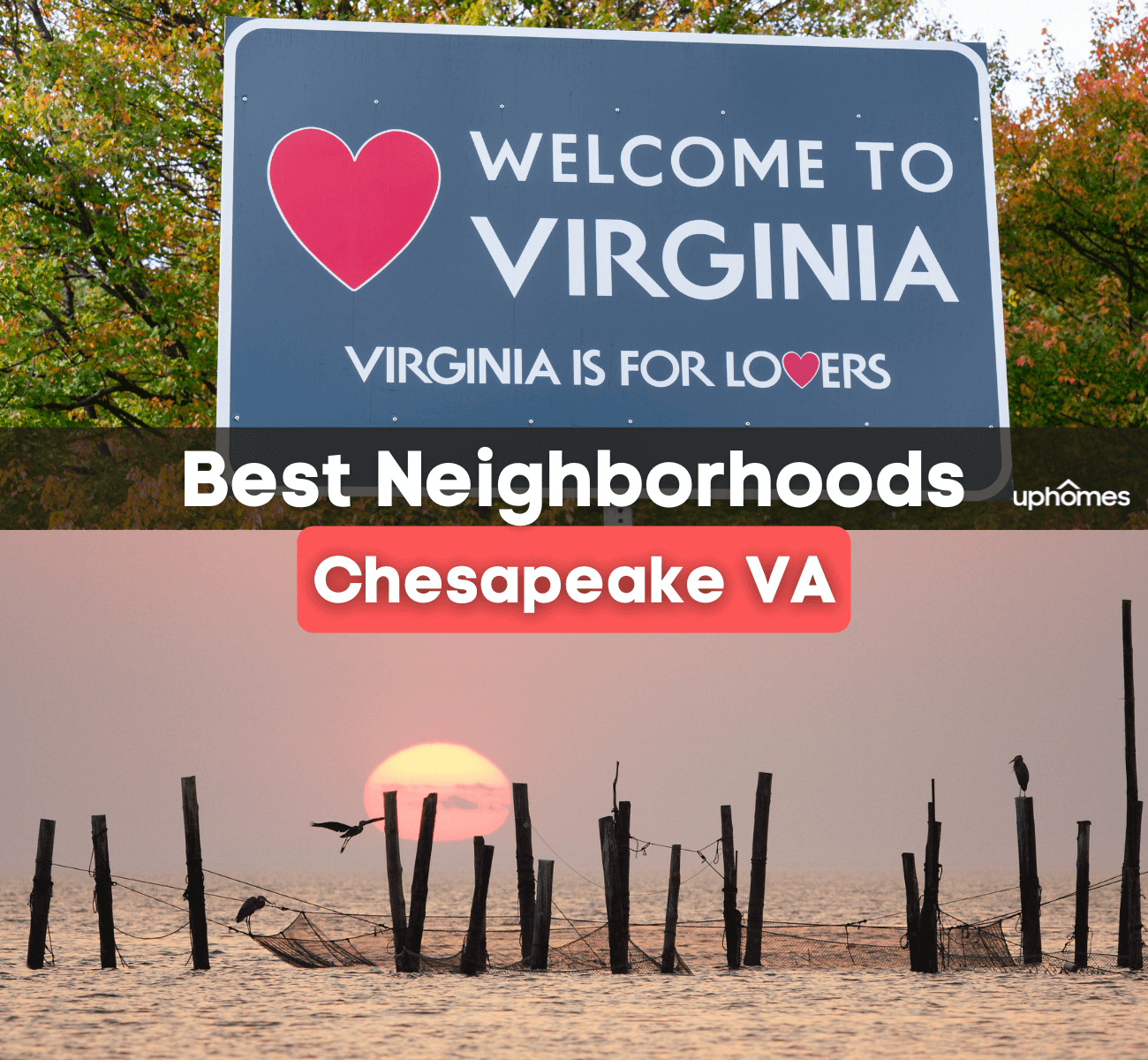 If you're planning to move to Chesapeake, deciding where to live is essential to make sure you pick the right location that will make you the happiest. Each neighborhood is different! Smaller neighborhoods have more obvious benefits like less crime, lower cost of living and slower pace of life - but some are better than others. So, we've created this guide to explain which ones are the best to give you a headstart in your search for a home. When moving to Virginia you've likely come across a lot of great places to live!
With the help of this neighborhood guide, you can read about the most popular neighborhoods in Chesapeake and why people love them. Read on to see the 8 best Neighborhoods in Chesapeake.
Great Bridge
This neighborhood had modest beginnings and has now grown into a well-established area within the city that offers a variety of shopping areas nearby. It started with a small-town feel until the late 1980s and 1990's when it expanded significantly. The homes in this neighborhood are medium to large in size. Most of the houses have at least three bedrooms and some have up to four or five bedrooms or more. Most of the residents in this neighborhood own their homes. A Majority of the houses were built between 1970 and 1999 but there are several that were also built between 1940 and 1969. Both median incomes and median home prices are higher in Great Bridge than in the city as a whole. The median income in this neighborhood is about $94,407 and the average home price is around $300,000. This neighborhood also offers Great Bridge Middle and High School making it one of the best neighborhoods in Chesapeake.
Local Favorites:
Central Library of Chesapeake: Well-kept library to get books or take your kids to read. Great selection andconvenienceto residents in this neighborhood.
Hickory Trading Company: Shop while you snack. You can sit down for a cup of coffee or sandwich and look at jewelry and crafts by local artists while you eat.
The Butcher's Son Chop House: A Spin on the classic steakhouse with the American South. Enjoy locally harvested meats and specialty dishes like Steak and Cake or the seafood mac and Cheese.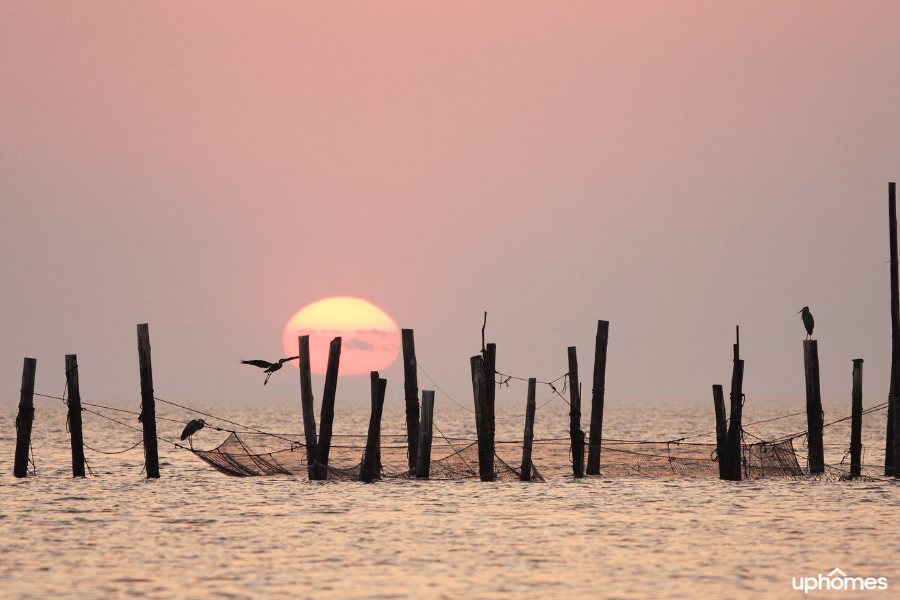 Hickory
Hickory is located in the southern portion of the city and is next to the North Carolina-Virginia border. Most of this area is either rural farmland or wealthy, suburban neighborhoods. It's also the location of Naval Support Activity (NAS) Northwest Annex. Hickory offers new neighborhoods with homes that are built on large lots but it also has other areas that offer bungalows, ranchers, and other options. The real estate in Hickory is made up of median-sized (three or four bedroom) to large (four, five, or more bedroom) homes and townhomes. The median real estate prices are about $330,920. Most of the properties offer large backyards, gourmet kitchens, and garages. Hickory is one of the best places to live in Chesapeake.
Local Favorites:
Hickory High School: Highly-ranked school in the area which many residents love.
McGrath's Burger Shack: Small place with amazing food; It's a go-to spot for Hickory locals.
The Bypass 168: Restaurant & bar with awesome nachos, great hamburgers, homemade desserts with a local vibe.
Greenbrier
One of the best things about Greenbrier is its convenient location in the middle of Chesapeake's main commercial area. It's central to all of Southside Hampton Roads and located minutes away from Norfolk, Portsmouth, Virginia Beach, and Suffolk. This area is also located nearby plenty of retail, big-box stores, and shopping options. Greenbrier East is closer to many of these options than Greenbrier West, which is a tiny bit more rural. This neighborhood is located about 30 minutes from the beach but only about 12-15 minutes to downtown Norfolk. In terms of the real estate, you'll see a lot of brick, ranch-style homes here as well as 2-story houses and moderate-sized lots. It's a place where a lot of families love to live! Due to the location and demand, the prices can be competitive. The single-family homes and Indian brick ranches start at low to mid $200,000's and go up from there. The larger, two-story, 2,500 square foot homes will cost you a bit more. There are also some condos and townhomes that start in the mid to upper $100,000's. There are also several good public schools and one private school in this area.
Local Favorites:
Greenbrier Mall: Shopping is one of the biggest attractions in Greenbrier. You'll find H&M, Victoria's Secret, Finish Line, Bath & Body Works, White Barn Candle Co., and plenty of other shops at this mall.
Central Meats: Local full-service butcher that offers delicious fresh meats, sausage & seafood.
Chesapeake City Park: Amazing park with open fields, picnic tables, basketball courts, and free concerts. There is also a YMCA across the street.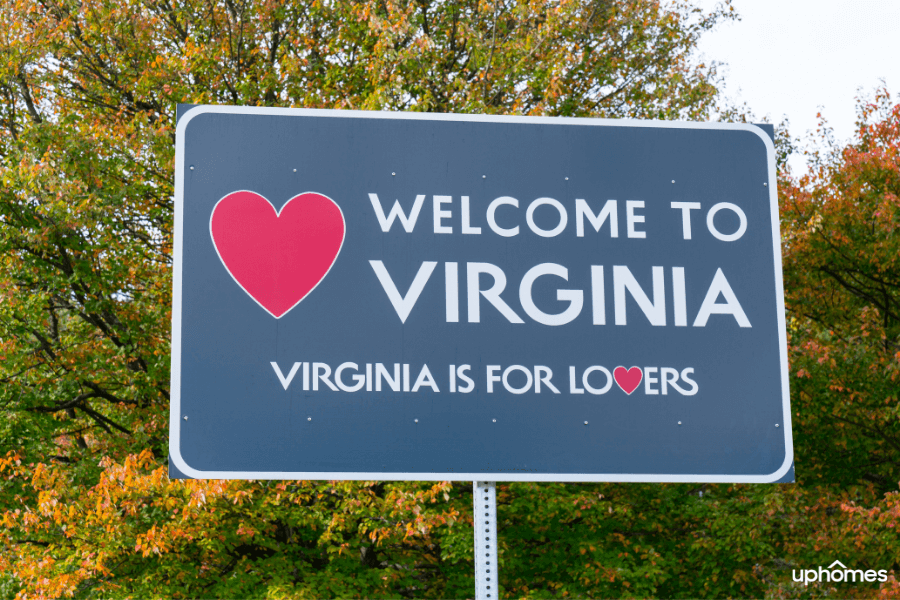 Deep Creek
Deep Creek is a community that lies right along the edge of the Great Dismal Swamp so it's a great place to live if you love nature. The neighborhood is in close proximity to Elizabeth River and Norfolk Naval Shipyard in nearby Portsmouth which offers affordable apartments nearby for both civilians and military personnel. Two popular ones include Deep Creek North and Marina Point. Deep Creek and Grassfield is a more expensive area withan average home price of around $368,677. The average rental price is about $2,409. However, you can also find some cheaper options in certain areas of Deep Creek. Most of the homes were built between 1970 and 1999. You can also find some newer builds that were constructed between 2000 and today. There can be some flooding issues in some areas of Deep Creek along the Elizabeth River. School districts are not as highly ranked in this neighborhood.
Local Favorites:
Deep Creek Park: Check out the one-mile trail that loops around and intersects with the Dismal Swamp Canal Trail as well as four ball fields and four multi-purpose fields. It also includes a 1.5-acre dog park.
Great Dismal Swamp: Large swamp with plenty of lands to explore and unique species to discover.
Still Worldly Eclectic Tapas: Subterranean cafe and bar that has a speakeasy feel with small plates and excellent cocktails.
Western Branch
This area is in high demand due to its highly-ranked schools and it also is convenient to many of the major interstates. It's mostly made up of schools and neighborhoods but you can also find some shopping. In Western Branch, you can get a lot of bang for your buck in terms of the housing options. There are some beautiful houses near the water or on the water that you can find in the $400,000's on average. It has a suburban feel with more access to the Northern sections of town. There are popular schools in this area including Western Branch high school, Western Branch middle school, and several others making it one of the best places to live in Chesapeake.
Local Favorites:
Chesapeake Square Mall: Great mall for shopping that offers 67 stores.
Norfolk Naval Shipyard: Located nearby Western Branch, it's one of the largest shipyards in the world specializing in repairing, overhauling, and modernizing ships and submarines.
Surf Rider: Seafood restaurant at a laid-back venue with a full-bar and nautical-themed decor.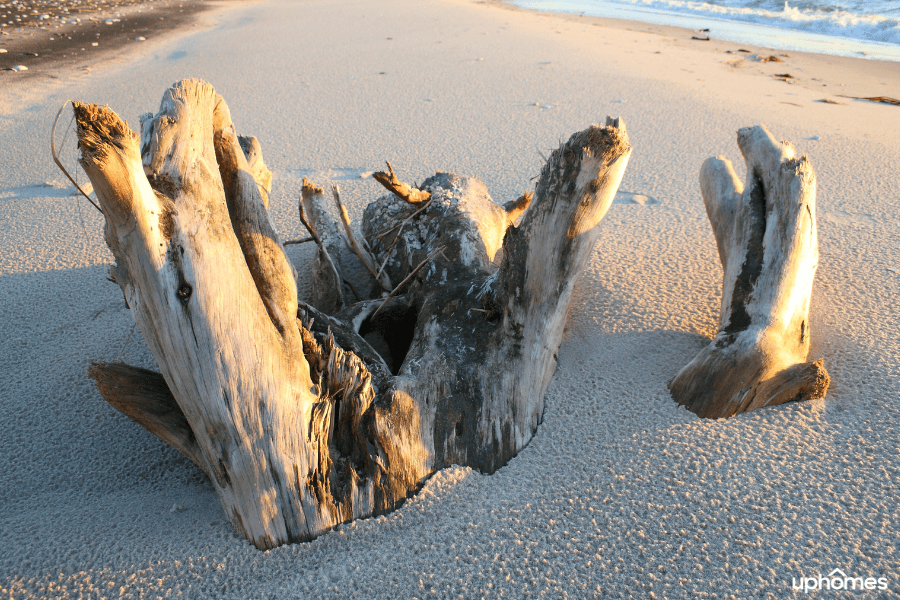 South Norfolk
South Norfolk used to be an independent city but now it is part of the city of Chesapeake. It's located along the Elizabeth River's Southern Branch and offers a lot of amenities. A recent revitalization project is infusing this area with a development called The Gateway at SoNo which will include loft apartments, condos, office and retail space. Many of the houses here are older-style and you can find some Victorian and colonial styles in this neighborhood. The homes are also closer together. Looking for a home in this neighborhood can be very hit-and-miss. However, you can find houses in the $100,000's-$400,000's. The newer-constructed homes will definitely be on the higher side in South Norfolk.
Local Favorites:
Jordan Bridge: Standing nearly 170 feet above water it's the highest bridge in the area. It also has an eight-foot-wide pedestrian walkway that allows you to walk or bike from Chesapeake into Portsmouth. It's free of charge and open to the public.
China Ocean Restaurant: The favorite Chinese take-out spot in the area. Great choice if you don't want to cook!
Riverwalk
This neighborhood features both condos and homes for sale. It's a very desirable place to live because of the distinctive home designs and gorgeous greenery. Homes for sale start in the upper $200,000's and go up from there. Condos for sale start at about $100,000. Many of the beautiful properties in this neighborhood are located on the river or have waterfront views. It's a small, quiet neighborhood that offers family-friendly amenities and convenient access to shopping and restaurants. A short drive will take you to medical centers, shopping centers, waterways and country clubs. Another great thing about this neighborhood is that residents have access to the excellent schools of Greenbrier West without the high prices that come from buying a property in that neighborhood. The crime rate is lower than much of the city which helps keep residents and families here safe.
Local Favorites:
Rivercrest Community Center: Includes a gym, fitness room, club room, kitchen, playground, and picnic area. The community center also has a swimming pool and is home to the Riverwalk Swim Team.
Storybook Bakery: Bakes cakes, cupcakes, cookies, and other desserts. This specialty baking shop only makes sweeps by appointment.
Creative World Daycare and Early Childhood Development Center: Offers services for infants, toddlers, two and three-year-olds, preschoolers, and school-aged children who need care before or after school hours.
Norfolk Highlands
Residents in Norfolk Highlands say it's the most underrated area in all of Chesapeake because you can get a three to four-bedroom house in the $300,000's. It's also located in an accessible, convenient location. The drawback of this location is that the school district is not highly ranked. Some properties are also located near the water. This area of Chesapeake is made up of a mixture of owners and renters. Most of the homes were built between 1940 and 1969 but several houses were also built between 1970 and 1999. Interestingly enough, Norfolk Highlands is also known for its diversity! It has more people with Armenian ancestry living in it than nearly any neighborhood in America. About 0.7% of the neighborhood's residents have Armenian ancestry.
Local Favorites:
Indian River Park: 91-acre forested park with a playground, sports field, and miles of mountain biking and hiking trails
AMF Indian River Lanes: Fun-filled bowling alley with food and party events.
Bill's Hot Dogs: Come get your local hot dogs and hamburgers seasoned to perfection!
The Bottom Line
Chesapeake is an excellent place to live in Virginia and many families and young professionals choose to live in this city. Living in Chesapeake has a suburban feel, which can be nice for families who want more space or for people looking to move out of packed cities. The median age in the city is about 37 years old. Chesapeake is a place for people who love the outdoors since it has plenty of options for adventuring. You will often find people outside playing football, soccer, baseball, basketball, and golf.
By reading this guide, our team hopes that you are able to find your dream home located in the best neighborhoods of Chesapeake. WhileChesapeake didn't make our 5 best places to live in Virginia list it's definitely in our top 10! Before you move, make sure to reach out to one of our helpful Realty Specialists to guide you through the moving and home-buying process. Contact us today to find your dream home in Chesapeake!

Find your new home
Search real estate and homes for sale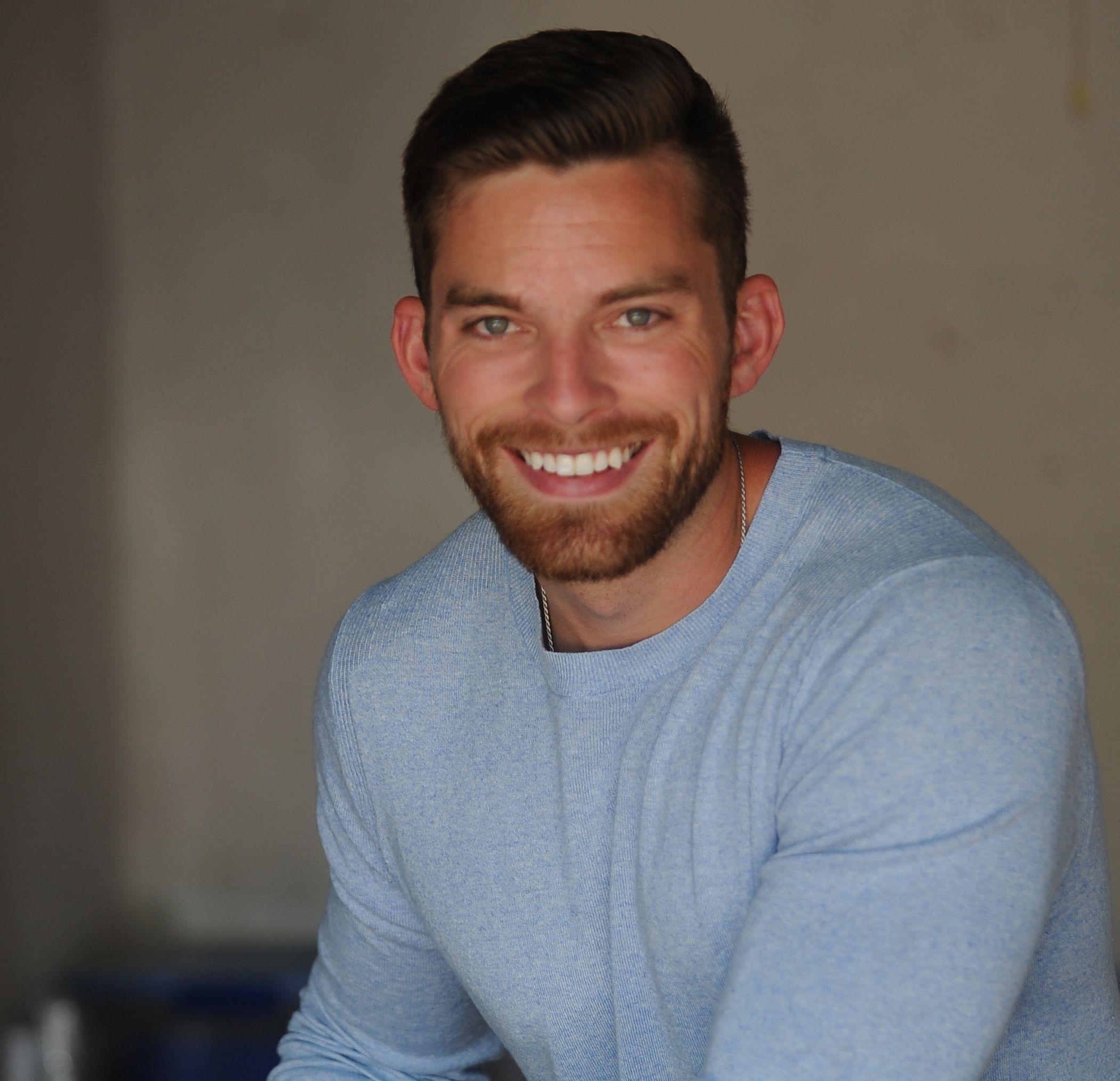 Ryan Fitzgerald
Hi there! My name is Ryan Fitzgerald, and I am a REALTOR®. My goal is to help you learn more about real estate through our Real Estate Blog! Hopefully, you enjoyed the above blog post and it found a way to provide help or value to you. When you're ready to buy or sell a home of your own let us know here. Please feel free to join the conversation by dropping us a comment below.