7 Best Neighborhoods to Live in Alexandria, VA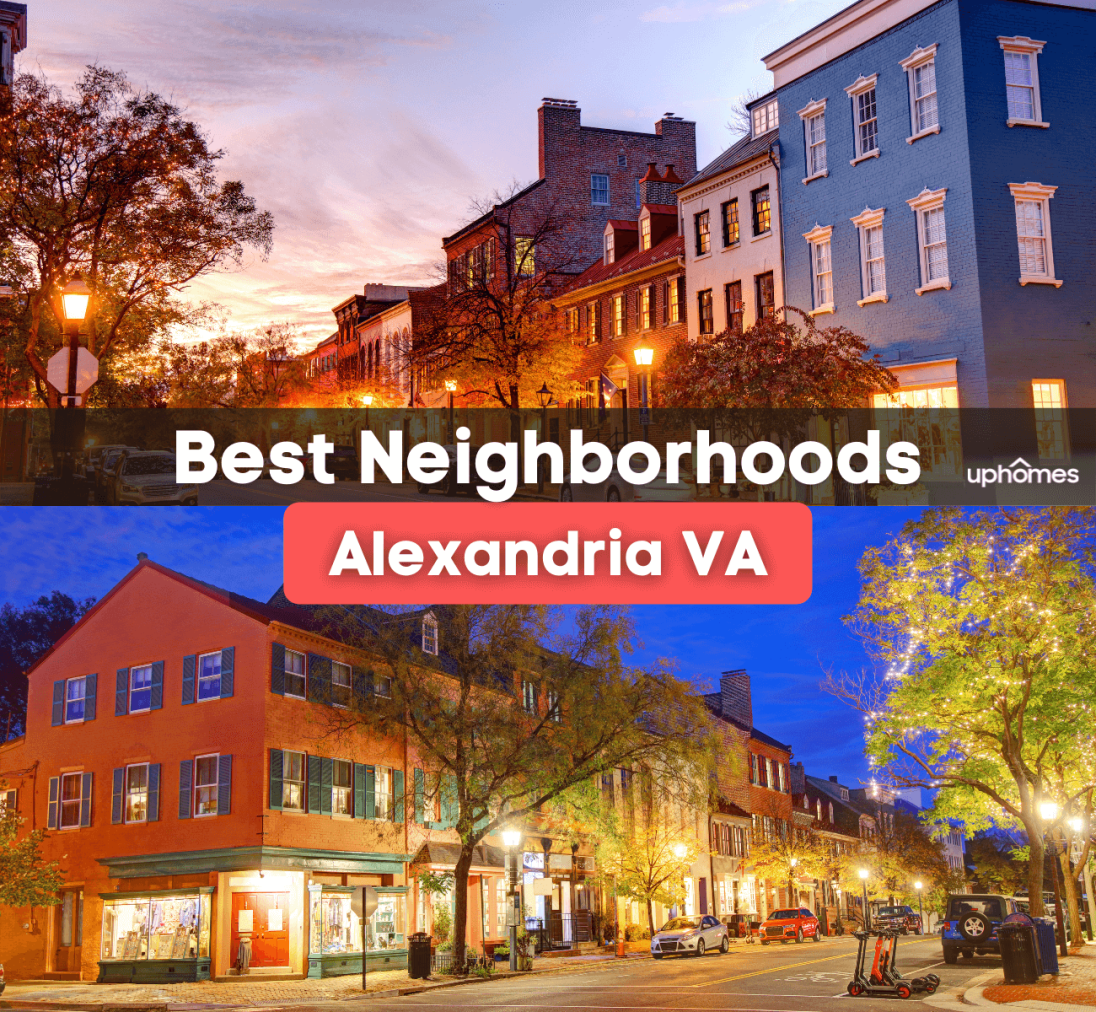 Best Places to Live in Alexandria, VA
Searching for the best neighborhoods in Alexandria, VA? We have you covered with 7 of the best places to live in Alexandria, Virginia!
Considering Alexandria, Virginia as your next home? Located along the Potomac River, Alexandria is a beautiful mix of diverse neighborhoods, historical landmarks, waterfront dining, and much more. It was voted one of the South's Best Cities 2020 by Southern Living and it made it into the 5 Best Places to Live in Virginia. Located just seven miles away from the nation's capital, you won't be bored in Alexandria! As a popular tourism community, it has plenty of boutiques, restaurants, theaters, 70 parks, and a Northern Virginia Community College campus. If you're moving to Virginia, Alexandria is a place that should be high on your list of places to call home!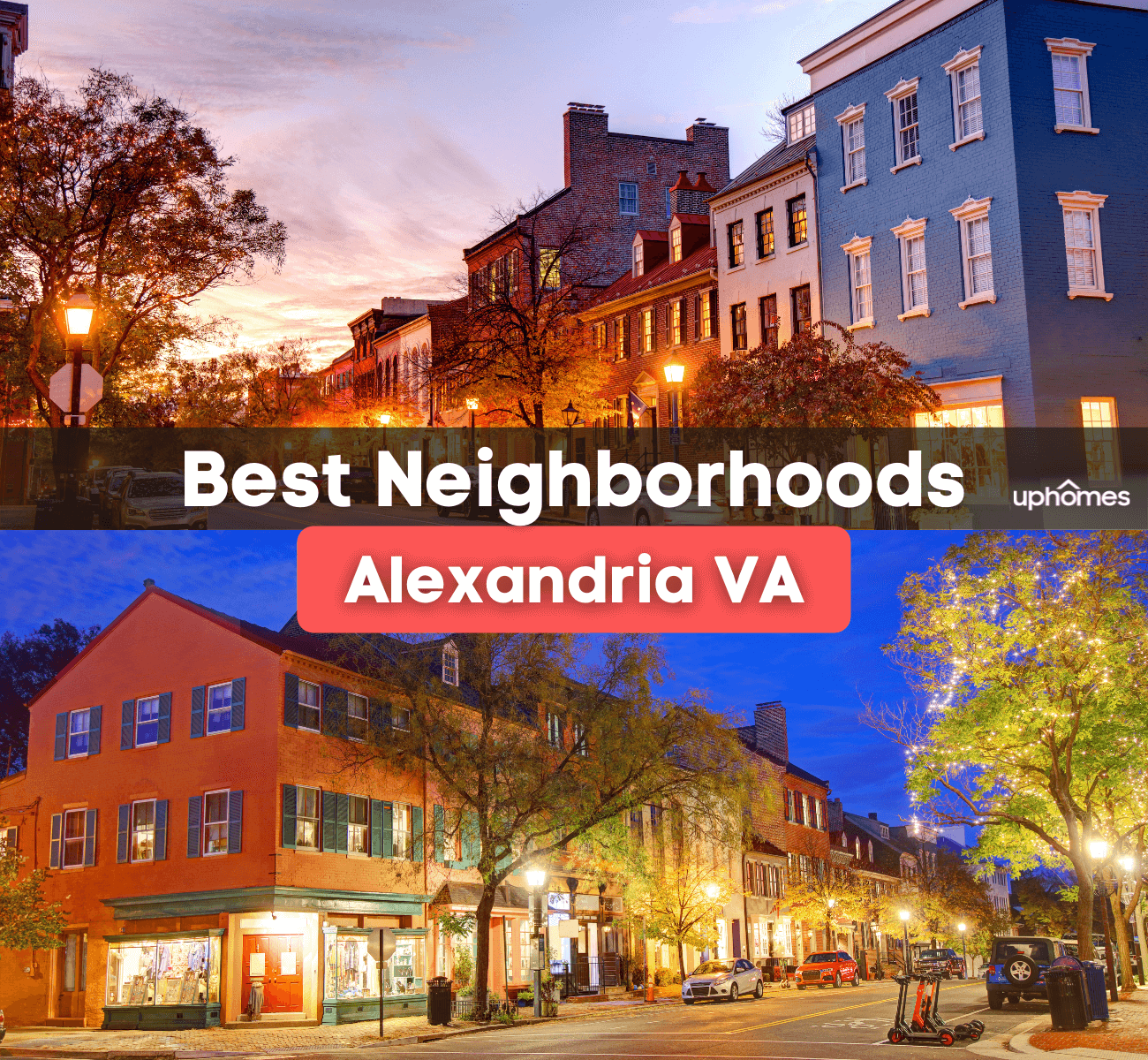 Alexandria is a walkable, smaller D.C. rich with history, but not quite as bustling as the nation's capital. With a population of just 150,000, its historic character and intimate feel make it perfect for families. One of the most attractive things about Alexandria is your ability to go car-free, especially in the historic Old Town. You will easily find bike-sharing and car-sharing options in the city. There's even a water taxi at the riverfront! The efficient D.C. Metro system also has multiple stops throughout the city so commuting is easy if you work in or outside Alexandria. If you're planning to move to Alexandria, make sure you read the 17 Things to Know Before Moving to Alexandria.
It's important to consider many elements of what you're looking for when choosing the best neighborhood for you and your family and you've come to the right place. We've done the research for you and found some of the best neighborhoods you could choose in Alexandria. Keep reading to see why these are the 7 top neighborhoods.
Old Town/Old Town North
Old Town is Alexandria's well-known downtown historic district located on the Potomac River waterfront. It's in the heart of the city, just minutes from Washington, D.C. The King Street Mile is a famous street in Old Town where you will find numerous restaurants, boutiques, museums, and much more to explore along the way. Living in Old Town, you will never be bored. However, if you're considering a move to Old Town, you could choose Old Town North which is a safer, more affordable option for residents. The streets are lined with coffee shops, restaurants, and renovated row houses. On average, a home in Old Town North would cost about $545,000 with rent costing about $940 per month on average. Living in Old Town North also allows for boating opportunities in the Potomac River and there are large parks nearby. D.C. is about a 20-minute drive from Old Town North but you may not feel like you ever have to leave!
Local Favorites:
Oronoco Bay Park: Located along the Potomac River, you can watch the scenic sunset from a bench, go for a walk or run along the scenic trails or attend festivals and special events.
Crooked Beat Records: A record & music store that sells mostly rare, new & used vinyl records and other collectibles.
Extra Perks: A cafe known for its British breakfast, coffee & treats. You can also check out the full American menu as well.
West End
As one of Alexandria's fastest-growing neighborhoods, you can't beat living in the West End. It's located only eight miles from downtown Washington, D.C. with easy access to I-395. This is another neighborhood where you will never be bored. The West End is in the heart of the city's craft beer scene as well as some amazing dining including some of the best Tai, Vietnamese and Ethiopian food around. Affordable condos and apartments frequently bring young professionals to this area. It's also home to Seminary Hill, a neighborhood full of residential, single-family homes. However, it is definitely a more upscale place to live so buying a home here will not be cheap. West End is rich with history and full of fun things to do. If you enjoy music, Northern Virginia's only professional orchestra, Alexandria Symphony Orchestra, calls the West End home.
Local Favorites:
Port City Brewing Company: Award-winning craft brewery that offers high-quality, hand-crafted beers and offers tours and tastings to the public.
Fort Ward Museum & Historic Site: The best preserved of the network of Union forts & batteries known as the Civil War Defenses of Washington. Fort Ward Museum interprets the site's history & life of Civil War soldiers and civilians through exhibits, tours, lectures & much more.
West End Farmers Market: A pet-friendly market where you can find seasonal fruit & vegetables harvested from local farms as well as fresh coffee, homemade lemonade, and a lot more!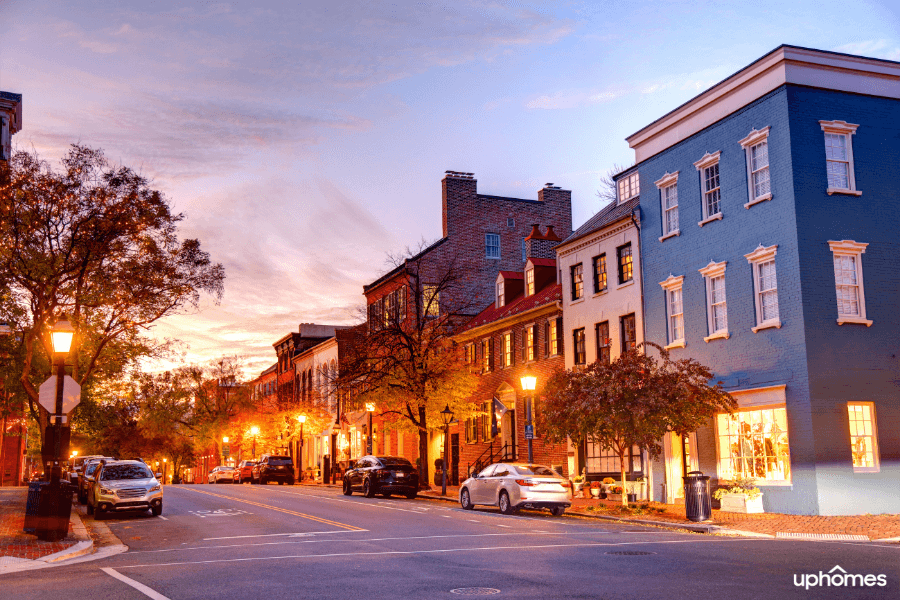 Carlyle & Eisenhower
Known as the "economic engine of Alexandria," Carlyle and the Eisenhower valley is a neighborhood that celebrates the spirit of science and innovation. There are dozens of businesses choosing this area as well! The National Science Foundation is located in Carlyle along with the U.S Patent and Trademark Office, which houses the National Inventors Hall of Fame museum. If you choose to live in Eisenhower, you might want to consider Eisenhower East. This fun, fast-paced neighborhood is small but filled with trendy apartments and condors. It's also extremely walkable and you can step out of your door right into the busy metro. Eisenhower East is bordered by major highways like US-1 and I-495 with easy access to the Eisenhower Ave Metrorail so getting around this neighborhood and elsewhere is easy. The average home price in Eisenhower East is about $433,850 with a monthly rent of around $2,024 per month.
Local Favorites:
The Carlyle Club: See a live concert, comedy show, or have a 1960's-style dinner at this elegant, art deco-style venue.
Sweet Fire Donna's: Famous barbecue joint with a relaxed atmosphere and a full bar. You might want to order the Texas Trinity or the Sweet Fire Sampler!
Dog Run Park: Help your pup release some energy and get some exercise at this fenced-in play area.
Potomac West
Residents who live in Potomac West say some of their favorite things about this areaare that it's walkable to restaurants & grocery stores, dog-friendly, streets are well-lit and it is a safe place to live. There are plenty of unique shops, farmers' markets, and restaurants along Mt Vernon Avenue in Potomac West and it is home to some of the best events and festivals in the city. It's perfect for singles, young professionals, families, and retirees. The average price of a home in Potomac West is about $574,700 and the median monthly rent is around $1,645. Potomac West is also a great place for families because it's home to top schools like George Washington Middle School and Mount Vernon Community School. The neighborhood is extremely walkable and you can use Capital Bikeshare or the DASH bus system to get around.
Local Favorites:
Art on the Avenue: A popular festival in Alexandria that attracts more than 50,000 visitors, 350+ art vendors with five stages of local music.
The Birchmere: Alexandria's best concert venue that features rock, blues, bluegrass, country, folk, jazz, R&B, and much more.
Four Mile Run Park: Go for a bike ride or a walk on the winding trail. This public area also offers fishing, athletic fields, a basketball court, and a playground.
Del Ray
Del Ray is a neighborhood with a laid-back vibe that attracts people who love to walk to mom-and-pop businesses along Mount Vernon Avenue. This area is booming with shops, restaurants, and delicious weekend brunch spots. Residents enjoy numerous playgrounds and dog parks in the area as well. Del Ray is also known for its "Wellness District" which is a large community of holistic health businesses. There are plenty of activities and things to do in Del Ray. This area hosts popular "First Thursday" events which include a new festival every first Thursday of the month. Del Ray is popping with personality and color which makes it unique from the rest of the city. You can walk by dozens of murals that portray Alexandria's history and character. Del Ray's real estate consists of mostly single-family homes with prices starting in the low-to-mid $800,000's for an older three-bedroom, one or two-bathroom home that needs a little TLC. Some row houses are available in the $500,000 to $600,000 range but newer, larger, single-family homes in Del Ray can cost as high as $1.8 million.
Local Favorites:
Del Ray Farmers Market: Check out this farmers market every Saturday year-round to see the seasonal vegetables, international pastries, and fresh-baked treats.
St. Elmo's Coffee Pub: Hang out or grab some coffee at this popular coffee & breakfast spot. Located on Mount Vernon Avenue, many residents eat and drink while working remotely.
Evening Star Cafe: One of Mount Vernon Avenue's signature outdoor drinking spots. You can relax and grab a drink under the twinkling lights.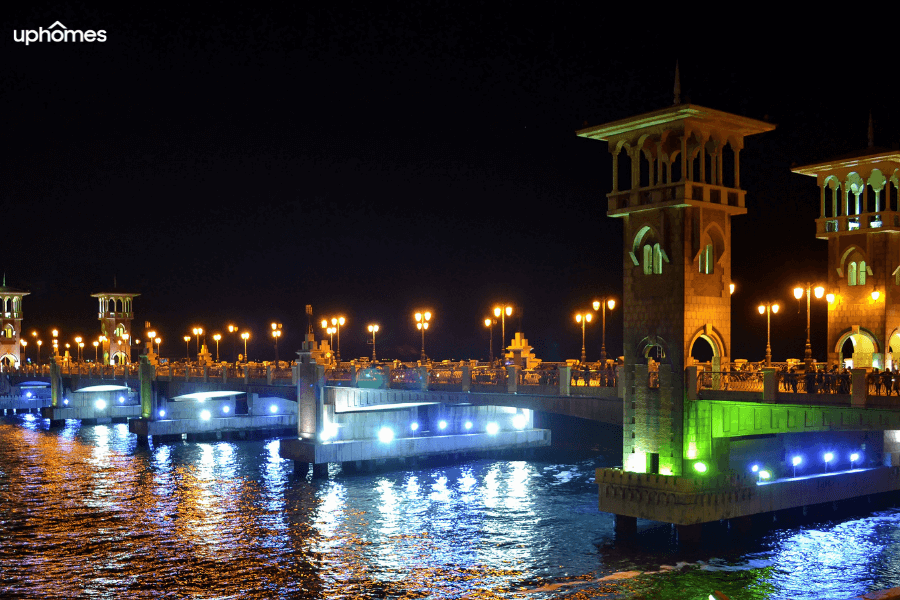 Landmark-Van Dorn
Rated one of the most affordable neighborhoods in Alexandria, this area is full of plenty of fun things to do and families love it. Located on Alexandria's western edge, the neighborhood is surrounded by dog parks, outdoor spaces, restaurants, international food markets, and stores. On average, the home prices in Landmark-Van Dorn stand around $238,656 which is way cheaper than most of the city. The average cost of rent in this neighborhood is about $1,381. Families not only love the prices in this neighborhood but also the schools! It's close to top-rated schools like Samuel W. Tucker Elementary School and Patrick Henry K-8 School. It's also easy to get just about anywhere because I-495, I-395, and VA-236 all run through or around the neighborhood.
Local Favorites:
Great Waves Waterpark: 20-acres of family fun with waterslides, pools, mini-golf, and batting cages. Perfect place to take the kids for some weekend fun!
Afghan Market: International grocery and restaurant. Find international grocery items, fresh Halal meat, and freshly-baked desserts.
Sportrock Climbing Center: 18,000+ square feet of climbing & bouldering walls with a gym, yoga studio, and lessons. You can even take a Cross-training or climbing course if you want to learn more.
Rosemont
Located West of Old Town and Del Ray, Rosemont offers a more sophisticated vibe for the residents who live there. Like much of Alexandria, homes are expensive but most of the houses in this area are renovated single-family homes. On average, a home in Rosemont is priced in the upper $800,000's to $1 million and up. It was developed in the early 1900s so a lot of the community is part of a historic district listed on the National Register of Historic Places. The neighborhood has a little more of a suburban feel than some of the others we have listed but it's still walkable to restaurants, shops, and cafes. It's located close to Mount Vernon Avenue in Del Ray and Old Town. Residents in the southern part of Rosemont can walk to the King Street Metro Station and those who live in the northern part can walk to the Braddock Road Metro station so there are plenty of options for commuting and traveling if you live in Rosemont. Another reason people love Rosemont isthat it's filled with beautiful trees that create a nice canopy over the neighborhood.
Local Favorites:
Grape + Bean: A coffee & wine bar located in the middle of the neighborhood. It's a great spot for a date or happy hour with a long list of fine wines and craft brews.
Hoffs Run Park & Greenway: Also known as "Blue Park," it features a basketball court, playground, and green spaces for some outdoor fun. Two dog parks are also nearby if you want to bring your furry friend!
The Dairy Godmother: Retro-style ice cream parlor with unusual flavors of homemade frozen custard & sorbet
The Bottom Line
Living in Alexandria, Virginia can have a lot of perks for you and your family. Its proximity to the Capitol certainly makes this a favorite Northern Virginia city for the people who choose to move here. It's a lively, historical and diverse community that offers plenty of variety.
By reading this guide, our team hopes that you are able to find your dream home in the best neighborhoods of Alexandria. Before you move to Virginia, make sure to read our guide about everything you need to know before moving to Virginia. It may be helpful to you before making the decision of where to go. Before you move, make sure to reach out to one of our helpful Realty Specialists to guide you through the moving and home-buying process. Contact us today to find your dream home in Alexandria!

Find your new home
Search real estate and homes for sale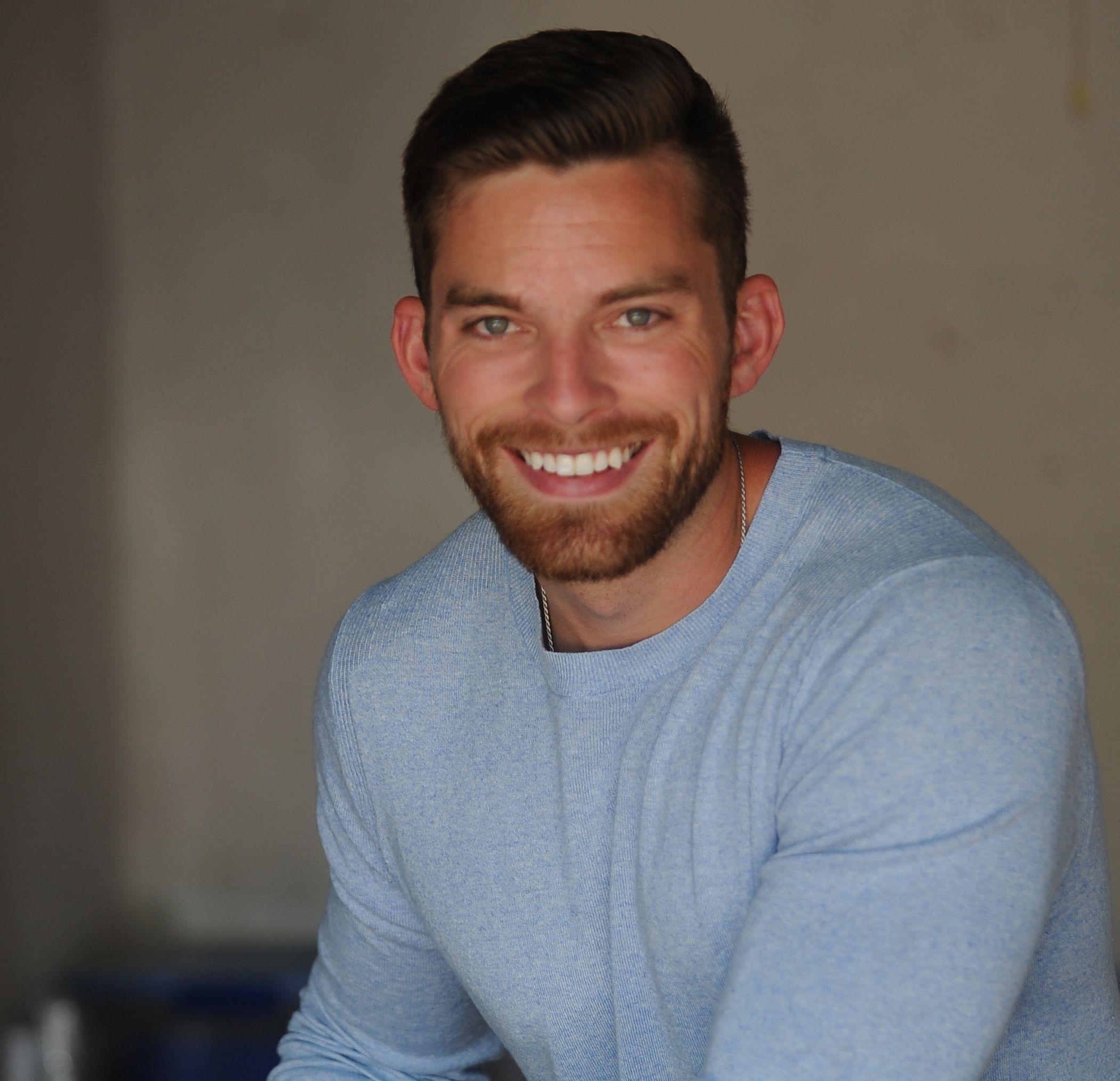 Ryan Fitzgerald
Hi there! My name is Ryan Fitzgerald, and I am a REALTOR®. My goal is to help you learn more about real estate through our Real Estate Blog! Hopefully, you enjoyed the above blog post and it found a way to provide help or value to you. When you're ready to buy or sell a home of your own let us know here. Please feel free to join the conversation by dropping us a comment below.