17 Best Things to Do in Greensboro, NC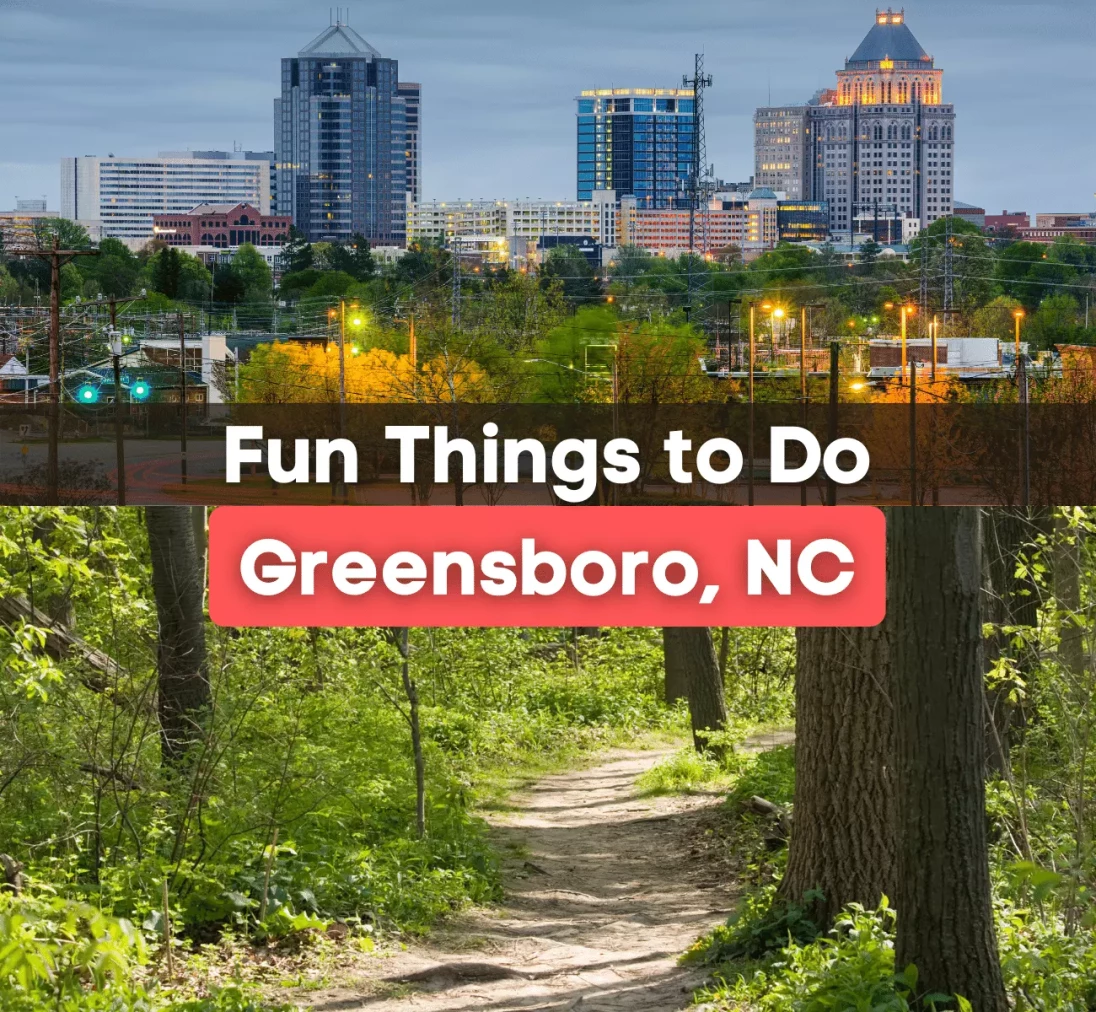 Fun and Unique Things to Do in Greensboro
Here's how to spend a day in Greensboro, NC with a ton of great things to do!
Centrally located in the heart of North Carolina lies the thriving city of Greensboro. As the third-largest city in North Carolina, Greensboro is often described as the complete package since it offers a nice mixture of historical attractions and modern-day conveniences.
Since people love living in Greensboro so much it is no surprise that everyone wants to move here. Plus, only 67 miles away from the capital city of Raleigh, Greensboro is truly found in the perfect location for some prime real estate.
Once known as a textile town that was full of mills, factories, and plenty of blue-collar work, Greensboro has since made a name for itself as a "Tournament Town" that is home to a plethora of athletic venues and sports competitions.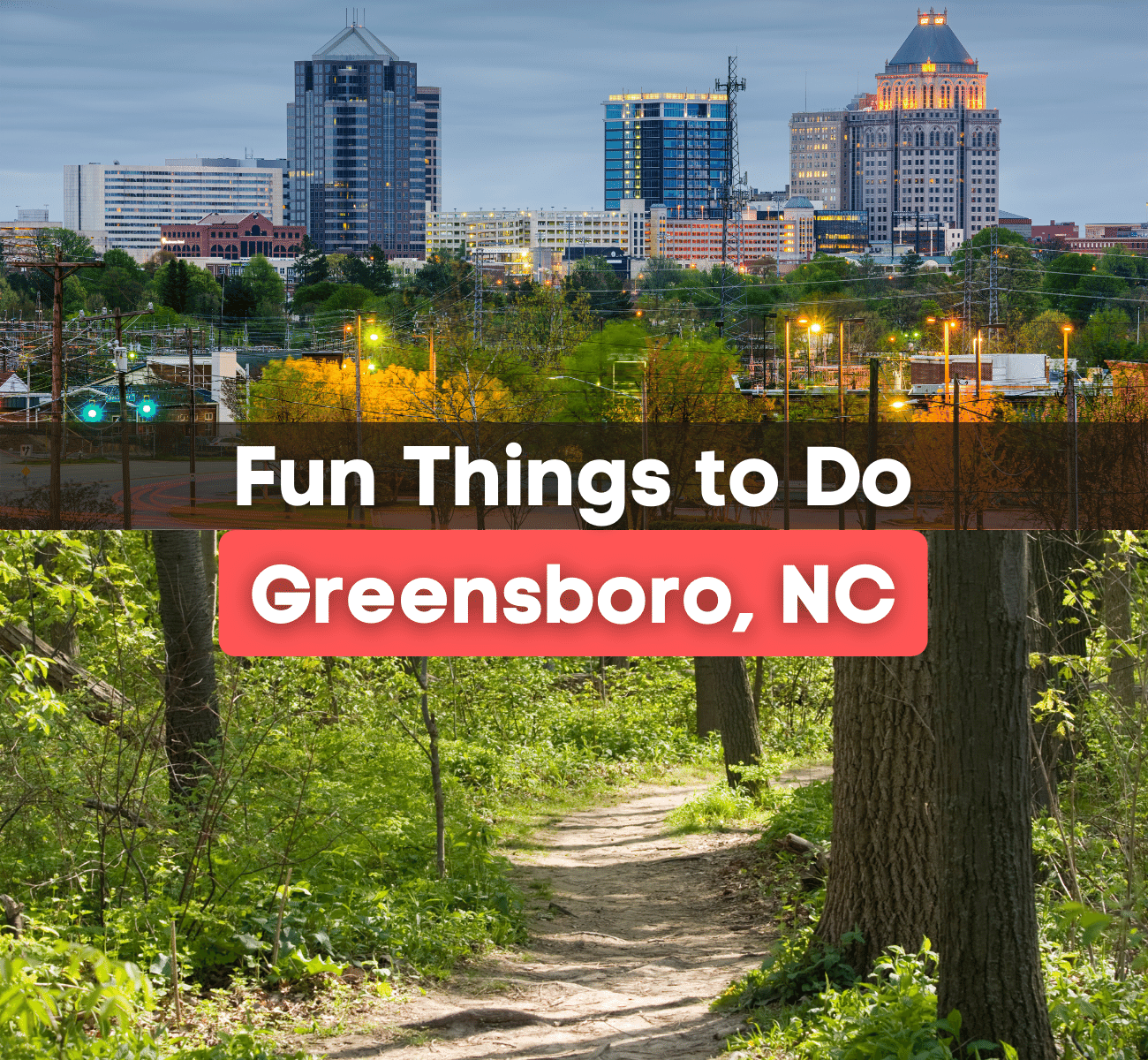 Over the years Greensboro has gone through many changes but the city's ability to adapt to growth makes it not only an interesting place to live with lots to do but a dynamic city that appeals to all age groups.
From museums and art galleries to outdoor green spaces and local events, never run out of fun things to do when living in Greensboro.
So whether you are thinking about moving to Greensboro permanently or are taking a quick weekend trip to 'The Gate City,' this guide was created to help you figure out what to do in Greensboro.
Without further ado, here is our list of the 17 Things to Do in Greensboro, NC!
Museums
International Civil Rights Center and Museum
Located in a building that was once a site of a non-violent protest during the Civil Rights Movement, the International Civil Rights Center and Museum is a very educational and moving experience.
In the year 1960, four African-American students decided to sit at a segregated lunch counter called Woolworth's and refused to leave after they were denied service.
Considered to be the birthplace of the Civil Rights Movement, this moment in history went on to inspire others across the country and college students throughout the south to participate in sit-ins to fight for social justice and against racial segregation.
This museum was then founded in 1993 and is a must-see for anyone interested in learning about Civil Rights History, particularly in Greensboro.
Weatherspoon Art Museum
The Weatherspoon Art Museum is found on the University of North Carolina at Greensboro campus and houses one of the largest collections of modern and contemporary art in the southeast.
With a focus on American art, visitors can enjoy changing exhibits throughout the year that highlight specific mediums and artists.
Since its accreditation by the American Alliance of Museums in 1995, this art museum is certainly a must-do while in Greensboro.
Plus, with free parking, free admission, 17,000 square feet of exhibition space, and six galleries it is no wonder that this art museum is so popular with families and art lovers.
Greensboro Children's Museum
Known as an awesome play space for children, parents, and teachers, the Greensboro Children's Museum features interactive exhibits and hands-on learning experiences for all ages in a safe environment.
With general admission costing $13.50 for adults and $12.50 for children, this educational museum is a must-visit for a day of fun.
Built and designed to inspire, there are a total of 20 permanent exhibits on-site and there is even a half-acre outdoor learning garden that features climbing areas and slides.
Make sure to check the Greensboro Children's Museum calendar for information about upcoming events and daily experiences.
Greensboro History Museum
Located at 130 Summit Avenue in Greensboro, the Greensboro History Museum is found at the site of a former confederate army hospital and Presbyterian church that was built in 1892.
Great for kids and families, this history museum is super enjoyable and informative about the history of Greensboro and the surrounding areas.
This Roman revival architectural style building is not only a historical structure that houses multiple exhibits and artifacts, but it is also the location of the Greensboro Public Library and the Greensboro Art Center.
Admission into this history museum is free but donations are encouraged.
Blandwood Museum
The Blandwood Museum is a historic mansion that was originally built in 1795. This historic four-room Italianate farmhouse was once the home of North Carolina governor John Motley Morehead.
Now a National Historic Landmark, this home and museum are open to the public for tours to learn more about the history of the home and what life was like as a high-income family in the 1800s.
The grounds of this museum can also be rented out for weddings and special events.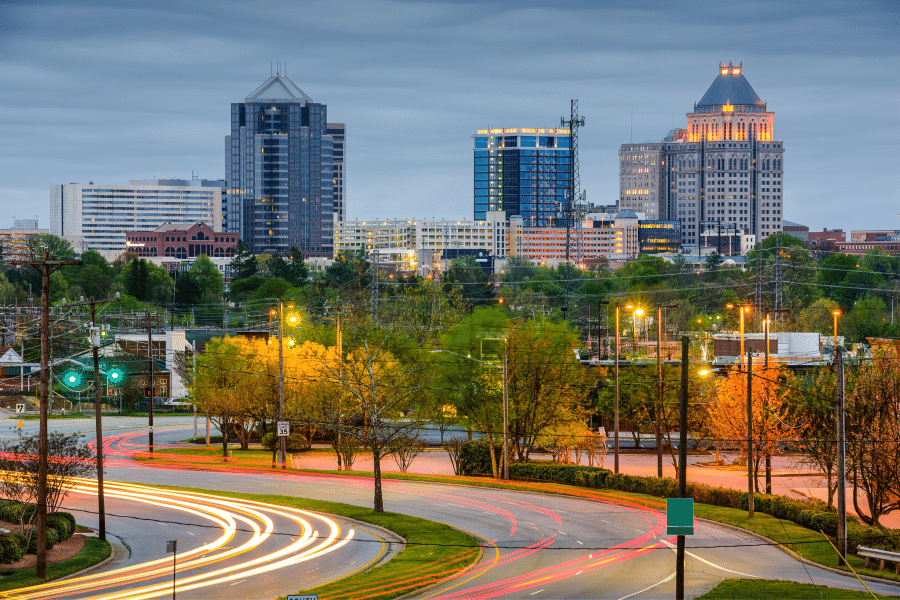 Art and Culture
Ambleside Gallery
Featuring work from more than 30 painters, sculptors, and photographers from all over the world, the Ambleside Gallery off of Elm Street in Greensboro is a great place to honor amazing artistic talent.
Not only is the location of this gallery in Downtown Greensboro very convenient, but this small and intimate gallery is ideal for collectors, interior designers, and aspiring artists to admire the impressive and inspiring collections of exceptional artists.
Greensboro Science Center
If you are looking for something fun to do with the whole family then look no further than the Greensboro Science Center.
Established in 1957, this museum and the zoological park are home to many diverse animals. There is even an aquarium that features penguins, otters, and sharks.
Great for field trips and educational summer camps, make sure to plan out your trip before you visit by buying tickets in advance.
With an immersive 3D theatre and a treetop adventure park also found on the grounds, there is always something cool to do and new to discover.
Greensboro Cultural Center
The Greensboro Cultural Center is found in Downtown Greensboro and is the official home of multiple arts programs, events, non-profit arts organizations, and public art galleries.
Including multiple dance studios, pottery studios, event spaces, and a restaurant, this multi-purpose center has up to four floors of entertainment spaces that are dedicated solely to the Greensboro community and art scene.
Carolina Theatre of Greensboro
Known as the only remaining historic theatre in North Carolina, the Carolina Theatre of Greensboro was first opened on Halloween night in 1927.
This 2,200-seat theatre was originally billed as "The Showplace of the Carolinas" and is now the go-to place in town to enjoy independent movies, dance performances, and concerts.
Welcoming hundreds of visitors each year, this theatre is a timeless representation of the importance of performing arts in Greensboro that will continue to inspire residents for years to come.
Parks and Outdoor Activities
Guilford Courthouse National Military Park
If you want to spend time outdoors while also learning about Greensboro's history then make sure to head to the Guilford Courthouse National Military Park.
Commemorating the Battle of Guilford Courthouse which was fought on March 15th, 1781, this key battle played a major role in the American victory in the Revolutionary War.
Adorned with up to 29 monuments and markers that are spread throughout the park, visitors can learn about the history of the Revolutionary War while also walking around outside or enjoying a nice picnic in one of the open fields.
Haw River State Park
This 1,385-acre park in Guilford County is recognized as one of the newest state parks in North Carolina.
Made up of picturesque terrain and miles of lush forest, the Haw River State Park is home to an environmental education center and opportunities to go hiking, camping or picnicking.
A perfect park for day visitors or for groups who want to explore the beauty of the Haw River, this is a nice area to breathe in the fresh air and get out in the sun just outside of the bustling city of Greensboro.
Greensboro Arboretum
Located in Lindley Park, the Greensboro Arboretum is a charming 17-acre garden that is open to the public all year round.
Featuring special display gardens, unique architectural features, up to 14 plant collections, and a variety of flowers and plants, this arboretum is a beautiful place to relax during the day.
Plus, with free admission and dog-friendly spaces, there is no better place in Greensboro to be immersed in nature.
Greensboro Botanical Gardens
Open daily and with free admission, the Greensboro Botanical Gardens is a picturesque natural wetland area that is located off of Hobbs Road in Greensboro.
Known for its well-maintained grounds, convenient parking, big pond, two waterfalls, and multiple spaces to sit and enjoy the scenery, this botanical garden is a popular place in the spring and summer when the weather is warm.
With its pretty flowers, plants, wildlife, and walking trails this botanical garden are perfect for relaxing in nature or walking with your dog.
LaBauer Park at Greensboro Downtown Parks
This 4-acre city park in Downtown Greensboro was first opened in 2016 and remains one of the most popular parks in Greensboro today for its pristine open green spaces, play areas, sensory spaces, spray grounds, and frequent community events.
Costing the city $10 million to build, LaBauer Park is used as a frequent gathering space for Greensboro residents and visitors of the city.
With a focus on healthy living and maintaining an active lifestyle, this park is easily accessible all throughout the year and is used often for club meetups and performances.
Not only is there a dog park available on the grounds, but multiple vendors and food kiosks occupy the space.
Make sure to check the LaBauer Park website often for information on upcoming events which can include storytime in the park, dance workshops, and exercise classes. Many if not all of Greensboro park events are free to the public.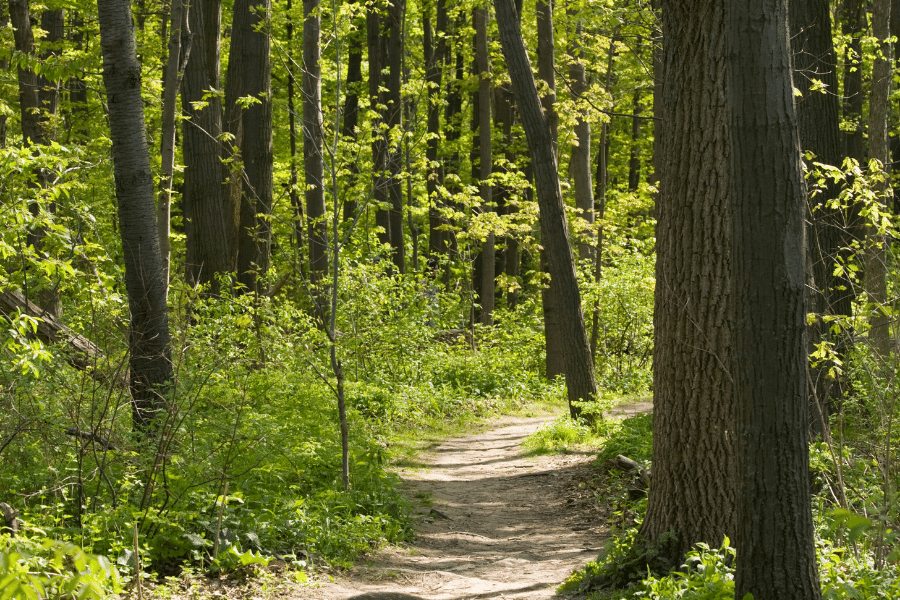 Wild Turkey Mountain Biking Trail
Do you love all things mountain biking? Then the Wild Turkey Moutain Biking Trail in Greensboro is the place for you.
Though this trail might be just under five miles, this fun track features two decent-sized climbs, downhills, curves, bridges, and numerous obstacles along the way that will appeal to any adventurous adrenaline junky.
Considered to be a moderately challenging route for mountain bikers, make sure to bring plenty of water especially if you decide to conquer this trail during the hot summer months.
Events
Greensboro Coliseum
Known as the largest indoor arena in the United States, the Greensboro Coliseum was first opened in 1959 and is a popular entertainment and sports complex in the city.
With the ability to seat up to 23,500 people, this coliseum is used frequently for large concerts and events. Some of the most famous artists that have performed here include Prince, The Rolling Stones, and Elvis Presley.
Regularly hosting college basketball championships and NCAA games here, the Greensboro Coliseum is a multi-faceted arena that has also been used for UFC matches and boxing events.
As of 2021, all attendees must be fully vaccinated in order to attend an event or show.
Greensboro Grasshoppers
If you are a sports fan and love all things baseball then you need to attend a Greensboro Grasshoppers game.
This Minor League Baseball team plays in Greensboro between the months of May and September in the First National Bank Field.
As part of the South Atlantic League in the Southern Division, the Greensboro Grasshoppers are an affiliate team of the Pittsburgh Pirates.
If you are in town during the team's season, make sure to grab a ticket for an afternoon of family fun and delicious ballgame food. Plus, single-game tickets are only about $8 per person which makes this an affordable cool thing to do in Greensboro.
Things to Do in Greensboro, NC - The Bottom Line
Since Greensboro is a city of art, culture, sports, and outdoor activities, it is almost impossible to explore all that Greensboro has to offer within one day or weekend.
Whether you are looking for something cool to do with the whole family or are on the lookout for your next date idea, Greensboro is home to multiple famous attractions that can not be found anywhere else.
The Queen City of Charlotte is nearby for your Carolina Panthers, Charlotte Hornets, and other events! Plus, only 200 miles from the beach in Wilmington and 244 miles from the mountains of North Carolina in Asheville, the residents of Greensboro certainly know how to have a good time.
No matter if you are visiting Greensboro for the first time or are on the hunt for the best neighborhoods in Greensboro, hopefully, this guide will help you decide what to do when you arrive.
Contact us today to get in touch with one of our amazing Realty Specialists to discuss your move to Greensboro, NC!

Find your new home
Search real estate and homes for sale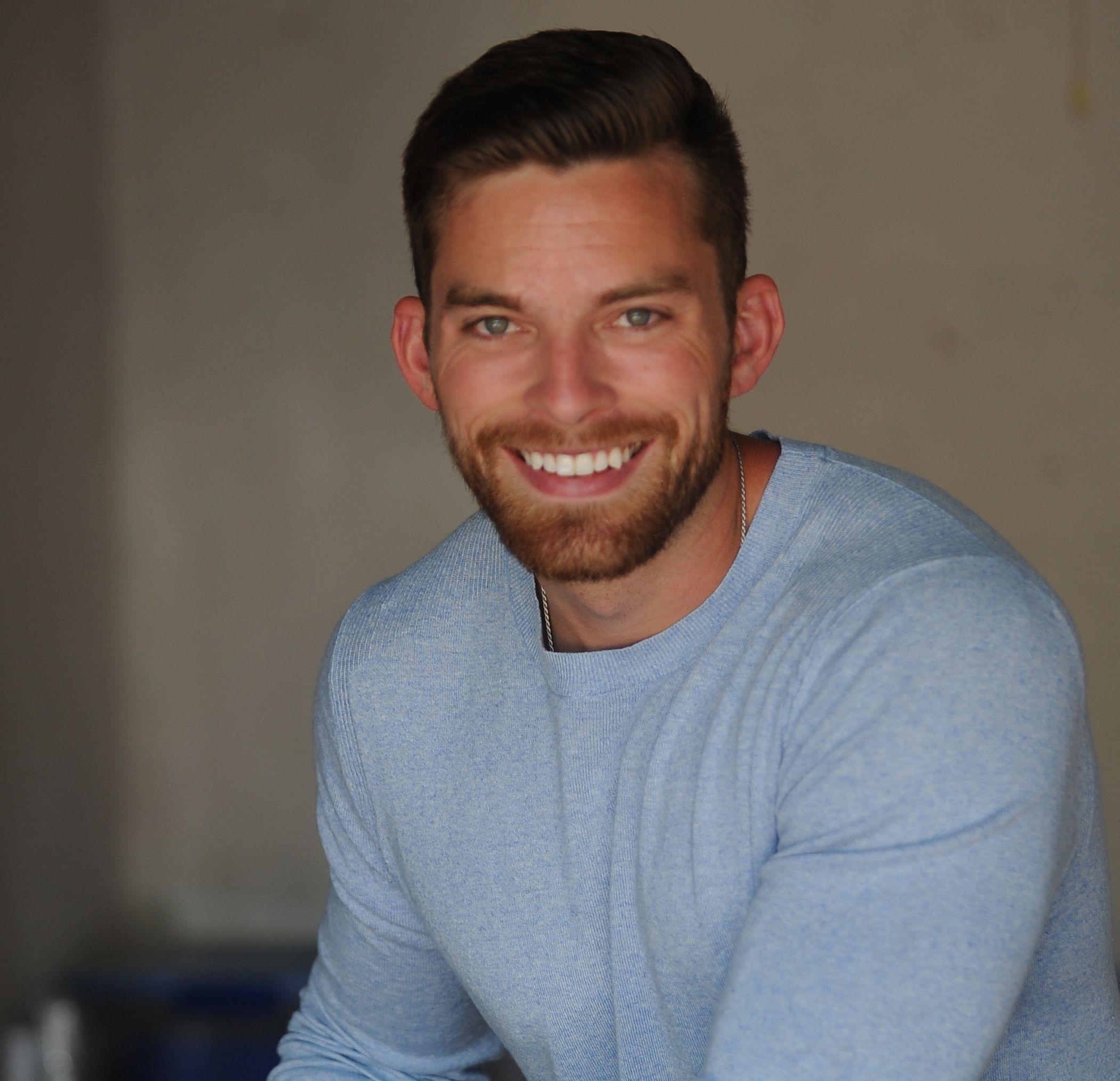 Ryan Fitzgerald
Hi there! My name is Ryan Fitzgerald, and I am a REALTOR®. My goal is to help you learn more about real estate through our Real Estate Blog! Hopefully, you enjoyed the above blog post and it found a way to provide help or value to you. When you're ready to buy or sell a home of your own let us know here. Please feel free to join the conversation by dropping us a comment below.