What's the Cost of Living In Cape Coral, FL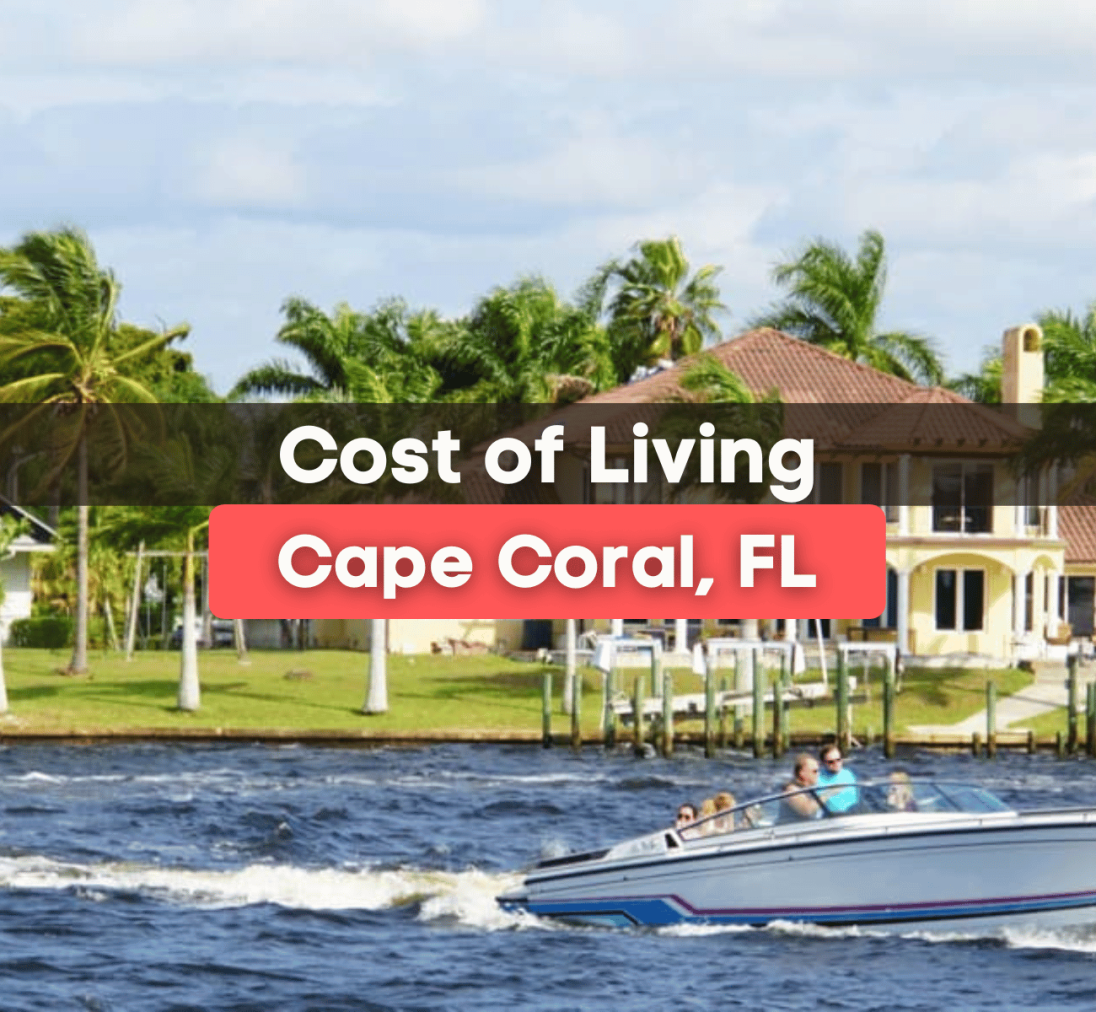 Cost of Living in Cape Coral, FL 
Is it expensive to live in Cape Coral, Florida? Let's dive deeper into the cost of living in Cape Coral, the average household income, the real estate market, and more. 
Nicknamed "Venice of America," Cape Coral was founded in 1957 as a planned development but quickly became a top destination in Florida. What was originally just supposed to be a subdivision of Fort Myers has become a city that people wish to move to, vacation, and retire in. Cape Coral is located in Southwest FL, close to Sanibel, Captiva, Lovers Key, Pine, Island, and Matlacha, and is within sight of the Gulf of Mexico. It is a vibrant and welcoming community with beautiful scenery, beaches, attractions, and more. But can you afford to live there?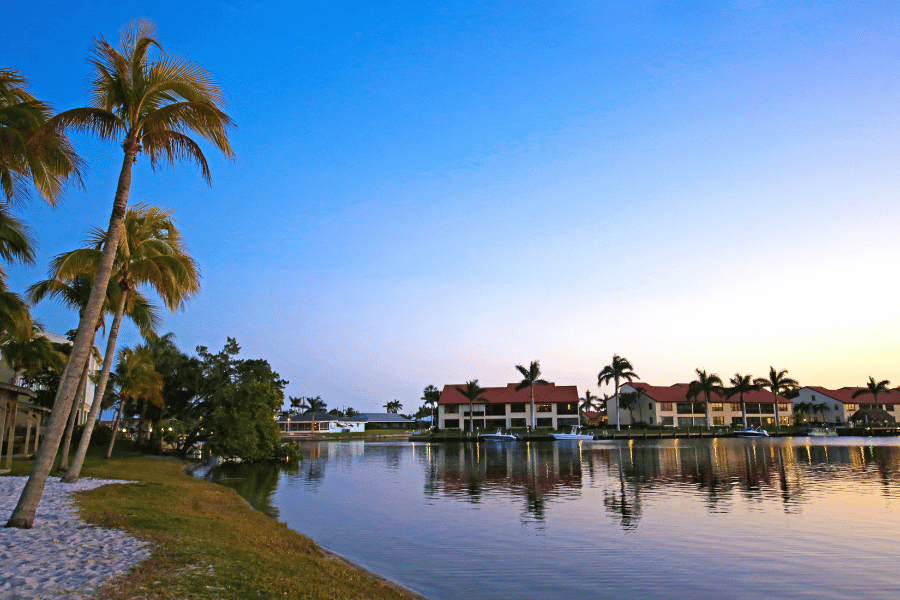 With its constant sunshine and warm weather, Cape Coral attracts new people to the area daily. You are close to the abovementioned areas and have easy access to bigger cities such as  Fort Myers, Naples, and Tampa. Cape Coral has a lot to offer, but with its proximity to other cities, the opportunities are endless. 
Cape Coral is mainly known for its 400 miles of canals, referred to as a "waterfront wonderland." Most of the canals are navigable and will take you to the Caloosahatchee River, Matlacha Pass, and the Gulf of Mexico. Some canals can even get you pretty close to downtown Cape Coral to dine, shop, and more. 
If you're considering a move to Florida, Cape Coral should definitely be at the top of your list. But can you afford to live there? As you continue reading, we will discuss all things relevant to the cost of living, including housing costs, taxes, utilities, public transportation, and more. Let's get started!
Cost of Living 
Before you make any permanent moving plans, you'll want to take a closer look at your income, lifestyle, and spending habits. No matter where you're moving from, you should expect and be prepared for a change in the cost of living. Whether significant or minor, a change in the cost of living can significantly affect your lifestyle and comfort. It's essential to thoroughly research and budget before making a big move; luckily, we have all the answers for you. 
Compared to some of the other areas in Florida and the U.S., Cape Coral sits on the higher cost of living side. According to RentCafe, the cost of living in Cape Coral is 3% higher than the state average and 4% higher than the national average. Regarding real estate, housing expenses are 18% higher than the national average, and utilities are 0% lower. If you choose to rent, you can expect to spend roughly $2000 monthly for a 1,000-square-foot apartment. This doesn't include utilities and the cost of other day-to-day necessities. Let's look at the average rent per neighborhood: 
| | |
| --- | --- |
| Neighborhood | Average Rent |
| Diplomat | $2,170 |
| Pelican | $1,990 |
| Hannock | $1,987 |
| Burnt Store  | $1,953 |
| Mariner | $1,953 |
| `Tom Black Lake | $1,953 |
| Trafalgar | $1,953 |
| Jacaranda | $1,809 |
It's apparent that Cape Coral is slightly more expensive than the surrounding areas, but let's look at more data.
| | | |
| --- | --- | --- |
| Cost of Living Item  | Cape Coral, FL  | National Average  |
| Annual income per capita | $34,586 | $37,638 |
| Home Value | $255,700* | $244,900* |
| Rent | $1,456* | $538* |
| Mortgage | $1,562* | $1,697* |
| Electricity (per kWh) | $0.17 | $0.16 |
| Public transportation  | $1.50 per pass | $102 a month |
| Gas  | $3.24 | $5.45 |
* Denotes median rather than average 
Data sourced from the United States Census Bureau, PayScale and RentCafe 
The data above is based on the last Census. You can expect a slight change in numbers, but this should give you a good idea of the costs you should expect to incur when moving to Cape Coral, FL. 
Income 
People originally started moving to Cape Coral because it was affordable and allowed families to save money. Since the rising inflation, saving and owning a home has become challenging.
According to the USCB, the median income for someone living in Cape Coral is $34,586, slightly lower than the national average of $37,638. Regarding the median income, some make way above $34,586, and even some make less. You must look at your income and lifestyle before deciding if you can afford to live in Cape Coral. You may even decide that you can live more comfortably if you're sharing housing and utility costs with someone else. The median household income in Cape Coral is $65,282.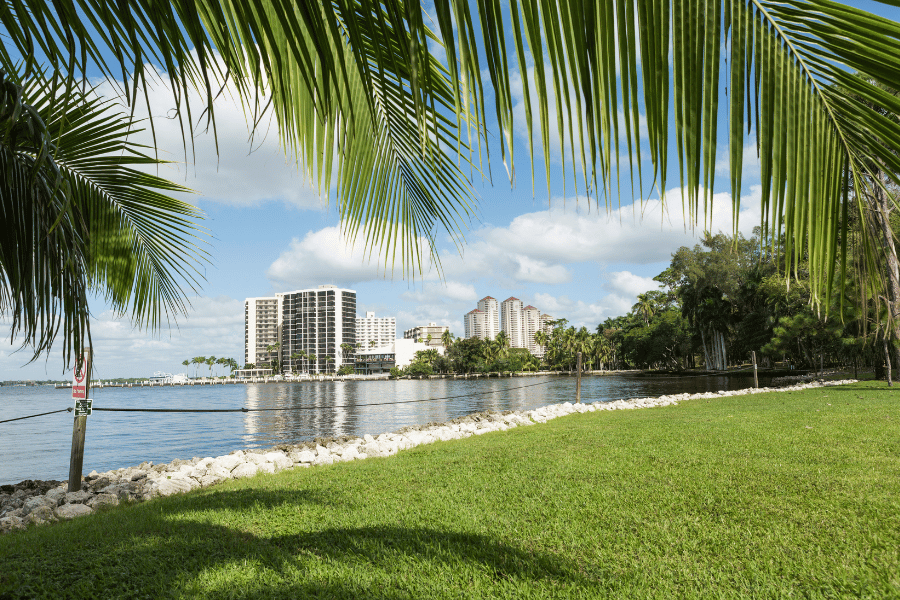 One factor that helps drive income upward is the economy. Regarding the Job Market, over the last year, Cape Coral has seen the market increase by 1.9% and is predicted to be 41% in the next ten years. Due to the number of visitors and vacationers Cape Coral sees year-round, the economy is mainly driven by its hospitality industry. The largest private employers in the area are all retail-related, but the largest employers are nonprofit and government agencies. Additionally, the lee county school district is the largest local employer, with roughly 2,500 workers. 
Even though the cost of living in Cape Coral is 3% higher than the national average, it's still an affordable place to live. With the economy on the rise and the proper budget in place, you can live a happy and comfortable life in Cape Coral, surrounded by beautiful waterways and countless opportunities. 
Real Estate Market 
When planning a move, you'll typically figure out your housing first. Whether you plan to rent or buy, Cape Coral has a vast selection of homes, areas, neighborhoods, etc., for you to choose from. You may find your dream home, but consider your everyday expenses, the cost of utilities, etc., before making any permanent decisions. 
As of February 2023, Cape Coral is currently experiencing a buyer's market. This means that prices tend to be lower, and the homes stay on the market longer. According to GuranteedRate, single-family homes sold on average for $535,000 in the past week and spent 84 days on the market. Cape Coral Mortgage says investing is a good idea due to home affordability, low taxes, landlord-friendly, strong real estate market, and a growing tourist market. 
Statistics: 
Median sold price: $415,738
3-Bedroom home: $415.1K
Up 18.8% over the last year 
2,390 homes for sale 
330 homes sold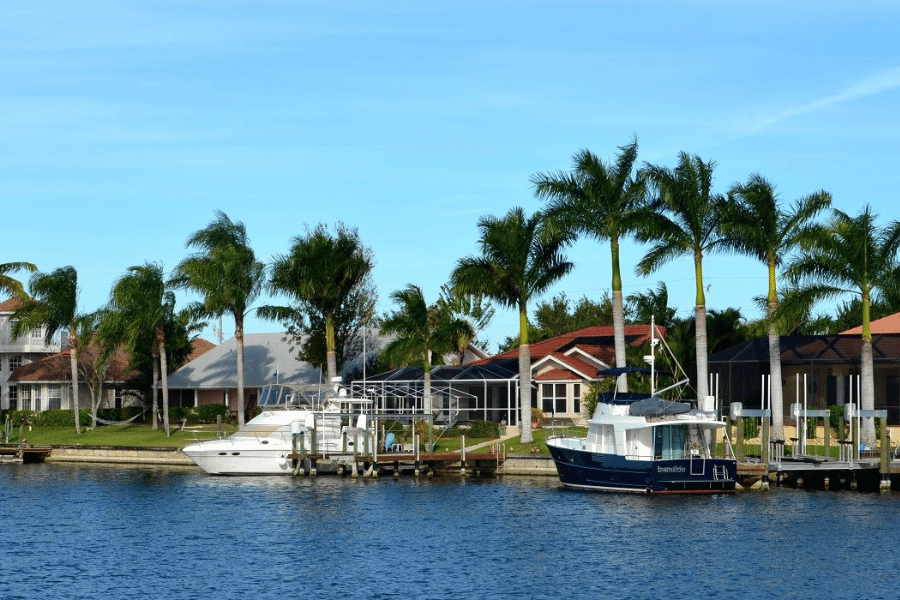 Caral Lakes is one of the most popular and sought-after neighborhoods in Cape Coral. People gravitate towards this area due to the amenities, friendly neighbors, nature, and more. The Coral Lakes neighborhood consists of townhomes and large single-family detached homes. The price of homes ranges from the high $300,000s to the low $600,000s. 
Another popular neighborhood is Cape Harbour. It is a beautiful and unique waterfront community that is perfect for those who enjoy yachting and boating. The neighborhood is on the pricier side but features many amenities, waterfront homes, and water access. Condos start around half a million and stretch toward the high six figures. If you're looking at single-family homes, you should expect to spend anywhere from the low $600,000s to the 2-3 million range. 
Utilities 
The cost of utilities is often overlooked when budgeting for your big move. Factoring in utilities is essential. What you may pay now may not be what you'll pay in Cape Coral. The cost of utilities in Cape Coral is 3% higher than the national average. On average, residents spend roughly $230 per month on electricity, meaning approximately $2700 per year, 18% higher than the national average electric bill. 
Regarding utilities, you should budget for electricity, internet/cable, and water/sewage. If you're renting, internet and water may be added to your base rent; if you own your home, you will have to take care of these costs yourself. Most Cape Coral residents use Xfinity as their cable and internet provider. You can expect to pay anywhere from $20 to over $100 monthly. 
Food 
The cost of food and groceries is a significant factor in your budget that should be considered prior to moving. With the current economy and inflation, the prices of groceries can vary significantly by state or county. Residents in Cape Coral are said to spend roughly 5% more on groceries than the national average.
Loaf of bread: $4.18
A gallon of Milk: $2.62
Carton of eggs: $2.42
Bunch of bananas: $3.62
Hamburger: $5.53
Considering the entire state,  the Bureau of Economic Analysis says that the average Floridian annual non-restaurant food cost is $3,886, which is $324 per month. 
Healthcare 
Having affordable healthcare is extremely important. According to Payscale Cape Coral, healthcare is 4% higher than the national average. 
Doctor's visit: $130.03
Dentist visit: $112.19
Optometrist visit: $122.48
RX drug: $479.10
Veterinary visit: $62.49
If you need home health care or assisted living, you could be spending anywhere from $4,500 to $4,800, which is higher than the average. 
Transportation 
If you don't have a vehicle, there's no need to worry! The Lee train has 22 routes and serves multiple different areas. For example, the 370 route travels down the busiest part of Cape Coral. All routes are perfectly synchronized throughout the day to effectively get you from point A to point B. 
The Cape Coral Minibus is also designed for seniors and disabled persons who cannot drive or utilize public transportation. It is a $12 round trip, but you can also purchase a punch card. 
Taxes 
Taxes are never fun, but they must be paid. One advantage of living in Cape Coral is its low and affordable taxes. The current sales tax rate is 0.6%, and the county sales tax rate is 0.5%, meaning the combined 2023 sales tax rate is 6.5%.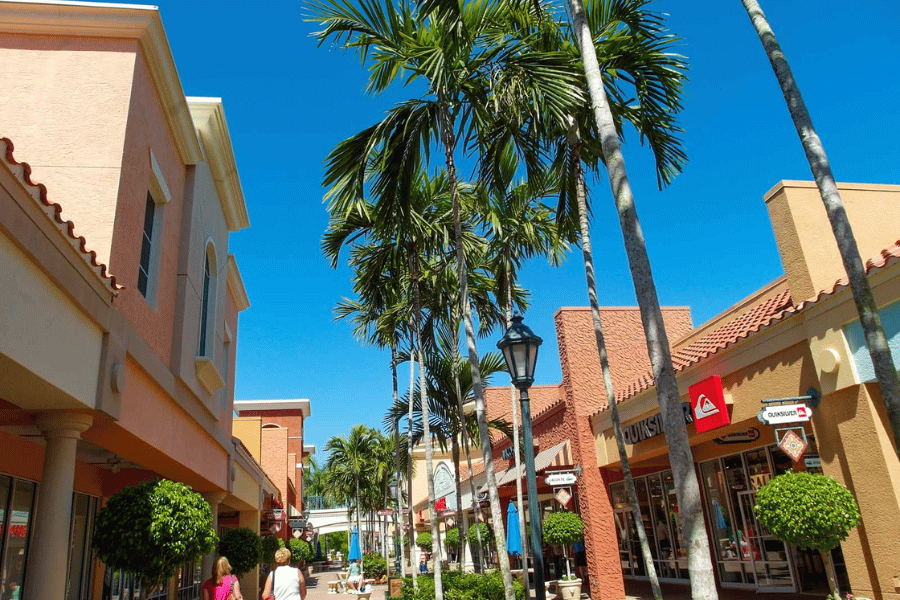 FAQ
Is Cape Coral, FL, a good place to live? 
Long answer short, yes. Cape Coral is great for many reasons, including affordability, low crime rates, low taxes, etc. 
How far is Cape Coral from the beach?
Cape Coral is only 2.3 miles from Yacht Club Beach, 12 miles away from Lovers Key Beach, and close to many others. 
Is Cape Coral an affordable place to live? 
If you have the proper budget and income, Cape Coral can be an affordable place to live. The cost of living is 3% higher than the national average.
Is Cape Coral good for retirement?
Yes. Cape Coral is consistently ranked one of the best cities to retire in.
Downtown Cape Coral 
Downtown Cape Coral is only a few blocks long but has many entertainment and dining options. Once your cross over the Cape Coral Bridge from College Parkway and pass the first light at Del Prado Boulevard, you are now in Downtown Cape Coral. The favorite things to do downtown are: 
Nice Guys Pizza
The Dek Bar
Nevermind Awesome Bar and Eatery 
Slate's 
Perk & Brew
Dixie Roadhouse 
Four Freedoms Park 
Founder's Park 
Revolution Records 
Southwest Florida Military Museum 
What's the Cost of Living in Cape Coral - Final Thoughts 
If you enjoy beautiful beaches, vibrant areas, friendly neighborhoods, and more, Cape Coral may be perfect! The cost of living in Cape Coral is slightly above the national average, but it is still affordable for most. Before you plan your big move, review our cost of living guide, create a budget, and determine if this is right for you. 
Although housing can get costly, Cape Coral is consistently voted one of the best places to live in America. People move here daily for the warm weather, sunshine, outdoor activities, and low crime rate. So, after reviewing our guide, can you afford to live in Cape Coral?
If you answer yes, feel free to contact us. We have a team of phenomenal agents ready at our fingertips. They will help you in any way possible to find your dream home! 

Find your new home
Search real estate and homes for sale