7 Best Neighborhoods in Staten Island, NY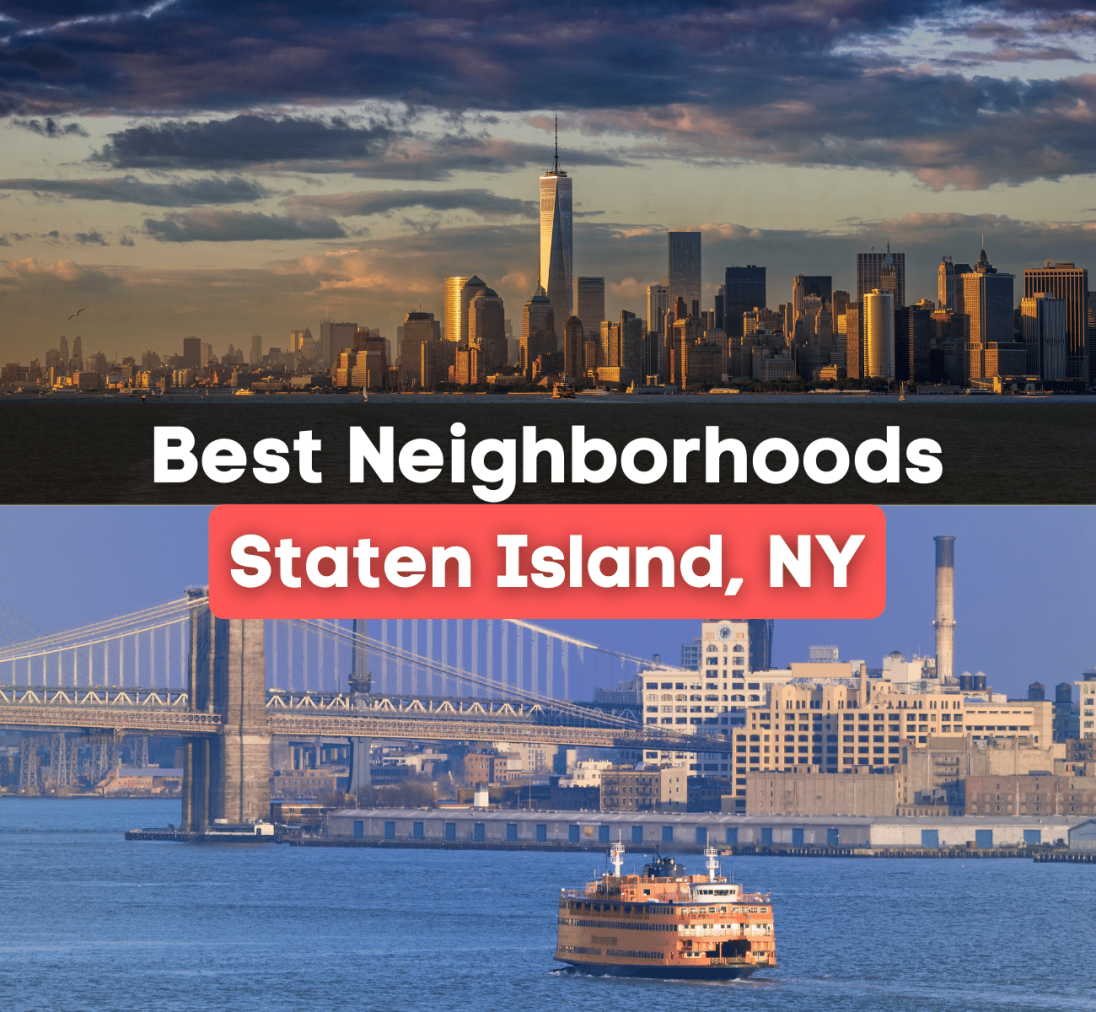 Best Places to Live in Staten Island
If you are moving to Staten Island, NY, you must consider living in one of these seven great neighborhoods!
Staten Island is a great place to live, with many neighborhoods to choose from, depending on what you are looking for! As one of the five New York City boroughs, it is home to many attractions, museums, historical attractions, and numerous green spaces and parks. With a population of 475,596, it is the least populated borough with urban neighborhoods and the least amount of crime.
Located south of New Jersey and only a short ferry away from Manhattan,many families and young professionals looking for a cheaper cost of living and more space choose to live here. Staten Island could be your exciting new home, home to the Staten Island Zoo, Snug Harbor Cultural Center, many art galleries, and streets full of unique historic architectural buildings.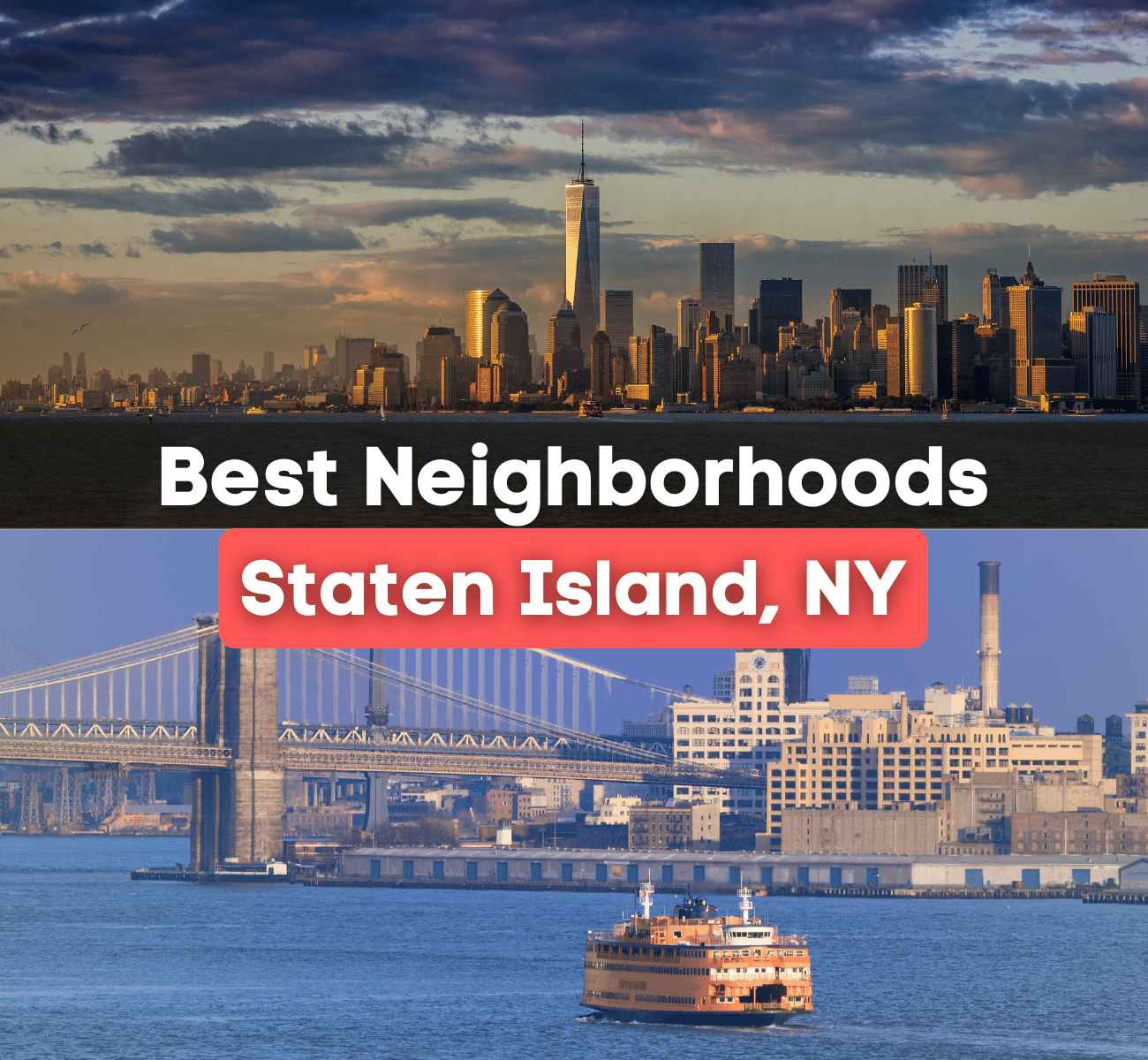 Before moving to Staten Island, make sure you know what each neighborhood offers and what living there is like. To help you choose what neighborhood is best for you and your preferences, read about the seven best neighborhoods below and find out about some local favorites.
Check out these top places to live in Staten Island!
West Brighton
If you are moving to New York, you need to consider calling West Brighton home. Situated along the central North Shore, West Brighton is known for its streets lined with trees and charming homes, parks, excellent schools, and affordable living. As one of the most densely populated neighborhoods, many shops, restaurants, and parks are within walking distance, which is perfect for families.
The median home value in West Brighton is around $567k, making it lower than the Staten Island average of $649k. Many residents of this neighborhood live and work on the island due to the commute being sometimes over an hour to other boroughs. However, some commuters looking for a cheaper home within a low-crime area will still choose to live in this great neighborhood.
Check out some of the local favorites to visit in West Brighton!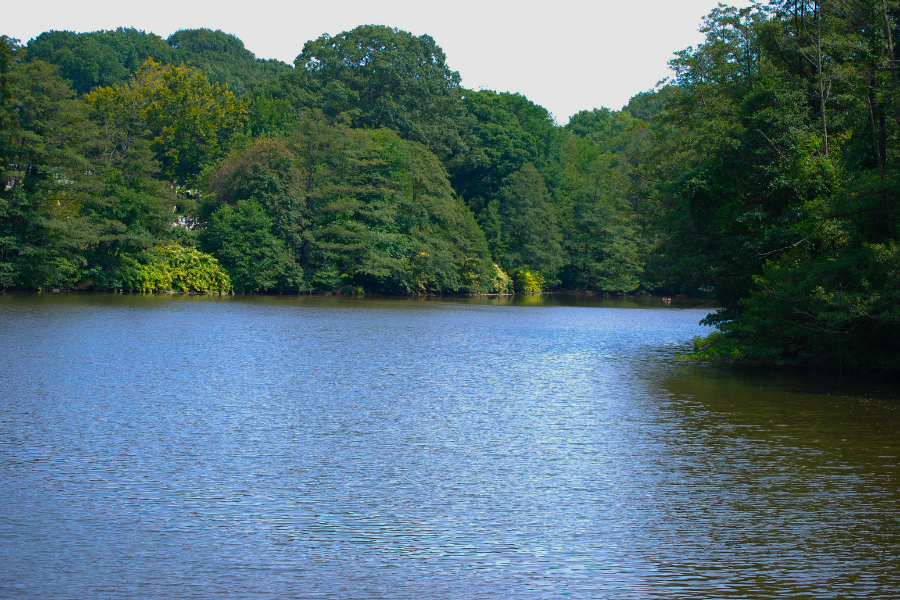 Local Favorites:
St. George
Located on the northeastern tip of the island and where the Staten Island Ferry runs, this is a well-known neighborhood for commuters, families, and young professionals alike. St. George has a lot to offer with cultural attractions, casual restaurants, homes with Victorian architecture, and beautiful skyline views of Manhattan.
This neighborhood is overflowing in growth and development with only a 25-minute ferry ride away from Manhattan while capturing breathtaking views of Lady Liberty and the New York skyline. It is a fun and safe area to live in. Not only is this neighborhood full of fun attractions and things to do with a meager crime rate it is also affordable, with a median home value of around $540k.
If you are looking for a neighborhood where you can enjoy waterfront walks and green spaces, as well as a vibrant community around you while being only a short commute to other boroughs, this neighborhood is for you. Check out the list of local favorite spots below!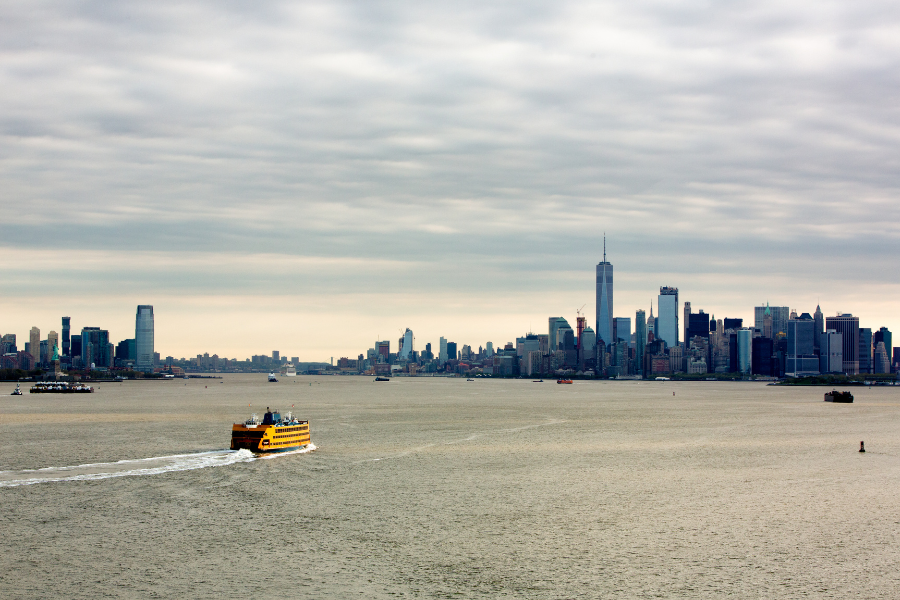 Local Favorites:
Westerleigh
This clean and quiet residential neighborhood is located in the northwestern part of Staten Island and is known to be one of the best neighborhoods. With easy access to public transportation and the Martin Luther King Jr. expressway, getting around is easy and convenient, and school districts are in the top 50% of all of New York within this area.
Not only does this neighborhood have access to beautiful parks and green spaces the area itself is built on the risen ground, and some areas showcase stunning views of Newark, New Jersey, and sometimes further on a clear day. Although prices are not as high as in Todt Hill, the median house value in Westerleigh is around $690k, making it a more expensive area to live within Staten Island.
This is a great neighborhood to live in, with mouthwatering restaurants, cafes, shops, beautiful parks, and modern and historic homes. Check out some local favorite spots below!
Local Favorites:
Todt Hill
Known as the most expensive and posh area to live within Staten Island, Todt Hill is located on top of a 401-foot-tall hill formed of serpentine rock and is the highest natural point in New York City. Many retirees and families choose to live in this wooded neighborhood with quiet and classy restaurants, cafes, parks, and top-notch public schools surrounding it.
The cost of living in Todt hill is much higher than in any other neighborhood, with median home values around $1.3 million. Living here offers residents a sparse suburban feel with homes built out of bricks towering many stories high over the streets.
Many famous individuals have lived in this New York City suburb, such as Drita D'avanzo from Mob Wives, former New York Mets relief pitcher John Franco, and The Corleone home from The Godfather still stands where visitors come to visit year-round.
This clean and safe neighborhood is one of the best on the island if you can afford it. Check out some of the local favorites to see and do in this unique raised neighborhood.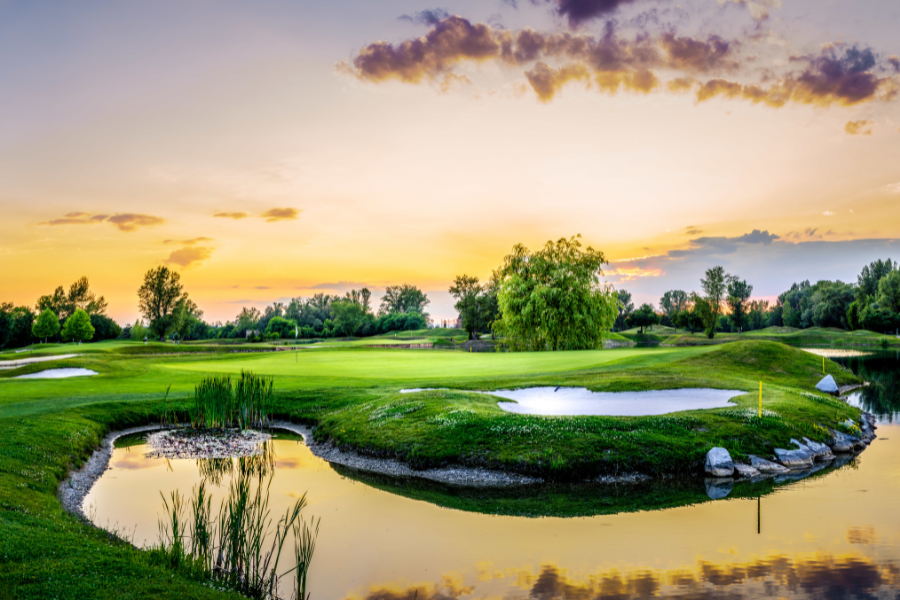 Local Favorites:
New Springville
Located right in the middle of the island, New Springville was once known for its mafia presence, but now it is a very safe and thriving neighborhood! Being in the middle of the island makes it a great place to live for commuters and families, with access to beautiful parks, busy shopping plazas, and relaxed restaurants.
The median home value for this neighborhood is around $559k, making it a more affordable area. Living here, you get the best of both worlds with an urban and suburban feel depending upon where you choose to live, and public schools in New Springville are above average.
Check out some of the local favorites in New Springville!
Local Favorites:
Tompkinsville
Located on the northeastern side of Staten Island, this neighborhood is nicknamed The Watering Place due to early 1600's explorers stopping here for fresh water from the stream in what is now Tompkinsville Park. This densely urban neighborhood has crowded streets full of historic homes and apartments.
The median home value for Tompskinville is around $558.9k, with a most diverse population than any other neighborhood in Staten Island. The largest Sri Lankan community outside of the country lives here and has created a phenomenal culinary scene for locals and visitors to enjoy.
The downtown area of this vibrant neighborhood is home to a piece of lively music, dining, and arts scene with lots of parks and green spaces surrounding it. Enjoy a beer with some friends or go hiking on the trails with the whole family; no matter what you like to do in your free time, you will find it here.
Check out some of the local favorites in Tompkinsville!
Local Favorites: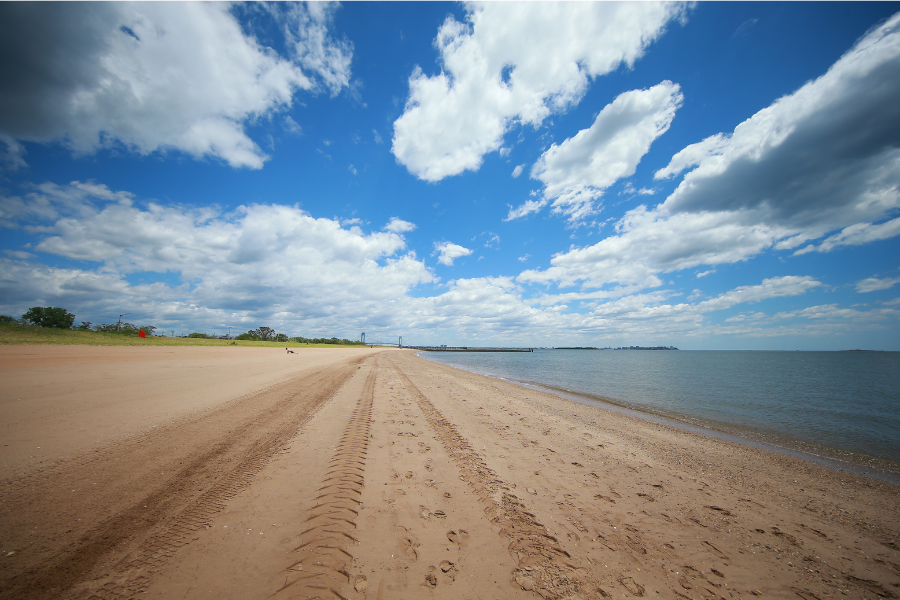 Great Kills
Located on the south shore of Staten Island, Great Kills is an excellent neighborhood most famous for its beaches and fishing areas. This quiet urban neighborhood has many restaurants, cafes, and parks, as well as Great Kills Beach, one of the best beaches on the island.
The median home value in this neighborhood is $662k, making it a slightly more expensive area, but with top-notch schools and lots to do. Transportation is also effortless and accessible in this somewhat beach neighborhood, with its railway and public buses running all over the area.
Great Kills is for you if you want an area with access to many outdoor activities but are still in an urban neighborhood. Check out some local favorites below!
Local Favorites:
Best Neighborhoods in Staten Island, NY - Final Thoughts
Staten Island is a great place to live as one of the five New York City boroughs with easy access to transportation, some of the best beaches and fishing areas, and the greenest spaces and parks. With lots of different neighborhoods of varying prices and landscapes, you are bound to find one that fits your needs!
If you or anyone you might know is making a move to Staten Island at one of these beautiful neighborhoods listed above, make sure to contact us here, and we will get you connected with one of our Realty Specialists to help you find the perfect fit for you.

Find your new home
Search real estate and homes for sale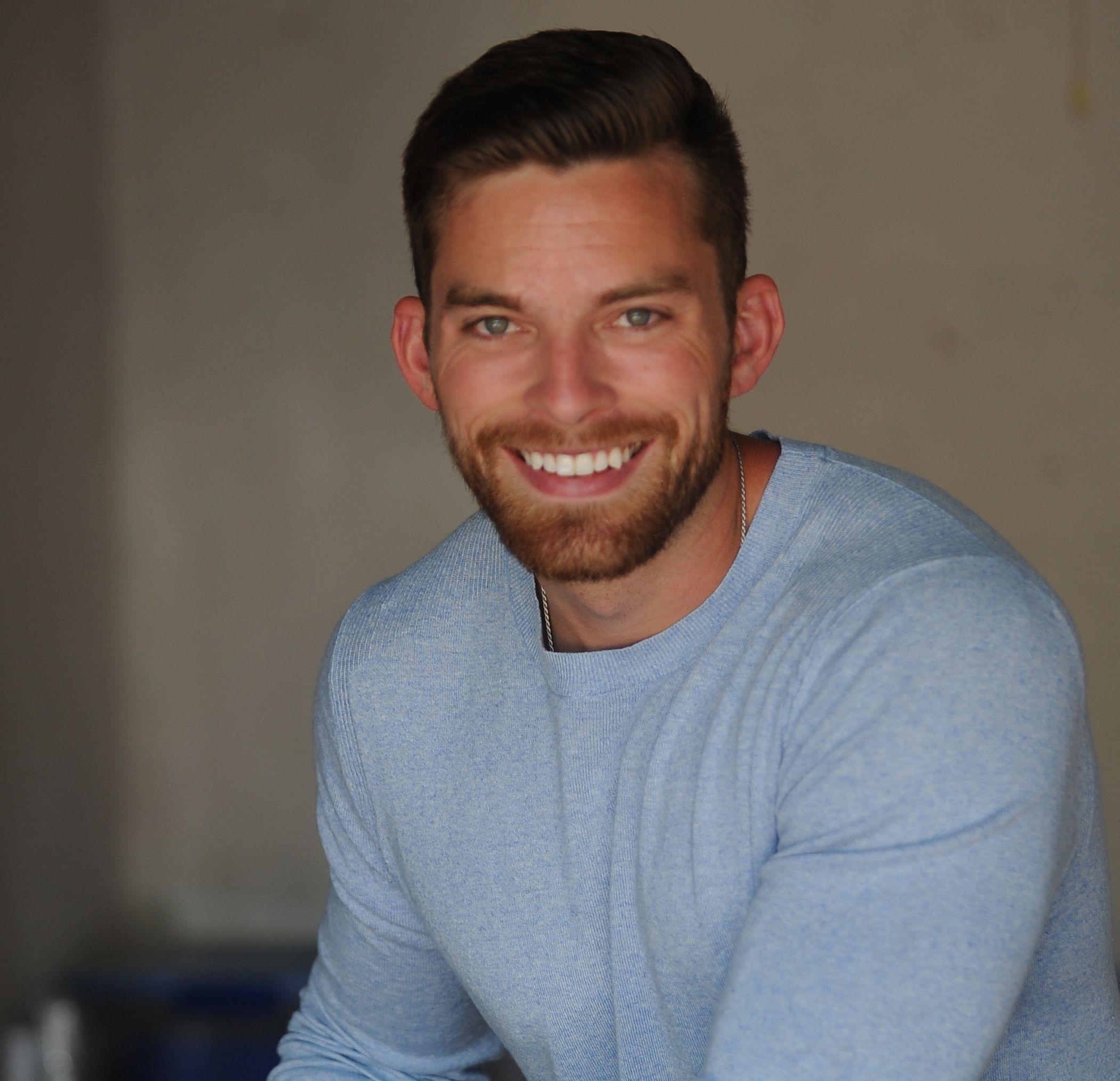 Ryan Fitzgerald
Hi there! My name is Ryan Fitzgerald, and I am a REALTOR®. My goal is to help you learn more about real estate through our Real Estate Blog! Hopefully, you enjoyed the above blog post and it found a way to provide help or value to you. When you're ready to buy or sell a home of your own let us know here. Please feel free to join the conversation by dropping us a comment below.