7 Things to Know BEFORE Moving to Staten Island, NY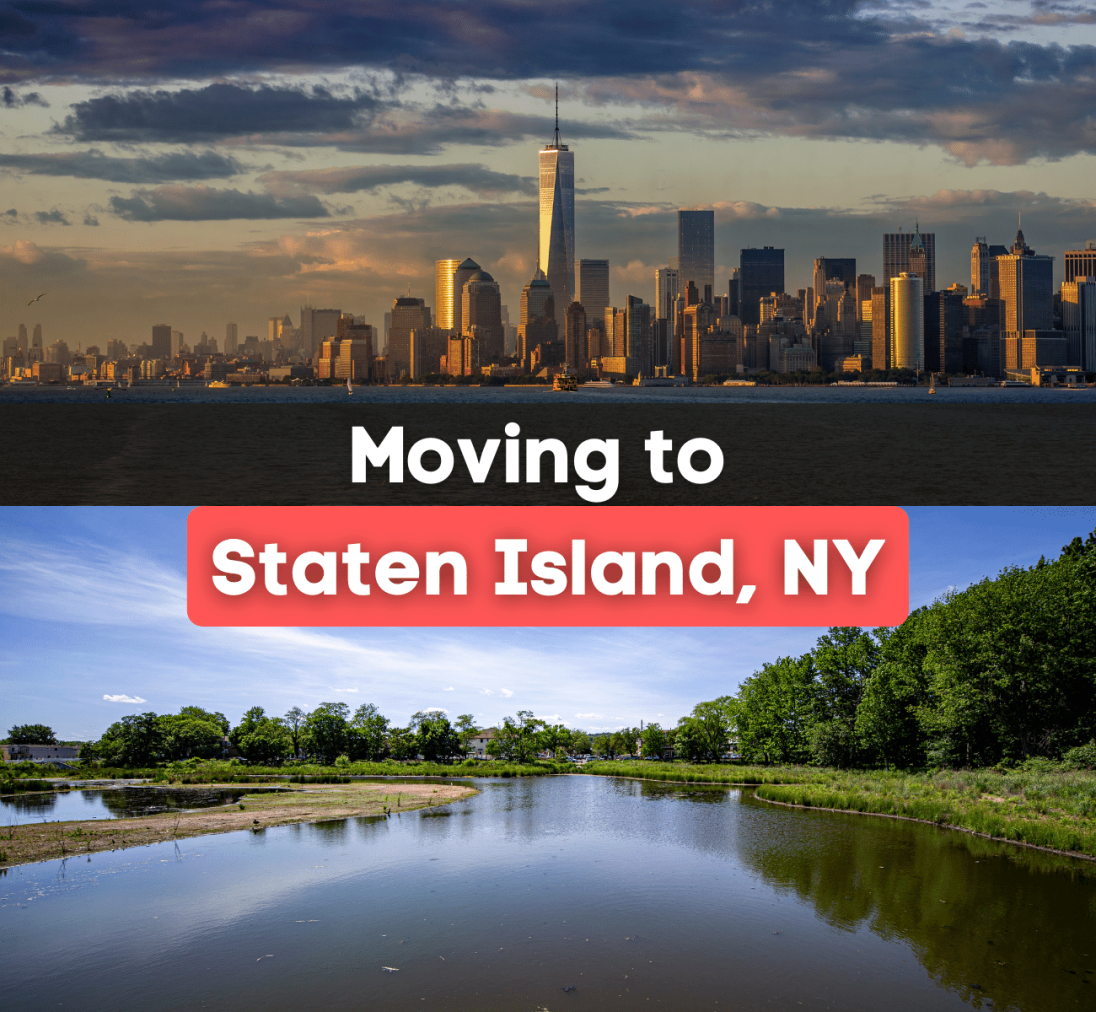 Living in Staten Island, NY
Are you moving to Staten Island, NY? Make sure you know these seven things before deciding to live on Staten Island!
Known as the forgotten borough, people often overlook this great place to live and visit in New York City. Boasting beautiful green spaces, beaches, museums, and historical buildings while being only a 25-minute commute into Manhattan, Staten Island is a great place to live.
Staten Island is the least populated New York City borough, with a population of 475,596, and is considered quiet and more conservative than the others. But, the people here are friendly, and there are many attractions and relaxing places to enjoy.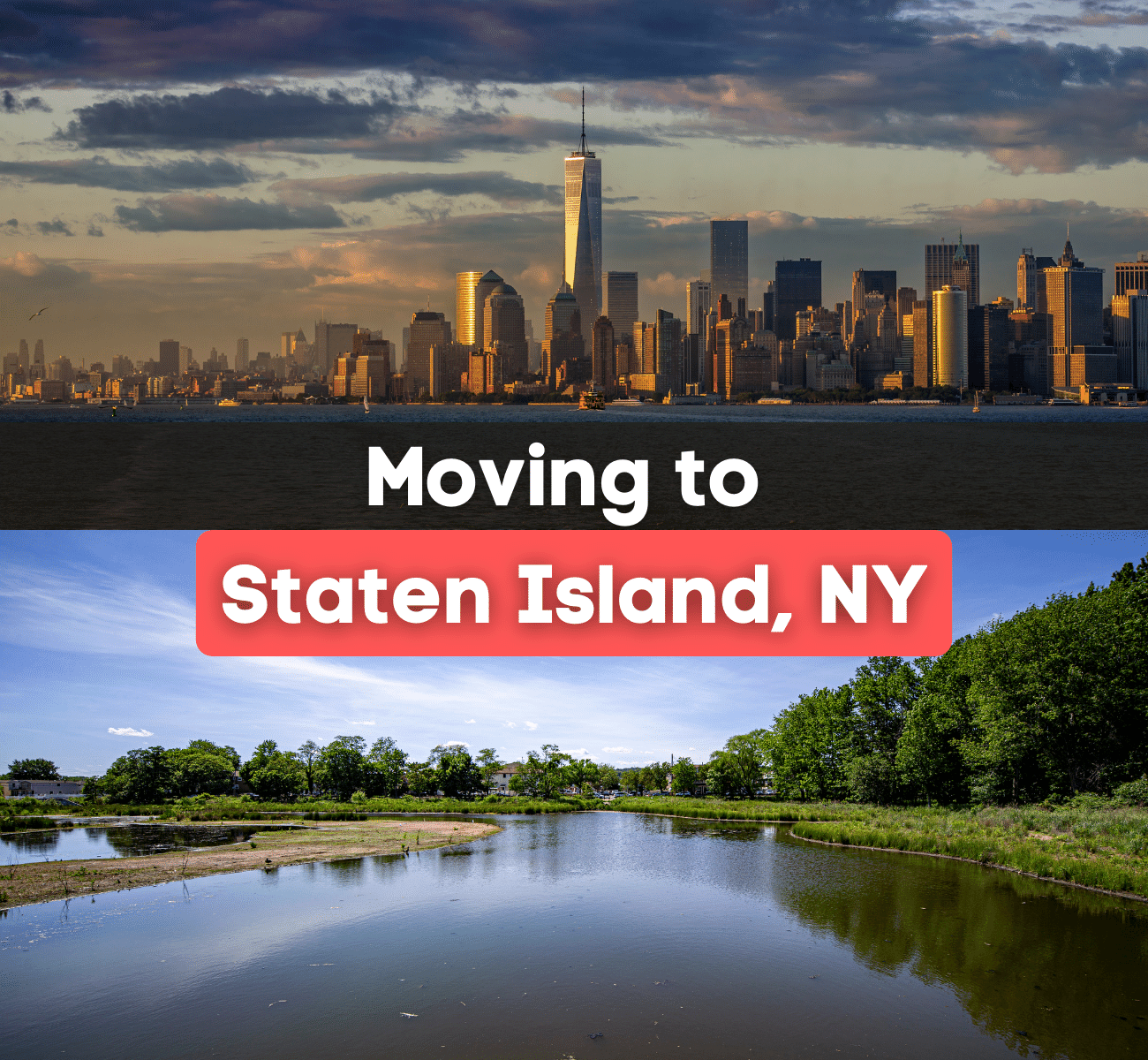 Before moving to Staten Island, you should know some important things about living here. Please read below to learn what it is like to truly live here and feel fully prepared for this new experience.
Here are seven things that you should know about Staten Island!
Living in New York City is Expensive
Wherever you live in New York City, it will be expensive. But that also means you will want to live where you get your money's worth. Staten Island homes typically have the square footage, more oversized lots, and driveways in front of their homes, unlike other boroughs making them more valuable.
The current median home value on the Island is around $650k compared to Manhattan's crazy median home value of $1.5 million and Brooklyn's $842k. This borough is much cheaper but still higher than the national average of $428k.
Although Staten Island is cheaper than many other boroughs, it is New York Cities' second wealthiest. The median household income is around $82,783, meaning many people here are making more but paying less!
If you want to live in luxury, Todt hill is for you. The most expensive area to live with the median house value being around $1.1 million, this neighborhood is known for its stunning homes and retiree community. This neighborhood is the highest natural point on the Eastern Seabord south of Maine and is 390ft above sea level. You also might recognize a few stunning homes here, such as Don Corleone's home from The Godfather.
Not everyone living on Staten Island is looking for the most expensive place. If you are looking for something a bit more cost-effective, the most affordable place to live is going to be Arlington. The median home value here is $330k, and people who live here enjoy a nice urban-suburban mix with many restaurants, coffee shops, bars, and more.
With the cost of homes ranging a reasonable amount depending upon where you live here, it is easy to find the best neighborhood for what you are looking for in Staten Island, NY.
Island Weather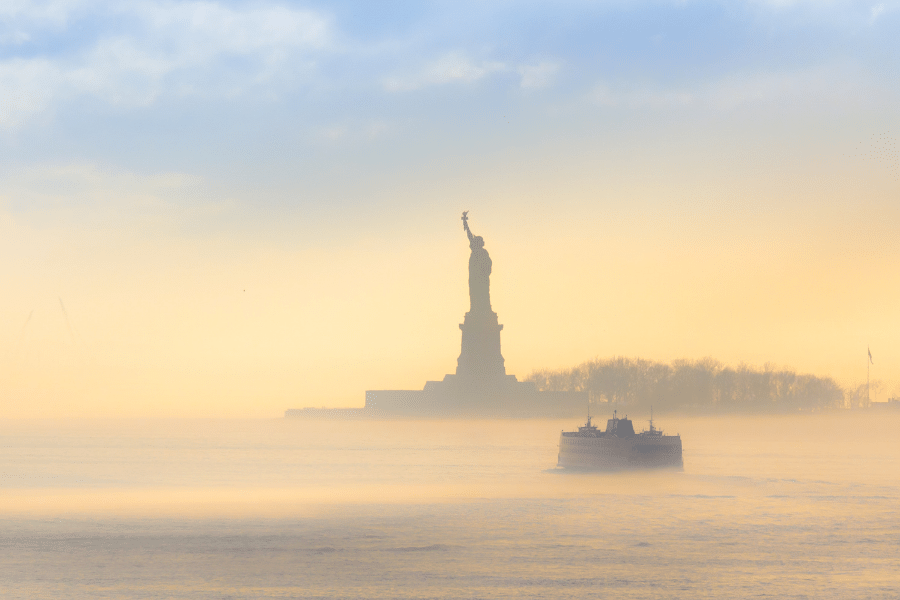 When you think of an island, people typically think of the sun-soaked beaches year-round with lush flowers and a cocktail with an umbrella in it cooling your hand. Unfortunately, not all islands are like this, and Staten Island is a borough that experiences all four seasons.
Year-round Staten Island stays partly cloudy and sees around 47 inches of rain a year. But, during the spring and summer, this rain turns the parks and green spaces into beautiful arrays of color from plants, trees, and flowers growing or changing.
The summer months here are warm, humid, and wet, lasting from June to September, with highs at around 77 degrees. Surprisingly, not many tourists visit this borough during these months because some of New York's best beaches are on Staten Island and are accessible to the public! One of the best beaches for Staten Island locals is Midland beach, with its stunning waters and 2.5mi boardwalks.
The winter months on the Island are December to March and are known to be cold, snowy, and windy. Temperature highs stay under 49 degrees, and it snows at least 25 inches a year. Although you can't enjoy the beach during these months as much, there are still tons of other indoor activities to enjoy around the Island.
Although it's not paradise weather all year round, you get to enjoy the beach, parks, and attractions throughout every kind of weather that the seasons bring.
Getting Off The Island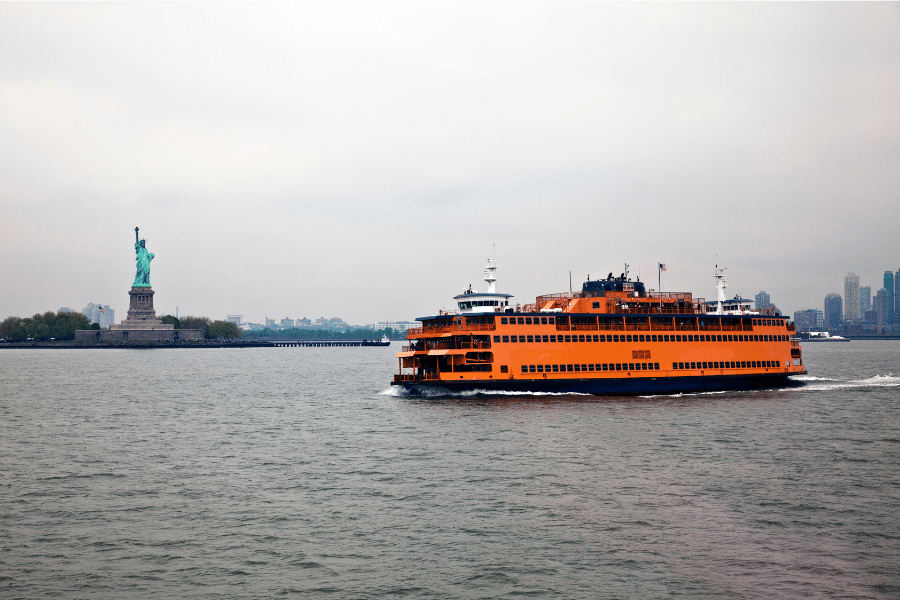 Although Staten Island is a New York City borough, it is geologically a part of New Jersey and located just south of Jersey City. Separated from the rest of the city by the New York Bay, this borough is the furthest southwest part of New York City and directly across from lower Brooklyn.
Because Staten Island is an actual Island with water on all sides, transportation is a little bit different here. Unlike the other boroughs, there are no subways that run here. Instead, people must take the ferry to Manhattan or drive over the Verrazzano-Narrows bridge to Brooklyn and hop on subways.
Initially, there were plans to build a tunnel from Manhattan to Staten Island, but it was never finished and is now abandoned. So, nowadays, most people living here own their cars to get around, but there are also buses and the Staten Island Railway.
The bus system on Staten Island is the most accessible form of public transportation if you want to travel close by from city to city and other boroughs such as Queens. But, the Staten Island Railway runs the entire Island length with 24hr trains and 21 stations to get you further, faster anywhere on the Island.
The Staten Island Ferry is an accessible mode of transportation for locals but also an attraction for visitors. This free public transportation gives you a different view of the Manhattan skyline while also passing by Lady Liberty and Ellis Island.
Check out what type of transportation to take depending on where you are going from your home on Staten Island below!
| | |
| --- | --- |
| Location | Transportation |
| Manhattan | Staten Island Ferry |
| Brooklyn | Verrazzano-Narrows Bridge |
| Queens | Bus routes |
| Bronx | Bus routes/subway |
| Staten Island Neighborhood | Staten Island Railway/Bus |
| New Jersey | Bus routes |
Things To Do and See
As mentioned before, Staten Island is known for its colorful outdoor spaces, beaches, parks, and historical museums and buildings. There are many things to do for the whole family, from sporting games to learning about history, seeing fantastic art and gardens, to visiting one of the most extensive collections of reptiles at the local zoo.
This borough was once home to the largest landfill in the world, but now that trash has been transformed into clean, fresh, and beautiful greenery. With over 9,300 acres of parkland, no wonder this place is nicknamed the greenest borough. People can now enjoy picnics, playgrounds, gardens, waterfront parks with stunning views, recreational complexes, and more on this New York City island.
Not only are there many parks and other large green spaces to enjoy, but there are also many accessible public beaches. Staten Islands' main beaches are South Beach and Midland beach, with South Beach being the most popular due to its well-maintained grounds, view of the bridge over the water, and a 2.5-mile wooden boardwalk. You can lay out, read a book, play beach games, and swim in the waters at these wonderful Staten Island beaches.
Check out some local favorite spots to enjoy this stunning Island's best parts!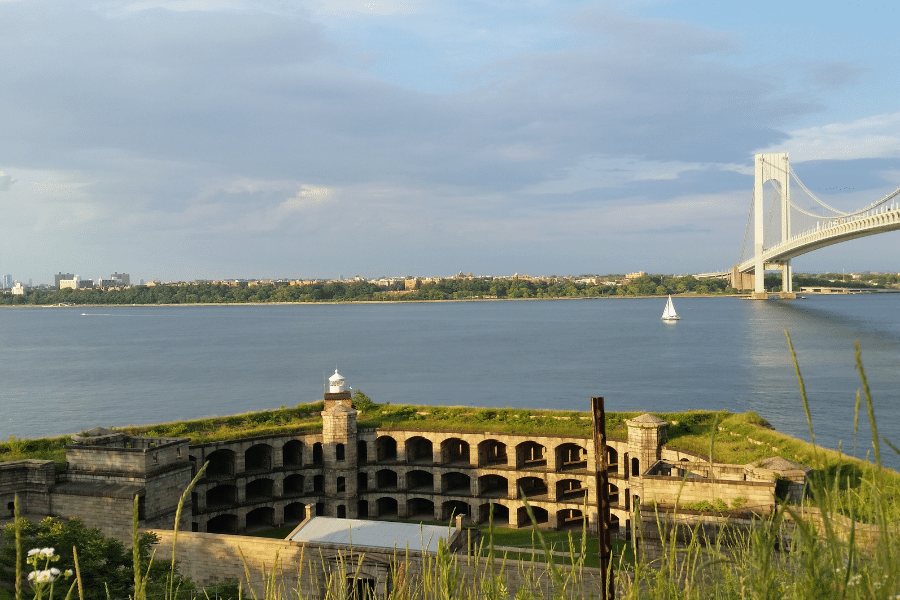 Local Favorites:
Lots of Job Opportunities
Although it's not the biggest borough, Staten Island provides individuals with many different job opportunities in many fields. The four largest industries are construction, social assistance, leisure and hospitality, and health care. With the island's reconstruction and continual growth over time, there has been a significant spike in population, causing more housing and businesses to pop up each year and, therefore, more job opportunities.
One of the largest industries in not only Staten Island but in the state of New York is healthcare. The two leading hospitals on Staten Island are Richmond University Medical Center and Staten Island University Hospital. Just one of those hospitals has around 7,000 employees making healthcare employees a big part of the community and providing many jobs for those wanting to live on the Island.
Not surprisingly, retail is the second largest employer, with the sector adding up to 6% of added jobs a year. Staten Island hit a record of businesses in 2017 with 9,500, and the number continues to go up, providing people with all types of experiences and education to obtain a job while staying within the borough.
Unfortunately, due to not only redesign after transforming this land into a beautiful city from a literal dump land but also natural disasters such as hurricanes that hit the island and caused significant destruction, construction is another large employer of individuals. Something is constantly being built, taken down, or changed on this land, with lots of people to help ensure it gets done quickly and seamlessly.
There are many employers and opportunities for jobs on Staten Island, or an easy commute to millions of jobs in other boroughs, making this a great area to live with endless possibilities.
Culinary Paradise
Staten Island has a rich and diverse culinary scene, from Italian to Spanish to Sri Lankan restaurants and foods. 35.7% of the population on the Island is Italian, making it no surprise that there are many restaurants and shops with an Italian influence. You can find some of the best Italian-American pizza here, making it an authentic New York City experience.
The chefs and cooks here also range from a Ma and Pa style family-owned restaurant to Michelin-star status chefs presenting a 5-star menu each night. From comfort food to eclectic fares, there is something for everyone.
Check out some of the local favorites below!
Local Favorites:
Staten Island at Night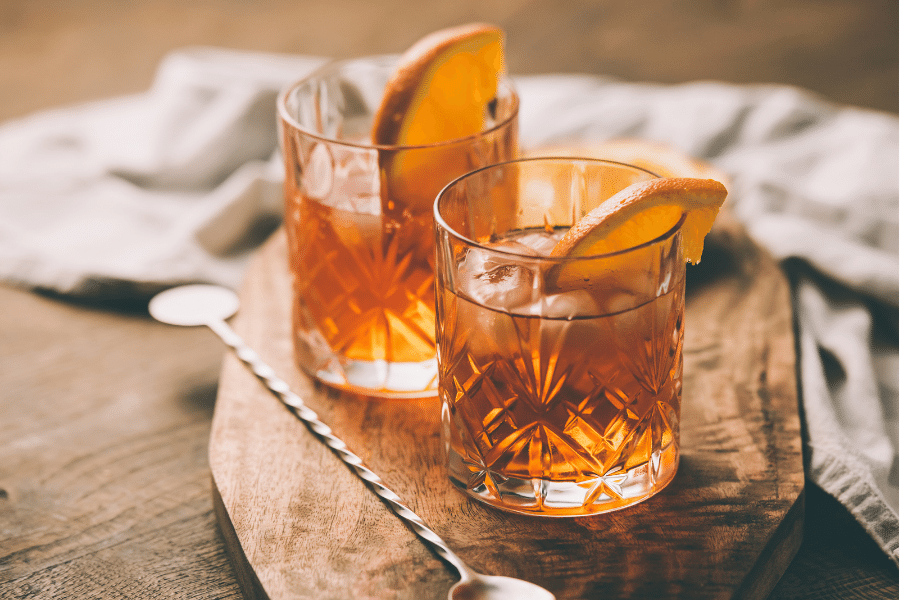 Manhattan is the city that never sleeps, while Staten Island is known for its more laid-back nightlife with lounges and pubs to enjoy. But, although Staten Island doesn't have the night scene to stay out till the break of dawn every night, there are still clubs with live DJs and bars full of people to keep you awake on the weekends.
There are clubs and bars to enjoy at night here and many other activities once the sun goes down. The Looney Bin Comedy Club is a great place to go for a good laugh and enjoy a few drinks with a group of friends or even alone. Or are you looking to go back and enjoy arcade games with a bar? Dave and Busters also have a location on Staten Island for you to challenge others or take your talents to the test on multiple types of games.
No matter what you are looking to do, Staten Island has something for you to enjoy at night. Or, if you want to live it up in some of the city's other boroughs of the city, it is just a short commute there and back with the Staten Island Ferry running 24 hours, seven days a week.
Check out some of the local favorites for Staten Island Nightlife!
Local Favorites:
Pros and Cons of Living in Staten Island, NY
Pros:
Quiet neighborhoods
Get your monies worth
Easy commute to other boroughs
Laid-back nightlife
Cons:
Expensive
No subways
Winters are snowy and cold
Smallest NYC borough
Moving to Staten Island, NY - Final Thoughts
Staten Island is a wonderful place to live, with beautiful sandy beaches, an easy commute to other boroughs, quiet neighborhoods, and many green spaces. If you are looking for a slower pace of life while having access to some of the biggest cities in the country around you, this is a great place to live.
If you or someone you know is looking to buy a home in Staten Island, make sure to contact us here, and one of our Realty Specialists can help you find your new home no matter your needs. Whether you are looking for single-family homes for sale on Staten Island, townhomes for sale on Staten Island, or luxury homes for sale on Staten Island, there is bound to be a place that fits your lifestyle.
Check out our other local guides! 

Find your new home
Search real estate and homes for sale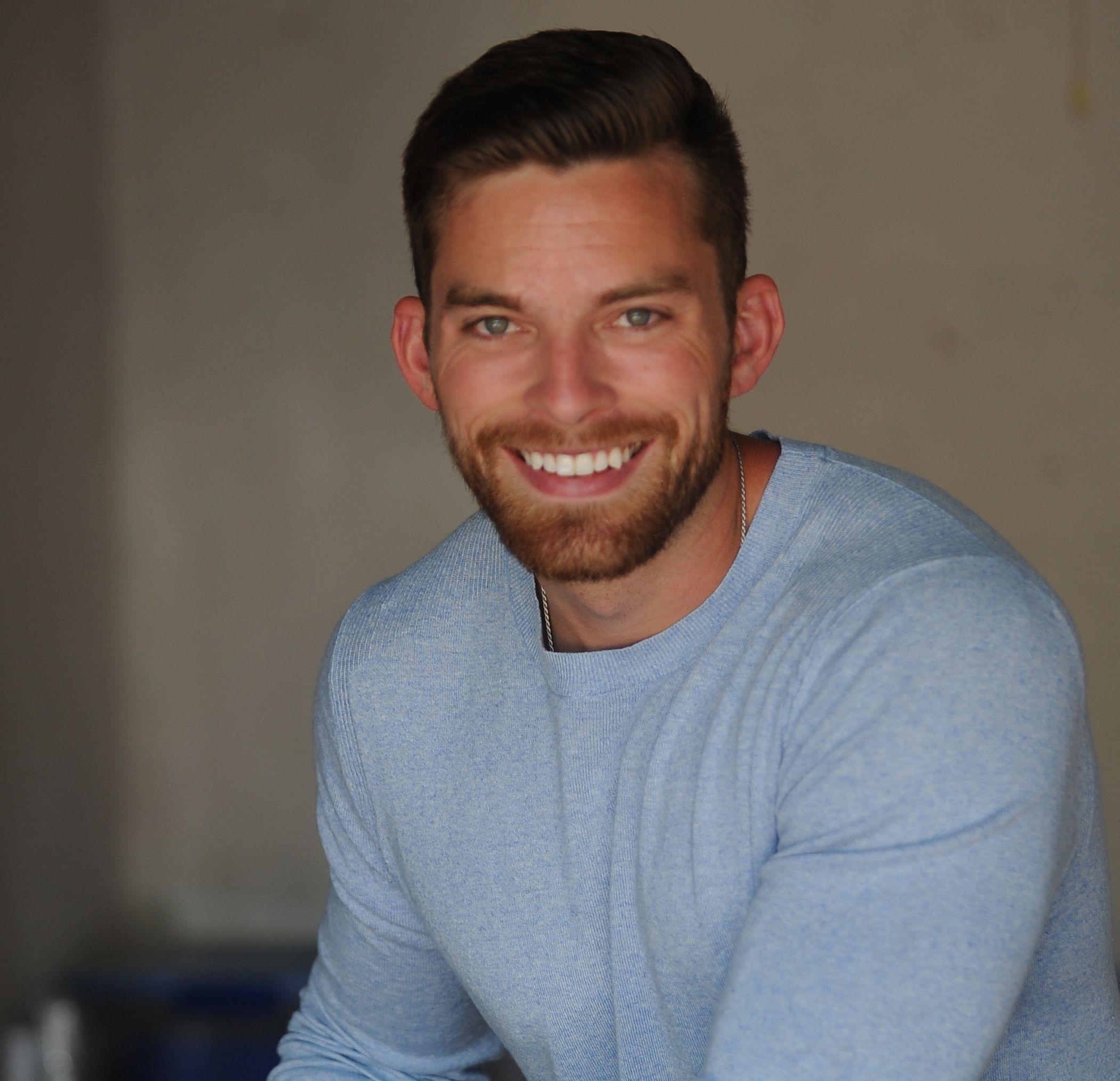 Ryan Fitzgerald
Hi there! My name is Ryan Fitzgerald, and I am a REALTOR®. My goal is to help you learn more about real estate through our Real Estate Blog! Hopefully, you enjoyed the above blog post and it found a way to provide help or value to you. When you're ready to buy or sell a home of your own let us know here. Please feel free to join the conversation by dropping us a comment below.