5 Best Neighborhoods in Philadelphia, PA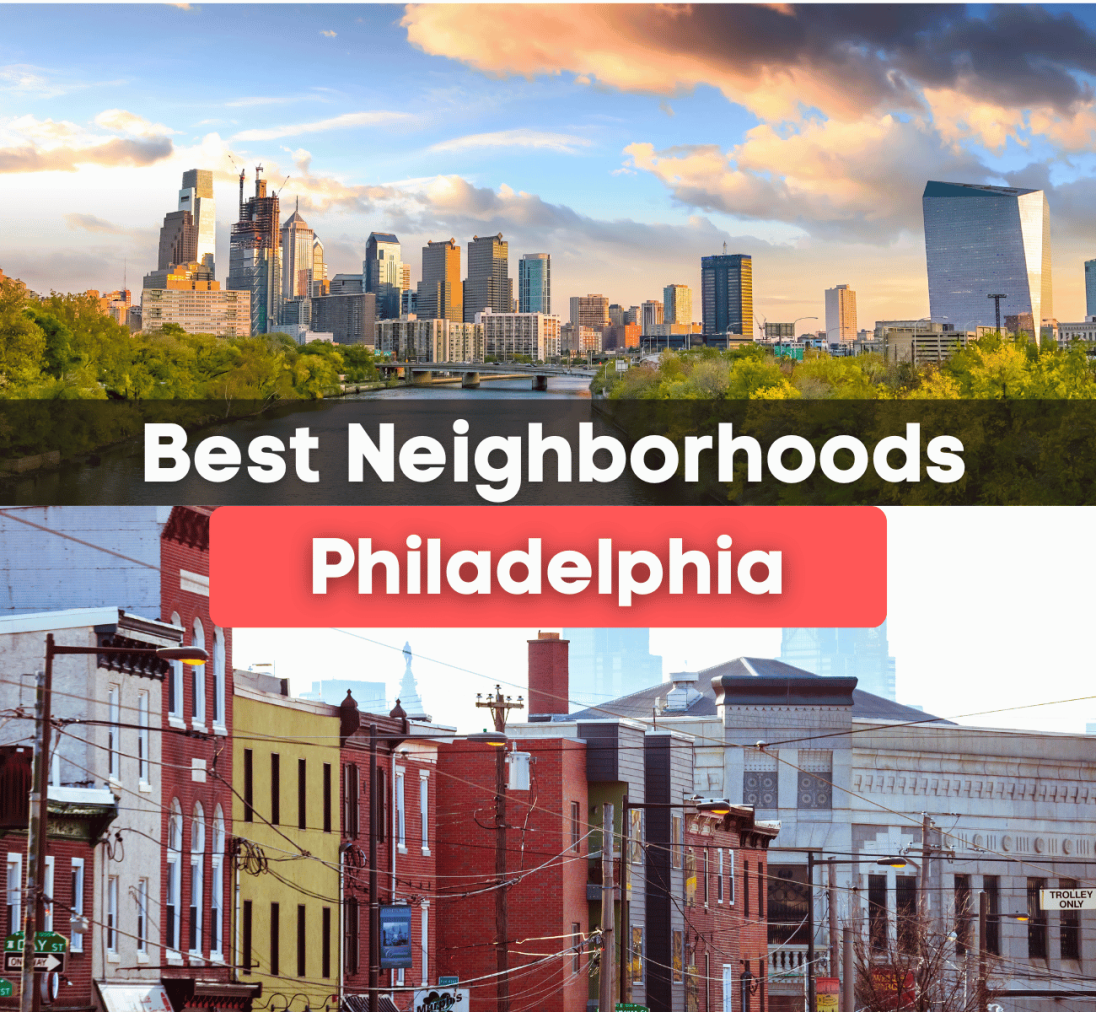 Best Places to Live in Philadelphia
Looking for the best neighborhoods in Philadelphia, PA? We have you covered. Check out the five best places to live in Philadelphia.
Philadelphia is the largest city in Pennsylvania and provides residents with big-town amenities and attractions but a small-town feel. Known as the birthplace of America, with some of the nation's most prominent historical events occurring on its streets, Philadelphia holds a rich history with many influential artifacts, buildings, and roads still standing today.  
Attracting people from all over the world with its low cost of living paired with prime location, excellent public transportation system, top-rated schools, a vibrant art and culture scene, and tons of things to explore and see, Philadelphia is a beautiful and diverse place to live.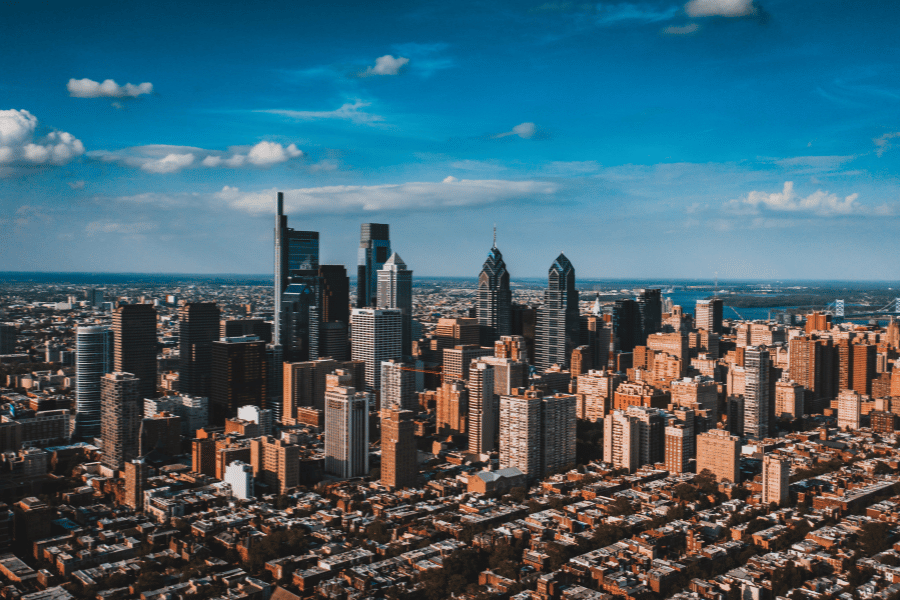 With a population of over 1.5 million residents, Philadelphia is the sixth-largest city in the nation. With distinctive neighborhoods of different housing styles, sizes, prices, locations, attractions, and more in each one giving it its own unique touch, the city provides a multitude of different areas to choose from. 
Many residents living in Philadelphia enjoy the convenience of living in the city's heart, where they are close to public transportation, shops, and other amenities. But, there are also stunning neighborhoods outside the downtown area known to be quieter and safe, with recognizable spacious brown-bricked estates along the winding roads and large green spaces.  
Before moving to Philadelphia, let's take a look at some of the best neighborhoods to live in and what each area has to offer, and the cost of living. Depending upon your budget, preferences, needs, and hobbies, there is truly something for everyone. 
Check out these top places to live in Philadelphia!
This neighborhood is located along the Delaware River across from New Jersey. Known as the birthplace of American independence, this area is now a trendy neighborhood situated inside Philadelphia's Historic District. 
Old Cities' cobblestone streets and 18th-century architecture provide residents with a charming and historic feel combined with some newer boutiques, restaurants, art galleries, and vibrant nightlife. Spanning from Vine to Walnut Street, this neighborhood is also home to some of the most visited attractions in the city, such as Independence Hall, the Liberty Bell, the National Constitution Center, and the Betsy Ross House.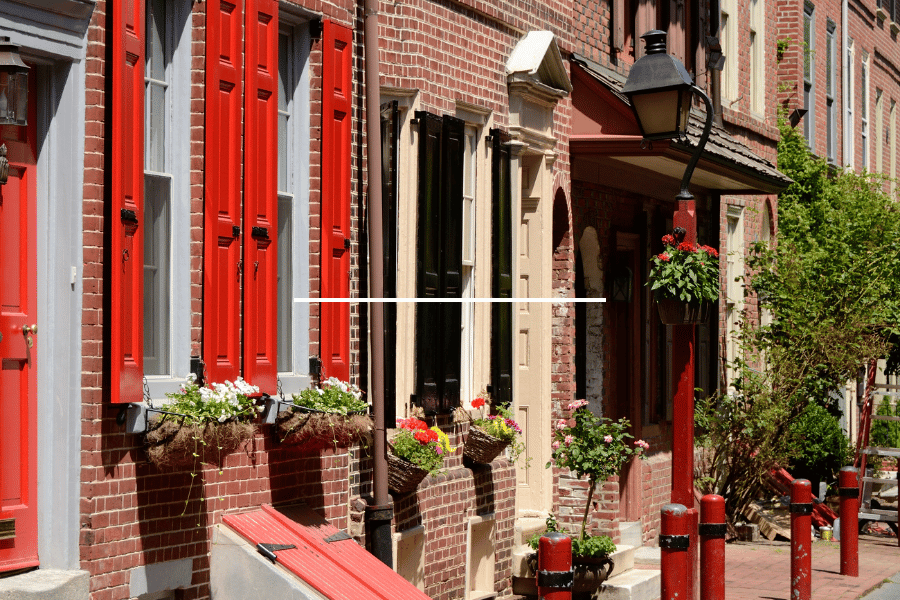 Living in Old City never gets old, with dozens of people walking its streets during the day to reconnect with history or walk amongst the colorful art galleries and shops. During the warmer months, you can also enjoy the waterfront parks with some of the best food in the city or walk along Second and Third street, shopping to your heart's content. 
Keeping in tune with the historic architecture and preserved history surrounding it, the homes in Old City resemble some of the older brick structures and designs used when first established, such as brownstones, rowhouses, historic townhomes, and small warehouse-style apartments. At the same time, near the water, there are newer developments of apartment complexes and contemporary designs. 
The median home value in Old City is around $440k, depending upon size and location within the neighborhood. Before moving into your new home in Old City, take a look at some of the local favorites to enjoy below. 
Local Favorites
What once was the epicenter for the commercial shad-fishing industry is now a hip neighborhood full of artisans, young professionals, and creative types. Located along the Delaware River above Girad and south of Lehigh, this neighborhood showcases the city landscape in its background and a colorful environment in both its architecture and residents. 
The streets of Fishtown are narrow, with simple rowhouses lining each side. Philadelphia young artists and hipsters attract to this neighborhood with trendy new bars, hipster eateries, music venues, and many art studios and galleries. Similar to what Williamsburg is to New York City, this neighborhood has the busy streets of today's new trending fashion styles, coffee filled with oat milk, and parks sprawling with friends playing recreational games or enjoying a picnic near the water.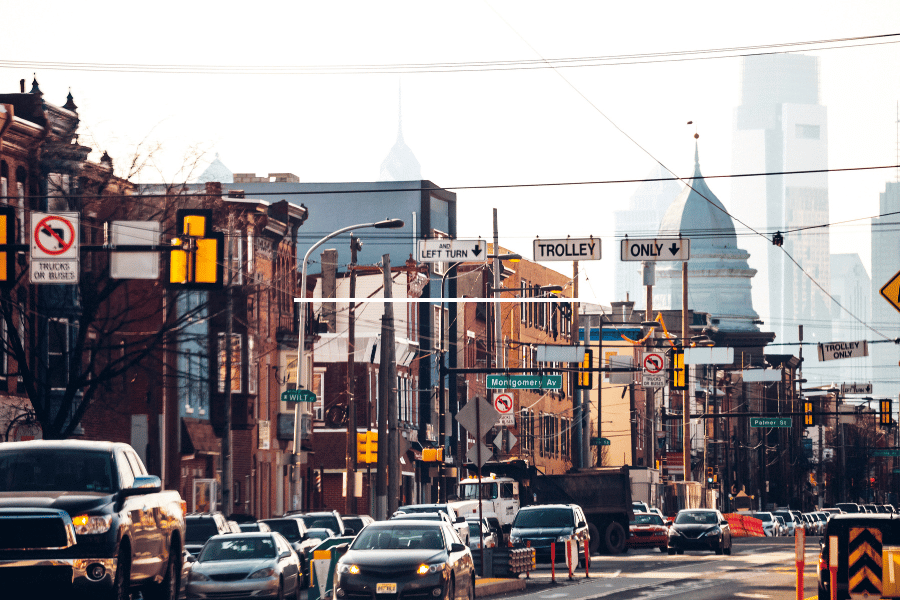 The median home value in Fishtown is around $375k, with homes varying in size, design, and year. Many older rowhouses are still rented and sold as townhomes or single apartments lining the streets, providing that old working-class feel. Still, some newer contemporary-designed townhomes, condos, and apartment complexes are also starting to pop up as well due to the demand and gentrification of the area. 
Living in Fishtown provides residents with an urban-suburban feel with an easy commute into the downtown area but many restaurants, bars, coffee shops, and parks within the neighborhood itself. Take a look at some of the local favorites in Fishtown below. 
Local Favorites
Washington Square West is a wonderful neighborhood located in Center City, Philadelphia, right between Old City and Rittenhouse. Known for its rainbow-flagged streets in the famous Gayborhood, trendy nightlife scene, and tons of upscale to underground bars, restaurants, cafes, and shops. 
Living in Washington Square West provides residents with a dense urban feel, being located in the heart of the downtown area near some of the historical monuments and buildings as well as some of the city's more modern high-rise apartments and office buildings. Known as a very liberal area, there are many young professionals and young families that thrive in this neighborhood with the perfect mix of city with greenery found at Washington Square park. 
The median home value in Washington Square West is around $550k, with the home styles being a mix of historic rowhouses and beautiful Greek Revival architecture condos and low-rise apartments. 
The residents living in this neighborhood are known to be a tight-knit community, with many events happening year-round at the park, a highly active neighborhood association, and retailers getting along and supporting one another. Before moving to this new neighborhood that already feels like home, read below about some local favorite things to do. 
Local Favorites
This neighborhood is sometimes referred to as the "Art Musuem Area"  because it contains the Philadelphia Art Musuem, Franklin Institute, Rodin Musuem, and Barnes Foundation, all within walking distance from one another. Although sometimes crowded with tourists and school trips, Fairmount is known to have many families and young professionals living in its homes with fresh green spaces and culinary delights all around, as well as pubs and cafes. 
Known as one of the greenest neighborhoods, Fairmount in the spring is a sight to see, with trees blooming between the brick and cobblestones adding color to its streets as well as stunning views over the water from Fairmount Waterworks and the Schuylkill River Trail. Homes here resemble the same brick exterior as many of the other neighborhoods but often have renovated and contemporary interiors.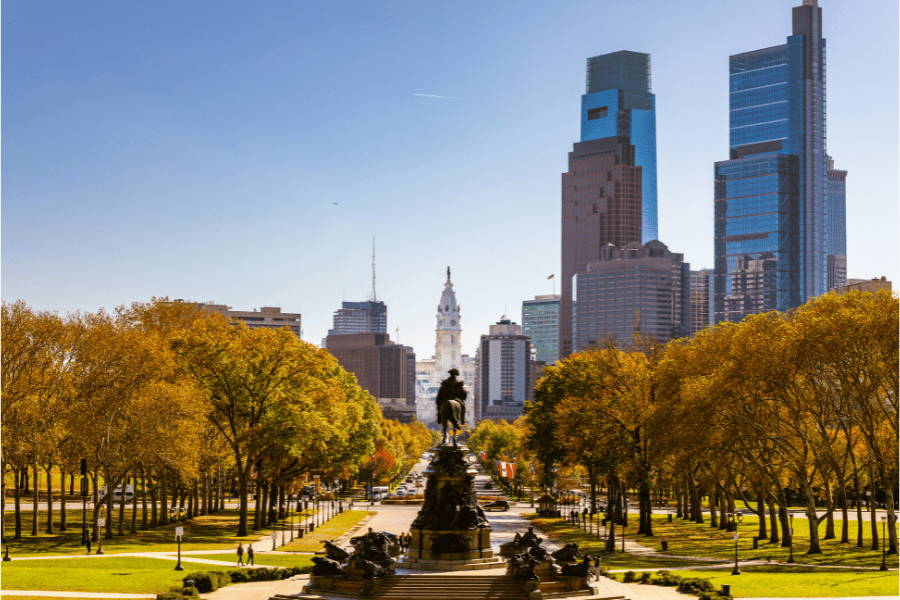 The median home value in Fairmount is around $430k, with many homes providing more space for the price. Most residents living here own their property, whether it is a single-family home, townhome, condo, or one of the newer apartment complexes here. Before making a move to Fairmont and making this beautiful neighborhood your new home, read below to find out some local favorites of things to do and see while living here. 
Local Favorites
One of the oldest neighborhoods in the city, Rittenhouse Square is known for its posh upper-class residents enjoying fine dining, upscale boutiques, clean parks, and luxury living. Located in Center City and surrounding Rittenhouse park, living here provides residents with a dense urban feel and the most exclusive place to live in Philadelphia.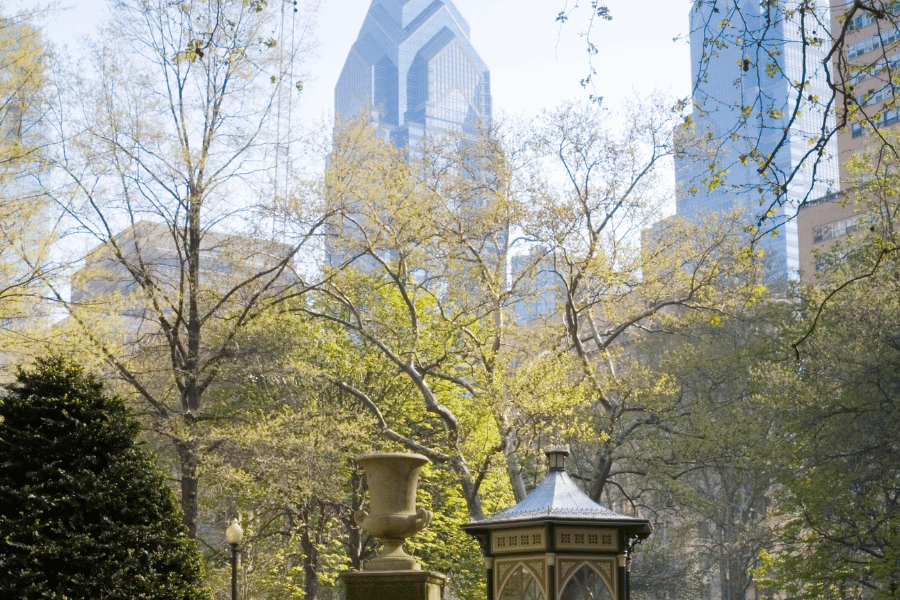 Rittenhouse's homes are different from the surrounding historic brick apartments and rowhouses; instead, luxury high-rises and elegant apartments rise above the skyline marking the neighborhood's territory. 
The median home value in Rittenhouse is around $600k, making it one of the city's most expensive places to live. If you can afford to live here, it is one of the best places to live, with easy access to shops, restaurants, cafes, bars, and all of the other downtown attractions and historical sites but within a stunning and relatively more safe area. Let's check out some of the local favorites in Rittenhouse below. 
Local Favorites
Best Neighborhoods in Philadelphia-Final Thoughts 
Philadelphia is a great place to live, with diverse neighborhoods and housing options in a city full of important American history, art & culture, recreational activities, and fun things to do and see. Living near some of the biggest metropolitan cities with a lower cost of living and a more small-town feeling, Philadelphia is a great place for families, young professionals, college students, and those wanting a quieter living but commuting to another city for work. 
If you or anyone you may know is moving to Pennsylvania or Philadelphia, make sure to contact us here so that we can get you connected with one of our Realty Specialists. Whether you want to live in the heart of the city or in a calm and charming neighborhood just outside of it, we will work with you to find the perfect home. No matter your budget, style preferences, or needs, we will be with you every step of the way. 

Find your new home
Search real estate and homes for sale