7 Best Neighborhoods to Live in Newport News VA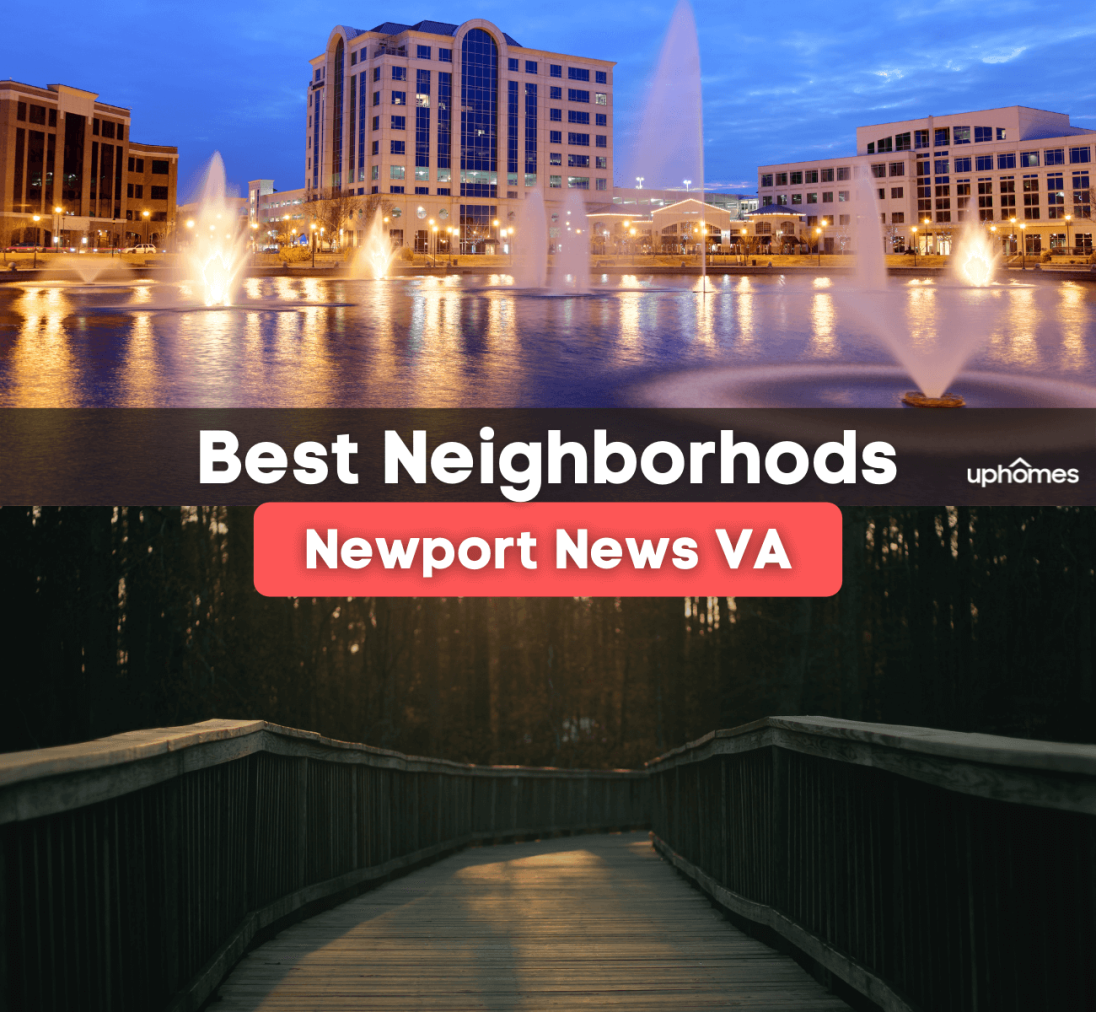 Best Places to Live in Newport News
What are the best neighborhoods in Newport News, VA? We have you covered with our list of the best places to live in Newport News, Virginia!
Nearly 200,000 people call Newport News home. Located on the northern shore of the James River, it's a relatively large coastal city in the state of Virginia with about 44 neighborhoods. It can be a great place to live and work whether you have a white or blue-collar job. Newport News has a mixed workforce and has resident professionals, sales and office workers, service providers, and much more. The biggest industry, by far, in Newport News is the military and shipbuilding. Newport News Shipbuilding is the largest industrial employer in Virginia and the builder for the U.S. Navy aircraft carriers.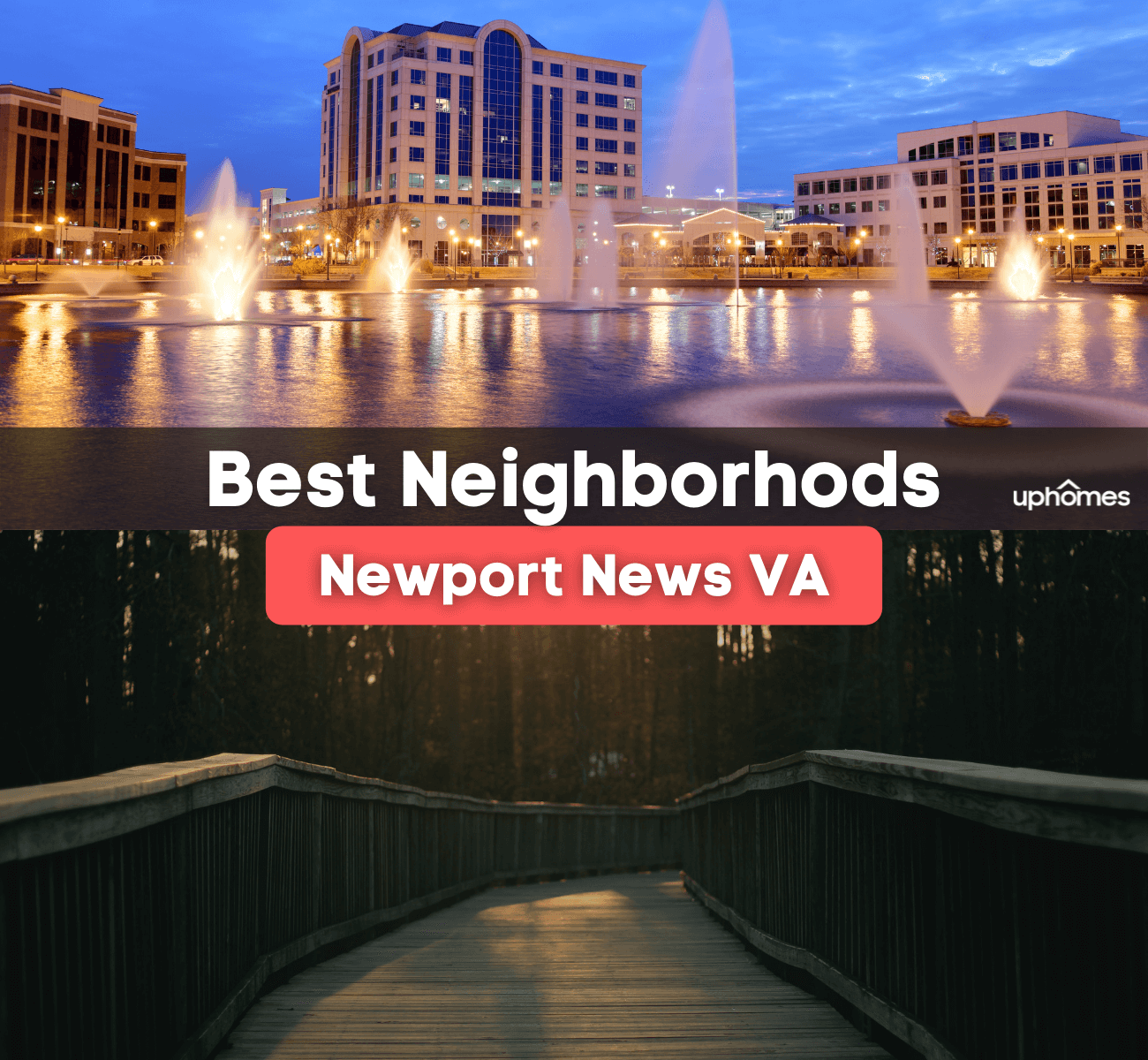 Newport News has some incredible neighborhoods right on the water that offer a high quality of living and are also some of the safest neighborhoods in the city. It also offers great river beaches and plenty of history, including the Virginia Living Museum, Virginia War Museum, and Ferguson Center for the Arts.
Many residents who work in Norfolk choose to commute every day and pick Newport News as home because of the lower cost of living and sense of community. If you're planning to move to Newport News, make sure you read the 15 Things to Know Before Moving to Newport News!
Picking the right neighborhood for you and/or your family is essential. We've done all the research for you about some of the best neighborhoods in this city and why. With the help of this neighborhood guide, you can read about the most popular neighborhoods in Newport News and why people love them. Read on to see why these are the 7 best Neighborhoods in Newport News!
Hilton Village
Hilton Village has a rich history; it is one of the first planned communities in all of the United States! Hilton Village paved the way when it comes to urban planning. It was originally built to house workers from Newport News Shipbuilding during World War I. Henry Hubbard designed the neighborhood as an English-style village with Colonial Revival and Jacobethan architectural styles and many of the 473 houses still stand in this neighborhood! Hilton Village was named one of America's Great Neighborhoods by the American Planning Association. These three-and-four-bedroom homes cost a bit more than they did back then though - between $150,000 and $300,000. Most of the houses in Hilton Village are single-family homes and on the older side. The neighborhood is quite affordable and also very safe! However, it is considered historic and the homes are in high demand.
Local Favorites:
Hilton Village Shopping District: Located along Warwick Boulevard, a collection of shops, restaurants, bakeries, antiques, jewelry, and much more.
Hilton Elementary: A blue-ribbon school nearby that has a high academic reputation and has a communication arts magnet program
James River: This neighborhood is situated along the river which makes it perfect for people who love fishing!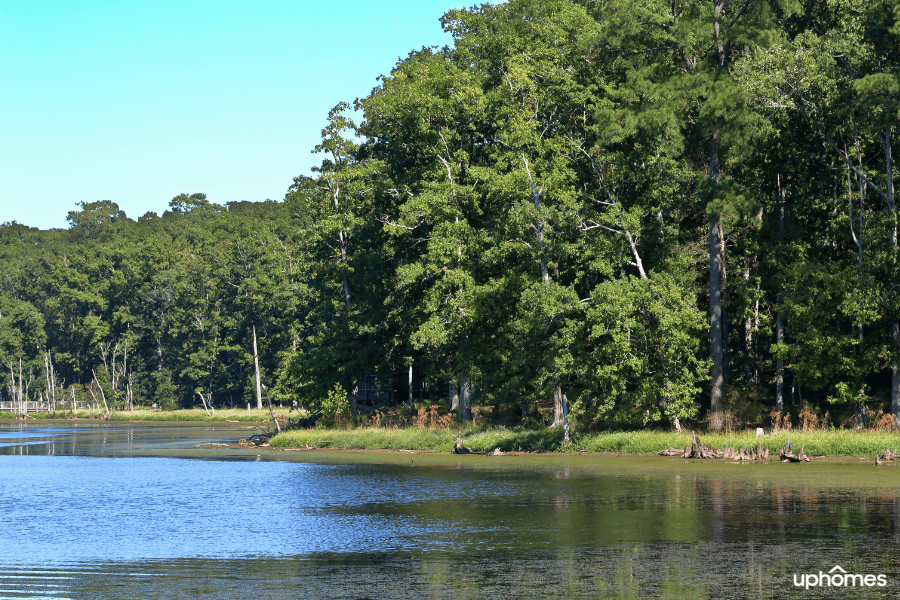 Hidenwood
Developed as a charming neighborhood in the 1950s, Hidenwood is located just southwest of the downtown area, along the James River. It has a perfect balance of both single-family homes and apartments so it's a great option for someone who doesn't want to buy a home yet but wants to live in a safe area. Many of the homes are on the water or close enough to walk so the views are a huge perk of this neighborhood. Many of the houses also have kept their charming, historic qualities with quaint shutters and brick exteriors. It's almost like you're stepping into a Dickens novel when you visit Hidenwood. The prices in this neighborhood for homes are a little higher because there is a lot of new construction in this area. Many of the properties cost upwards of $400,000 but most are under $350,000. This neighborhood is located just minutes from Christopher Newport University which has many options nearby for groceries, shopping, and dining.
Local Favorites:
Fisher's Creek, Lake Queen Anne & Indigo Lake: Plenty of water options in Hidenwood if you like living near water or enjoy water sports.
Church community centers: Churches in Hidenwood often serve as a community center and residents come to make bird feeders or attend an art camp with their kids.
Hidenwood Elementary School: A plus for many families; the school's library has a large collection of picture books about history and science.
Kiln Creek
Kiln Creek offers options for just about everyone! The neighborhood even has its own motto - "A Great Place To Be." The large, 1,200-acre neighborhood has nearly 3,000 homes with about 12,000 residents. Some people will say it's a little crowded but the overall atmosphere is attractive. It stretches across part of York County and Newport News, adjacent to Victory Boulevard. For the York County homes, the assigned schools are Grafton Bethel Elementary, Grafton Middle, and Grafton High Schools. Newport News Schools for Kiln Creek include Menchville High School, Hines Middle School, and Kiln Creek Elementary. The neighborhood also has 31 sub-communities offering townhomes, condos, detached single-family homes, and apartments. The majority of the homes were built in the early 1900s. The prices have risen over the past few years due to the housing market and demand; however, you could still find a place to live between $150,000-$330,000. In 2015, the Southern Virginia chapter of the Community Associations Institute recognized the Kiln Creek Homeowners Association as the best overall community association of the year. The association currently owns a 4-acre recreation center complex with an Olympic-size pool, picnic areas, playgrounds, tot-lots, tennis courts, and a multi-purpose court.
Local Favorites:
Kiln Creek Golf Club & Resort: The neighborhood is planned around this championship 18-hole golf course. Many of the homes sit on the course. It was voted one of the "five best courses in the state of Virginia" by Golf Digest.
Local bowling alley: The gem of the neighborhood which provides fun for families all year long.
Patrick Henry mall: High-quality retail and entertainment options near Kiln Creek; it is the only enclosed mall between Norfolk and Richmond.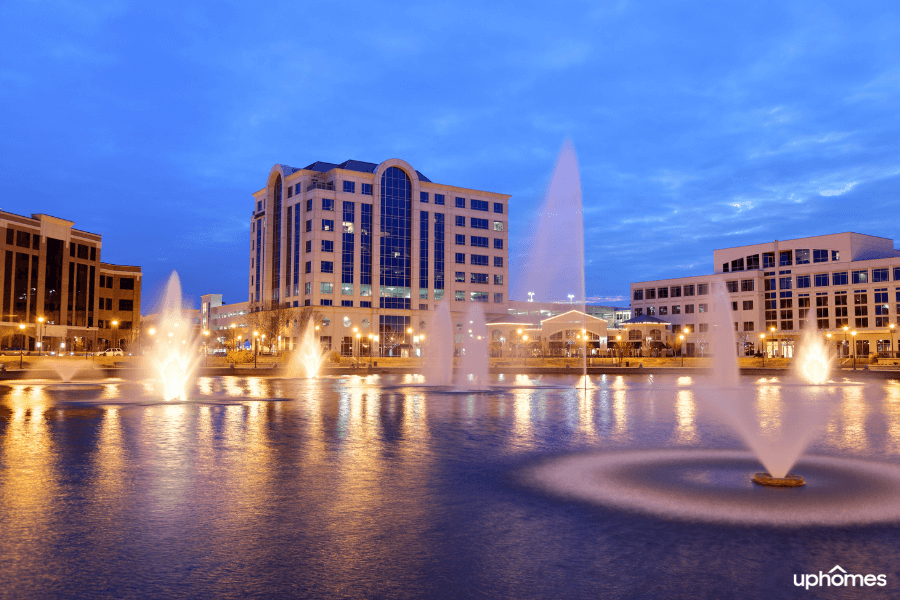 Port Warwick
With a traditional village setting, residents in Port Warwick can walk from home to work, shops, and restaurants. This neighborhood combines the look of a historical old town center with modern construction. More than 1,500 residents live here in homes starting at $160,000. However, most of the houses are in the $300,000s. The houses range in size from 1,900 to 4,000 square feet. There are also several apartment options including The Arbors, Styron Square, and The Roth & Whitman house residences. It's located in the Oyster Point area of Newport News at the intersections of Jefferson Avenue and Loftis Boulevard. It's only a short trip away from Interstate 64, the Newport-News Williamsburg Airport, and Patrick Henry Square. The heart of this neighborhood is Styron Square which is surrounded by hair salons, restaurants, and upscale homes. On-site medical care includes an urgent care center, medical office buildings, and Port Warwick Dental Arts. Port Warwick is a pedestrian-friendly area with a city-like grid system of streets and sidewalks. The neighborhood has a similar feel to Norfolk's Ghent, Richmond's Fan District, or Washington's Georgetown. It's a very popular location for young families looking for somewhere to settle down!
Local Favorites:
The Shoppes of Port Warwick: One of the premier specialty shopping & dining districts in Hampton Roads containing more than 50,000 square feet of shops and restaurants. Retailers can also own townhomes with shop space on the first floor and living space overlooking Styron Square on the second floor.
Port Warwick's Farmers Market:This beginsin May and is held on Wednesdays through September. Shop for fresh local produce, eggs, poultry, seafood, flowers, baked goods, and much more. Fall and holiday markets continue in October, November, and December.
"Melpomene:" The 25-foot tall public structure by New York artist Romolo Del Deo. Most residents either have a view from their residence of this sculpture or Styron Square.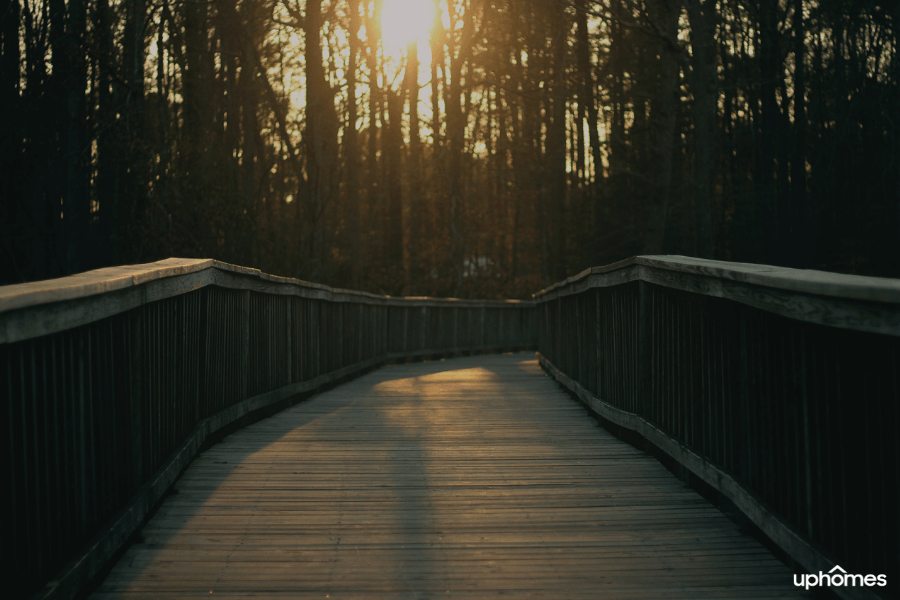 Carriage Hill
A small but highly popular neighborhood with plenty of shopping and dining options for residents of Carriage Hill. This neighborhood has a bit of a more "urban" feel than some of the other neighborhoods that have been mentioned so far. The homes in Carriage Hill are affordable with the median real estate price around $224,000, which is lower than the national average. Most of the houses are single-family homes and there are not a lot of apartment complexes to choose from. The complexes that are available in this neighborhood fill up fast. One downside of this neighborhood is that it does not have direct access to the James River or Warwick River.
Local Favorites:
Lucas Creek: The only body of water in this neighborhood and a charming addition for the residents.
Newport News/Williamsburg International Airport: This neighborhood is located just a few blocks west of the airport so it's super convenient if you travel often!
Beechwood
Surrounded by water on almost every side, Beechwood is the perfect place for you if you enjoy fishing or want to spend a lot of time outside. It's a smaller neighborhood and residents who live here say it has a safe and small-town feel. There aren't a ton of shopping and dining options in the neighborhood but there are places to go just a short drive away. The houses are mostly single-family homes and the prices are very affordable. The average real estate price is around $260,000.
Local Favorites:
Denbigh Park: Park and boat ramp located nearby Beechwood. It's a peaceful place to fish, watch the water, or sea birds.
Fort Eustis: Army installation combined with Langley Air Force Base. This neighborhood is convenient for people who work or want to live near the base.
Menchville
Menchville is a great area for people who love the water and outdoor, green spaces. Located along the Warwick river next to Deep Creek, there are plenty of things to do outside if you live in this neighborhood. Menchville is considered a military neighborhood and many people commute to Norfolk or the Naval Shipyard. The median household income in Menchville is higher than average, at about $81,300. The average market price of a home in Menchville is about $284,000. One downside to this area is the lack of shopping. There are not a ton of options within the area so you will have to drive to find groceries, restaurants, or coffee.
Local Favorites:
Riverview Farm Park: Located in the middle of the neighborhood, it offers access to beaches, walking trails, playgrounds, and a skatepark. This is one of the biggest attractions of living in Menchville.
Virginia Living Museum: A combination of aquarium, zoo, botanical garden, and science center featuring animals and plants native to Virginia. This museum is not located inside Menchville but is just a short drive away for residents.
The Bottom Line
Newport News is a great place to live and work and could be the perfect location for you or your family. There are plentiful neighborhoods to choose from for those raising a family but surprisingly, there is also a high proportion of young singles living in Newport News as well. There are tons of opportunities for friendships, socializing, romance and fun. As you can see from some of the neighborhood descriptions, Newport News is also home to a lot of people employed in the armed forces. When you visit or walk around Newport News, you will most definitely run into military individuals out and about in the city.
By reading this guide, our team hopes that you are able to find your dream home and location in the best neighborhoods of Newport News. Before you move to Virginia, make sure to read our guide about everything you need to know before moving to Virginia.
It may be helpful to you before making the decision of where to go. Before you move, make sure to reach out to one of our helpful Realty Specialists to guide you through the moving and home-buying process. Contact us today to find your dream home in Newport News!

Find your new home
Search real estate and homes for sale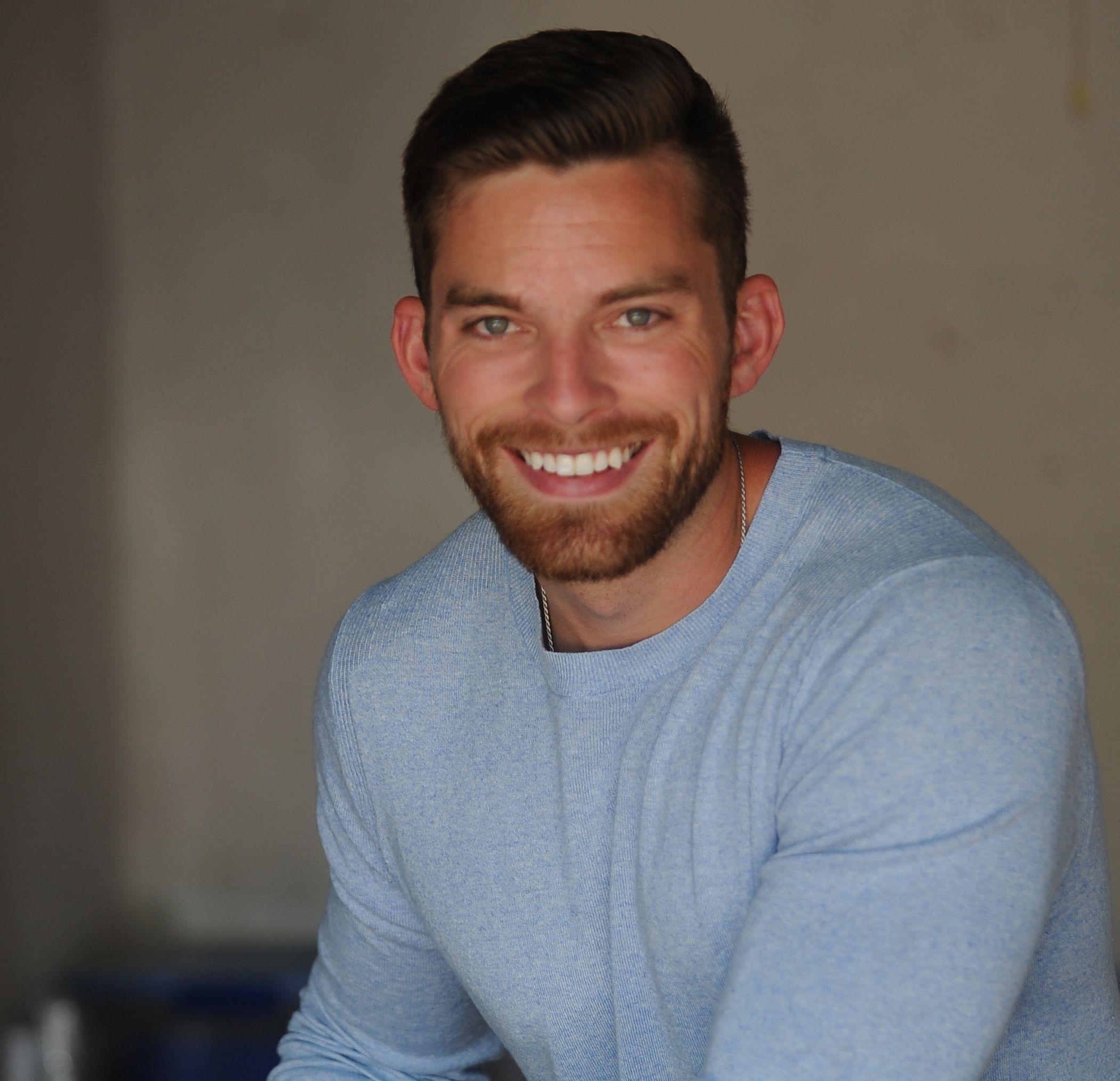 Ryan Fitzgerald
Hi there! My name is Ryan Fitzgerald, and I am a REALTOR®. My goal is to help you learn more about real estate through our Real Estate Blog! Hopefully, you enjoyed the above blog post and it found a way to provide help or value to you. When you're ready to buy or sell a home of your own let us know here. Please feel free to join the conversation by dropping us a comment below.