10 Best Neighborhoods in Memphis, TN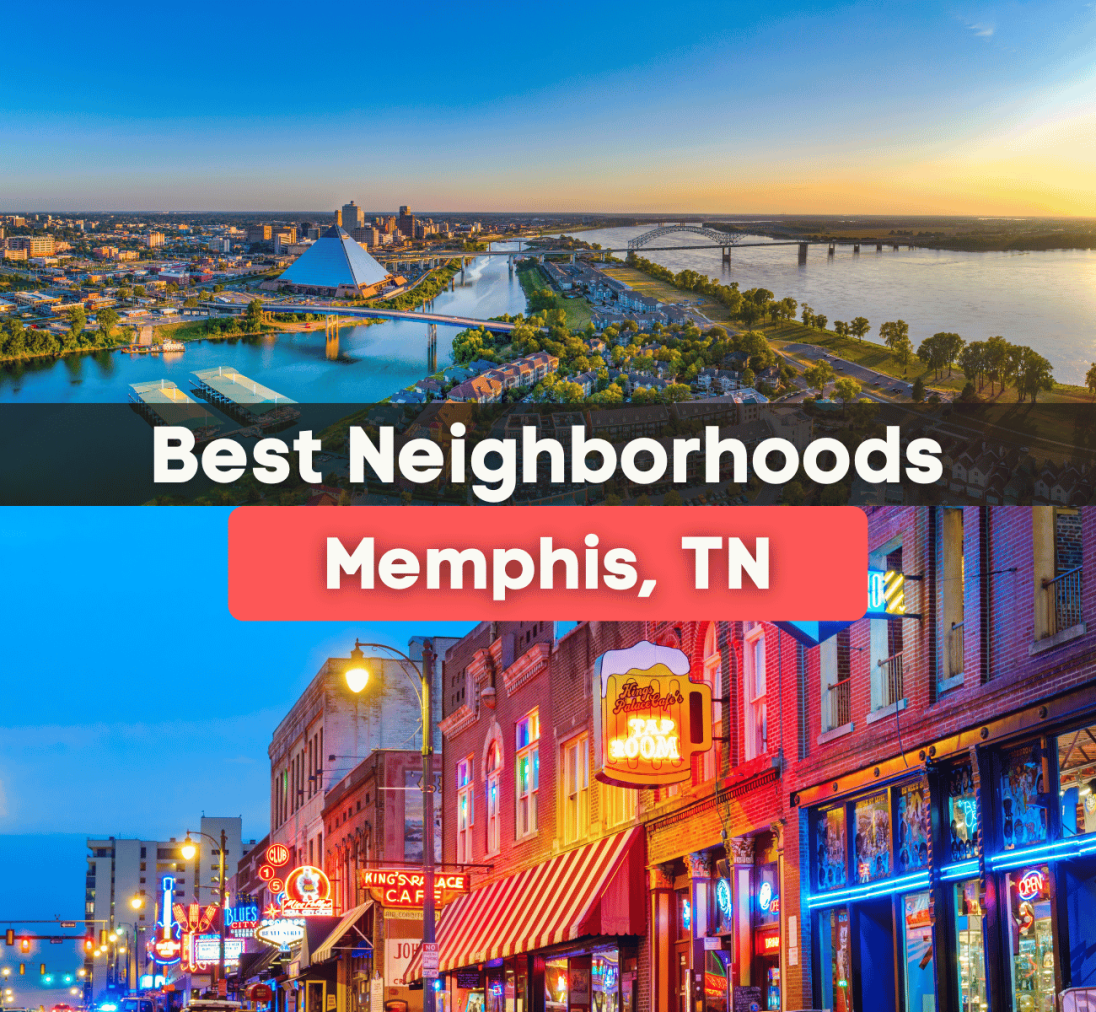 Best Places to Live in Memphis
Are you moving to Memphis, TN, and want to find a great neighborhood? Check out these ten top places to live in Memphis!
Whether looking for the safest place to live in Memphis or the best place for families, Memphis is home to a variety of great neighborhoods that everyone will love.
From neighborhoods full of new construction single-family homes for sale in Memphis to communities with beautiful luxury homes for sale in Memphis, there is no right or wrong choice regarding finding a fantastic place to live in Memphis.
If you are not from Memphis, chances are that you need to learn more about the different neighborhoods in the city, which can make it hard during your home search. Luckily, that is what we are here for since we are ready to tell you about the ten best neighborhoods in this wonderful southeastern Tennessee city.
While the architecture in Memphis offers an eclectic mix of classic Southern-style homes with quaint cottage dwellings, there are plenty of home styles to choose from varying in size and price that will meet your fancy.
If you are a young professional searching for a property near the lively Beale Stree in Downtown Memphis or a family looking for a quiet neighborhood, then a place like East Memphis or Cooper-Young will most likely be able to meet all of your needs.
With that being said, keep reading this ultimate neighborhood guide to learn more about each top-rated neighborhood in the Memphis area, along with local favorites that can be found in each community.
Keep scrolling!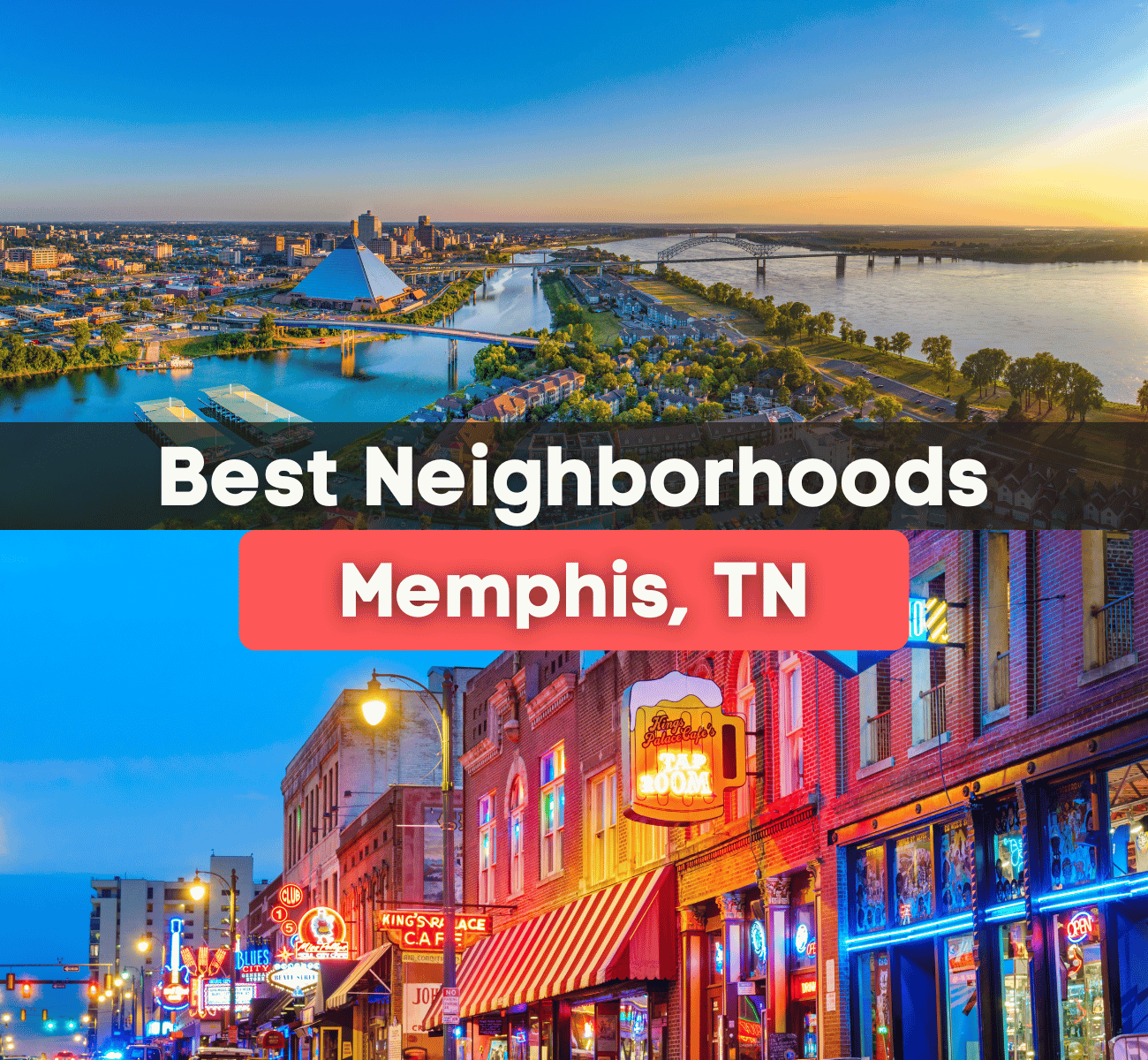 Here are the ten best neighborhoods in Memphis!
Downtown Memphis
Downtown Memphis, best known for its blues and soul clubs, is the city's business and entertainment center.
Home to the world-famous Beale Street, which is lined with live music venues, restaurants, shops, and public art displays, living in Downtown Memphis is the perfect place for young professionals, college students, and single adults who want to be near all of the action.
Plus, full of national landmarks, museums, and galleries, Downtown Memphis has a rich historical background that tells the stories of the civil rights movement to residents and visitors.
Local Favorites: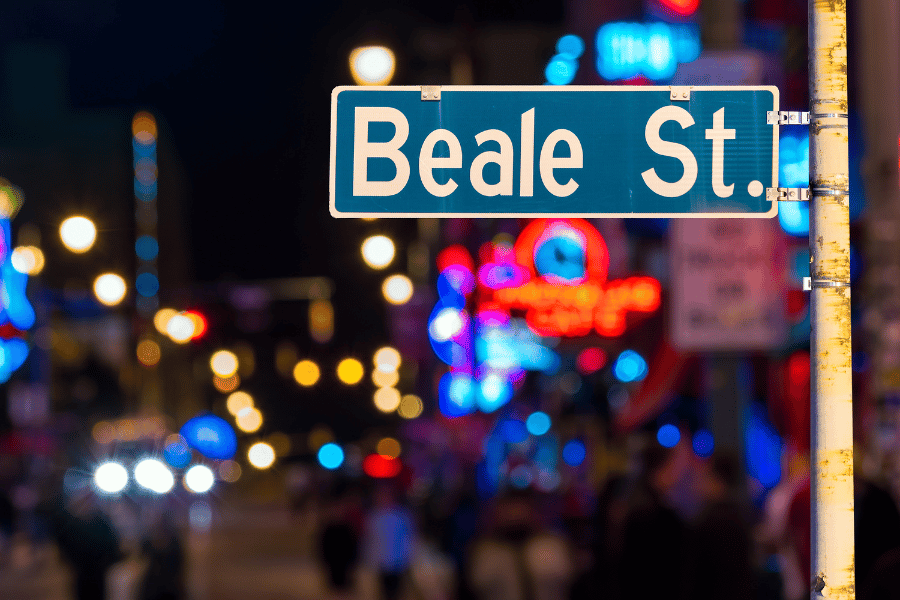 Cooper-Young
The neighborhood of Cooper-Young is an eclectic place to live and a unique historic district in the Midtown section of Memphis that is named for the intersection of Cooper Street and Young Avenue in the city.
From its many locally-owned restaurants and shops to its number of live music venues and record stores, Cooper-Young is an excellent neighborhood in Memphis to call home that is notorious for its high safety rating.
Since most of the neighborhood's most prominent attractions are festivals and events focusing on local arts and music, many residents can attend the Cooper-Young Festival, a celebration of Memphis heritage.
Local Favorites:
East Memphis
Named one of the best places to live for families due to its convenient location and abundance of affordable housing options, the neighborhood of East Memphis features townhomes, apartment complexes, and Craftsman-style bungalows for sale.
Found just east of Midtown Memphis and stretching all of the ways to Germantown, East Memphis is a large business and residential district that is quiet and safe.
Sought after for its many upscale retail areas, including Laurelwood Shopping Center, which is made up of designer fashion stores and delicious eateries, it is no wonder that East Memphis is one of the best places to live in Memphis.
Local Favorites:
Harbor Town
The urban-style neighborhood of Harbor Town is situated on a 132-acre sandbar in the Mississippi River that is called Mud Island in Memphis.
First developed in 1989 by developer Henry Turley, Harbor Town is now one of the trendiest and upscale neighborhoods in Memphis due to its location and beautiful architecture.
While some residents might be worried about Harbor Town flooding after the Mississippi River reached a level of 48 feet in 2011, a five-foot-high emergency levy was built to prevent future flooding.
Local Favorites: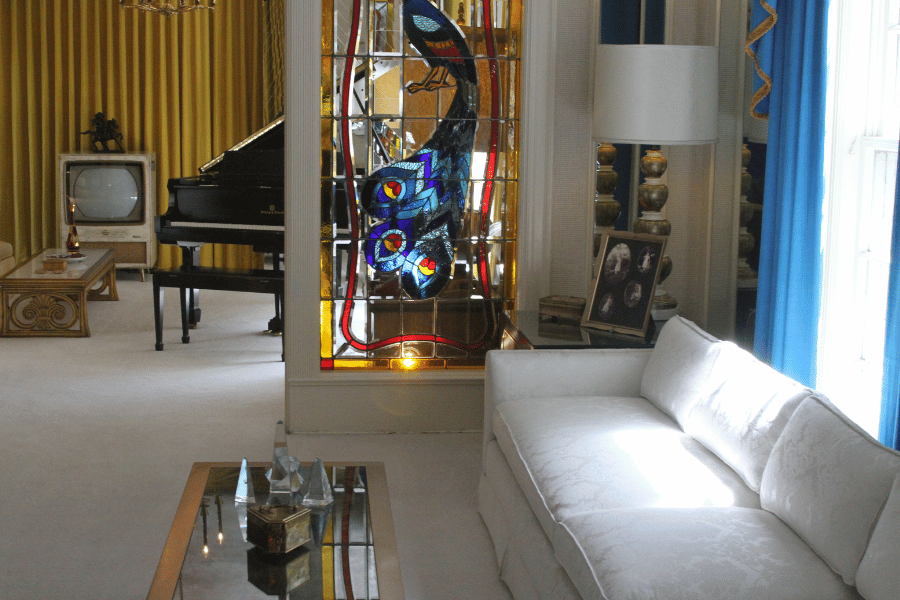 Cordova
Located east of Memphis and North of Germantown, Cordova is a desirable community in Shelby County that Memphis has annexed.
Though Cordova may still be considered a Memphis suburb, this unincorporated community is one of the nicest places to live in Memphis due to its excellent amenities, outdoor activities, and highly-rated restaurants.
Local Favorites:
Midtown
If you are looking for a safe place to live in Memphis just outside the busy city center, then the neighborhood of Midtown might be for you.
Great for young professionals and single adults, living in Midtown is ideal for residents who want to be close to work but still have access to some of the best things to do in Memphis without traveling far from home.
From live music venues and BBQ restaurants to museums and well-maintained parks, Midtown is a vibrant community and go-to destination for Memphis fun.
Local Favorites: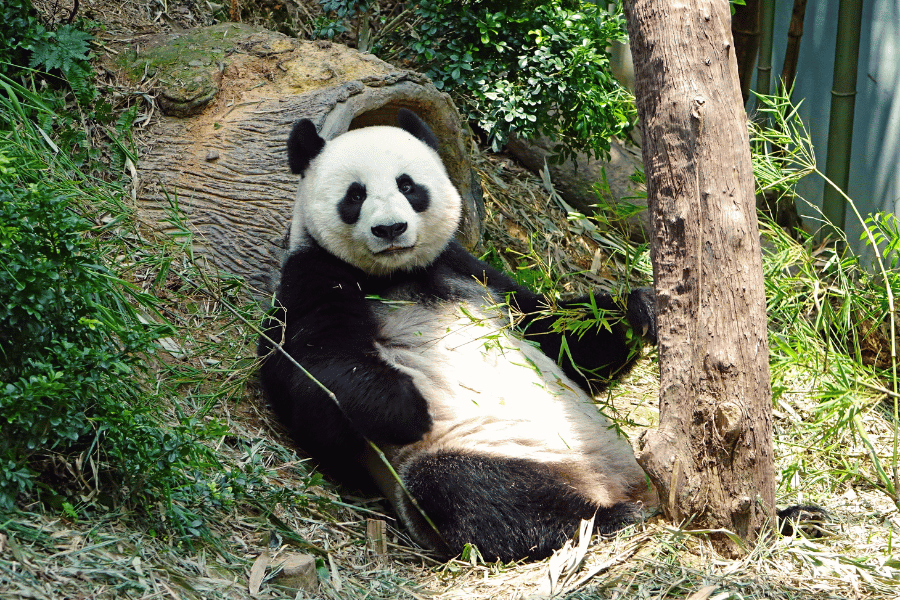 Binghampton
Binghampton is a beloved Memphis neighborhood located on the edge of Midtown and is named after W.H. Bingham, a prominent politician and entrepreneur in the late 1800s.
As one of the most diverse neighborhoods in Memphis, with residents from nearly 20 countries, Binghampton is a unique place to live with the perfect blend of commercial and residential properties.
Since most residents of Binghampton love to stay active, there are plenty of parks, greenways, and recreational activities to take advantage of when living on this side of town.
Local Favorites:
South Main
Now a hip district made up of converted early 1900s warehouses, the neighborhood of South Main is the place to be if you love relaxed bars, laid-back brewpubs, vintage fashion stores, and creative eateries.
Also, the location of the Lorraine Motel, which is the site where Dr. Martin Luther King Jr. was assassinated, South Main is unfortunately home to some of the saddest histories in Memphis.
Local Favorites:
Crosstown
The neighborhood of Crosstown is a beautiful Memphis community best known for its many restaurants, art exhibits, galleries, and famous local brewery.
It is centered around the Crosstown Concourse, the neighborhood's vertical urban village; no other area in Memphis is dedicated to that local art scene other than that of Crosstown.
Local Favorites:
Whitehaven
The suburban neighborhood of Whitehaven is the largest in south Memphis. It is recognized as an African-American middle-class neighborhood with high levels of homeownership and involvement in the community.
Home to Southland Mall, the first enclosed mall in Memphis, Whitehaven welcomes smaller businesses and upscale and large-scale retailers to the area to grow the neighborhood's population and economy.
Bordering the Memphis International Airport and located near the T.O. Fuller State Park, Whitehaven has become a popular destination for travelers and outdoor enthusiasts.
Local Favorites: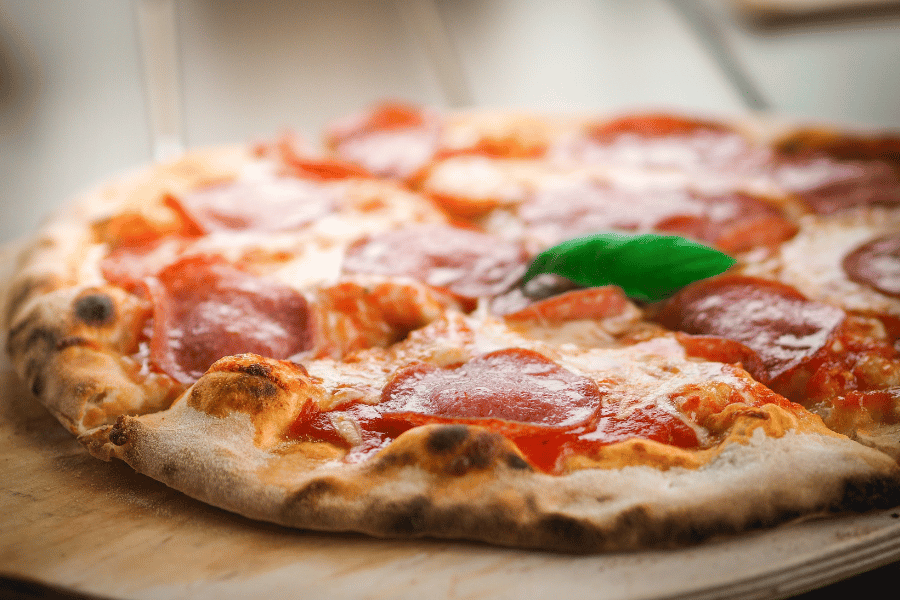 Best Neighborhoods in Memphis, TN - Final Thoughts
Home to many fantastic neighborhoods and tight-knit communities, there is no arguing that Memphis is one of the best places to live in Tennessee.
Whether you are relocating for a job and are looking for a great place to live or are a current Memphis resident who wants to move from one side of town to the other, we are here to help!
Make sure to contact us today to be connected to one of our friendly and knowledgeable Real Estate Specialists so that we can answer any questions or give you more information about what life is like in Memphis.
If you are interested in learning about other areas near Memphis, please refer to our website for up-to-date information about moving to Tennessee and moving to Nashville.

Find your new home
Search real estate and homes for sale