7 Best Neighborhoods in Hollywood, FL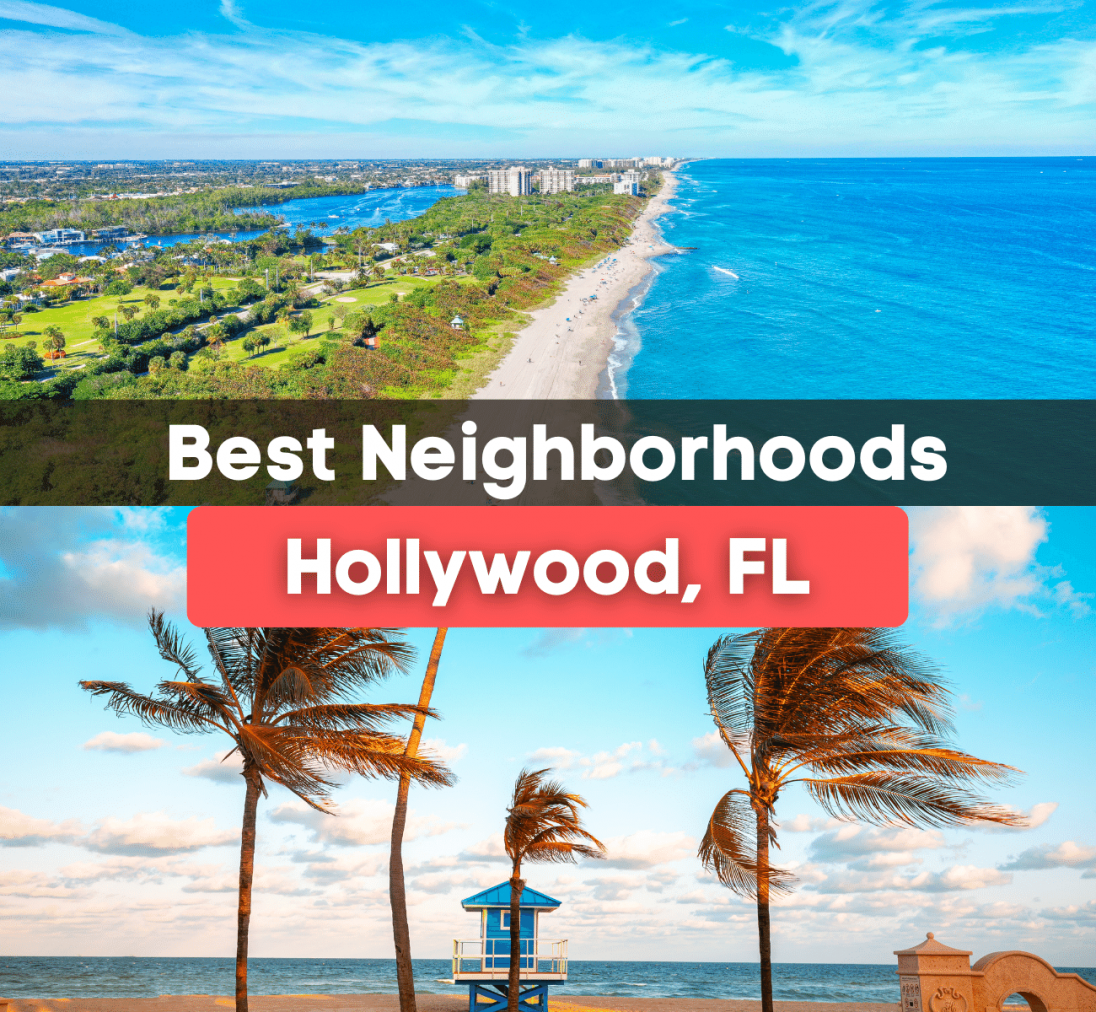 Best Places to Live in Hollywood
What are the best neighborhoods in Hollywood, FL? Here are seven great places to live in Hollywood! 
Hollywood, Florida, is a beloved city on the state's east coast between Miami and Fort Lauderdale. As the third-largest municipality in Broward County, Hollywood is a great place to live for families and retirees. Recognized as a popular vacation destination, many people call Hollywood home for its prime real estate, miles of beaches along the Atlantic Coast, world-class golf courses, well-maintained parks, popular waterfront restaurants, and family-friendly things to do. 
Offering its residents an urban way of life near the beach, Hollywood is a sought-after destination outside of busy city life in Miami. Often described as laid-back yet bustling, this relatively small city offers old-Florida charm and a tight-knit community feel that can be hard to find in larger urban areas. 
If you are considering a move to Hollywood, finding a neighborhood that best fits your needs is essential. Whether you are searching for a safe area located near highly-rated schools or a lively community found near top amenities, there is bound to be a place to live in Hollywood that meets all of your expectations.  
Check out these best places to live in Hollywood 
Hollywood Beach 
Facing the Atlantic Ocean, Hollywood Beach is the perfect destination for a weekend getaway and a great place to live. Providing an "Old Florida" feel, many people decide to move to Hollywood Beach for its white sand, warm water, and stunning views. 
Home to the Hollywood Beach Broadwalk, which is a popular brick-paved walkway frequented by pedestrians, rollerbladers, and bicyclists, many people love to visit this promenade to enjoy the sunset and visit the many beachfront restaurants, bars, shops, luxury hotels, and public art displays. 
Residents of Hollywood Beach love to spend time outdoors and tend to live an active lifestyle. Due to the location near the ocean, many opportunities exist for people to participate in water sports and fishing. From beachfront homes to beautiful condominiums, many young professionals and retirees love to call Hollywood Beach home. 
Local Favorites: 
Hollywood Beach Broadwalk: This popular tourist attraction is a 2.5-mile-long pedestrian promenade that stretches along the Atlantic Ocean and is home to over 50 restaurants, 30 shops, and three parks. 
Margaritaville Hollywood Beach Resort: Overlooking Hollywood Beach, this full-service oceanfront resort inspired by the lyrics of Jimmy Buffet features 369 rooms, eight bars and restaurants, outdoor pools, a spa, a fitness center, and a kids club. 
7 Tables on the Beach: Located in LaTerrace Oceanfront Hotel, this beloved Peruvian restaurant provides stunning oceanfront views and a menu full of authentic Peruvian dishes made fresh using high-quality ingredients.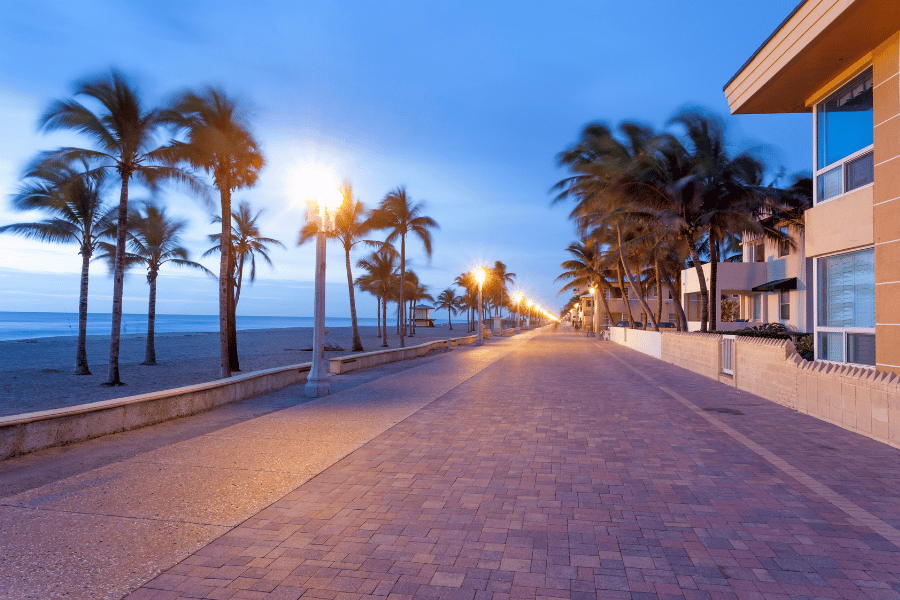 Emerald Hills 
The charming community of Emerald Hills is located west of Interstate 95 in the heart of Hollywood, Florida. This top-rated country club community is a safe place to live and is perfect for families. While most homes were constructed in the mid-1970s, several newly built modern estate homes are found throughout the neighborhood. 
From single-family homes to oversized townhomes, plenty of housing types are available to fit many lifestyles. Most homes in this community range between 2,000 and 4,000 square feet and provide beautiful views of the surrounding golf course. Since no home looks alike in this neighborhood, moving to Emerald Hills ensures homeowners live somewhere special and unique. 
Home to the Club at Emerald Hills, rated number one by USGA in South Florida, this championship golf course features well-maintained greens and countered bunkers and hills. First opened in 1969, players will be met with a challenge when playing at this beloved golf club. 
Local Favorites:
Grand Cafe Hollywood: Found in Stirling Square, this kosher Israeli restaurant has been serving the area since 2011 and is a great place to order coffee, delicious espresso drinks, and breakfast, lunch, and dinner favorites.
Café Noir: Relax with friends and family at this kosher restaurant that offers a menu full of international breakfast, lunch, and dinner favorites, including salads, sandwiches, pasta, burgers, and sushi. 
The Cave Kosher Restaurant and Bar: Best known for its delicious cuisine and giant margaritas, this kosher restaurant and bar features weekly entertainment, from live music and karaoke to game nights and comedy shows.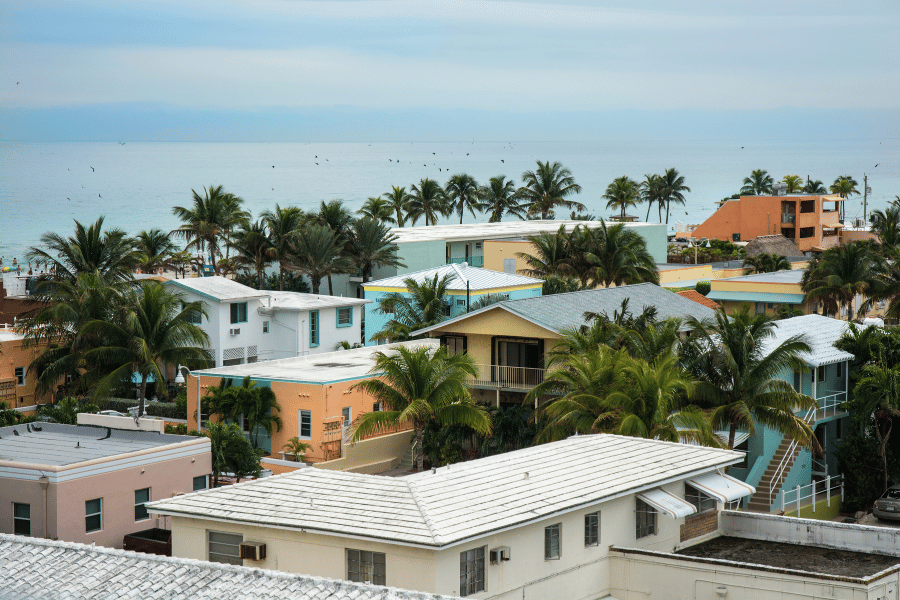 Hollywood Lakes 
Hollywood Lakes is a sought-after upscale community in Hollywood, Florida, that is notoriously safe and located near the beach, public parks, and many top amenities. This desirable community on the Intracoastal Waterway is quiet and home to many friendly people. 
Well-known for its art deco and Mediterranean revival homes, many residents love to take advantage of the neighborhood's proximity to open green spaces, hiking trails, kayak rentals, and restaurants that serve fresh-caught seafood. For those moving to Hollywood Lakes with school-aged children, some of the best schools in the area include Dania Elementary School, Hollywood Academy of Arts and Science, and South Broward High School. 
Local Favorites:
Le Tub Saloon: Providing friendly service and a laid-back atmosphere, this restaurant on the waterfront in a former gas station is a great spot to hang out and enjoy burgers, sandwiches, salads, and desserts. 
GG's Waterfront: Serving lunch and dinner daily and brunch over the weekend, visitors dine on fresh-caught seafood, salads, and sandwiches at this bar and grill found on Hollywood Beach.
Ocean Alley Restaurant and Beach Bar: Open for breakfast, lunch, and dinner, this full-service restaurant on the Broadwalk offers live music, excellent service, and tasty drinks. Dine-in and takeout options are available.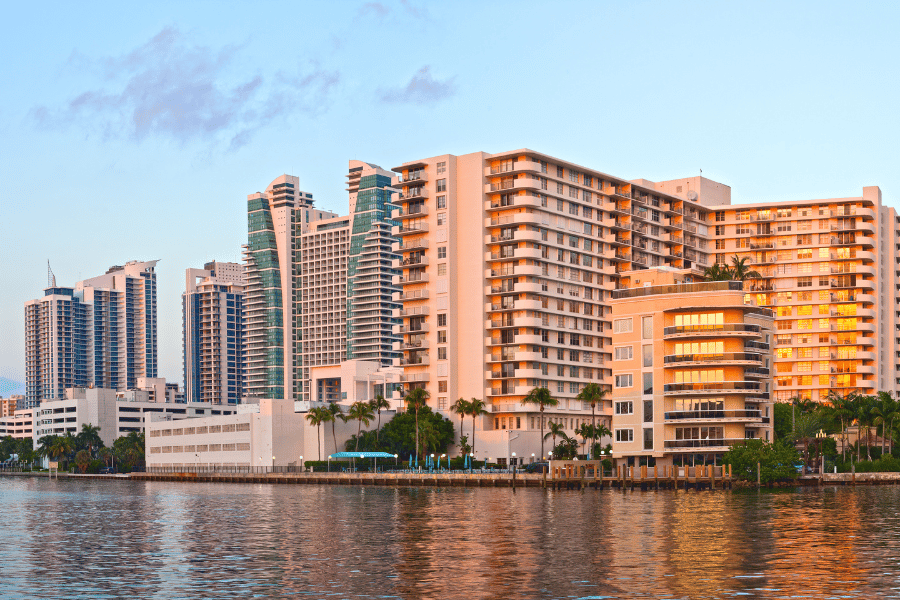 Highland Gardens
Highland Gardens is a unique urban neighborhood in Hollywood that has a low crime rate and is family-friendly. Found close to main streets and major highways, traveling throughout town from this neighborhood is super convenient and easy. Highland Gardens is one of the best places to live in Hollywood and offers a high quality of life and affordable housing prices. 
For those moving with school-aged children, some of the best schools in the area include Colbert Elementary School, Olsen Middle School, and Hallandale High School. 
Local Favorites:
Orale Mexican Restaurant: Bring the whole family to this lively eatery serving traditional Mexican cuisine and delicious drinks in a fun atmosphere. 
Kussifay Argentinean Restaurant: Specializing in Argentinean cuisine, popular menu items include sandwiches, salads, pasta, pizzas, and calzones. 
GoBistro: This is the go-to spot for ramen, sushi, and other Japanese favorites. Located in a casual and laid-back atmosphere, make sure to order sake with your meal. 
Royal Poinciana 
As part of the Central Business District, the neighborhood of Royal Poinciana is a lively residential and commercial area with beautiful, competitively-priced homes. Dating back to 1944, this community has grown over the years and features single-family homes with one to four bedrooms and one to three bathrooms. 
Considered to be one of the most walkable neighborhoods in Hollywood since award-winning shopping centers and dining options surround it, this is one of the best areas to live in. Not only is this neighborhood dog-friendly, but most yards are well-maintained. 
With a median age of 44, most residents are families or working professionals. Home to a nice mixture of homeowners and renters, the population of Royal Poinciana is over 4,000. As part of the Broward County Public School System, some of the best schools in the area are Hollywood Central Elementary School, Olsen Middle School, and Avant Garde Academy of Broward. 
Local Favorites:
VILLA ROMANA Italian and Romanian Restaurant: This sophisticated Italian and Romanian restaurant will satisfy your cravings in the heart of Hollywood, Florida. All menu items are freshly made and prepared with the highest quality ingredients, providing dine-in or takeout options. 
The Tipsy Boar: Known for its tasty bar food, craft beers, wine, and cocktails, this neighborhood pub is the go-to spot for burgers, pizza, sandwiches, and happy hour specials. 
Mickey Byrne's Irish Pub and Restaurant: Home to big-screen TVs and over twelve craft beers on tap, this Irish pub and sports bar is a longtime neighborhood favorite hang out offers live performances, game nights, and exciting entertainment weekly.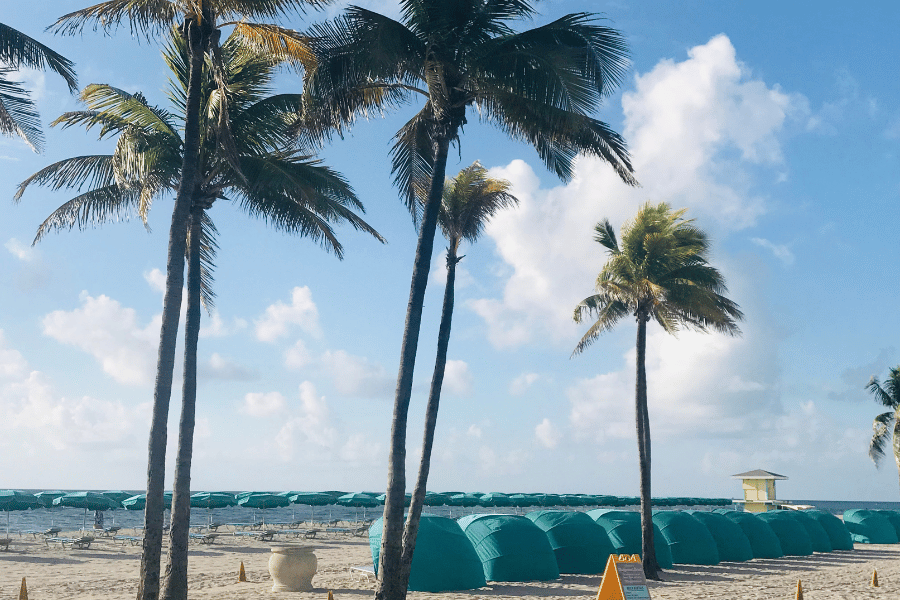 Washington Park 
Washington Park is a family-friendly neighborhood with a median age of 52 and a population of almost 3,000. Offering affordable home prices, more than half of residents own their homes. First constructed in 1954, the community has developed over the years into a beautiful place to live, full of opportunities to grow and flourish. 
Full of single-family homes, condos, and townhomes, there are plenty of home types to choose from in this neighborhood to fit your needs best. Most homes offer one to four bedrooms and one to three bathrooms and range between 558 to 2,450 square feet. 
Home to the Washington Park Community Center and located near many public parks and restaurants, there are plenty of ways to get involved in the community when living here. 
Local Favorites:
Captain Jerk Restaurant and Lounge: Get your fix of traditional Jamaican cuisine, such as Jerk Chicken and cooked Oxtail, in a laid-back casual setting. 
LowHaa Natural Juices and Healthy Foods: Specializing in green juice, healthy smoothies, and natural vegan food, this healthy food restaurant is not only delicious but good for your body. 
ArtsPark at Young Circle: Located in Young Circle Park, this family-friendly 10-acre park first opened in 2007 and is a great place to bring the whole family since it features a playground, arts pavilion, and amphitheater. 
Central Beach 
Featuring large homes that are high value, the neighborhood of Central Beach is a popular place to live for homebuyers that can afford the higher price tag. Offering a variety of homes built between 1963 to 2021, most single-family homes range between 1,140 and 4,043 square feet in size, with three to four bedrooms and two to three bathrooms. 
For those moving to Central Beach with school-aged children, the best public schools in the area are Dania Elementary School, Olsen Middle School, and South Broward High School. 
Local Favorites:
Anne Kolb Nature Center: Featuring paddling and walking trails, an observation tower, and an aquarium, this nature center is a must-visit when the weather is nice just off Hollywood Beach. 
Charnow Park: A nice place to bring the kids, this park features a playground, picnic pavilions, and a children's splash pad. 
Harry Berry Park: Offering a quiet spot to relax and enjoy nature, visitors can take advantage of this park's picnic tables, pavilion, playground, and climbing wall.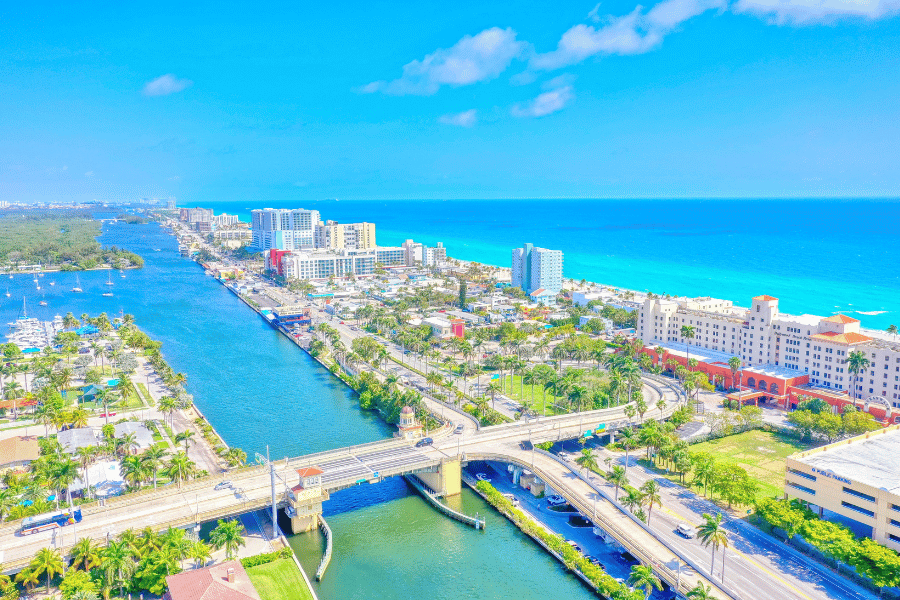 FAQs 
Here are some common questions about the best places to live in Hollywood, Florida. 
Is Hollywood a good place to live in Florida? 
Considered one of the best places to live in Florida, Hollywood offers miles of pristine beaches, beautiful weather, and fun things to do all year round. 
Is Hollywood, Florida, walkable? 
Even though most residents own a car, the most walkable neighborhoods in Hollywood, Florida, are Parkside, Lawn Acres, and Royal Poinciana. 
Is it expensive to live in Hollywood, Florida?
With a cost of living that is 12% higher than the national average, it is safe to say that Hollywood is not one of the cheapest places to live in Florida. 
What is Hollywood, Florida, known for?  
Hollywood, Florida, is a beautiful place to call home and is best known for its beaches, award-winning golf courses, public parks, and the infamous Hollywood Beach Broadwalk. 
Best Neighborhoods in Hollywood, FL - Final Thoughts 
When looking for your next home, there are many great places to live in Hollywood, Florida. From beachfront properties to luxurious condos, it is no wonder that Hollywood is a frequented place to stay and play all year long. Home to some of the best beaches in Florida, life is always exciting in this beachfront community. If you are moving to Florida and would like to search for homes for sale, please contact the experts at UpHomes. 

Find your new home
Search real estate and homes for sale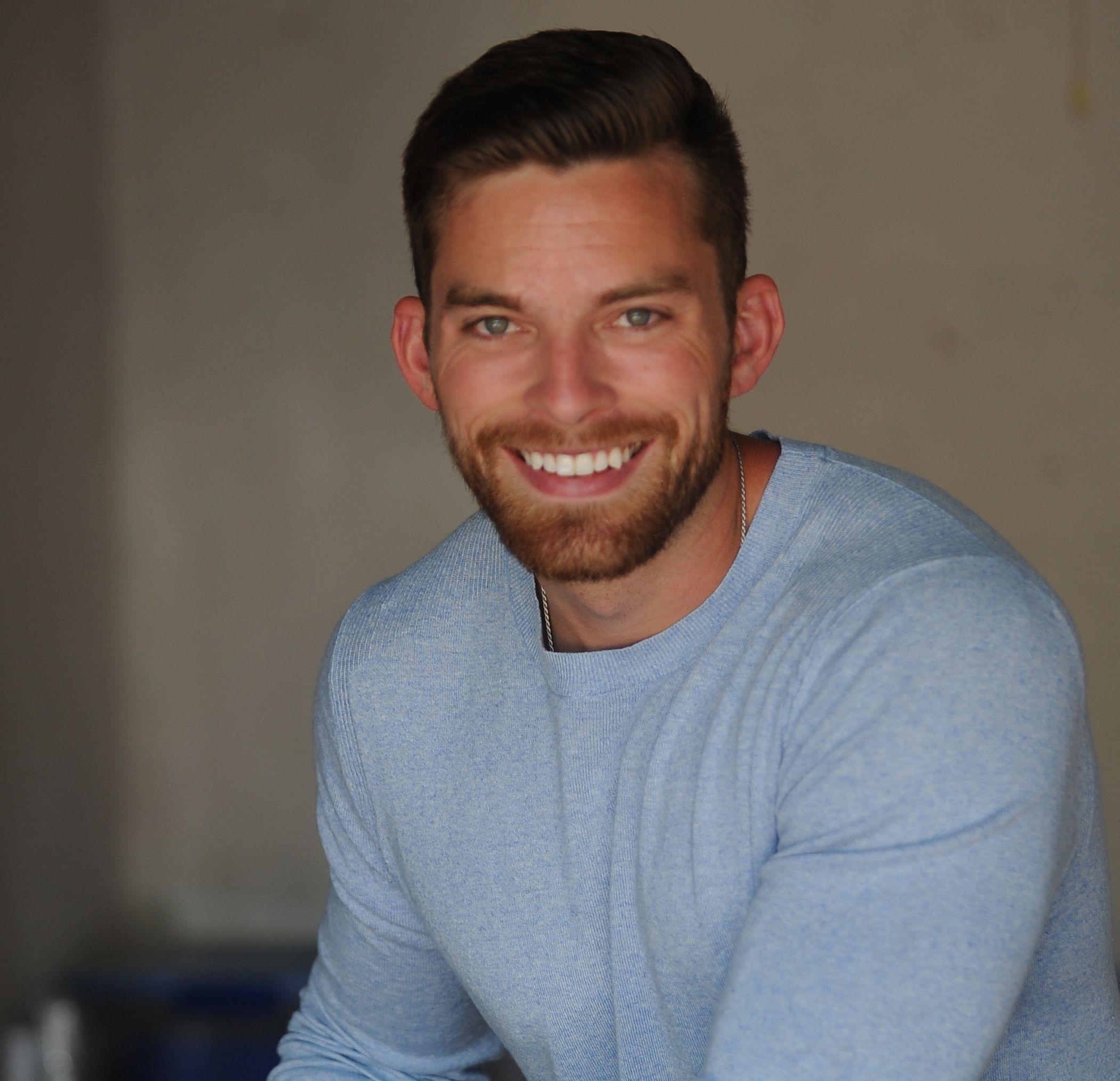 Ryan Fitzgerald
Hi there! My name is Ryan Fitzgerald, and I am a REALTOR®. My goal is to help you learn more about real estate through our Real Estate Blog! Hopefully, you enjoyed the above blog post and it found a way to provide help or value to you. When you're ready to buy or sell a home of your own let us know here. Please feel free to join the conversation by dropping us a comment below.