7 Best Neighborhoods in Boulder, CO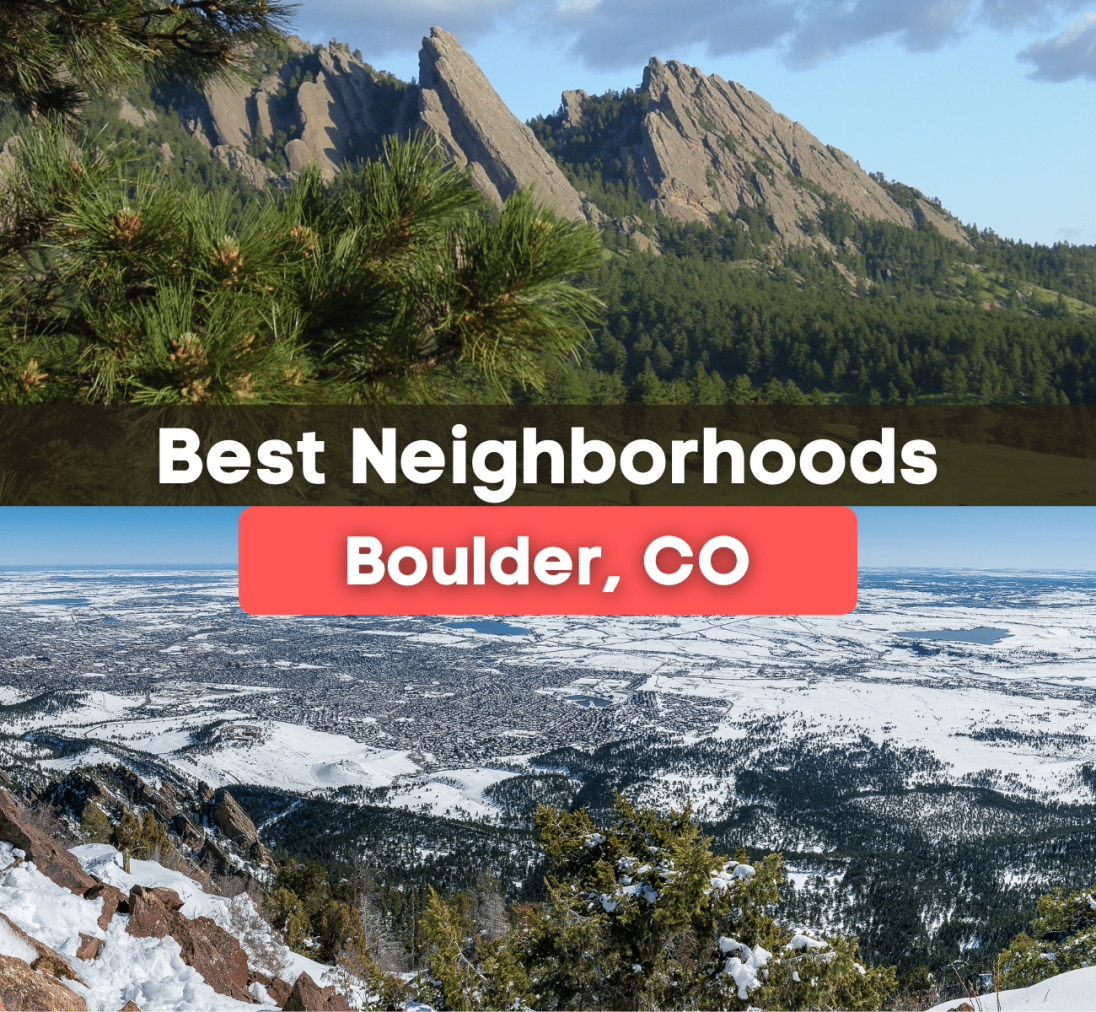 Best Places to Live in Boulder, CO
Where are the best places to live in Boulder, CO! Here are some of the best neighborhoods!
Moving can be a stressful time because of all of the major changes happening in your life, like going somewhere new. It's important to choose the neighborhood and area of the city that fits what you are looking for. If you're moving to Boulder, you are sure to have an adventure! No matter where you choose to live in Boulder, you will likely have gorgeous views of the mountains because the backdrop is present throughout most of the city.
Boulder is typically associated with the University of Colorado Boulder but it's not just a college town! The people are super friendly, the location is convenient and it has an awesome dining and beer scene. Boulder is consistently a place that makes "best of" lists and it's for good reason. It made our list of the best places to live in Colorado!
The city has a youthful energy and according to National Geographic, it's one of the happiest cities. However, the high quality of life comes with a price tag, especially when it comes to buying a home in Boulder. Many residents who live there say the steep cost is worth what you pay. The city has a variety of different neighborhoods for different types of people whether you're a college student or a family with five kids.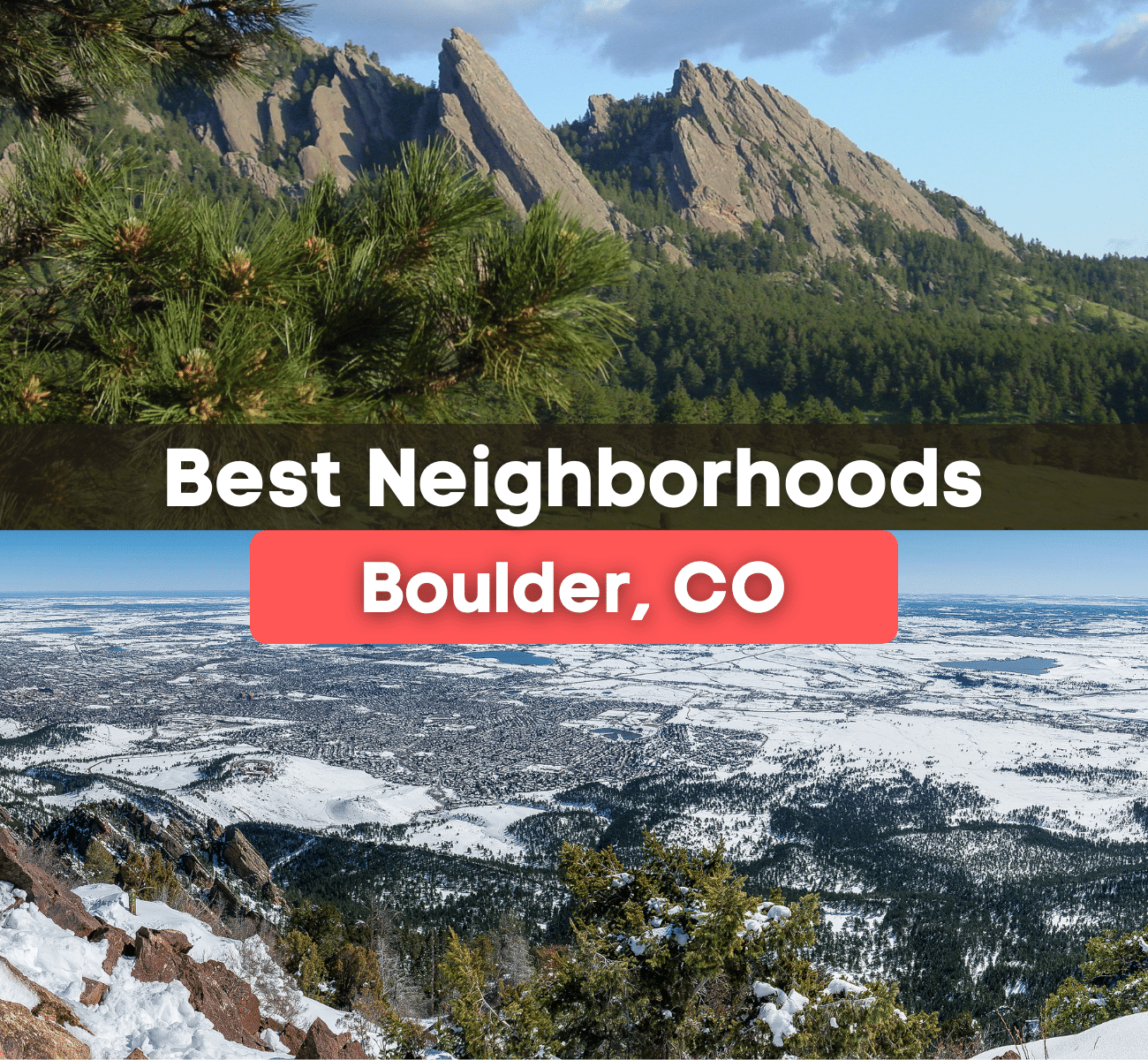 If you still haven't decided whether Boulder is the right place for you, make sure to check out our blog: 10 Things to Know Before Moving to Boulder, Colorado. When moving to a new city, it's important to find the right neighborhood to fit you and your family. We've done the research for you to ensure you get a look at the best neighborhoods and choose the best one for you. Keep reading to see the 7 best neighborhoods in Boulder!
Mapleton Hill
Established in 1895, Mapleton Hill is one of Boulder's first neighborhoods. Homes in this neighborhood were built between 1895 and 1910. It's in a historic part of the city and most of the homes look their age on the outside but have modern feels on the inside. This is one of the most coveted spots to live in Boulder but it's also one of the most expensive! Homes here have incredible architecture, giant lawns, and expansive front porches. Most of the houses are single-family featuring Victorian and Queen Anne architectural styles. You will pay a high price for these homes but they are worth it!
Most of them are also move-in ready and won't need additional renovations. Mapleton Hill is also located in a super convenient location, minutes away from Boulder's downtown area. You're right next to all the action of Boulder and are also close to several parks and green spaces. It's a walkable neighborhood so you don't even have to take your car to get to where you need to go. Since Mapleton Hill has a historic designation, commercial real estate is restricted so it allows residents to enjoy a peaceful living environment.
This neighborhood is a great place to raise kids; it has some of the lowest crime rates in the city. Additionally, it's in the heart of a great school district with kids attending Whittier International Elementary, Casey Middle, and Boulder High – all excellent public schools.
Local Favorites:
Pearl Street Mall: Mall lined with award-winning restaurants, boutiques, luxury shopping, and events all year long. It's the city's hub for dining, arts, shopping, and people-watching! More than 1,000 businesses fill out the area and most are locally owned.
North Boulder Park: Features a playground, grill & shelter, diamond field, basketball court, bike park, multi-use field, open turf, slacklining, fitness equipment, a ping pong table, tot track, and much more.
The Museum of Boulder: Local history museum that showcases inclusive community stories.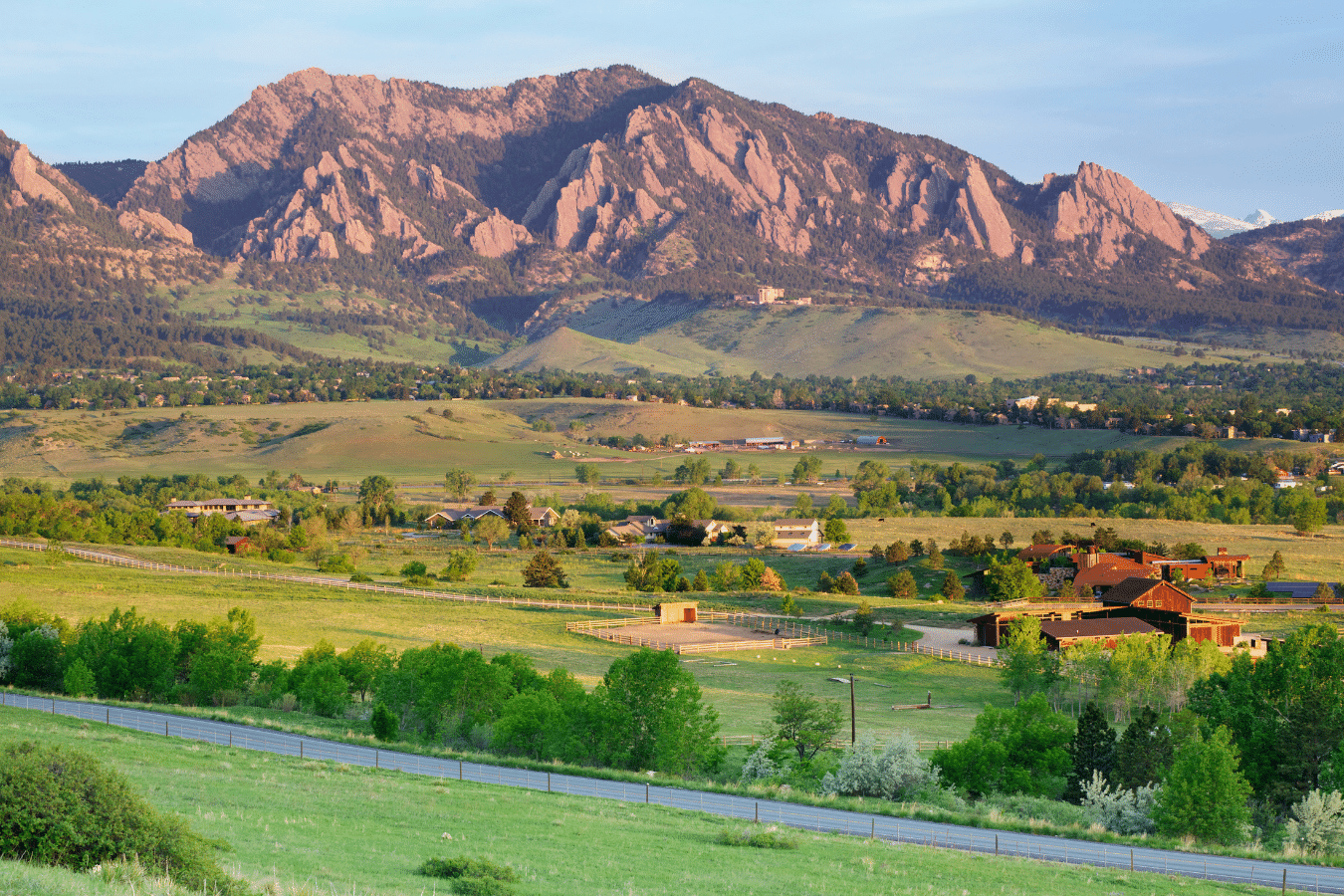 Table Mesa
Located in the southern region of Boulder, most of this neighborhood is surrounded by hiking trails. It's sort of one of the best-kept secrets among the locals. This area has a mix of families, bachelors, retirees, and young professionals, so there is quite a variety of different types of people living in Table Mesa. This neighborhood is a quieter, residential area so it's a long drive from downtown Boulder. It would take you about 10-15 minutes to get downtown.
It does have easy access to the High Country because of its southern location along highway 93 Boulders gateway road to I-70, C-470, and I-285. Quick access to the Denver-Boulder Turnpike makes this location perfect for people who commute to Denver regularly. Most of the homes in this neighborhood were built in the 1960s and 1970s and have a suburban feel. The median home value is about $600,000 and the houses are typically single-family with three or four bedrooms.
The best thing about Table Mesa is the stunning views of the Flatirons on the west and all of the hiking trails that are so close by. One fun fact about Table Mesa is that Stephen King used the Table Mesa Shopping Center as the setting in The Shining! Stephen King lived near the area in the 1970s.
Local Favorites:
Table Mesa Shopping Center: South Boulder's major shopping center with more than 50 local restaurants, banks, stores, and retailers including Play it Again Sports, Runners Roost, Sweet Ruckus and much more.
Tsing Tao: Traditional Chinese classics, a buffet, and options for vegans and vegetarians; located in the Table Mesa Shopping Center.
Bear Canyon Trail: Beautiful trail spans near the National Center for Atmospheric Research. The 3.3-mile Bear Canyon loop has some of the best views of the Flatirons in Boulder!
Wonderland Hills
Located just south of Wonderland Lake, this quiet neighborhood has a lot of open lands and is surrounded by several hiking trails. It's situated between the foothills and downtown Boulder and has continued to be a popular neighborhood for residents. The homes in Wonderland Hills have large lots, unobstructed mountain views, and modern styles. It was constructed in the 1970s as a high-end development. The types of homes range from condos to single-family detached houses.
The prices range from $600,000-$1 million+ and most are honestly on the higher end. Residents have quick access to the lake and enjoy all of the incredible mountain views! There are wide bike lanes throughout the area, so you can get around without using your car but there is more land to cover in this neighborhood. If you head a few minutes north, you're in the charming town of Lyons, and then a quick drive the other way, you're in Longmont. Residents also live close enough to Pearl Street and the University of Colorado Boulder that they don't feel like they are missing big events.
Local Favorites:
Wonderland Lake: A gem of north Boulder and a great place to fish and participate in other lake activities. Wonderland Lake Loop is a family-friendly trail that circles the lake.
Lucky's Bakehouse & Creamery: Counter-order cafe & bakery that sells pastries, cakes, and ice cream with unique flavors. It offers a wide variety of homemade treats from sugary cream puffs to sugar-free paleo cakes.
Dagabi Cucina: Tapas bar in a stylish, Spanish hideaway serving tapas, pasta, and wood-fired pizzas plus wine.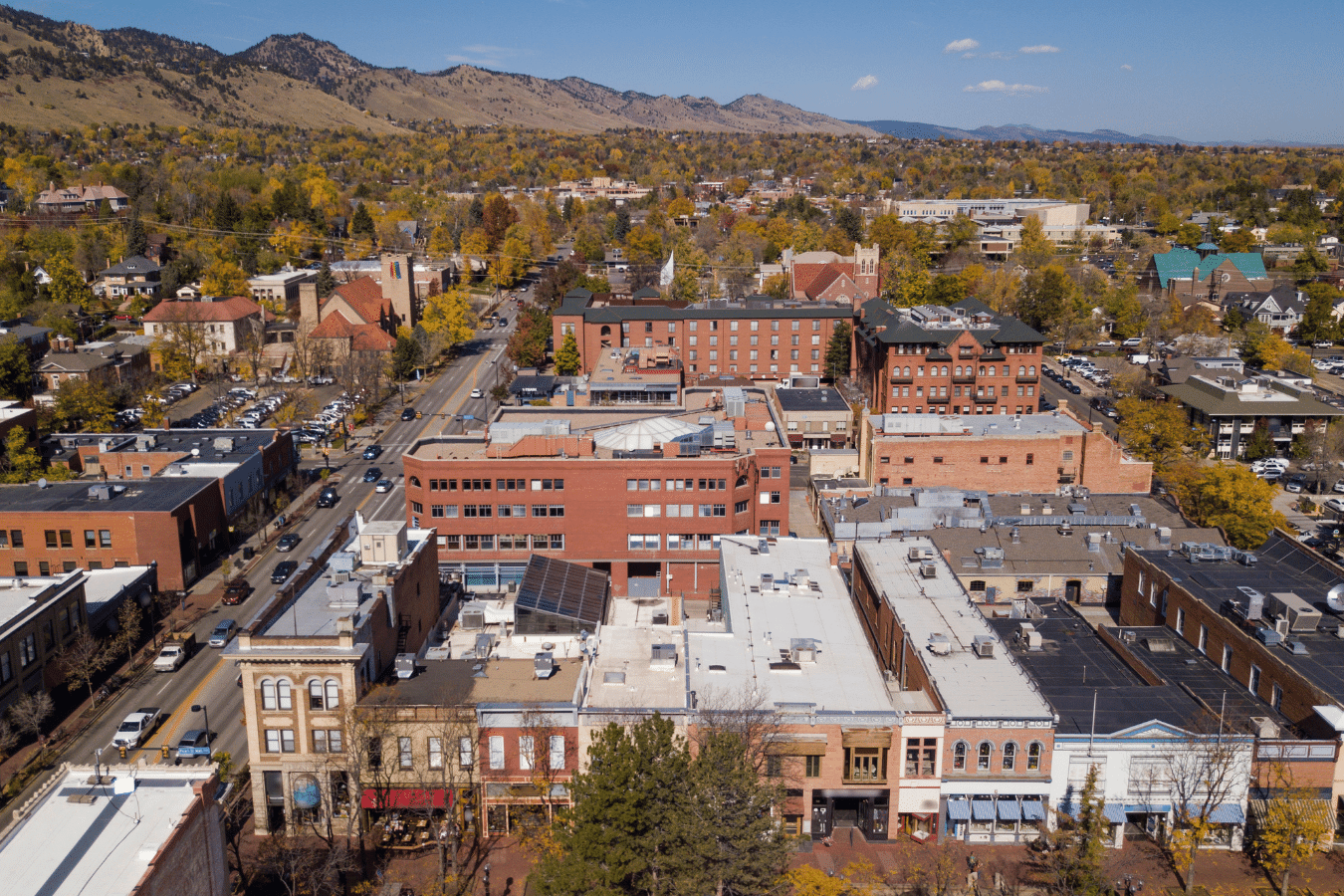 Whittier
Known as one of Boulder's most walkable neighborhoods, Whittier is located just a few minutes from Pearl Street in Downtown Boulder. It's close enough that you won't miss out on an exciting night out on the town but far enough away that you still have your own space. It's the perfect spot for someone who likes to walk or bike to work. However, you'll pay for the location! The proximity to downtown means the home prices start out around $1 million.
Whittier provides some similar benefits to living in Mapleton Hill. Whittier homes also have unique and artistic personalities. You'll notice some homes are painted in bright colors and have creative sculptures on their lawns. The home designs include stone facades, curved windows, and slanted roofs. Every Thursday night, the Mork & Mindy House hosts its weekly parade of bicycles and costumes so residents can go out and watch. You are a bit further away from the foothills if you live in Whittier so there is less accessibility to trails. People who want downtown amenities without quite the hustle and bustle of living right downtown will love Whittier!
Local Favorites:
Sweet Cow: Hand-crafted ice cream with various unique flavors that are served fresh daily. Sweet Cow also believes in being green and only uses compostable and recyclable products.
Audrey Jane's Pizza Garage: New York-style pizza pies plus sandwiches are the hype of this popular, family-owned restaurant.
Boulder Rock Club: Rock climbing gym that offers top-roping, lead climbing, bouldering, group fitness classes, yoga classes & other training programs for all ages.
Chautauqua
Located at the base of the Flatirons, Chautauqua is one of the most scenic and popular areas with amazing access to hiking, biking, and other outdoor activities. Trailheads are literally backup to residents' backyards. However, you'll have to pay a hefty price to live in this natural oasis. Homes in Chautauqua range from $1 million-$4 million but some townhomes and condos also exist. Most of the homes are Victorian-style but new construction has brought in some more modern designs.
Most of the houses also share lots but all of them have plenty of trees. There is a lot to do if you live in this area! The neighborhood features an auditorium, dining hall, rental cabins, and a park with many trails. There are film screenings and concerts that take place in the auditorium throughout the year.
It's not a very quiet neighborhood because there is a lot of tourists, thru-traffic and packed street parking. The Colorado Chautauqua Associations host a variety of events that both residents and visitors attend. There are plenty of trails and summer programs for kids to enjoy and it's close to the University of Colorado Boulder.
Local Favorites:
Chautauqua Park: Located on the northwest edge of the neighborhood, it is considered a National Historic Landmark. It's one of the neighborhood's most frequented attractions. The 80 acres of land provide a playground, tennis courts, open turf, and much more.
Chautauqua Dining Hall: American cuisine with spectacular views from the wraparound porch. It's the perfect place to go after a hike on the nearby trails or before a concert in the historic Chautauqua Auditorium.
Chautauqua Auditorium: Venue for lectures, musical performances, and movies. It's an indoor venue with century-old barn-like construction.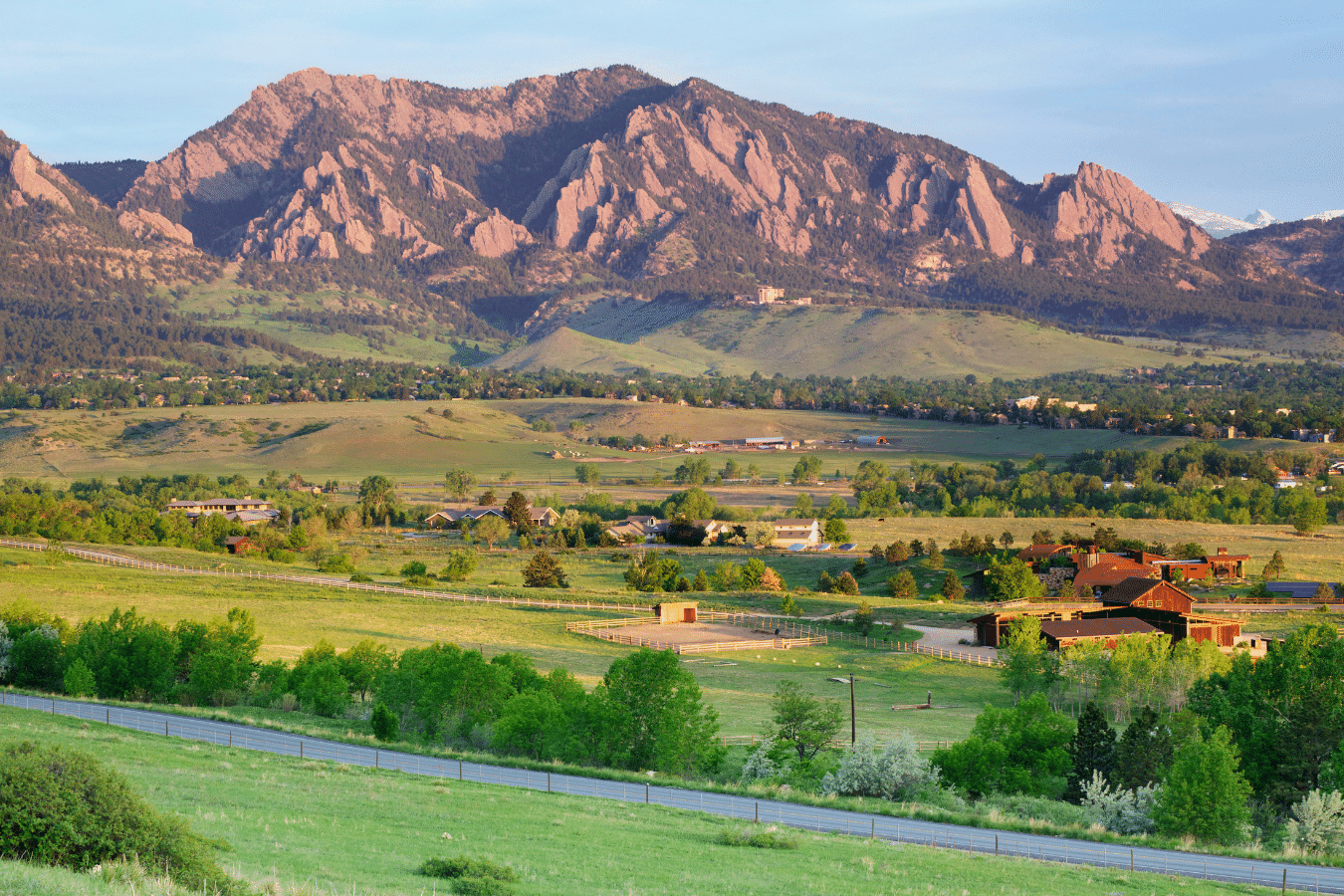 Gunbarrel
Gunbarrel is a northern Boulder neighborhood with a history of its own. The neighborhood was created as a result of IBM needing to house their employees close to their plant. IBM created a small community for them to live right across the street in 1965. Gunbarrel is about 20 minutes away from Downtown and one of the more affordable places to live. Residential properties here were built between 1965 and 1975 and are listed at around $750,000+.
Residents who live here also have quick access to roadways 119, 52, and 287. Gunbarrel is also home to the Boulder Country club so it's a hot spot for avid golfers who want to live near a club. There is a bike path system that makes it easy to ride further into town if you don't prefer to drive.
Local Favorites:
Gunbarrel Shopping Center: Shopping area with a grocery store, restaurants, a fitness center, and several other shops & retail options.
Avery Brewing Company: Boulder-based brewery for more than 25 years serving house beers with unique styles, a brewpub menu plus tours, and a dog-friendly patio.
Mortal Kombucha: Offers energizing kombucha brewed from black tea, liquified snowflakes, and other natural ingredients.
Martin Acres
Martin Acres is another neighborhood that might be more attractive to you because of the price. The expensive real estate in Boulder can be discouraging! This neighborhood was established in the 1950s and has mostly single-family homes. Prices in this area start around $800,000 and are mostly ranch-style or 1960s tri-level homes. Right now, many residents living in ranch-style homes are adding a second story.
Martin Acres is conveniently located between Highway 36 and Broadway. It's a bike-friendly neighborhood, has easy access to major thoroughfares, is located on the RTD bus route, and is close to the Table Mesa shopping center.
Local Favorites:
Full Stop Bakery: Known for its delicious, sourdough crackers!
Nepal Cuisine: Traditional buffet offering Nepalese cuisine with an all-vegan buffet on Mondays.
The Bottom Line - Best Neighborhoods in Boulder
Before you move, make sure to reach out to one of our helpful Realty Specialists to guide you through the moving and home-buying process. Contact us today to find your dream location in Boulder!

Find your new home
Search real estate and homes for sale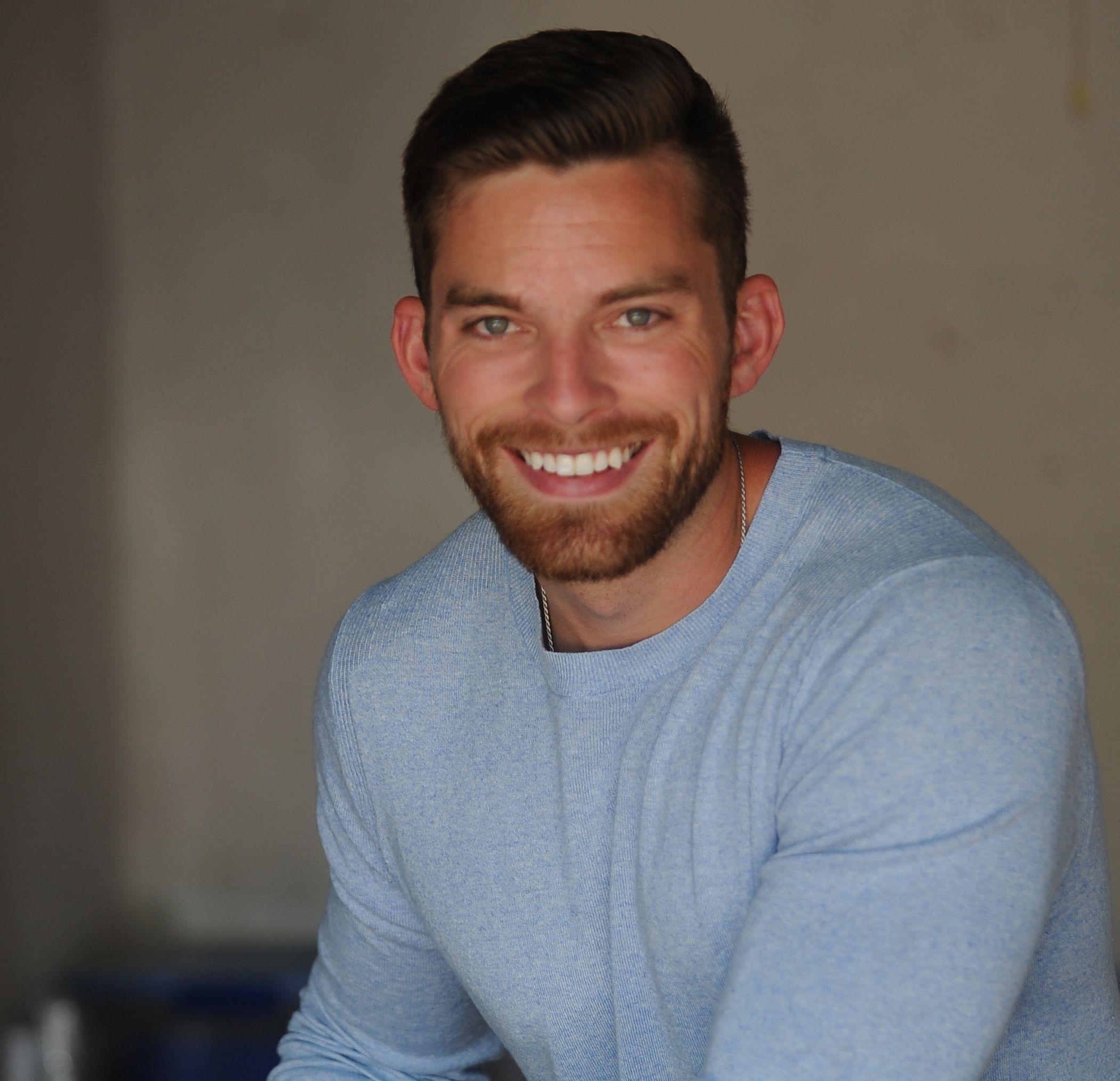 Ryan Fitzgerald
Hi there! My name is Ryan Fitzgerald, and I am a REALTOR®. My goal is to help you learn more about real estate through our Real Estate Blog! Hopefully, you enjoyed the above blog post and it found a way to provide help or value to you. When you're ready to buy or sell a home of your own let us know here. Please feel free to join the conversation by dropping us a comment below.